Thung Nang valley (Thung Nắng) or Sunshine Valley is situated in Ninh Hai (Ninh Hải) commune, Hoa Lu (Hoa Lư) district, Ninh Binh (Ninh Bình) province. This valley is well-known for its natural beauty and historical relics that can fit many types of tourism: Ecotourism, Religion tourism, grottoes discovery, sightseeing, mountain climbing, etc. If you have the chance to visit Ninh Binh, it is impossible not to stop at Thung Nang – the sunshine valley with fresh air and beautiful scenery will definitely capture your eyes.
How To Get To Thung Nang Valley 
Thung Nang valley is close to Bich Dong (Bích Động) pagoda. From Tam Coc (Tam Cốc), you just need to travel for 1km to Bich Dong Pagoda, which leads you to Thung Nang valley. 
What Do You Do In Thung Nang Valley Ninh Binh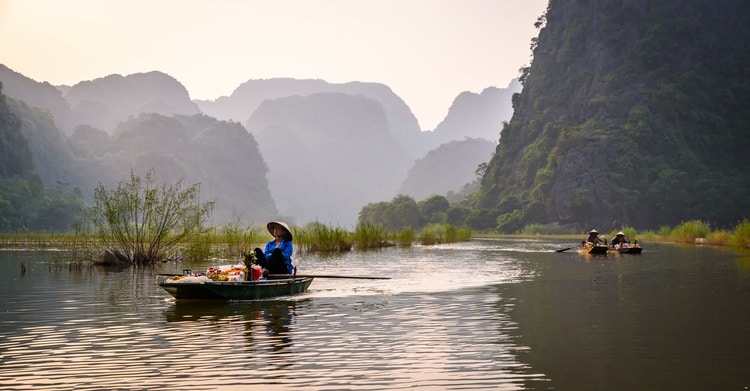 Thung Nang valley is well known for its tranquil natural beauty that is overwhelmed with sunlight and water. On the way from Tam Coc to Bich Dong pagoda, you can see the entrance way to the sunshine valley gradually appearing in front of your eyes with peaceful river, beautiful sky, imposing great mountains and mysterious caves. On both sides of the river are the natural beauty of green reeds. Sometimes, you can see some local houses and ripe paddy-fields if you take the bike tour around Thung Nang. 
Thung Nang has 2 small valleys (the 3-ha valley outside Thung Nang and 5-ha valley inside Thung Nang).
While Tam Coc with the scenes of amazing rice fields has more human activities, Thung Nang is an untouched and pristine site. But it does not mean you do not find anything interesting to do in Thung Nang valley. Thung Nang surrounded by trees, river and great mountains has some hidden charms that give you memorable experiences to discover. 
There are less popular Thung Nang boat trip options but it is still great if you go by boat about 3,5 km to reach the holy Voi temple that was built of stones and decorated with impressive carved worshiping objects. This temple was built in Le dynasty. 
Tourists and visitors coming to Thung Nang valley can also take part in the climbing activities. They can climb up to the imposing mountain and enjoy the panoramic scenes of endless green fields, the beautiful landscape with spectacular colors and amazing sunshine. Furthermore, listening to the birds singing also make this isolating space become a natural paradise.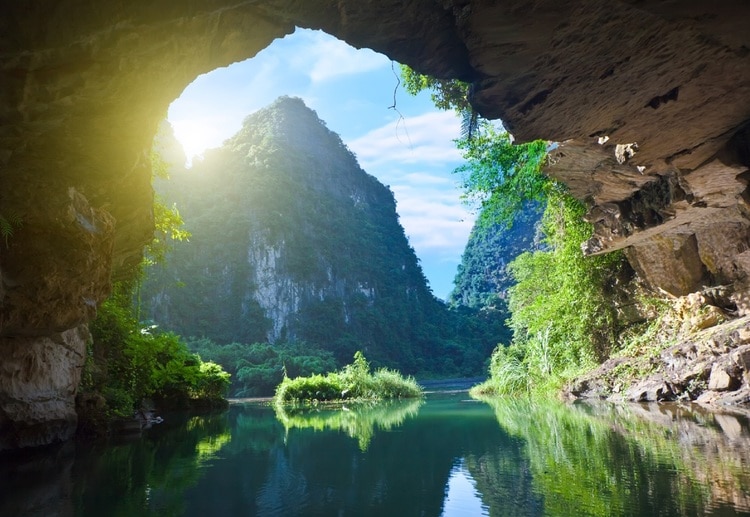 Two valleys of Thung Nang connected by various cave systems inside the mountain. If tourists go deeper inside the cave, they will discover more mysterious miraculous that natural gifted this place. Some places in caves may be low; therefore, you have to lower your shoulder and bow your head to prevent touching the stalactites on the cave ceiling. 
It is impossible for you to miss Thung Nang valley or the Sunshine Valley when you join in Ninh Binh tours. Here, visitors will have the chance to immerse in the pristine isolated landscaped, get the opportunity to understand more about the farmer's life and meet the simple, hospitable people. 
Thung Nang valley is still not a developed site; therefore, it is difficult for you to find a restaurant to eat or hotel to stay here. But taking part in the camping activities is an enjoyable and memorable experience for tourists who want to relax in nature and admire the night's beauty in Thung Nang with their friends and family. Make sure that you are over prepared with necessary things such as toilet paper, flashlight batteries, sleeping bag, foods, and drinks. After you finish the camping, please make everything clean by throwing your trash in the appropriate containers. 
When Is The Best Time To Visit Thung Nang Valley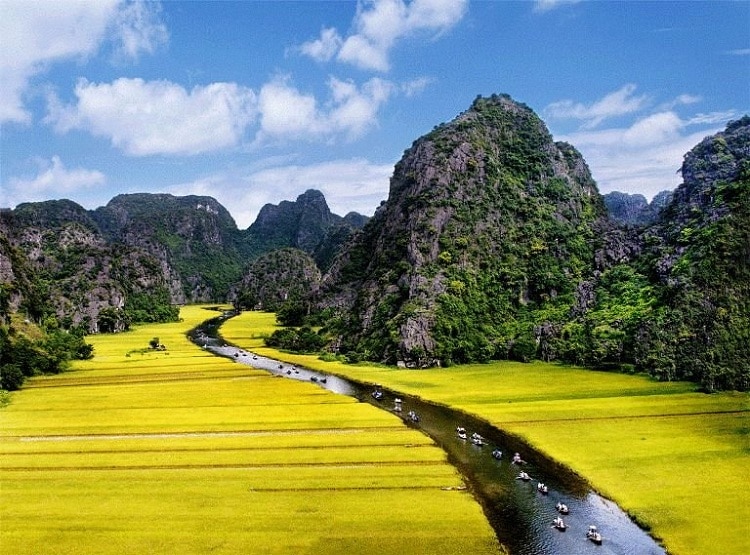 Tourists often combine the Thung Nang valley trip with Ninh Binh tours. That means besides Thung Nang, tourists can visit other top attractions in Ninh Binh such as Tam Coc – Bich Dong (Tam Cốc – Bích Động), Bai Dinh (Bái Đính) pagoda, Mua (Múa) Caves, Phat Diem (Phát Diệm) Cathedral, Cuc Phuong (Cúc Phương) Natural Park, Thung Nham Bird Garden, etc. Therefore, the time you visit Thung Nang Valley depends on what you would like to see in Ninh Binh. But according to many visitors and tourists who came to Thung Nang, the best time to visit this place is from the end of April to early June. During this time, the rice paddies have beautiful yellow colors, skies are bluest, the temperature is relatively pleasant and clouds are whitest. However, the spring season also gives Thung Nang valley the verdant beauty when everything here is green and begins to grow.
Every day, Thung Nang valley receives hundreds of visitors and most of them come from Australia, Korea, France, England, etc. Those visitors are keen on discovering the tranquil landscapes in this place. They are attracted by the various ecosystems in Thung Nang valley. It is an ideal weekend tour for tourists who admire nature and want to discover the untouched beauty.
By Nga Vu