For Saigonese, Vietnam, Vung Tau is always a famous destination with many interesting beaches and popular resorts such as Phuoc Hai, Vong Nguyet, etc. However, Freshwater Pass in Vung Tau with a wild and unique appearance is attracting more and more young people to explore. So what is the reason why this destination is so attractive? It may be because of the beauty of the sea, white sand, or the dreaming landscape at dawn and dusk or because of the attraction from specialities and fun activities here? What are you waiting without following this article to have a better view of the beauty and pleasure when coming to experience at Freshwater Pass!
Why is Freshwater Pass so Attractive?
It is not a stretch to say that Freshwater Pass is always among the top 10 tourist attractions in Vung Tau with the fascination from the unique landscape. With the alluring beauty of the sea, wave, sand and wind together with a clear division between mountains and the sea, this place looks like a charming and poetic fairy-tale heaven not to be confused with any other great places of Vung Tau.
Freshwater Pass tourist area has its own direction, which is to retain the available rustic, idyllic and peaceful features of the sea rather than planning into a monumental resort like the surrounding locations. Coming here, you will be immersed with the wide nature by enjoying the smell of the sea and the sea breeze, all unpleasant emotions will disappear. The sea is too poetic with fine white sand stretching and mix with the waves of the tranquil ocean and rock cliffs undulating on the sea. Certainly, as soon as you set foot of the Pass, you will want to rush quickly to the sea to save the most impressive moments and relaxing feelings in this fairy-tale place.
Especially, if you have the opportunity to visit Freshwater Pass during Tet Holiday, you will admire the white cherry blossoms on the roads going through. And this is a typical feature of the Long Hai beach area, a highlight has to come and check-in for young backpackers.
What are Activities in Freshwater Pass?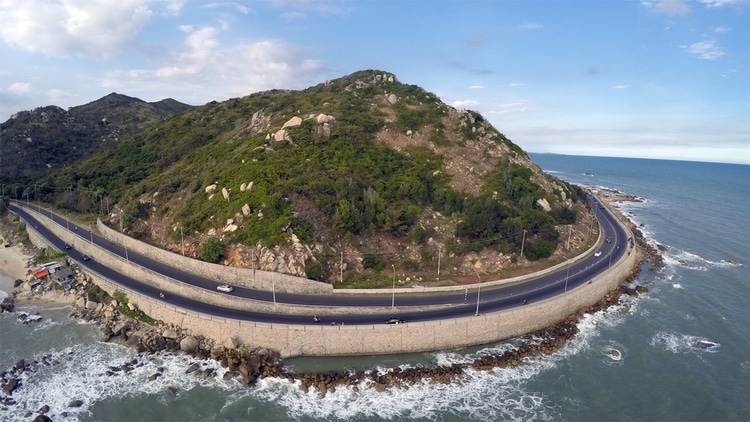 Freshwater Pass is suitable for young people who love to explore and enjoy the peacefulness. With many options of funny activities; this is the perfect trip for all of the visitors.
One of the most popular activities of young people is camping. You can come here to experience a real overnight picnic on the white sand, peaceful beach and dreaming scenery. 
Moreover, this place is also suitable for playing team-building, which is the venue for collective games, where friendships and solidarity are united. At night, there are many friend groups on campfire gathering together to dance beside the fire and sing, talk to each other. You can collect trees in the forest to light a fire, or for more convenience, you can rent a campfire at the resort. Besides, you can ask to go with the fishermen here to set out to catch a delicious big fish ready for your barbecue. Generally, during the day, you can soak in the clear, dark blue water; and at night, you can camp, gather around the fire to chat, play games or sip some beer and enjoy barbecue BBQ. It was a valuable experience, wasn't it?
Furthermore, with this wonderful setting, the sunrise or sunset at sea is the most impressive and unforgettable activity you cannot miss. You can sit down to bask in the sunset and watch the peaceful scenery around, close your eyes to listen to the gentle waves on the shore and watch the scenery slowly turn into a strangely calm night. On the next day, you should wake up early and watch the wonderful sunrise under the sun rising from the horizon. The beauty of the sea and nature becomes more and more incredible by the rays of the dawn, the beautiful reflection of light that only at this moment, you can feel all. Such poetic and peaceful scenes are hard to find in Saigon in the hustle, bustle and chaos of everyday life. 
Hurry up to come to this breathtaking route and experience what is most rustic and idyllic from the rippling beach to even funny group activities. Or more simply, you will find the most appealing shooting angle and freely pose, check-in and save the funniest travel moments with your friends and relatives. Capture the delicate moments that nature brings, feel what is most peaceful and refreshing; you will have the most unforgettable and engaging experience with this unique Freshwater Pass trip!
Pocket Tips for Freshwater Pass Trip
You should note some of the following tips to have the Freshwater Pass tour more conveniently:
In Vung Tau, there are two distinct rainy and sunny seasons. From May to October, there will be sudden rains and scattered rain throughout the day. Hence, there are days when the sea is wavy, or the weather is not good. And the water in Freshwater Pass is quite dark, and the waves are not favourable for swimming. Conversely, the weather from November to April is a beautiful sunny season, you will not worry that the trip will be interrupted if you travel at this time. However, it is not rainy every day, you need to pay attention to the weather forecast before going and prepare additional raincoats and spare coats.
Furthermore, Freshwater Pass tourist area is quite empty, and there are not many services. So, you should purchase essential items or personal items such as toothpaste, towels, shampoo to use. You should book a tent in advance for the New Year, weekends or peak season because it can be out of tents. Another note is that food in the resort is quite expensive, so you should bring ready meals or prepare seafood for your BBQ party.
How to Go to Freshwater Pass?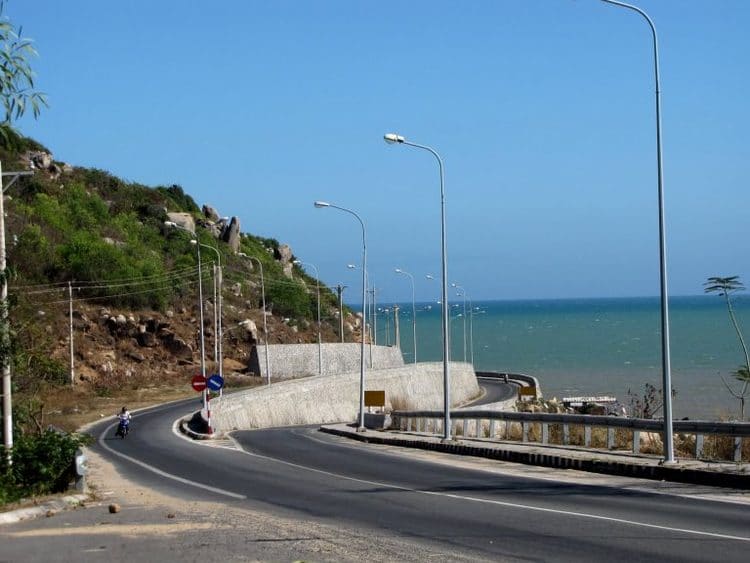 Freshwater Pass is a 5 km coastal road between Dat Do and Long Dien Districts. Being located 25 km from Vung Tau City to the North and about 2 km from Long Hai Beach, the Pass is famous for its beautiful bends and is the intersection of two unique natural landscapes. That is the scenery of Vung Tau beach, and the other side is the fantastic and majestic mountains and hills. The most impressive highlight on the road of Freshwater Pass is probably the beautiful C-shaped curve connecting Long Hai and Vung Tau beaches. What an exciting path stimulating the curiosity of young visitors!
Also, Freshwater Pass is one of the routes attracting numerous backpackers. Therefore, the way of moving to this place has become very familiar to adventure-loving young people, right? From Ho Chi Minh City, you could follow the direction of Cat Lai ferry to Nhon Trach then come to Highway 52 and turn right. After that, you can go straight through the welcoming gate of Ba Ria to Long Hai, follow the sea route then overcome a small pass section to reach Freshwater Pass. With a 5 km of crooked coastal roads, you will get the feeling of conquering when crossing this quite dangerous road. Furthermore, you could feel the beauty of unspoiled nature and enjoy the cool sea breeze when going downhill. All of those experiences combined together will give you indescribable fantastic emotions.
Conclusion
It is no coincidence that the young people go to Freshwater pass, Vung Tau so much like that. Only by admiring it, you can understand how beautiful the landscape is. A pristine place has not yet fully exploited but hiding many "specialities" of nature which are wonderful, wild and dreamlike. As a result, Freshwater Pass is always the first ideal choice, a must-go place for young people in Vung Tau. Do not hesitate any longer but carrying your backpack and be ready for a trip to explore the spectacular and beautiful route of Vung Tau – Freshwater Pass!
By Thanh Ari