Hanoi Old Quarter By Vina.com
Have you ever been to Hanoi before, the capital of Vietnam? If your answer is "yes", you must have had a good time there as there are so many interesting things to do in this city of peace. If you have not been there before, and are going to visit this place, keep reading this writing to know more about the top 35 things to do in Hanoi, Vietnam so that you will not feel regret when your holiday is over.
1. Go To Early Morning Markets
As early as 4 am, wholesale markets in Hanoi are crowded with sellers and buyers. If you go to some of the markets like Long Bien or Dong Xuan market, you will see that Hanoi is not only active during day time, but is also animated at night. Walking in these early morning markets, you will see a variety of fruits and vegetables, which are as fresh as when they are in the gardens. You will certainly want to try eating some kinds of fruits there. You can also buy them at a very good price, which is just half of the price on streets.
2. Drink Coffee On The Pavements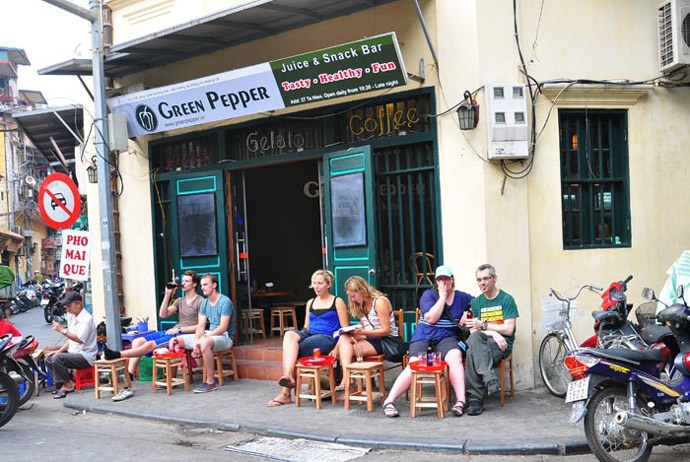 Drinking coffee on the pavement is one among top 35 things to do in Hanoi, Vietnam. Sitting on the pavement with a cup of coffee in hand, you can not only enjoy the most typical drink of Vietnam, but also watch the sunlight, and see people traveling on the streets. This will make you miss Hanoi when you come back to your country.
3. Have "Phở Bò" For Breakfast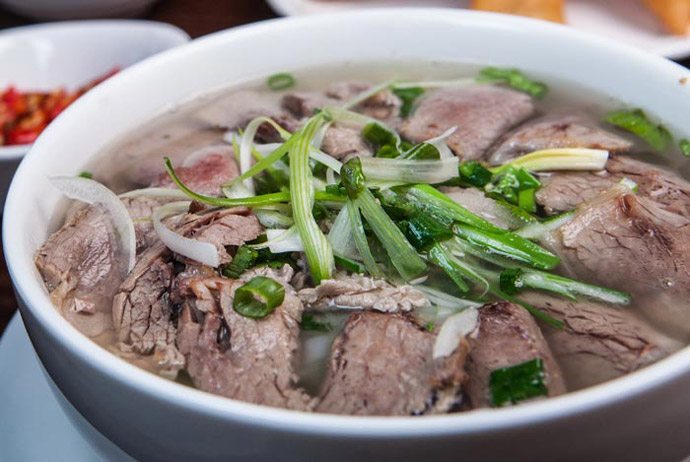 When you get up in the morning, enjoy a big bowl of Phở Bò, a traditional food in Vietnam. Foreign tourists are so attracted by the good flavor of the food that they never miss a chance to enjoy it. Many visitors even said that Phở Bò made Hanoi special in their eyes, and whenever thinking about this city, they thought about that food.
4. Ride A Duck Boat (Đạp Vịt)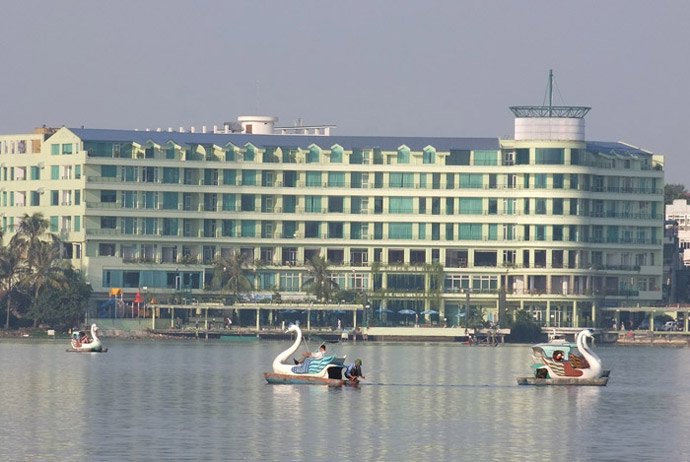 Riding a duck boat in a lake in the late afternoon is very relaxing. Imagine you are riding a boat in Hanoi West Lake, and enjoy the slight wind there, throw behind the sorrows and anxiety, you will have a totally restful time.
5. Watch The Sunset In West Lake (Hồ Tây)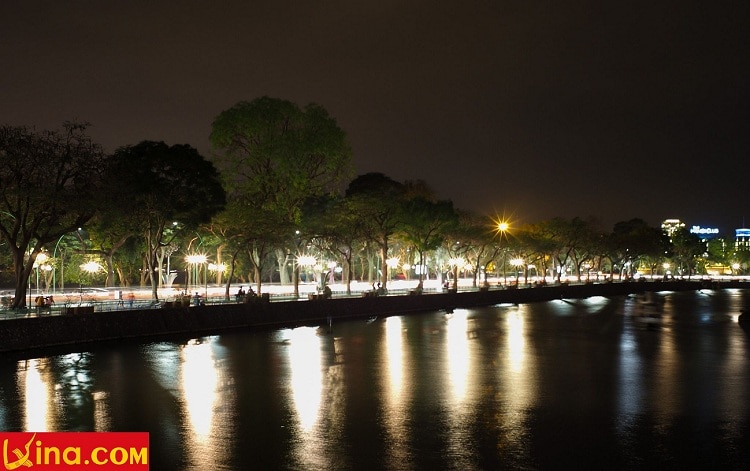 West Lake By Duong Nguyen
Watching the sunset in West Lake is one of top 35 things to do in Hanoi, Vietnam. The lake is immensely large, the sky is limitlessly large, both of which are in blue and orange, making a spectacular moment by the end of the day. If you come to Hanoi, do not miss the chance to watch the sunset in West Lake.
6. Enjoy Green Rice Flakes From Vong Village (Cốm Làng Vòng)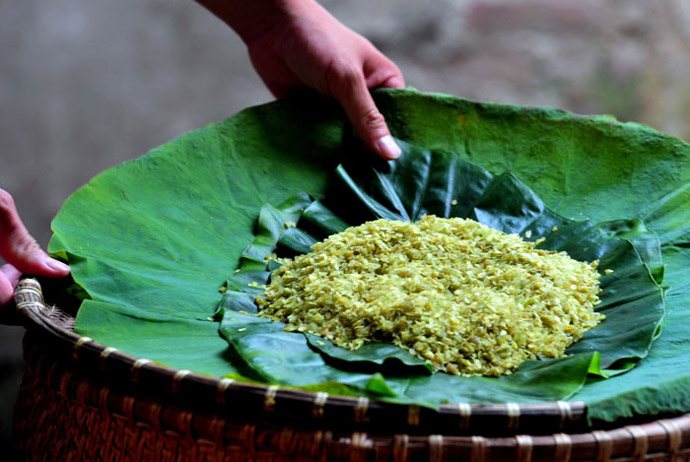 Green rice flakes from Vong village is one of many delicacies in Hanoi. The job of making green rice flakes originated from a legend that thousands of years ago, when rice bunches were still green, it rained dog and cat, along with strong wind making even the highest rice paddy fields be drowned. In that case, Vong villagers had to reluctantly harvest their young rice bunches home, roast them to eat to avoid starvation. Surprisingly, the roasted young rice had such a special flavor that the people here usually made as an extra food to eat when the autumn comes.
Each time of making the roasted young rice, Vong villagers had more experiences and creativity that make the current green rice flakes, a feature of the village.
7. Have Lunch At Trang Tien Lane (Ngõ Tràng Tiền)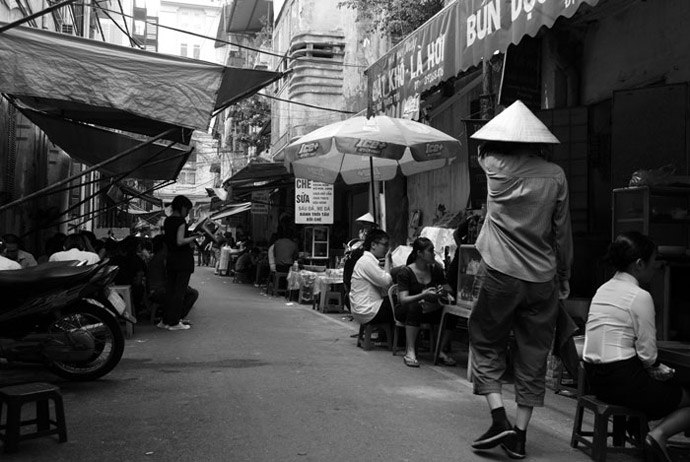 Trang Tien lane is not very long, but it serves many kinds of foods for lunch. You can choose fish rice noodles (bún cá), beef rice noodles (bún bò), fried rice (cơm rang), soy cheese rice noodles (bún đậu), kebab rice noodles (bún chả), or many others. All the foods smell good and look very attractive.
Address: Trang Tien Lane, Hoan Kiem district
8. Enjoy Trang Tien Ice-cream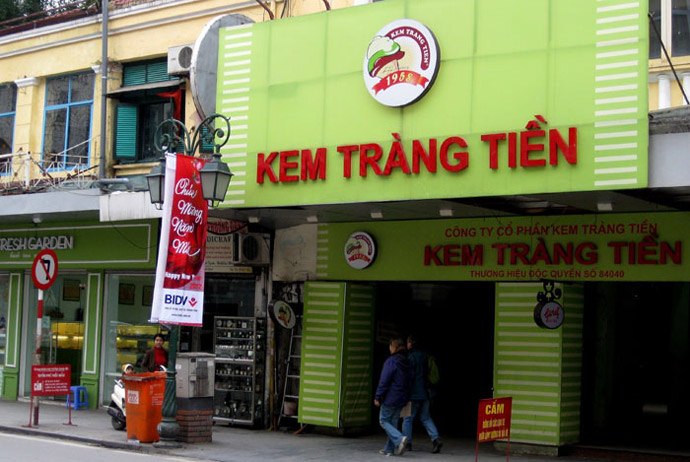 Eating Trang Tien ice-cream is considered one of the top 35 things to do in Hanoi. In summer when it is hot, if you have a Trang Tien ice-cream to eat, you will feel cool from inside out, and totally forget the hot weather. If you come to Hanoi, do not miss the chance to enjoy Trang Tien ice-cream.
Address: Trang Tien Street, Hoan Kiem district
9. Enjoy Grills And Porridge In Winter (Đồ Nướng & Cháo)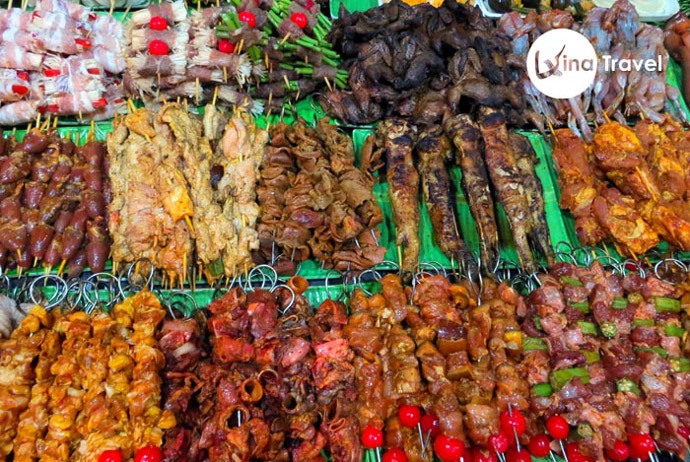 In cold winter, it is interesting to have a bowl of porridge, or enjoy grills with friends. These foods will make you feel warmer.
10. Drink Coffee In Beloved Cafes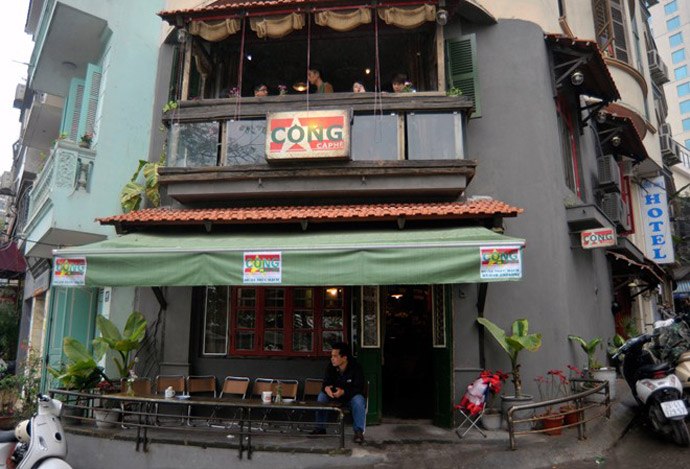 Cộng Cafes are the most outstanding cafes in Hanoi with the main style of Hanoi under subsidy economy. You can easily find one of eight Cộng cafes at some streets in Hanoi.
152D Trieu Viet Vuong street, Hanoi

32 Dien Bien Phu street, Hanoi

101 Van Phuc street, Hanoi

1st floor of 4F, Trung Yen building, Hanoi

35A Nguyen Huu Huan street, Hanoi

54 Hang Dieu street, Hanoi

101, C6 Tran Huy Lieu street, Hanoi

100A Xuan Dieu street, Hani

8 Thai Ha street, Hanoi
11. Buy Flowers From A Peddler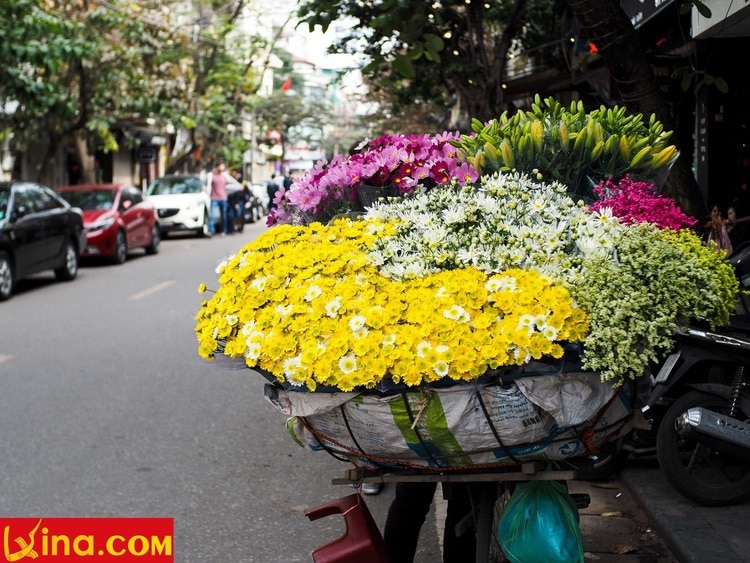 Street Hawkers In Hanoi By Duong Nguyen

In Hanoi, you can easily find a peddler who is selling beautiful bunches of flowers on streets. If you go with your girlfriend or your wife, buy her a bunch of flowers there. She will be very happy that way.
12. Ride A Motorbike On Phan Dinh Phung Street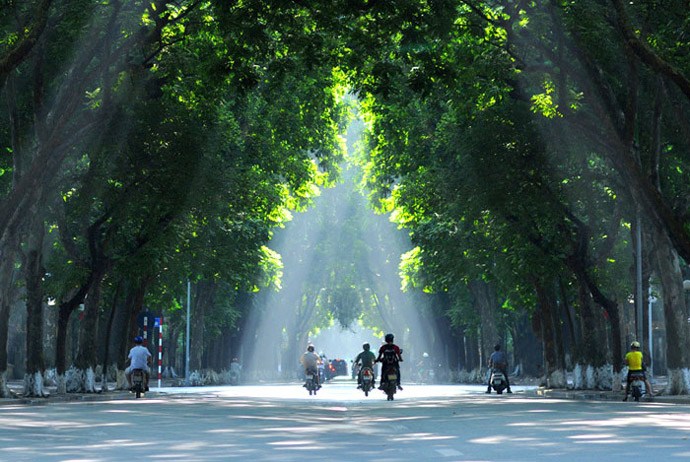 Phan Dinh Phung Street is one of the most peaceful and romantic places in Hanoi. In spite of sunny, rainy, or windy weather, riding a motorbike in the shadows of big trees in this street will make you feel relaxed. You can even walk on the pavement here to watch yellow leaves falling and compose a poem about nature or love. It is quite peaceful.
13. Drink Ice Tea On West Lake Shore (Hồ Tây)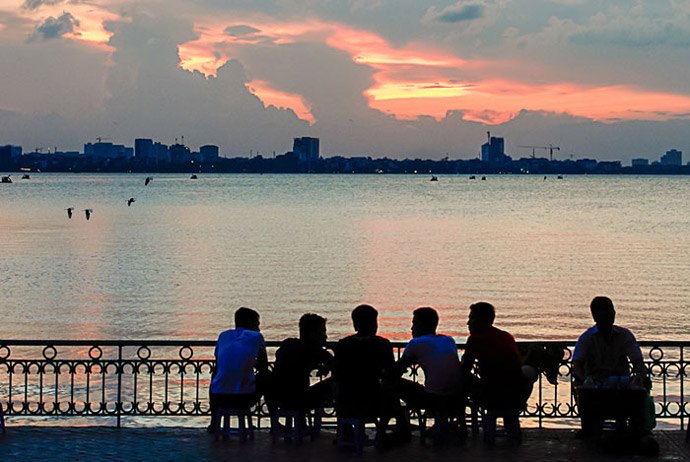 In hot weather, you can sit on Hanoi West Lake shore to have a glass of ice tea, and enjoy the beautiful sight of the lake. Life is so restful that way.
14. Visit Nhà Sàn Collective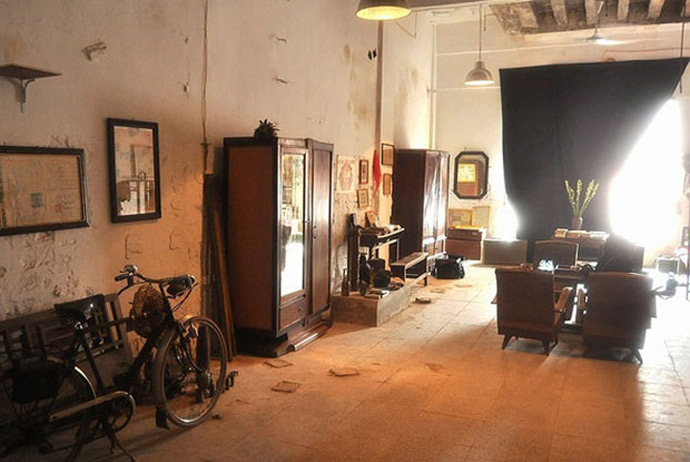 Nhà Sàn Collective is an interesting exhibition room for young people who love art and creation. This is also a working studio where international artists work to improve the quality of the products made by local artists. If you want to have a good understanding about young Vietnamese people's art tendency, you should visit Nhà Sàn Collective once.
Address: 24 Lý Quốc Sư Street, Hanoi
15. Enjoy Fried Fermented Pork Roll (Nem Chua Rán)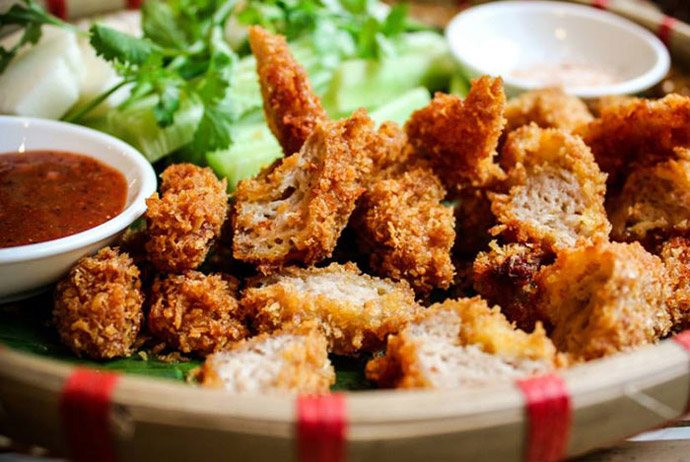 Fermented pork roll is a specialty of Vietnam. It is such a delicious food that if you try once, you will certainly want to eat more. The food is made from pork, garlic, and pepper, so it has a special flavor that cannot be confused with other foods.
16. Drink Beer On The Pavements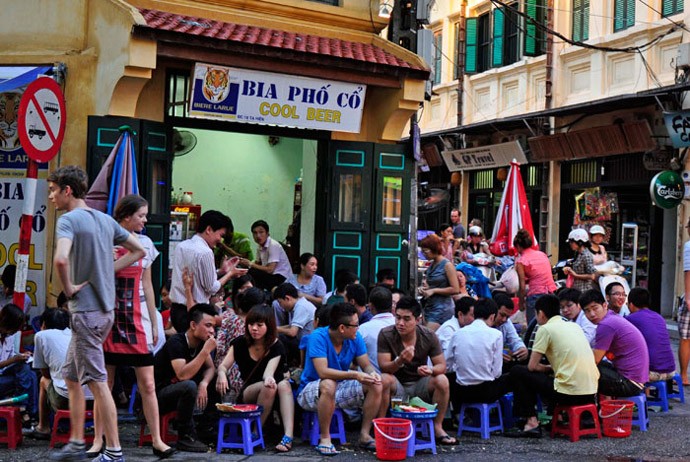 In the afternoons when the sun has set, many people in Hanoi gather at beer halls to drink beer and chat. There are also tables on the pavements for clients who want to watch the traffic while enjoying beer. Drinking beer on the pavement helps cool your body after long hours of traveling.
17. Drink Iced Tea On Any Pavement (Trà Đá Vỉa Hè)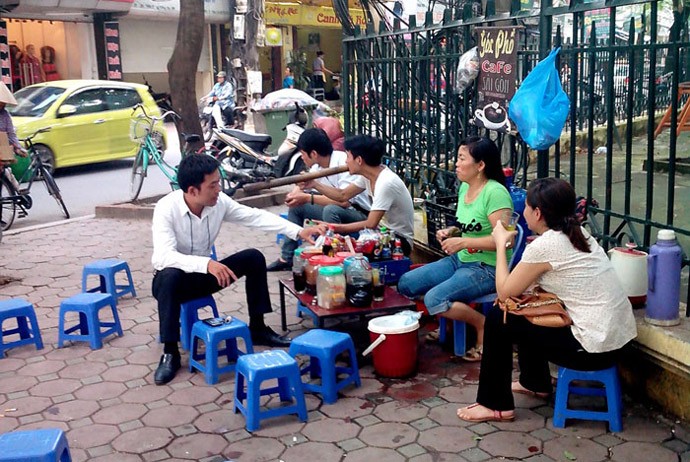 Iced tea is one among many refreshing beverages in summer. It helps cool your body and stop your thirst immediately. In Hanoi, iced tea is so popular that everyone can drink it. Coming here, you can easily buy a glass of iced tea on any pavement, under the shadow of big trees. Sitting on the pavement to drink iced tea and watching people moving are some good ways to relax.
18. Enjoy Kebab Rice Noodles (Bún chả)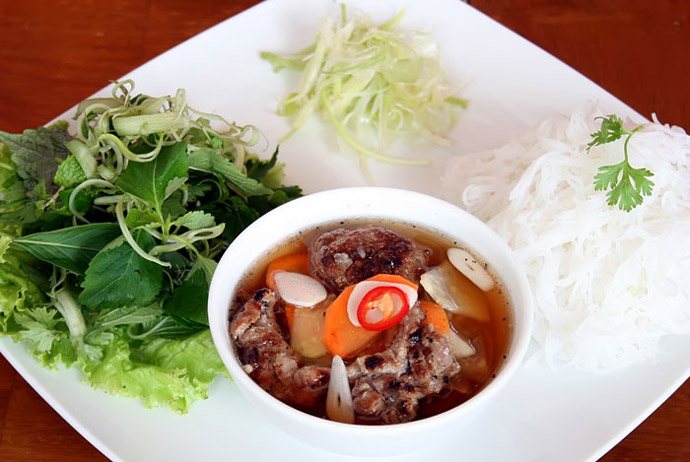 Kebab Rice Noodles is a very popular dish in Hanoi. It is made of grilled pork and vermicelli noodles, and is often served with herbs, salad, sliced carrots, and fish sauce.
19. Walk Around Sword Lake (Hồ Gươm)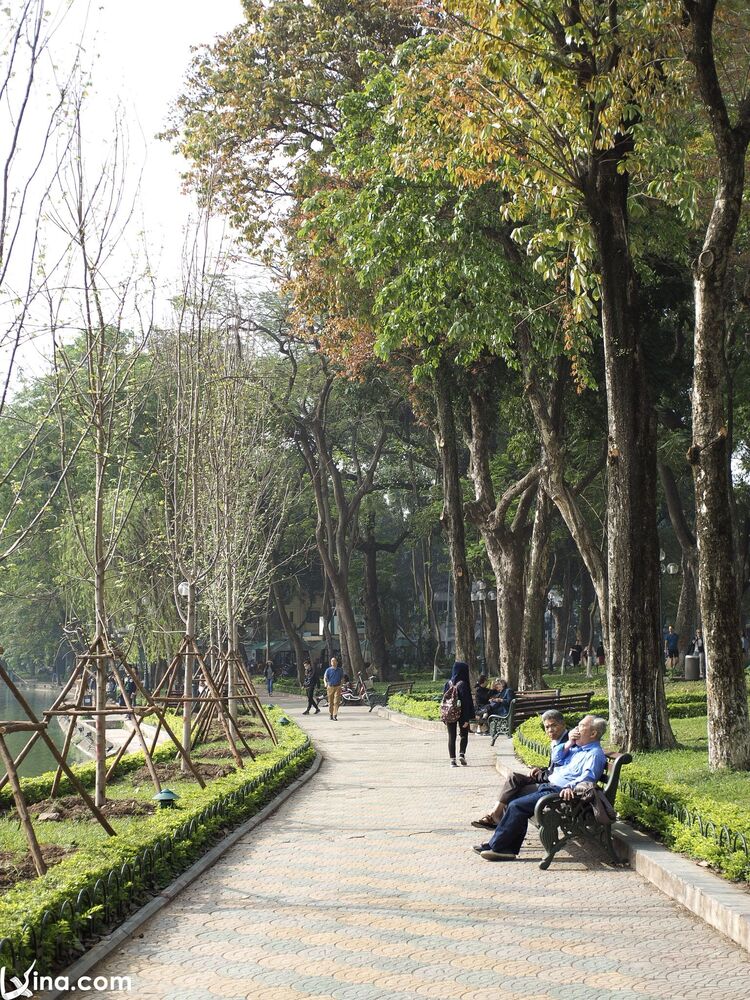 Sword Lake By Duong Nguyen
Walking around Sword Lake is also one of the top 35 things to do in Hanoi, Vietnam. In contrast to the noise on the streets is still water in the lake that makes the area peaceful.
Location: Hoan Kiem district
20. Watch Lotus In West Lake (Hồ Tây)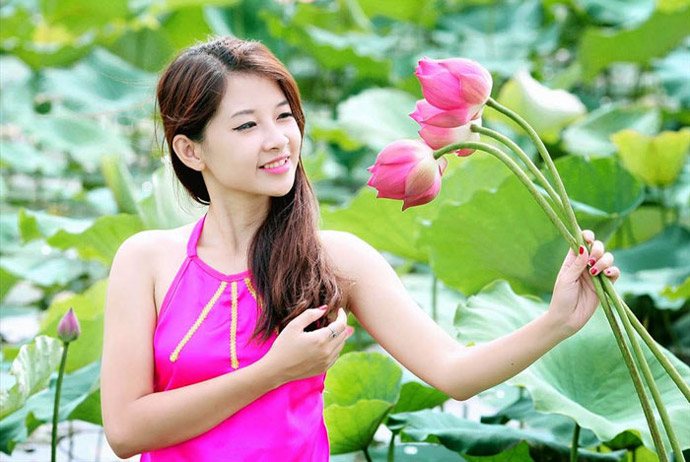 In summer, young people in Hanoi often get up early and go to West Lake to enjoy the slight wind, watch sunrise and beautiful lotuses. The odor of lotuses, the pink and white colors of lotuses mixed with the green color of leaves making such a great picture in the lake that many girls and women often come here to take photos for their albums.
Location: Tay Ho district
21. Go To Flower Markets On Lunar New Year (Chợ Hoa Ngày Tết)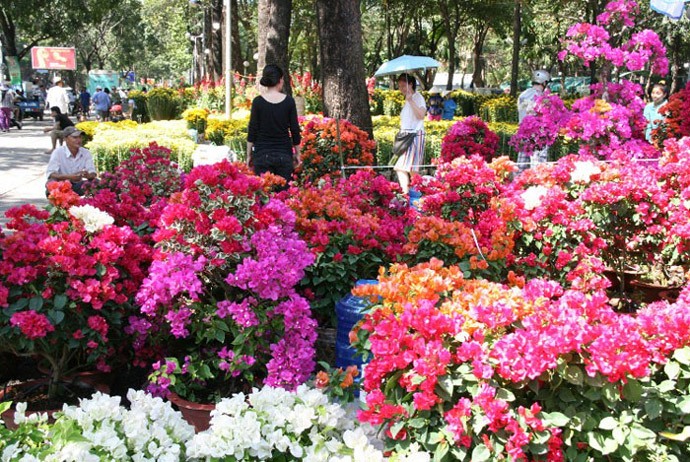 Kumquat trees, peach blossoms, and vases of flowers are displayed and sold on many streets of Hanoi when Lunar New Year is coming. About two weeks before Tet holiday, flowers markets in this city start being crowded with sellers, buyers, and foreign tourists. Many people come there to buy a branch of peach, a kumquat tree, or some vases of flowers for decorating their house. Other people come to watch flowers and enjoy Tet atmosphere in this capital city.
22. Visit St. Joseph's Cathedral (Nhà Thờ Lớn)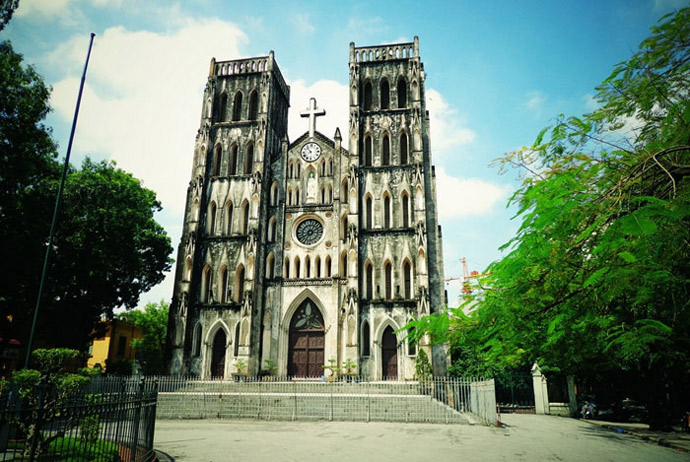 Because of the beautiful architecture of Saint Joseph's Cathedral, people in Hanoi and foreign tourists often hang out with their friends here. If you come to this big church, you will also see some grooms and brides taking their wedding photos happily.
Location: 40 Nha Chung street, Hoan Kiem district
23. Watch Yellow Leaves Falling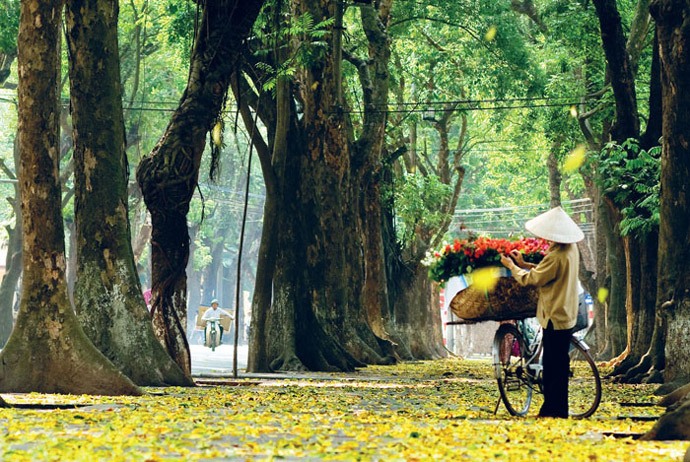 Yellow leaves in Hanoi usually fall at the end of April. During this time, Phan Dinh Phung Street and its pavements are very beautiful with dracontomelon leaves. Tran Phu Street and Dinh Tien Hoang Street are also covered with yellow leaves that attract many visitors. Walking on the pavements which are full of yellow leaves will make you feel good and relaxed.
24. Have A Night Meal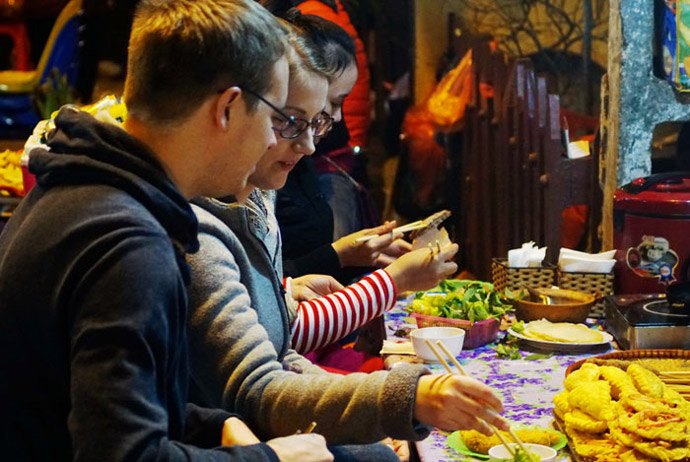 Having a night meal is one of the top 35 things to do in Hanoi. You may choose boiled water snail (ốc luộc), grilled chicken legs (chân gà nướng), stuffed pancake (bánh cuốn), or many others. Each food has a special flavor that is so typical of Vietnam.
25. Exercise In The Park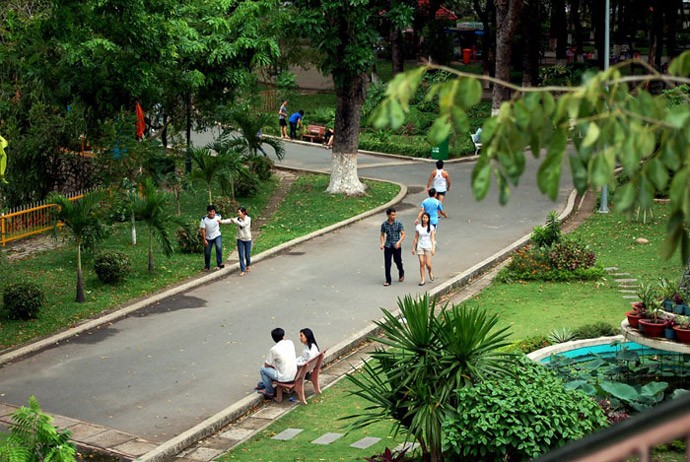 When you come to Hanoi, you should not miss the chance to do exercises in the park as this is one of the top 35 things to do in Hanoi, Vietnam. In the early mornings and the late afternoons, the parks here are crowded with people of all ages. Many of them are running, or walking. Some students are trying to learn something by heart. Couples are chatting on park benches or grass. Children are excited about riding kids' bikes. Exercising in the park will not only make you feel stronger and more relaxed, but also help you know more about Vietnamese culture.
26. Visit Pagodas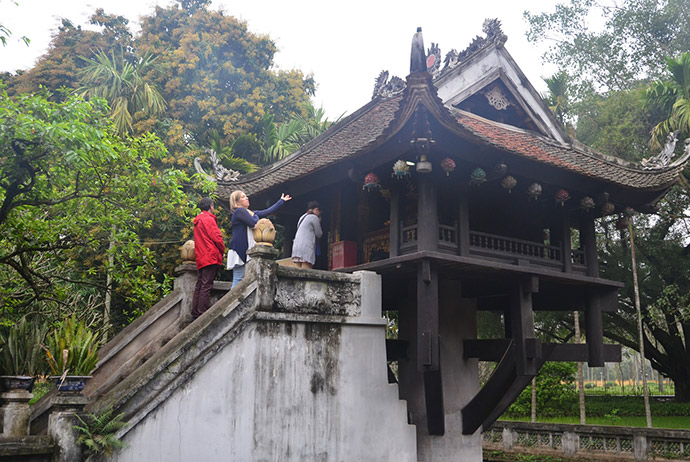 There are a lot of pagodas in Hanoi, Vietnam. Many of them were built centuries ago. If you come to this city, you should visit some pagodas such as Perfume Pagoda (Chùa Hương) or Quán Sứ pagoda.
27. Go Shopping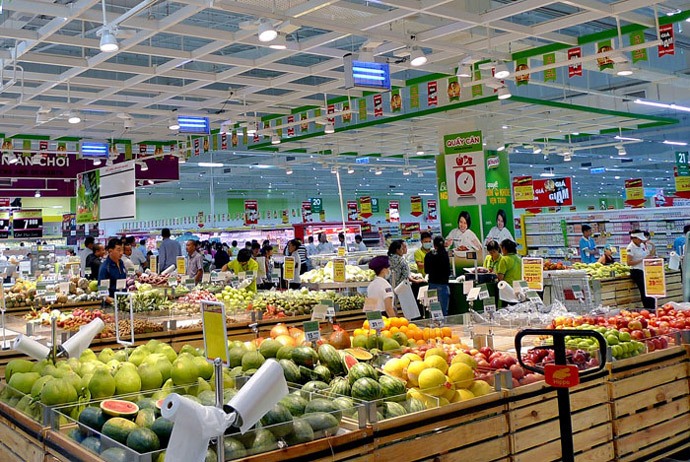 Hanoi is one of the top 6 shopping cities in Asia. There are many places for you to shop such as:
Hanoi Old Quarter located in Hoan Kiem district

Big C Thang Long supermarket located on Tran Duy Hung Street, Cau Giay district.

Metro supermarket located on Pham Van Dong Street, Bac Tu Liem district.

Vincom Center Bà Triệu located on Ba Trieu Street, Hoan Kiem district.
28. Play In Vinpearl Water Park At Royal City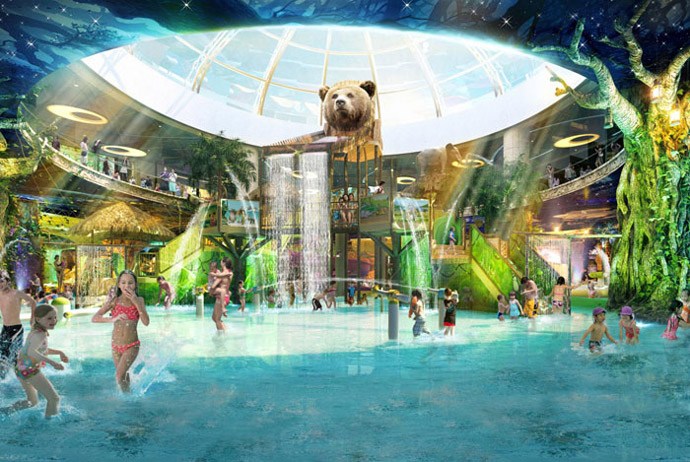 Playing in Vinpearl Water Park at Royal City is very exciting. There are epic slides here that can bring you fun and thrilling emotions. There are also many games for you to play with water here. Do not miss the chance to play in this place when you visit Hanoi.
Opening hours: 9 am – 10 pm
Location: 72 Nguyen Trai Street, Thanh Xuan district
29. Eat La Vong Grilled Fish (Chả Cá Lã Vọng)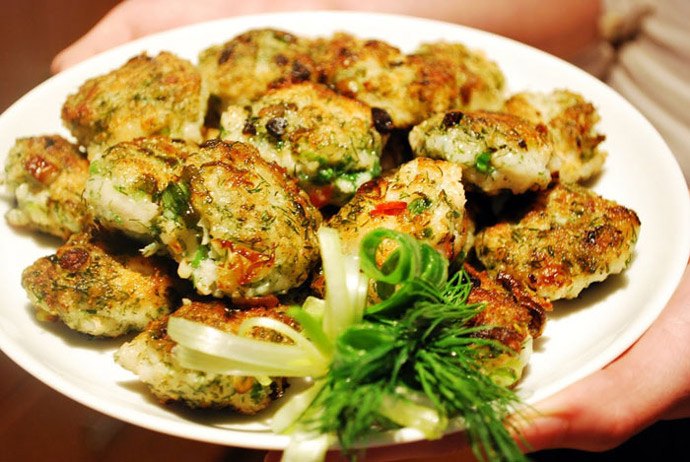 La Vong grilled fish is one of the most delicious foods in Hanoi. Having lunch at Chả Cá street is one of the top 35 things to do in Hanoi, Vietnam that foreign tourists should not miss.
Location: Cha Ca Street, Hoan Kiem district
30. See Long Bien Bridge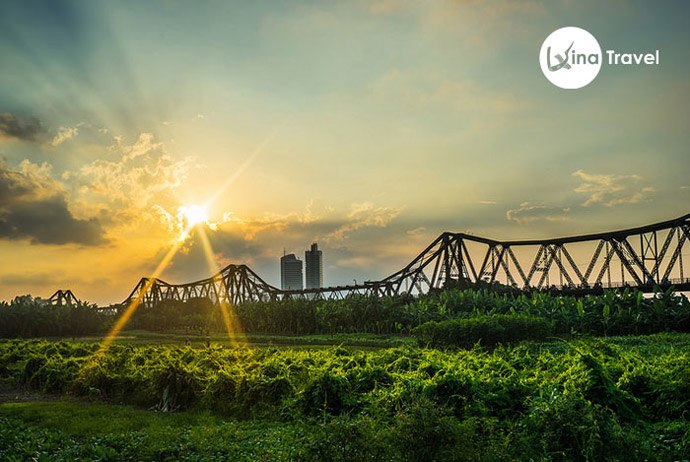 Long Bien Bridge, which goes over the Red River and connects two parts of Hanoi, has an interesting history. The bridge was built when France occupied Indochina. It used to be one among the longest bridges in this area with special architecture.
Location: Long Bien district
31. Take Photos In (Bách Thảo)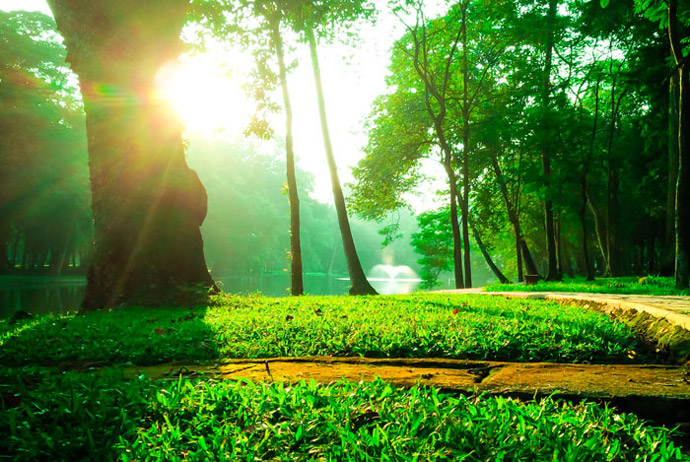 Botanical Garden is considered the lung of Hanoi. People who love nature, peace, and trees often come here to take photos or rest. If you want to have beautiful photographs with green trees, Botanical Garden is a good place for such photo taking.
32. Experience Pottery Making At Bat Trang Village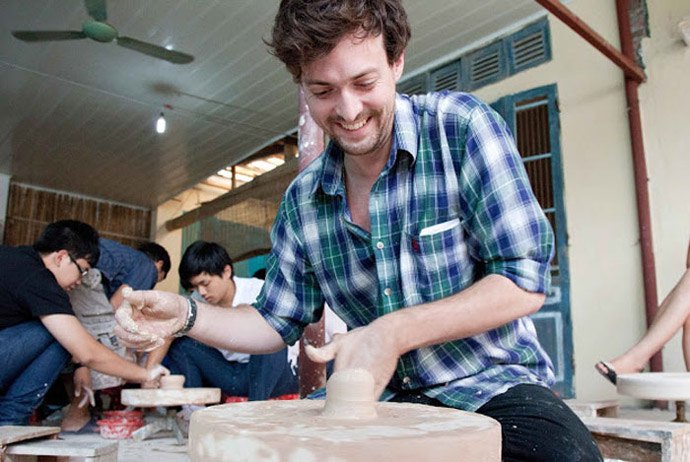 Bat Trang Village is a place where people produce china from clay. When you come here, you can experience making your own pottery product like a bowl, a cup, or a vase, and bring it home after it is fired.
33. Watch A Water Puppet Show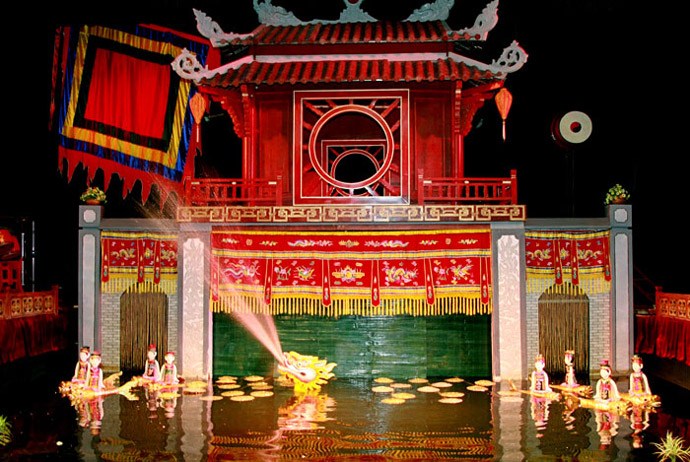 Water puppetry is a traditional art in Vietnam. The water puppet performance is mainly about the farmers' routines and cultivation.
34. Walk In Ba Vi National Park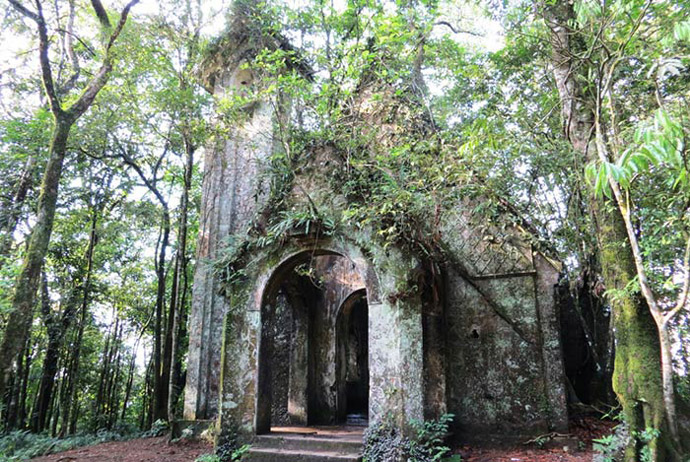 Walking in Ba Vi National Park is so relaxing and interesting that every foreign tourist never miss. In this mountainous and picturesque area, you can also take beautiful photos with nature while hiding from the noise of city life.
35. Take A Cyclo Around The Old Quarter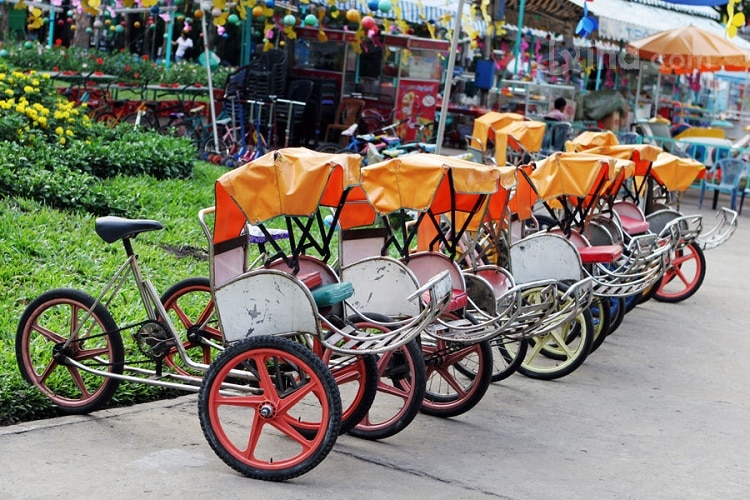 Hanoi Old Quarter By Vina.com
Taking a cyclo around the Old Quarter is one of the top 35 things to do in Hanoi, Vietnam. Sitting in the cyclo, you can see everything on the streets well without having to worry about the traffic as the cyclist often drive slowly and very safely.
In this writing, I have listed out the top 35 things to do in Hanoi, Vietnam. I hope it is helpful for you when you visit this city. If you have any question, feel free to leave it here, and I will get back to you soon.
Related Articles:
15 Hanoi attractions tourists should know – places worth visiting
25 best Hanoi activities tourists should know – travel fun
Hanoi nightlife: where to go & what to do in the evening in Hanoi
15 best Hanoi restaurants tourists should know – travel smart