Vung Tau is well known for seascapes with famous beaches, food and drink. This destination is ideal for anyone to take a getaway from a stressful life. Vung Tau sea city is especially alluring to tourists by its beautiful natural landscapes. Of these charming natural landscapes, Suoi Tien can be the most special one for nature lovers and adventurers. 
Jim Hodges ever said, "landscape is a piece that is emotional and psychological". A perfectly beautiful landscape is a harmony of the natural environment and the psithurism that you can feel the sound of the wind through trees. That is such a fantastic thing the charming scenery brings to you, which helps you find your enjoyment and balance after hard work in life. It is just like a simple but miracle mission of nature to relieve humans. I had a chance to experience in Suoi Tien, Vung Tau where I immerse myself in every time, every scene of this beautiful site. 
This place is so gorgeous and pristine that I could not miss any movement of nature and moment of the scenery. Suoi Tien is a beautiful destination for those people who are planning to escape the bustling city. The integrity and tranquil atmosphere make your soul refreshed. This place with stunning sceneries influences the soul, the body because whenever you feel nature in your mind; seemingly, it is time to find balance and freedom on your own.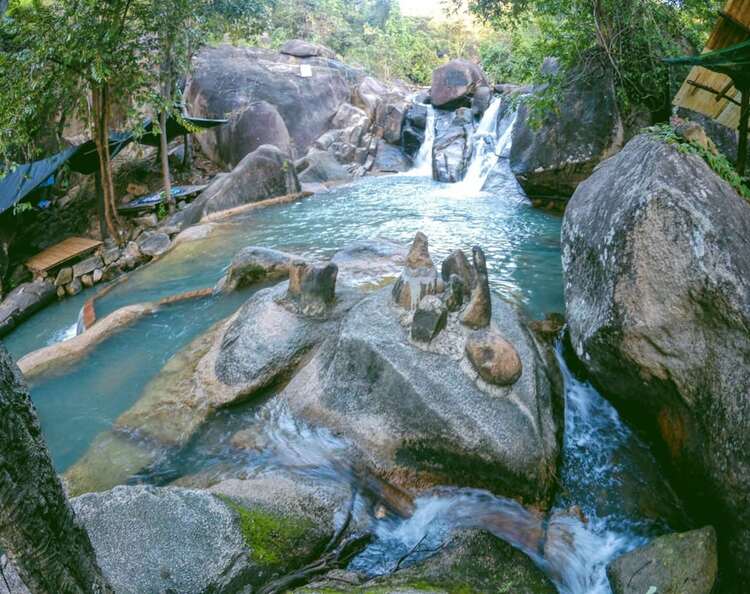 About 7km away from Ba Ria town in the northwestern, Suoi Tien belongs to Tan Thanh district, Ba Ria-Vung Tau. This place came from the top of Dinh Mountain with a height of about 500m. It is commonly considered the second Da Lat of Vietnam due to the charming natural landscape as a privileged treasure of heaven. 
Origin Of The Name "Suoi Tien":
Many tourists may feel curious about the name of Suoi Tien. Legendarily, this place was a wild land with dense trees in deserted forests and mountains. In the bright moon nights, fairies in the sky land on the ground to go sightseeing. Crossing the stream, the fairies bathe here together, then fly to the sky again. Today, on the rock-top of Dinh Mountain, there are beautiful barefoot prints on rocks so-called fairies' barefoot. Perhaps, the ancestors loved the landscape of Dinh Mountain – a magnificent and charming area of mountains and forests, so they called this place with a romantic name: Suoi Tien (the stream where fairies landed down).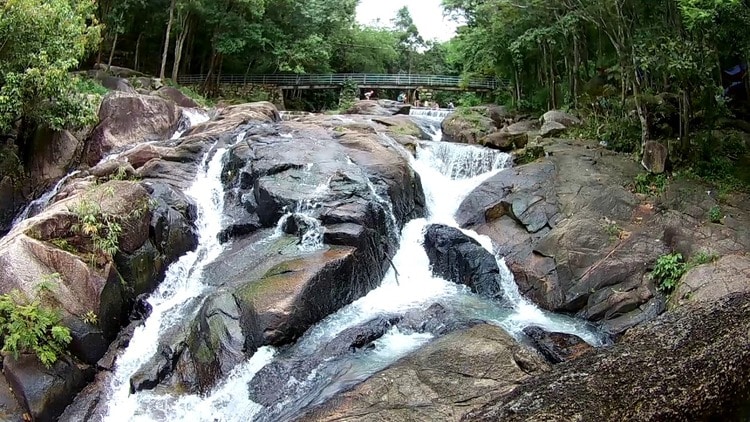 Suoi Tien attracts tourists by its integrity of terrain and plain nature. From the height of hundreds of meters along with the flat slope towards the east, the water of Suoi Tien falls impetuously in two sides of the mountain curving green fields before it flows into Thi Vai River. Suoi Tien still keeps the pristine and natural but amazing beauty for anyone on the first trip to this place. Rock tops are in many unique shapes featuring a rock top like "the posture of a mother and a child are talking", a rock top like "a baby elephant", a rock top like "thoughtful old man". Besides, there is a great deal of lichen and moss sticking to the rock-top as if they exist here for a thousand year. 
Especially, standing in any position, tourists can hear the loud sound of the stream falling from the mountain peak to create deep skylights; the water is so bright and blue that you can see each of white stones under the basement. The water is falling aggressively; the air steam flies into the atmosphere with tiny dust, which creates a comfortable feeling. In the rainy season, the mighty water of the stream rolls on incessantly; and the foam erupts white the whole area. Whereas, in the dry season, the stream is like a beautiful, graceful girl; and is flowing into the harmonious lines. 
  Also, tourists can continue to experience the trip by going sightseeing to small pagodas near here to hear the vibrating sound of the bell and enjoy the smell of incense mingled with the scent of lily flowers, magnolia flowers. That engages the tranquillity and calmness of the pagoda in the mountainous area. It creates an impressive point for the landscape of Suoi Tien to allure tourists to this place. 
Setting foot on Suoi Tien, tourists can experience and explore the pristine beauty of this area. First of all, you can have a chance to discover Dinh Mountain. Suoi Da- Suoi Tien falls from the top of Dinh Mountain, so if you go along the stream, you can go to Dinh Mountain. The path to the stream was tiled with bricks; several parts are quite easy to pass through. Notably, the scenery in the forest is incredibly fantastic due to the harmony of birds and plants, fresh air as well. This path is about 600m long, a little curving and incredibly peaceful. 
Besides, catching the moment at dawn in the mountains can be a fantastic experience for sunset lovers. After bathing and climbing the mountain, tourists can admire the whole beautiful scenery. With a height of about 500m, Dinh Mountain is ideal for tourists to observe the broad view of Vung Tau city. 
Also, on Dinh Mountain, there are many pagodas such as Tay Phuong pagoda and Hang Mai pagoda, which are suitable for tourists to take part in spiritual activities and explore Dinh Mountain. Of these pagodas, Hang Mai pagoda is considered the hardest challenge to adventure. Otherwise, Tay Phuong pagoda is attractive to tourists by hundreds of monkeys living here.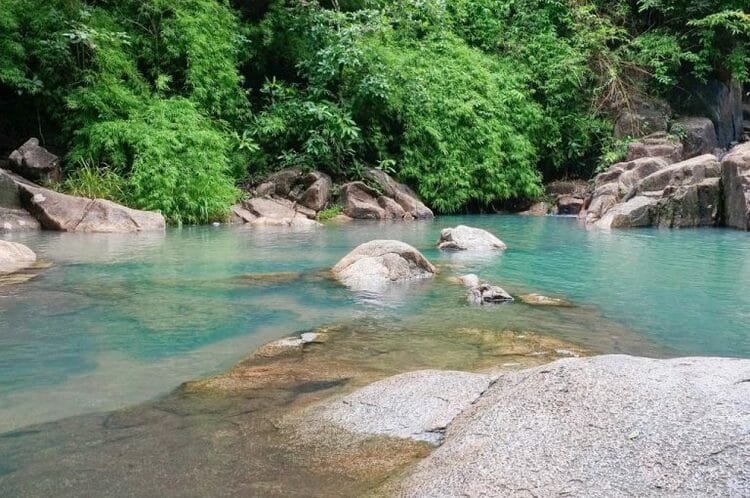 However, to have a fun and memorable trip, tourists should prepare well before taking a trip to Suoi Tien. Along the stream, there are several rocket-tops to take perfect pictures, but you should be careful to capture here because under the rocket-tops are dangerous abysses. Moreover, if you cannot swim, you should rent life-jackets to be safe. The price of renting a life jacket is about 10000 vnd per one. Food and drink in Suoi Tien are not plentiful and not quite delicious, so tourists had better prepare food by themselves. Notably, in the dry season, the water in Suoi Tien- Suoi Da is relatively waterless. Therefore, it will be better for fun activities when you go in the rainy season. 
From Sai gon, it is suggested that you should go to Suoi Tien by motorbike or coach. However, the distance from Sai Gon to Suoi Tien is not far, about 85km, so people often choose to ride a motorcycle more than take a coach because it will be a great time to experience by motorbike. 
Suoi Tien beautiful site is worth visiting and enjoying the holiday. Tourists can pay a visit to Suoi Tien as a getaway from tiring work and noisy life in cities. Also, Suoi Tien is an ideal place for anyone to find peace and love nature with pristine and beautiful landscapes. 
By Minh Phuong