It is not difficult to guess what the most common specialties in a beach city are. Still, seafood comes in different forms and combinations, so the price of your culinary adventures here will be diverse as well.
We all know that Nha Trang is a tourist attraction; it means that you could try out the upmarket five-star hotel dining choices, yet it is still nice to know that there are a number of local down-home options. Here, we would like to introduce to you a list of the best Nha Trang restaurants for both locals and tourists. If you are going to visit this beautiful coastal city, then note down some of the ideas of Nha Trang restaurants introduced here so you will not run out of ideas about dining when visiting Nha Trang. Take a quick look!
22 Nha Trang Restaurants –Best Suggestions For Tourist
1. Le Bouchon Restaurant
Le Bouchon should be the first option when it comes to best Nha Trang restaurants. This is a small French-styled restaurant which is located in the center area of Nha Trang city. The menu is abundant and has been hailed with authentic French foods by a lot of gourmet travelers. Even those expats coming to France also dine here. There are two floors in Le Bounchon. The downstairs is a loud bar while the upstairs is a traditional café with great food choices. A few tables are set besides the windows that slide open entirely, letting in fresh air. Actually, this restaurant's decoration is not too special but most visitors will feel like they are being at home when dinning here. This restaurant is owned by friendly French people who are also the cook.
There is a set menu of the day. Here, you will find super authentic cuisine lyonnaise in all its hearty, fatty, and meaty glory. Including both French foods as well as Vietnamese dishes like steak with the pepper sauce, lamb, pork, duck, warm goat cheese salad, French fries, and different types of innards, and raw delights. All of them served in the large portions. In case you are a person who loves meat, then this restaurant is a must-try option.
A great idea about this restaurant is that sometimes you could catch the owner right at the bar, he may even offer you a great glass of anise liquor pastis. With friendly staff who can speak English and French rather well, you can enjoy a wonderful dining option smoothly. The price is also very affordable so Le Bouchon is an ideal option for those who want to enjoy French food with good quality at the reasonable cost.
Opening hours: 9 am – 11 pm every day
Location: No.1P Hung Vuong (Hùng Vương) Street, Nha Trang
2. Good Morning Vietnam Restaurant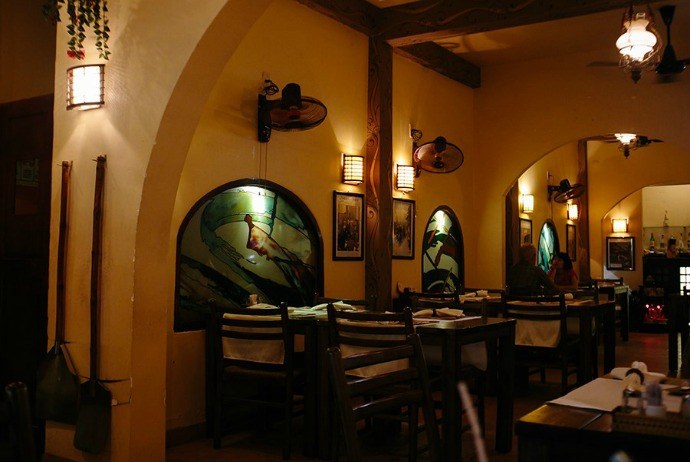 One of the most well-known Nha Trang restaurants is Good Morning restaurant, which was the first out of the series of six restaurants opened in tourist centre throughout Vietnam. Food served here is Italian, all freshly prepared and is eminently affordable.
Having an authentic, nice looking decoration, the restaurant is featured with lightly yellow colors inside, Italian styled pictures, small lamps. There are two floors in this Good Morning restaurant – the downstairs, upstairs and a balcony. Choosing to dine here, tourists could watch the busy daily life of locals go by with the cool sea breeze whilst enjoying their meal.
Among dishes introduced, maybe pizzas are the most well-known, not only in the restaurant itself but also in the whole city. In addition, there are pasta which is frequently made, Western salad as well as sandwich, and tasty Vietnamese specialties. Good Morning Vietnamese is famous for its Western hygiene standard. It is reckoned as one of the best Nha Trang restaurants which have a good relationship with different travel agencies in Nha Trang.
Particularly, a lot of Nha Trang restaurants do not have baby seats yet this restaurant does have. Hence, if you are going to have a dinner with the whole family, then do not hesitate to visit here. The staffs here are very attentive and friendly. Despite prices is somewhat higher than others but it is really worth a pay for what you will get. Come here and have a taste of true Italy in Vietnam.
Opening hours: 10:00 – 23:00 every day
Location: No. 111 B Nguyen Thien Thuat (Nguyễn Thiện Thuật) Street, Nha Trang
3. Da Fernando Restaurant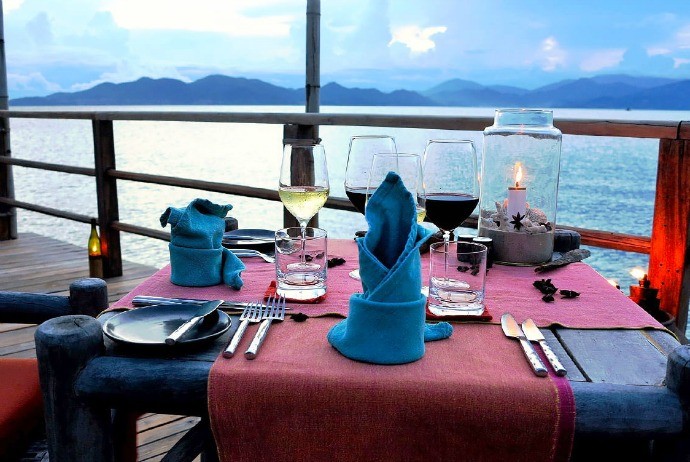 Belonged to an Italian, this restaurant, among many other Nha Trang restaurants, is a reliable place which serves classics like ham ravioli, spinach, caprice salad, and a variety of risotto dishes as well as dessert such as tiramisu. Pastas here are freshly made. The list of wine is majorly Italian. This is smallish establishment yet has easy-going space. Really, it is the best suitable for families with kids. According to Katerina Kutsyna, an experienced tourist who enjoy a dinner meal at this restaurant, there are some of the most appreciated features about Da Fernando including real Italian food, attentive staff, big plates, and quick service. Da Fernando is very easy to find as it is located in the heart of Nha Trang city, meaning that it is a popular destination for locals and traveler alike.
Opening hours: 7 am – 11 pm every day
Location: No.96 Nguyen Thien Thuat (Nguyễn Thiện Thuật) Street, Nha Trang
4. Ha Van "A" Rooftop Lounge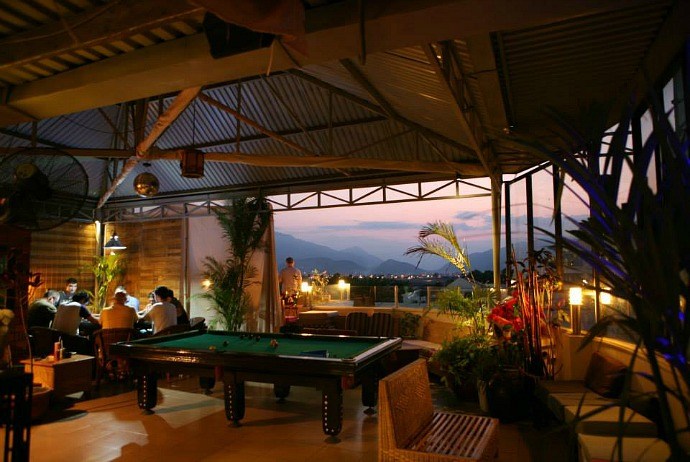 This is a part of Ha Van hotel – a budget hotel – which is famed as a hang-out for those backpackers.
Located on the top floor of the establishment, there are a few areas with the major dining area giving a commanding view of Nha Trang city, a bar, an internet area with some computers and lounge chairs.
Moreover, the food served here includes American breakfast of bacon, eggs and seasonal fruits with tasty coffee and is affordable. In addition to breakfast, the cuisine here is majorly Vietnamese priced reasonably. If you come here later in the day, you will enjoy the changing light of the sky with a great treat of a cocktail.
Opening hours: 6 am – 10 pm every day
Location: No. 3/2 Tran Quang Khai (Trần Quang Khải) Street, Nha Trang
Are you looking for something truly local? Well, the following Nha Trang restaurants will definitely satisfy your taste. Check out below!
5. Lac Canh Restaurant (Nhà Hàng Lạc Cảnh)
Do you want to enjoy some truly local food? Opt for Lac Canh restaurant. Always packed with expats, tourists and locals as well, Lac Canh is a bustling street-side restaurant, in which you could barbecue the food at the table or order off the wide-ranging menu. The dishes have high quality with good services and attentive staffs. Also, it supplies diversity menu in affordable price.
However, there are some interesting specialties not available on the English menu, such as noodles with crab eggs and spicy stir-fried frog. People said that "If someone visits Nha Trang without having a dinner at Lac Canh restaurant, they just know half of Nha Trang." In detail, the food is very delicious, with various options like baked shrimp, chicken fat away… yet the most well-known is the grilled beef. In order to make the taste of this dish, there is a secret which is only known by a few people in the family and they are not permitted to disclose to the outside. According to the owner, the beef is mixed with honey along with over 10 spices, and sliced into square pieces. The customers just need to bake it on the charcoal stove. You could enjoy this special food with potato, vegetable, and drink beer. This is the best idea for groups of friends or families. However, travelers could also have interesting experience at this restaurant.
Actually, after more than 50 years, this restaurant's owners do not have any plan to open a new branch. Sometimes, the restaurant is busy, but most guests are willing to wait. This restaurant closes rather early.
Opening hours: 11 am – 8:45 pm every day
Location: No. 44, Nguyen Binh Khiem (Nguyễn Bỉnh Khiêm) Street, Nha Trang
6. Lac Viet Quan Chay Restaurant (Nhà Hàng Lạc Việt Quán Chay)
If you are a vegetarian and worrying where to eat when visiting Nha Trang, then Lac Viet Quan Chay is your ideal destination. This vegetarian restaurant is only southeast of the market. A plate of mixed vegetables, veggie / tofu meat dishes with warm rice or simply a bowl of noodle soup costs less than US$ 1 in this restaurant. Though it is just a humble place it is still a great option for those vegetarians.
The restaurant is very easy to find as it is next to the bustling and colorful market.
Opening hours: 10 am – 10 pm every day
Location: No. 72,Huynh Thuc Khang (Huỳnh Thúc Kháng) Street, Tan Lap, (Tân Lập), Nha Trang
7. Lanterns Restaurant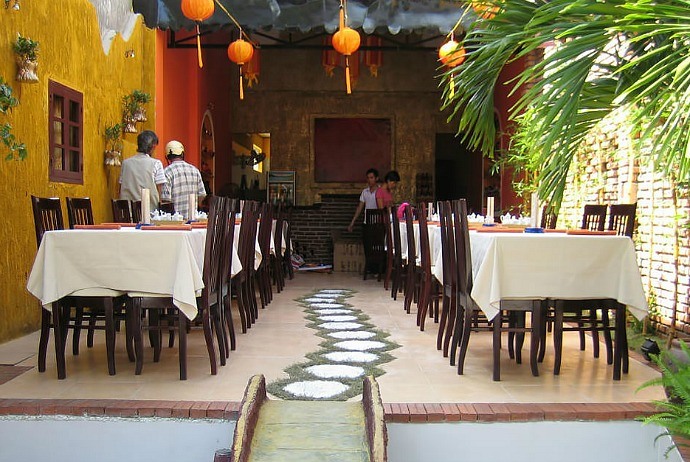 Long built as one of the best Nha Trang restaurants which offer Vietnamese food in Nha Trang, this restaurant has just gone through a renovation. Now, it features with smart decoration with the al-fresco part in front.
Lanterns restaurant offers traditional Vietnamese seafood as well as cuisine in hotpots, barbecue beef and seafood clay-pots. As a guest, you should try noodles with lemongrass chicken and seafood, or baked shrimp. When dinning here, you will be part of a charity project run by this restaurant which supports those local orphanages by kindly inviting them out for one meal per month.
Those people who want to enjoy a deeper taste of Vietnamese cuisine could take part in a half-day cooking class, organizing four times per week.
Opening hours: 10 am – 10 pm every day
Location: No. 72 Nguyen Thien Thuat (Nguyễn Thiện Thuật) Street, Nha Trang
Are you a fan of Spanish dishes? If so, check out the next restaurant in this list of Nha Trang restaurants!
8. La Mancha Restaurant
For those who love Spanish dishes, La Mancha should not be skipped. This restaurant offers a variety of Spanish food, like paella, barbecued meat on skewers, spicy chorizo and stuffed pepper. Also, a rich collection of tapas is featured on the menu.
The color scheme of this restaurant (ultramarine blue and earthy yellow) along with the ambiance is exactly Spanish, yet is still modern in outlook. Besides, there is small bar in the restaurant which offers various Spanish wines.
La Mancha offers breakfast, lunch and late night meal.
Opening hours: 7 am – 12 pm every day
Location: No.78 Nguyen ThienThuat (Nguyễn Thiện Thuật) Street, Nha Trang
9. Louisiane Brewhouse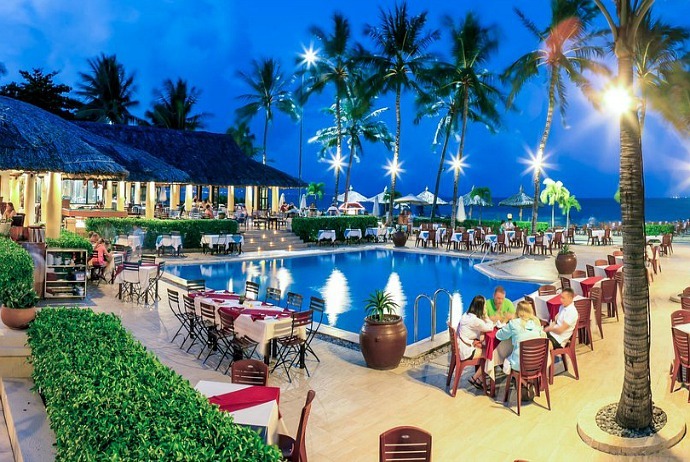 This is a classy beach club situated on one of the greatest stretches of Nha Trang beach. Louisiane Brewhouse offers not only the beer that draws a crowd there, but also an eclectically international cuisine of Vietnamese, Japanese and Thai dishes. Also, there are pastries and cakes for an afternoon tea. With the seafront lounge chairs under those thatched umbrellas, good food, great brewery, and beautiful pool, it will definitely bring to you an unforgettable experience of a relaxing day.
Opening hours: 07:00 – 01:00 every day
Location: No. 29 Tran Phu (Trần Phú) Street, Nha Trang
10. Yen's Restaurant (Nhà Hàng Yến)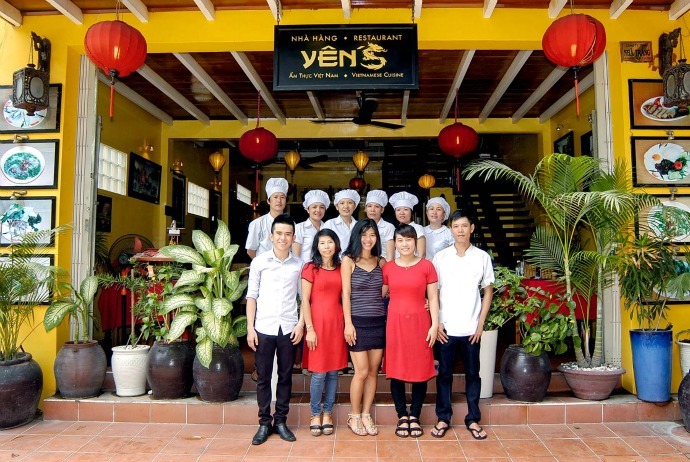 Yen's restaurant is a stylish restaurant which has a hospitable atmosphere. This restaurant is a family-run one offering the best traditional specialties in Vietnam with affordable prices as well as attentive, friendly staff. Despite the menu is small, all local specialties could be found there – from chicken or beef Pho, crunchy spring rolls, seafood crepes or Vietnamese hotpots.
Here, you will be served the most delicious and well-known dishes from country side. Every dish has been chosen to help represent the great variety of textures, tastes, and ingredients used in cooking Vietnamese food. The focus point is always on making use of fresh ingredients and techniques of local cooking in order to make authentic food, allowing users to experience the wonderful, unforgettable flavors of Vietnamese cuisine. It is really worth a try for tourists to taste such really good food with a fair price here.
Opening hours: 7 am – 11 pm every day
Location: No. 3/2A Tran Quang Khai (Trần Quang Khải) Street, Nha Trang
11. Nha Trang Xua (Nhà Hàng Nha Trang Xưa)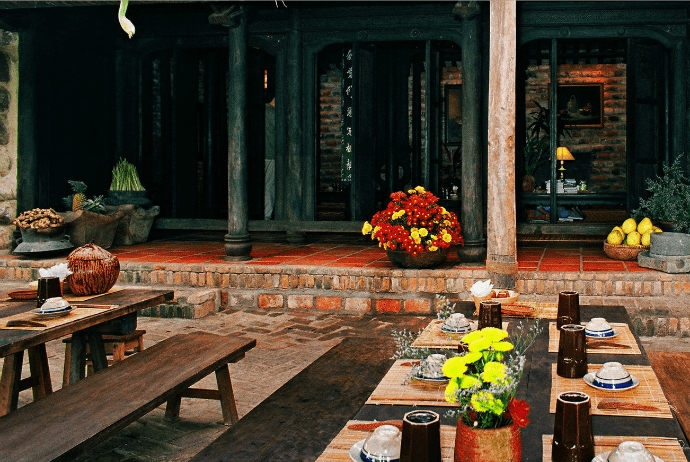 When it comes to Nha Trang restaurants, Nha Trang Xua is a classic Vietnamese restaurant which is set in a beautiful old house surrounded by a lotus pond, rice paddies and 300-year-old rustic mansion. About 6 km away from Nha Tran city center, the restaurant is owned by an American retiree Vince and the Vietnamese wife. Most of ingredients used here come from the vegetable plot of the establishment.
The most popular cuisine here is typical central Vietnam food with highlights like Vietnamese salads and five-spice beef, and of course, seafood. You should not skip beef clay pot, crispy pancakes that are filled with herbs and meats, and banana flower here.
Location: Thai Thong hamlet (Thôn Thái Thông), Vinh Thai (Vĩnh Thái), about 6 km from Nha Trang city
12. Nha Trang Seafood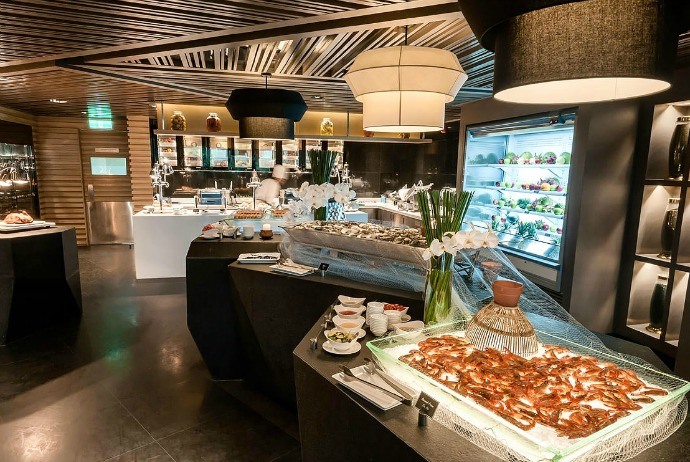 This restaurant is popular with those Japanese tourists. It serves no-nonsense seafood dishes at different forms, including fried, steamed, or grilled. The most extensive feature here is the typical Vietnamese blend of sour, sweet, and spicy, such as clay-pot dishes and shrimp in coconut. There are upstairs and downstairs in this Nha Trang seafood restaurant. Being lit up at night, the upstairs could be crowded yet fun and lively.
Opening hours: 10 am – 10 pm every day
Location: No.46 Nguyen Thi Minh Khai (Nguyễn Thị Minh Khai) Street, Nha Trang
There are many Indian-styled Nha Trang restaurants, but the next one is the best, so do not skip it!
13. Omar's Indian Restaurant
In this checklist of best Nha Trang restaurants, this great Indian restaurant is a popular storefront for those backpackers. Not only does the restaurant provide customers with Indian food but also Vietnamese dishes in high standard. The staffs and service are great, giving this restaurant a good reputable. Coming here, you will have a chance to enjoy all special Indian specialties such as Naan bread, Tandoori chicken. The North Indian curries with the added upside are offered with big portion, so it is not an expensive place for tourists at tight budget to eat at all.
Opening hours: 10 am – 10 pm every day
Location: No. 96A/8 Tran Phu (Trần Phú) Street, Nha Trang
14. Quan Cay Man (Quán Cây Mận)
Another great option regarding to Vietnamese-styled traditional Nha Trang restaurants recommended for tourists is Quan Cay Man. If you want to get a more special taste of local dining experience, Quan Cay Man will definitely satisfy your want. The major restaurant has a plum tree which grows on the roof, yet most of the seating is on the other side of the street around. Coming here, you can enjoy the so-called "Lau Bo (lẩu bò)" which is very delicious and cheap. However, the restaurant is just open from 2 pm to 8 pm; hence, it is better for you to plan accordingly.
Opening hours: 2pm – 8pm every day
Location: No.13A, Nguyen Cong Tru (Nguyễn Công Trứ) Street, Xuong Huan (Xương Huân), Nha Trang
15. The Pavilion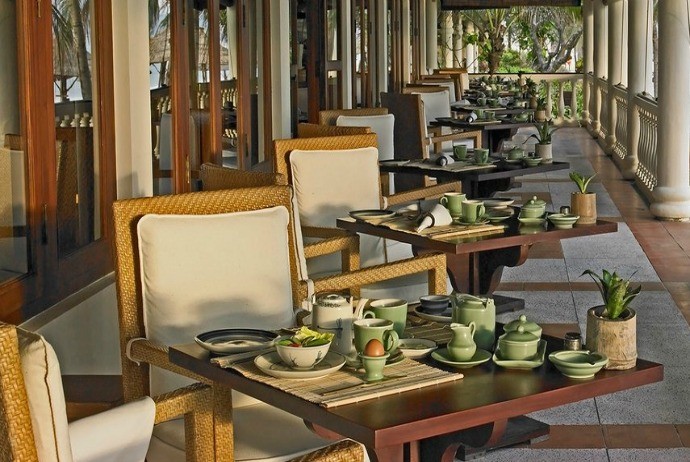 Located in a hotel, The Pavilion is among beachside Nha Trang restaurants, which is a fairly exclusive resort. If you are looking for a restaurant which can offer you a romantic atmosphere for dining, then you will go nowhere except for The Pavilion. Here, you can start your new day with a sumptuous international breakfast buffet. In evening, fine cuisine will complement the exotic setting. The international chef often recommends his concoctions to use the freshest ingredients with addedVietnamese flavors. Some of the must-try dishes in The Pavilion you should not skip are sea bass rolled in the roasted seaweed, wok-fried Nha Trang Bay lobster, served with tossed bok choy, organic veggies as well as seafood fried rice. Also, there are vegetarian dishes prepared for those who are vegetarians. The list of wine is extensive with old, new and even organic labels.
One of the most interesting about this restaurant is that there are live musicians playing soft music, making for a romantic atmosphere while seeing the waves roll in.
Opening hours: 06:00 – 23:00 every day
Location: Tran Phu (Trần Phú) Boulevard
16. Refuge Restaurant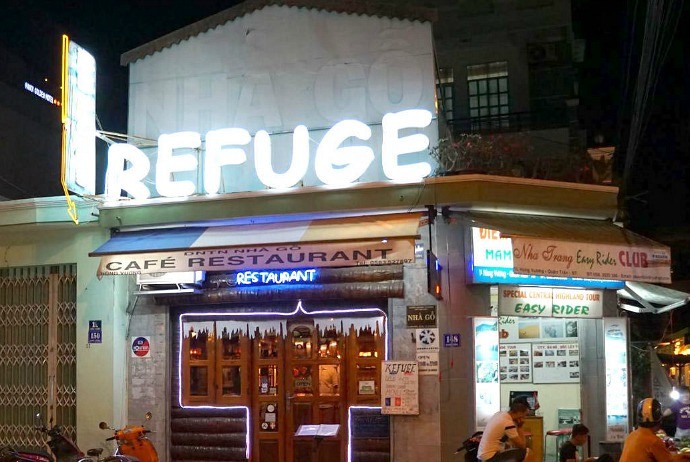 Owned and run by a Swiss – Vietnamese couple, Refuge is a cabin-style restaurant which is located in the centre of Nha Trang city and just minutes away from Nha Trang beach, a French styled restaurant with a Savoyard flavor. This is a good destination for families with kids. There are different options of dining, including breakfast, brunch, lunch and dinner.
Coming here, you absolutely should not skip some must-try dishes, which are ham, cheese, and egg crepe, nutella crepe, goat's cheese salad, grolle and colonel. Besides, refuge also offer a wide selection of desserts for guests, such as chocolate mousse, a wide array of creams as well as sorbets, and profiteroles. Portions here are plentiful and the majority of dishes, such as the frog legs or tender crocodile are heavy on cream.
Opening hours: 10 am – 10 pm every day
Location: No. 01L Hung Vuong (Hùng Vương), Quant Tran, Nha Trang
17. Romy's Ice Cream And Coffee Bar
Want to enjoy true taste of Italian ice-cream? Then, you should head for this site. The owner of the bar used to work as a chef and operated his own ice creamery in his hometown – German.
The ingredients used in this bar are imported from Italy and the waffles as well as cones are made in house. The most famous product of this bar is "Special Dalat" which is a rich combination of huge ice cream topped with whipped cream and local fresh fruit. Another recommended item you should try is the gelato waffle with chocolate sauce.
Opening hours: 10 am – 10 pm every day
Location: No. 1C Biet Thu (Biệt Thự), Loc Tho (Lộc Thọ), Nha Trang
18. Same Same But Different Coffee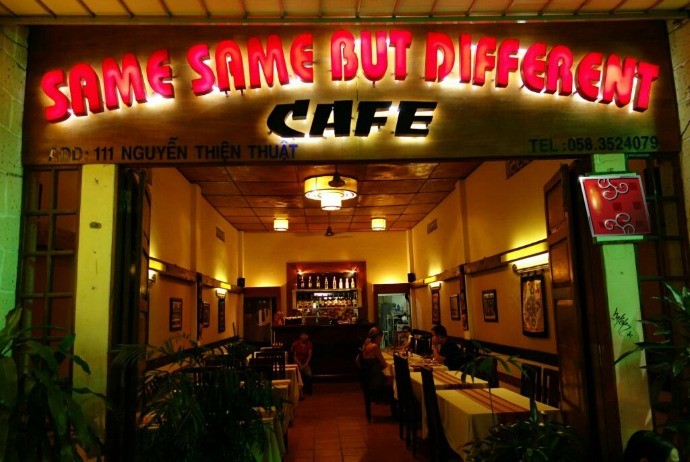 Not much like other Nha Trang restaurants mentioned earlier, Same Same But Different Coffee might be more likely a café than a restaurant. Yet, it still gets the point in this list due to its popularity. The name of the coffee shop itself shows that it could only be a café for backpackers. There is a wide array of selections of men with great dishes. Considered as one of the most excellent cafes in Nha Trang, Same Same But Different Coffee also serves Vietnamese stapes along with Western favorites. Owned by a knowledgeable tour guide named Dat, the café is situated in the central area of the city. With a rich understanding about history and culture of Vietnam, he will either arrange tours for customers or offer some useful tips and suggestions. The prices here are also reasonable and attentive staffs are very nice and professional.
Some of the must-try dishes here include Pad Ga Pow, Thai mushroom soup, Pad Thai, sandwiches, Vietnamese mushrooms and chicken, and tofu with mushrooms.
Opening hours: 10 am – 10 pm every day
Location: No.111 D Nguyen Thien Thuat‬ (Nguyễn Thiện Thuật) Street, Nha Trang
Love somewhere to dine out whilst still enjoying airy sea breeze? The following Nha Trang restaurants will not disappoint you!
19. Nha Trang Sailing Club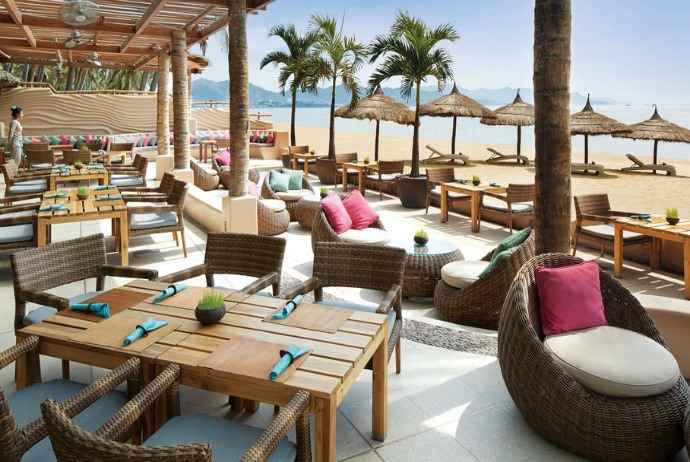 This is an ocean-side open-air restaurant/bar that can offer tourists a real Western breakfast. A good bet is the pancakes, served with not butter, not greasy. Sandals restaurant, a part of this chic and iconic Sailing Club, is an international restaurant which occupies the prime beachfront area of Sailing Club. Having a sophisticated decoration, the restaurant is one of the most luxurious Nha Trang restaurants that tourists cannot overlook. The international master chef professionally serves up his dishes blending the flavors of Asia, the Pacific Rim and the Mediterranean. In details, the restaurant serves Vietnamese, Indian, Italian and Japanese dishes.
There are many delicacies offered, yet some of the best are African-style calamari, shellfish paella, potted crab and ciabatta. You should not skip the Sandals Seafood Platter which is a mixture of prawn, lobster, fish, and mussels. This is a perfect option for a shared appetizer.
In the evening, this restaurant changes into a bar. It has a huge dance floor, right in front of the very long bar. The bar/club is extremely popular among those backpackers, and has the best music playing in Nha Trang. Monthly, there is a full moon party called Insomnia, along with some other events.
Opening hours: 10 am – 12 pm every day
Location: No.72-74, Tran Phu (Trần Phú) Street, Nha Trang
20. Shack Vietnam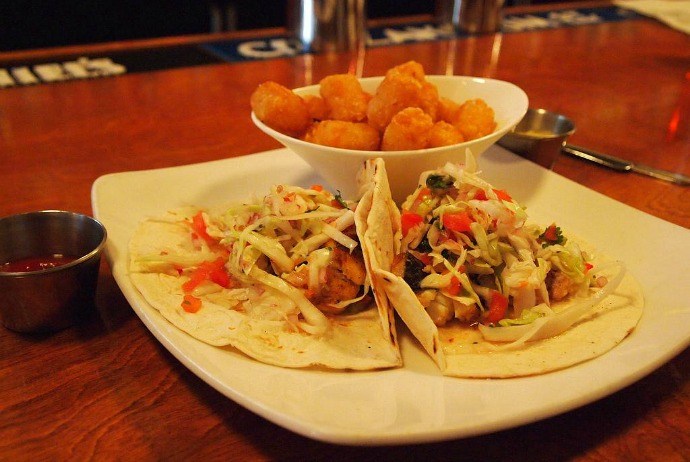 This is a wonderful shack restaurant accompanying with a bar, located in Bai Dai Beach (Bãi Dài), about 27 kilometers south of the city centre. Despite a little far away from the central area of Nha Trang, you can hire a motorbike to reach this site. Here, you will find a wide food selection from Vietnamese styles to Western tacos and burgers. This place is very ideal for customers to relax in the lounge after a long day of discovering many Nha Trang attractions while waiting for their food.
In terms of decoration, this is a wood-and-bamboo building which has beachside deck chairs and tables. Owned by an American man, who is chatty and friendly, Shack Vietnam is also suitable for those families with small children. Besides, here, you could also hire boogie boards, surfboards, and swimming rings.
Opening hours: 8 am – 10 pm every day
Location: Bai Dai (Bãi Dài) Beach, about 23 km from the city
21. Truc Linh 2 (Nhà Hàng Trúc Linh 2)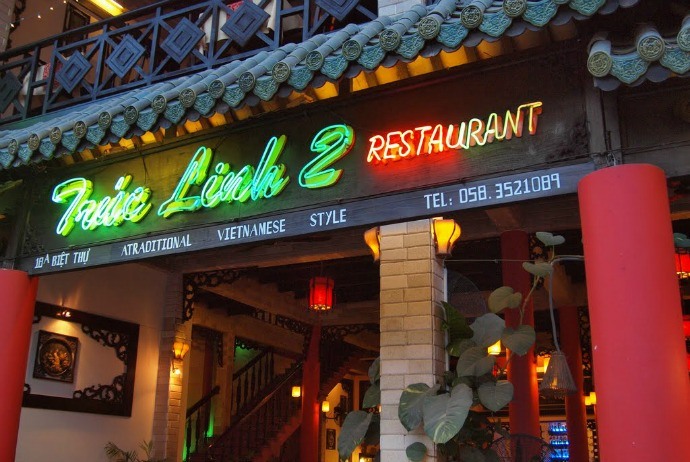 Among many Nha Trang restaurants, this might be the most popular restaurants with all visitor classes as well as residents. The restaurant has a seafood display on ice from which you could opt for your own jumbo shrimp, fresh fish, crab, and squid and then have it cooked to your favorite taste. The electric menu here includes a Vietnamese-style broth fondue which contains lots of herbs, fresh vegetables, seafood along with meats; a variety of mixes of clay-pot dishes, and the famous shrimp spring rolls.
This restaurant, one of the hottest dining destinations in Nha Trang, is not similar to the Truc Linh 1 restaurant which is located on the same street but offers a simpler menu.
Opening hours: 7 am – 10 pm every day
Location: No.21 Biet Thu (Biệt Thự), Loc Tho (Lộc Thọ), Nha Trang
22. Veranda Restaurant
In this series of worth-trying Nha Trang restaurants, this is the last but not least interesting one. Located in the tourist area of Nha Trang, Veranda is a beautiful restaurant accompanied with café that serves a mixture of both Vietnamese and Western food at affordable prices. The decoration of this restaurant is stylish and modern. Its air-conditioned glass-front part supplies a welcome respite from the hustle and bustle or Nha Trang streets. Also, there is a garden area behind the building. Veranda restaurant offers various set menus for different meals in the day.
Opening hours: 7 am – 10 pm every day
Location: No. 66 Tran Phu (Trần Phú) Street, Nha Trang
Due to the limited frame of this article, here are just some of the best Nha Trang restaurants. However, these are 22 most recommended Nha Trang restaurants that tourists can add to their checklist when visiting this beautiful coastal city. There are various choices when it comes to Nha Trang restaurants, depending on your favorite and your budget, choose the ones that suitable for your needs and have fun in these restaurants / cafes / bars / clubs.
If you have any idea about this topic of Nha Trang restaurants, then do not hesitate to leave your words below this post. We welcome all contributing ideas!
Related Articles:
18 must-see Nha Trang attractions – what to see in Nha Trang
Nha Trang nightlife: 19 ideas for a great night out in Nha Trang
Shopping in Nha Trang – what & where to shop in Nha Trang?
17 best things to do in Nha Trang – what to do & where to go