Updated: 11/27/2019
Hai Phong (Hải Phòng) is the city in the center of Red River (Sông Hồng). With a lot of fascinating tourist attractions, Hai Phong nowadays is a popular holiday destination for both international and domestic tourists, particularly in those hot summer days.
It has a rich history as it used to be a major trading center in the 19th century. Despite being suffered from damages of the Vietnam War, Hai Phong city has still maintained the beauty of its beautiful landmarks. If you are looking for interesting and fun activities in Hai Phong, then do not skip reading the following list of best things to do in Hai Phong. Here, we have collected top 12 interesting things to do in Hai Phong so that tourists can easily choose some as the most suitable for their needs and favorites. Check out the list below!
Things To Do In Hai Phong – 6 Fun Activities For Tourists
1. Have Fun At Cat Ba Island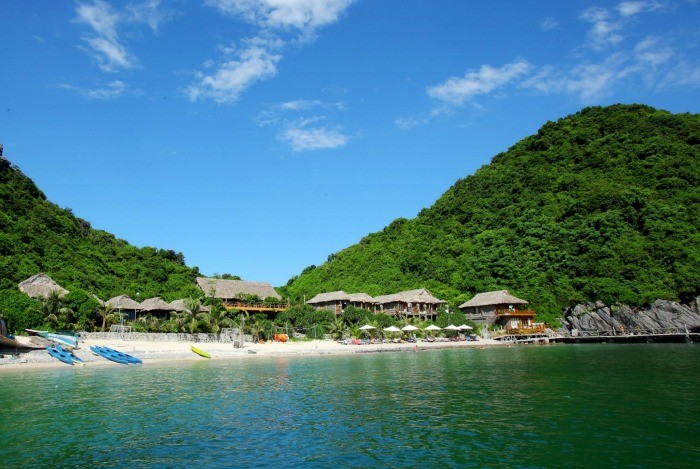 If you are planning a trip to Hai Phong with a view to visiting some famous sights, then Cat Ba (Cát Bà) Island will be likely to feature on your list. Cat Ba Island might be the most well-known attraction in Hai Phong city. Cat Ba archipelago consists of about 367 islands in general. Among these islands, Cat Ba Island is the most famous tourist destination, where beautiful natural sceneries combine with comfortable, relaxing weather. The temperature in this island fluctuates around 25 Celsius degrees in summer.
When it comes to things to do in Hai Phong, in general, and in Cat Ba Island, in particular, maybe diving and swimming are the most favorites. There are 3 swimming beaches that have been populated for many decades and attract a large number of tourists from worldwide thanks to the crystal-like clear blue water and natural scenery. These beaches are connected with each other by a small road trailing along the mountain.
The first beach is the biggest and thus it is the most crowded one while the second and third are a little bit scarcer and smaller. There are still some fun activities in Cat Ba Island, which are:
Go swimming in Cat Co 1 / Cat Co 2: this might be one of the most exciting things to do in Hai Phong that every tourist cannot miss, particularly going swimming in Cat Ba Island. Here, a peak turtle-shaped mountain divides the beach into 2 small, separate beaches, namely Cat Co 1 (Cát Cò 1) and Cat Co 2 (Cát Cò 2). On the left hand, you will see the blue and clear water along with smooth, white sand; while on the right hand, there is a fabricated rock mountain. The beauty of this beach has been changed over time. Nonetheless, it seems to never lose its natural luring power. In the morning, after watching sunrise on the sea, you can swim in the pure sea water as much as you could in order to feel how relaxing and fresh a "paradise" could be. In the afternoon, you will be able to discover many original beauties of the area by renting one kayak to paddle to the bay. After that, if you still feel well, then consider joining in some sports or activities on the beach, like boat racing, volley ball, and so forth. After the dark falls down, gather your family or friends to lie down in the cottages close to the beach and relax a little bit, letting airy windy flow through your skin, listening to the wave sound. What a relaxation and romantic experience is!
Scuba diving: Taking a dive down to the bottom of the sea and be surprised by the wonders that the sea offers. There are colorful corals under riffs. These corals are similar to a giant carpet going beneath the surface. Tourists could also find some rare sea creatures such as lobsters, abalones, pearls, and swarms of fish of different colors.
Besides, tourists could also join in this activity in the Cat Dua (Cát Dứa) Island Resort diving center, also known as Monkey Island resort diving center. Ask your trainer to help you out with this sport.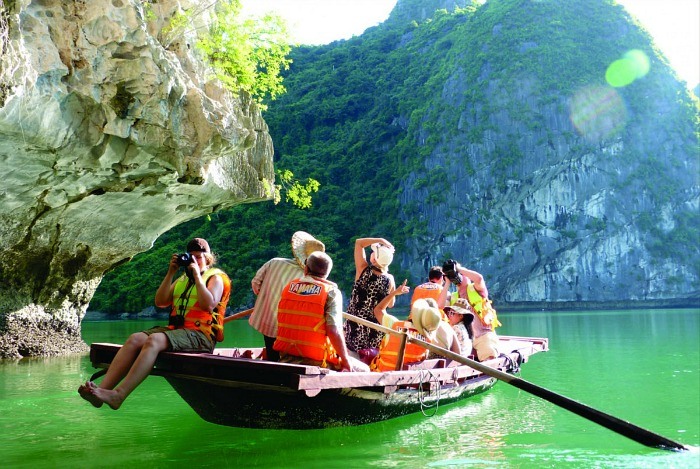 Stepping on boat: in Cat Ba Island, one can enjoy the warm water, blue sky and moreover they could see the golden sand beneath. If you love something calmer and quieter, then you could hire a kayak to sail to some small islets, on which Cat Trai Gai (Trai Gái), Duong Danh (Đường Danh), and Hien Hao (Hiền Hào), beaches are situated. I bet that when rowing to these small islets by yourself, you will experience a feeling which cannot be described.

Discovering wonderful, mysterious caves: for those who want to be a conqueror or explorer of natural wonder, they could visit caves here. There are some fascinating caves, including Khe Sau (Khe Sâu), Trung Trang (Trung Trang), Hang Luon (Hang Luồn), Gia Luan (Gia Luận), and Kim Cuong (Kim Cương). However, be careful and follow the instructions when discovering these caves.

Seeing the sunset scene over Lan Ha Bay: This is one of the must-try things to do in Hai Phong you should not skip. Lan Ha Bay(Vịnh Lan Hạ) is rather similar to Halong Bay (Vịnh Hạ Long) with the rising of cliffs on the sea; nevertheless, Lan Ha Bay have the pristine white sand beach that stretches from the foot of the hills – that Halong Bay does not have. With the background of the golden horizon along with the blue sea, this scenery will become an unforgettable memory in your journey.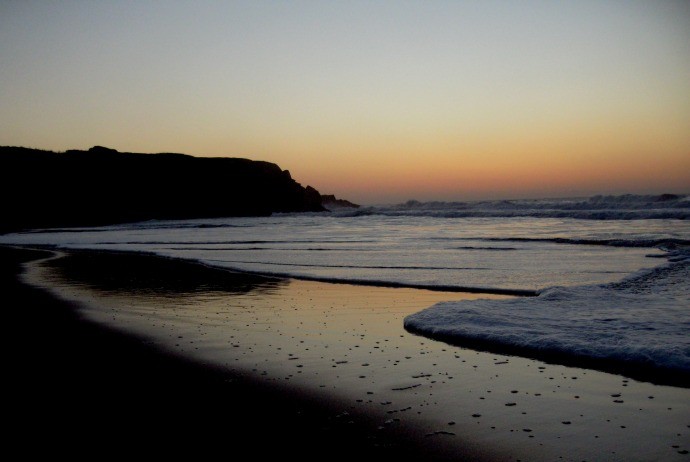 Walking in the dark: Cat Ba Island is well-known as a perfect location for enjoying a safe walk down the beach at night, with the blowing winds and cool weather. Tourists could rent an electric coach, a motorbike or a bicycle and then walk down the main road. By strolling along the beaches' connectors, you will have a relaxing feeling of the night. Let the cool wind playing with your hair, let your own body flow at its rhythm and forget all worries. That is a simple but wonderful experience that you hardly find in hustle and bustle cities like Hanoi and Saigon.

Visit Viet Hai (Việt Hải) Village: if you want to switch into a new atmospheric space and enjoy something interesting and peaceful, go to Viet Hai village. This village captures the attentions of many tourists due to the precious retained traditional and cultural values of Cat Ba Island. Despite the development of the area, locals in Viet Hai village still live in simple houses which are built from wood, bamboo, and soil.
2. Enjoy Street Food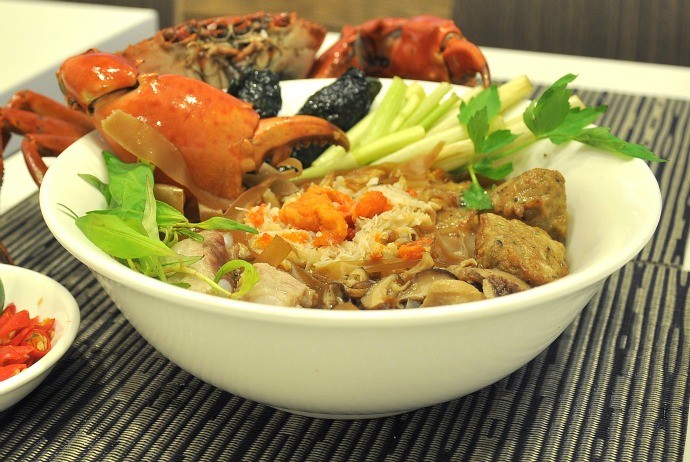 Hai Phong, a coastal city, is famous for seafood, of course. Among great dishes to enjoy in Hai Phong, maybe the most well-known is Banh Da Cua (Bánh Đa Cua). This iconic dish of Hai Phong is a clear noodle soup with spinach, crab, onions and some other veggies. Besides, tourists should also try out Bun Ca (Bún Cá) (vermicelli noodles plus with fish, green onion, chili sauce, and dill) or Nem Hai San (Nem Hải Sản) (fresh seafood spring rolls, often stuffed with crab, shrimp, carrot, and mushroom). They are in the must-try menu of Hai Phong cuisine. For the cheapest and tastiest eats, you can forego the sit-down luxurious restaurants, instead, head to the busy sidewalk and choose for yourself a suitable seat.
In addition to Hai Phong cuisine, there are also standard Vietnamese fares such as Pho (Phở) and Banh Mi (Bánh Mì), all of which offer a taste of special Asian culture.
3. Cycle Around "Tay City"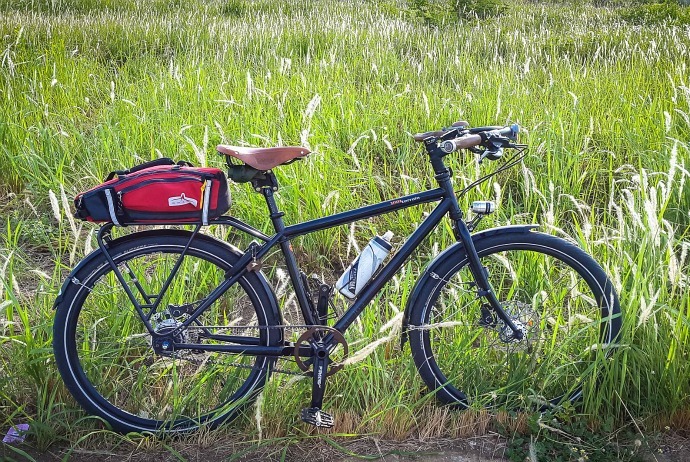 Hai Phong city is not as noisy as Hanoi or Ho Chi Minh (Hồ Chí Minh) City, or too old as Hoi An Old town, yet it also owns distinct characteristics. You will discover those characteristics when cycling around the streets which people call "Tay City" (Phố Tây), such as Minh Khai (Minh Khai), Hoang Van Thu (Hoàng Văn Thụ), Le Dai Hanh (Lê Đại Hành)… These streets connect from Hai Phong Opera House Theatre to the bridge of Lac Long (Lạc Long), and Tam Bac (Tam Bạc) bank. Slowly go through Hai Phong's small streets, take photos of the Ancient village near Binh Ferry (Bến Bính), and visit the Cathedral Hai Phong before sitting down to drink a cup of coffee while watching the daily life of locals flowing through your eyes. Finally, enjoy the sunset on Tam Bac River to feel the slow and peaceful life here.
4. Buy Seafood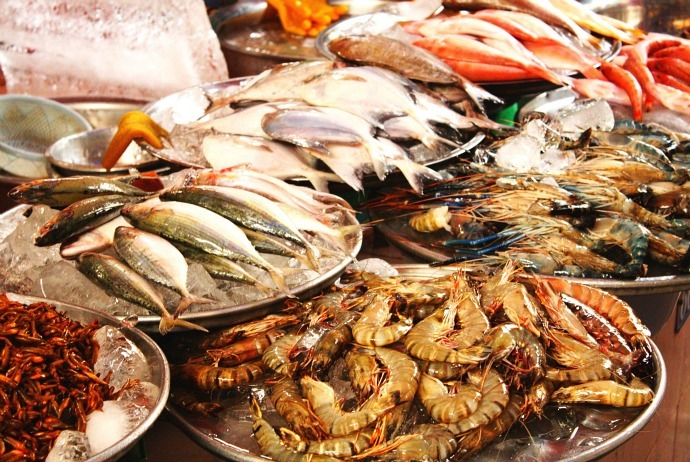 In regard to things to do in Hai Phong, of course for a coastal city, buying seafood is among the best things. Do market is the biggest Hai Phong's wholesale market for more than one century, which specializes in dry seafood. This dry sea food selling area is located between the area behind the Do Market (Chợ Đổ) and the Sat Market (Chợ Sắt). Here, you could find different types of seafood like dried shrimps, mackerels, dried squids, dried "Sa Sung" with various levels of price, depending on the freshness and size of products.
5. Visit The Traditional Flower Village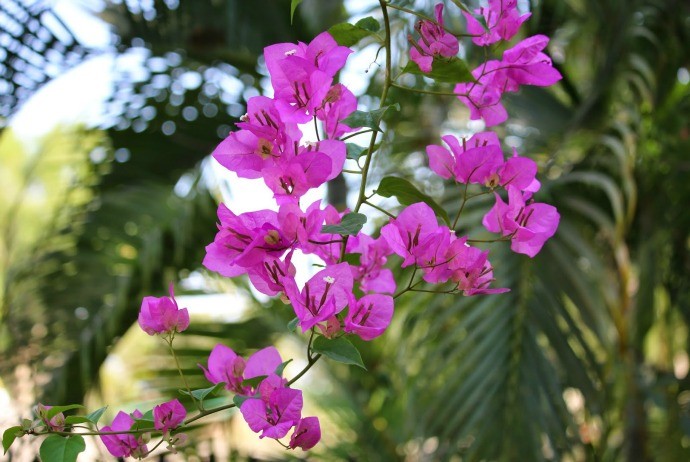 Visiting Hai Phong city, you should also not skip visiting a traditional flower village named Lung Village. Despite these days there are many places planting flowers like Trang Cat (Tràng Cát), Kieu Trung (Kiều Trung), Ha Lung (Hạ Lũng) Village is still most famous.
6. Visit Trang Kenh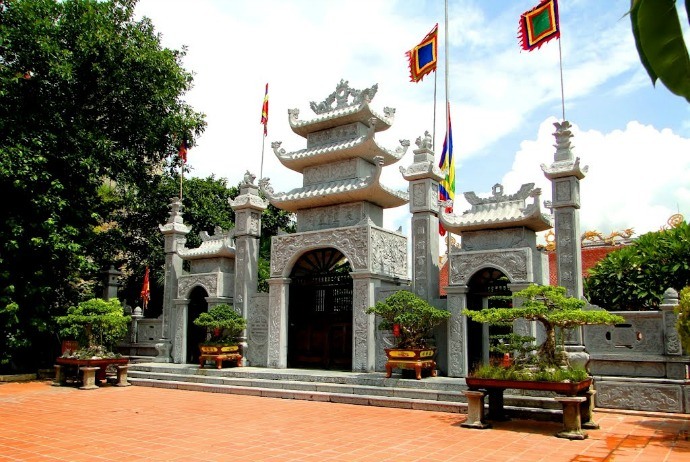 Trang Kenh (Tràng Kênh) is a beautiful landscape, which plays an important role in terms of archeological and historical factors. This attraction is a complex of limestone caves, rivers, hills and water with poetic natural scenery. U Bo (U Bò) Mountain is the most famous spot of Trang Kenh that you should not overlook. Around Trang Kenh, there are many interesting and fun activities, so there is always something great for you to enjoy in Trang Kenh.
Well, fun and interesting activities in Hai Phong, despite, are not various as in Hanoi, Hoi Chi Minh City, or Halong Bay, there are still a lot of great things to do in Hai Phong that tourists could join in and will definitely love. Of course, swimming is a given; apart from the mentioned-above activities, there are still some other suggestions for tourists when being in Hai Phong. The popular hotspot for tourists is also a hit with friends, family and even locals for having massage and singing karaoke.
Now, it is your turn: pack your luggage, book a tour to Hai Phong, Vietnam, and simply experience an unforgettable trip with friends and family! After that, feel free to share your enjoys in Hai Phong by leaving words below this article. We appreciate all contributing ideas from readers and will respond as soon as possible.
Related Articles:
Hai Phong attractions: 18 must-visit places in Hai Phong, Vietnam
Hai Phong nightlife – what to do at night in Hai Phong
9 best Hai Phong restaurants – where to eat in Hai Phong, Vietnam