Street Photos Of Saigon By Dat Minh Nguyen
Updated: 11/22/2019
Sometimes, when travelling a certain place, all you feel like doing is eating a pizza, grabbing a beer and enjoying the company of other travelers. Well, Ho Chi Minh (Hồ Chí Minh) City, also known as Saigon (Sài Gòn), provides you with the perfect chance to do it.
Ho Chi Minh's entertainment industry is currently growing fast, though it is still not a city for round-the-clock entertainment. In reality, the majority of places here close soon after midnight. However, what is available is really fun. Actually, there are many great things about Saigon, so it is hard to decide where to start.
Wonder about what the best places and activities of Ho Chi Minh nightlife are? There is a wide range of bars and pubs, particularly in the city center, and the quantity of clubs and discos with regular live music is strongly booming. When it comes to Ho Chi Minh nightlife, it means very different things depending where you are being in the city. Whatever your own idea of a perfect night out in Saigon, with the following guide of Ho Chi Minh nightlife, you can discover the best of nightlife experiences. Hope that you can find something to suit your style and demands.
1. Have Cocktails At A Rooftop Bar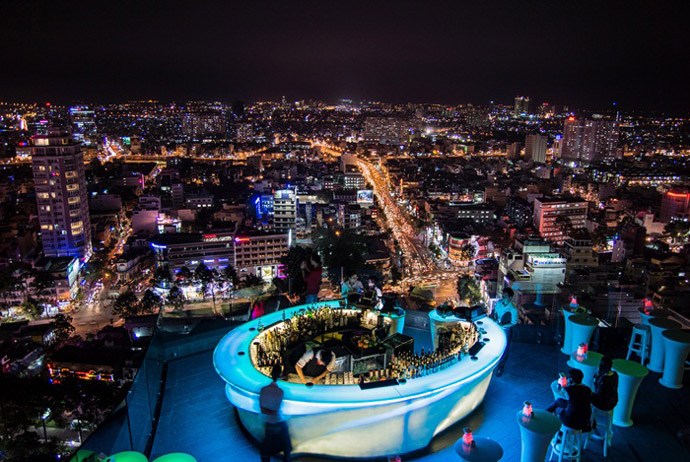 Ho Chi Minh City has a great collection of rooftop bars in the world. From the colonial charm of Saigon to the modern and chic style of the Chill Skybar, there is a rooftop spot, which suits any mood in Saigon. Just simply sit back with a tasty and beautiful cocktail and soak up the stunning view of Saigon from sunset till late night. Some of the best rooftop bars in Saigon for great experiences of Ho Chi Minh nightlife are:
*A & B Tower – Chill Sky Bar
Location: 76 Le Lai (Lê Lai) Street, District 1, HCMC.
Tel: +84 (8) 3827 2372
*Heli Bar (Bitexco Financial Tower)
Location: 2 Hai Trieu (Hải Triều) Street, District 1, HCMC (entrance to Skydeck located at 36 Ho Tung Mau (Hồ Tùng Mậu) Street)
Tel: +84 (8) 6291 8752
*Broma
Location: 41 Nguyen Hue (Nguyễn Huệ) Street, District 1, Ho Chi Minh City
Tel: +84 (8) 3823 6838
*Saigon Saigon Bar (Caravelle Hotel)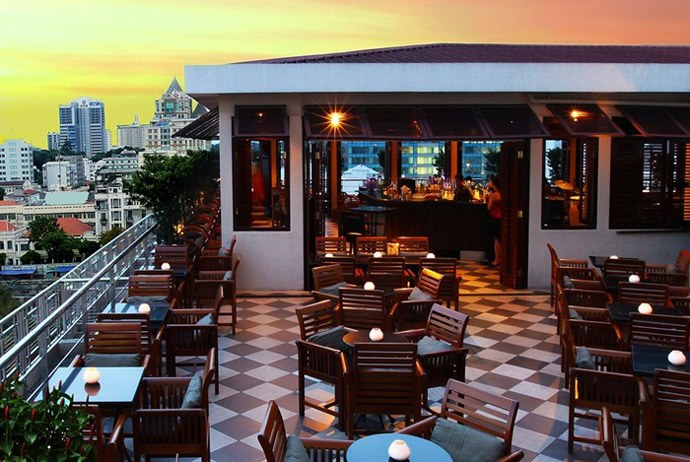 Location: 19-23 Lam Son (Lam Sơn) Square, District 1, HCMC
Tel: +84 (8) 3823 4999
*Shri Restaurant & Lounge (Centec Tower)
Location: 72-74 Nguyen Thi Minh Khai (Nguyễn Thị Minh Khai) Street, District 1, HCMC
Tel: +84 (8) 3827 9631
*Grand Café (Grand Hotel)
Location: 8 Dong Khoi (Đồng Khởi) Street, District 1, HCMC
Tel: +84 (8) 3915 5555
*Breeze Sky Bar and M Bar (Hotel Majestic)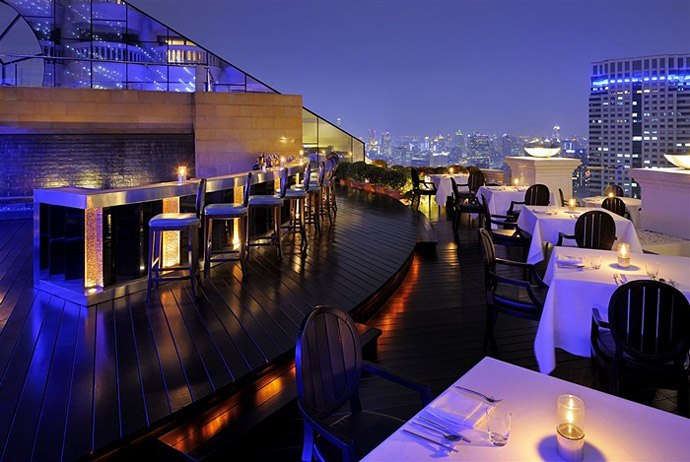 Location: 1 Dong Khoi (Đồng Khởi) Street, District 1, HCMC
Tel: +84 (8) 3829 5517
*Rooftop Garden Bar (Rex Hotel)
Location: 141 Nguyen Hue (Nguyễn Huệ) Street, District 1, HCMC
Tel: +84 (8) 3829 2185
*Level 23 Wine Bar (Sheraton Saigon Hotel & Towers)
Location: 88 Dong Khoi (Đồng Khởi) Street, District 1, HCMC
Tel: +84 (8) 3827 2828
*Top of the Town Bar (Windsor Plaza Hotel)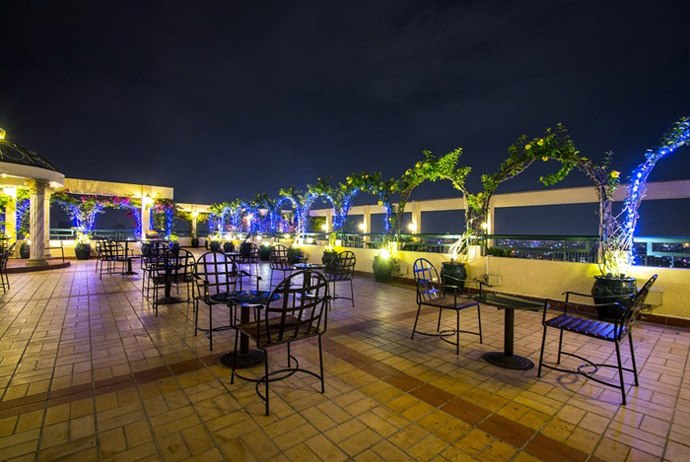 Location: 18 An Duong Vuong (An Dương Vương) Street, District 5, Ho Chi Minh City
Tel: +84 (8) 3833 6688
2. Ben Thanh Night Market (Chợ Bến Thành)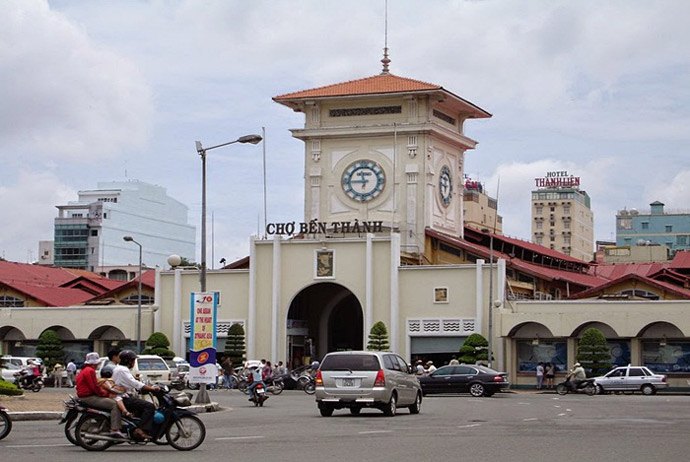 Playing a central role in Saigon from early morning till late at night, Ben Thanh is one of the most noticeable places in regard to Ho Chi Minh nightlife. Despite being busiest during the day, a lot of vendors come to Ben Thanh market in the evening. Standing on the streets, they serve a wide variety of seafood. Many fashion stalls along with souvenir type stalls are available here. The night Ben Thanh market is setup alongside the market on Phan Boi Chau (Phan Bội Châu) Street and turns into a pedestrian zone from 7pm to 11 pm so tourists could browse at their leisure. You should be aware that the prices begin very high here, so bargaining is always a necessity.
Located in District 1, Ben Thanh night market, when it comes to Ho Chi Minh nightlife, is an ideal place to purchase branded goods, local handicrafts, Vietnamese art, as well as other souvenirs.
You will find many eating stalls inside the market. You could get a taste of hawker-style Vietnamese cuisine or simply have a cold drink to cool off when bargaining too much.
Street style local foods are around Ben Thanh Market in the evening. Thus, you can save your appetite and go straight to this market where you could be served with various tasty foods at some of eateries surrounding the market building. Those chefs will cook right in front of you with multiple cuisine choices, such as fresh seafood, crispy rice pancakes, vegetarian noodles, and steamed cakes. Many international tourists when talking about their experience in Ben Thanh market in the evening said that they noticed a lot of local people thriving here to enjoy a bite and a quick drink on their way home from workplace.
Though this market is rather big and hard to navigate at times, and best avoided during the hottest part of a day, it is worth a visit. In evenings, restaurants around this market open their doors, creating a vibrant street with the scents of barbecued meats and fish, and wok-fried noodles.
Besides, Ben Thanh market is reckoned one of the oldest landmarks in Ho Chi Minh City, which offers an excellent atmosphere that is definitely authentically Vietnamese. This market is known by every taxi driver in Saigon. However, you could also walk to it because it is very centrally located.
3. Have Drinks Of Beer On Pham Ngu Lao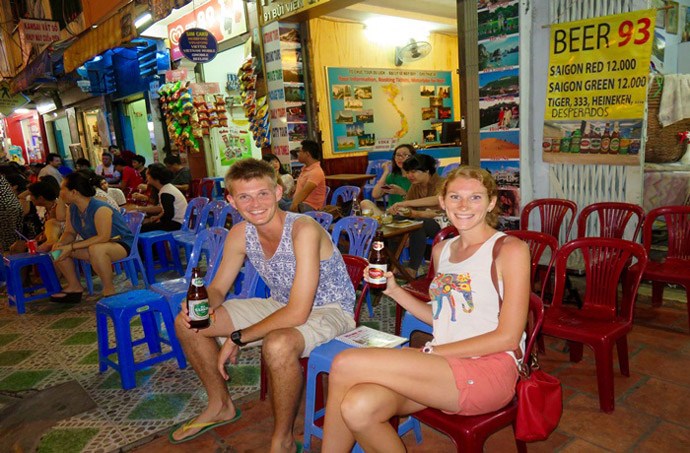 The scene of a lot of people sitting along the street and enjoy cold beer is really legendary when it comes to Ho Chi Minh nightlife. Pham Ngu Lao (Phạm Ngũ Lão) Street is the backpacker hub of Saigon, which welcomes a large number of foreigners as well as local people to chat the night away and drink cheap beers on the small plastic stools along the street.
Also, there are a lot of cheap restaurants and a few nightclubs here, so if you want to hit a dance floor later at night, you always have choices.
4. Try Your luck At A Casino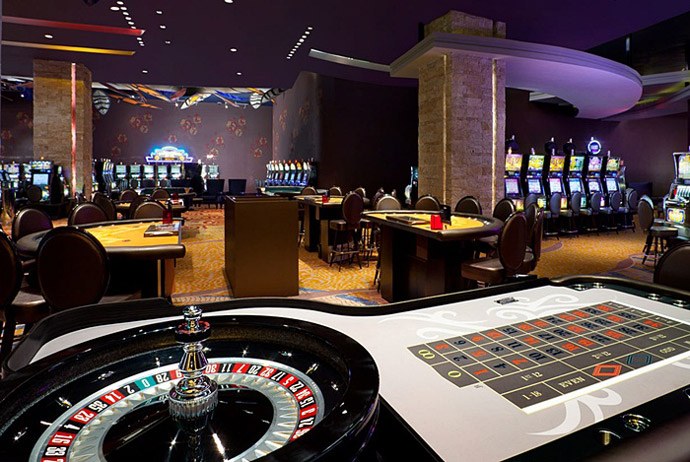 Some of the best Ho Chi Minh's hotels include casino inside, so customers could hit the roulette table and try their luck on the slot machines. There are two biggest casinos in Ho Chi Minh City, which are situated in the Sheraton Saigon Hotel and Towers and Caravelle Hotel.
Though casinos in Saigon are not on large as Las Vegas's and some games like hold 'em poker, are just available on computer screen, spending a few hours to enjoy it is always worthy.
5. Dinner Cruise On The Saigon River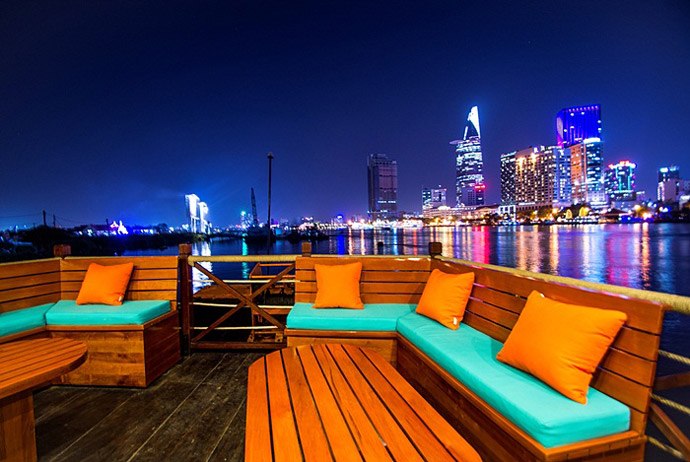 For a romantic Ho Chi Minh nightlife experience, the best choice is to take a leisurely cruise on Saigon River. The Bonsai Dinner Cruise offers relaxing experience in luxury and romantic atmosphere, viewing Saigon at night whilst tasting tasty dinner on such a premium cruise on the Saigon River. Here, you can also enjoy traditional music along with dance performance. That means along with the views of Saigon at night and the dinner, you can also enjoy a live jazz performance on board or a traditional Vietnamese dance.
During the dinning process, there is an extensive selection of both Western and Asian cuisine which will absolutely bring to you a satisfying meal.
6. Live Music Bars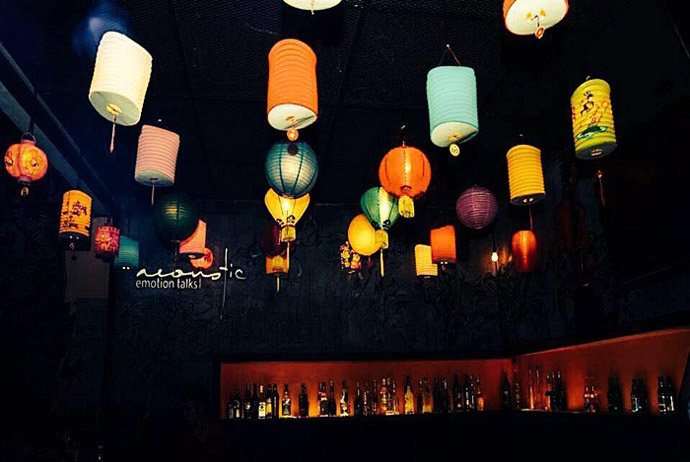 If you are a fan of live music, then Ho Chi Minh nightlife has a lot of options for you to choose from. From heavy rock to smooth jazz or everything in between, whatever your choices of genres, there is probably a club or bar that plays precisely that. Fairly, live music is spread out across this city so you should not be afraid of not having choices. If you stay in some popular areas like District 1 and 3, then you will absolutely be spoilt for options.
Besides, most of the major hotels in Saigon have live music entertainment. For example, Carravelle Hotel and Rex Hotel have the rooftop bands each night of the week.
There are various music bars available in Saigon recent days, and you want to see what type of musicians who are comfortably entertaining Saigon's crowds is, then this list of 11 out of the best music bars listed right here will help you choose easily.
*Acoustic bar
One of the most exotic and noticing places symbolizing for Ho Chi Minh nightlife is Acoustic bar. This is the venue of choice for Vietnam's rock musicians. A large place where legends never die is exactly this bar. You could hear amazing renditions of The Doors, John Lennon and Jimi Hendrix. The owners divide this bar into 2 parts, one for bar and one for café with plenty of sofas for customers to chill with coffee in the early evening. Besides, there is a standing room for people to settle when it heats up at night. Nonetheless, no food is served here, so you should be sure to fill up your stomach beforehand. Every night, this place is filled with both Vietnamese people and foreigners so if you just have one night for enjoying live music in Saigon, it is recommended to head to this bar. Acoustic Bar is very easy to find.
Opening hours: 18:00 – 24:00 (live music from 21:00, except on Sunday).
Location: 6E1 Ð Ngo Thoi Nhiem (Ngô Thời Nhiệm), District 3, HCMC
Tel: +84 (0) 8 3930 2239
*Sax n' Art Jazz Club
Smoky and dark, Sax n' Art Jazz Club, a live jazz bar, is a unique place for every person who wants to enjoy an impressive and memorable experience of Ho Chi Minh nightlife. It is where people can listen to contemporary jazz with light Vietnamese influences. The talented owner can play some types of instrument. Yet, this bar is a little more expensive than other bars in this vibrant city. About $5 is the price you have to pay for being able to listen to Vietnam's best jazz band in a personal and compact place. This bar is also frequented by a lot of famous Vietnamese artists. You can find this bar not far from Ben Thanh Market, with the live music each night of the week.
Opening hours: 19:00 – 24:00 (live music from 21:00)
Location: 28 Le Loi (Lê Lợi), District 1, HCMC
Tel: +84 (0) 8 3822 8472
*Hard Rock Cafe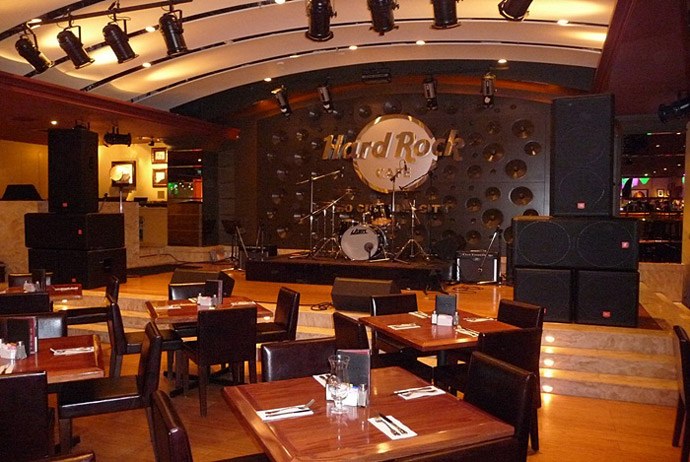 Hard Rock Café might be not necessary for introduction because the name itself is well-known worldwide. Huge portions of tex-mex favorites, creative cocktails, memorabilia featuring on the walls and a live music band – all of them bring to you such a unique experience of entertaining. This bar applies a formula that has won plaudits from New Deli to New York, keeping customers returning over again. In Ho Chi Minh City, the live music bands of Hard Rock Café are technically great and play various rock ballads. Interestingly, when enjoying the music here, some anthems will get you out of your chair and sing along. Really, Hard Rock Café in Saigon is a family and tourist-friendly place that has a menu of Western classics. This bar is also easy-to-find with sparkling new style out of other shops and restaurants.
Opening Hours: Weekdays 11:00 – 24:00, Weekends 11:00 – 02:00 (Live music from 21:00)
Location: 39 Le Duan (Lê Duẩn) street, District 1, HCMC
Tel: +84 (0) 8 6291 7595
*Yoko Bar
It just takes you a short motor-taxi from the tourist centre of Ho Chi Minh City. Yoko Bar is a host to an assortment of bands playing acoustic, jazz, pop and rock with a unique style. This smallish bar gives people a true live music bar with bands playing every night of the week. Besides, original local acts are also performed here. On weekends, Yoko Bar usually host alternative DJ and music events. Unfortunately, Yoko might be one of the worst passive smoking venues in Ho Chi Minh City and when the crowds are too much, the stuffiness and smoke combine with the heat to create a fairly unpleasant atmosphere no matter how good the entertainment may be.
There are many comfy sofas and an upstairs small but pleasant space allowing people to witness a great view of performers on the stage. For a vibrant Ho Chi Minh nightlife, Yoko Bar is very authentic. And, because this bar does not rely on tourism, so it is the perfect site for people to sit back with a cocktail or beer and see how cool kids will have fun.
Opening Hours: 19:00 – 24:00 (Live music from 21:00).
Location: 22A Nguyen Thi Dieu (Nguyễn Thị Diệu), District 3, HCMC
Tel: +84 (0) 8 3933 0577
*Seventeen Saloon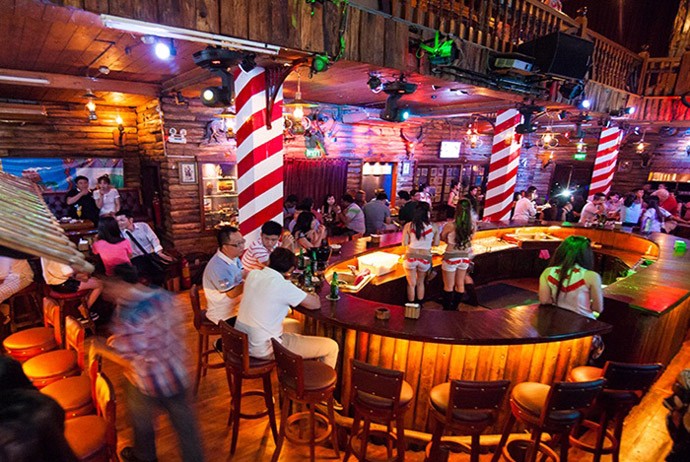 Looking for a wild experience of Ho Chi Minh nightlife? Seventeen Saloon offers you such experience. From the outside, it looks just like a saloon in western movie, according to Liselore Verschuren, a tourist who used to visit this bar on her occasion. This is a two-storey live music hall with roll and rock on both floors. The bands play here all night and at top volume so if you want to go somewhere quiet, it is not your choice.
Seventeen Saloon has a wide selection of songs with distinct country twang, and the decoration certainly create a western style mark with its saloon doors. Bull skulls, Indian feather headdresses, saloon doors, and covered-wagon-wheel-under-glass bar tables – all of them are so impressive. The servers are in nice costume. There is live music featuring a Filipino band beginning at around 9 pm. In contrary to the strong country vibe of the venue, the band plays a variety of contemporary rock and pop covers. This is really an easy-going bar where the waitresses wear sexy clothes and the bands play rather late at night.
Opening Hours: 19:00 – 02:00 (live music from 21:00).
Location: 103A Pham Ngu Lao (Phạm Ngũ Lão) Street, District 1, HCMC
Tel: +84 (0) 8914 0007
*Lush Nightclub
Lush Nightclub is full of fun and an excellent place to meet beautiful Vietnamese girls. Many people who go to Lush are non prostitute and looking to meet foreigners. Actually, Lush is the premier nightclub in Saigon. The venue is decorated in an industrial chic style with a large space to dance and an upstairs area for seating. Music performed here ranges from house to hip hop genres.
Being a fashionable and sleep nightspot for every nighthawk, Lush is taken over by some greatest hip hop DJs each Friday and Sundays while the Saturday night is the most noticeable highlight of the week that International funky house is introduced here. That ensures Lush packed by a crowd of both local people and foreigners.
Lush Nightclub has been renovated in 2012 with playful and modern decoration that creates such a masculine and industrial feel. Besides, the use of neon strip lighting along with Manga style animations adds fun effects to the surroundings. And, there is one thing about Lush Nightclub that you could not find in any other nightclubs in Saigon is that it is certainly the coolest nightclub in Saigon. Right in front of this club, a small garden brings to guests a great feeling of relaxing. The best idea to enjoy the best side of this Lush Nightclub is to start your night in the outdoor bar, then moving inside when the party heats up.
Situated on Ly Tu Trong (Lý Tự Trọng), in District 1, Lush Nightclub opens its door at 20:00. Because this club is open up to 7 nights per week, so it is very busy. If you want to try out something modern, fashionable and funky, then Lush is your obvious best choice.
Location: No.2, Ly Tu Trong (Lý Tự Trọng),, District 1, HCMC
Tel: +84 (0) 9 1863 0742
*Apocalypse Now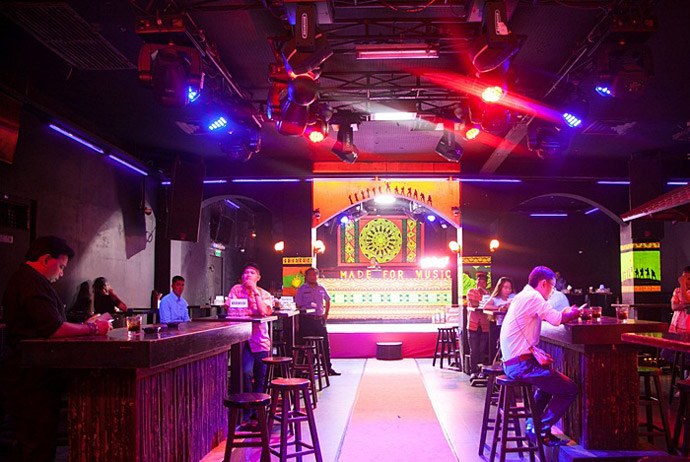 Often referred as the short name "Apo", Apocalypse Now might be the best place for late night lovers. Expats, backpackers and prostitutes often rock the dance floor here every night. This legendary club is divided into 2 floors which are not sophisticated but lots of fun. Western famous hits, cheap drink promotions, and plenty of space for freely dancing are plus points for this club.
Apocalypse Now is a legendary nightclub that is very popular with backpackers, expats and many Vietnamese ladies too. Set over two floors, it isn't the most sophisticated of clubs, but it has lots of fun, with cheap drinks promotions, western pop tunes and plenty of space for dancing or chilling out with a few drinks and playing some pool. Open until 04:00, it is also one of the last places to close at night. So, Apocalypse Now is a great place when you're in the mood for that one more drink.
Location: 2B-C-D Thi Sach (Thi Sách) Street, District 1, Ho Chi Minh City
Tel: (+84 8) 3825 6124.
*Cargo Bar
This art and musical centre venue is situated at the District 4 of Saigon. It is a convenient space for the youth and old crowds who want to entertain themselves. Various musicians and local artists come here with heartening performances as well as acts. It boasts of a western ambience featuring with top spectacular lighting and high end quality sound. The bar section has a range of cocktails and locally popular beverages. Live performances by Vietnamese and international artists, DJ performances along with other artistic indulgences will surely light up the atmosphere if you come up here. The staffs are attentive, fun and friendly to deal with, on the other hand.
Location: No.7, Nguyen Tat Thanh (Nguyễn Tất Thành) Street, District 4, HCMC
*Gossip
This night club is situated one of the most well-known spots regarding to Ho Chi Minh nightlife. Consistently frequented by locals, tourists and expats who are looking for great entertainment, Gossip's corridor owns carpet flooring. From the bartenders to table services, all staffs here are good-looking Vietnamese girls. The dance floor seems to never stop with loud and feet tapping musical numbers. Some special emphasis is offered in order to ensure highest standards of security for guests. There is also space for dance performances and acts of female dancers. Fortunately, you could also come across celebrities in the clubhouse.
Location: No. 79 Tran Hung Dao (Trần Hưng Đạo) Street, District 1, Ho Chi Minh City
*Carmen Bar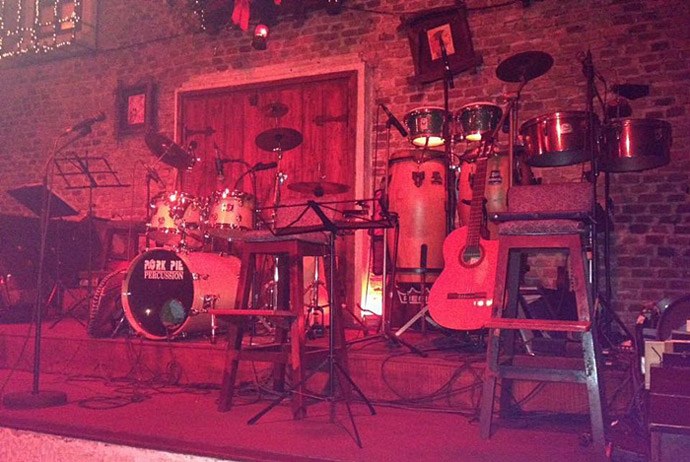 Situated in the District 1, this bar offers a music centric space – a party-like atmosphere. Vietnamese staffs are well-versed in English. Beer, wine and other drinks could be tasted here. Carmen Bar could be accessible by public transportation. For travelers, it could be a great place to enjoy an unforgettable taste of Ho Chi Minh nightlife. Locals and international tourists are regular guests here.
Location: No. 8 Ly Tu Trong (Lý Tự Trọng) Street, District 1, Ho Chi Minh City
*Go2Bar
Go2Bar is one of big bars that are popular for backpackers. This bar looks good from outside, and it also is busy and loud every now and then. The music is often excellent and there is a trashy club upstairs if guests feel the need to boogie, and a rooftop bar if you really want to cool off. The best thing about this bar is that guests can sit outside, on the pavement and watch the traffic and people going pass by. As a guest, you will sometimes get asked to buy cigarettes/lighters/gum constantly by the kids selling these on the streets around, yet it is still a fun and great place to meet friends and other people. Most international travelers enjoy that because they can witness the daily life of one of the busiest city in Vietnam.
At night, this bar gets noisier and more crowded. Unlike other bars in the same area, this bar has security guards to make sure that guests will not be annoyed by the locals selling stuff on the street. And, the bar itself has one pool table inside and often closes around 3am in the morning or could even be longer, depends on how crowded it is. However, prices of drinks here are a bit more expensive than other parts of Saigon, yet it is well expected because it is located in the central area of Saigon.
Location: 187 De Tham Street (Đề Thám), Pham Ngu Lao (Phạm Ngũ Lão) Ward, District 1, HCMC
Tel: +84 (0) 8 836 9575
Keep reading to discover more ideal places typifying for great Ho Chi Minh nightlife that will impress most tourists!
7. Saigon Opera House (Nhà Hát Lớn Sài Gòn)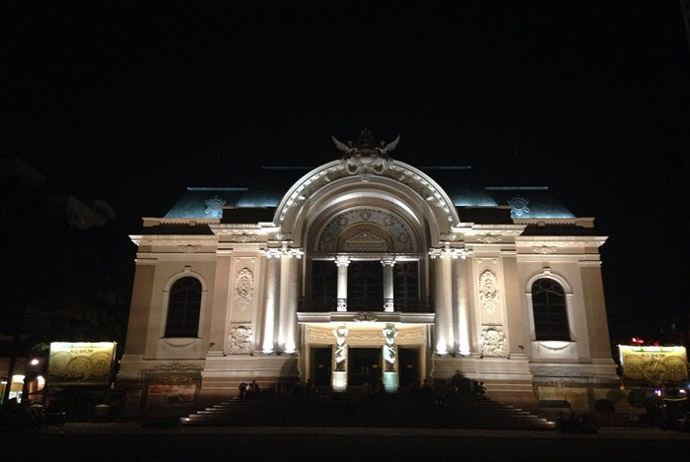 This is a beautiful building designed following the colonial style. Situated in Saigon's centre, with a stunning façade of ornate winged statues along with curved window frames, this opera house is a symbol of Ho Chi Minh City and is one of the two top venues in Vietnam for listening to classical music and opera. The second best is the Hanoi Opera House. Going inside Saigon Opera House, which was built in 1897, you can easily realize the similarities between the façade of this building and the Petit Palais, which was established in the same year in France.
The exterior of Saigon Opera House features with the appearance of polished pearl, making it a great place to take photos – particularly at night when the building is bathed in orange, soft light.
Having a major seating floor and two seating levels above, this building can accommodate up to 1,800 guests. All of applied balustrades, ornament, cartouches, and roof were taken from France. In addition, all the inscriptions, furnishings, and decoration were drawn by the French artist and sent from his country.
Visiting Saigon Opera House, you can witness the best of fine arts that visit Vietnam as seasons, and despite performances are not taken place consistently here, events are rather common. The diversity of performing arts on show consists of musical concerts, ballet, live theatre, and Vietnamese traditional dance. You could buy tickets from Saigon Travel Agents, which are opposite to the opera house.
Nowadays, the Saigon Opera House situating charmingly in the heart of District 1 area is an elegant colonial building that becomes a theater for various traditional and classical performances like concerts, plays, ballet, opera, and Vietnamese traditional dance. Furthermore, this house is considered one of the most exciting destinations, which no tourist should miss upon visiting this vibrant city.
8. Bobby Brewers Coffee Shop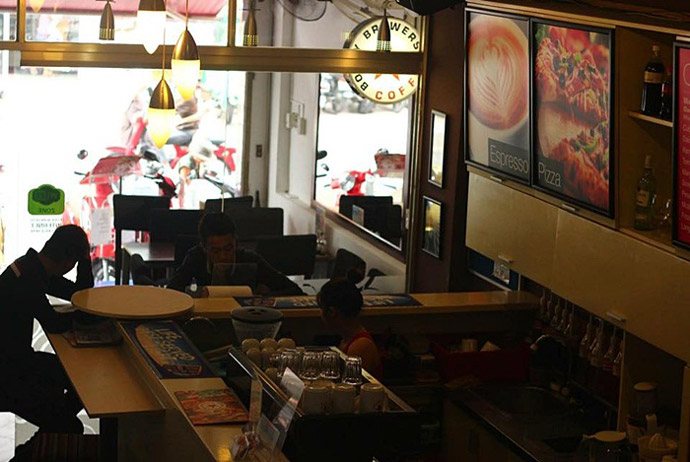 Situated on Bui Vien (Bùi Viện) Street, Bobby Brewers Coffee Shop is a regular hangout for foreigners. The food is a little expensive, so most tourists do not really eat here, but they would grab a drink and then head up stairs to the free movie theatre. This coffees shop also has free WiFi.
Location: 45 Bui Vien (Bùi Viện) Street, Pham Ngu Lao (Phạm Ngũ Lão) Ward, District 1, HCMC
Tel: +84 (0) 8 3920 4090
9. Karaoke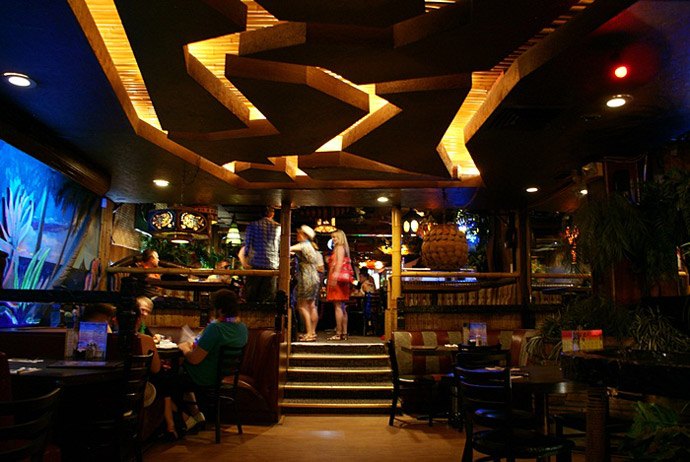 Karaoke bars are very popular in Ho Chi Minh City as well as other cities in Vietnam. This is reckoned as a form of entertaining for friends, family gathering, and having fun. In Saigon, there are multiple karaoke bars in one place with multiple themes. A sample is Sunrise Bar. The Sunrise bar caters to the Japanese tourists who like karaoke. A lot of beautiful girls dressed in traditional Vietnamese costume – Ao dai (Áo dài) are serving in this bar. Depending on the size of the bar and time of the day, you could enjoy this place –sing your heart out. There are also food and drinks for you to enjoy the music.
10. Saigon Outcast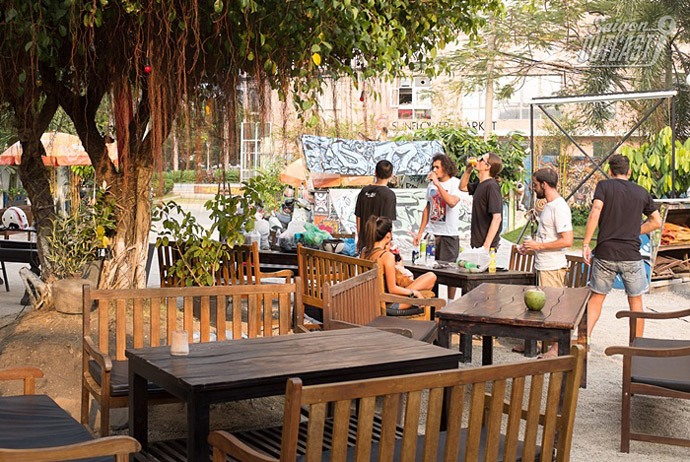 The last suggestion about Ho Chi Minh nightlife that is highly recommended by tourists is Saigon Outcast, a typical example of creativity in Saigon. Being a livable place which is made out of 3 shipping containers that were abandoned stacked over each other on the grassy land, Saigon outcast is situated at Nguyen Van Huong (Nguyễn Văn Hương) Street, in District 2 of Ho Chi Minh City. Certain creative people turned 3 shipping containers into a creative, innovative barbeque outcast that welcomes and encourages love and peace. Beer, half pipe, wood plank swings, zen garden, and so on are the features of Saigon Outcast. The owners of Saigon Outcast maintain it in order to encourage free-spirited creative in Vietnam.
Location: Nguyen Van Huong (Nguyễn Văn Hương) Street, Thao Dien (Thảo Điền) Ward, District 2, HCMC
To conclude, Ho Chi Minh nightlife means very different things depending where you are being in this vibrant city. Downtown in the District 1, high rolling casinos, rooftop bars and smooth jazz bands are great choice forms of nightlife entertainment in Ho Chi Minh City. If moving several kilometers west into the District 3, the backpacker street – Pham Ngu Lao (Phạm Ngũ Lão), with a lot of boisterous street bars, street vendors, cheap eats, is certainly the ideal place to stay when the night falls.
Whatever your own idea of a perfect Ho Chi Minh nightlife experience, hope that with this list of 10 places typifying for Ho Chi Minh nightlife, you can find something to suit your style!
Related Articles:
Top 19 must-see Ho Chi Minh attractions for tourists
18 Ho Chi Minh activities – things to do in Saigon
Shopping in Ho Chi Minh – what & where to buy in Saigon
20 best Ho Chi Minh restaurants: where & what to eat in Saigon