The process of formation, development, material life and spiritual culture of each country are preserved through tangible and intangible cultural heritage. In Can Tho, there is a hundred-year-old cultural and historical relic which is preserved by generation to generation and becomes a part of the soul as well as the heritage of local people. It was the Quan De Temple, which is still popularly known by the familiar name – Ong Pagoda (Chùa Ông).
Ong Pagoda in Can Tho has been known as an ancient temple with a long history of more than 100 years in the territory of Tan An Ward, Can Tho City. It was built in 1894 in Tan An Ward of Ninh Kieu District and took over 2 years to finish. Ong Pagoda is a spiritual place for most of the Chinese people who lived in Can Tho at that time, so it was influenced by some of the Chinese cultures.
Ong Pagoda In Can Tho – The Heritage of Can Tho Local People
1. Overview of Ong Pagoda in Can Tho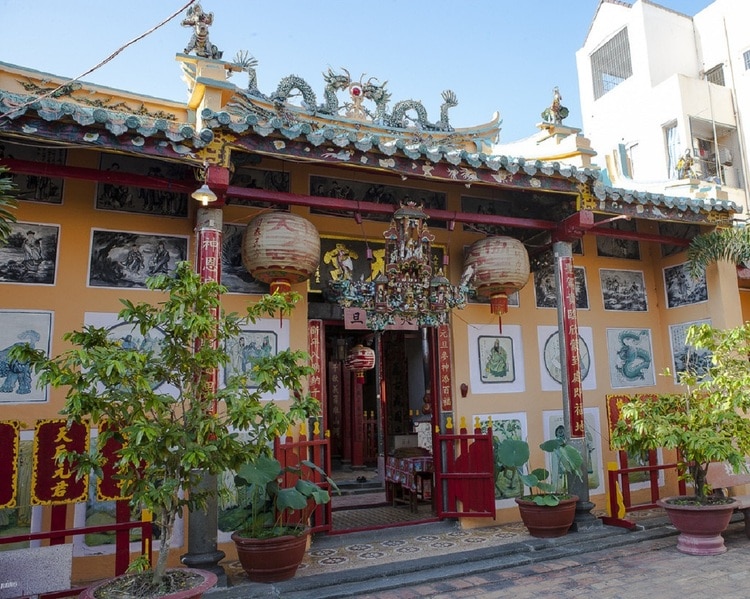 Ong Pagoda stands out the most among the neighbourhood with its eye-catching colourful decorations and architecture. The pagoda area is formed in the closed shape of the Chinese letter "Quoc". It is built with surrounding walls and there is a large yard in the middle to receive more natural light. Ong Pagoda does not follow the three-door gate style as traditional pagoda gates, it has only a single entrance. Right above the gate, there is a beautiful diaphragm and is decorated with many pretty lanterns. 
Both sides of the gate have placed the mascot shaped like a Nghê. "Nghê" is a mythology animal which is a combination of dog and lion and usually sets in front of the gate to protect the temples or pagodas. The whole roof of Ong Pagoda is covered with the yin and yang tile and does not have delicate shapes like most of the traditional Vietnamese pagoda roof. The roof is also covered by many other decorative animals patterns like dragons, birds on the roof.
2. The Architecture of Ong Pagoda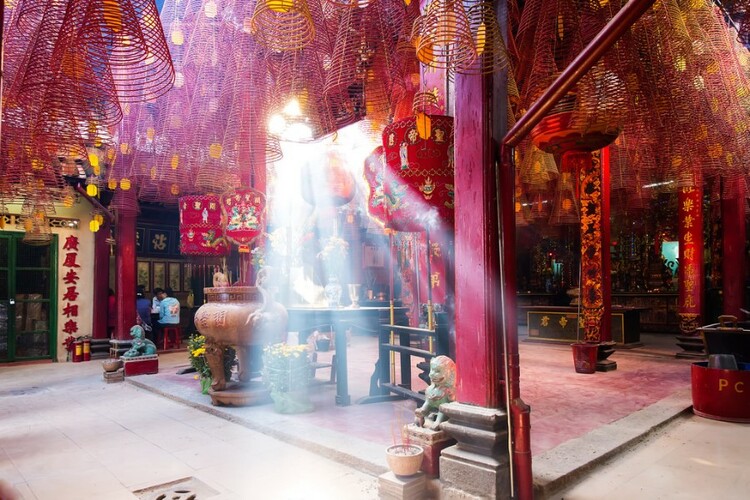 The architecture of Ong Pagoda in Can Tho includes many humanistic meanings. Its enamelled ceramic mosaics, and mascot images that mean peace, prosperity, and lasting prosperity. The pictures of dragons, phoenixes, and helicopters are also a symbol of luck and lasting auspiciousness. From the whole appearance to the small details, all around the pagoda is a total architectural block about the unity of yin and yang theory.
The whole structure of the pagoda is carried by a solid wooden frame from the main columns, the porch columns support the temple roof to the sub-columns. The bottom of the column is linked by round neatly-trimmed cube stones. Most of the materials used to build the pagoda were transported from Guangdong, and many worshipping objects also originated from China. However, many objects were influenced by traditional Vietnamese culture of worship and cultural interference in ritual practices.
3. Inside Features of Ong Pagoda
The pagoda's space is filled with vibrant colours. The worshipping objects and wooden pillars are regularly cleaned. Mosaic, couplets painted with golden lipstick are also polished into bronze light. In the pagoda, it is very attractive to use incense; there are huge incense rings, hanging high and look like it can fully cover a person.
Entering the front yard, visitors will see a solemn altar in the temple. It is to worship Ông Bổn and Mã Tiền generals who have excellent merit to help Chinese gather to do business and live in Can Tho. There are the main sanctuary of Quan Thánh Đế (Guan Gong), Bodhisattva Guanyin, Thiên Hậu Thánh Mẫu, and Poinsettia of Dong Vinh. Guan Gong is a famous figure in the old period of the Warring States, who is admired and loved by a lot of people. The statue of Guan Gong here is majestic with the rough reddish face and bushy beard. There is also a statue with armour on both sides of the Guan Gong statue as its bodyguards.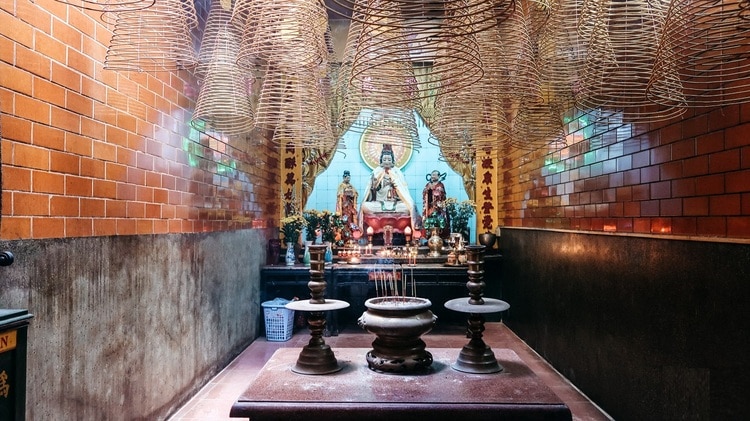 Visiting Ong Pagoda, you will get many opportunities to learn about Chinese religious culture, as well as see the Chinese community working far away from home. The spiritual values ​​and culture of the pagoda have made a unique distinction, differently from other religious pagodas in Vietnam. The public pagoda also has a great influence in creating a diversified form of Vietnamese religious culture and creating an environment to connect indigenous religions and beliefs.
Ong Pagoda in Can Tho also has followed some beliefs and cultural holidays of Vietnam. Still, the pagoda has its different holidays such as Ông Đệ 's death anniversary on 15th of March based on the lunar calendar, Guan Gong' Days on 24th of June and Thien Hau Day on the 23rd of March on lunar month. On these festivals, the Chinese community will gather and focus on visiting the pagoda. Ong Pagoda is also very popular with tourists from all over the world because of its unique beautiful temple features.
On the whole, our sharing will help you get more valuable information to prepare for a great safe trip to Can Tho. If you need more and want to share your own experiences, don't hesitate to comment on our website. Hopefully, you have lots of fun and interesting experiences in Vietnam.
By Phuong Khanh