Updated: 11/23/2019
Hoi An (Hội An), one of Vietnam's most unique cities, is an old town which is a UNESCO heritage site. The old architecture here is well preserved and displayed. Nowadays, Hoi An is among extremely popular destinations for tourists, both domestic and international, to visit in Vietnam (Việt Nam). However, due to the increasingly number of tourists visiting here, it could be a little overwhelming, particularly during the peak tourist season.
Today, Hoi An is resplendent with history and charm in abundance. Having distinctive features that are hardly found anywhere else in Vietnam, along with a lot of rewards from worldwide tourism organizations, Hoi An has been become the first choice for tourists when traveling to Vietnam. For those who are going to visit this old town, a good preparation and prior acknowledgement about the attractions, features and noticeable things of Hoi An are always necessary for a rewarding, memorable trip. So, this is the reason promoting me to make a list of best things to do in Hoi An with the hope that it can help you and other tourists have the best preparation for your upcoming journey.
Really, making a list of best things to do in Hoi An is more difficult than I thought because there are a lot of things to do and to see in this area. Yet, this checklist is what I collected and also appreciate the most (basing on my experience and other travelers'). So, let's check it out!
20 Things To Do In Hoi An – What Are The Most Interesting Activities In Hoi An?
1. Walk Around Hoi An Old Town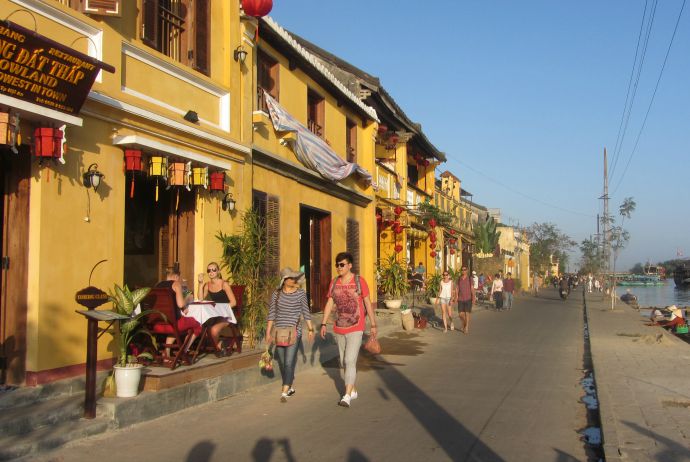 Of course, this should be the first and foremost one out of the best things to do in Hoi An that every tourist should consider. Coming to Hoi An, tourists seem to lose themselves in the ancient world with many old houses situated close together. In addition, small alleys with moss roofs are popular images you will see in this old town. All of them make such unique beauty of Hoi An. What you should do when visiting Hoi An old town is to spend one day walking around the streets here and I bet that you will find them more surprising and lovely than you thought. The architecture here is a great combination between some cultures, including those of China, Vietnam, and Japan. Each house in this area expresses the ideas that locals want to convey. One of the surprising things in Hoi An old town is that almost everyone can speak English, from young children to old people. Despite they just simply say "Hello," "How are you?", or "Where do you come from?", they all want to show their hospitality to travelers.
At night, things become more beautiful than ever. The electricity of all houses is switched off and replaced with the light from lanterns, making the beauty of Hoi An old town more mysterious.
Tourists can take part in some interesting activities like singing Bai Choi (Bài Chòi) or enjoying special foods sold out at street corners. Particularly, local people here are very friendly, so if you want to ask something, they are very willing to answer you.
2. Visit Cua Dai Beach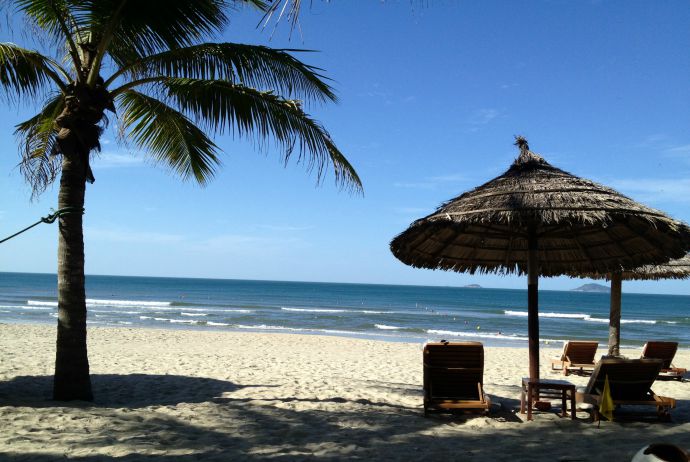 Far from the old town, with just 15 minutes, tourists can move towards Cua Dai (Cửa Đại) Beach. You can move to this beach by bicycle and then cycle around the area and enjoy such wonderful beach. The white sand stretches endlessly accompanied with tall coconut trees make this beach a fantastic space for relaxation. Furthermore, tourists could immerse themselves in the blue water and take part in some fun activities on the beach, like driving water motor, flying a kite, and so on. For those who love to enjoy seafood, then fresh, delicious seafood here will absolutely satisfy their taste. The prices here are also very reasonable.
3. Enjoy Hoi An Free Tour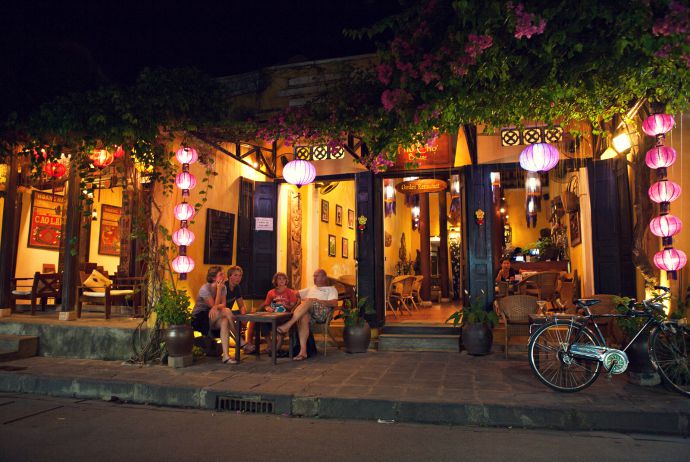 One of the most interesting things to do in Hoi An is to joining in Hoi An Free Tour. Joining in Hoi An Free tour, your trip will definitely become much more interesting. This is a non-profit organization led by a university student. This organization aims to create chances for students to practice speaking English and introduce the culture and history of Hoi An to both domestic and international tourists. Tour guides are very enthusiastic, friendly students. They will guide tourists visit Kim Bong (Kim Bồng) Carpentry Village – situated along Thu Bon River and just takes 10 minutes moving by ferry. There, you will immerse yourself in the relaxing, quiet atmosphere of the countryside – that allows you to escape a little bit from the bustling daily life. This tour begins at 8:30 am on Thursday and Sunday every week. The destinations that you will visit include dockyard, Huynh (Huỳnh) Family Temple, Quang noodle and sleeping mat making workshops, and souvenir shops. Not mention to the main purpose of this tour – introducing Hoi An's culture to tourists, another purpose of this tour is to support residents with low living standards to improve the quality of their life. Taking part in the tour, you can have meaningful but still interesting experiences.
4. Walk Around Tra Que Village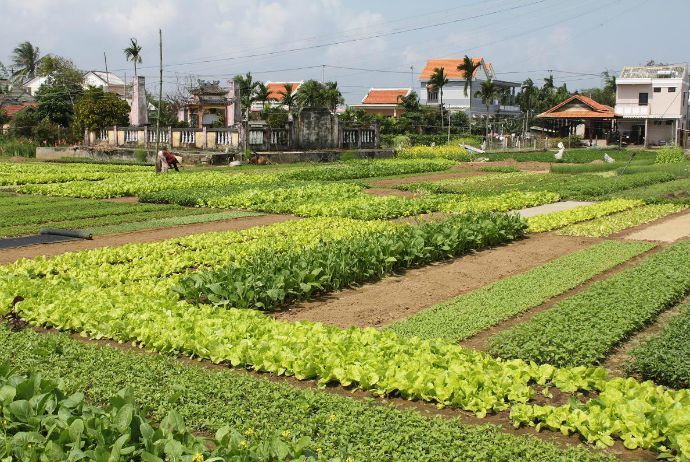 This is another tour of Hoi An Free tour mentioned above. Tra Que (Trà Quế) is a vegetable village that has become more well-known not only due to its scenery and variety of veggies but also due to a unique way to plant veggies. This place supplies different types of vegetable, such as houttuynia, salad, flagrant, knotweed, coriander and basil vegetables… for Hoi An residents. Those vegetables are essential parts making special foods like Quang Noodle, Cao Lau (Cao Lầu), and the local "tam huu (tam hữu)" spring roll. What noticeable about the planting method in Tra Que
Village is that the farmers here do not make use of any pesticide or chemical fertilizer. Rather than, they use seaweed, a type of flora in the river nearby. Due to that, Hoi An locals and tourists feel strongly secure upon using products here. Joining in this tour, you will know how to plant some vegetable kinds and practice growing as a true farmer. Along with the support of friendly tour guides, you will absolutely have a great experience.
5. Discover Thanh Nam Fishing Village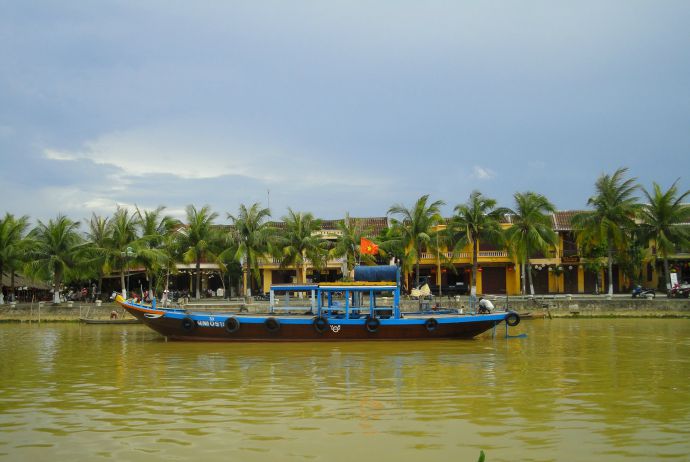 Another interesting point in this list of things to do in Hoi An is coming to Thanh Nam (Thành Nam) Fishing village. This village is well-known for its seafood trading. You can take a ferry from Cua Dai harbor to the village and cycle around it in the early morning to watch locals selling their fish after catching a full boat of fresh fish. Here, the atmosphere becomes busier over time with a large number of people coming to purchase and sell together. Many photographers come here to take photos of the daily life of locals.
Thanh Nam village islands are specially characterized by energetic fishing village with poetic and fine beaches, has become favorite stop of many travelers by motorbike, aside from Hoi An old town. Villagers are friendly and gentle. Despite their current poor life, people here are very rich in gratitude. Travelers coming here will be able to learn how to fishing and how to live as fishermen.
6. Enjoy Regional Cuisine Of Hoi An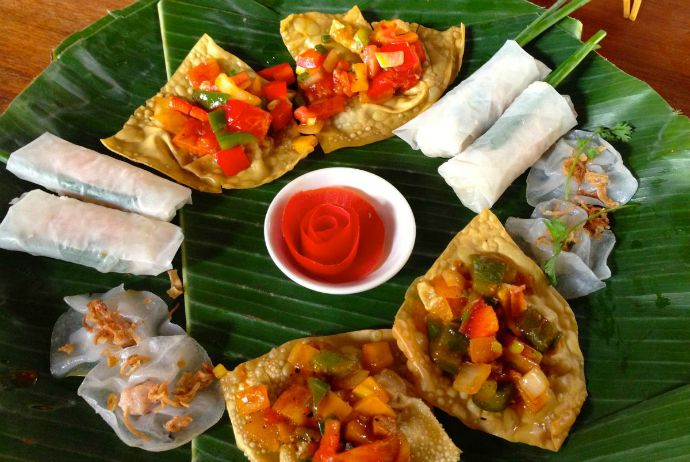 When it comes to things to do in Hoi An, maybe one of the most favorite activities loved by a large number of tourists are enjoying the local cuisine. The regional cuisine around Hoi An is delicious and unique. It is recommended to try it out by a lot of experienced tourists. Hoi An owns an electric, perfect mix of restaurants, so there are plenty of dining options for you to choose. For example, you can look for Cao Lau on the menu, a noodle soup which is not like Pho or any other soup in Vietnam. Despite Hoi An has both well-known and budget eateries where you could try a lot of dishes and specialties, experienced tourists often recommend people to come to Streets Restaurant Coffee. This is a restaurant that not only serves up tasty food but also is a social enterprise helping disadvantaged youth to learn and develop new skills as well as solid experiences in working and socializing.
7. Walk Over The Japan Bridge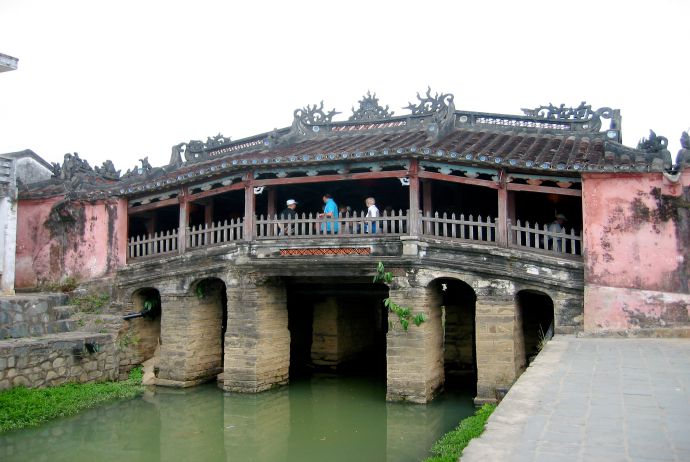 Also known in Vietnamese as Cầu Nhật Bản, Japan Bridge is a particular example of a wooden bridge designed in Japanese style. It is about 60 feet in length and is decorated in a long-faded red with the pagoda located within the actual bridge. Tourists could traverse the bridge and then go to Cau Pagoda (Chùa Cầu) in order to view slabs of monuments or an assortment of stone with inscriptions named Steles. This bridge has been officially reconstructed over time and is surrounded by ancient tombs in Japanese, Chinese, and Vietnamese styles. Here, you will find four major statues of two monkeys and two dogs flanking the bridge.
8. Visit Hoi An Silk Village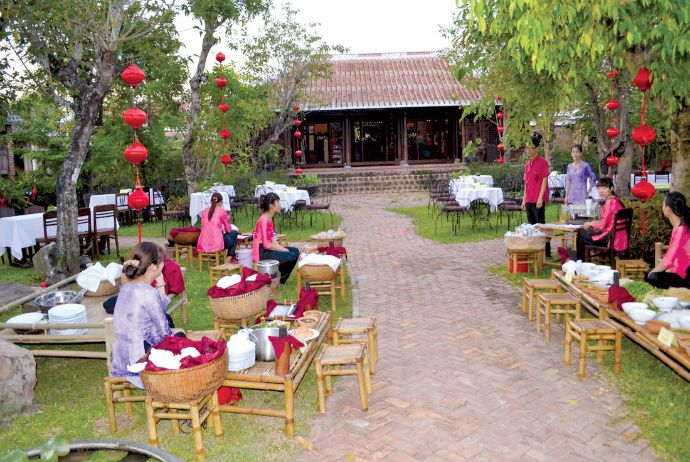 Hoi An is famous for a lot of traditional villages and one of them is Hoi An Silk village. Silk weaving traditions were preserved well in Hoi An over many centuries. Situated down the street from the center of Hoi An, this village offers visitors a unique, but interesting experience of learning the whole production of silk, from silkworm to practical dressmaking. Also, it has some restaurants which serve local cuisines of Quang Nam (Quảng Nam) province along with a showroom of the best collections of silk. Thus, if you are willing to learn something new about Hoi An's culture, add this village to your list of things to do in Hoi An.
9. Experience Scuba Diving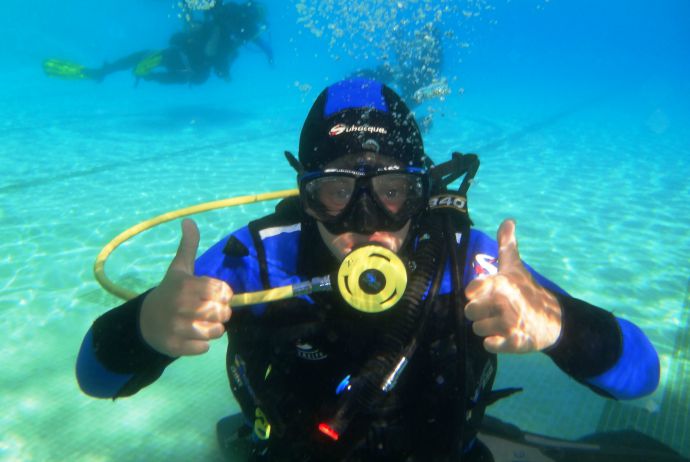 Because East Sea is a popular place for scuba diving as well as other types of underwater activities, so you may not want to miss your opportunity of seeing the beauty of underwater life with your eyes. Go to the Cham (Chàm) Island Diving Center, about 30 km away from Hoi An, and book a speedboat tour to Cham Island for snorkeling and scuba diving activities. There are different activity packages for all types of divers, with various preferences and experiences available.
10. Take Part In A Cooking Class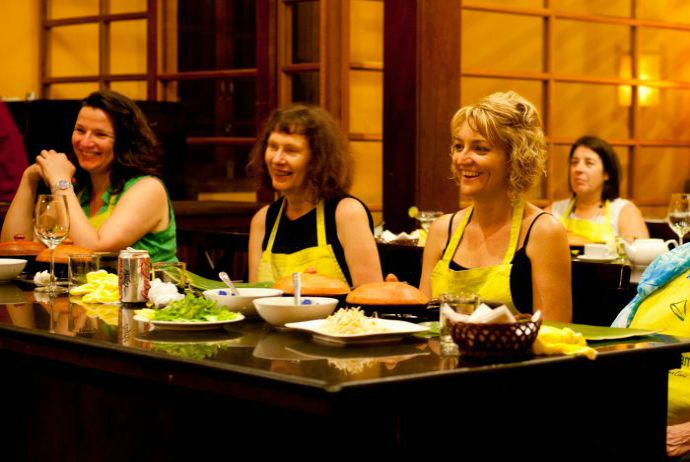 Vietnam is well-known for many delicious dishes which are unique and enjoyable for tourists from all over the world. Of course, there are always available restaurants out there serving customers local foods in Hoi An, for different types of budget, from street kiosks to luxury restaurants. However, concurrently, you can also join in a cooking class to learn how to cook Hoi An specialties by yourself. With a lot of cooking schools available in Hoi An, you could experience the process and learn many secrets of traditional food of Vietnam. So, consider a few of cooking schools and opt for your favorite choice.
11. Explore Thuan Tinh Eco-Tourism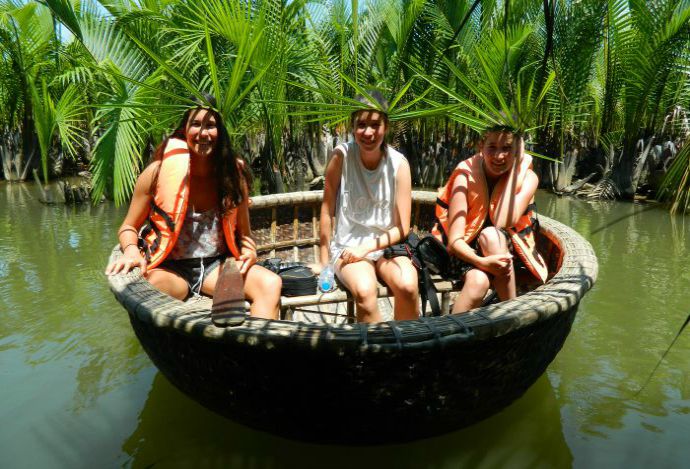 Visiting Thuan Tinh (Thuận Tình) ecotourism is another one in regard fun things to do in Hoi An that you will definitely enjoy. Visitors coming here can relax on boat and then join in some folk games like canoeing on the lake, admiring the arts and crafts displayed in the old house symbolizing for the architecture of rural Vietnam, and canoeing on the lake.
A special thing about Thuan Tinh ecotourism is that it is attached strictly to nature, giving a true sense of eco-tourism. Really, this is worth a site for camping and picnicking. You could spend one day at Thuan Tinh Island taking part in a cooking class. With just a small amount of fee, you could do all.
12. Go To Shopping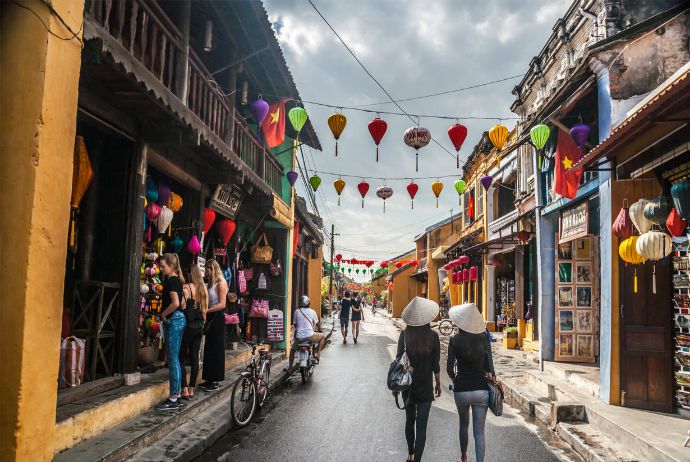 Actually, there are not many shops in Hoi An. Yet, there are some still choices for those shopping enthusiasts. Tourists can design their own bag and have it made by a leather shop here. For local gifts, consider stopping by Cocobox. They sell lovely, cute designed tea packs and chocolates made in Vietnam.
One of the most popular places for shopping in Hoi An is Hoi An Central Market where you could sharpen your bargaining skills and gain unmissable shopping experiences. Rich in vibrant colors and smells, this market displays products which are predominantly food with seafood area closest to the water. Also, there are fresh veggies and fruits and a variety of prepared meals for tourists to try. When bargaining, you should not hesitate to cut down about half of the initial price and continue to work towards a final agreement. Walk on and smile if you do not agree with the price that vendors give, so you can avoid being hassled by them.
13. Visit The Banh Mi Queen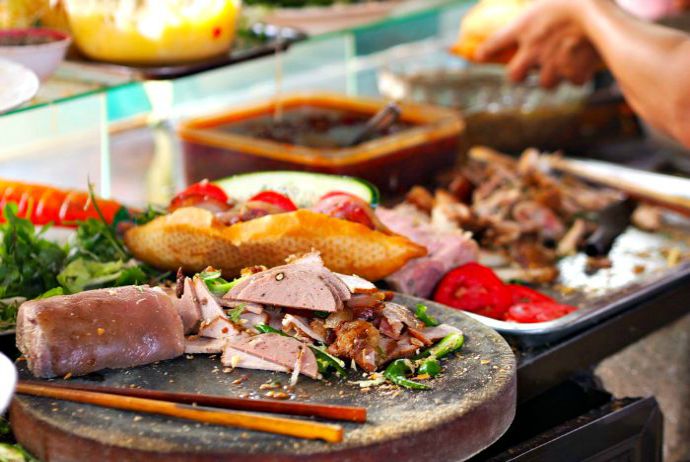 Have you ever heard about "Banh Mi" (Bánh Mì) of Vietnam? Recently, it is confirmed as one of the most delicious street foods in the world. If you are new to Banh Mi, then figure out this: this is an unbelievably crusty baguette, filled with salad, pork, egg, and a number of other fillings that somehow make it not only indubitably Vietnamese, but also very tasty that a regular sandwich will not be able to satisfy you like that.
Really, one of the most interesting things to do in Hoi An is visiting Madam Khanh – The Banh Mi Queen, which is owned by an old woman. The shop is opened daily. With just less than $2AUD each roll, you will enjoy a cheap, tasty bliss.
14. Visit Museum Of Trade Ceramics In Hoi An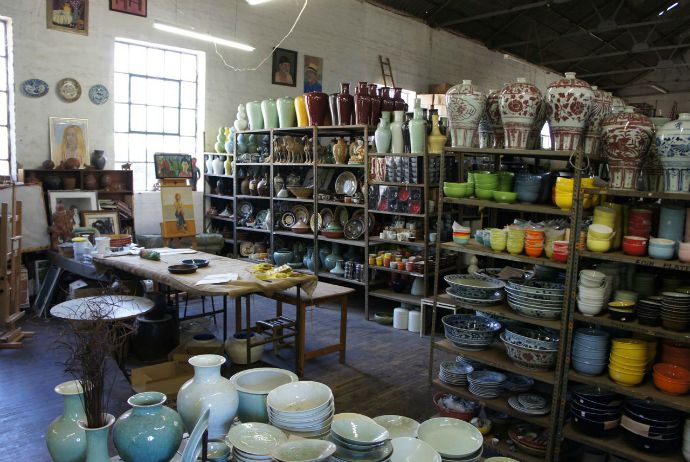 In regard to things to do in Hoi An, a trip to the Museum of Trade Ceramics is really worthy. Come here just to see the beautifully restored timber house in which this museum resides.
When stepping inside, tourists will discover a wide selection of Japanese, Vietnamese and Chinese ceramics found during the archaeological digs in the region from the 8th to the 18th centuries.
Situated in the old quarter of Hoi An, it provides tourists with a cultural insight into the town's history as well as the foreign relationships with other Asian counterparts such as India, China and Japan. Also, there are many fascinating drawings presenting a variety of types of architecture in Hoi An plus with a long, detailed history of this ancient town which used to be an extremely important trade center.
The collection of over 430 artefacts here is also contributed by objects from the Middle East. Nevertheless, the real beauty of this museum is the ability of putting different aspects of Hoi An's history together of in just one place and also give international tourists an opportunity to have a detailed glimpse into Hoi An architecture.
There is no need to worry for those foreigners visiting the museum who want to understand more about the details of treasures on display as exhibition signs here are presented in both Vietnamese and English.
15. Book A Tour To My Son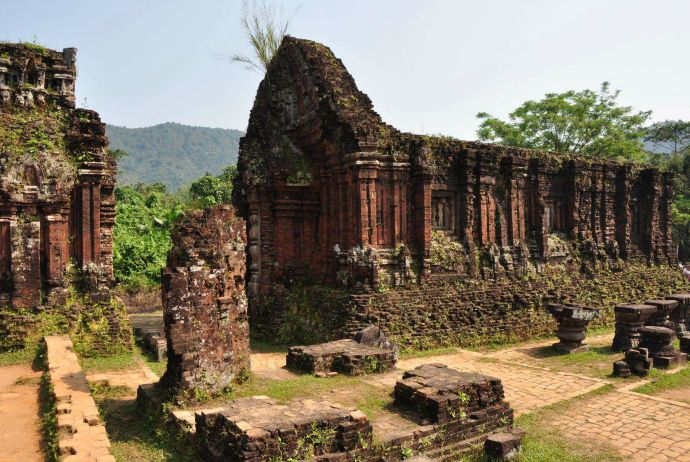 One of the greatest things to do in Hoi An is visiting My Son sanctuary (Thánh Địa Mỹ Sơn). This destination is definitely interesting for those who are keen on discovering the war years in Vietnam. My Son sanctuary is super familiar with those who love the Champa's culture. Just a visit by minivan to My Son Sanctuary and then return by boat would be a great experience for tourists. Trust me, it will be an opportunity for tourists to discover and learn more about the lifestyle of residents living around this ancient area.
Has been designated as a UNESCO World Heritage Site, My Son now is one of the most attracted destinations in Hoi An. It is more than just a "beautiful mountain" that its namesake describes.
There are ancient and impressive towers and temples sitting upon emerald hills. Tourists can wander through 8 groups of 71 structures, which some visitors said are less impressive than Siam Reap of Cambodia. However, My Son sanctuary, which was once reckoned the homeland of the Cham (Chăm) people today, still remains an incredible instance of indigenous culture of Vietnam.
16. Visit Lantern Market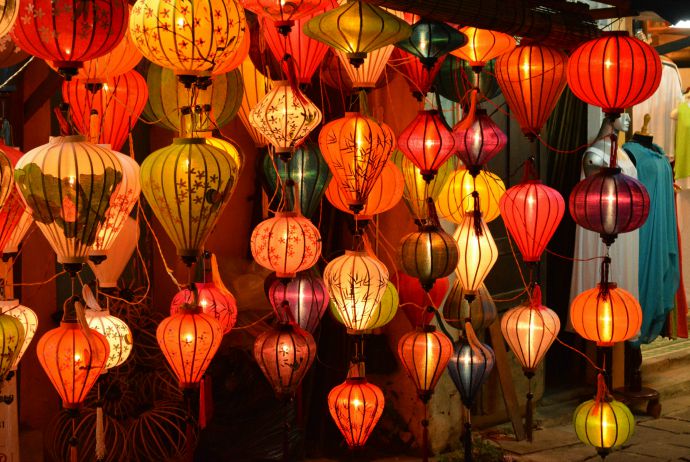 Another idea among a lot of things to do in Hoi An is visiting Lantern Market and enjoying the nightly entertainments. The old town of Hoi An after dark turns into a mystical row of lanterns and lights. Actually, Hoi An is the big base of paper lantern manufacturers as well as merchants. Every establishment or shop will have several lanterns outside, yet the real site is the lantern market.
There, you will see how those lanterns are created and will have a plethora of options to bring some home.
After wandering through the market, you can check out the outdoor traditional theatre and see Vietnamese folk dancers as well as musicians perform some traditional art pieces. This theatre runs between 9 to 10 pm at the square on Nguyen Thai Hoc (Nguyễn Thái Học) Street. There is no fee to pay here, so it is very interesting to see, even if it is only for several minutes when you pass by.
And, before coming back your hotel, make sure that you light a candle box and gently set it into the water. A lot of children sit along the channel banks and offer candles to you. Do not forget making a wish.
17. Get New Threads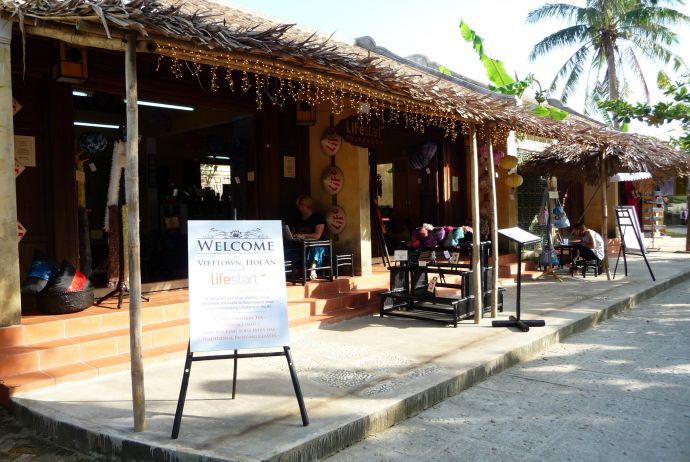 It is said that one of the biggest tourist draw-cards of Hoi An are the tailors lining on the streets in Hoi An town center. Fancy dresses and suits, T-shirts, leather shoes, and bags – whatever you want to make, someone could make it happen for you.
Items like suits and gowns are dramatically cheaper than in other places, and daily clothing could range from low to average price depending on the quality of products. Most particularly, the best part is that most tailors here offer free fittings as well as adjustments till customers feel satisfied.
If you plan on getting clothing made, then you should warrant that you do your own research and shop around before really ordering. It is recommended to try different shops, get quotes and ask tailors how fast their turnaround is (approximately from 24 to 48 hours).
18. Play Golf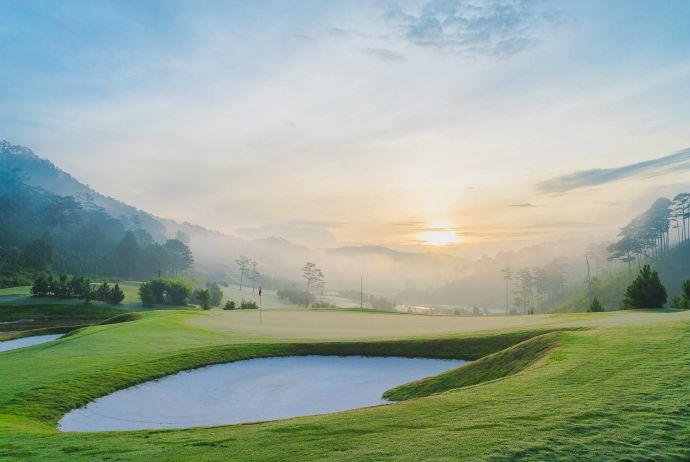 This is exactly one of ideal things to do in Hoi An for tourists who love playing golf. The coastal strip between Danang (Đà Nẵng) and Hoi An is developing a fame as a prestigious golfing destination. Here, you will find 3 world-class golf courses, including the 2010 Ryder Cup-winning captain Colin Montgomerie's links course; Greg Norman-designed Danang Golf Club, and Laguna Lang Co GC, designed by Nick Faldo.
19. Go Fishing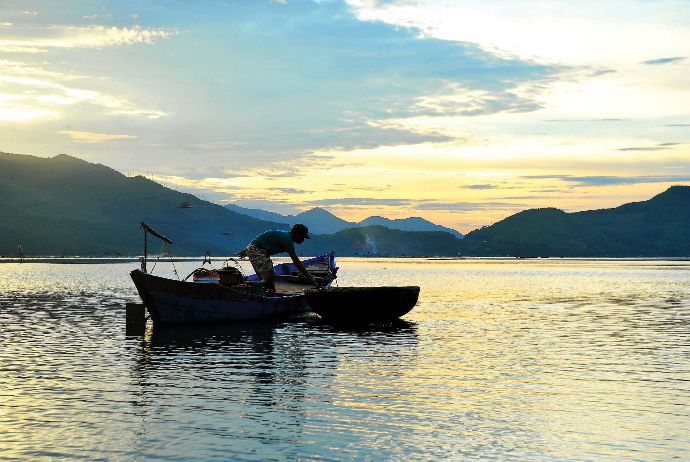 Because Hoi An is located on the coastal area, and a large number of residents here are expert fishermen, so going fishing is one of the most popular and well-worth doing things to do in Hoi An.
Tours in Hoi An offer tourists an opportunity to learn to fish like a real local. You will know how to lift the big fishing nets up and get them out of water, use baskets to scoop the fish out of those nets and then spread the nets into the water again.
20. Discover The Old House Of Phung Hung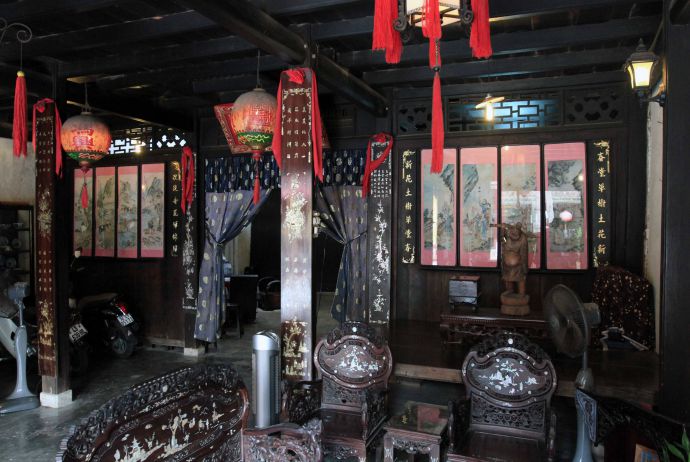 There are many traditional merchants houses lining the streets of Hoi An, so if you have a change to go inside of at least one of them, then take it. Among these houses, the most famous is the Phung Hung (Phùng Hưng) house, which is a private residence established in 1780. In this house, the first floor shows off an influence of Japanese style with the central roof of 4 sides. On the second floor, the balcony displays the Chinese inspiration with turtle shell-shaped roof which has sculpted beam supports. And, the third floor which was used as a place for refugees has an impressive structure with trapdoors.
The things mentioned above are 20 great things to do in Hoi An that every tourist should not skip. Some of these things are interesting, some are meaningful, some are a little bit adventurous, and some are relaxing. If you have a chance to visit this beautiful town, at least schedule your trip to visit a few of these destinations and do some best things of your choice. You will have unforgettable memories. Trust me!
Related Articles:
18 must-see Hoi An attractions – places to visit for tourists
Hoi An nightlife – best activities to do at night in Hoi An
15 tips on shopping in Hoi An, Vietnam – what & where to buy
16 best Hoi An restaurants – where to eat in Hoi An, Vietnam