Updated: 11/19/2019
Situated about 442 km to the north of Ho Chi Minh (Hồ Chí Minh) City, Nha Trang is a destination where travelers can definitely enjoy the sun, sea and sand. Being the center of economy, politics, culture, and tourism in Khanh Hoa (Khánh Hòa) province, Vietnam, this coastal city is well-known for a lot of breath-taking attractions, both historical and natural ones. Also known as the pearl of the East Sea (Biển Đông), Nha Trang is the green jewel for the value of beauty, nature and climate. This city, with 7km of clean white sandy beach – usually called Vietnamese's Mediterranean coast – is the home of one among the most beautiful beaches in Vietnam and has its name known to the whole world. Visitors coming here could enjoy a real relaxing place that is hardly found anywhere else. Tourists visiting Nha Trang should not skip the following top Nha Trang attractions:
Top 18 Nha Trang Attractions – Attractive, Inspiring And Vibrant
1. Vinpearl Land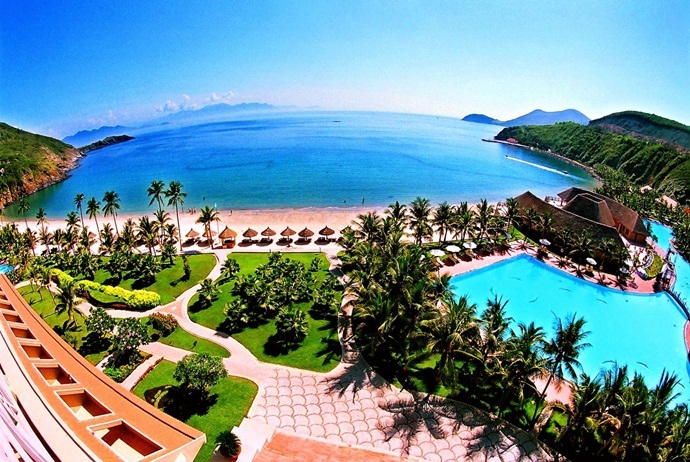 When it comes to Nha Trang attractions, Vinpearl land definitely gets the top position. This is considered as the most famous tourist attraction in this coastal city. Having a sumptuous tourism complex as well as several services, Vinpearl Land is an appealing entertainment center of Vietnam.
Situated in the wonderful Hon Tre (Hòn Tre) Island, Vinpearl Land welcomes millions of travelers each year. Picturesque and amazing scenery, as well as perfect services have turned Vinpearl Land into a Paradise Island. Those people who coming to Vinpearl Land will not only discover the gracefulness of the white sand stretching beaches, the endless paradise, the green palm trees, and the sweet sea wind, but also experience the beauty of many world-class resorts as well as an entertainment paradise here.
2. Nha Trang Beach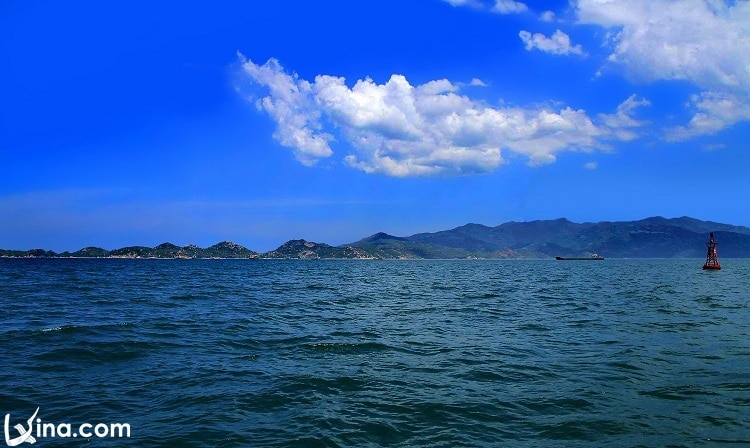 Nha trang Photo By Hieu HD (Tho Bo Ho)
Owning a serious of wonderful beaches, Nha Trang is a popular destination for those people who want to escape from the hustle and bustle life of the vibrant cities like Hanoi and Ho Chi Minh City, Vietnam. The beaches here are wonderful with white sand, swaying palms, and blue waters. It does not matter if you are staying in a small hotel or a five-star one right in the tourist center; it always just takes less than 15 minutes on foot to reach the sea and the beaches. All beaches here are free to visitors, thereby making a beach vacation definitely possible for people with any budget. That is why it is one of the most attractive Nha Trang attractions.
Among many beaches in Nha Trang, Nha Trang Beach has become the most popular one, which is reckoned as a miracle and refulgent in-washing painting made by the Mother Nature. The wonderful combination of clean white sand shores, blue clean sea water, and breath-taking scenery has transformed Nha Trang Beach into among the most beautiful beaches in Nha Trang. This helps attract a large number of both domestic and international travelers. When you set your own foot on this beach, you will discover that it is rather difficult to forget the romantic and gentle beauty that Creator has bestowed Nha Trang.
Along the seashores, casuarinas, and murmur groves contribute to the miracle scenery of this beach.
When visiting here, you could immerse yourself in natural scenery as well as blue sea, and also enjoy the professional, careful services provided by locals. In addition to swimming, you can also enjoy many other water-based fun activities like snorkeling, sailing, and diving when the weather is nice.
3. Alexandre Yersin Museum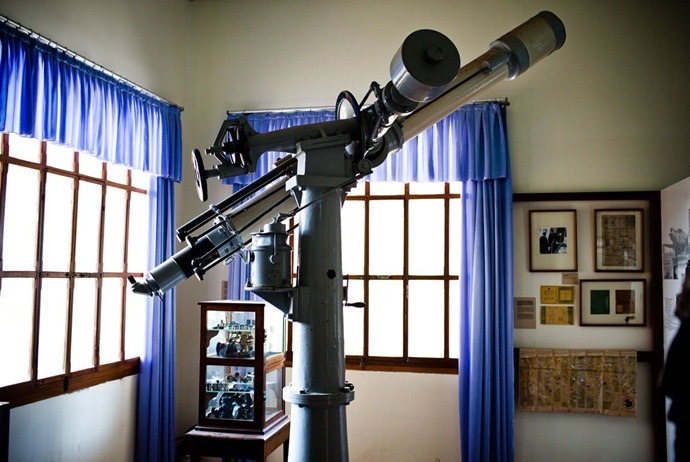 The next spot in this list of Nha Trang attractions is Alexandre Yersin Museum, which is well remembered by Vietnamese people. Actually, ALexandre Yersin is a French medical pioneer, who was called as Ong Nam affectionately. Surprisingly, this museum used to be his house in Nha Trang, and was named according to his name in order to show the respect of Vietnamese for him, following the independence of the country. At the museum, travelers could understand the idea of the Yersin's work. He founded Dalat, researched the agricultural methods as well as meteorological forecasting, and discovered an important plaque-causing bacterium – all bring great benefits to the Vietnamese.
Opening Hours: 08:00-11:00 &14:00-16:30, Monday – Saturday
Location: Pasteur Institute, No. 10 Tran Phu (Trần Phú) Street.
4. Long Son Pagoda (Chùa Long Sơn)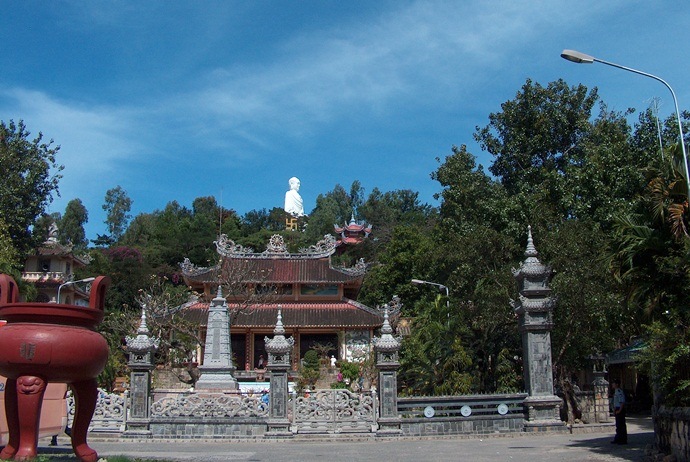 The major attraction in this pagoda is exactly a huge white Buddha located on the hillside right behind the major compound. This statue is 24 meters in height and considered as a vital symbol of Nha Trang City.
There are portraits of monks, who set fire to themselves in order to protest against the corrupt of Diem regime around the base of this statue. Each portrait of monks was carved in relief surrounded by the carved flames. When stepping up, you will be rewarded with a bird's – eye view of Nha Trang. This pagoda is situated about 400m west of the train station, just off 23-10 Street.
Opening hours: 7.30 – 11.30am; 1.30 – 5.30pm daily
Location: At the end of Xom Bong (Xóm Bóng) Bridge, about 2 kilometres out of the center of Nha Trang.
5. Po Nagar Cham Towers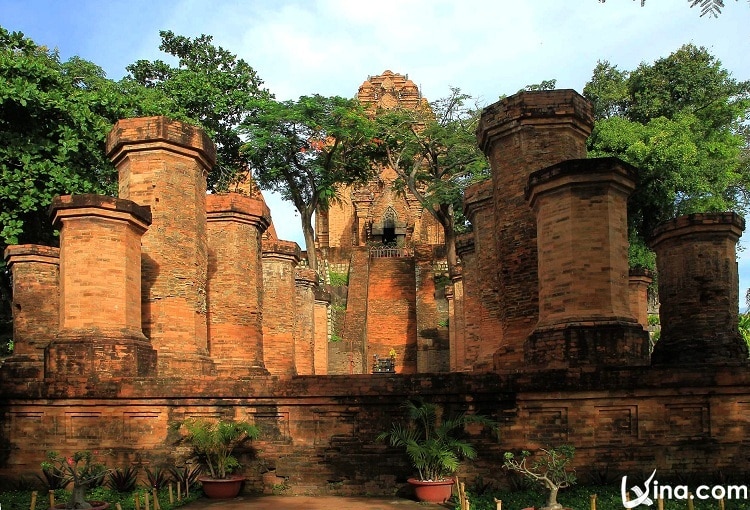 Nha trang Photo By Hieu HD (Tho Bo Ho)

Also known as Thap Ba (Tháp Bà), Po Nagar Cham Towers are the complex of temples which was erected about before 781 A.D. This is one of the most frequently visited Nha Trang attractions. In the past, Cham is the ancient civilization which was influential in Southeast Asia, particularly in Cambodia and Vietnam. Now, the Po Nagar Towers are located on a mountain named Cu Lao (Cù Lao), in downtown Nha Trang, besides Cai River (Sông Cái).
In comparison with the initial design, these towers have just several differences. With charming and beautiful features, each tower of the Po Nagar Towers was established to dedicate to a special and unique deity.
Among the towers, the largest is about 23 meters in height, and was established in 817 A.D and consists of a linga along with a statue dedicated to Po Nagar, who is thought to have instructed new agricultural as well as weaving techniques to locals. To express the gratitude, they have established the complex to honor the Goddess.
Established partly of recycled bricks, the Central tower is in honor of Cri Cambhu, goddess of fertility. The other two temples are the shrines of the Hindu gods Shiva and Ganesh respectively. Tourists could easily reach this complex by taxi, bus, motorbike, or even bicycle.
Opening Hours: 07:30 – 17:00 daily
Location: 2 Thang 4, at the end of Xom Bong (Xóm Bóng) Bridge
6. Hon Chong Promontory (Hòn Chồng)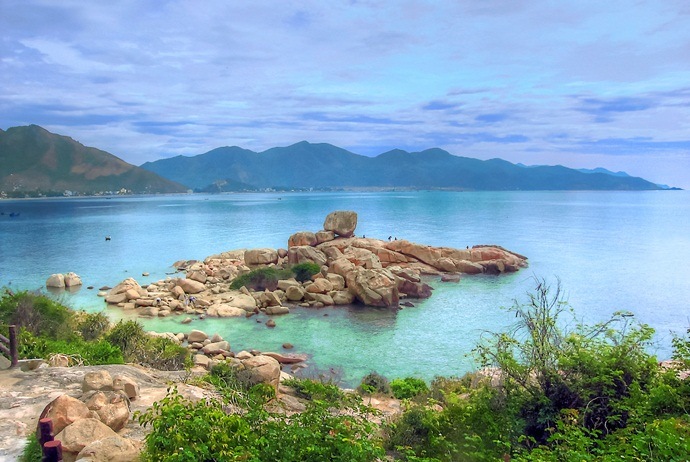 The next site in this series of Nha Trang attractions is Hon Chong Promontory. Hon Chong is situated about 3.5 km north from Nha Trang center. It contains massive rocks which lie on top of one another. It is divided into two separated parts. One is situated offshore and the left is in the sand dunes at Cu Lao (Cù Lao) fishing hamlet. Here, travelers could feel Hon Chong promontory as the wonderful intersection of the sea and the mountain. It just takes a few steps for you to touch the foot of the hill or the sea. Particularly, visiting Hon Chong, you could also have an opportunity to hear a lot of interesting stories about the promontory among breath-taking natural sceneries. This is a great spot for everyone to come at sunset.
Unlike many other beaches in Nha Trang, beach at Hon Chong area is rather tranquil. When visiting this beach, you could comfortably sit on the rocky promontory in order to fish out or go straight a few meters of the shore to bathe on smooth sands along with gentle clear blue waters. Really, beach on Nha Trang bay as we as Hon Chong Promontory is therefore reckoned as one of the most beautiful and safe bays in Vietnam, which becomes one of the new impressive Nha Trang attractions.
On the other hand, as one of the enchanting Nha Trang attractions, beach in Hon Chong Promontory has been explored for the development of tourism. Previously, travelers who would like to visit here had get through the steep hills and also walk around. Now, Hon Chong is credibly dreamy and rendezvous for those people who love nature to admire the incredible natural landscapes.
Looking for something historical? Check the Nha Trang attractions below!
7. Nha Trang Cathedral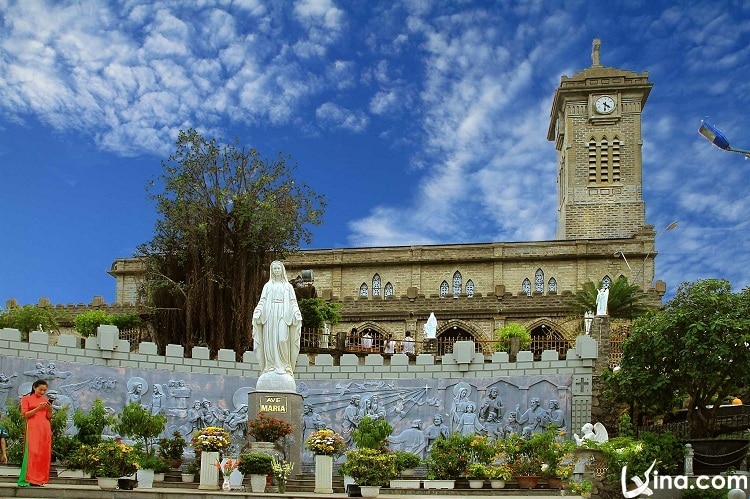 Nha trang Photo By Hieu HD (Tho Bo Ho)
Established from 1928 to 1933, Nha Trang cathedral feature with French Gothic style, with stained-glass windows. This cathedral stands on a small hill that overlooks the train station. Being constructed by cement blocks, this elegant building also characterizes with some colorful Vietnamese touches, including the pink back-lighting on the tabernacle, the red neon outlining the crucifix, the white neon halo and the blue neon arch over the St Mary statue.
Seen from afar, the building seems to be established completely of cleaved stones; nevertheless, there is a fact that this type of stone is just used in paving and courtyard. All of the walls of this church are constructed by simple cement blocks. In particular, just the roof of the corridor stretching along sides was concreted; the chapel's whole dome was used lattice girders and hard-core bamboo. Nha Trang Cathedral strongly inspires Gothic cathedral architectural through 3 separate parts. With the bottom, the middle part and the top are respectively the door, the stained-glass circular windows colored with roses, and the corridor along with two bell towers.
Admittedly, the most unique features of this cathedral are the bronze bells which are hung in the tower. Those bells were produced and provided by Bourdon Carillond – a well-known French bell firm.
Furthermore, Holy Place is the most prominent in Nha Trang Cathedral. When walking through the entrance door, you will come across an airy space which is filled with light. According to many experienced travelers, when asked how the most striking characteristics of Gothic architecture express in this cathedral, they said that it is shown through the wide curved dome pointing upon the sky. Straight lines considered as decorative patterns are arranged in a harmonize way, thereby creating the modest but dignified beauty. Moreover, to efficiently make use of the sunshine, Nha Trang cathedral was designed with a variety of types of stained glass on the arch doors, and rose doors. These all create soothing and beautiful scenery along with calming atmosphere which was often found in those worship places.
Tourists who used to come here will definitely feel extremely admirable on the talented hands of designers and artisans who established every masterpiece of the cathedral.
Because Nha Trang is year-round full of sunlight and wind, so you can go to the Cathedral almost at any time of the day to feel the sacred beauty which allows you to escape for awhile from the hustle and bustle life. From November to late December, it is the peak season of international travelers visiting this seaside city to witness the beauty of both historical and natural spots here, including Nha Trang Cathedral. Additionally, numerous of domestic couples choose this cathedral for celebrating their wedding, certifying for their everlasting love.
So, add Nha Trang Cathedral as a must-see spot in your list of best Nha Trang attractions now!
Opening hours: 7:00 – 18:00 daily
Location: intersection of Nguyen Trai (Nguyễn Trãi) Street and Thai Nguyen (Thái Nguyên) Street
8. Buddha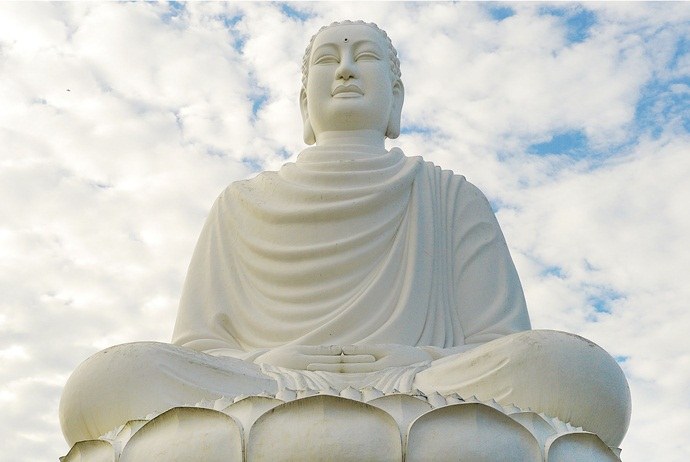 Behind Long Son Pagoda, at the top of a hill, there is a huge white Buddha statue seated on the lotus blossom. This statue is visible from the whole city. Around the base of this statue, you will find fire-ringed relief busts of Thich Quang Duc, along with six other Buddhist monks who went away in self-immolations in 1963. The area around the 14m-high figure offers great views of Nha Trang as well as nearby rural regions.
Location: Kim Than Phat To (Kim Thân Phật Tổ)
9. National Oceanographic Museum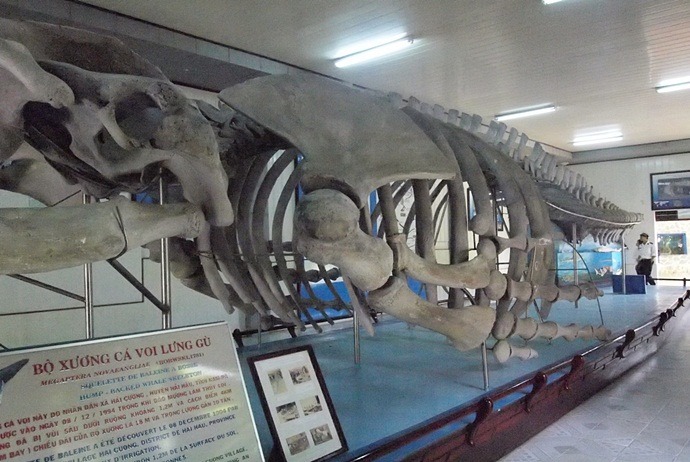 Being housed in the grand French-colonial building in the port district of Cau Da (Cầu Đá), Nha Trang, this museum contains 60,000 jars of pickled marine specimens, stuffed sea mammals and birds, and a lot of displays of fishing artefacts and local boats. Actually, there might be no other place in Nha Trang where you can expect to see a more extensive collection of living beings from Eastern Sea like in this museum, especially in the areas like archipelagoes of Paracels (also known as Hoàng Sa), the bays of Thailand, and Spratlys (Trường Sa), shore areas of Vietnam, and the gulf of The Vat Bo.
Covering two floors, this museum becomes a popular destination among many Nha Trang attractions for both domestic and international tourists. The ground floor of the museum is home to fish tanks of different sizes. There are all types of fish in the sea of Khanh Hoa province presented, such as turtles, reef sharks, living coral, anemones, lionfish, puffers, clownfish, seahorse, not mention to a wide array of those colorful reef species. Some of them could be found in nowhere else in the world. Each of them is labeled indicating their origin, name and characteristics in both English and Vietnamese.
The upstairs is home of specimens, 18-meter long whale skeleton, and fishing artifacts. Apart from the museum aquariums, there are a number of the theme rooms within the National Oceanographic Museum that focus on marine science presenting the history of its research equipment as well as technology like "Life in a Drop of Water", "From Light to Life", or room demonstrating coastal natural disasters, tradition and culture, and sacred legends of Vietnamese fishing.
Opening hours: 6:00 – 18:00 daily
Location: No.1 Cau Da (Cầu Đá), Nha Trang
10. Khanh Hoa Museum (Bảo Tàng Khánh Hòa)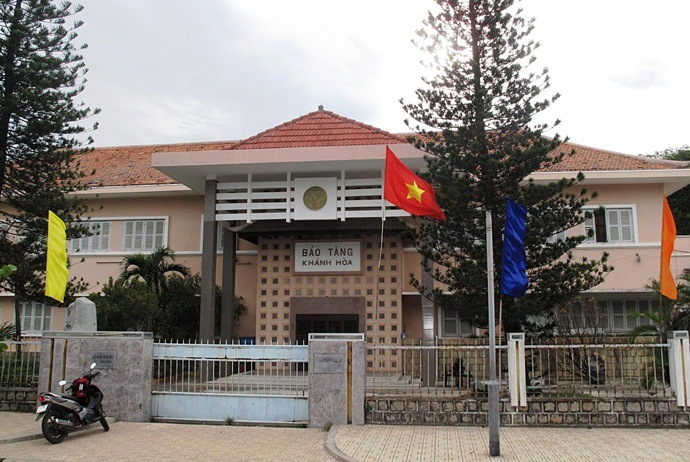 This sleepy local museum presents displays of many Cham statues as well as artifacts of the ethnic minorities in Khanh Hoa province. Inside this museum, the Uncle Ho room characterizes some Ho Chi Minh's personal effects, like the clothes and microphone with which he made his well-known independence speech in Hanoi, on 2 September 1945.
Opening hours: 8-11am & 2-5pm Monday, Wednesday, Friday & Sunday
Location: No. 16 Tran Phu (Trần Phú) Street, Nha Trang
11. Long Thanh Gallery (Phòng Triển Lãm Long Thành)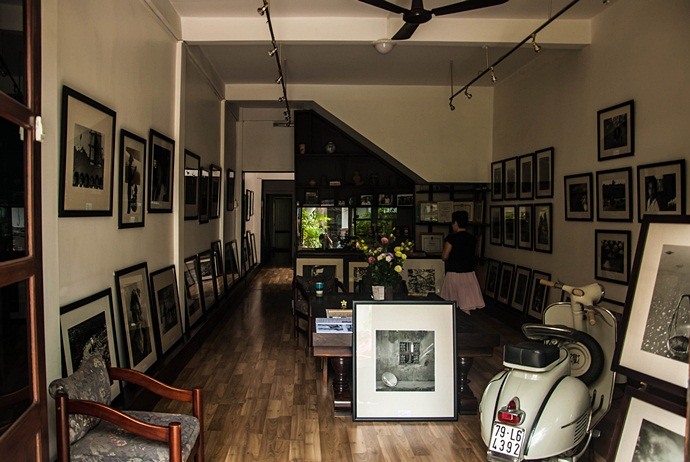 The gallery presents the work of the most prominent photographer of Vietnam named Long Thanh He developed his photo in 1964 and keeps shooting extraordinary black-and-white photos of daily Vietnamese moments as well as compelling portraits. These powerful photos capture the soul and heart of Vietnam.
Location: No.126 Hoang Van Thu (Hoàng Văn Thụ) Street, Nha Trang
Opening hours: 8am-5.30pm, from Monday to Saturday
12. Mai Loc Gallery (Phòng Triển Lãm Mai Lộc)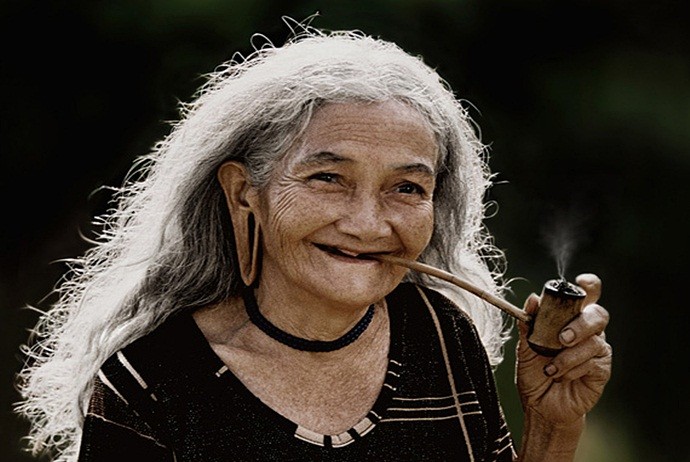 Despite galleries is not a common destination tourists choose to visit when it comes to Nha Trang attractions, yet there are still some interesting galleries that attract a large number of people. One of them is Mai Loc Gallery, which showcases the highly accomplished monochrome photography of the passionate photographer named Mai Loc, a native of Nha Trang. As a tourist, you can ask him about his own life story (he is an ex tour guide, cycle driver and gold miner).
Opening hours: 8-11am and 2.30-10.30pm daily
Location: No. 99 Nguyen Thien Thuat (Nguyễn Thiện Thuật) Street
Keep reading this list of Nha Trang attractions to visit more must-see places in Nha Trang!
13. Bao Dai's Villas (Dinh Bảo Đại)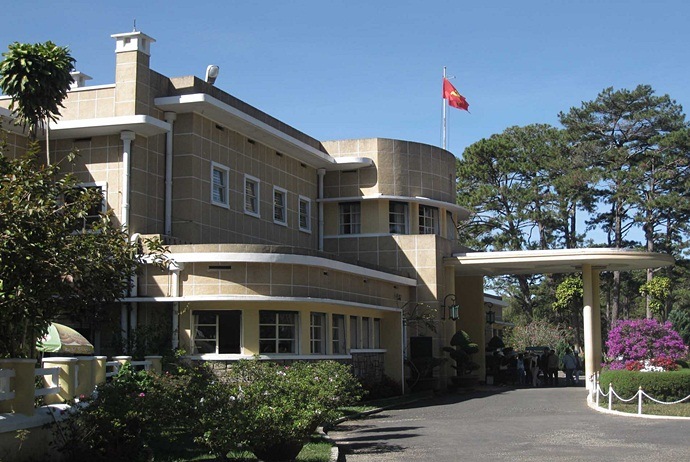 Another spot that you cannot skip in regard to historical Nha Trang attractions, Bao Dai's villas is a worth-visiting place. Established 1923 by a French scientist, these five villas and three adjunction building are about 50 meters above the sea level and offer wonderful panoramic views. All of the villas are named after flora and there is a charming hotel situated onsite. Bao Dai is the last emperor of Vietnam who had seven concubines along with thirteen children, resided within the villas when coming to Nha Trang on holiday.
Location: Cau Da (Cầu Đá), Vinh Nguyen (Vĩnh Nguyên), Nha Trang, Vietnam
14. Dam And Xom Moi Markets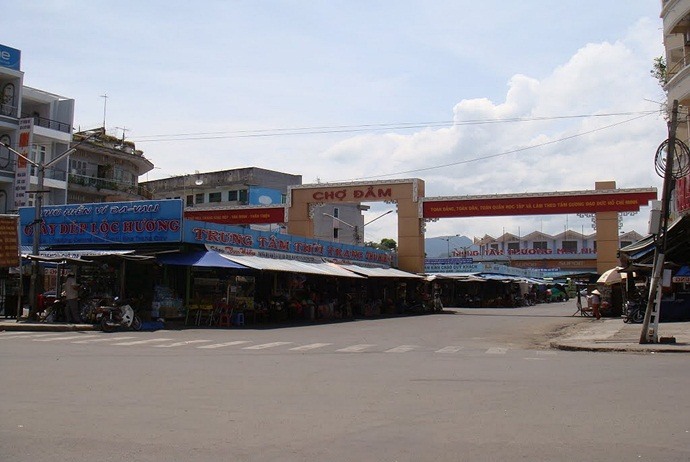 Located in the commercial center of Nha Trang City, Dam Market (Chợ Đầm) is the most vibrant and busiest market in the city. Considered as the largest market, it becomes a popular site in regard to Nha Trang attractions for both domestic and international travelers. Having 3 floors, the market features with different stall selling various things, from tourist trinkets, souvenirs, knock-off brands, and cheap watches to local produce as well as meats. When visiting Dam Market, you should not skip the dry seafood section located in the right of the building. Here, you will purchase seaweeds, dried shrimps, cuttlefish, and many other famous dried delicacies which are typical in coastal towns of Vietnam.
Every day, this market opens at 4 am and is flooded with people. It is recommended to keep an eye on your bag or wallet in crowded areas there because of the high chance of pickpockets as well as thieves. However, that does not mean that Dam Market is not a vibrant, safe and fascinating place for tourists. You hardly have a real view into the daily life of Nha Trang residents unless you visit one of the colorful marketplaces like Dam market.
On the other hand, the nearby Xom Moi market (Chợ Xóm Mới) is particularly for local people shopping their daily household supplies and food. This market is not as big as the first one, but shopping here will bring to you a more local experience. Whilst Dam Market is famous for the hard bargains, and tourist clutter, in Xom Moi market, it seems to be friendlier for customers to bargain and the prices are also more reasonable.
If you are a person who wants to pick up something like knock-off designer goods, pretty trinkets, and tourist souvenirs, then Dam Market is for you. For a more local shopping experience, go for Xom Moi Market, one of little-known but worth-coming Nha Trang attractions.
Location: Ben Cho (Bến Chợ), Van Thanh (Vạn Thạnh), Nha Trang
15. Ba Ho Waterfalls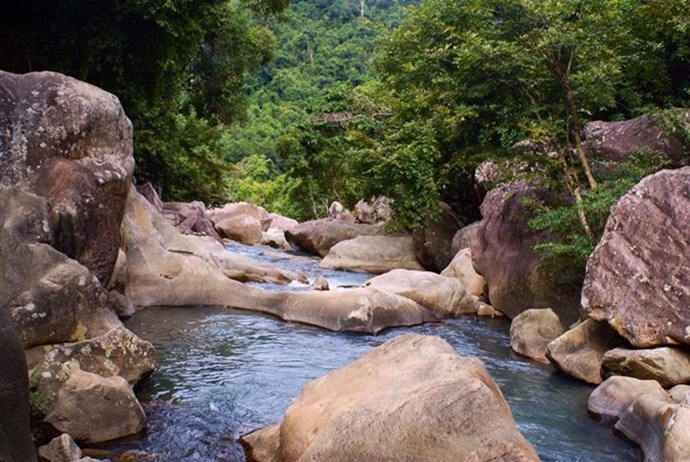 The Ba Ho Waterfalls is a complex of three natural waterfalls ending with a clear lake surrounded by a dense rainforest, providing a peaceful retreat for picnics, swimming, and fishing. These waterfalls are mostly still in their natural state, with a few arrow pointers along with cement steps set along the challenging routes. It takes about 40 minutes to get from Nha Trang City to Ba Ho Waterfall, with beautiful stretches of coastlines as well as paddy fields throughout the trip.
If you want to travel in a more professional way, take a day tour, which often offers a guided trip to some prominent Nha Trang attractions, including Monkey Island, Doc Let Beach and Ba Ho Waterfalls.
Opening hours: Daily 06:00 – 18:00
Location: Ninh Ich, Ninh Hoa district, Nha Trang
16. Suoi Do Pagoda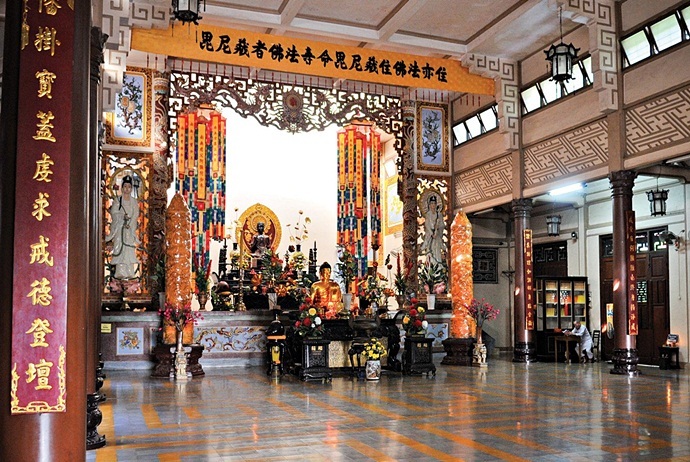 This is a 50-year-old temple which was established in honor of Quan Am, the Goddess of Mercy. Located on top of the mountain, it takes approximately 200 steps from the base of the mountain to reach the pagoda, where tourists could witness panoramic views of banana plantations, paddy fields, and neighboring hills. From Nha Trang city center, it takes 30 minutes of driving to reach this destination. Because of its hidden locale, you should join a professional tour or ask residents for directions. Beware that wheelchair facilities are not available here, so those tourists with disabilities might find it hard or challenging to discover.
Opening hours: 06:00 – 18:00 daily
Location: Suoi Hiep Commune, Dien Khanh District, Nha Trang
17. Hon Khoi Salt Fields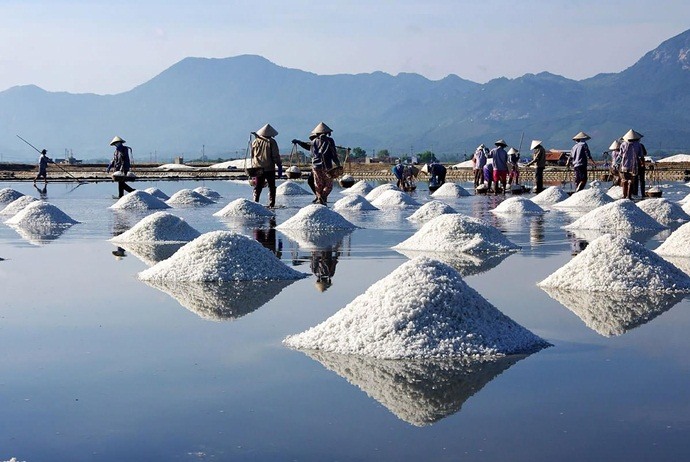 Among many spectacular Nha Trang attractions, Hon Khoi Salt Fields might be the most unique destination, where female locals harvest mounts of fresh salt from shallow fields, from January to June. It takes one hour from the center of Nha Trang City to reach this spot, and you could find these salt fields along the way to Doc Let Beach. With extensive coastline, salt production is a popular industry in Nha Trang, producing approximately 737,000 tons annually. This destination is also very popular for photography. Here, tourists and photographers can capture beautiful views of salt mountains as well as residents carrying many heavy baskets across fields.
Opening hours: 06:00 – 18:00 daily
Location: Northern Nha Trang
18. Thap Ba Hot Springs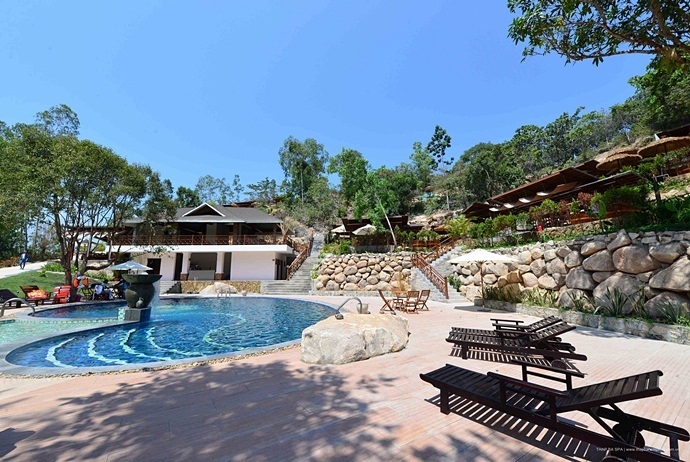 If you want to relax yourself after a long day of discovering a number of Nha Trang attractions, then Thap Ba Hot Springs cannot be skipped. This is an ideal place to rejuvenate your whole body in the most comfortable way – dipping into hot mineral springs. It is believed that the natural springs here can help detoxify and soothe your fatigued muscles, eliminate dead skin cells, and provide minerals to your body. It takes about 15 minutes from Nha Trang city's center to reach this destination. The establishment here is fitted with shared herbal-bath, mud-bath, Jacuzzi, waterfall, sauna, and swimming pool.
Because of Thap Ba Hot Springs' popularity, it gets very crowded, so the best time to visit here is from 12:00 to 15:00.
Opening hours: 7 am – 7 pm
Location: No. 15 Ngoc Son, Ngoc Hiep, Nha Trang
Well, there are a lot of Nha Trang attractions for you to consider visiting. In the limited frame of this article, we just can list down 18 out of most recommended and out-standing destinations for tourists to visit in Nha Trang. However, there are still many other interesting, worth-seeing landscapes.
Trust me, this city will be one of the places that you will remember during your trip to Vietnam, and Asian as well. So, if you have not planned your trip to Nha Trang, Khanh Hoa yet, then book a tour and arrange your luggage now, you will not regret about this decision!
Let me know your experiences when discovering these Nha Trang attractions by dropping words below the post. We welcome all contributing ideas about this topic – Nha Trang attractions!
Related Articles:
Nha Trang nightlife: 19 ideas for a great night out in Nha Trang
Shopping in Nha Trang – what & where to shop in Nha Trang?
22 best Nha Trang restaurants – where to eat in Nha Trang
17 best things to do in Nha Trang – what to do & where to go