Vong Nguyet Beach in Vung Tau is an ideal place for tourists who are keen on adventures and discoveries. Taking an escape from the increasingly stressful life in cities is a way to balance personal demands and work. To find happiness and feel peaceful in the soul, a getaway to Vong Nguyet Beach is a perfect choice. 
Someone has said, "the beach is not a place to work; to read, write or to think". Indeed, a tiring life with dozens of work makes people stressed and exhausted. Paying a visit to a place to find tranquil moments in the soul is necessary for all of us. I set foot on a beach with strangeness but the romance in Vung Tau – Vong Nguyet Beach; eventually, unique treasured memories have the original from the beach. 
For many people, good times may be expressed through these images "sun, sea, and sand". These things bring the feelings of peace in mind, relaxation and experiences with magnificent seascapes. Spending time on Vong Nguyet Beach is a way to heal mental health and seek tranquillity for the soul as we have a chance to see a sunset, watch the moon rise and admire the natural beauty.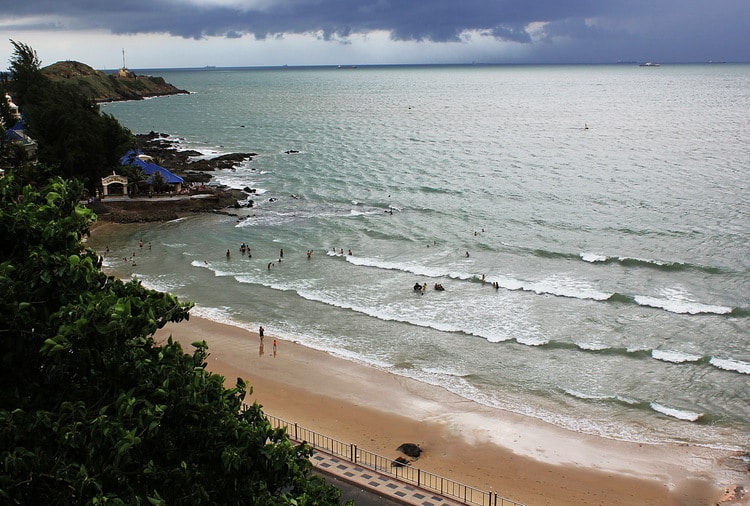 Despite not as famous as Front Beach, Back Beach and Pineapple Beach, Vong Nguyet Beach still leaves distinctive stamps in Vung Tau people's mind from generation to generation by its poetic and strange beauty. Vong Nguyet Beach is alluring to tourists partly due to its mysterious name. Vong Nguyet beach is located on the foot of Nho Mountain; especially, tourists can watch the whole view of the famous statue of Jesus Christ on the mountain top. Vong Nguyet gains attention from independent travellers for its tranquil charm and integrity. This beach makes tourists impressed by the sandy shore and clear, calm water with the magnificent seascape of Nghinh Phong Cape. Besides, Vong Nguyet Beach lies on the position isolated by land; it will be a golden opportunity for those people having a passion for discovering and adventuring. 
The name Vong Nguyet gets something curious for tourists about a place with mystery, romance and poeticism. Why is it commonly called Vong Nguyet? Initially, on the moonrise or twilight, this beach becomes brightened as if it is inlaid with a sparkling silver shirt. It seems like welcoming the moon to this charming beach. 
Although Vong Nguyet is not as noisy and crowded as Front Beach; and is not as spacious as Back Beach, it still makes impressive points for tourists. The water is fresh and clean; the shore is deeper and flatter than other beaches in Vung Tau. This place is entirely suitable for people loving the strong sense of raging and crashing waves. Standing from the statue of Jesus Christ on Tao Phung Mountain, you can watch a bird's eye view of Vong Nguyet Beach with golden sand and fresh air. It can be said that Vong Nguyet is a treasure that heaven gives beautiful Vung Tau sea city.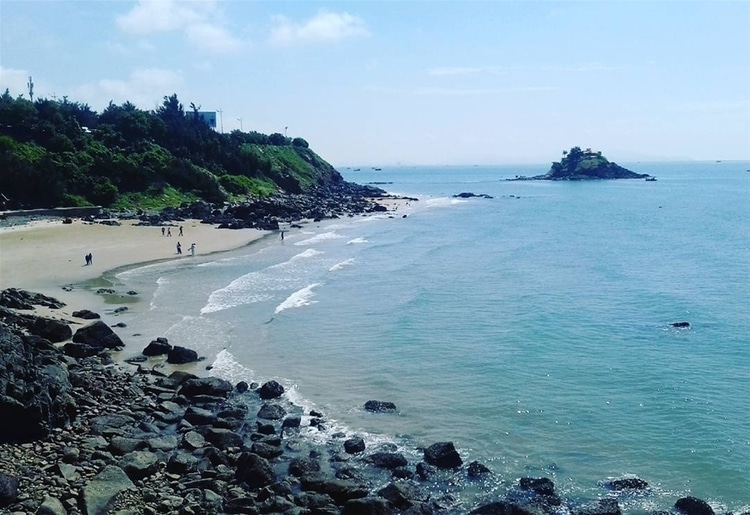 Taking a romantic getaway to Vong Nguyet Beach is perfect for people, especially independent travellers. This place is an ideal location to view the natural landscape and watch the moon. Particularly, photography lovers can choose Vong Nguyet Beach for capturing beautiful and memorable shots, because this place creates a gorgeous view with rocks jutting out into the beach. Also, you can enjoy yourselves into the fresh blue water or walk small paths curving the beautiful beach. 
  If you plan to explore Vong Nguyet, you should follow the route from Vung Tau to Vong Nguyet. From the city centre of Vung Tau on "3 tháng 2" road, you drive straight through Vo Thi Sau road, then turn right across Phan Chu Trinh. You continue to move to Mien Dong hotel, then turn right into Ha Long/Thuy Van road. Next, you drive to New Quan restaurant and turn right into Nghinh Phong cape. From Nghinh Phong cape, you have to walk down the slope of the mountain, and you can reach Vong Nguyet Beach. 
Besides the charming beauty, calm water in Vong Nguyet Beach, you can spend time admiring Tao Phung Mountain – a famous cultural spot of Vung Tau. On the top of the mountain is the structure "statue of Jesus Christ" which is strange and attractive to tourists and religious people. Standing on the arm of the statue, you can watch the broad view of poetic Vong Nguyet Beach. Moreover, to complete the trip to Vung Tau, you cannot miss Back Beach – famous for delicious coastal cuisines. In particular, this beach is also famous among tourists during holidays in Vung Tau.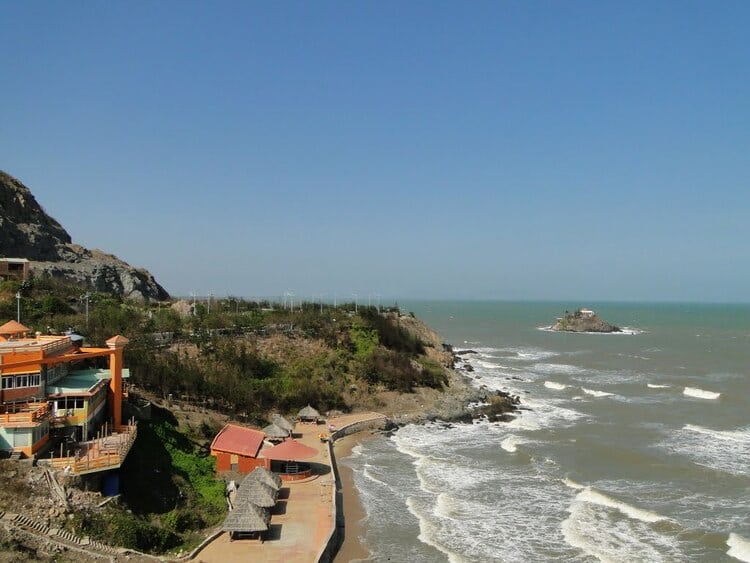 What is more? It will be such a great moment for tourists to go sightseeing to Vung Tau lighthouse. This lighthouse was built in 1962 and lay on the small mountain top with a height of 149 meters compared to the sea level. This place also brings a perfect view for tourists to watch the whole view of Vung Tau city. 
If you are finding a place like Vong Nguyet Beach with pristine and mysterious landscapes, you should take a trip to Vung Tau and give yourselves a chance to escape from the noisy and bustling city and tiring work. Let's experience the strange beauty of this place; you can explore new things for yourselves and refresh again. 
By Minh Phuong