Located in Phuong Mai (Phương Mai) foothill in Nhon Ly (Nhơn Lý) Peninsula, Quy Nhon (Quy Nhơn) city, Binh Dinh (Bình Định) province, Ky Co (Kỳ Co) Beach that features the blue water, long white sand, and spectacular landscapes has a poetic beauty. Each year, thousands of visitors and tourists come to this place to enjoy the adventurous Ky Co Beach tour. 
When And How To Get To Ky Co Beach 
Quy Nhon Beach, a special beautiful beach with a curved coastline, is about 25km away from Quy Nhon City Center. Therefore, there are two ways for you to reach this wonderful paradise. 
From Quy Nhon, you can get to Ky Co Beach by sea, which is the first way. The second way is to catch a taxi or motorbike to Eo Gio (Eo Gió) area (if you call a taxi, you may pay more than 200.000 VND for the route) and then reach Ky Co beach by canoe that will take you about 30 minutes.
However, there is still another way to reach Quy Nhon Beach for those who like an adventure. That is to go on foot. Starting from Suoi Ca (Suối Cả) Bridge, you go along the Phuong Mai Mountain slope to the south. Because this road is being constructed; therefore, it may be difficult to go. This way is suitable for the young who are healthy and strong. 
The best time for tourists to enjoy the Ky Co Beach Quy Nhon tour is from February to August because during that time, there is a lot of sunshine and you can swim, take the sunbath, take part in different beach activities and take beautiful pictures. 
What Are The Special In Ky Co Beach Quy Nhon Viet Nam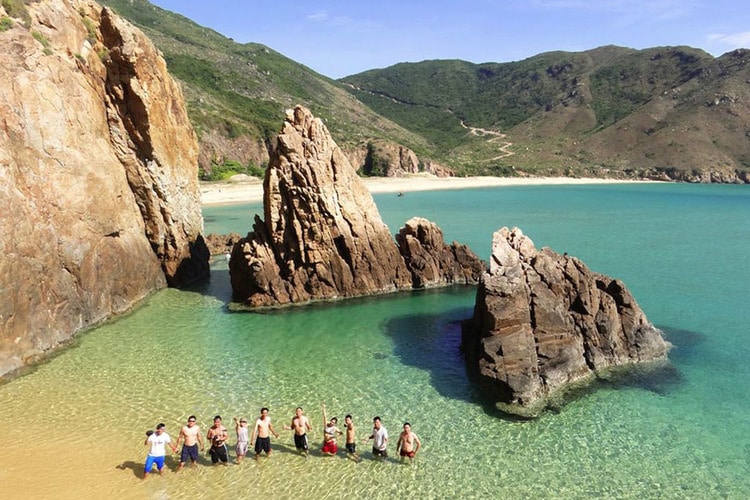 Ky Co Beach has a beautiful curved coastline with three sides facing mountains and one side facing the sea. Visiting Ky Co Beach, tourists will have a great chance to discover the beautiful pristine wilderness of the coast and be accessed to a variety of good travel services at a reasonable price. Nothing is greater than swimming, playing water sports and eating fresh delicious fresh seafood with your family and friends while being immersed in nature, relaxing your mind. The blue water, white sand with beautiful sky gives Ky Co Beach bright lively colors. 
If you come to Ky Co Beach, you should relax in a "natural swimming pool" that is surrounded by big and small rocks. This natural pool has a capacity of 5-7 people with water reaching the knee of the 7-year-old child. The waves coming always bring some small fishes into the pool. If your family or your friends prefer a safe and private place to relax, it should be a perfect choice. 
Ky Co Beach allures family to get the trip because children will be interested in swimming that "natural swimming pool", picking snails or shellfish and playing with the small fishes coming from the waves. 
Besides, this beach also possesses a number of mysterious caves that will come out when the tide is down. These caves formed by the erosion of seawater millions of years ago are home to some fishes and other marine animals. If you are lucky to visit Quy Nhon Beach at the time when the time is down, exploring these cool and mysterious caves will give you interesting and great experiences.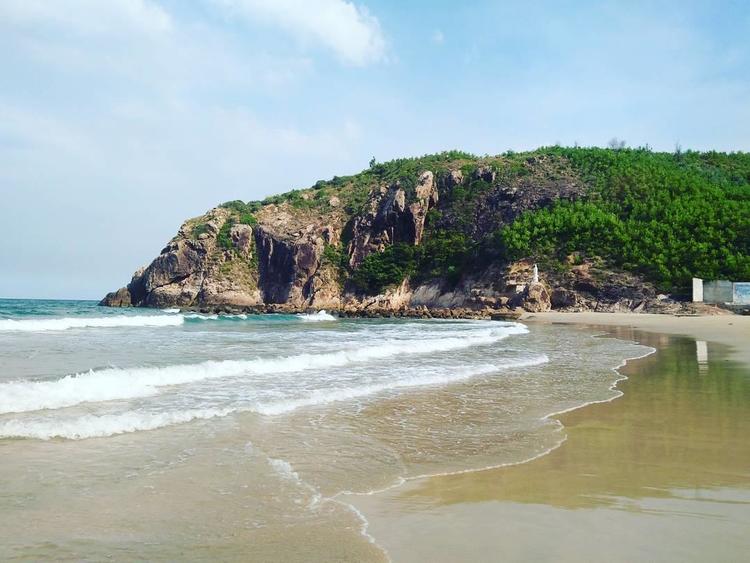 Tourists can also go to Ong Dia (Ông Địa) Rock that is separated from this beach. Located in a secluded area with a small beach and high cliffs. You can sunbathe, take a picture or try jumping from the cliffs into the sea. Ong Dia Rock can be reached by going to the end of Ky Co beach, wading under the sea water with about 1.3m depth and then walking about 100m. That is where you can see the Ong Dia Rock. The way is a little bit difficult to go; therefore, it is better for you to wear life jackets for safety. 
Traveling to Ky Co Beach, if you like you can stop at Bai Dua (Bãi Dứa) beach located at the foot of Nho (Nhỏ) Mountain to watch colorful coral reefs. Because sea water is clear, you just need to wear a life jacket and swimming goggles to see the vibrant colors of coral and fish swimming. 
Where To Stay In Quy Nhon 
After finishing the Ky Co Beach tour, it is time for you to come back to the town center and find accommodation to say. Quy Nhon town center has four four-star hotels, a five-star resort and other resorts with prices ranging from $66 to $220 (1.5 million VND to 5 million VND) per night for two customers. If you want accommodation at a cheaper cost, please consider the hotels on An Duong Vuong (An Dương Vương) and Nguyen Hue (Nguyễn Huệ) streets. 
Homestays are also the choice for tourists coming to Quy Nhon. There is Quy Nhon on Phung Khac Khoan (Phùng Khắc Khoan) Street, Lan Anh Homestay on Xuan Dieu (Xuân Diệu) Street, Larose on Huynh Tan Phat (Huỳnh Tấn Phát)  with prices ranging from 100,000VND – 300,000VND per night for one person. 
Enjoy Tasty Seafood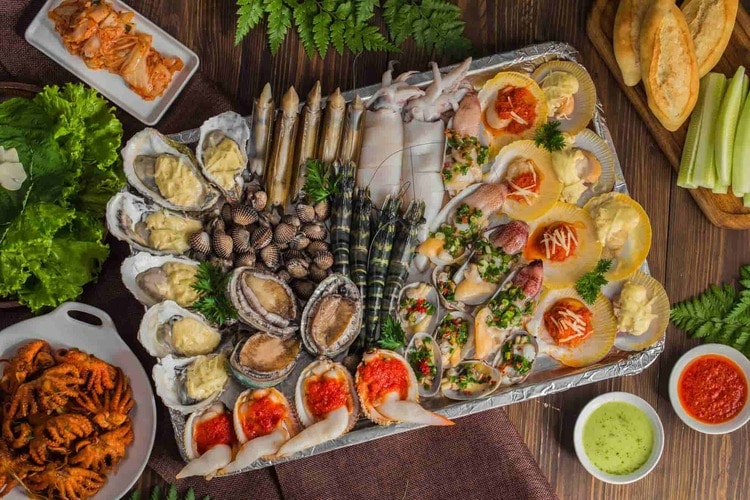 In Ky Co Beach, travel services are developing and tourists will have chances to enjoy the specific tasty dishes in Ky Co Beach such as grilled abalone, grilled snails, steamed squid, steamed crab, grilled sea urchin with cooking oil and garlic, etc. The seafood is simple and fresh but has a unique taste. 
The price for boat trips and meals ranges from 280,000VND TO 300,000VND. That is a reasonable price for your great experience. 
Those are information you need to know before taking the Ky Co Beach tour in Quy Nhon, Ninh Binh. It is great to combine Ky Co Beach with other attractions in Quy Nhon. Hope you have a memorable trip.