Vietnamese people consider that on Tet holiday, everything should be prepared well, early, and newly. Therefore, about 2 weeks before Tet, families start preparing their home and shopping. They usually clean and decorate the house with flowers, shopping for food … carefully to welcome Tet. In addition, all unnecessary items or the ones which are believed to bring bad luck will be discarded as well. One of the most important activities in the New Year is preparing traditional food to worship the ancestors, invite the guests, and eat in the first 3 New Year days. Tet has very important, significant meaning in the life of Vietnamese people because this is an opportunity to reunite family members, an opportunity to meet and chat with people who return home after a year living far away from others, and it is also the opportunity to visit acquaintances, relatives, and friends in the longest leisure time period on the year. Therefore, the preparation for New Year traditional dishes is extremely important.
I. Overview Of Vietnamese New Year Holiday: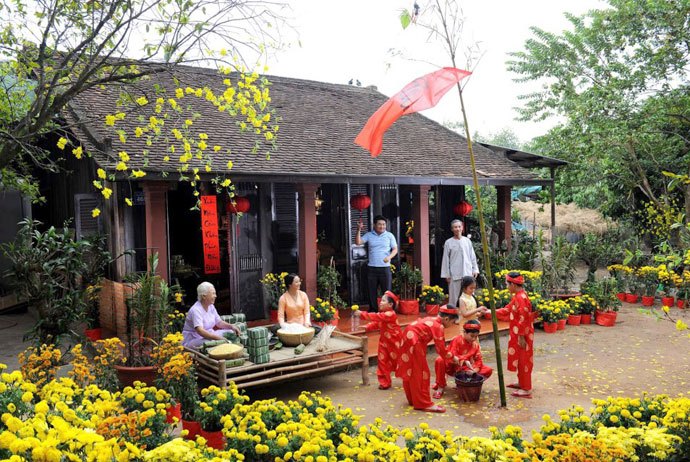 Tet Nguyen Dan is also known as Tet Ca (Big Tet), Tet Ta (Vietnamese New Year), Tet Am Lich (Lunar New Year), Tet Co Truyen (Traditional New Year), or simply known as Tet. It is the most important holiday in Vietnam, according to the cultural influence of the Chinese Lunar New Year and The Eastearn Asian cultural sphere. Before Tet, there are often other days to prepare such as the "Kitchen God Festival" or "Tet Tao Quan" in Vietnamese (23rd December in lunar calendar) and "New Year's Eve" or "Tat Nien" (December 29 or 30 in lunar calendar)
As the Lunar New Year is determined according to the schedule periodic operation of the Moon so Tet Nguyen Dan of Vietnam is celebrated later than "Tet Duong Lich" (also known euphemistically as Western New Year). Due to the rule that there is additional one month of the lunar calendar every 3 years, the first day of the Lunar New Year in never before January 21 and never after February 19 in solar calendar. It usually falls in late January to the middle of February. The entire annual Lunar New Year lasts for about 7 to 8 days of the old year and 7 days of the new year (23 December to the end of January 7).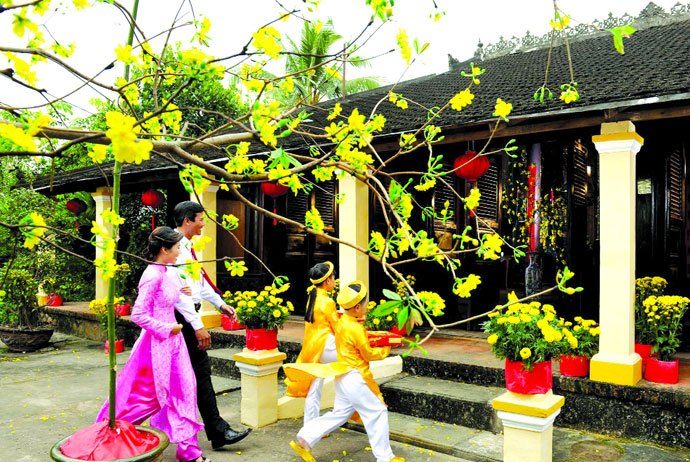 Every year, Tet is held on the first day of January according to the lunar calendar in Vietnam and some other countries where Vietnamese people are living. In New Year days, the families' members gather together, visit relatives, friends, exchange lucky money and worship ancestors. On Tet, the preparation for New Year traditional dishes is extremely important. The Vietnamese New Year food article is aimed to introduce readers, especially tourists and visitors who love Vietnam's culture and food, who want to visit Vietnam, or who are on the travel to Vietnam, some specific traditional dishes served on Tet according to the culture of 3 separate regions in Vietnam.
II. Some Traditional Vietnamese New Year Food In The North: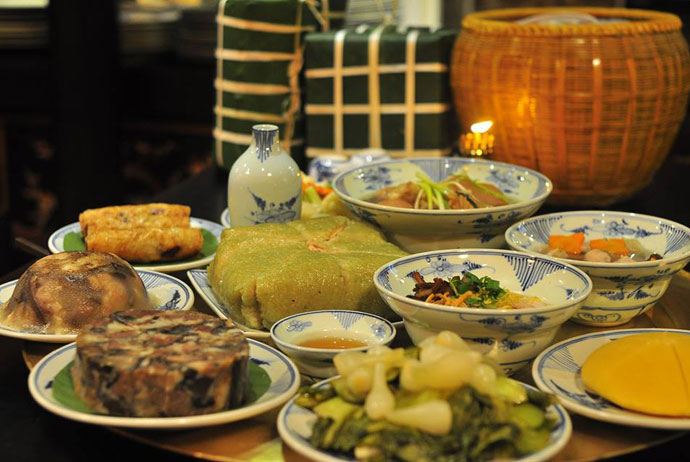 A Vietnamese idiom said: "Hungry on the father's death anniversary, full on three New Year days". On Tet, no matter how poor people are, they always try to ensure the well-fedness on three Tet days for their family in order to give "soup for the children, new clothing for the olds", besides the two traditional cakes – Banh Chung and Banh Day. Northern New Year dishes are varied. In particular, we cannot forget mentioning dishes like pickled onions, frozen meat, beef braised with cinnamon…
Here is the Vietnamese New Year food served on Tet in Northern Vietnam!
1. Banh Chung – Sticky Rice Cake (Or Chung Cake):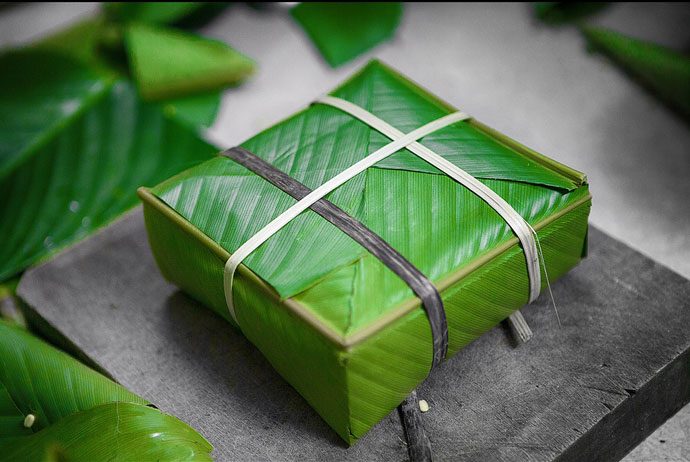 The first and also the best traditional Vietnamese New Year food I want to introduce in this article is sticky rice cake or Chung Cake. Chung Cake is the spirit of the Vietnamese New Year days, expressing the essence of the heaven and the earth through the skillful hands of humans. On Tet, it is indispensable that the ancestor altar in the North has a pair of green Chung Cake. Nowadays, due to the social development, it is hard to find out a family who packs and boils Chung Cake by themselves, but people who buy Chung Cake for Tet will definitely choose the cakes made from the best ingredients. It should be made from the most fragrant glutinous rice for better "longevity". The stuffing of Chung Cake usually contains pork, masticated green bean, dried onion, and pepper. The cakes need to be wrapped tightly and carefully, boiled for about 14 hours, taken out, soaked in water and squeezed using a heavy plank. Therefore, when Chung Cake is cut, it will be limber but not flabby, just fleshy and fragrant.
2. Dua Hanh – Pickled Onions: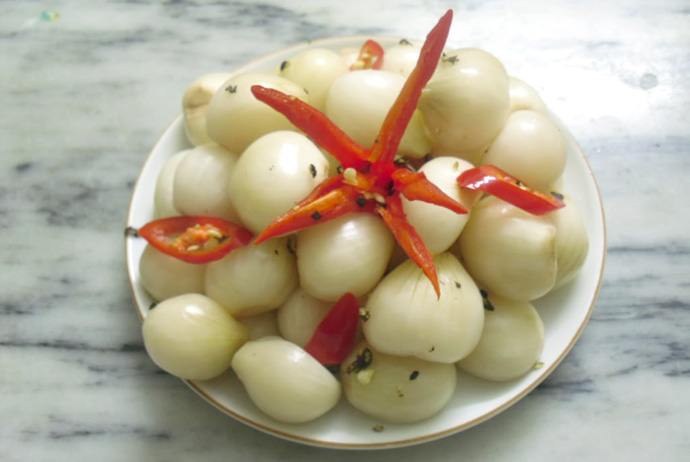 Pickled onions are often used as a side dish coming along with Chung Cake or fatty dishes (frozen meat, Chinese braised meat, boiled meat) for reducing the greasiness. The sweetness, sourness, slight spiciness of pickled onions will help to improve the flavor of the dishes as well as to help the body digest food easier.
First of all, you need to look for old onions with firm bulbs, only use the bulbs. Then, soak the onions in water mixed with borax and ash in 2 days and 2 nights. Next, take out the onions, cut off the roots, peel them (keep just about 5cm), then put them into a large jar, and cover them with salt, putting a thin layer of chopped cane above, then seal them with the layers of bamboo grates. After 2 weeks, you can get the onion bulbs out, soak them in sugar and vinegar, leaving them 3 days for being edible.