Updated: 08/25/2019
Under the Dinh and Le dynasties, Hoa Lu (Hoa Lư) with a long history legend used to be the capital of Dai Co Viet (Đại Cồ Việt), an old name of Vietnam. It had witnessed many great historical milestones: the reunification of the country in 968 after "12 Lords Rebellion", the war with Tong's army of the Chinese people and the good defense for the kingdom against ancient Cambodia. Situated in Truong Yen (Trường Yên) Commune, Hoa Lu (Hoa Lư) District, Ninh Binh (Ninh Bình) Province, Hoa Lu Ancient Capital – Ninh Binh with the total 13.87 square kilometers is now a relic complex that is attracting a tremendous flow of both foreign and domestic tourists.
I. How To Get To Hoa Lu Ancient Capital – Ninh Binh
Being about 100 kilometers far away from Hanoi, Hoa Lu can be reached by taking a bus directly from Hanoi (My Dinh (Mỹ Đình) bus station or Giap Bat (Giáp Bát) bus station) to Hoa Lu, which costs you around from 100.000 – 150.000 VND. It will take about 2 hours from Hanoi to Hoa Lu by bus.
Alternatively, you can take the bus to Ninh Binh city and then catch a taxi to Hoa Lu Ancient Capital. This choice is ideal for tourists who want to explore the beauty of Ninh Binh city before coming to Hoa Lu. Furthermore, if you like, you can go to Hoa Lu from Ninh Binh railway station by motorbike heading north on Tran Hung Dao (Trần Hưng Đạo), which takes around fifteen minutes to cover the 14 km distance.
Another transportation choice from Hanoi to Hoa Lu is taking a train in Giai Phong (Giải Phóng) train station which will drop you at Ninh Binh train station. From here, you can catch a taxi, a motortaxi or hire a motorbike to visit Hoa Lu Ancient Capital. The train ticket price from Hanoi to Ninh Binh can range from 90.000 VND to more than 200.000 VND depending on the type of train and seat you buy. In Ninh Binh, there are a number of train stations available that make the transportation more convenient no matter where you depart from the north or south of Vietnam.
II. When Should You Have Hoa Lu Ancient Capital – Ninh Binh Tour?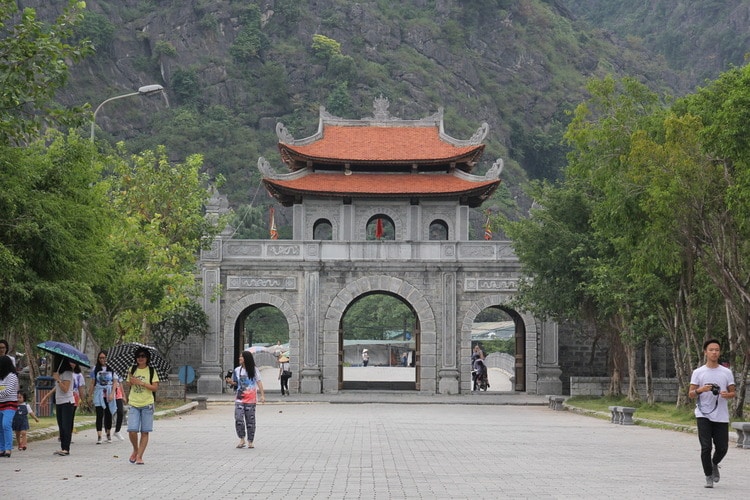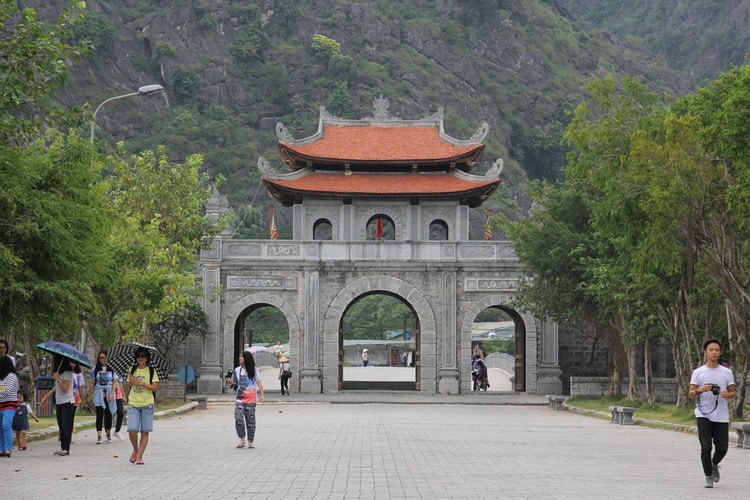 You can visit Hoa Lu at any time within the year. However, according to Vietnamese people's recommendation, spring is the best time for you to visit Hoa Lu Ancient Capital because there are many impressive festivals after Luna Tet Holiday and you will have great opportunities to immerse yourself in busy Vietnamese festival atmosphere and experience crowds. For example, Hoa Lu Ancient Capital festival, the largest and most important festival, is held from 10th to 13th of the third lunar month to commemorate Le Dai Hanh (Lê Đại Hành) and Dinh Tien Hoang (Đinh Tiên Hoàng) Kings.
Oppositely, if you want to enjoy the peaceful time in Hoa Lu, you can come on the other days of the years.
III. What Things To See And Do In Hoa Lu Ancient Capital Tour
Visiting Hoa Lu Ancient Capital, you will know more about the history, culture, sculpture, architecture of the Hoa Lu legend. Tourists coming to Hoa Lu can explore the temple of King Le (Đền Vua Lê) and the temple of King Dinh (Đền vua Đinh) built in the Hoa Lu Ancient Capital's base area. The temple of King Dinh faces Ma Yen (Mã Yên) mountain where the tomb of King Dinh, the king reunifying Vietnam, was built.
Being just 500 meters away from the temple of King Dinh is the temple of King Le. Besides worshiping King Le, the temple also worships Pham Cu Luong (Phạm Cự Lạng) – the general helping King Le take the throne, Lady Duong – King Le's wife, and Le Ngoa Trieu (Lê Ngọa Triều) – the last King under the Early Le Dynasty.
Moreover, Hoa Lu also has the 1,000-year-old Nhat Tru Pagoda which was the place the months discussed natural problems in meetings.
If you have enough time, you should climb up to the top of Ma Yen mountain where you can see the panorama view of Hoa Lu Ancient Capital.
IV. Where To Stay In Hoa Lu
In fact, tourists coming to Hoa Lu often explore this attraction in a short time and then start to take the tour to other attractions in Ninh Binh. But if you want to spend time overnight here, there are many hostels, hotels, and homestays for your choice, including Tam Coc Family Hotel, Nguyen Shack Homestay, Ninh Binh Panorama Homestay, Sierra Homestay, etc. Make sure that you book a room in Hoa Lu in advance to enjoy the best services.
V. What Foods You Can Enjoy In Hoa Lu Ancient Capital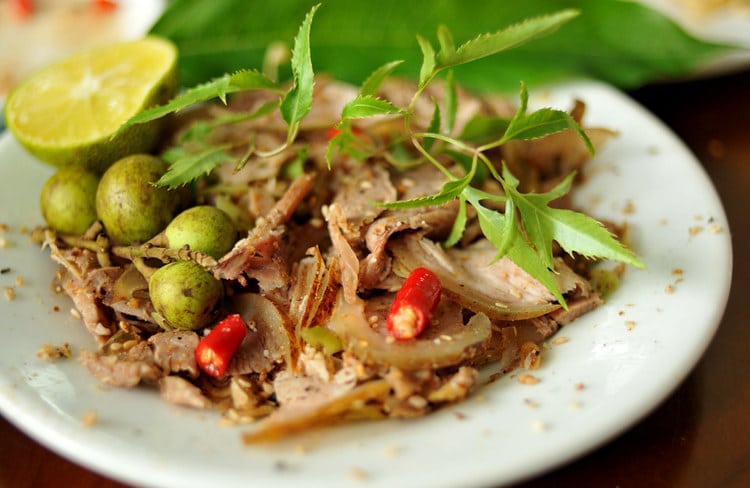 Hoa Lu Ancient Capital Ninh Binh is well-known for not only a long history and unique values but also some delicious cuisines you can eat at any local restaurants in Hoa Lu.
Here are special delicious cuisines you should enjoy:
Goat meat: this dish is delicious, nutritious and good for health.

Burned rice: the crispy rice, a famous specialty in Ninh Binh, is often served with tasty sauce.

Snail dishes: Snails are cooked in many ways: stir-fried snails, steamed with ginger, or mixed with salad, etc
VI. Some Useful Tips for Visiting Hoa Lu Ancient Capital in Ninh Binh
Hoa Lu Ancient Capital is a spiritual site; therefore, here are some notices you need to remember:
Wear the polite clothes

Keep silent when exploring King Dinh – Le temple

No littering
Read more:
We have introduced a guide to Hoa Lu Ancient Capital Ninh Binh tour. Hope that you will have a memorable and interesting day trip. Any questions and contributions can be left below. To know more about Vietnam travel, visit our Vina homepage.