Source: vietnam-guide
Updated: 11/27/2019
Are you going to visit Vietnam (Việt Nam)? If yes, then a visit to Vietnam would not be finished without a trip to spectacular Halong Bay (Vịnh Hạ Long), with the iconic limestone peaks and green waters.
A visit to Vietnam wouldn't be complete without a traditional junk boat cruise around spectacular Halong Bay, with its iconic limestone peaks and emerald green waters.
Being recognized as the Natural Wonder of the world by UNESCO, Halong Bay is among the worth-visiting landscapes in Vietnam for tourists, both domestic and international, who love discovering wonderful works of the Mother Nature. Halong Bay might be most beautiful during summer, yet sometimes it has heavy rains or even sea storms. In the autumn, the weather is ideal and cool for vacations and holiday. Besides, the temperature is low in winter, but not as cold as that in the West. In spring, it is often get foggy and wet. That is definitely not good for travelling or visiting the sites as well as taking photos.
Coming to this natural wonder, you will not only be able to witness the breathtaking scenes of the nature but also enjoy numerous popular but interesting things to do in Halong Bay.
When it comes to things to do in Halong Bay, they come in diverse sections, but could be categorized into three main classes, which are things to do before travel, things to do in Halong Bay while traveling and things to do in Halong Bay after trips. Now, are ready to discover what are the most recommended things to do in Halong Bay? Just take a look now!
1. Sleeping On Board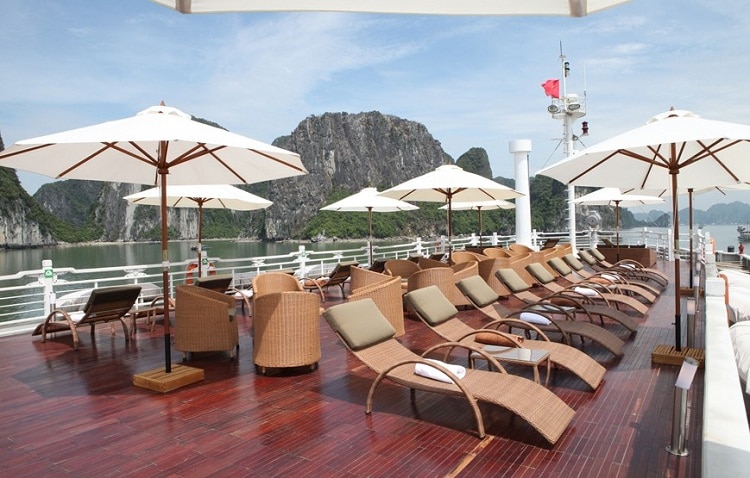 Source: vietnamsunshinetravel
Despite a lot of new hotels are being established on the islands, experienced tourists recommend new ones to spend at least one night on board a boat. By this way, they could admire the bay much closer up in a more special manner. There are various types of boats available in Halong Bay, from high standard cruisers to diesel-powered junks. Of course, the costs you have to spend for the junks are much less expensive in compared with the cruisers but bear in mind that they are obviously small and do rock much. Thus, if you have enough budgets, do not hesitate to book a cruiser for your trip. However, regardless of your choice, try it at least one night. Believe me, you will not regret about this experience!
2. Sunbathe In Halong Bay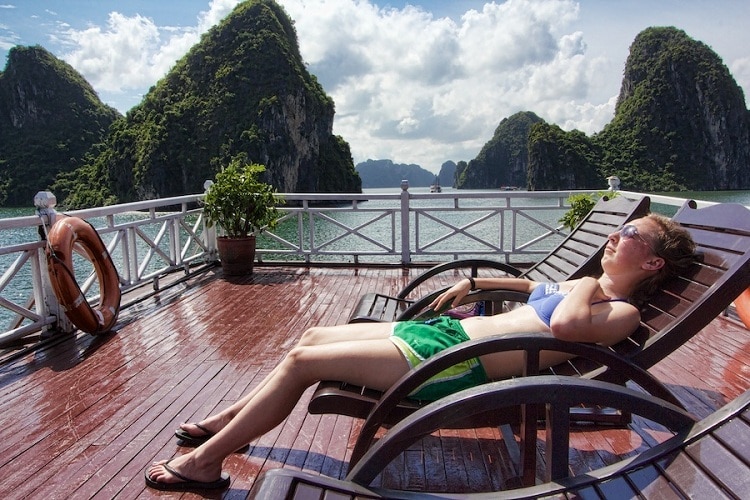 Source: balloonhalongbay
One of the most satisfying things to do in Halong Bay is sunbathing or swimming. Having thousands of grottoes and limestone, Halong Bay offers countless places for tourists to enjoy swimming, sunbathing, snorkeling, fishing, or kayaking upon cruising around. For example, if you choose to stop at Cat Ba Island, there are different famous beaches for you to relax on, such as Cat Co 1 (Cát Cò 1), Cat Co 2 (Cát Cò 2), and Cat Co 3 (Cát Cò 3). According to some experienced tourists, they said that the sunning scenery of mountain cliffs rinsing out of this bay becomes an ideal backdrop for many water-based activities.
3. Practice Tai Chi On Deck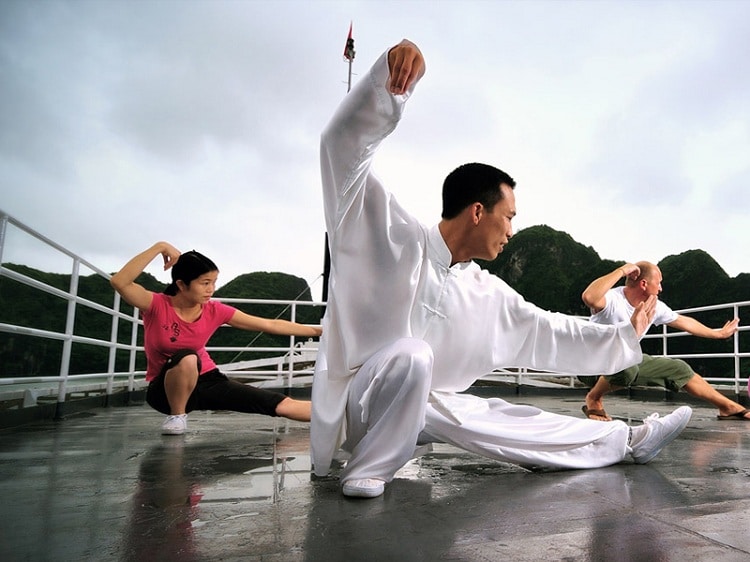 Source: vietnamtonkintravel
Tai Chi is the ancient martial art which has been performed for thousands of years in China in order to improve the physical health, mental health through its controlled, soft movements. If you practice Tai Chi in the peace, with the help of great outdoor aids, you could achieve a lot of benefits via this art form. Hence, is it a great idea of practicing Tai Chi when being surrounded by the sublime natural beauty of Halong Bay?
You can practice Tai Chi under the instructions of experienced Tai Chi Master to learn to take control of your body as well as mind. The location of practicing could be on the deck of the junk boat cruise. It will definitely bring to you a unique experience of breathing in the air, watching sun rise and practicing Tai Chi.
4. Visit Floating Villages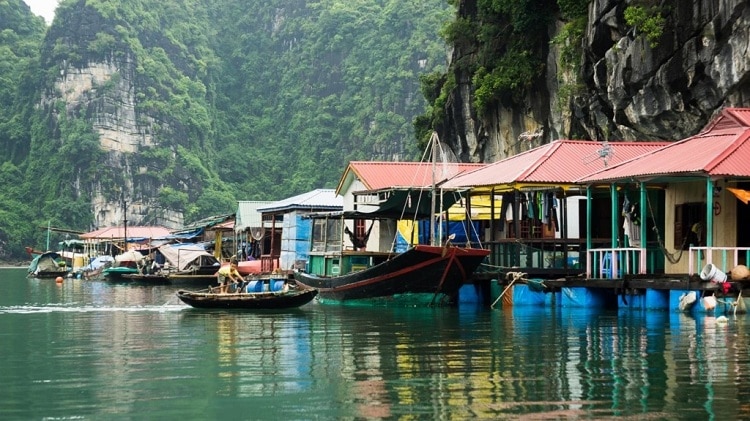 Source: tourduthuyenhalong
Floating village is a interesting feature of the daily life of Halong Bay locals. For most of us, a cruise on the emerald clear green water of Halong Bay is a unique experience, so it might be hard to imagining living everyday life surrounded by the beauty of this well-known bay. However, for a large number of families of the traditional floating fishing villages in Halong Bay, water world is their second hometown. This sounds strange but it does. Rising and falling with the natural tide, these floating villages have been "warm" homes to many generations of fishermen in Halong Bay. These families earn their living from the diversified supply of the marine life. You could understand more about the real life of those fishermen on floating boats by chatting with them. Pay a visit to one of those charming villages, meet playful kids, and meet some grinning fishermen. This way, you are experiencing of the most interesting things to do in Halong Bay.
5. Ride On Cat Ba Island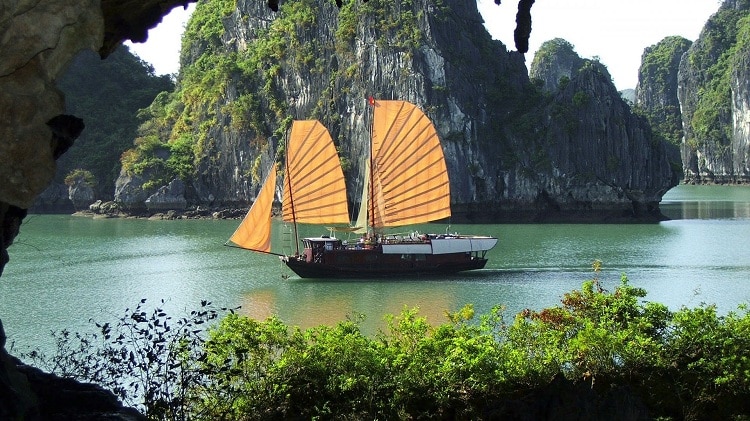 Source: wikicachlam
Cat Ba (Cát Bà) is considered as the largest island in Halong Bay, Cat Ba owns some impressive natural beauty found in the area, not to mention to wide range of species as well as natural habitats. The best way to approach this isle is by boat, and the best way to explore it is on foot or by rented bicycle.
Let yourself flow with the beauty of Cat Ba by exploring limestone hills, discovering those hidden waterfalls, grottoes and lakes; spotting wildlife hidden in coastal forests as well as mangroves; or going snorkeling off this coast to search the underwater life. There are endless options for you to experience this island in your own way.
6. View Halong Bay From Helicoper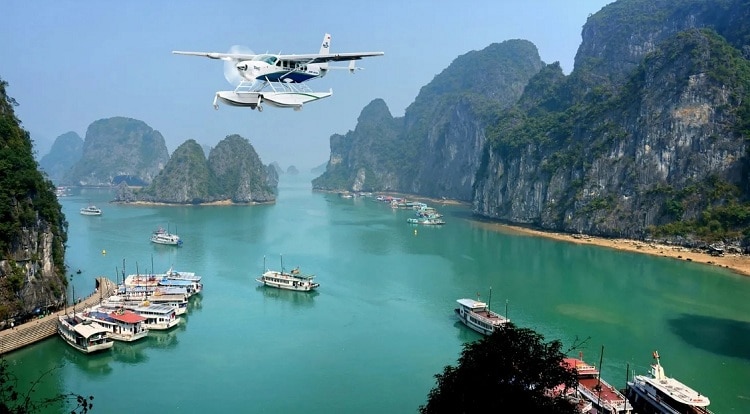 Source: trailfinders
This might be one of the most costly things to do in Halong Bay. Halong Bay is well-known for its wonderful limestone karsts and caves that attract millions of travelers worldwide. Actually, admittedly, there is no better way to witness Halong Bay from the helicopter. Despite cruising can help you view the bay at the horizon, yet the view may not be spectacular and appealing as there are many karsts as well as islands rising in the bay. The helicopter will allow you to reach the height of 300m above the water level, so you will see almost whole famous landscapes of Halong Bay, such as Dau Go Cave (Hang Đầu Gỗ), Tuan Chau Island (Đảo Tuần Châu), and so on.
7. Discover Hidden Grottos And Caves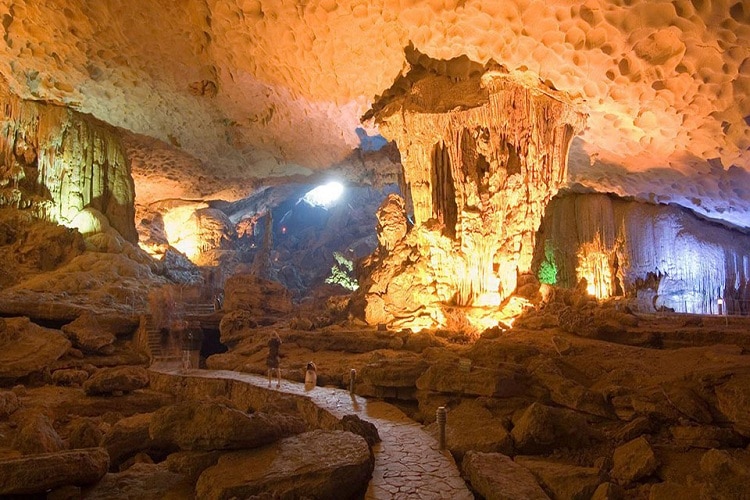 Source: vietnampackagetravel
Among thousands of jungle-covered peaks dramatically rising out of the emerald water of Halong Bay, there are a few illuminated caves, picturesque hidden coves, isolated grottos of all sizes and shapes. Tourists could hire a row boat before venturing out to explore those hidden gems, like Thien Cung (Thiên Cung) Cave, known as Heavenly Palace Cave, which is well-known for its stalagmites and stalactites, and Dau Go Cave (Hang Đầu Gỗ), which is known as the Cave of Wonders.
Keep reading this detailed list to discover more great activities in Halong Bay, Vietnam that will strongly amaze you!
8. Dining In The Cave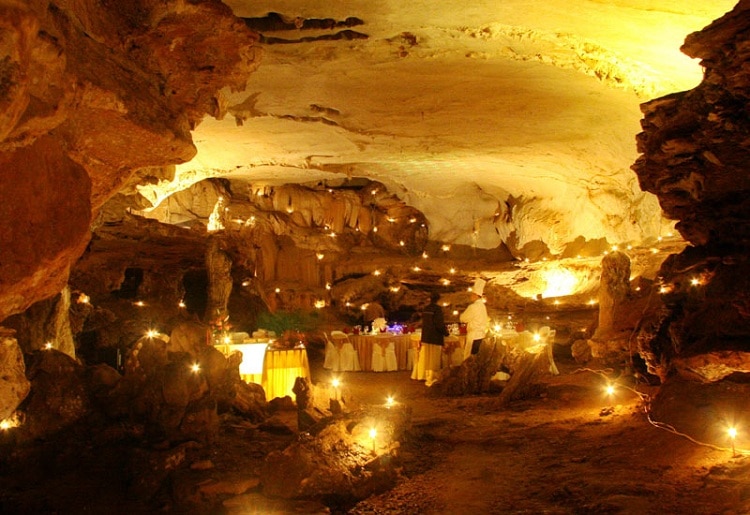 Source: halongbaycruise
Coming to Halong Bay, tourists should not miss an interesting activity like dining in a certain cave. A few cruises offer this service on their trips and the members of crews will prepare a delicious and delightful diner in the cave. Some cruises add this activity as one of their included activities while others make it optional activity.
Really, after a day of kayaking, swimming or joining in other activities, there is nothing more relaxing than having a diner in such a quiet, romantic and a little mysterious cave. Most tourists make use of this dinner for their special occasions such as a romantic anniversary, birthday party, conference group or even a small wedding with no more 60 guests. These dinning services have both fresh Halong Bay seafood and Eastern and Western cuisine for those people who would like a change from what they have enjoyed in Halong.
Believe me, give this activity a try and it will be one of the best dinners that you have ever had. This trip to Halong Bay also stays as an ideal journey in your own memory.
9. Kayak Between Karsts Limestone Outcrops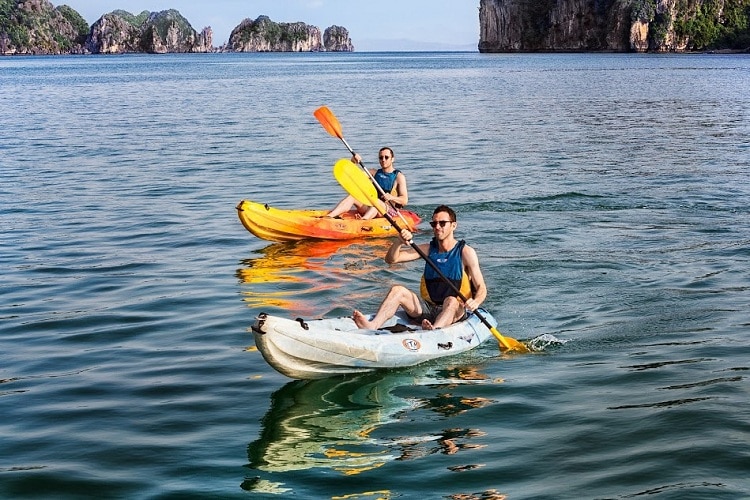 Source: halongbaytourism

Whilst enjoying the landscapes in a traditional junk boat cruise is a great way to experience most great aspects of Halong Bay at a relaxing pace, some of you might love something more adventurous. And, kayaking should be one of things to do in Halong Bay for those people. Kayaking is a type of padding, which uses a kayak in order to move across water. Thanks to thousands of isles and islands, clean blue water and calm tides, Halong Bay is perfect for this activity.
Kayaking in Halong Bay is very easy to take part in for every tourist, even adventure kayaking. The adventure kayaking will be hold in some of the most beautiful places in Halong Bay with mountain surrounded, beaches and water tunnel cave. The most common places are 3 Peaches islets, Dark and Light Cave. Adventure kayaking often offers tourists the option of 2-3 day tours.
The high season for travelers to take part in kayaking in Halong Bay is from August or March. In reality, it is the ideal time to join this activity and other activities as it is not much rain and so cold for kayaking. Yet, kayaking will be banned when the weather is bad with strong wave or on foggy day.
The majority of cruises in this Bay offer kayaking. Let yourself kayak across Halong Bay water will make your trip more memorable and interesting, yet before really joining in this sport, you should know some tips on kayaking in Halong Bay:
Strictly follow the instructions as well as conditions before kayaking

Try to stay close with other people in the team and do not forget warming up before kayaking

No matter how experienced you are in kayaking, you should not come to close to the karsts and caves as they might suck you in.

Avoid kayaking for a long period of time as you may get sunburn due to it
The water in Halong Bay is rather warm during winter so you should feel free to start kayaking anytime of the year. Nevertheless, remember to keep yourself warm after having done with this sport in order to avoid suffering from a cold. The temperature in winter could be down to 10-15 Celsius degree.
10. Swim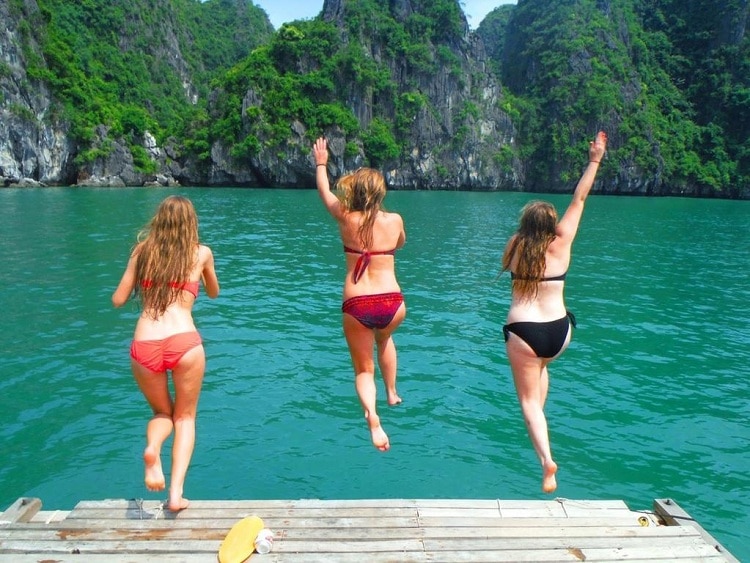 Source: agoda
Halong Bay is blessed with clear and calm sea water. Thus, it is a perfect place for tourists to experience the wild nature of Halong Bay via swimming. Just simply dip in the cool jade-green water of the Bay, you will feel really relaxing and free from hustle and bustle daily life. This is a good opportunity for you to enjoy such charming beauty of Halong Bay's beaches, including Ti Top Beach, Bai Chay (Bãi Cháy) Beach, Tuan Chau (Tuần Châu) Beach, Ngoc Vung (Ngọc Vừng) Beach and Quan Lan (Quan Lạn) Beach.
And, it will be more enjoyable once you have a chance to swim a little far away from the beach, perhaps diving from a cruise, as the water there tends to be more transparent.
Nonetheless, there are still some hidden dangers of the calm tides; hence, be careful by following the safety guidelines below:
Swim in a group of 3-5 individuals

Follow the instructions as well as conditions before surfing or swimming

Be careful with cold water as it is proven that swimming ability will be severely reduced in cold water regardless of the experience of swimming. So, you should not swim early in the morning or in the late afternoon. Halong Bay water's average temperature is about 19-25 Celsius degree, and the area which is close the shore will have temperature approximately equal to the temperature of the environment.

Understand your ability of swimming so you can choose proper activities

Diving as deep as you could to evade the huge waves if you do not have enough time of getting away from it. Fortunately, this seldom occurs in Halong.

Whilst surfing, avoid riding waves in the straight line towards the shore. Rather than, surf at a tiny angle to waves. Avoid the white water right in the center of waves in order to avoid over the falls.

Do not swim in deep water

Do not swim whilst intoxicated

Do not sunbath for a long period of time as you might catch sunburn

The water of Halong Bay is little warm during winter so do not hesitate to swim o dive from your junk. Yet, cover yourself instantly after swimming as you might suffer from a cod. The

temperature in winter could be down to 10-15 Celsius degree
11. Cycle in Halong Bay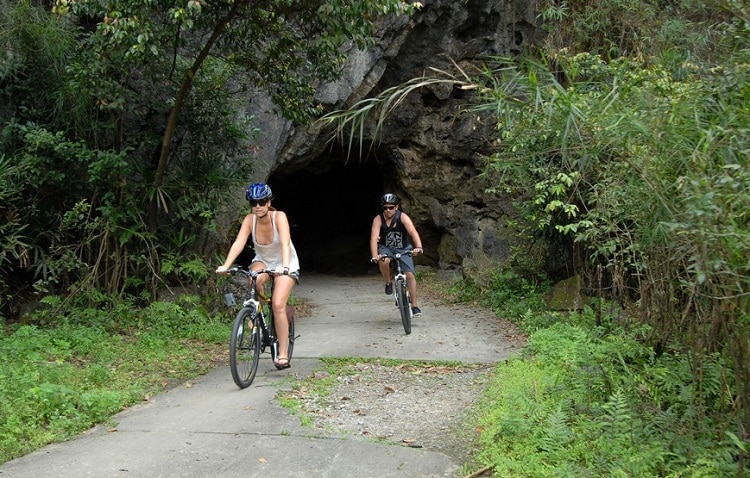 Source: bestprice
To deeply experience quiet atmosphere as well as scenic setting on the beaches of Halong Bay, trekking and cycling will become great things to do in Halong Bay for tourists. Upon trekking on the beach, travelers could enjoy cozy white sand and gaze at stunning seascape of the Bay. Trekking and cycling are great for those who want to explore around the wild nature of the sea. You could combine these activities with a BBQ meal on the beach.
12. Spot The Birdlife And Wildlife On Cat Ba Island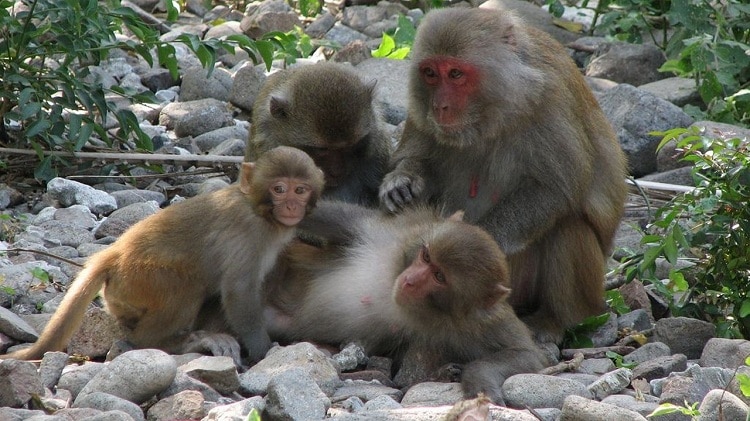 Source: halongbaytours
Inside Halong Bay, there are a number of large islands, and one of the most well-known islands is Cat Ba Island – the largest one and also home to a national park featuring with 30 different mammal species and over 70 species. The National Park provides tourists with fantastic chances for hiking and spotting rare "Cat Ba languor" monkey. This park covers both water and land, and those keen walkers could spot wild boar, giant oriental squirrels, civet cat and deer. There are different bird species in this National Park, including hornbills, hawks, and cuckoos.
13. Chill Out On Beautiful Beaches Of Lan Ha Island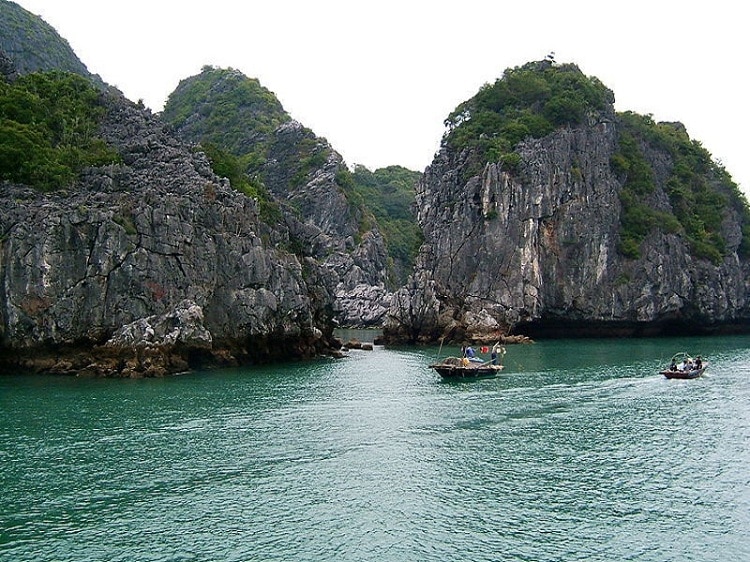 Source: catbaisland
While Halong Bay boasts of many caves and inlets, it might not have many real beaches, except at Lan Ha (Lan Hạ) Bay, which owns approximately 100 sandy stretches of beach. You just need to spend a few days on exploring the floating villages here, enjoying rock climbing, witnessing the stunning views and scuba diving. Or, you could simply chill out on one of those beaches and watch the local daily life go by.
14. Sundowners On The Deck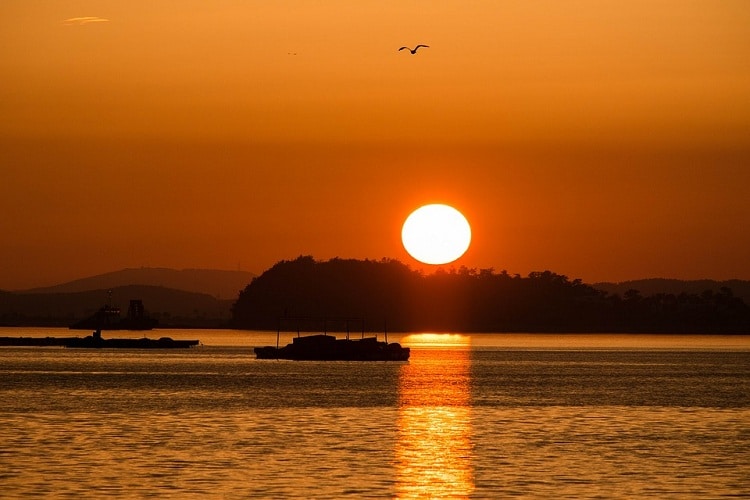 Source: pixabay
Many tourists wonder that what they should do or where they should go during the golden hour. The answer is to watching sundown on the deck. In the evening, the sun slips below karsts, staining the sky in luminescent hues and creating dramatic silhouettes of karsts and mesmerizing reflection over the water. It is recommended have a seat on the lounge chair of your cruise and enjoying a cruise with a camera on hand.
Looking for doing some energetic activities? Do not leave your desk till discovering the suggestion below!
15. Hike On Ban Sen Island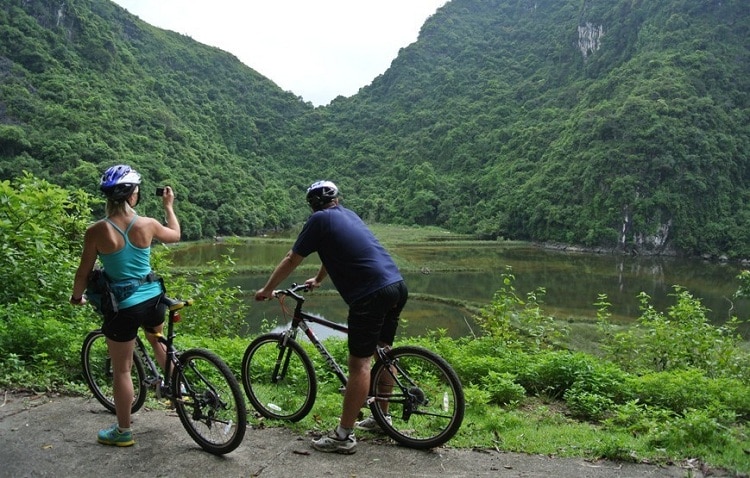 Source: whitedolphincruises
If you want to experience something really adventurous, go for hiking on Ban Sen (Bản Sen) Island. This is one of the most thrilling things to do in Halong Bay. This island is thickly forested and probably uninhabited, making it a peaceful getaway for you. What you need to do is to take a ferry to the Quan Lan (Quan Lạn) from Cai Rong (Cái Rồng) and then enjoy your little piece of paradise. If you want, hire a tour guide who could regale you with mysterious stories of local folklore.
16. Night Squid Fishing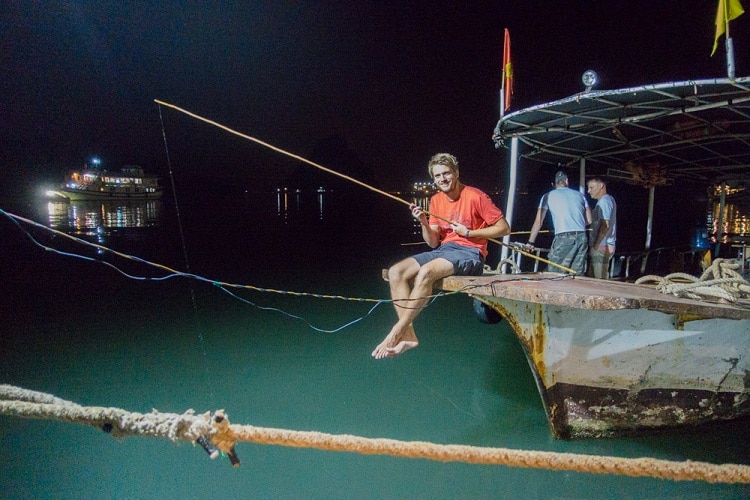 Source: halongbay.holiday
Sleepless in Halong Bay? Then, think of night squid fishing. It might be one of the most lesser-known things to do in Halong Bay, but it gives every tourist who used to take part in this activity. Night squid fishing provides you with great pleasure of the night trip on Halong Bay. You will be supplied fishing rods, racquets to actively use them to catch squids. During the squid season, it will be popular for tourists to see many large shoals of squids surrounding cruisers and each tourist could catch about 30 squids for each fishing night.
You could use the squids caught for making dishes. This is a perfect time to enjoy Halong Bay by night. At night, the surface of the sea water is sparkling with the reflected light from those cruises that anchored on this bay. International tourists really love the boiled whole squids as upon eating, they could enjoy the wonderful feeling of ink line which breaks out pitch-black within their mouth. Tourists could also eat whilst singing Karaoke or dancing. With a little bit alcohol yeast, everybody will become enthusiasm and excited dancers and singers.
17. Shopping In Halong Bay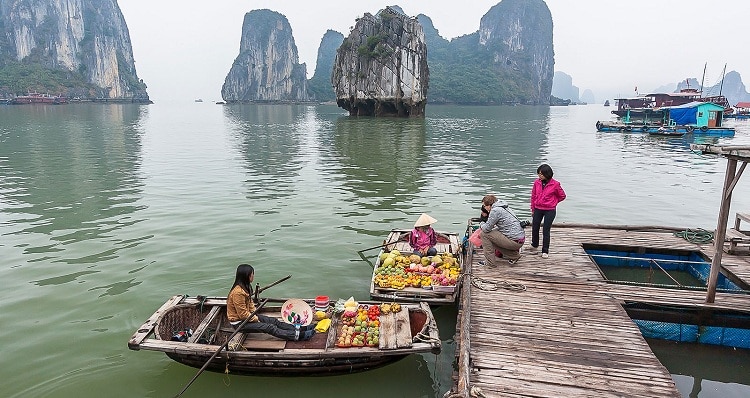 Source: vietnam-guide
If you love shopping or just simply want to bring something symbolizing of Halong Bay, then think of shopping as your must-do things to do in Halong Bay. Actually, shopping is a common part for any traveler. Besides, through shopping, travelers could learn more about society and culture of the place that they are visiting and bring home some scenic souvenirs for their family and friends. In Halong Bay, there are a few locations for you to shop fresh seafood and excellent souvenirs, yet tourists should be aware of the price while shopping. The most important thing to keep in mind when shopping in Halong Bay is bargaining. It is always necessary for tourists to bargain for a certain item. The way that local sellers set their prices for their goods is often 1.5-3 times higher than the act cost. Actually, there is no apparent range of prices as well as standard for goods. Hence, it is better for tourists to initially carefully research about the average price of products that they want to buy before really bargaining and purchasing them. Nevertheless, tourists should also not bargain in supermarkets as well as shopping centers as the prices in those places are mostly already set.
Another thing to keep in mind while shopping in Halong Bay is fake products. Quang Ninh (Quảng Ninh), the hometown of Halong City has border with China. Thus, fake products from this neighbor country will be transferred into Quang Ninh and the local sellers will buy these products and sell for the tourists in order to earn much more profit. It is recommended to check the origin and quality of the products thoroughly before buying, and if possible, shop at the ensured places like authorized shops or shopping malls.
18. Take Photos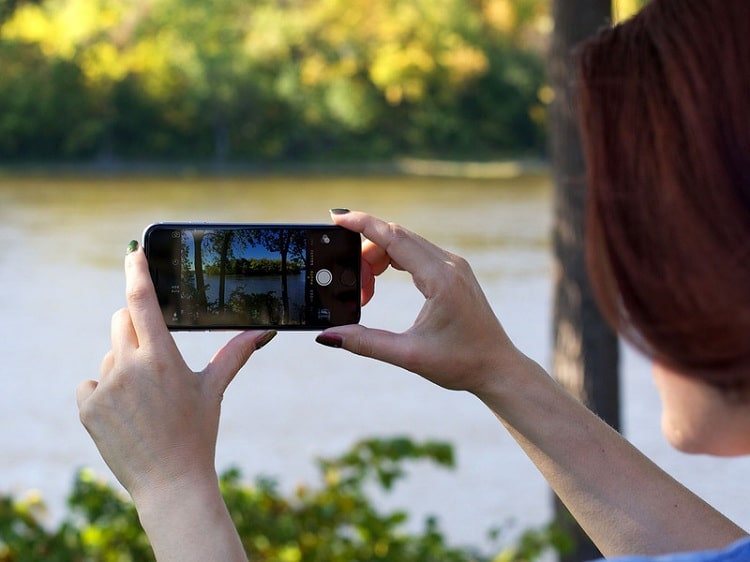 Source: imore
Among things to do in HalongBay, this might be the favorite of many young tourists. Halong Bay, in fact, is absolutely ideal for photo taking. Do not forget your camera or a smart phone when sightseeing the landscapes in Halong Bay so you will not miss recording the great moments you experience and spectacular views in Halong Bay. Here are a few tips for travelers who are looking for taking amazing photos in this Natural Wonder of The World:
Halong Bay is very clean and beautiful in the early morning when the sun rises and also in the late afternoon when the sun sets down. Feel free to catch and even play with the light to discover a magnificent beauty of this bay.

Do not forget preparing the waterproof bag or cover for your phone or camera if you want to take photos underwater or even whilst kayaking. This can help you protect your own stuff from water or sand.

Quickly catch the moments that you would like to memorize, do not just take photos continually as you might not want to remove nearly half of the memory card when arriving at home and wonder why those meaningless photos are taken.
19. BBQ On The Beach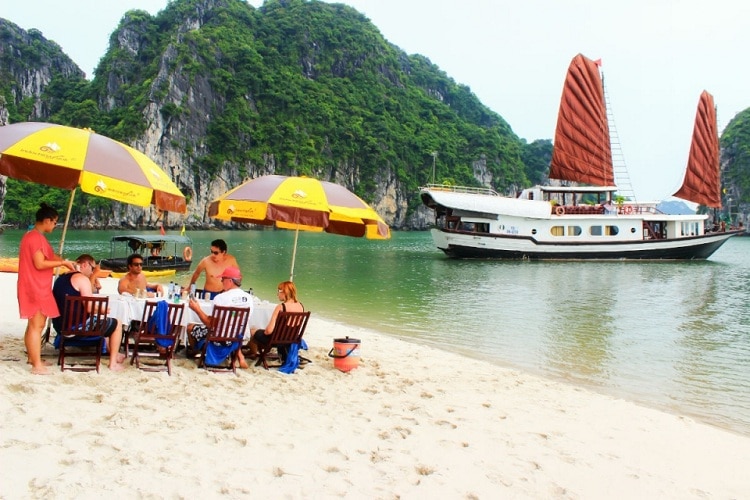 Source: baoquocte
This should be one of your gastronomic things to do in Halong Bay. Trust me! There is no doubt that having BBQ on one of beaches of Halong Bay will bring to you a unique experience that you hardly have anywhere else. With various fresh meat and seafood dishes, like roasted chicken, baked king prawns, grilled beef rump, etc, it is very promising for tourists to have an exceptional and tasty meal in the bay of islands. Just imagine, in the light of the dawn, you and your loved ones feast on a delicious BBQ meal and sip perfect cups of cocktail or wine, surrounded by green islets, white sands, and the blue sea. This is difficult to resist, right?
20. Scuba Diving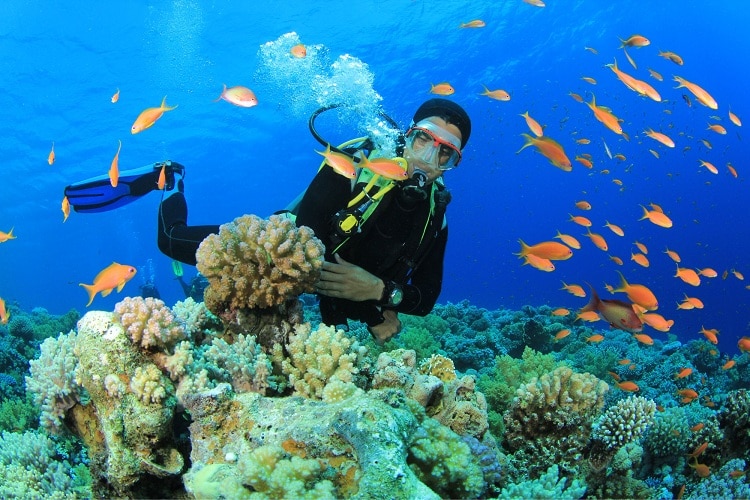 Source: divivuvn
Not only is Halong Bay a spectacular destination for sightseeing in Vietnam, but also is an ideal place for adventurous sports. Tourists coming to this landscape can enjoy not only the boat trip but also scuba diving. Scuba diving has been opened in Halong Bay recently, making it one of interesting things to do in Halong Bay, particularly for those underwater lovers. The most suitable period for scuba diving in this bay is from April to December. The water temperature during this time is about 26-29 degrees.
Travelers could also explore hidden beauty of the underwater world with thousands of fish and splendid coral such as Clark's anemone fish and sergeant major fish. The underwater world will definitely make you feel small, novel and peaceful as you have just coming back inside the arms of your mom. Hire well-trained, internationally-licensed scuba diver or trainer to warrant for your safety while scuba diving (if you are not an experienced scuba diver). When snorkeling underwater in Halong Bay, you will be supplied with helpful equipment like fins, mask, snorkel, cylinder, compass, exposure suite, regulator… These facilities are checked regularly and adapt the safety standard. Thus, it is not necessary to worry about your own safety whilst scuba diving.
Some of the useful tips for those who want to dive deeper and longer safely:
Technical diving tips: diving deeper than 40 m (about 130 ft), use mixed gas, enter overhead environments like wrecks or caves

Surface diving: use umbilical gas supply along with diving helmets
21. Climb Mountain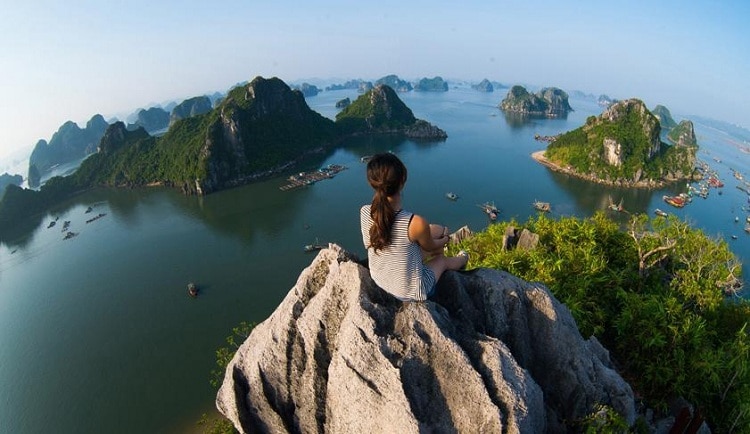 Source: adventurelink
The last but not less interesting one in this list of things to do in Halong Bay is climbing mountain. In fact, Halong Bay is reckoned as among the most majestic climbing regions of the world. It is estimated that there are more than 3000 limestone islands in Halong Bay area. This area has a few sport climbing routes and has much potential for additional development.
Many professional climbers visiting to Halong Bay area admit that this is the paradise of adventurous mountain climbing because it owns countless islands with high lime-stone mountains. Travelers could see a lot of beautiful limestone faces. In order to enjoy this spectacular archipelago of karsts, you could give yourself a chance of climbing the Rock Mountain. If you have not ever climbed Rock Mountain before, have a professional guide to give you some base skills and notes during the process of climbing.
From the high mountain, you can observe totally Halong Bay overview. Enjoy Vietnam in a unique way by getting much high over the blue water in Halong Bay. Does this sound great?
The above are 20 out of most recommended interesting and fun things to do in Halong Bay. In addition to exploring the natural beauty of this Natural Wonder of the world, you could also join in some outdoor activities; enjoy relaxing moments when visiting around the Bay. Last but not least, Halong Bay itself is a legendary with breathtaking, magnificent scenery that every tourist will feel and experience in their own way.
Related Articles:
20 must-see Halong Bay attractions for tourists to visit
Halong nightlife guide – what activities for tourists to join in?
Shopping in Halong bay, Vietnam – 5 shopping places for tourists
12 best Halong bay restaurants – where to eat in Halong, Vietnam?