Gam Ghi Island – a pristine island, an emerging place – has attracted many tourists who would like to find a peaceful place to leave all of the worries of life behind when traveling to Phu Quoc.
Hon Ghi Island, also called Dam Ngang Island (Hòn Dăm Ngang), is located in the south of the An Thoi archipelago (quần đảo An Thới) of the Gulf of Thailand in Kien Giang province, about 35km from the center of Phu Quoc. It's a pristine place with bright golden sunrays, coconut trees shadowing on the smooth white sand beaches, rocky rapids, and gentle waves. 
Gam Ghi Island In Phu Quoc – Immerse Yourself In A Forgotten Paradise
I. What To Discover In Gam Ghi Island?
1. Admire Colorful Coral Reefs And White Sand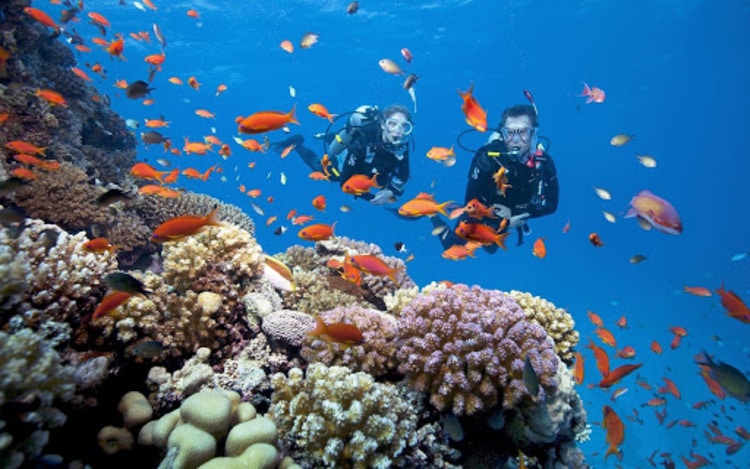 The clear blue color of the seawater in Gam Ghi Island is also the typical color of seawater in Phu Quoc. The seawater is emerald green and you can easily see the sea floor, as well as colorful coral reefs peeking out from below. Therefore, Gam Ghi Island is considered one of the most diverse coral reef and anemone ecosystems in Vietnam and is one of the most beautiful coral reefs in Phu Quoc, so far.
Gam Ghi's beach with white sand and shadows of green coconut trees will surely make you fall in love at first sight. Coming to Gam Ghi Island, you will feel relaxed with many interesting activities. The coast is desolate, so you can take a stroll and watch the sea in comfort. Try to hold someone's hand and walk along the white sand, and enjoy the cool feeling of waves rushing into the feet.
2. Enjoy Seafood Barbecue
In addition to the "specialties" such as white sand and blue sea, desolate and peaceful space, beautiful coral reefs, you can experience fishing, snorkelling, sunbathing, etc. with your friends. You can also prepare with your friends to cook a seafood barbecue that you fish or scuba dive just below the near-shore coral reefs because the seafood here is very rich and abundant.
3. Immerse In Peaceful And Beautiful Nature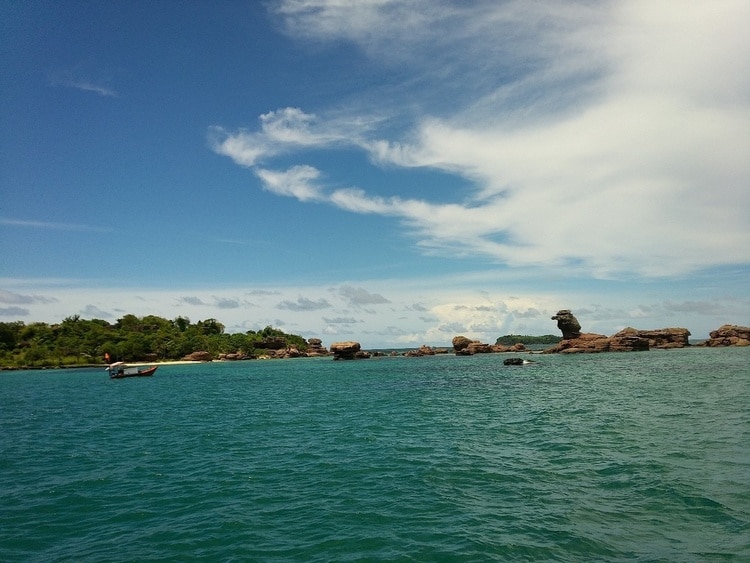 For those who have fallen in love with the peace and pristine beauty of Phu Quoc Island, Gam Gui Island will surely be the ideal destination. Gam Gui Island and surrounding island clusters such as Móng Tay Island will be a place where you and your loved ones can let leave all sorrow, give each other relaxed moments, and immerse in nature and soft waves and white sand.
II. Some Notes When Traveling To Gam Ghi Island
Please note that fishing tours are not suitable for people with a history of motion sickness. Also, you should only visit areas that have been exploited for tourism and absolutely do not go to forbidden forests or places that are too wild and untapped. 
In addition, sea-bathing is an activity not to be missed when you come to Phu Quoc, but you should not take a shower at midday or soak in the water for too long; otherwise, you will be very susceptible to sunstroke or colds, which can make the journey interrupted.
Anyone who has come to Gam Ghi Island is so attached to it that they can't leave this beautiful paradise. Then, when you come back to the crowded and full-of-stress city, you will always desire to come back here once again to immerse a vast sea along with the sound of waves and peace. However, it is only a highlight of the Pearl Island (đảo Ngọc) while Phu Quoc has many interesting things waiting for you to discover!
To get more information about how to come to Gam Ghi Island, or know what to eat and where to stay, or other islands in Phu Quoc, Vietnam, don't heritage to leave your comments, and Vina.com will provide you with all of the details if possible. Thanks and have nice trips!
By Nga Do