Updated: 08/21/2109
Dam Sen Water Park (Công Viên Đầm Sen) (Lotus pond park) is a famous amusement park situated in District 11, Ho Chi Minh City, Vietnam. Covering an area of 50 hectares, the park has 60 gardens and trees and 20% lakes. Like Suoi Tien (Suối Tiên), Dam Sen Park Saigon has many wonderful, interesting games and the best special thing here is the aquarium of 3000-meter width.
When Is The Best Time To Visit Dam Sen Water Park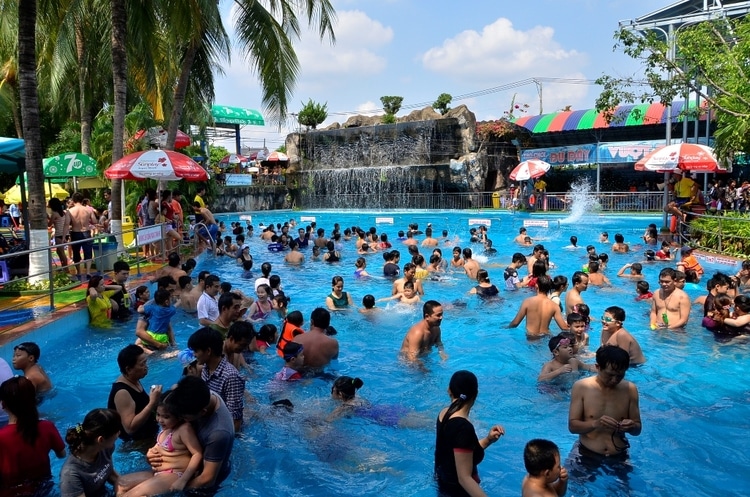 Dam Sen Water Park (Ho Chi Minh City) is located at 3 Hoa Binh (Hòa Bình), Ward 3, District 11, Ho Chi Minh City. This park is open from 8 am to 9 pm; therefore, you can go to this amusement park at any time in the opening hours. However, the best time for you to visit Dam Sen Water Park is in the morning because you will have enough time playing all the exciting games and joining in the fun activities in Dam Sen Water Park.
What To Do In Dam Sen Water Park 
Situated in District 11, Dam Sen Water Park becomes a popular amusement park amongst expats and locals & children. This park is often crowded during the summer months and school holidays. From the citer center, you can reach to Dam Sen Water Park by car, which takes you less than 30 minutes.
Set inside an enjoyment, entertainment and shopping complex, Dam Sen Water Park has 26 types of water entertainment facilities which provide the tourists and player the joyful experiences. Featuring a variety of water slides, some thrilling rides and a wave pool for visitors of all ages, Dam Sen Water Park is a paradise for thrill-seekers. If you are looking for the thrilling experiences, you should take part in standout rides such as a fast-paced water slide with 19 meters in height, the Kamikaze, and a Flying Fox-themed water ride. Furthermore, the games Ropes swinging overcome waterfall make you feel like you are in the film of Tarzan.
If you are the ones who enjoy the peaceful feeling, you can relax your body inside the Wandering river floating along the 400 m length stream or feel relaxed with Massage Pool.
To bring new exciting experiences and challenges to tourists, the park has been invested and ungraded more new games, such as Black Thunder slide with lighting and sound effects, high speed slide Tornado with the height of 20 meters and length of 119 meters, Love Storm with 12 meters in height and 3 unique turning twisting, and Multi-Slice with 4 separating lanes for you and your family to play together and compete to see who is the fastest.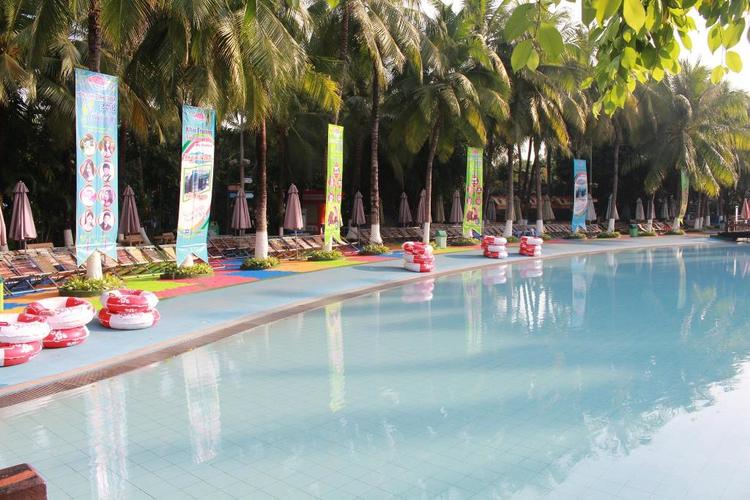 Children and young visitors can have fun in the children's play area which has massive statues of animals and cute things, and colorful slides. Dam Sen Water Park is an ideal place for you and your family to relax after days of studying and working as it helps you get rid of stress.
Dam Sen Water Park Vietnam offers newspapers, complimentary lockers, and magazine in the sunbathing area. The well-trained lifeguards always keep an eye on everything so that parents can enjoy the great relaxation while kids are having fun.  You and your children can really feel safe and have peace of mind when participating in a variety of games with all levels because a group of professional rescues is always ready to support and care.
Dam Sen Park has not only Dam Sen Water Park but also Dam Sen Cultural Park which features 30 types of attractions such as a botanical garden, electronic games, roller coasters, monorail train, mini zoo, a butterfly farm, and miniature lakes. If you have a chance to play in Dam Sen Park, you should go to the massive Roman square where there is a light and musical water theatre that can fit up to 3000 people.
Dam Sen Water Park opens every day except Tuesdays. Visiting Dam Sen Water Park, you have to pay the entrance fees of 90,000 VND for people between 0.8 and 1.4 meters in height and 140,000 VND for visitors over 1.4 meters. If you go to the Dam Sen Water Park after 4 pm, the entrance fees would be 80,000 VND and 120,000 VND respectively. However, these fares do not include the admission fee to Dam Sen Cultural Park; therefore, you have to purchase the tickets at the main entrance.
In the park, you can find a system of counters selling fast foods and restaurants that fit up to 400 people with delicious foods.
Where To Stay Near Dam Sen Park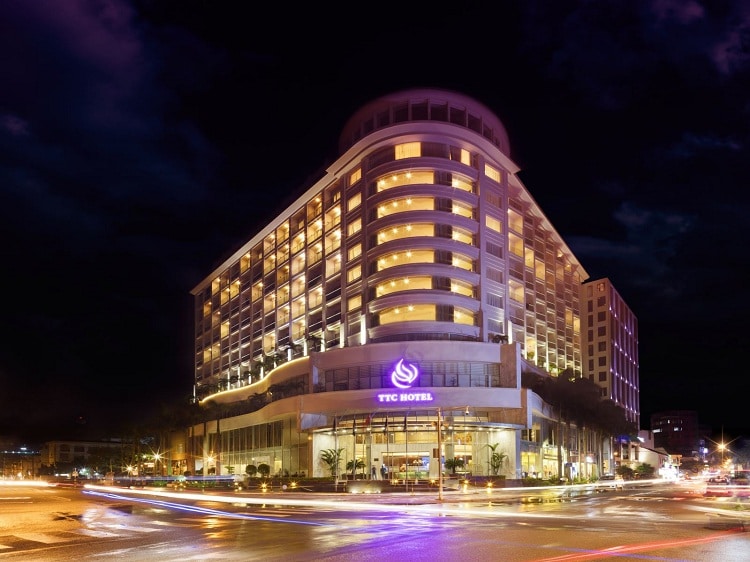 After a full day of playing and enjoying various activities in Dam Sen Park, if you want to stay overnight to restore your energy for the next tour day, you can find a wide choice of hotels, homestays, and resorts near Dam Sen Park.
If are in a tight budget, the recommendations could be Arc En Ciel Hotel (3,7 km far away from Dam Sen Water Park), Hotel TTC Deluxe – Tan Binh (Khách sạn TTC Deluxe – Tân Bình) (2.7 km far from Dam Sen Water Park), ND House (3.8km), Tan Binh Hotel (Khách sạn Tân Bình) (0.8km), Tri Thong Hotel (2.1km), etc. These hotels have the prices of over or below 500,000 VND.
Ho Chi Minh City also has a number of luxury hotels and resorts with high quality and best services. You best choices are Parkroyal Saigon (4.9km far away from Dam Sen Water Park), Hotel Ma Maison Boutique (3.9km), Athena Hotel (3.3km), etc.
Read also:
Dam Sen Water Park Vietnam with a lot of exciting activities, shows, and restaurants always bring tourists and visitors the joyful memorable experiences. Escaping from the busy life of studying and working, you will get rid of stress and enjoy great fun with your family and friends at this park. We hope that you can find useful information in this article. If you have any questions, you should feel free to leave them below and we will answer them as soon as we can. If you are interested in Vietnam's attractions and activities, please do not hesitate to click Vina.com.