When you have the opportunity to discover the peaceful and poetic west land – Can Tho city, do not forget to stop by Thot Not District. Thot Not district seems to be the place that contains the most temples and old houses in Can Tho, especially the famous Tan Loc Dong Temple – Đình cổ Tân Lộc Đông. 
1. History of the Tan Loc Dong Temple
In most of the stately houses where the spiritual value is vital to the spirit of the local people in Thot Not, this temple in Tan Loc Dong can be the most noticeable.
Tan Loc Dong Temple is one of the famous tourist attractions in Can Tho. It was built in 1787 when the Cao, Nguyen and Vo families were assigned to this area to develop unused lands and establish hamlets. Tan Loc Dong Temple was built with the hope that there will be a place to pray for the peace and prosperity of the people.
Originally, the temple was built simply with bamboo trees and leaves which are taken from two places, Tham Hillock (Cồn Thầm) and The Bat Garden (Vườn Dơi) (these are the old names at that time). In 1862, the temple was continuously renewed. In 1925, it was moved to a new area of ​​about 2,000 meters and away from the old place about 1km. This time the temple was rebuilt with more secure wood, brick and tiles. Over a long time, the temple had to be reconstructed many times, and until now, Tan Loc Dong Temple has become one of the biggest and most visited temples in Can Tho city. 
2. Features of Tan Loc Dong Temple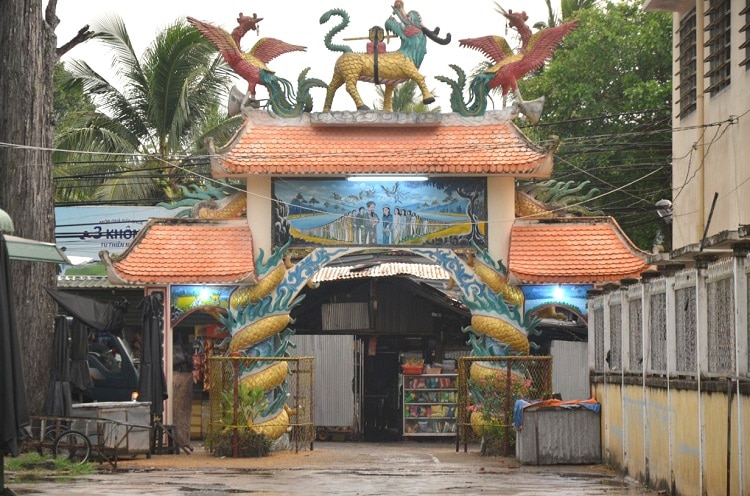 Tan Loc Dong Temple can be considered as one of the largest temples in Can Tho city. Its structure, except for bricks and tiles at foundations and walls, all other parts from pillars, crossings, levers to the smallest bars such as rafters or roof-tops are wooden.
Tan Loc Dong Temple is an architecture that is instilled with Vietnamese identity. The structure of the temple is divided into three main parts. The first main part is called "Võ Ca", the middle space is "Trường Võ" and the inner past is the main hall "Chánh Điện".
All decorative details for the roof of the house, columns, rafters and chests are carved with patterns. The decorations are incredibly soft, flexible and sophisticated. In particular, the roof is attached with the familiar symbol of dragon and moon from the ancient Vietnamese feudal architecture, which brings solemn and sacred features to the architecture. Both the architecture of the temple and the surrounding landscape are designed spaciously and airily. It makes more space for cultural and arts activities, and for organizing traditional events of a large number of local people.
Apart from being a place of worship or a place for spiritual activities, Tan Loc Dong Temple is also a familiar image with the locals. It plays a significant influence on the spiritual life of people in Thot Not District in particular and Can Tho city in general.
Having the opportunity to come to Can Tho and visit this peaceful hospitable land, it will be a great missing if you do not spend time in this famous Tan Loc Dong Temple. It is wonderful to admire and listen to the stories about setting up a land, setting up a village, fighting heroically from the local people and you may find yourself starting to love the small but truly heroic land of Can Tho.
On the whole, Can Tho tourist destination is not only impressive for its diversity of orchards, beautiful Ninh Kieu pier but also marks in the hearts of travellers by many destinations filled with local beauty from ancient times. Hopefully, our sharing will help you get more useful information to prepare for a great and safe trip. If you need more and want to share your own experiences, don't hesitate to give a comment on our website. Hopefully, you will have lots of fun and exciting experiences in Vietnam.
By Phuong Khanh