Tam Coc By Vina.com
Updated: 08/25/2019
With the watery, mystical beauty and gorgeous karst mountain terrain, Tam Coc (Tam Cốc) is granted as "Halong Bay on Land" which nowadays becomes a well-known attraction in Ninh Binh (Ninh Bình). Visiting Tam Coc, tourists will have a wonderful day in this beautiful landscape where they can see the rowers selling soft drinks and embroideries, enjoy the sampan-ride and even immerse in the friendly atmosphere with locals. Today, Vina will introduce to you Tam Coc travel day tours guide that you need to know before going to the Ninh Binh's hidden gem.
How To Get To Tam Coc?
Tam Coc which is located in Ninh Binh province and 90 km away from Hanoi (Hà Nội) has improved its infrastructure and transportation. It is easy to go to Tam Coc from Hanoi by train, taxi, bus and even motorbike if you are an independent traveler.
It takes about 2.5-3 hours from Hanoi to Tam Coc by train. A one-way ticket from Hanoi to Ninh Binh may cost you about $2.25 USD. Tourists can enter the official website of Vietnamese railways to book the tickets online. There is not a direct train from Hanoi to Tam Coc; therefore, from the train stop in Ninh Binh, you have to go by other transport (bike, taxi) to Tam Coc.
Catching a taxi might have the price of more than $70 USD from Hanoi to Tam Coc, and the journey will take about three hours.
If you like to take a bus, you should buy the ticket in the train station from the Hanoi bus terminal Giap Bat (Giáp Bát) which will stop in Ninh Binh.
From Ninh Binh, you can visit Tam Coc by taxi or hire a motorbike which is easy in Vietnam. A taxi drive from Ninh Binh to Tam Coc is about $4 USD,
What Is The Best Time To Visit Tam Coc?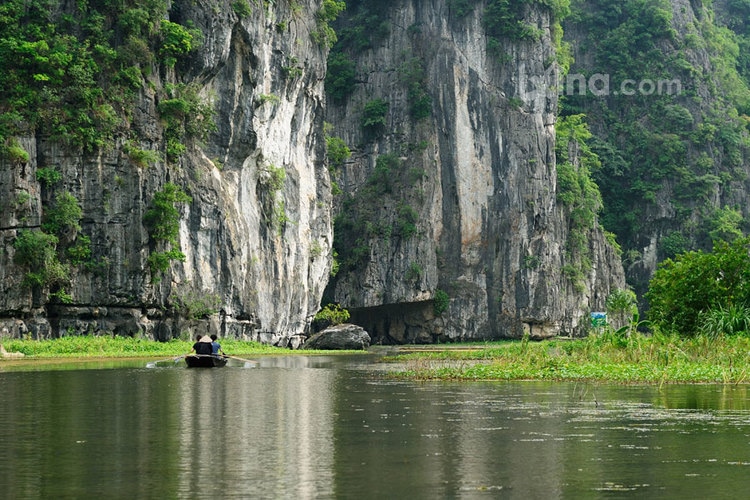 Tam Coc By Vina.com

From May to early June is the time most tourists choose to visit Tam Coc because they can see the beauty of the ripening rice fields. Also, it is the time with fewest clouds, bluest skies and comfortable temperature that are ideal for tourists to take amazing pictures of an impressive "Halong Bay on the rice fields."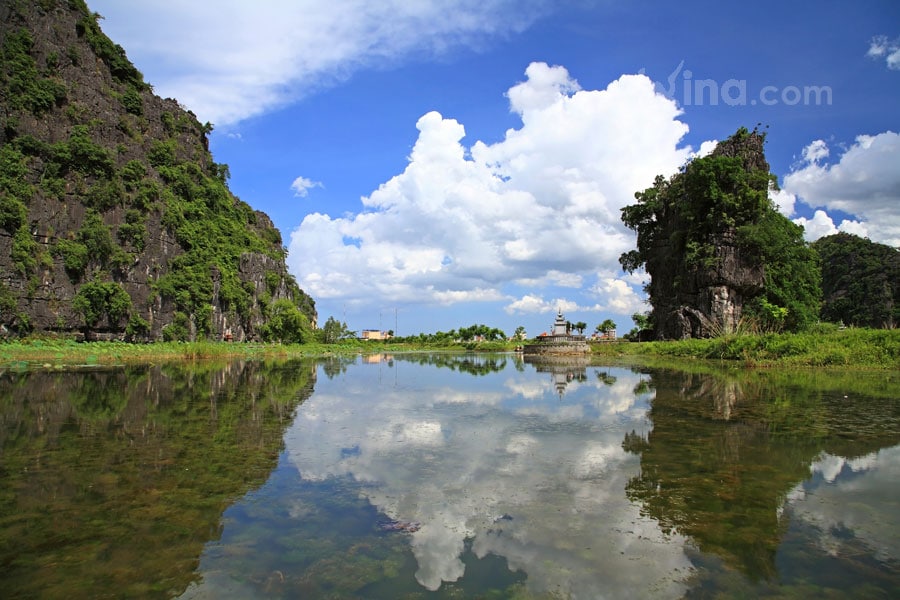 Tam Coc By Vina.com
Wanting to enjoy the view of golden rice fields in Tam Coc, tourists can visit in May. However, it is also the busiest time with lower tour prices and high accommodation price due to the large flow of tourists. If you prefer the peaceful trip, the highly recommended suitable time must be in spring from around late January to mid-February when vast green fields show their verdant gorgeous beauty.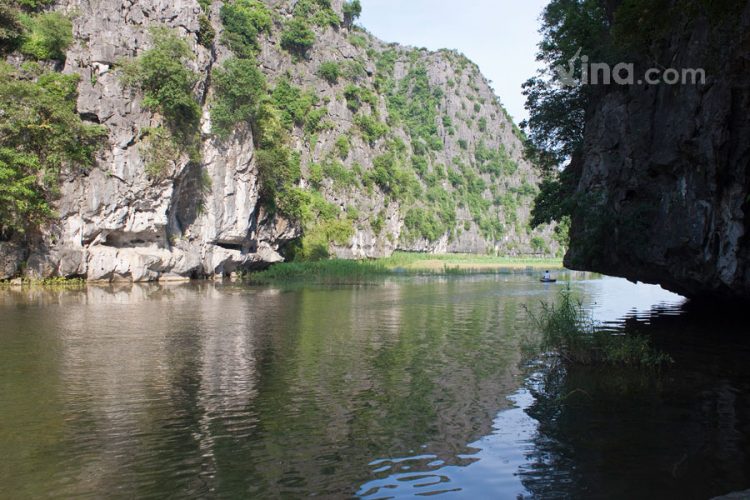 Tam Coc By Vina.com
A useful Tam Coc travel guide for tourists before exploring Tam Coc is that watching a weather forecast before coming is important if you do not want the rainy days to influence your energy and mood.
Things To Do In Tam Coc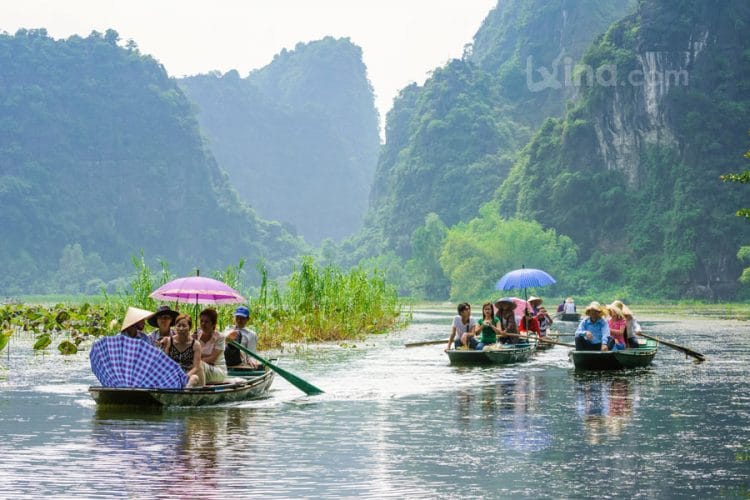 Tam Coc By Vina.com
Taking about Tam Coc travel day tours, we need to mention boat rides on sampans, a highlighted activity in Tam Coc. The sampans will take tourist meander through great karst hills, the green river, and beautiful rice paddies. The journey ends in three long, mysterious caves created by rock erosion, including Hang Giua (Hang Giữa), Hang Ca (Hang Cả) and Hang Cuoi (Hang Cuối) where tourists can spend time exploring.
When you are on the way back, you can ask the rowers to stop at Thai Vi Temple (chùa Thái Vi) which was built in the thirteenth century to memorize the founder of Vu Lam (Vũ Lâm) royal step-over place, the Kings of Tran dynasty.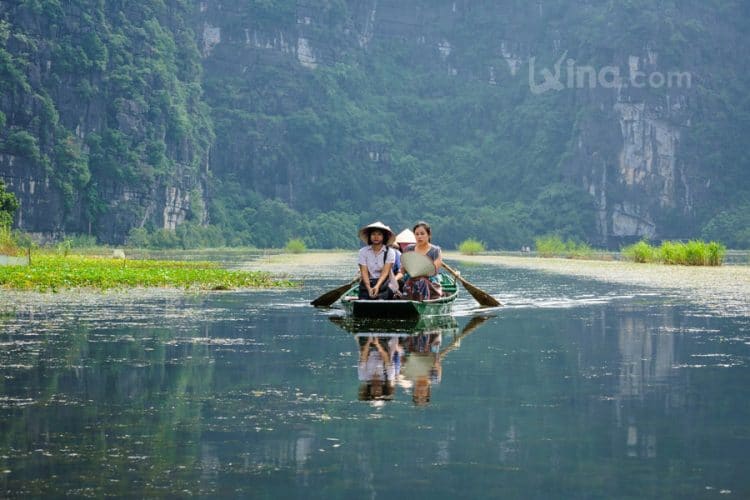 Tam Coc By Vina.com
Furthermore, bike riding through the flat road, seeing amazing rice fields with lush green color and natural beauty like a movie scene is also a great experience.
Visiting Tam Coc, you should take a short walk in a local market where vendors sell local foods, embroideries, soft drinks, and many beautiful souvenirs.
If you have enough time for the Tam Coc travel day tours, from the boat dock, you can head the southwest for about 2 km to visit Bich Dong (Bích Động) pagoda that is situated near the Ngu Nhac Mountain. Covered by green fields, plants, and river, Bich Dong pagoda built in 1705 is attracting tourists with the beauty and unique construction.
Where To Stay In Tam Coc
Most tourists often travel to Tam Coc for one day and then move to other attractions of Ninh Binh. But, if you want to stay overnight in this beautiful spot, there are a few accommodation options for you to consider.
The first one is Tam Coc Rice Field Resort. Surrounded beautiful gardens, gorgeous rice fields, typical bamboo houses, and great mountains, this resort with bungalows offers a private bathroom, restaurant, free high WiFi, laundry service and free toiletries.
The second choice is Tam Coc Bungalow. Staying here, you can see the panorama view of Tam Coc. There are dormitories, private rooms and family rooms available.
Thai Thuong (Thái Thượng) Hotel is also good accommodation if you want to stay in Tam Coc. Relaxing and sleeping in this hotel is convenient for tourists who take a boat trip in the morning and in the afternoon.
Where To Eat In Tam Coc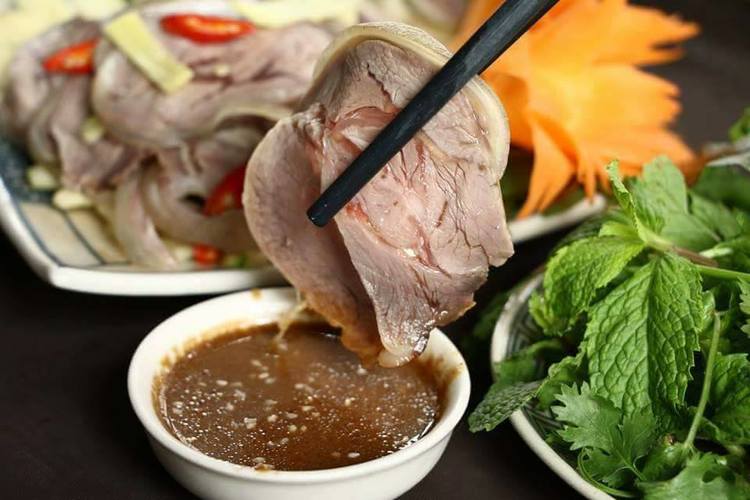 Here are some suggestions if you want to find the most delicious places to eat when you visit Tam Coc.
The first one is Aroma Curry House Tam Coc. Despite a little higher prices the local restaurants in Vietnamese, the curry house serves amazing foods with a tasty sauce.
Thuy Linh (Thùy Linh) Restaurant is also received good reviews from tourists coming to Tam Coc because of the low prices and incredible foods. The special food most tourists like best are the spring rolls with bursting flavor.
When you visit Tam Coc, it is great to try the local foods such as goat meat, spring rolls, and some typical Vietnamese street foods.
Practical Tips For Tourists Coming To Tam Coc
To make sure you have the best Tam Coc travel day tours, you should remember these following important tips and techniques:
Only get on a boat with no boxes. The boxes are filled with souvenirs, soft drinks, foods, or embroideries locals want to push tourists to buy. It is difficult to explain to them that you do not need anything.

Make sure that you have some dollar bills handy to avoid unfair exchange rates.

Book the room in hotels in advance for the best services if you want to stay overnight in Tam Coc.

Ask the price before you buy something.
Now you have known everything on Tam Coc travel day tours guide. We hope that you can find useful information here. Start your memorable day trip and create meaningful moments in Tam Coc, Ninh Binh.