Updated: 11/20/2019
The old capital of Vietnam (Việt Nam), Hue (Huế), has a lot of great places to visit. Even though this is no longer the case, a large number of Vietnamese still rate this old city highly as the central of cultural and historical value.
When it comes to Hue attractions, there are many places to see, such as tombs, pagodas and other kinds of buildings linking the past to the present around the beautiful countryside of Hue.
Despite many of these places are ruined by war yet many managed to be safe without any damage. Those places include Thien Mu (Thiên Mụ) pagoda, Citadel, and Long An palace museum.
If you are wondering which Hue attractions are most worth-visiting, then check out this list to discover what to see in Hue, Vietnam.
Hue Attractions –23 Must-See Places To Visit In Hue, Vietnam
1. Bach Ma National Park (Công Viên Quốc Gia Bach Mã)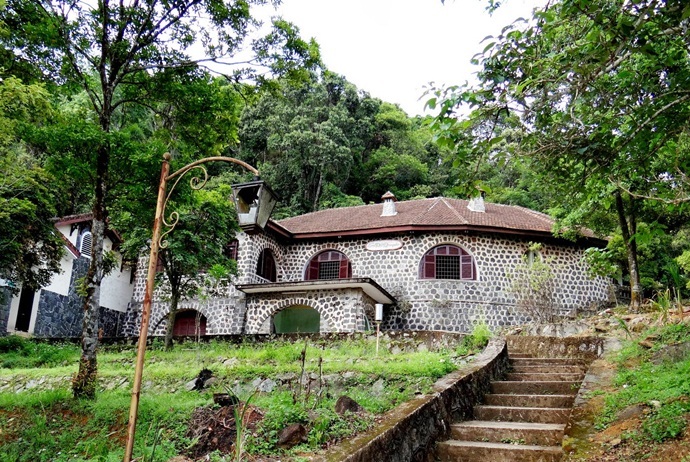 This is the first choice when it comes to interesting Hue attractions. Located in the Annamite Range, right in the central Vietnam, close to Hue City, Bach Ma national park is easy to access from Hue (about 40 kilometers), Hoi An (Hội An) (90 kilometers) and Da Nang (Đà Nẵng) (65 kilometers). Covering the area of approximately 37,50 hectare, Bach Ma National Park is a protected area which was built in 1991 and contains 3 zones, including a strictly protect core, a buffer zone and an administrative area.
This national park has tropical climate featuring with two separate seasons, the rainy season and dry one. The park is considered as one of the wettest site in Vietnam, where it can change from sunshine to rain only within hours. The summit region is cooler, thanks to the high altitude. Thus, it is also called as "Da Lat of the central area of Vietnam", one of the most relaxing Hue attractions for tourists.
This park is the bio geographical border between southern and northern Vietnam and features with a wide range of creatures and habitats. Therefore, it is not surprising that Bach Ma National park is famous for its biodiversity. In reality, some people reckon Bach ma as "The centre of Vietnam's flora diversity" because it presents about ¼ of the whole flora of the whole country. This forest also possesses a great and precious source of more than 500 species serving as medicinal plants.
When visiting Bach Ma National Park, among many other Hue attractions, you will have a variety of fun activities to take part in, be it camping, trekking, rappelling, or wandering through the jungle. Here, you could discover the beauty of the flora and fauna of Bach Ma. If you are an adventurer, you will have a chance to thrillingly abseil down the upper area of the Do Quyen (Đỗ Quyên) Fall here. Or, tourists could walk down to the falls' bottom in order to catch the whole spectacular view of the fall and swim in the cool stream.
For those people who love nature, particularly those who are excited to watch wild birds, they will find Bach Ma National Park a true paradise on the planet. Actually, 358 species of birds available in the park account for over 1/3 of Vietnam's bird species, including the tenacious Edwards' pheasant and the fabulous crested Argus pheasant. These species are rare and unseen for a long time. Various bid species such as bulbuls, pigeons, malkohas, herons, crow pheasant, egrets, kingfishers, and jungle fowl are really worth including into your bird-watching collection.
The best time to visit Bach Ma National Park is on February. This is the time when tourists can witness a lot of great scenes like blossoming of the well-known red Rhododendron simsii along the small streams, particularly at the bottom of the Rhododendron waterfall. At this time, the weather is dry with suitable temperatures. The tourism season, in which a large number of visitors coming here, is from June to August. A tour to visit famous Hue attractions cannot be completed without Bach Ma National Park.
2. Vong Canh Hill (Đồi Vọng Cảnh)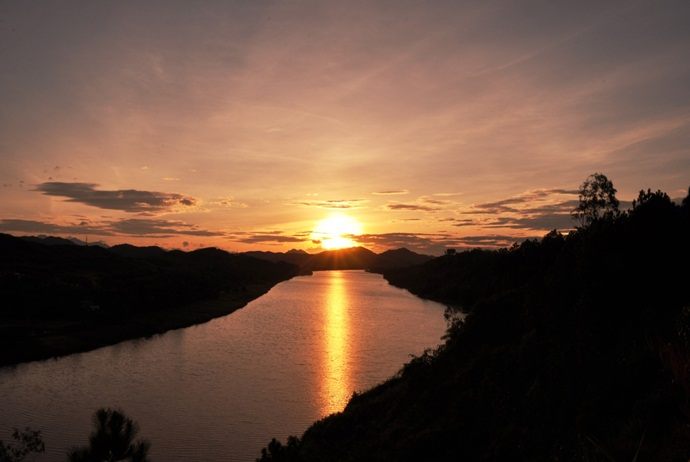 The next destination in this checklist of Hue attractions I would like to introduce to you is Vong Canh Hill. This hill is 43 meters in height and located about 7km from the central area of Hue, with the foot lying next to flowing Huong River (Sông Hương). This hill at first seems to be rather normal among many famous Hue attractions. Nevertheless, visitors should not miss this site because it is considered as the best spot to see a panoramic view of Huong River. This could easily be understood from its name: "Vọng" means observing, watching and "Cảnh" means scenes.
The Vong Canh Hill is surrounded by some royal tombs of Kings, including Tu Duc (Tự Đức), Thieu Tri (Thiệu Trị), Dong Khanh (Đồng Khánh) and some Queens. In combination with the complex of royal monuments, there is Hon Chen (Hòn Chén) Temple which is place for locals to worship Y-A-Na Goddess and Lieu Hanh Godness (Bà chúa Liễu Hạnh). And, on the opposite site, Vong Canh is a great site for tourists to take photos of ancient and magnificent Hue.
Furthermore, tourists are usually attracted by the villages, which stretch along the river banks, including Hai Cat (Hải Cát), Huong Ho (Hương Hồ), and Ngoc Ho (Ngọc Hồ) with corn fields, fruit gardens lying under pine trees' shades, and small boats silently skimming and drawing lines on the water surface. From sunrise to sunset, Huong River attracts people by its atmosphere that it brings to the surrounding area. This hill is now covered with daisy and pine trees. There was a purpose-established watching tower on the top of this hill, despite just parts of the foundation remain up to now. In addition, Water plant Van Nien (Vạn Niên) – which is the oldest in Central Vietnam and also an Oriental-style establishment, just about 300 meters from Vong Canh Hill, and designed by a French architecture, is really worth visiting.
When visiting Vong Canh Hill, you may think that it seems to have nothing for entertaining, yet for those who are looking for calmness and natural beauty, it is a perfect choice, among other great choices of Hue attractions.
Actually, this spot is often combined on a trip to those nearby pagodas and tombs. The suggested vehicles for tourists could be bike, motorbike and car.
3. Hue Temple Of Literature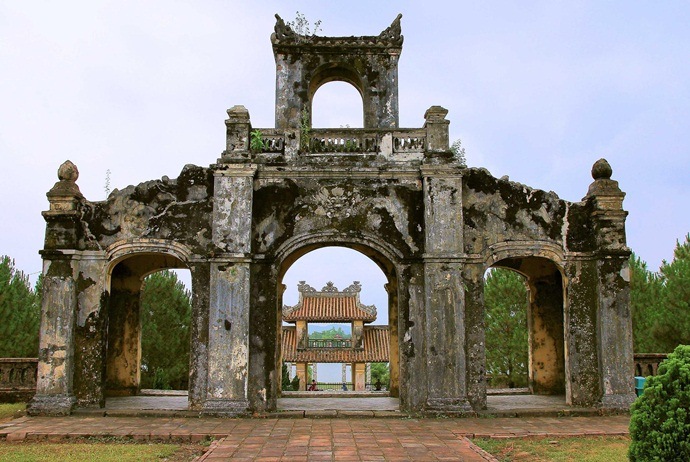 Temple Of Literature is also known as Van Thanh (Văn Thánh) or Van Mieu (Văn Miếu) Hue, which is majestically situated on the bank of Huong River, to the west of the Citadel, about 1km away from the prestigious Linh Mu (Linh Mụ) pagoda. Though it is not a too famous sight in regard to Hue attractions, it still brings a new experience for those who want to enjoy some special religious and spiritual feelings.
This spot is dedicated to worshipping and memorizing Confucius, which is a common practice in a lot of Asian countries, like Vietnam, China, Japan and Korea. Actually, in Vietnam, apart from the famous Temple of Literature in Hanoi, there are some other Temples of Literature constructed on other cities.
The remaining of this complex contains about 50 architectural works and the biggest is the Confucius worshiping hall.
From outside, at the temple's main gate, right by the riverside, there are 4 majestic tall pillars. After passing the gate, you will see some small houses where mandarins and kings would stop by to prepare their costumes before going inside for attending a ceremony. Right at the front, there are two rows consisting of 32 preserved steles that bear the names of 23 successful people in National Examinations hold through the Nguyen Dynasty. Despite this monument has been ruined during the war when the French troops used it as barrack, major temple and particularly the steles still remain, making Hue Temple of Literature one of the most inspiring Hue attractions.
Nowadays, tourists coming here could see a unique symbol of the educational system during feudal times of Vietnam. The construction shows an everlasting respect to talented candidates of the whole country and invaluable traditions of education and culture.
If you want to visit Hue Temple Of Literature, you can use different means, like motorbike, car and bike. It is easily found close to Thien Mu (Thiên Mụ) pagoda. There is no admission fee.
4. Nam Giao Esplanade (Đàn Nam Giao)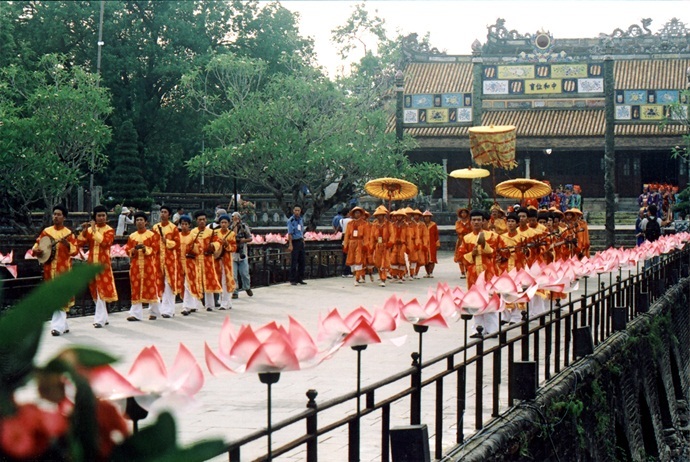 What is the next recommendation from experienced tourists about Hue attractions? Nam Giao esplanade gets the highest vote. The emperors under feudalism usually regarded as "Thiên Tử" – meaning the sons of Heaven. Therefore, in order to express their own respect to Father God, they usually organized annual offering ceremonies to worship. This is the reason why Nam Giao Esplanade was established by the king Gia Long after being crowned, in the village named Duong Xuan (Dương Xuân), located in the south of the city of Hue.
The open-air monument reflects the old misconception of reflects the long-time misconception of people about our universe (square earth and circular heavens) presents 5 important elements of the nature, including Wood, Metal, Water, Earth and Fire (Mộc, Kim, Thủy, Thổ, Hoả).
If you have chance to visit the mentioned-above Hue attractions, Nam Giao Esplanade might be the most symbolizing destination in your eyes. This esplanade is specifically designed to symbolize the oriental theory of 3 factors: Man, Heaven and Earth (Nhân, Thiên, Địa respectively). Each factor is represented by a terrace with specific color as well as shape: square yellow earth and circular blue heaven. The bottom terrace is red-painted and square that stands for Man. The top one – Heaven – is the site to hold offering ceremonies to Earth, God and Nguyen (Nguyễn) Dynasty's ancestor. This is also known as Vien Dan. Tung Dan is the middle terrace which is mainly for worshipping the Sun, Moon, Cloud, Starts, Rain, Wind, Lightning, Mountain, River, Ocean, Lake, Lagoon and Year and Month, etc. and many other types of holy spirits of Vietnam. The last one is the place for sacrifice.
Besides the major esplanade, there are some other building spots to support the offering ceremonies, such as "Trai Cung", "Than Tru" (Thần Trù), "Than Kho" (Thần Khố).
Previously, Nam Giao Esplanade was surrounded by the thick basalt wall that has been damaged. There are pine trees planted around because the Emperor Minh Mang (Minh Mạng) has respectably followed the tradition of his father and asked every of his sons as well as mandarins to plant their personal pines with their name card on it and care for their own trees.
This esplanade used to have a crucial role in political and religious life of Nguyen Dynasty. Normally, it took the Protocol & Administration Ministries several months to prepare carefully the ceremony. Prior to the sacrifice offering day, every village and communal in Thua-Thien-Hue (Thừa Thiên Huế) had to comprehend making the triumphal arches, to add alters on sides of the route where the Emperor would comfortably pass by from Ngo Mon (Ngọ Môn) Noon gate to Trai Cung. Then, during the ceremony, many big flags with various colors were hung on four doors of the esplanade: blue on the eats door, black on the north, white on the west and red on the south. Kings usually had to carry out the ceremony by their own.
If he was not able to do so, his son or one of the mandarins would be ordered to do the task. Nowadays, tourists could visit here in order understand more about political and religious belief of Oriental feudal society, in general, and Nguyen Dynasty, in particular, which differ entirely from the Western society.
This spot is opened for visitors all the time, yet you are recommended to come here when the ceremony is celebrated.
The royal ceremony is particularly restored on the Hue festival to pray for a happy, peaceful country and prosperous people. This particular performance could not be found anywhere else. Hence, do not hesitate to add Nam Giao Esplanade to your list of Hue attractions for your upcoming vacation.
5. Quoc Hoc Hue – Century Old High School (Trường Quốc Học Huế)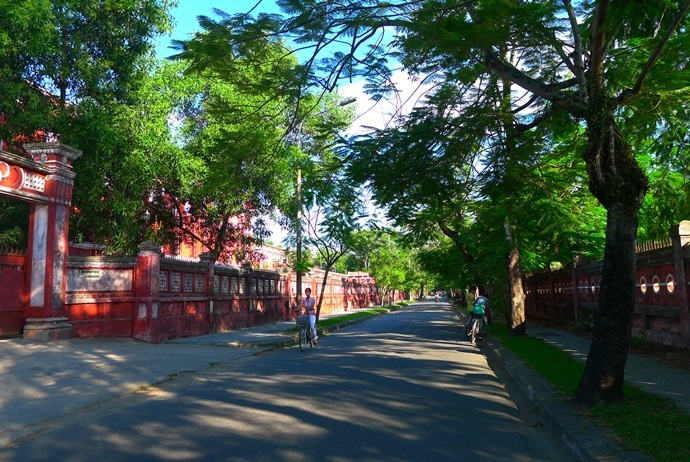 This is the first as well as the oldest high school in Vietnam. It is a destination that brings a unique experience for tourists when visiting a series of Hue attractions. Also known originally as Quoc Hoc, this was the school for those children from royal and noble families.
French colonists established this school on the site that used to be former squadron headquarters. The school trained those people who would serve the feudal colonial government.
Thus, the major subject for those students was French and the gate of this school was title "Pháp tự Quốc Học trường môn" (French national high school's gate). Nowadays, its name is Hue National High School and is a high-profile school that students here must pass through the competitive entrance exam in order to get the admission.
Built in 1986, with over 100 years of history, Quoc Hoc today is a well-maintained construction following French colonial style. This school contains five blocks of classrooms, basketball court, one football field, five badminton courts, one medium, one swimming pool, one medium stadium, and a block of dormitory. It is reckoned as the largest and the most beautiful high school campus of Vietnam. The surrounding of this school creates a great picture of green background of shady trees along with stone blenches and red French architectural building. Particularly, in spring, as "Diep Anh Dao" (Điệp Anh Đào) – a type of cherry blossoms – blossoms, the big picture filled with pinky impressive dots above the red thatched tile. People often call this span of time as "Pinky cloud season" and praise it as the most special moments annually. It explains why Quoc Hoc is also called as "Pinky school beside Huong River Bank". There is also a song with the same name about the beauty of Hue, Huong River and scenes around. If you have a chance to drop by this school during that special season, then you are very lucky.
Quoc Hoc is not only well-known for its charming scene when it comes to Hue attractions, but it also gains the prominence for the tradition of patriotism, academic achievements, industriousness, and respect for a lot of time-honored values of the relationship between teachers and students. Some Vietnam political leaders have been graduated from this school, namely Nguyen Tat Thanh (Nguyễn Tất Thành) (president Ho Chi Minh), Prime Minister Pham Van Dong (Phạm Văn Đồng), General Vo Nguyen Giap (Võ Nguyên Giáp), and so on. Additionally, this school is also famous for its successful students who are renowned poets, including Huy Can (Huy Cận), Xuan Dieu (Xuân Diệu), Luu Trong Lu (Lưu Trọng Lư), To Huu (Tố Hữu), etc.; scientists, including Ta Quang Buu, Ton That Tung, Dang Van Ngu, etc.; musicians, including Chau Ky (Châu Kỳ), Tran Hoan (Trần Hoàn), Nguyen Van Thuong (Nguyễn Văn Thương), etc.; and so on. Quoc Hoc itself proudly has students getting high prize in various International Competitions.
Hue is not only famous for its long history but also for successful people with high education background graduated from Quoc Hoc Hue. So, Quoc Hoc Hue is really one of must-visit Hue attractions for anyone who has a chance to come this ancient city. Visitors who really want to visit Quoc Hoc High School should keep in mind that this school does not allow entrances during the official time, which ends at 5.16 pm each day. Besides, the students here are extremely eager to communicate with foreigners, particularly English and French speakers. It is also an ideal place for those people who want to take great pictures of natural background, and understand much more about French colonial architecture and witness female students in while traditional costume named Ao dai (áo dài), sparkling in a great background.
6. Hue Imperial Citadel (Hoàng Thành Huế)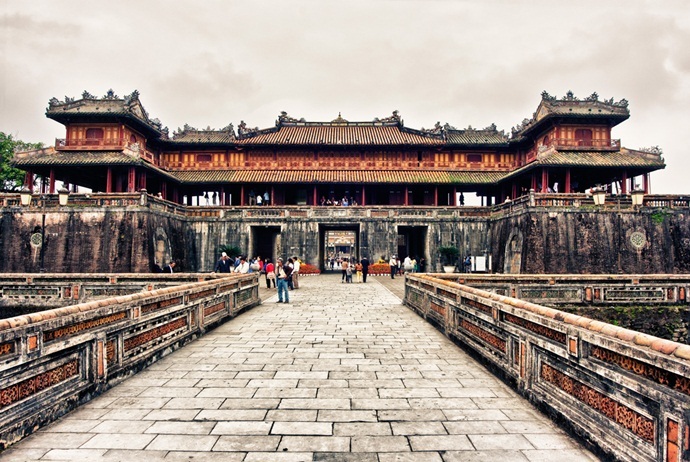 Hue Imperial Citadel is famous as one of the seven UNESCO World Heritage Sites of Vietnam. It becomes a popular site among Hue attractions for tourists visiting to discover a hidden charm of Vietnam.
Actually, it was a walled fortress as well as palace belonged to Hue ancient city, which was the capital city of Nguyen Dynasty for about 140 years date since 1805.
From 1805 to 1832, the Imperial city of Hue was eventually finished under Minh Mang (Minh Mạng) reign, thereby making it the most massive and impressive structure established in the history of modern Vietnam that involved with thousands of workers, huge amount of burden workload, and millions cubic meters of rock. This citadel is situated on the northern bank of the well-known Huong River with the total land area of about 520 ha. This place was confirmed as UNESCO site in 1933. Some remained buildings were actively restored and well preserved after Vietnam War's destruction.
It is not difficult for tourists to get to the Imperial City, one of the most famous Hue attractions. From International Airport named Phu Bai (Phú Bài), they could head straight to the 1A Highway and reach this citadel. With just not more than 100.000 VND for the entrance fee, you could be able to enjoy the magnificent of the Imperial City of Hue.
Looking for somewhere for shopping? Check the next Hue attractions below!
7. Dong Ba Market (Chợ Đông Ba)
The next destination in this checklist of must-see Hue attractions is Dong Ba Market. It is not a historical or cultural site for tourists, but it will bring to them a new experience of shopping. Talk about the history of Dong Ba Market, this is the biggest commercial market of Thua Thien Hue province as well as adjacent areas. Standing along the north bank of Huong River, located on Tran Hung Dao (Trần Hưng Đạo) Street, this market stretches from Trang Tien (Tràng Tiền) Bridge to Gia Hoi (Gia Hội) Bridge.
In the past, before this market was opened, there was a grand market named Qui Gia Thi (Qui Giả Thị) located outside of Chanh Dong (Chánh Đông) Gate right in the reign of King Gia Long. In 1885, the capital city was attacked and this market was damaged by fire. Two years later, in 1887, King Dong Khanh conducted to rebuild and renamed this market as Dong Ba Market. This market after that functioned as the major source of food for the palaces, army camps, hospitals, and dormitories of some national universities like Quoc Hoc (Quốc Học), Binh Linh (Bình Linh), Dong Khanh (Đồng Khánh), Thien Huu (Thiên Hựu), and so on. In 1899, under the reconstruction conducted by King Thanh Thai (Thành Thái), this market was moved to the current position. Even when Dong Ba Market has gone through some projects since the beginning of the 20th century, it still embrace a lot of old features.
When visiting Dong Ba Market, you will see the old bell tower locating proudly amidst the series of buildings. There are nine new establishments and four new parts ranging from clothes to seafood. Dong Ba Market, one of the most frequent Hue attractions reaches an area of approximately 16,000 m2. Nevertheless, while the architecture o this market is not really impressive, the atmosphere here is worth enjoying. Similar to the majority of markets in Vietnamese, this market contains a few sections, depending on the kinds of products. The upstairs is for clothes and garment.
If you would like to buy something for your family and friends when coming back home, then you could find almost every special cultural gift and souvenir of Thua Thien Hue in this market, namely conical hats that have poems woven into, special candies named Me Xung (Mè Xửng), Truoi (Truồi) beries, Hue Sour Shrimp (Tôm Chua), mussel rice, beef vermicelli, lotus seed of Tinh Tam (Tịnh Tâm) Lake, leaves cakes and so on.
Actually, this market is the exact place where both locals and tourists could get most of tasty dishes of Hue at high quality standard, within just one site. They are really worth a try. In these days, Dong Ba Market remains a crucial role in the economy as well as trade of the city, despite the occurrence of a lot of supermarkets built here. In addition to supplying food along with other goods for many adjacent cities, it is a must-stop destination for tourists when discovering Hue city.
Yet, remember this when shopping in Dong Ba Market: bargain and bargain. This is the most important tip, even for locals. Few sellers could speak English well, yet it does not matter as they could use the calculator and say the numbers. Begin bargaining from half of the initial price, particularly if you are an international tourist. Purchasing in bulk will also help you reduce the price when dealing with the vendors. If you are lucky enough and good at this skill, you could get your desired stuff at the best price as the living cost in Hue is rather cheap.
This market starts at early morning and if you can visit this market this time, you can witness a special scene, where people selling and buying in the silence, freshness and dim light of the city. This is when locals could buy freshest food at significantly lower price. It opens throughout the day, till 20:00.
During big holidays, the number of customers coming here increases doubly, so be aware of pick-pocketing. You should also avoid coming to this market on the first day of the Lunar New Year as there are very few shops opened.
To get this market, you can choose various means, such as bus, car or motorbike. Some local people even travel surround by boat, beginning from Vi Da (Vĩ Dạ) Boat Station. However, if you are not familiar with something irregular, then chose the safe means to get there. An idea of passing by Dong Ba Market after visiting must-see Hue attractions will let you have time to relax and enjoy the real life of Hue locals.
8. Thien Mu Pagoda (Chùa Thiên Mụ)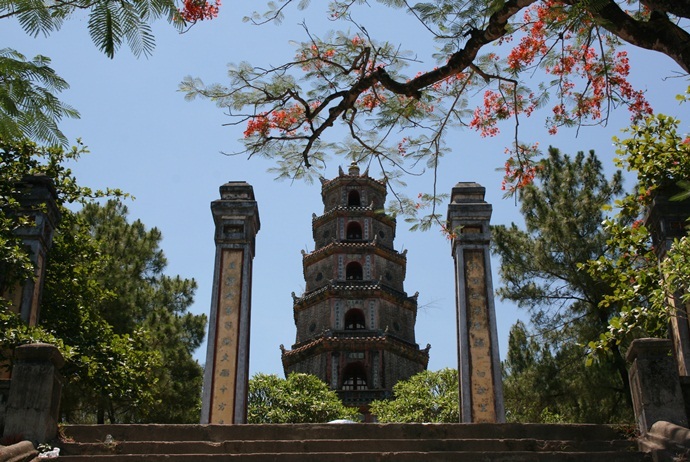 Thien Mu Pagoda is one of the most well-known Hue attractions among tourists, particularly the local ones. The location, architecture and history of this pagoda make an impressive destination in Hue.
Situated at the end of Kim Long (road, on the northern bank of Huong River), this pagoda is associated with a lot of legends. Also known as Linh Mu Pagoda, this pagoda is a spiritual place that has gone through many eventful stages, both damages and renovations. Nowadays, the pagoda still exists and remains the unmistaken symbol of Hue ancient city.
When approaching this pagoda, what seizes your attention initially is the seven-floor octagonal Phuoc Duyen (Phước Duyên) tower, formerly known as Tu Nhan (Từ Nhân) Tower. Established in middle age of 19th century under the reign of King Thieu Tri, this tower was the place for the King to commemorate the 80th his grandmother's birthday anniversary. When passing the 3-door gate, you will see 12 huge wooden sculptures of fearsome temple guardians. Then, you will see Dai Hung (Đại Hùng) Palace in the middle of the area. This is the major sanctuary of Thien Mu Pagoda.
There are many impressive sculptures along with a huge bell which is 2.5 meters in height and about 2 tons in weight. The fragrant incense of smoke fills up the air throughout the day, thereby making the praying for blessings peaceful and calm. An establishment near the complex's rear hosts a national relic: the monk Thich Quang Duc (Thích Quảng Đức) burned himself to death along with a car right at the intersection of Le Van Duyet (Lê Văn Duyệt) and Phan Dinh Phung (Phan Đình Phùng) Streets in Saigon on June 11th 1963 in order to oppose to the anti-religion policy of Saigon's regime at that time.
When visiting this prestigious site, among other Hue attractions, you could enjoy both the scenery here and the traditional architecture of pagodas in Hue. With the high position upward the charming curve of Huong River, this pagoda gives visitors a spectacular and mind-boggling view of the surround areas and the flow. There are bonsai, pine trees and delicate manmade pond covering this pagoda, bringing this site a peaceful feeling which is difficult to find anywhere.
It just takes minutes to get Thien Mu Pagoda from the center areas of Hue city, so you could get there by bike, motorbike, taxi or boat. The boat trip could include visiting Hon Chen temple along with Ming Mang tomb. It is recommended to use bike to get Thien Mu Pagoda because the road is very scenic and short. Tourists could also combine a trip to Thien Mu Pagoda with Huyen Khong (Huyền Không) Pagoda and Hue temple of Literature, which are only several kilometers away. If you want to enjoy a perfect ride, then choose early morning or late afternoon as your departure time in order to avoid the heat.
This spot is opened every day from early morning till 5pm. It is advised to come here early in the morning in order to witness the fresh beginning of everyday activities happening in the pagoda, or at sunset when the river and the sky combines to create a romantic picturesque scene. So, you can visit Thien Mu pagoda first, then move to visit other Hue attractions later.
On such special occasions like 15th of April and July basing on the Lunar Calendar, or at the special Tet (Tết) holiday of Vietnam, this pagoda is much more crowded and celebrates many unique ceremonies that tourists might be very interested in. These are the time when tourists, both domestic and international, could enjoy the most delicious and traditional vegetarian food in this city without cost.
One tip for tourists when visiting Thien Mu Pagoda and many other religious Hue attractions is that they should avoid wearing short or tight clothes such as short skirts because entrance to the main hall is not allowed for those people who wear such costumes. Besides, do not make noise upon visiting the pagoda.
When it comes to Hue attractions, maybe the most well-known and frequently visited destinations are tombs of royal family. The following Hue attractions will give you a real view into the famous tombs of Kings under different dynasties in Vietnam. Hopefully with detail information describe here, you will understand more about the history of Vietnam.
9. Tu Duc Tomb (Lăng Tự Đức)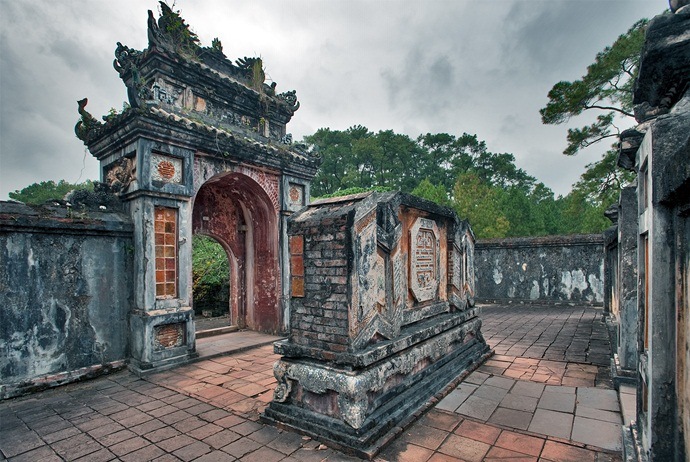 The first one in the series of historical Hue attractions is Tu Duc Tomb. Situated in a narrow valley belonged to Duong Xuan Thuong (Dương Xuân Thượng) village, about 8 kilometers away from Hue City, Tu Duc Tomb is reckoned as one of the most beautiful and largest works of the architecture of royal palaces as well as tombs under the reign of Nguyen Dynasty. It is often said that Tu Duc Tomb is one of the must-see Hue attractions that every tourist when visiting Hue City cannot skip.
This tomb was built between 1864 and 1867. The construction of the tomb itself requires a huge amount of both money and labor, therefore resulted in a rebellion of employees. Hence, Tu Duc Tomb was renamed as Khiem Lang (Khiêm Lăng), in compared with the previous name: Van Nien Co (Vạn Niên Cơ). Additionally, all of the names of constructions were changed to have the word "Khiem" (also known in English as "Modesty") included, because the King wanted to express his own humility.
It used to be the spot where the King could retreat from the citadel in order compose poetry or go hunting as the monument was completed when the King was still in reign. The tomb's design is said to clearly reflect the romance and profound knowledge of the characteristics of the King.
When initially seeing the tomb, you might think of a scenic park where hills, lakes, pavilions located amidst the lushness of frangipani trees plus with grove of pines. Surrounded by a solid octagonal wall, Tu Duc tomb has some notable sites inside which could be listed as Tinh Khiem (Tịnh Khiêm) Island, Luu Khiem (Lưu Khiêm) Lake, Xung Khiem (Xung Khiêm) Pavilion, and Hoa Khiem (Hoà Khiêm) temple. The last one is a small museum of the whole life of the King: a mirror used by his concubines, a locked presented by the French, or the funerary tablets of the empress and emperor. Because the tomb also had the functions as a place for royal candidates to be away from home, there is a royal theatre included in the complex, named Minh Khiem Duong. This theatre is an exact reflection of Tu Duc's poetic soul, with the impressive ceiling carved with clouds, stars, sky and crescent moon. Nowadays, despite performances are not celebrated in this theatre, but some are still remained in Xung Khiem Ta (Xung Khiêm Tạ), located near Luu Khiem (Lưu Khiêm) Lake. The remaining section is the tomb, including the Honor Courtyard, the sepulcher and Stele Pavilion. The last one is known as the biggest pavilion in Vietnam, in which the King has proudly inscribed his own life by himself.
When visiting Tu Duc Tomb, tourists might feel like they are lost in a big scenery park, where the old monuments symbolizing for old feudal time are harmoniously in tune with natural surroundings.
You can go to Tu Duc Tomb by car, motorbike or bikes. This spot is often included in a tour from Tu Hieu (Từ Hiếu) pagoda and Khai Dinh Tomb. You should wear comfortable shoes because visiting the tomb requires lots of walking.
10. Minh Mang Tomb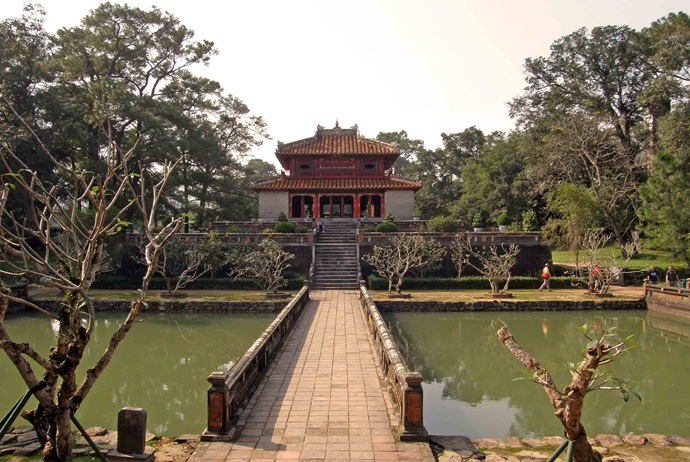 Regarding to prestigious Hue attractions, the next site is Minh Mang Tomb. Recognized as the most majestic of all royal tombs, Minh Mang Tomb, in reality, is a great complex of 40 small sites. Located in Huong Tho (Hương Thọ) Commune, Huong Tra (Hương Trà) District, right on the west bank of Perfume River, and about 12 km south of Hue City, Minh Mang tomb was begun building in 1840 under the reign of King Minh Mang. In 1841, after King Minh Mang's death, Kinh Thieu Tri continued the remained task, according to the plan of his father. Finally, this monument was finished 2 years later.
As seen now, Minh Mang Tomb is a large complex of constructions, including temples, palaces, pavilions, and so on. Many people said that this complex is a great combination of both natural and manmade beauty of Hue, where the architecture fits harmoniously with the surroundings.
When it comes to architecture, this tomb has the most impressive in compared with other Hue attractions. It was particularly designed as a symmetric axis that runs from the Great Red Gate to the surrounding wall's foot. In addition to this gate, which is at the center, there are two other gates, which are the Right Red Gate and the Left Red Gate, leading to the Honour Courtyard – where two rows of elephants, mandarins, and horse's stone statues are located. On the mount Phung Than (Phụng Thần), at the other sides of three gates, there is the square Stele Pavilion, where the stele Thanh Duc Than Cong (Thánh Đức Thần Công) inscribed with the King's biography as well as merits penned by his son, is set. In Sung An (Sùng An) Temple, the King Minh Mang and his wife are worshipped. You can access this temple through the Hien Duc (Hiền Đức) Gate. On the other side of the temple, there are 3 stone bridges, with the marble one just reserved for the king. Seeing from distance, this complex looks like a real human being with the hands and feet reaching to the Huong River and the hill as the pillow. The distance from the front gate to the back door is about 700 meters. Despite the fence is high, it does not block your view to the mountains as well as Cam Ke (Cẩm Kê) Hill nearby.
Tourists could get there by motorbike or car easily thanks to the availability of Tuan (Tuần) Bridge. Yet, it is not a bad idea to take a boat trip from Hue city center to visit the tomb. The boat trip often includes Hon Chen (Hòn Chén) Temple and Thien Mu pagoda. Travelers should deal with those boat-owners before departing because the prices modify basing on the distance and the number of sites, yet normally it is reasonable.
Opening hours: 7:30 – 17:00
11. Gia Long Tomb (Lăng Gia Long)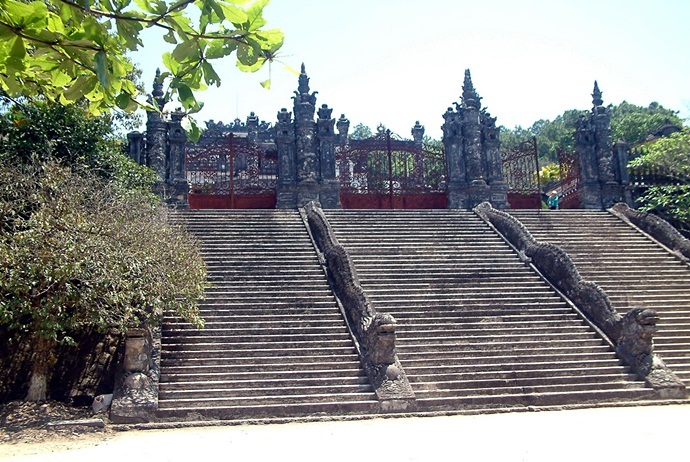 Gia Long Tomb is situated about 16 kilometers away from the city centre of Hue, right on top of Thien Tho Mountain, and on the Huong River's west bank. The construction of this tomb started in 1814 and was finished in 1820. It is located in a large land covered with a wide canopy of pine trees and has a simple monumental design. There is a lotus pond in front of the mausoleum. Behind the pond, there is a large terraced yard which is split into three levels. The first was used as the area for waiting and is now bordered by two rows of horse and elephant statues.
This tomb complex consists of three parts:
The middle: there are two separate tombs of King and Queen here. When approaching the honor court, you could contemplate stone statues. Then, after passing 7 steps of the worship yard, you will reach Buu Thanh, located on the top of the hill. Inside Buu Thanh (Bửu Thành), there is a stone according to the concept of "Can Khon Hiep Duc" (Càn Khôn hiệp đức), which is the symbol of loyalty and happiness.

The right: there is Minh Thanh (Minh Thành) temple. Minh Thanh was dedicated to the King and was the first Queen of Gia Long.

The left: there are stele pavilion relics
After visiting some Hue attractions, including Gia Long tomb, tourists could also see some other tombs like Quang Hung (Quang Hưng) Tomb, Thoai Thanh (Thoại Thánh) tomb, Vinh Mau (Vĩnh Mậu) tomb, along the paths and among the grass, wild flowers and pines.
It is said that Gia Long Tomb is a perfect destination for travelers as they will have chances to know about the history of Hue, in particular, and Vietnam, in general. Along with Ngu (Ngự) Mountain and Huong (Hương) River, some of the most well-known Hue attractions, when visiting Gia Long tomb, you will get unforgettable impression about an ancient Hue.
Opening hours: 7:30 – 17:00
12. Khai Dinh Tomb (Lăng Khải Định)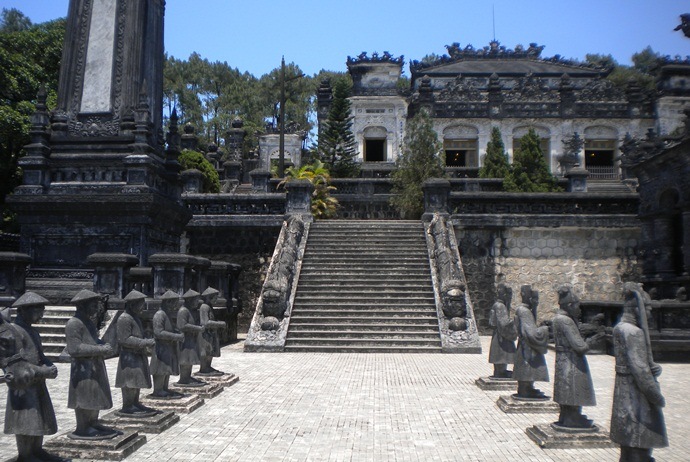 Hue attractions are various, ranging from historical, religious to educational places. Khai Dinh tomb is one of the most famous historical Hue attractions. This tomb was established from 1920 to 1931 and is situated on top of Chau E (Châu Ê) Mountain, about 10km away from Hue city centre. Settling in a large expanse of wildness, from afar, Khai Dinh Tomb looks like a spectacular and magnificent palace that is perched on the limestone mountain's slope. With just about 109 stone steps, you can access the tomb. Unlike many other construction materials used in other tombs, Khai Dinh tomb was established with the modern materials like reinforced concrete and steel. The impressive feature of this tomb is the magnificent porcelain decorations on the columns, walls and ceilings.
Though Khai Dinh Tomb is rather small in compared with others in Hue, this is the most recent as well as costly one among Nguyen royal tombs. So, it is also one of the most worth-visiting Hue attractions tourists cannot skip. King Khai Dinh chose to establish his tomb by modern materials, so its appearance is rather imposing and gray. At first, this tomb brings to observers a strong Western feel, yet when looking the landscape in the whole circumstance, it reflects traditional perceptions: a perfect combination of different factors: water, land, wood and plants. In general, it is a spectacular rectangular structure featuring with 127 steps, leaning against the majestic mountain. The tomb's side walls are formed by big sculptures of dragons. Right after climbing upstairs, you will see the house of epitaph. At the courtyard, there are statues of mandarin court (including mandarins, soldiers, horses…).
It is said that the most remarkable place in Khai Dinh Tomb is Thien Dinh (Thiên Định) Palace, which consists of bronze statues as well as steles of Khai Dinh. There are elaborate glass and porcelain designs decorated densely on walls. The most noticeable feature of the room is an intricate painting on the ceiling that illustrates nine dragons located right on the center of fleeting clouds. Within the tomb, there are a couple of statues that model the King.
All sites here are opened throughout the year. There is no fee for the entrance fee on big holidays like the National Day (September 2nd) and the first Lunar New Year day. It just takes about minutes to get the tomb from the city center by taxi and motorbike.
Opening hours: 7:30 – 17:00
13. Dong Khanh Tomb (Lăng Đồng Khánh)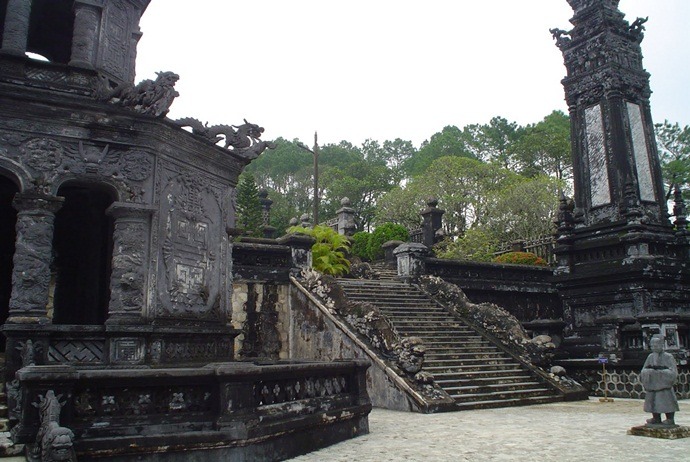 Royal tombs are main Hue attractions that every tourist should visit at least one times if have a chance to go to Hue. The next tomb for your tour in Hue is Dong Khanh Tomb which was located near Cu Si (Cư Sĩ) Hamlet, now Thuong Hai (Thượng Hai) village. The construction process of Dong Khanh Tomb met a lot of obstacle, prolonged more than 35 years and 4 different kings.
This is the smallest imperial tomb of Hue, with terracotta sculptures and French influence. The tomb actually used to be a temple in the memory of the Emperor's father, yet was reused as a grave because of Emperor's sudden death in 1889.
King Dong Khanh died suddenly at the age of 25, after just 3 years of reign. Because of his young age, he had no time to plan and establish his own imperial tomb.  Since the project of Dong Khanh was initially a temple, the Dong Khanh Tomb is the smallest of Nguyen Dynasty imperial tomb. The grounds of this tomb are composed of 20 buildings that are oriented towards the Southeast and near each other.
The temple is equipped with typical calligraphy and royal furniture. In addition to traditional aspects, Western and Eastern traits are also inspired inside the tomb. Remarkably, there are 24 drawings which demonstrate the Chinese story named "Nhi Thap Tu Hieu" (Nhị Thập Tứ Hiếu) – 24 instances of filial sons and daughters.
The tradition and culture of Vietnam is often reflected through the majority of Hue attractions, particularly through architecture.  Yet, the design of Dong Khanh tomb area was strongly influenced by Western style, from its decorative models and architectural peculiarities to building materials. The Stele Pavilion was built with tile bricks and cement, not stone.
Dong Khanh tomb is about 6km southwest of Hue city center, adjacent to the Tu Duc Tomb.
The most highly recommended means to get to Dong Khanh Tomb as well as other Hue attractions are car or motorbike, but you could also go to this destination by boat on the Huong River.
Opening hours: 7:30 – 17:00
14. Thieu Tri Tomb (Lăng Thiệu Trị)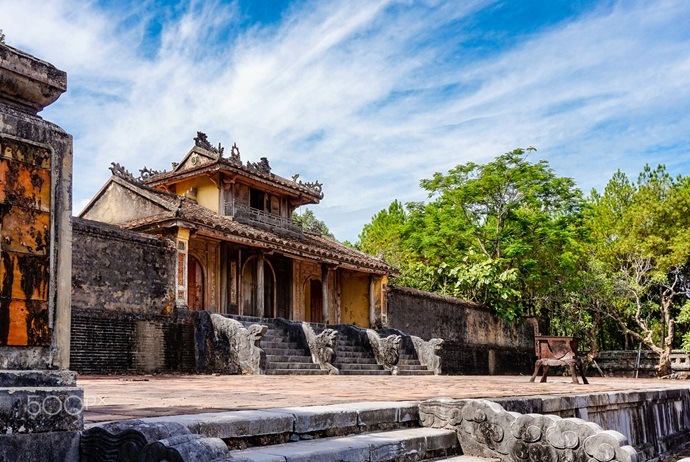 This might be among lesser known Hue attractions. Thieu Tri Tomb is about 8 km away from the city center. King Thieu Tri came to throne for about 7 years, then got sick and passed away on 1847 at the age of 41.
The imperial tomb of Thieu Tri, situated in a peaceful and quiet place, is very near the Tu Duc Tomb. This tomb was built with economic costs following the recommendations of Emperor Thieu Tri.
Started in February, 1848, after 10 months later, it was completed. The tomb itself is divided into 2 parts, including the temple area and the tomb area. Here are some details about each area.
The tomb area:
A bronze gate guides you to big Binh Dai (Bình Đài). Here, you will see two rows of stone statues on two sides of the court. These statues feature with the typical sculpture art of the first half of 19th century in Vietnam. Tourists could see Duc Hinh (Đức Hinh) and Bi Dinh (Bi Đình) tower on the tortoise-shell-shaped hill. The tomb area has three bridges, which are Tay Dinh (Tây Định), Chanh Trung (Chánh Trung) and Dong Hoa (Đông Hoà).
The temple area:
It is about 100 meters from the Duc Hinh (Đức Hinh) Tower. Passing by Bieu Duc (Biểu Đức) temple, you could access the gate named Hong Trach (Hồng Trạch). Right in the middle of Bieu Duc temple, there are tablets of both the King and Queen worshipped. Inside the major temple, the roof has more than 450 words which are engraved as poems.
Thieu Tri Tomb is really a particular architecture and nice landscape.  Moreover, in front of this tomb, there are green trees and rice fields surrounded, ranging from Huong River to Lim Bridge. So, your list of Hue attractions will not be completed without Thieu Tri Tomb.
Keep reading this list of Hue attractions to visit more must-see places in this ancient city!
15. Huong River (Sông Hương)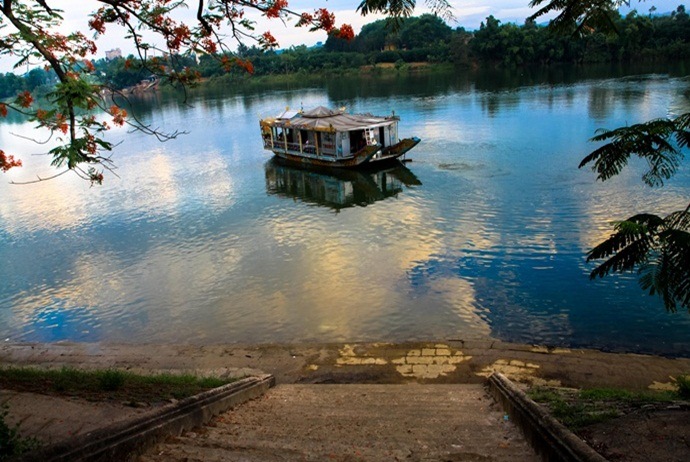 This might be the most well-known river in Vietnam and also one of the most renowned Hue attractions. Huong River is a big river flowing through the city center of Hue. It is famous for its poetic beauty. The river has a lot of names, including Linh, Dinh, Lo Dung (Lô Dung), Kim Tra (Kim Trà), Huong (Hương). Not only does Huong River have beautiful view but also great scent. Nevertheless, some people consider that Huong River flows via Huong Tra (Hương Trà) Commune, so it is the reason why its name is Huong River.
This river has two big branches flowing from the area of Truong Son (Trường Sơn) Mountain. Ta Trach (Tả Trạch) branch originates from Dong Na (Đồng Nai) and flows through 55 waterfalls to Bang Lang intersections. The other branch originates from the eastern Chan Son (Chấn Sơn) Mountain, via 14 waterfalls.
Actually, Huong River stretches over 100 kilometers, but the major river named Huong River has just 30 kilometers in length. From Lang Bang, Huong River flows slowly via villages in Hue. There are some other important branches of Huong River, which are Kim Long (Kim Long) River, Bach Yen (Bạch Yến) River, Loi Nong (Lợi Nông) River, Ke Van (Kẻ Vạn) River, Thien Loc (Thiên Lộc) River, and Dong Ba (Đông Ba) River, etc. Some rivers were built to protect the palace or irrigation for the agriculture.
Among Hue attractions, Huong River has a special meaning. It is associated with the cultural life of Hue locals. All traditional culture forms like ca Hue, row skiff racing are intact. This river has a unique role in the music life of Vietnamese as it has inspired to artists to compose poems, famous songs, and pictures.
In the dynasty of Nguyen, King Thieu Tri considered this river as one of 20 famous landscapes in Vietnam. The poem named "Huong Giang Huong Phiem" was carved in the stone stele on Huong River's bank, near Phu Van Lau (Phu Văn Lâu). Until now, this stone stele is still preserved.
Along with Ngu Binh (Ngự Bình) Mountain, Huong River is the symbol of the ancient city of Hue forever. Some people said that Huong River is considered as one of the most beautiful and romantic rivers worldwide.
16. Ngu Binh Mountain (Núi Ngự Bình)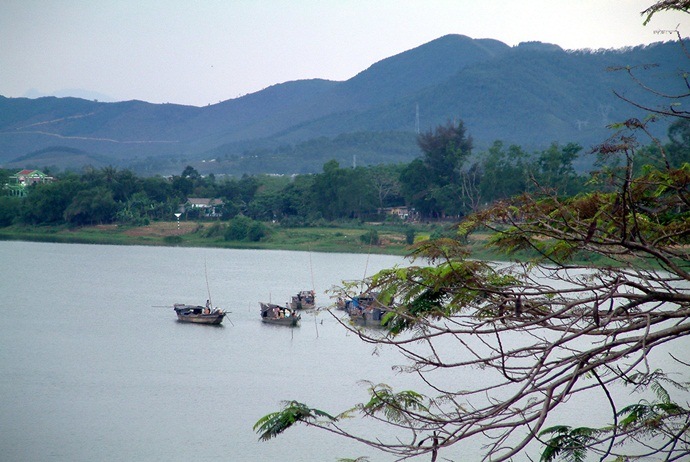 Also known as Ngu Mountain or Bang Mountain or Hon Mo, with about 103 meters in height, Ngu Binh Mountain is located on the right side of the bank of Huong River. From the city center of Hue, it takes about 4 km to the south to get this mountain. Two sides of the mountain have two small mountains, which are Huu Bat Son (Hữu Bật Sơn) and Ta Bat Son (Tả Bật Sơn).
Together with Huong River, Ngu Binh Mountain is the present of the Mother nature for Hue. This mountain along with Huong River becomes the symbol of Hue's beauty. Vietnamese often call Hue as the region of Huong River – Ngu Mountain.
A long time ago, visitors often come here to witness the spectacular scenery. On nice days, from Ngu Binh Mountain, you could contemplate the entire city with ancient pagoda, sparkling palace, and Huong River. From the east, white sand-bank of the beach named Thuan An (Thuận An) along with the blue color of East Sea creates the wonderful picture that will impress nearly every tourists coming here.
Vong Canh Hill, one of the most famous Hue attractions is far about a few kilometers from Ngu Binh Mountain. From this hill, you could observe fruit trees like Areca catechu, Longan, orange, and so on blend with the roof of pagoda, temple and tombs. Huong River is considered as a band silk. Most noticeably, in the morning or sunset, standing on this mountain, people can feel the poetic beauty of Hue.
17. Tu Hieu Pagoda (Chùa Từ Hiếu)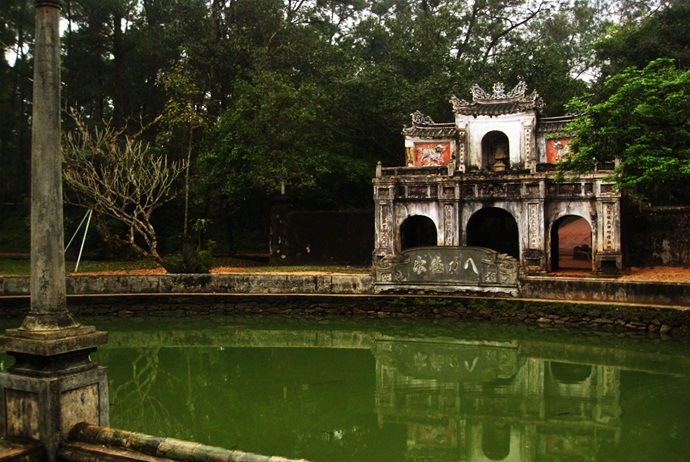 Nestled in the pine forest, Tu Hieu Pagoda was established in 1843. It is associated with Zen master Thich Nhat Han (Thích Nhất Hạnh), who studied at the monastery 1940s, yet lived in exile for over 40 years, and was just permitted to return to Vietnam in 2005.
Nowadays, 70 monks reside at this pagoda. They are friendly and if you time it right, you could meet up with those cherubic lads, who are eager to speak English.
The outdoor of the pagoda is breathtaking. The entrance was established with dome and has two colossal statues guarding the major gate of the pagoda. In addition, there is a lotus lake. At two sides of the pagoda, there is a stone stele to help record the process of building this pagoda. From building to renewing, Tu Hieu pagoda is the destination where people could throw away all hard things in life.
The interior is dedicated as a place of serenity and worship. On the second hang, a statue of the guardian spirit Ho Phap (Hộ Pháp) protects this pagoda. When visiting here, you could listen to monks' chanting (everyday at 4.30 am, 10 am, noon, 4pm, and 7pm. It just takes 5 kilometers for you to take to Tu Hieu Pagoda from the centre of Hue.
18. Thanh Toan Bridge (Cầu Thanh Toàn)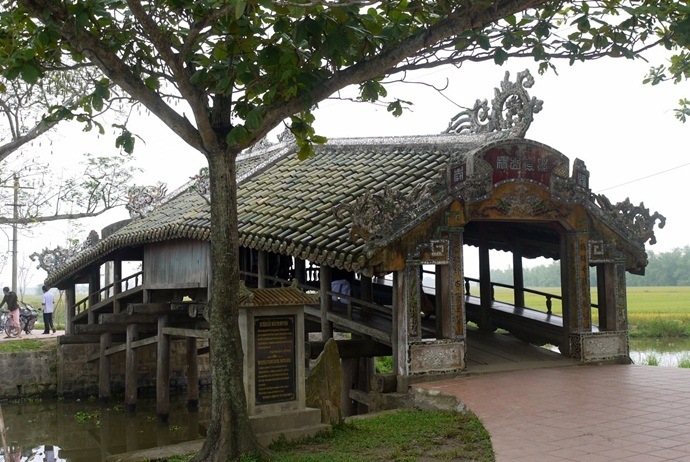 Thanh Toan Bridge is the sister bridge of the famed Japanese bridge of Hoi An (Hội An). This bridge is arguably much more distinct as it has both Japanese and Chinese features, with rare squared timber arch dotted with ancient ceramics. This bridge is hard to find yet the countryside trek is really worth it.
Thanh Toan tile-roofed Bridge is about 18.75 meters in length and 5.82 meters in width. On both sides of this bridge, you will see rows of wooden platforms and parapets for visitors to lean against. Thanh Toan Bridge was often used as a place for relaxing for villagers after hard field work or tourists after sightseeing.
The thing that makes an interesting diversion of Hue lies in the classic covered Japanese footbridge put in picturesque countryside. From outside, this bridge looks like a house. The main decoration of the bridge is on its roof with patterns of "turtle, dragon, turtle, and phoenix". The tile-roofed Thanh Toan Bridge is not just an ancient architectural construction with highly cultural and historic value but also one of well-known Hue attractions. Similar to most of other historical Hue attractions, Thanh Toan Bridge has been ruined a lot of times by floods, storms, and wars. Nevertheless, each time this bridge was damaged, the locals always repaired, renovated and preserved it well as the result of their high awareness of historical relic perseverance and their gratitude to its respectful founder.
Particularly, because there are various festivals celebrated in Hue every a couple of years, like Hue Festival or Festival of rural market. During that time, Thanh Toan tiled bridge has picked up thousands of visitors.
Thanh Toan Bridge spans a canal in the suburb about 7 kilometers east of the city of Hue. You could go there by hiring a motorbike, a bike or a taxi. Whatever means you choose to travel, your trip will definitely take you through a peaceful and beautiful rural landscape. The bridge itself is renowned to have been established in the time of King Le Hien Tong (Lê Hiến Tông) right in the mid 18th century.
The next Hue attractions will not let those people who want to escape from hustle and bustle life of busy cities for a while. Take a look!
19. Elephant Springs (Suối Voi)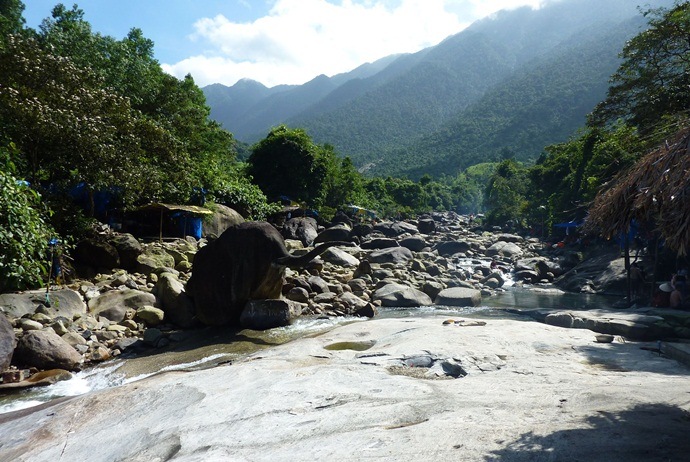 Far away about 53 km from the city center of Hue, the Elephant Springs is a great natural spring which is worth visiting for both domestic and international tourists. On those hot days, tourists can relax on the natural pool below the waterfall. You could sluice yourself down the rocks at the base of the falls. There are a lot of spots upstream to discover. The place could be rather deserted on the days during the week and during off tourist season. So, if having to opt for a choice among Hue attractions to enjoy relaxation and some privacy, it is a good idea to go for Elephant springs, yet not so great when it comes to getting some drinks and food because the food stalls here are just open on peak days. When these stalls are open, you could much on roasted chicken and a cold beer whilst you are wallowing in the water. When the stalls are not open, you should pack a lunch to bring along. It is not too difficult to get to, yet it is a good idea for you to hook up with a guide.
20. Hue Royal Court Music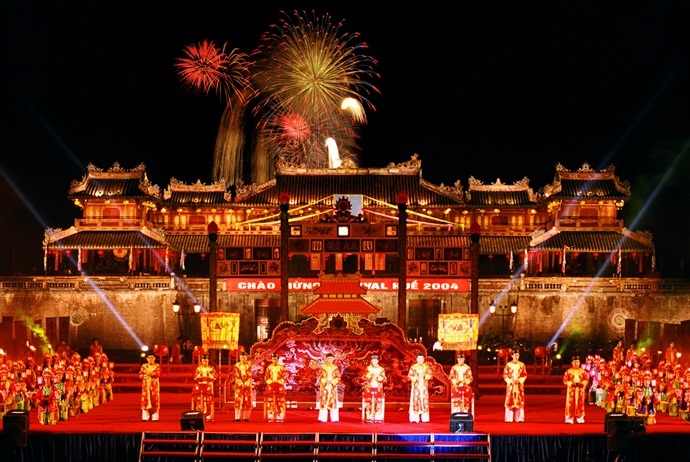 When it comes to Hue attractions, Hue Royal Court Music is a destination majorly for relaxing. The most form of traditional music in Hue is "Nhã Nhạc Cung Đình Huế". "Nhã nhạc" means elegant, referring to a broad range of dance and musical styles performed at the Vietnamese royal court from 15th to 19th century. Generally, Nha Nhac was generally featured at both the opening and closing ceremonies associated with celebrations, anniversaries, religious holidays, funerals, coronations, and official receptions. Nha Nhac plays a really important role in Vietnamese traditional music heritage and is the indispensible core of the court affairs. Besides, it serves the entertainment need of the King, the court professional, royal family, scholarly and classical music. This form of music was reckoned as the official music of Vietnam, of the authority, and respectfully performed in the royal life. Thus, it strongly reflects the spirit life and the will of royal dynasty, like art, culture, low, power, regional trend, and even the ideology aesthetics, etc.
21. Lang Co Beach (Vịnh Lăng Cô)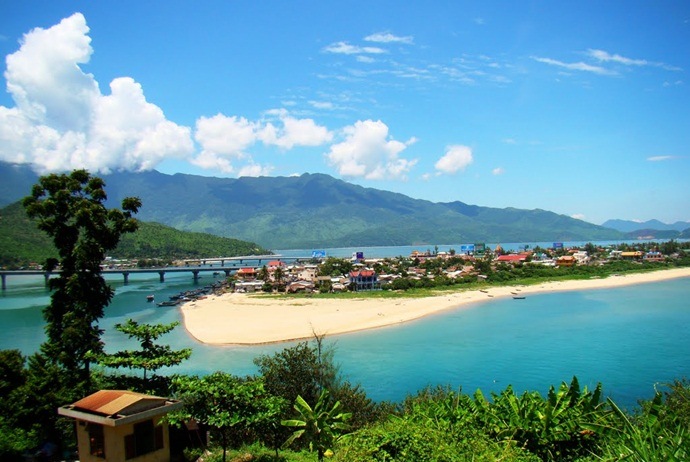 Lang Co beach stands out from other Hue attractions due to its natural view. Belonged to Lang Co (Lăng Cô) Commune, Phu Loc (Phú Lộc) District, Thua Thien Hue province, Lang Co Beach is one of the most worth-visiting Hue attractions tourists should not skip. The beach is situated along the side of the National Highway 1A, a little far in compared with other Hue attractions. It is far approximately 24 km from Bach Ma (Bạch Mã) Mountain and Hai Van (Hải Vân Pass.
Lang Co is located between 3 cultural heritage centers: Hoi An Old Quarter, Hue ancient capital and My Son Sanctuary with the radius approximately 70 km. This destination has attracted a large number of travelers and researchers worldwide.
Lang Co is on the North-south tourist route and about 30 km far away from Da Nang, 70 km far away from Hue City.
Located on Hai Van Mountain's foot, Lang Co includes sand bank near the coast of 1.5-10.5 meters in height. Next to the coast is the dune with the height of about 5-23 meters, lasting for 8-9 km. The natural slope is from 0.005% to 0.05%. On Phu Gia (Phú Gia) Mountain's foot base, there is a dune with the slop of about 20 to 30%. In addition, in the south-west and west, there is Lap An (Lập An) lagoon as well as valleys.
Having tropical monsoon climate, the region of Lang Co channel is also affected by land wind and ocean wind. The average temperature of this area annually is 25,20C with the peak moment from June to July, of 41,30C and the coldest moment in December, of 8.80C.
Lang Co previously was called as "An Cu" (An Cư) by the French. Nowadays, this name remains. Some people said that Lang Co beach had many storks before so that it is also known with the name of "Stork village", but locals here often call "Lang Co" after that. This beach is famous for its natural landscape. A long time ago, this beach has been well-known as the most beautiful natural landscape in Vietnam with white sand and clear blue water along with tropical forest on mountains.
Among Hue attractions, this might be the most favorite destinations for people who want to relax themselves with wind and waves. Stretching about 8 km, this beach is suitable for diving, swimming and relaxing. The underwater life of the beach is diversified, with coral and lobster and a lot of valuable fishes. In this area, there is Son Tra islet, which preserves a large number of wild flora and fauna. Behind the beach, you will see Lap An lagoon and Bach Ma mountain. These elements make Lang Co beach one of most interesting Hue attractions, in particular, and Vietnam's attractions, in general. It is very potential for promoting a lot of types of tourism model, such as diving, vacation, researching about wild fauna, and so on.
On nice days, standing from Lang Co beach, you could contemplate the spectacular scenery of Bach Ma national garden. Along the National Highway No.1, from Hue to Da Nang, about 60 km from the city center of Hue, between Chan May Dong (Chân Mây Đông) and Chan May Tay (Chân Mây Tây), there is also a beach and an ideal site: Canh Duong (Cảnh Dương).
In fact, Lang Co gathers a variety of tourism resources like sand-bank, coast, lake, lagoon, mountain, spring, Hai Van pass, historical relic and Bach Ma forest. They create the diversify tourism products of Hue. Being blessed with the beautiful scenery between the beach and the mighty mountain, Lang Co beach is recognized as a natural beautiful bay in the whole world. In 2009, Thua Thien Hue, Vietnam received the title "Lang Co – beautiful beautiful bay of the world" confirmed by the confidential tourism organizations worldwide.
Covering an area of 14.000 m2, this site is really a perfect combination of pristine mountain and immense space. There is a resort at Lang Co beach, which was established on oriental architecture with pagoda, garden house style and temple. This resort is opposing to beach and is considered as the real heaven paradise. To be honest, the first impression about Lang Co beach is not just poetic view but also specialties of lagoon area, like cuttle-fish, shrimp, crab. Most noticeably, Arca in Lang Co nowadays becomes the famous dish that tourists coming here cannot skip trying this tasty dish.
22. Phu Van Lau (Phu Văn Lâu)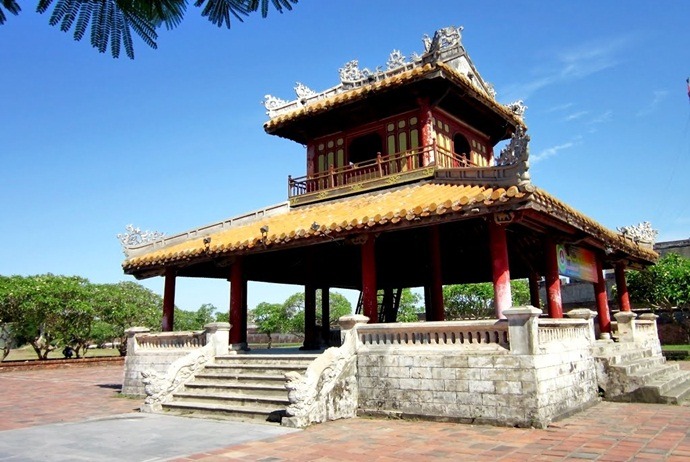 The list of Hue attractions will be a little bit boring without Phu Van Lau. Located in Phu Hoa Ward, Hue city, Phu Van Lau is near Huong River's northern bank, belongs to the Hue ancient capital complex: Thai Hoa (Thái Hoà) palace – Ky Dai (Kỳ Đài) – Ngo Mon (Ngọ Môn) – Phu Van Lau (Phu Văn Lâu) – Huong Giang (Hương Giang) – Nghinh Luong Dinh (Nghinh Lương Đình) – Ngu Binh (Ngự Bình).
This site listed announcement of court for all locals. It is the mandate of King or outcome of competition. Besides, this place also celebrated many events for the whole country like the representation of King, the public and cadres.
For about 190 years, Phu Van Lau was restored 10 times, but the original architecture still remains up to now.
Phu Van Lau is 11.67 meters in height, and has 16 dark red columns (4 columns throughout 2 floors, 12 small columns). The floor is surrounded by banister system.
The space in downstairs is entirely empty. Phu Van Lau is really a beautiful art of Nguyen Dynasty, a unique heritage of Hue ancient architecture complex.
23. Tam Giang Lagoon (Đầm Tam Giang)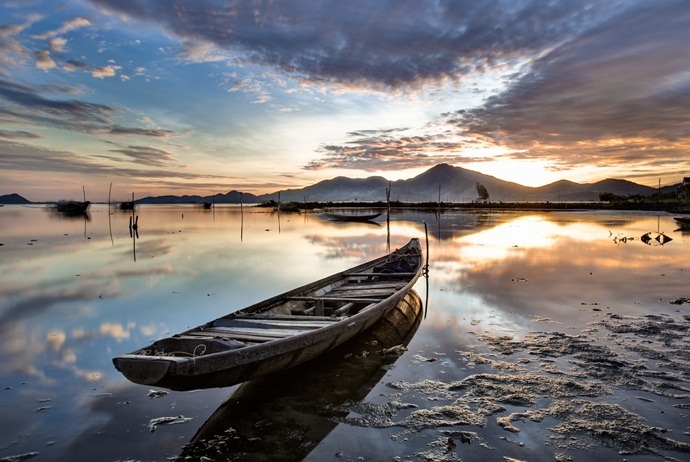 The last one in this list of Hue attractions is Tam Giang Lagoon which is about 24 kilometers in length and covers an area of 52 km2. Belonged to Phong Dien (Phong Điền), Quang Dien (Quảng Điền), Huong Tra (Hương Trà), Thua Thien Hue province, Tam Giang Lagoon stems from Thuan An (Thuận An) harbor. Here, small boats sweeps on the river named O Lau, along the lagoon length. Passing over 15 km of fields and bridges along the lagoon, you could reach Thai Duong Ha village. Then, after traveling by boat for 30 minutes, you come to the island on Tam Giang Lagoon, in which there is an ancient village named Thai Duong.
Actually, a visit to Hue is said to be not completed if without a tour to Tam Giang Lagoon. If the ancient city of Hue is bashful like a graceful and charming girl, Tam Giang Lagoon is endowed with pristine as well as handsome features like a would-be suitor.
The most beautiful moment on this lagoon is at sunset when the sky turns supple. Tam Giang local people survive thanks to catching shrimp and fish. Males will go fishing offshore. Before the sun breaks over the horizon, they have to collect shrimp and fish from traps. At dusk, they reset nets and traps. At the same time, females toil to catch calm and oysters because they have to soak their own body in the water for a few hours in order complete their work.
Under late sun rays of the day, some children in old costumes frolic in shallow water while others tie their dad's boat and go for a swim.
The lagoon itself is also home to a lot of birds' species and various fauna and flora species. It is also like a huge air-conditioning area, contributing to present storms in Hue. Locals call Tam Giang – Cau Hai (Cầu Hai) an unopened treasure.
When coming to lagoon, I bet that tourists could not leave without sampling some fresh seafood in the cottages along lagoon, like clam, shrimp, fish and crab.
If you want to visit Tam Giang Lagoon, consider Tam Giang Eco tours in Thua Thien Hue province. Such tours help connect you with the locals and supply you with some basic services and guiding information about this region, not try to change or affect the daily routine in this area. You also have chances to discover the value of a simple life, help you escape a little bit from the stressful life of busy cities to different atmosphere of rustic, peaceful landscapes and allow you to get closer to the nature as well as friendly locals. When joining such tours of Hue attractions, you could join your hand to help the local community to maintain their culture and tradition, and share the happiness to local people.
Some great experiences you could get from the Tam Giang Eco tours could be various. You can see farmers working hardly on beautiful rice fields, children riding on buffaloes or plays fun games together on the green grass carpets, and local people doing daily activities, hand washing, poultry and feeding castles.
Yet, in order to get the best experiences possible, you should bring some necessary things along with your trip, which are sunglasses, cloths, insect repellent, or swimming suits if you want to join in swimming activities or do fishing.
Well, there you have checked out all worth-visiting Hue attractions. Actually, Hue has much more tourist sights than any other place in Vietnam. Yet, when it comes to visiting Hue attractions, it is about how you travel rather than how many places you tick off.
In the limited frame of this "Hue attractions" entry, we just can list down some of the most noticeable ones. If you have any other contributing idea about this topic, feel free to drop your words below the post. We will feedback as soon as possible.