Photo Of Da Lat Landscapes By Vina.com
Updated: 11/22/2019
Are you planning to visit Da Lat and wondering which Da Lat attractions to visit first?
Da Lat is the central city of Lam Dong province, Viet Nam. With a height of 1500 meters above sea level, the weather in Da Lat is cool and an ideal retreat in the south of Viet Nam. With its cool climate, beautiful landscapes, dreamy forest and waterfall pool along with year round blooming flowers, Da Lat has long become a place gold on Vietnam tourism map. If you love traveling and are planning to travel Viet Nam, then do not skip Da Lat as a stop in your journey. To help you have more ideas about what to see when visiting the city of thousands, here we introduce distinct and seductive Da Lat attractions in Vietnam. Let's discover the most famous, romantic, and peaceful Da Lat attractions!
1. Langbiang Mountain (Núi LangBiang)
Langbiang Mountain, one of the must-see Da Lat attractions in Vietnam, is situated on Lang Biang Plateau, Lac Duong district, Lam Dong province. This is only approximately 12 km far from Da Lat centre and sometimes named Lam Vien Mountain (núi Lâm Viên) as well. Legend says that the Langbiang name was originated from the name of a couple who were deeply in love with each other – the man named K'lang and the woman named Ho Biang. Langbiang contains the two highest peaks of Lam Vien highland (Cao nguyên Lâm Viên) and one of them is usually regarded as the roof of Da Lat. The mountain is well-known for its wonderful nature and its marvelous view of the whole wide region of Da Lat City, the rivers, the forest, and houses of tribal people.
When visiting Langbiang Mountain, you could enjoy a lot of interesting activities, such as camping, bird-watching, exploring the natural flora and experiencing the great but unique culture of the ethnic minority groups. These recommended activities are really great for tourists coming to Langbiang. In addition, this mountain is also an ideal destination for adventurous activities such as conquering high peaks, mountain climbing, trekking and paragliding. Most interestingly, the so-called 'Thung Lũng Trăm Năm" – "Hundred-year valley", which situates at the mountain's foot is thought as an ecological and entertainment tourist site.
Opening Hours: All year round
Location: Biang Plateau, Lac Duong district, Lam Dong provinceList item 3
2. Da Lat Station (Ga Đà Lạt)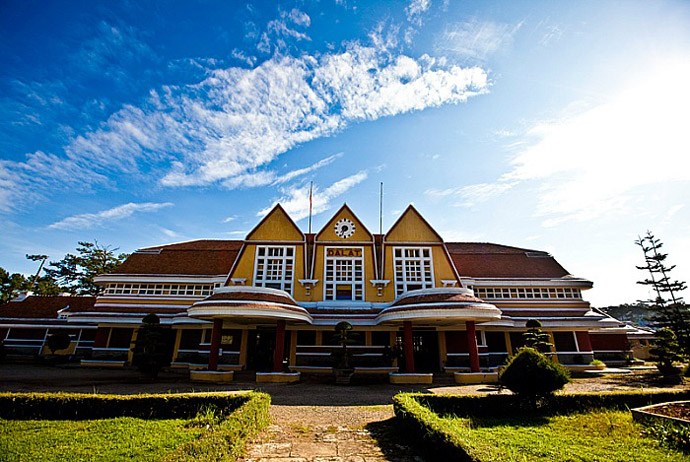 The next one in regard to famous Da Lat attractions is Da Lat Railway Station, which is recognized as a historic culture by Ministry of Culture – Information of Vietnam. This is also one of the tourist hotspots in Dalat.
Da Lat Railway Station was a train station of Da Lat's city. This is reckoned the oldest station in Viet Nam as well as Indochina. The station was built by the French from 1932 to 1938 and is the railhead of the Railway Phan Rang-Da Lat, about 84 km in length. The station has a unique architectural style, with three conical roofs, which are the stylization of three Langbiang mountain tops or the hollow of mountain Highlands. The station is currently a hotspot attracting tourists. Now, the only route that is still serving tourists is the route "Dalat – Trai Mat" (Trại Mát) (7 km in length) taking visitors to Trai Mat, and Linh Phuoc (Linh Phước) Pagoda.
Location: Nguyen Trai Street, Ward 9, Da Lat city
3. Linh Phuoc Pagoda (Chùa Linh Phước)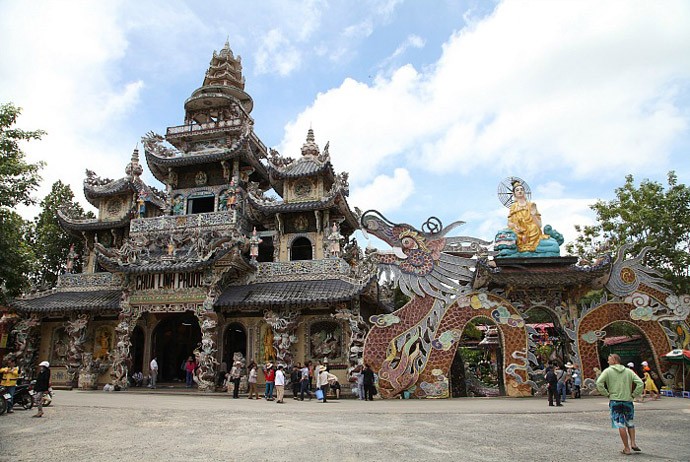 About 8km far away from Da Lat city, belonged to Trai Mat area, near the 27 Highway to Phan Rang, built around 1949-1952, Linh Phuoc Pagoda is among famous Da Lat attractions that tourists often mention to. The pagoda is very sacred, which is suitable for people who want to go to worship and sightseeing. This pagoda is also known as Bottle pagoda as in the yard of the pagoda there is a 49m long dragon made of 12000 bottles of beer. Linh Phuoc pagoda is an excellent mosaic – glazed terra-cotta architectural work of the Da Lat city. There are lots of stalls around to buy drinks, food, and souvenirs. In general, this pagoda is a drive out of Da Lat yet definitely worth going to see. The monks inside the pagoda will show you how to follow the tradition of writing a wish on a piece of paper and sticking it to the centre of the bell. Tourists can ring the bell 3 times in order to send the wish to Buddha.
Opening Hours: daily from 09:00 – 17:00
Location: 120, Tu Phuoc (Tứ Phước) street, Da Lat
The next Da Lat attractions that we are going to introduce below will not let you down! Trust me!
4. Xuan Huong Lake (Hồ Xuân Hương)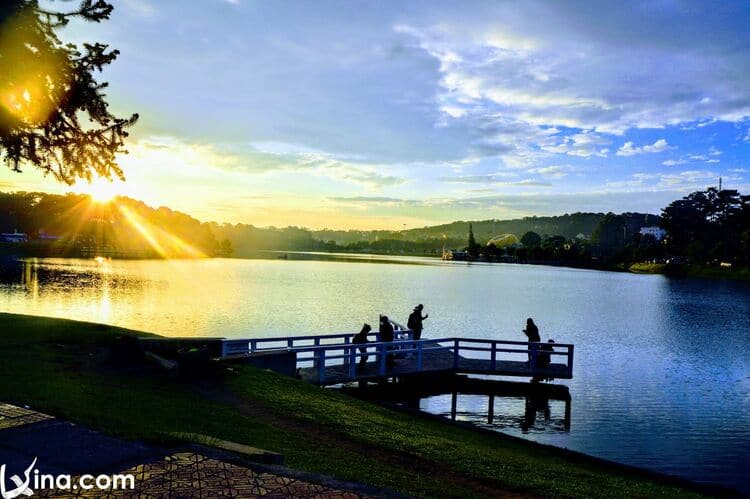 Da Lat Landscapes By Tuyet Thi Nguyen
At the very heart of Da Lat City, Xuan Huong Lake adds character to a beautiful town like Da Lat. This man-made lake has become a major landmark when it comes to romantic Da Lat attractions. Used to be the site in which a lot of indigenous people of Langbiang highland inhabited, the lake supplies a good focal point to the city and is a valuable landmark when you get lost on your wanderings. Interestingly, this is a man-made lake and is nowadays the most beautiful lake of Da Lat, giving this romantic city an invaluable gift of having a lake right in its centre.
The crescent-moon-shaped Xuan Huong Lake covers an area of about 43 ha, stretching via some other attractions like the Da Lat Flower Park as well as Cu Hill. The lake's surface is as smooth as mirror, which reflects the romantic scenery of Da Lat with meadows, pine forests, and gardens. Visiting here, you could not only enjoy strolling along the lakeside but also taking a rest under the conifers, pedal-boating on this lake whilst admiring the great architecture of Thuy Ta Pavillion. It is very easy to get there on foot if you opt for staying in the surrounding area. For having more interesting experience, you could rent a tandem bike to wander around this lake. This will bring to you such a great moment! Xuan Huong Lake is best for couples and families.
Opening Hours: All year round
Location: City Center, Da Lat
Keep reading this list to discover other famous Da Lat attractions that tourists absolutely should not skip!
5. Domaine De Marie Church (Nhà Thờ Domaine)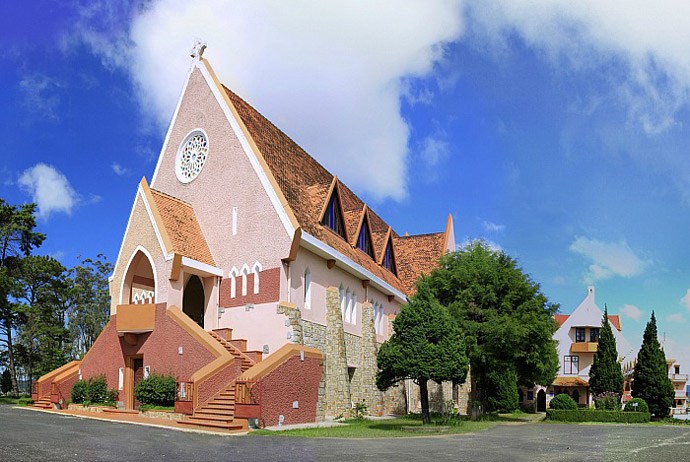 The style of this work is strongly affected by the architecture of churches in Normandie region of France, built in 1940-1943. This is a next spot in the list of Da Lat attractions that tourists cannot overlook. The special points when you visit the Domain church is not only purely enjoying the scenery there but also making meaningful things. The church itself has excellent architecture with gardens, surrounding parks, which are very unique. Yet, in there, you could donate or go to the book houses for buying books to support orphans, disabled disabilities, and give a helping hand for sisters here to do charitable work.
Opening Hours: daily from 09:00 – 17:00
Location: Ngo Quyen (Ngô Quyền) Street, Ward 6, Da Lat
6. Cam Ly Waterfall (Thác Cam Ly)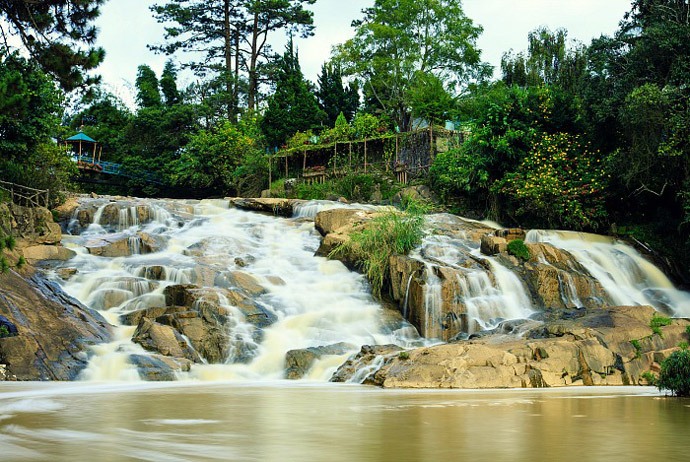 Cam Ly waterfall is situated at the end of Hoang Van Thu Street, which is 2 km far from the center of the city. This is made up of Cam Ly stream formed by the confluence of a small stream on the Langbiang Plateau, winds in the area of Da Lat, passing Than Tho Lake. Cam Ly Waterfall is noisy and aggressive and deserved to be cannot-be-overlooked Da Lat attractions. Water flows softly and gently via the granite cliffs that is similar to the hair of a young girl. This waterfall is approximately 10 meters in height. Despite it is not as spectacular as other waterfalls in Da Lat, it still has its own beauty and is unmistakable. There is a bridge crossing the stream above the waterfall, helping you travel from one side to the other side of the stream. And, at the foot of that waterfall, you will discover a small flower garden. Especially, spectacular waterfall associated with the great surrounding hill has strongly created an unforgettable scene in the tourists' heart. In 1998, Cam Ly waterfall was widely recognized as a National-level Cultural historical heritage.
Opening Hours: All year round
Location: Hoang Van Thu (Hoàng Văn Thụ) street, Ward 5, Da Lat
7. Datanla Waterfall (Thác Datanla)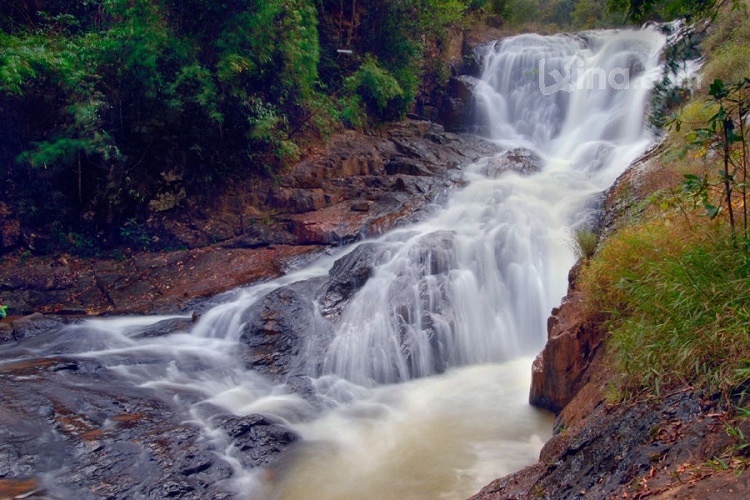 Photo Of Da Lat Landscapes By Vina.com
Datanla cataract is considered as one of the most wonderful Da Lat attractions with deep and much flow waterfall. This makes the sound of the water falling exciting and thunderous at the same time. This waterfall is located near at the natural place, which is very wonderful, full of green pines – a forest of over 100 years.
Datanla cataract, featuring with a 20-meter drop, contains several wooden bridges to cross from one side to another side, and to observe from the above of the waterfall.
Opening Hours: All year round
Location: A few kilometres south of Da Lat and three kilometres from Prenn Falls
8. Valley Of Love (Thung Lũng Tình Yêu)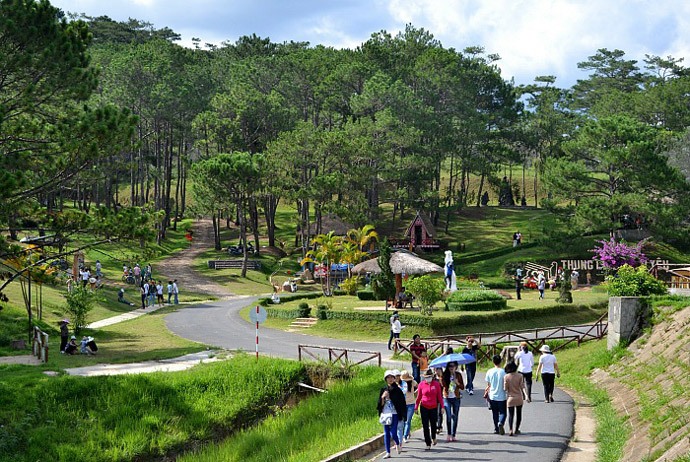 Valley Of Love – one of must-see Da Lat attractions in Vietnam, is a very romantic destination for couples. Indeed, this is popular with Vietnamese newlyweds. The valley has the poetic landscapes and a lot of interesting activities and games. Some people even bring hammocks here and spend their time on reading, napping, and people watching. It is really relaxing place, which caters for all. The valley of love is about 5 km far away from the center of Da Lat, to the North.
Opening Hours: Daily from 6 am – 5 pm
Location: On Phu Dong Thien Vuong (Phù Đổng Thiên Vương) Street, about 5km north of the city centre
9. Mong Mo Hill (Đồi Mộng Mơ)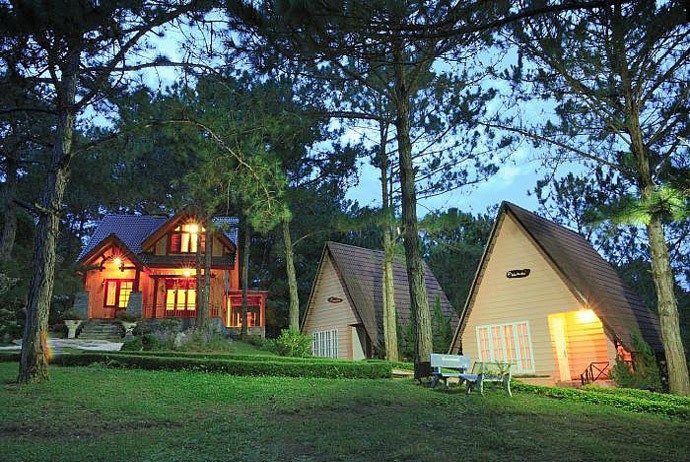 Mong Mo Hill – "Dreamlike Hill" – is a very nice park with large beautiful territory of 12 hectares. It is situated from the North of the center of Da Lat only 4 km on the way to Valley Of Love. This is a poetic landscape of Da Lat, of which even its name also speaks of "poetry". Some people call Mong Mo Hill is a resized version of Da Lat. In essence, among Da Lat attractions, Mong Mo Hill attracts visitors by its beauty of nature; pine-tree hills. It is a new resort built recently, with an artistic arrangement of pools, villas, restaurants, souvenir area, and amusement parks – all of them create such a closed resort, which is very attracting to visitors. Going to Mong Mo Hill Resort, tourists not only enjoy thousands of blooming flowers in such an attractive romantic atmosphere but also can create extremely interesting experiences with various tourist services here, like stone inserts floral art, restaurants, lakes, gold waterfall, sport zones, souvenir shops and leisure centers.
At Mong Mo Hill tourist area, there is a restaurant of Happy, which can accommodate up to 400 guests, and has extensive and attractive menus. In addition, at this resort, visitors could enjoy both barbecue with pipe wine and Cong Chieng Highland performance. People here are very friendly. Indeed, Mong Mo Hill Resort, which is really a unique tourism product, has strongly contributed to the nuances of the landscape as well as local people; thus, visitors should not skip it when visiting Da Lat. Despite it is a new-born tourist attraction, Mong Mo Hill has soon become one of the most popular attractions for tourists when coming to this City of flowers.
Opening Hours: All year round
Location: 05 Mai Anh Dao (Mai Anh Đào), Da Lat
10. Lake Of Sighs (Hồ Than Thở)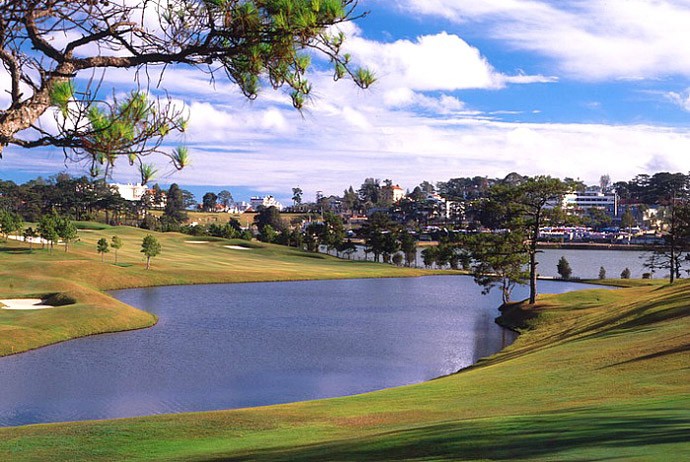 The Lake of Sighs, or "Ho Than Tho" in Vietnamese, is named basing on a few sad tales of lovers. Originally, it was a natural lake yet was enlarged by the French as a dam. Despite the name brings such unhappy connotations, the Lake of Sighs is considered as a popular destination for Vietnamese, particularly young couples. Motorboats and paddle boats take couples out and away on the lake. Also, there are horse and horse-drawn carriages to be rented too.
Opening Hours: All year round
Location: Northeast of city, along Ho Xuan Huong Road
There, you have discovered 10 out of Da Lat attractions in Vietnam, for the next 10 ones, continue reading!
11. Linh Son Pagoda (Chùa Linh Sơn)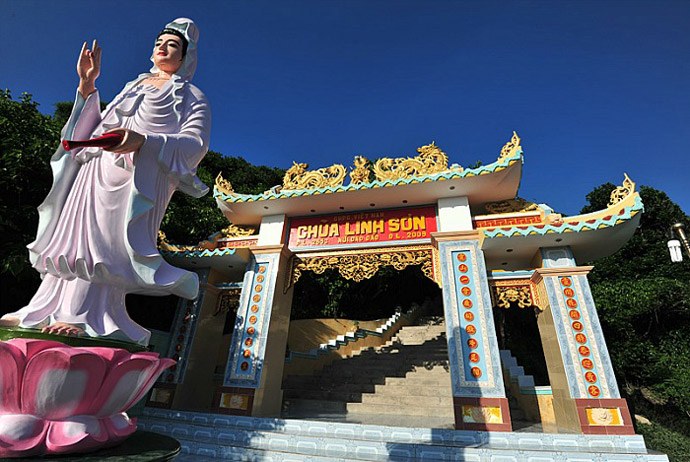 For those who want to visit non-touristic worship Da Lat attractions, then they should try Linh Son Pagoda. It is more likely a neighborhood site than a tourism destination. Situated on the hill overlooking Da Lat, this pagoda offers visitors contrasting views of the busy town on one side and the tea and coffee plantations of the temple on the other side. Visiting here, you might often see monks working in the fields, particularly during the coffee and tea harvesting season.
Opening Hours: daily from 09:00 – 17:00
Location: Not far from the center of Da Lat city
12. Da Lat Flower Gardens (Vườn Hoa Đà Lạt)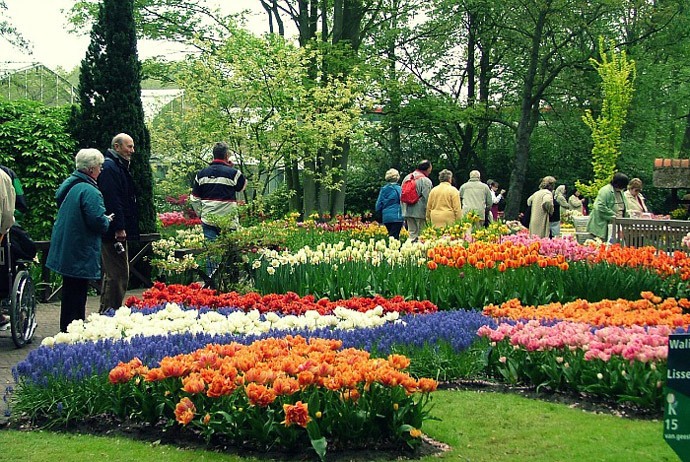 Once visiting "the city of thousands of flowers" – Da Lat, it would be a big mistake for visitors to skip its collection of flower gardens. Actually, it is difficult to separate Da Lat and flowers from each other because this city is well-known for its variety of colorful plant species and flowers. Annually, it has its own famous flower festival, which has been very popular with domestic visitors. Built in 1966, the series of gardens are on the northern side of Xuan Huong Lake, right in the heart of this city and cover the area of approximately 7,000 sqm.
Hydrangeas, orchids, mimosas, pansies, and peach blossoms are some of the 300 different types of common flowers displayed in these parks along with a lot of other exotic flowers. Tourists could also purchase beautifully arranged bouquets right at these gardens.
Location: North of Xuan Huong Lake, at the top of the Top-peg hill.
13. Da Lat Market And Da Lat Night Market (Chợ Đêm Đà Lạt)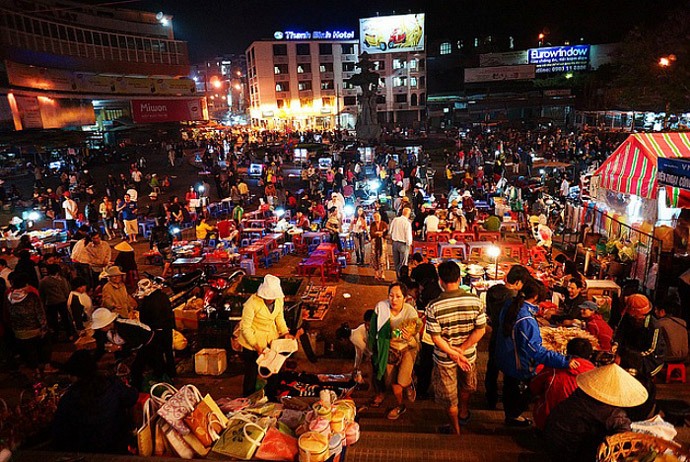 Among Da Lat attractions, having a night shopping at Da Lat Night Market is really worthwhile. The Da Lat Night Market represents the heart of the city of thousands of flowers, situated in the city centre. When visiting this market, you will find fresh local produces like artichokes, vegetables, dried fruits, and lots more.
Visitors should also have a taste of hot grilled rice crepes (local name "Bánh tráng nướng") in the chilly atmosphere of Da Lat, or some other grilled foods. These foods taste amazing in such a chilly atmosphere and leave you unforgettable culinary experience.
In the evening, the roads around this market are closed to traffic, and this market nearly spills on to the surrounding streets.
Location: Nguyen Thi Minh Khai (Nguyễn Thị Minh Khai) Street, Da Lat
14. Bao Dai Summer Palace (Dinh Vua Bảo Đại)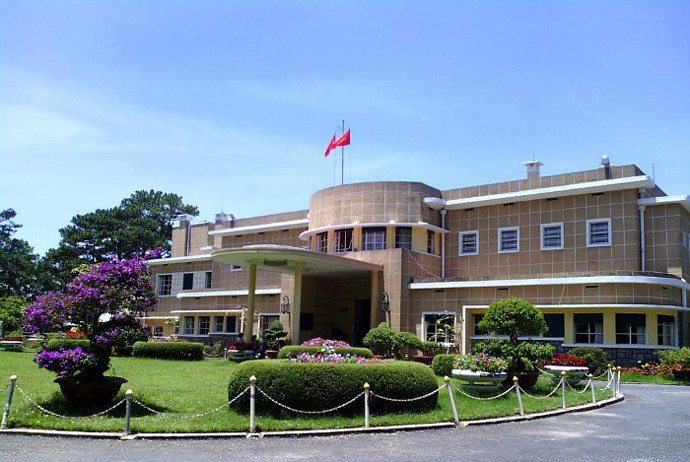 Really, regarding to famous Da Lat attractions, this city of love not only attracts travelers due to its charming landscape and comfortable weather, but also the quantity of French architectures, typically the antique villas. And, the most famous is Bao Dai's Summer Palace. This palace was built in the period of 1933-1937 under the dynasty of King Bao Dai who was the last king of Vietnam feudal court. Also known as Palace Number 3, Bao Dai Summer Palace's design is striking, though it is in serious need of restoration and the once-modern interior is distinctly scruffy, with chipped furniture and tatty net curtains. Visitors can easily get Bao Dai Summer Palace in just a few minutes from Da Lat central market by taxi. The opening time is from 7-11am and 1.30-4pm. There is an additional fee for bringing camera inside, apart from the entry fee of US$1. When visiting here, shoes must be removed at the door.
Location: Trieu Viet Vuong (Triệu Việt Vương street, near by Crazy house, Da Lat
15. Tuyen Lam Lake (Hồ Tuyền Lâm)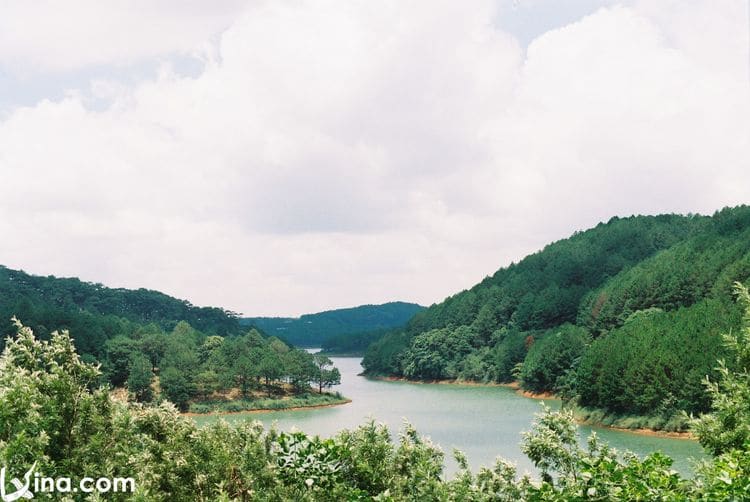 Da Lat Landscapes By Giang Minh Tong
Tuyen Lam Lake is a man-made lake in Da Lat city and about 6 km south of the city center. The Tuyen Lam Lake has water surface of 350 hectares. It is told that Tuyen Lam Lake was naturally created by Tia (Tía) stream – the head water of Da Tam (Đa Tam) River. In reality, no one knows when and why it was called Tuyen Lam, yet perhaps due to the grandiose nature around it – forest and stream were close each other. Tuyen Lam is said to be a place for tree and water meeting each other. This lake along with its campus has fresh air, tranquil atmosphere, and natural landscape (including forests, mountains, lakes, streams, waterfalls). Tuyen Lam Lake has become a big tourist attraction with the unique kinds of tourism like sight – camping, seeing, health caring, mountain climbing, trekking, fishing, and many other activities for recreation and sport, particularly eco-tourism. Tuyen Lam Lake was recognized as a Cultural historical heritage in 1998. So, if you want to visit such an ideal destination for relaxing and sightseeing, Tuyen Lam Lake is exactly your choice.
Location: a few kilometres south of town
Do not leave your desk before you discover 5 remaining most famous Da Lat attractions!
16. Hang Nga Guesthouse (Nhà Khách Hằng Nga)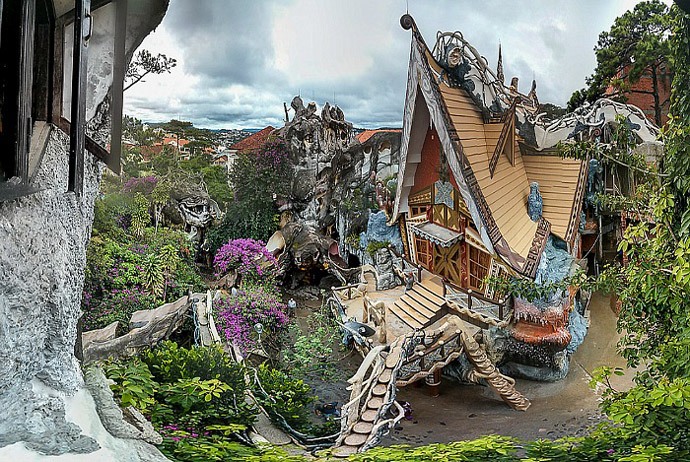 Da Lat has the power to not only romanticize but also inspire people to go beyond their own limits. Hang Nga guesthouse, also called as the "Crazy house", is such a building of artwork that challenges the imagination of human beings.
Designed by a Vietnamese impressionist and architect named Dang Viet Nga, this extraordinary building of non-rectilinear shapes has represented in a lot of international architectural journals and eventually made its manner to the list of ten most creative buildings of the world. In details, it is a wide mass of wood and wire fashioned into the figure of a giant tree house and smoothed over in concrete.
When visiting here, you will discover that the Crazy house is really a spectacular construction with 10 themed guest rooms such as the eagle room, the tiger room, the ant room, and the kangaroo room, with handcrafted furniture and decorations matching with the theme. Each room comes with a specific meaning, according to the creator – Viet Nga. For example, the eagle room refers to the American while the tiger room describes the Chinese. Despite it is theoretically a hotel, Hang Nga Guesthouse is deserved to be one of the must-see Da Lat attractions, which is recently regarded as a "museum" of childhood, dream and abnormality. Every tourist has their own interpretation of each room of the house and their own experience yet all of them agree on the only thing: the guesthouse is so natural and pure that they were at least once again lost in their own childhood dream. With just a small fee of VND 20,000, you can visit Hang Nga guesthouse.
Opening Hours: daily from 09:00 – 17:00
Location: 3 Huynh Thuc Khang (Huỳnh Thúc Kháng) Street, Dalat, Vietnam
17. Elephant Waterfall (Thác Voi)
Deserved to be among best Da Lat attractions in Vietnam, Elephant waterfall is situated in Nam Ban (Nam Ban) town, about 40km away from Da Lat. The waterfall lies on Cam Ly stream, and is a purely natural landscape without the intervention of human beings. Elephant waterfall (Thác Voi), also known as Lieng Rowoa waterfall, is among the most beautiful waterfalls of Da Lat with the height of over 30m and width of 15m, and not far from Linh An pagoda. Not mention to the charming, poetic, majestic beauty, Elephant waterfall itself was the revolutionary base in the resistance wars against France and America of our nation. Although newly recreated into a religious tourist attraction in recent years, Elephant waterfall was recognized as a National-level beauty spot. It will be pity if when visiting Da Lat, you skip this destination.
Location: Ba Dinh (Ba Đình), Nam Ban town, Lam Ha (Lâm Hà) district
18. Strawberry Gardens (Vườn Dâu Tây)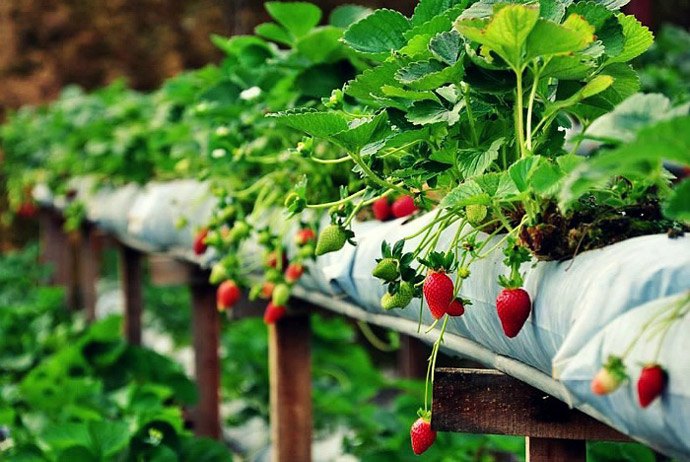 Thanks to the tropical climate, Da Lat is very ideal for many types of fruits and vegetables, particularly strawberries. Strawberries here are very big and grown throughout the year; nevertheless, the main crop of strawberries is spring.
Here, you could witness by yourself the production process, from the incubation, care, to harvest and enjoy the great taste of ripe and fresh berries. Typically, when visiting here, tourists will be offered a box to get the berries in their own demands. Da Lat strawberries are divided into two types, which are sour berries and sweet berries. Fresh sweet strawberries are often smaller and nestled deep in the leaves so they might be hard to find. Indeed, these fresh pure strawberry gardens, aside from meeting the demand for food, also become interesting and attracting destinations for tourists coming to the mountain city of Da Lat.
19. Golden Valley (Thung Lũng Vàng )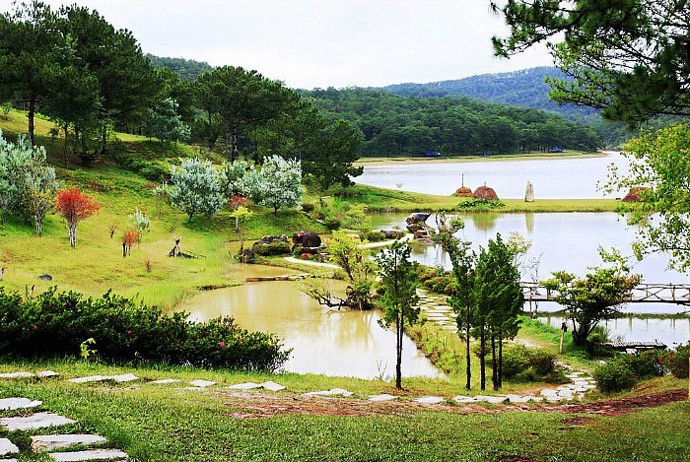 If you are looking for a destination in which you could spend full day while still being able to enjoy the romance of lake, flowers, fish, boats, pine wood, and much more, then Golden Valley is your choice. Many tourists who used to visit Golden Valley said that they found this Valley is still more natural compared with other destinations in Da Lat. It cannot be denied that Da Lat has been steadily proving its attraction to both domestic and international visitors. In recent years, one of the most celebrated spots favored by most of tourists to Da Lat for sightseeing and photographing is the wonderful man-made resort of Golden Valley. Here, you will find flowers everywhere. The Golden Valley is hugged by 170 ha of sloping pine trees and green grass hills. Golden Valley features with a harmony of man-made and natural beauty. Under the shade of pine trees, you will discover a rock garden having a few types of precious stones, like agate and chalcedony, in various shapes, from simple to meticulous, carved by nature and artisans. After catching fish in lake inside this Golden Valley, visitors could enjoy a party. A small tip for tight-budgeted visitors, it would be better to take food from home as café shops in the Golden Valley are rather small and expensive.
Location: Ankroet Road, Lac Duong (Lạc Dương), Dalat
20. Da Lat University (Đại Học Đà Lạt)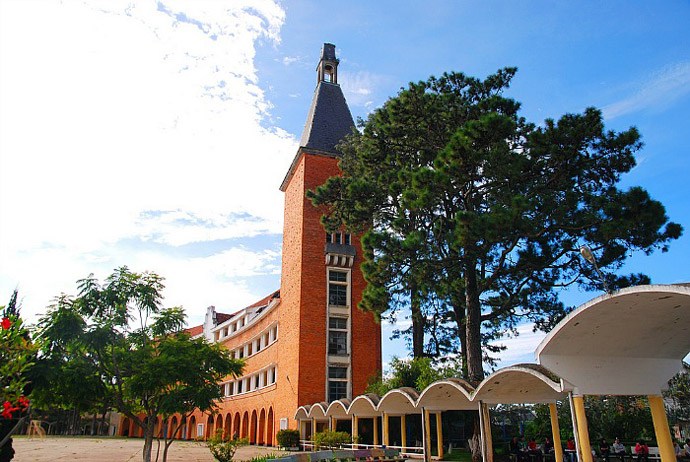 The last one in this list of must-see Da Lat attractions, Vietnam is Da Lat University, which is located in the center of Da Lat city. Da Lat University is considered as one of the most beautiful ones of Viet Nam so it deserves to be one of the worth-seeing Da Lat attractions. Its total area is up to 30 ha with more than 40 blocks surrounded by a lot of green trees. This University is a place for studying.
The original Da Lat University was built in 1957. Yet, in recent years, to meet the social demand, the school has continued to expand the training subjects. Thus, it has well upgraded some of the old blocks and built new ones. The campus of this university sits on a hilly region of approximately 40 ha north of Xuan Huong Lake, beside the intentional 18-hole golf course. Despite being a university, it is one of many beautiful and romantic Da Lat attractions you should visit. There are various styled buildings hidden in the pine trees. Visiting here, you will enjoy such a tranquil and peaceful atmosphere, which is ideal for both learning and researching.
Opening Hours: daily from 09:00 – 17:00
Location: 29, Yersin, 8 Ward, Da Lat
So, now you have all answers for the question "What to see in Da Lat?" right? These Da Lat attractions are recommended by a lot of tourists, both domestic and international. Plan your trip to visit these places if you have chance to visit the City of thousands of flowers – Da Lat and if possible, try to visit all of these Da Lat attractions. Then, you will have memorable experience in this romantic city!
Related Articles:
15 interesting Da Lat activities – what to do in Da Lat?
Da Lat nightlife – what to do at night in Da Lat?
Shopping in Da Lat – tips on what & where to buy for tourists
17 best Da Lat restaurants – where to eat and drink in Da Lat