Updated: 11/14/2019
Historic, graceful Hoi An (Hội An) is considered the most delightful town in Vietnam. Used to be a busy international commercial main port in the 16th and 17th centuries, this city boasts the beguiling setting of riverside and grand architecture that you hardly find anywhere else in Vietnam (Việt Nam).
The ancient town of Hoi An, which is about 30 kilometers south of Danang (Đà Nẵng), lies on Thu Bon (Thu Bồn) River's banks. Hoi An nowadays still has a distinct atmosphere with low, tile-roofed, houses and narrow streets with the structure still remained as the original ones. Hoi An is considered one of the most popular tourist attractions in Vietnam. With the ancient charm of shrines, temples, pagodas, Chinese style wooden houses, and the unique but harmony combination of Chinese and Japanese architecture, Hoi An lures a large number of both domestic and international tourists in Vietnam. There are a lot of Hoi An attractions for tourists to visit and a vacation in Hoi An would be an ideal suggestion for a break from the hustle and bustle city life with the tranquility around. If you are wondering which interesting destination to visit in your upcoming vacation is, then let Hoi An be your choice. Really, whoever coming to Hoi An, Vietnam cannot deny that it is strongly favored by nature with a lot of Hoi An attractions appreciated by international tourists worldwide. The weather in this town is typically tropical and comparatively warm, particularly throughout the year, and could be classified into two major seasons, namely dry and wet ones. The best time for tourists to visit Hoi An is from February to April, when the temperature is very comfortable with low rainfall. The temperature is rather high during summer; and from October to November, it could rain continually and there might be a high chance of typhoons and floods. If possible, you should plan your trip to Hoi An on the 14th day of any lunar month as there will be Full Moon festivals celebrated in Hoi An, which is the stage for dancing, games, food, and traditional songs with lanterns lining along the streets. Believe me, with tons of Hoi An attractions and its comfortable weather as well as atmosphere here, you will have the most memorable trip than ever before. Just simply take a quick look from this checklist of Hoi An attractions to see what to do and where to visit in Hoi An, Vietnam!
18 Hoi An Attractions – Where To Visit In Hoi An, Vietnam
1. Cua Dai Beach (Bãi Biển Cửa Đại)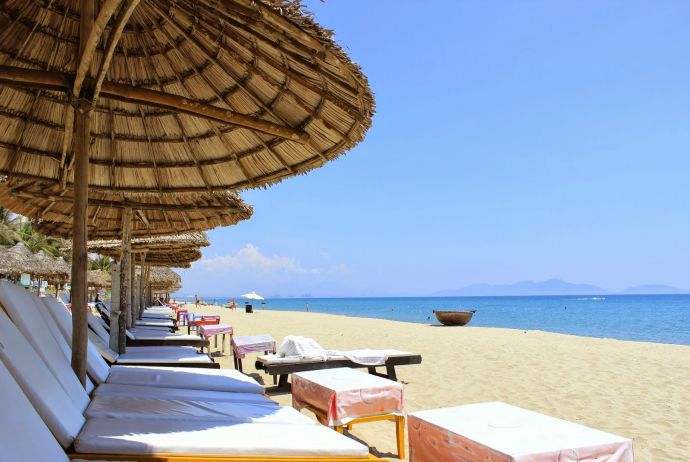 When it comes to Hoi An attractions, Cua Dai Beach should be the first one in this list. This is the main beach of Hoi An, which is situated at the end of the road that is predictably named Cua Dai road.
Cua Dai Beach means the "big sea mouth", which is over 3km in lenth and up to 300m in width. The beach is closest to Hoi An, and is an incredibly long beach with a lot of space to wander off for a bit of personal relax, which is hard to find in Vietnam nowadays.
Being long and wide, Cua Dai beach has clear water with tropically blue waves which are gentle enough for floating and swimming around. Tourists will discover a few changing huts along with a couple of bungalows on this beach. Cham Island could be spotted from the distance on a sunny day with its willow tree supplying tourists with shade to enjoy the view. A few water sports are set up at this beach, not to mention a lot of deckchairs, parasols and a lovely line of trees giving shade; hence, it is not necessary for you to worry about spending many hours under the sun without being able to cool down. It is very great to visit this beach at sunrise and witness the fishermen and their boats trading what they have caught.
Wide and long Cua Dai beach, one of the most recommended Hoi An attractions, is a beautiful beach featuring with sloping soft white sands located 5km away from the ancient town of Hoi An.
Also, there is a series of seafood restaurants situated around the coast, so tourists can comfortably enjoy their dinner without having to walk too far. After visiting Cua Dai, tourists could expect to be offered a steam of vendors who sell souvenirs, drinks, fruits, and other goods. If you do not want to buy anything, politely make it clear that you will not buy and they will rapidly leave. And, if you want to buy something, remember that the prices tend to be much higher than anywhere else, so you had better bargain in order to buy your desired items at good prices.
Cua Dai, one of the most well-known Hoi An attractions, is another reason for tourists worldwide to visit Hoi An, where they could soak up all the celebrated historical and cultural sites before heading up to the beach and experience what is usually claimed to be the most stunning coastal shore of Vietnam. Deserted white sands and crystal blue sea water at Cua Dai Beach are hard to find in any other place in Vietnam.
2. An Bang Beach (Bãi Biển An Bằng)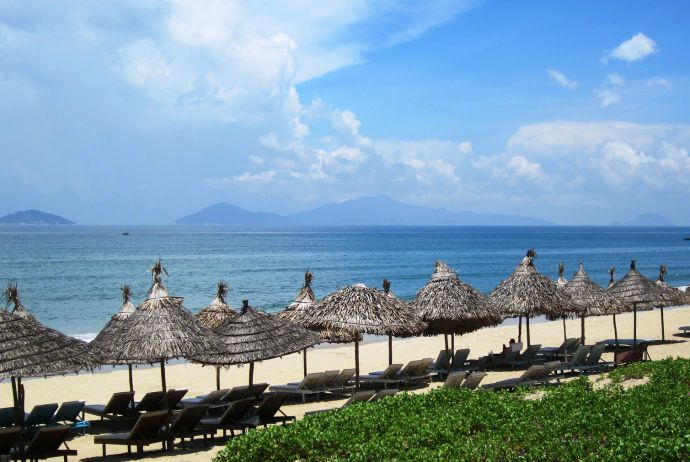 Aside from Cua Dai Beach, An Bang Beach is another beach that should be added to the list of must-see Hoi An attractions. At An Bang beach, you will see a perfectly balance of convenient restaurant and bars, islands views, green lawns, year round swimming and the spectacular East Sea. An Bang beach is just 4km from Hoi An and approximately 30km from the Da Nang international airport. It is one of the most ideal places for tourists to lay their hat and enjoy airy breeze. Actually, this is among a few remaining stretching beaches which still remains nearly un-spoilt by the tourism development, offering castaway restaurants, blue sea, and bohemian beach bars. Not only does it flaunt the most spectacular mountain and island views that tourists do not even need to climb off their lounger to enjoy, but also many of the best fresh seafood in Hoi An. In fact, unlike other beaches, there is always something to do at An Bang Beach for whatever reason; whether you prefer some sunbathing or surfing, An Bang beach never disappoints you.
During summer months, local and domestic tourists come here mostly for sunrise and sunset swim, as well as for family beach barbecues. It also means that it is rather quiet during the day.
However, the best time to visit the beach is the dry season, from March and September. If you love beach lounging and tanning, then you could easily hire a sun lounger with a small amount of money equally to the price of a bottle of water. In the wet season, the climate in An Bang is ideal for surfing as there will be six-foot waves rolling into the beach.
3. Cham Island (Đảo Chàm)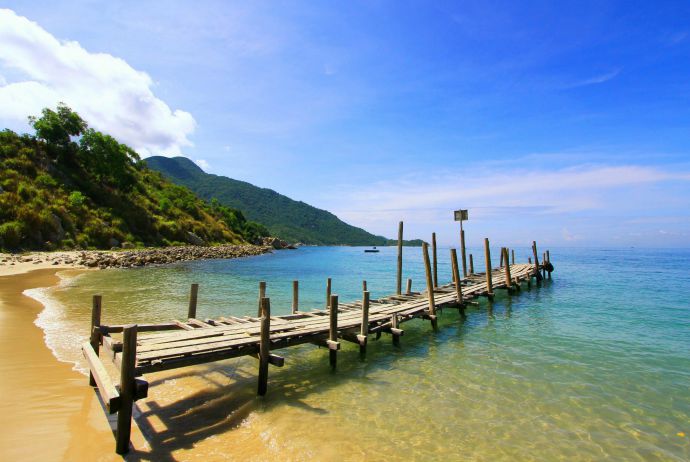 One of the most beautiful Hoi An attractions is Cham Island. This picturesque coastal spot offers tourists a chance to visit stunning beaches, lush forest, and a cute village, making their day trip to the island really worthwhile.
Just about 27km away from Hoi An coast, Cham Island is reckoned as a pristine paradise which is at best during summer months, from April to September. Especially, during those months, tourists can witness to some storm activities. In the cooler months, diving tends to be less worthwhile. In addition to the amazing beaches and breathtaking views, Cham Island also boasts itself as a popular diving and snorkeling spot. There are a few companies based out of Hoi An offering day trips to this island. Tourists should decide whether they would like to go for snorkeling or diving, or simply enjoying the island itself with its impressive beach and village.
4. Hoi An Riverside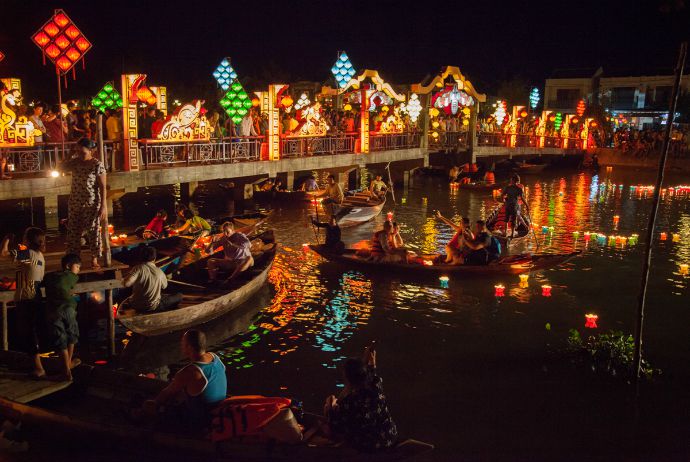 One of the most famous Hoi An attractions is Hoi An Riverside, which is considered as the major landmark in Hoi An. This site is where both modern and traditional boats drop their anchors and where local people go to shop at the wet market daily morning.
The town is reintroducing the presence of colorful and gorgeous hand-crafted lanterns. Especially, on the special nights of a month, hundreds of them hang on windows and verandas as they normally did more than 300 years ago.
Hoi An Riverside is where you could sample good coffee, seafood, home-caked and international food as well. Travelers can enjoy the pleasant waterfront region which is the most popular for tourists to dine.
With local boats pass through, the view across Thu Bon River reminds the view of the old days in Hoi An. The elegant lamps illuminated nightly are always successful at charming people. Tourists simply could not get enough of it.
Not mention to the romantic, mysterious atmosphere that every tourist will experience when visiting Hoi An Riverside, the nightlife of this place is also worth experiencing. It brings to travelers the feel of a hippy-like atmosphere. This is where you could see both sophisticated and budget tourists are comfortable together. And, along with the magical atmosphere created by the reflection of the old-style Hoi An lanterns on the water, the Riverfront becomes the most out-of-town that tourists often hang out at night. Here, people can enjoy a simple meal and have friendly conversations while sipping a few drinks with their friends.
If you have a chance to visit Hoi An at special times of the year, you could also purchase beautiful floating lanterns and then release them onto the river at night. This is one of the most noticeable and lovely activity for both locals and tourists, particularly for couples and young kids.
When visiting Hoi An attractions, if you have enough time to relax, so one of the interesting suggestions for activities in Hoi An Riverside area is to hire a boat for fishing. For the aim of fishing and relaxing as well, there are a lot of local boats chartering at the docks.
5. Hoi An Old Town (Phố Cổ Hội An)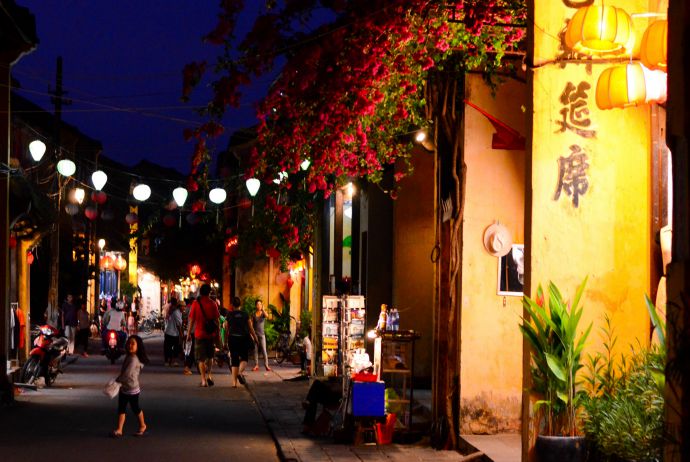 One of the main trading post from 16th to 17th centuries in Southeast Asia is Hoi An Old Town. This seaside old town is basically a living museum which features with a unique mixture of West and East in the form of its old-town architecture. When it comes to Hoi An attractions, this might be the most well-worth one. There are two great things about Hoi An Old Town:
It is small and peaceful enough for tourists to walk around on food

The traffic is not as heavy as in the bigger cities.
Some streets in Hoi An Old Town just allow motorbike and bike traffic and some just allow pedestrian only. All of these features make Hoi An Old Town more inviting for the majority of tourists to Vietnam, particularly those who used to pass through frenetic Hanoi (Hà Nội) or Ho Chi Minh (Hồ Chí Minh) City (also known as Saigon (Sài Gòn)).
A number of buildings in this Old Town were built more than a century ago and characterize strong Chinese influences which originate from merchants from Fujian, Guangzhou, Hainan and Chiu Chow. And, some of the signboards bearing company names are gilded and carved in Chinese characters, which reflect the strong influence and present of the Chinese in Hoi An.
In this Old Town, tradition is still alive impressively even though a few of the old shops have been recently converted to modern business in order to satisfy tourists' experience. The shops like tailors, art galleries, souvenir shops, restaurants as well as cafes all have been converted with special care in order to preserve the past.
Tourists visiting here can enjoy a cycle riding tour as an alternative and interesting manner to explore this site. Many bars and cafes available in Hoi An offer happy hours and some even begins as early as 4 pm. Chilling out in a coffee shop on a comfortable and big sofas and enjoying a few snacks, drinks or a game of darts and pool are very exciting for tourists after a long day of walking on foot to discover this old town.
Keep reading this list of Hoi An attractions to visit more must-see places in Hoi An!
6. Gem Art Museum (Bảo Tàng Đá Quý)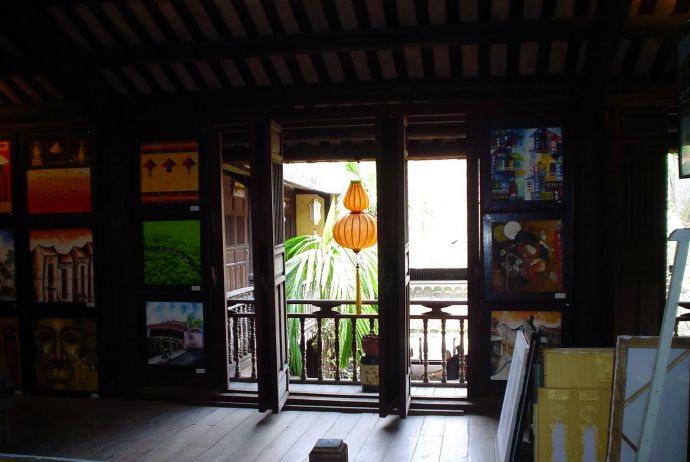 If you are person who has a love for jewelries, the Gem Art Museum (GAM) is your ideal destination. It is a private museum, jewellery store, lounge and bar in a nice villa nearby Hoi An's Japanese Bridge. This museum presents gems collected by a native Hanoian named Dung Duong. GAM is proud of being the most extensive collection of gem sculptures, rare minerals, and cut stones in Vietnam.
Admission to this museum is free if you order a drink at the garden bar located at the back area. This bar is opened up to late night.
7. Tan Ky House (Nhà Cổ Tấn Ký)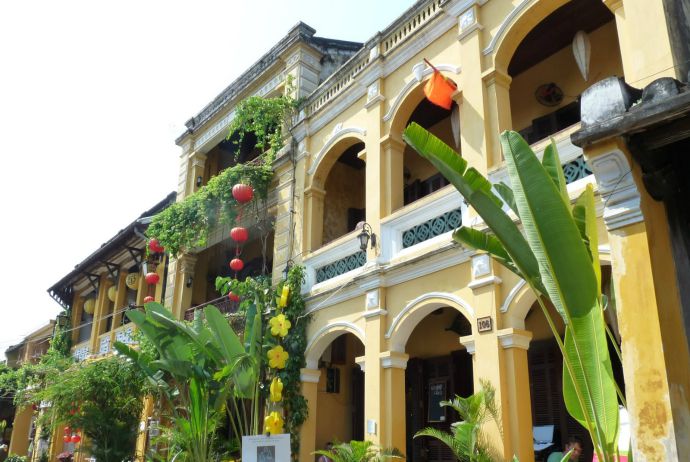 This house is established in two centuries ago by an ethnically Vietnamese family, and has been preserved through 7 generations. The architecture of this house is influenced by Japanese and Chinese styles. Japanese elements are shown through the ceiling, which is supported by three progressively shorter beams, each one placed on top of the other. The Chinese elements are shown on the 150-year-old panels featuring with images of birds gracefully portrayed in different positions of flight. The roof is made of tiles, from the outside; and inside, the ceiling consists of wood. These features keep this Tan Ky House warm in winter and cool in summer.
Opening hours: 8 am – 11 am & 2 pm – 4 pm daily
Location: No.101 Nguyen Thai Hoc (Nguyễn Thái Học) Street, Hoi An (Hội An)
8. Japanese Bridge (Cầu Nhật Bản)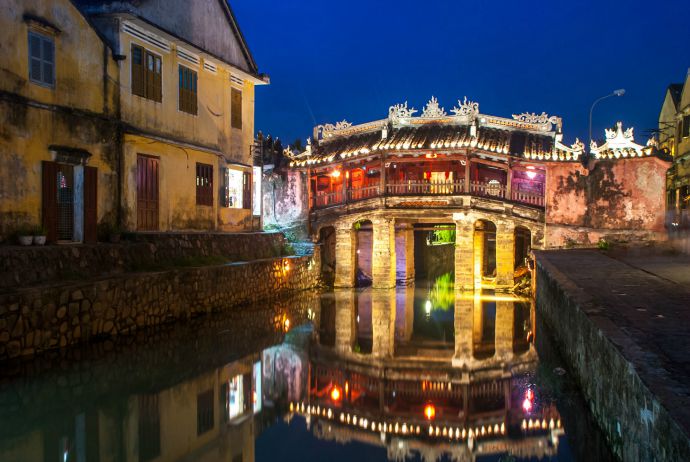 One of noticeable Hoi An attractions, the Japanese Bridge is a signature landmark of Hoi An, which is also used widely as an emblem of Hoi An. It was established by Japanese merchants in 16th century.
Situated at the Western corner of Tran Phu (Trần Phú) Street, in the 16th century, this bridge connects the Chinese merchant community on the east side of the canal with the Japanese community on the western side. Though it has been rebuilt a few times since its establishment, it still retains its distinct characters as well as impressive Japanese elements.
The entrances of this bridge are guarded by weathered statues: a pair of dogs on one side and a pair of monkeys on the other side. While accessing to this bridge does not cost you, you might have to surrender a tick to see a temple built in the northern side of the bridge.
Location: Tran Phu (Trần Phú) Street, Hoi An, Vietnam
9. Cam Kim Island (Đảo Cẩm Kim)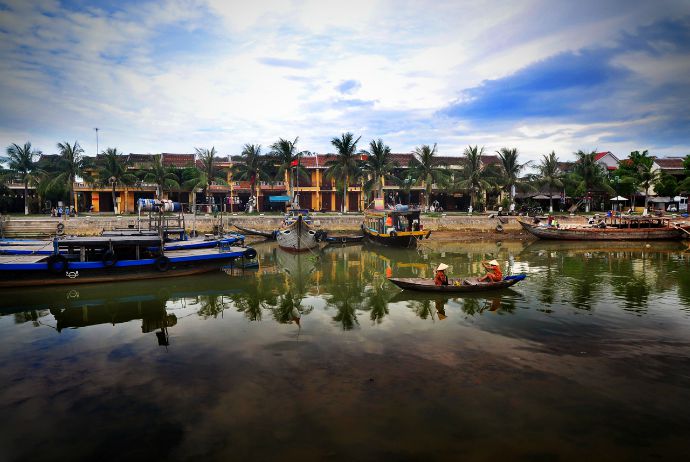 From Hoi An's centre, a short ferry ride will take you to Cam Kim Island, an interesting place for an early morning cycle, which deserves to be added into this checklist of Hoi An attractions.
Cam Kim Island is renowned for its woodcarving village (Kim Bong) and boasts peaceful countryside. Tourists could find other crafts here too, such as the basket fishing boats made by locals and the colorful woven sedge mats. One of the highly recommended activities when visiting Cam Kim Island is to peddle through corn and rice fields around it, even without the tour-guide. Don't worry, you will not get lost there, and the experience will be particularly worthwhile.
10. Kim Bong Carpentry Village (Làng Mộc Kim Bồng)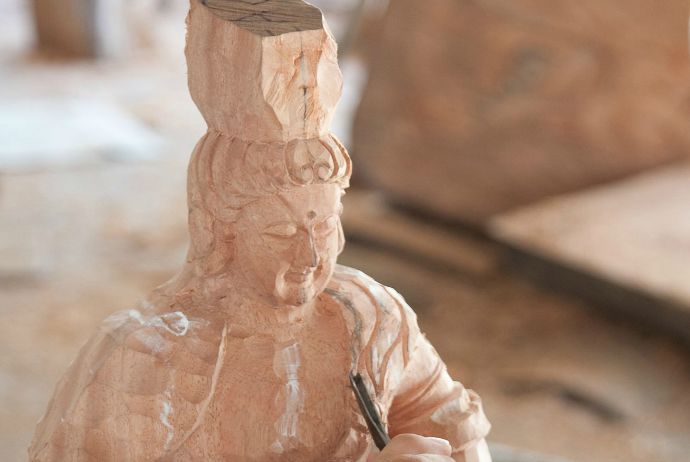 The Kim Bong Carpentry Village has been originated in the north of Vietnam since the 16th century. This village has had its artisans work on furniture as well as houses across the country, from Hue royal and citadel tombs to gorgeous buildings in Hanoi or a lot of architectural projects in Hoi An's heyday. It is said that the style of Kim Bong Carpentry is the mixture between Cham kingdom, Japanese, China,… and of course the skilful hands of Vietnamese craftsmen. Over many years, this village has developed strongly and formed 3 groups of artisans: civil wooden furniture, ancient architectural construction, and shipbuilding. Regardless of the group, the craftsmen of Kim Bong still remain their traditional way of starting out as apprentices and earning a high rank of master via many years of hard work.
Nowadays, tourism companies often plan their tours to Kim Bong Carpentry in the form of a half-day bike riding, allowing tourists to see the craftsmen as well as artisans working with their professional and skillful hands on the simple crafts. The common products of the village include religious statues, furniture, and finely crafted wooden doors that could be easily found and bought in the majority of souvenirs shops.
The prices range from a few dollars to thousands of dollars depending on the products. Many artisans in the village have shifted to work of recovering those historical monuments as well as relics, particularly the old houses in Hoi An.
Walking down this village, you will see two parallel streets with open-fronted buildings. A few of them are the working places of artisans. The most well-known shop belongs to Mr. Huynh Ni, where tourists might also have an opportunity to watch the shipbuilding area by themselves where wooden fishing vessels are established using most traditional techniques.
Just simply take a boat trip from the Hoi An's Old Town (at Bach Dang (Bạch Đằng) street) and you will reach Kim Bong Village.
Are you fancy of enjoying something wild when visiting in Hoi An? Then you should add the following site to your list of must-go Hoi An attractions.
11. Tra Que Village (Làng Trà Quế)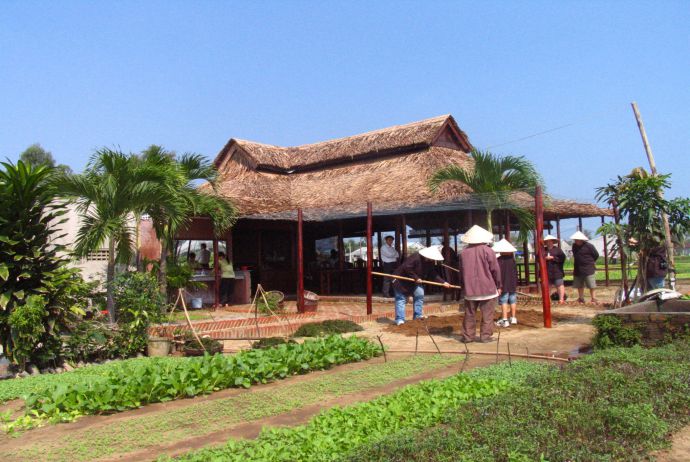 This is a small village situated 3km north of the Old Town of Hoi An. The location of this village is between Tra Que alga pond and De Vong (Đế Vọng) River. Due to the particular condition of rich soil as well as water, this village has long been well-known for growing a lot of types of veggies, including basil, salad, lettuce, flagrant knouted, houttuynia, coriander vegetables, and so on. It also creates big fame for Hoi An in terms of traditional specialties. The name Tra Que is also the name of sweet vegetables, which spice up the daily meals of Hoi An locals.
Visitors coming to Tra Que Village are usually fascinated by observing the farming procedures of those local farmers, such as ranking the soil, sowing, watering, picking veggies and other activities that are rarely seen in the modern life nowadays.
Furthermore, visitors could listen to locals talking about organic farming techniques and even try out actual farming by themselves. Especially, the farmers here do not use fertilizers and chemicals yet a type of algae found only in the lagoon in the village. Due to this great technique, herbs and vegetables of Tra Que village are strongly and widely recognized for their safety, quality and particularly outstanding flavor and taste.
As a tourist, you could also learn some cooking lessons supplied by many tourism companies here. It is totally not a bad idea as you will be able to cook a Vietnamese dish by yourself – a great experience you can gain when discovering a lot of Hoi An attractions!
12. Tran Family Chapel (Nhà Thờ Tộc Trần)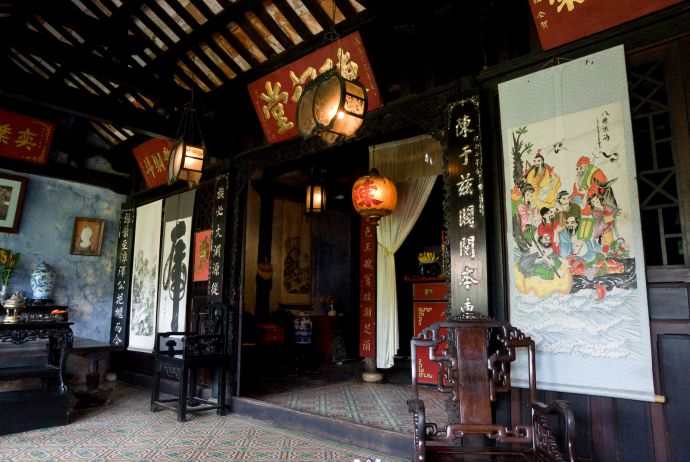 Tran Family Chapel is considered as one of the most historical and oldest houses in Hoi An, also a must-see historical Hoi An attractions. Original, this place served as a worshipping place for the ancestors of the family and a reminder about the tradition to the following generations of the family. Nowadays, visitors could find this place one of the must-see Hoi An attractions in the old town.
Located amidst in a garden of about 1500 m2, this site is surrounded by flowers, ornamental plants, century-old plants, and fruit trees, with high surrounding walls. Tran Family Chapel is the work of a combination of Japanese, Chinese, and Vietnamese architecture, which has been remained almost the same as it was in two centuries ago.
It is made of precious wood and pan-tiles-covered roof and famous for its architecture of Asian style. There are several parts in this house, one for worshipping, one for the leader of family as well as his guests. The garden and this house were established in a perfect combination of rules of Feng Shui. There are separate entries in the drawing room of this chapel, one for males and one for females. The left is for males and the right is for females.
In the center of this room, there is another door for souls of the ancestors to enter the house. This door is often used for different festivals like Tet.
Each year, the Tran Family Chapel is the place for every member of the family to meet as well as express their appreciation and thankfulness to their respectful ancestors.
For those visitors who are interested in the historical and unique atmosphere of those ancient sites, then visiting to the Tran Family Chapel will become one of the most remarkable routes of their trip. In order to get this site, you can use bike or even walk on foot as it is situated in the center of Hoi An.
Location: No.21 Le Loi (Lê Lợi) Street, Hoi An
13. The Chinese Assembly Halls (Hội Quán Trung Hoa)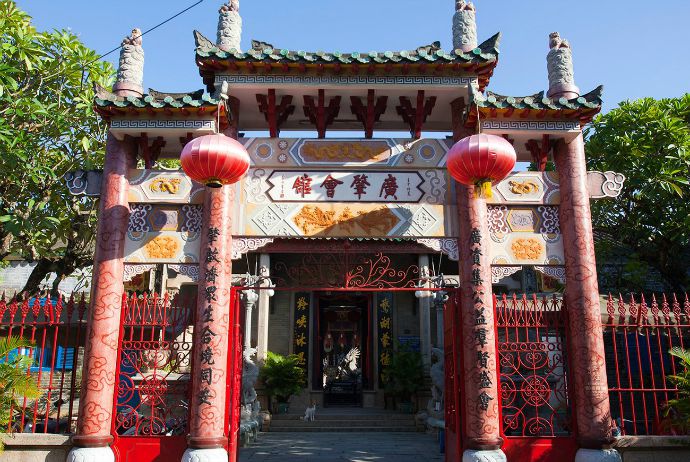 Another option among top Hoi An attractions is Chinese Assembly Halls. Built in 1960, The Chinese Assembly Halls is the place in which residents from China could meet up and socialize while living or visiting Hoi An. There are 5 assembly halls established by the Chinese, all are situated on Tran Phu (Trần Phú) Street, and faced Thu Bon (Thu Bồn) River. Recent days, these assembly halls become well-known Hoi An attractions.
In general, these halls follow a formula which has been popularly used by many other Chinese assembly halls in different cities: a nice garden, a grand gate with ornamental plants, an altar space, and a major hall. The decoration is meticulously carried out at every hall with lacquered boards, statues, murals, and so on. Nevertheless, as each Chinese community features with specific beliefs, so different assembly halls tend to worship different goddesses and gods.
In fact, among these five Hoi An assembly halls, the Fujian Assembly Hall might be the most well-known as well as biggest one, which is situated at 46 Tran Phu (Trần Phú) Street. Other assembly halls are Ngu Bang (Ngũ Bang) Assembly Hall (aka Trung Hoa Assembly Hall), Trieu Chau (Triều Châu) Assembly Hall, Quang Dong (Quảng Đông) Assembly Hall, and Hainan
Assembly Hall. Tourists who want to visit these halls could take a bike or walk on foot to get there. As Tran Phu Street is in the centre part of this town, so it is not hard to find these halls.
14. My Son Sanctuary (Thánh Địa Mỹ Sơn)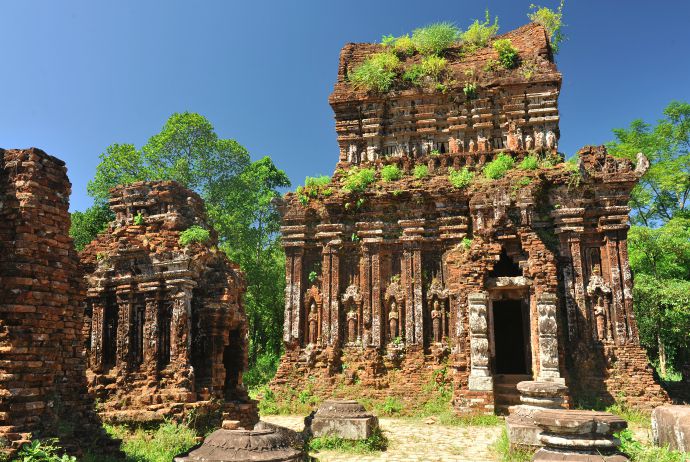 My Son Hindu Sanctuary, one of UNESCO World Heritage Sites, is a worth-visiting sample of the ancient Champa (Chăm pa) civilization. Situated in Vietnam's southern part, it is a definitely worth-visiting Hoi An attractions, in particularly, and Vietnam attractions, in general. Used to be an independent state during the centuries of 2nd-17th, those Hindu-themed ruins are featured with a lot of beautiful stone sculptures, towers and temples in tropical jungle surroundings.
Actually, My Son was a political centre consisting of over 70 structures devoted to Hindu gods as well as goddesses. The most recognized one is Shiva, who was reckoned as the protector of Champa's kings. Visiting here, you will be impressed by their skillful techniques of using sandstone and bricks.
Similar to other historic sites all over the world, My Son was damaged by wars and time and after being neglected for a prolonged period of time, it was finally rediscovered and carefully renovated by the French. However, after being bombed by the Americans, the site was ruined fiercely but the central complex was still survived the bombs. A few parts of the ruins have been reestablished.
My Son Sanctuary is really one of worth visiting Hoi An attractions for tourists, particularly those who love history.
It is said that the best time to visit this site is early in the morning as it is not too hot and the tourists coming there is not too busy.
Location: Duy Xuyen (Duy Xuyên) District of Quang Nam (Quảng Nam) Province (approximately 70km southwest of Danang and about 40km from Hoi An)
Looking for somewhere to shop? Continue checking this list of Hoi An attractions!
15. Hoi An Central Market (Chợ Hội An)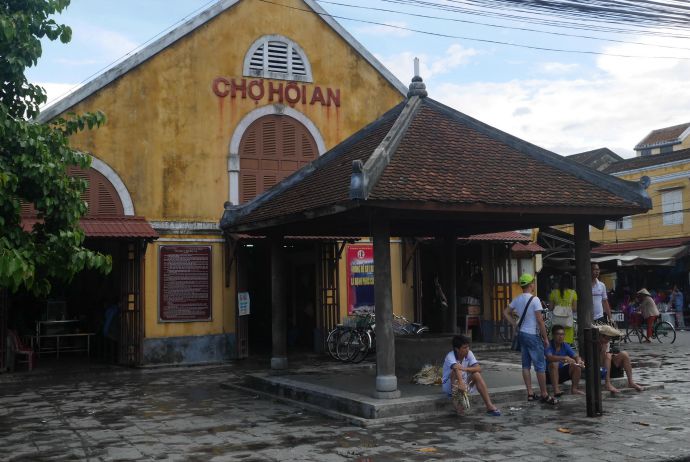 If you are a person who loves bargaining and shopping, then Hoi An Central Market is your option. Despite it is not among definitely must-see Hoi An attractions, it still attracts a lot of tourists who want to buy something as gifts for their family and friends. Here, you can sharpen your bargaining skill. Rich in the beautiful colors of Vietnamese silk and smell of fragrant spices and herbs, this market has a huge array of stuff for sale, such as spices, including cinnamon and saffron – the superb purchases in the market. Because of the riverside location, a vast selection of fresh fish is available here.
Being well-known for silk, in the market, you will find good quality silk much cheaper than anywhere else in Hoi An. Especially, garment makers here could run up a shirt, dress, jacket or even full suit within just 24 hours. Local handicraft and souvenir hunters could also find a lot of things to browse through when shopping in this market.
16. Museum Of Trade Ceramics In Hoi An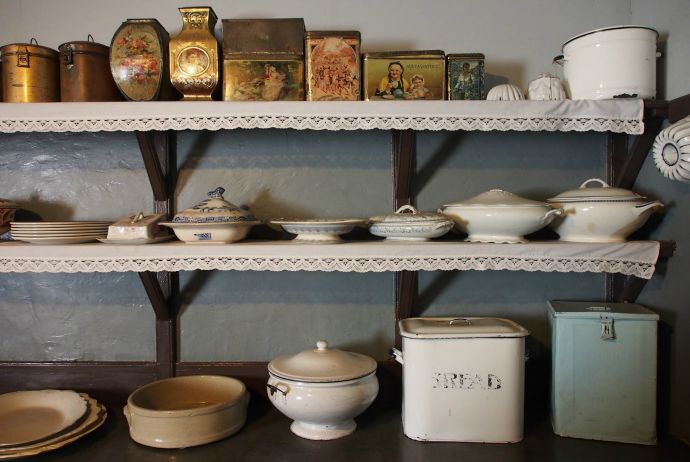 It is really worth your visit to the Museum of Trade Ceramics where you could see greatly restored timber house in which this museum resides. When stepping inside, tourists will discover a huge selection of Vietnamese, Chinese and Japanese ceramics which were found during archaeological digs in the area, majorly during the period of 8th – 18th centuries.
Situated in the old quarter of Hoi An, this museum offers a historical and cultural insight into the town's history as well as foreign relationships with different Asian counterparts, such as Japan, India, and China. Also, there are many fascinating drawings displaying the different kinds of architecture in Hoi An.
Nowadays, Hoi An is often regarded as the fishing town, but it was one of the leaders in Asian in terms of trading of pottery from different nations, like Thailand, China, India, Japan and the Middle East, in the past.
While visiting the site, you will see exhibition signs showing English, which are often presented in details, letting tourists thoroughly understand the treasures on display.
Location: No. 80 Tran Phu (Trần Phú) Street, Hoi An
17. Ba Le Well (Giếng Bá Lễ)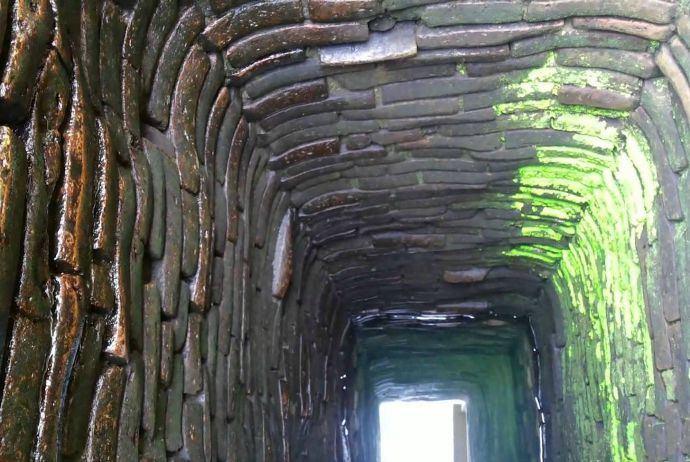 Ba Le Well is a square well that is said to be the source of water for making authentic Cao Lau (Cao Lầu), one of specialties of Hoi An. There are a lot of stories about the water in Ba Le Well. It is believed that this water is the sweetest and coolest in Hoi An.
Nowadays, the well is taken care by Ms Ba Le, who recently gave his money to restoring the well. Daily, he takes the well water and delivers it to those poor families nearby, who use this water for cooking Cao Lau, a traditional medicinal watercress soup. It is thought that without Ba Le Well's water will become tasteless. Besides, the sacred water is also used for making tea, yet never for normal washing.
Actually, Ba Le Well might not be among the must-see Hoi An attractions but it is thought to be one of the most well-known. As a tourist, the better time for you to visit this Well is about 3 pm or at dawn.
Location: 45 Phan Chau Trinh (Phan Châu Trinh) Street, Hoi An
18. Duc An Old House (Nhà Cổ Đức An)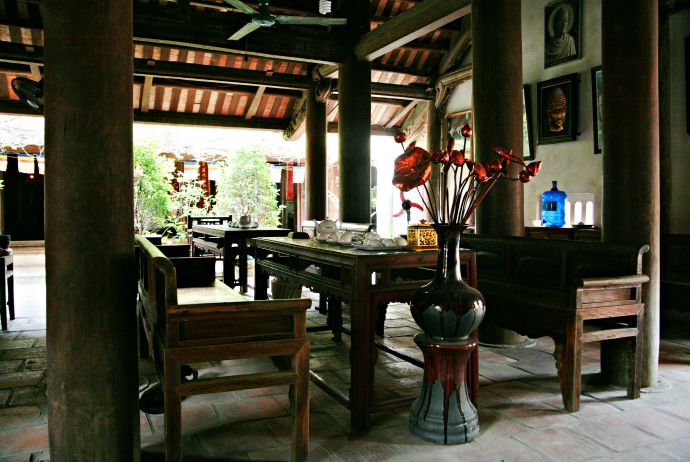 The last but not least worth coming destination in this list of Hoi An Attractions is Duc An Old House. With more than 180 years old, it is a charming site decorated with a few attractive pieces of anteak work. This is a place that has welcomed hundreds of tourists to visit and witness the ancient beauty as well as quietness of the moss tile roof every day. It is marked by a series of activities of the Vietnamese Organization – The Vietnam Revolutionary Youth in Hoi An in – in terms of renovation.
Location: No. 129 Tran Phu (Trần Phú) Street, Hoi An
There, you have discovered 18 out of must-see Hoi An attractions. Now, all you have to do is to book a tour and arrange the schedule for an interesting, worth well trip to the central area of Vietnam. Enjoy at least a few of these Hoi An attractions and after that, let me know your ideas and experiences when traveling Hoi An, Vietnam by dropping words below this post. We welcome all contributing ideas about this topic – Hoi An attractions!
Related Articles:
Hoi An nightlife – best activities to do at night in Hoi An
15 tips on shopping in Hoi An, Vietnam – what & where to buy
16 best Hoi An restaurants – where to eat in Hoi An, Vietnam