Updated: 04/16/2020
Hội Lim (Lim Festival) is regarded as the unique combination of Kinh Bac culture area. When the spring is coming, people become excited to join Hoi Lim and enjoy the cultural space of Quan Ho folk songs. Hoi Lim is organized by the villages around Lim Mountain and the riverside of Tiêu Tương River. This festival expresses the spiritual belief and art culture of Kinh Bac villagers specifically. 
Taking place in Lim Village which is 28 km away from Hanoi, Lim Festival is held to celebrate Ba Mu (Bà Mụ), who lived as a Buddhist nun at Lim pagoda. During the festival, you will have a chance to enjoy the unique vocal stylings of locals through Quan Ho (Quan Họ) folk songs. The villages will choose the best singers to complete in singing dialogues. Visitors and tourists who visit Lim Village in Bac Ninh (Bắc Ninh) Province will have a chance to listen to the famous "lien anh (liền anh)'' and "lien chi (liền chị)'' (male and female Quan Ho singers) performances. In the festival, there are competitions of wrestling, weaving, worship ceremonies and processions. Because of these exciting activities and great meaning, Lim Festival attracts not only locals but also tourists and visitors from other areas.
About Lim Festivals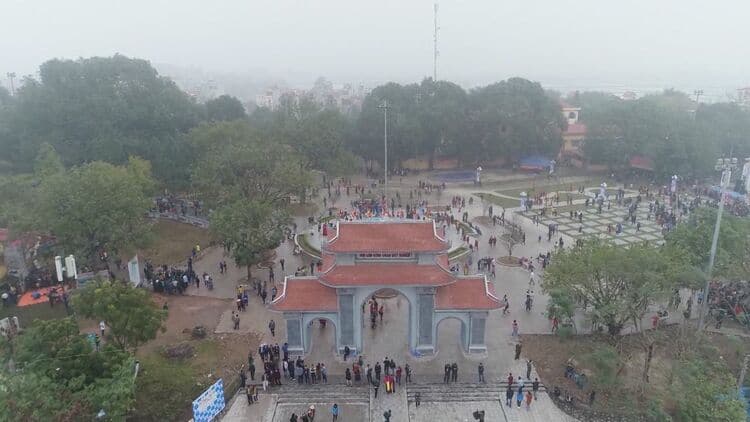 Annually held on round 12th and 13th of the first lunar month of the year in Lien Bao (Liên Bảo) Commune, Noi Due (Nội Duệ) Commune and Lim Town in Tien Du (Tiên Du) District, Bac Ninh Province, Lim Festival takes place with the purpose of enhancing and promoting the tradition of Quan Ho singing. Since 2019, this festival has become one of the UNESCO's Intangible Cultural Heritage.
What To Do During Lim Festival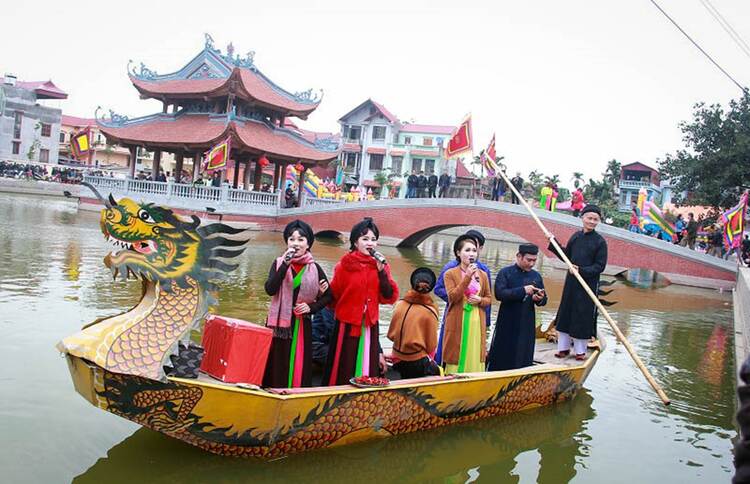 Hoi Lim is divided into two parts:
In the ritual part, the parade consists of the local people wearing colorful ancient garments. Many rituals and folk traditional games are held in the festival, while the "hát thờ" custom (a ceremony to honor people who rendered the services to the region and country) is virtually unique. To carry out the "hát thờ" ceremony, men and women attending to sing Quan ho folk songs have to stand in two lines in front of Hong Van tombs. During the "hát thờ" ceremony, they sing in an accentuated voice to honor the merits of the God Nguyen Dinh Dien. Besides, other ceremonies take place dramatically on the main festival day. Typically, the ritual of the village gods, heroines is held in Cổ Lũng temple and Hồng Vân tomb. Furthermore, villagers in Dinh Ca commune make ancestors' offerings in ancestral temples of the Do family or Nguyen family. 
Moreover, other traditional activities such as chess competitions, fighting martial arts and rice cooking contests are held in sheer joy and are welcomed by the local people and tourists. Remarkably, "Quan họ" singing part is the most attractive section of the Lim festival. Groups of women and men gather to join singing performances such as singing "mời trầu", singing "gọi đò" to "con sáo sang sông", "con nhện giăng mùng". The singing contest often occurs near noon and is organized on boats. At the small lake next to the field of Lim village, the illustrated dragon boat is moving and bringing soft traditional melodies. On one side of the boat is the group of women in graceful garments and opposite to these women are children in four-panel traditional dresses, while the group of men will stand or sit near the end of the boat.  The "Quan họ" singing contest takes place in the evening of the 12th. Each village will set up a tent in the large yard of Lim hill. Building the tent is regarded as the most interesting part of the festival.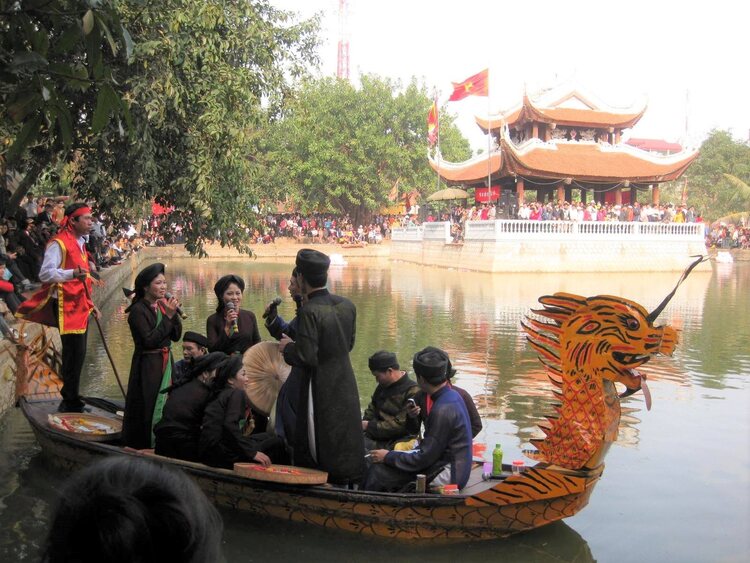 Setting foot on Lim festival, tourists will have a chance to immerse themselves into the folk music space from exhilarating to fluttering our hearts. The landscape in Lim festival is in absolute harmony of plain garments such as "ba tầm" conical hat, "quai thao" conical hat and oak silk bib. Lim villagers participate in the festival in a unique way, which is displayed through each gesture, each clothing. The festival runs along every part of Noi Due commune, the centre of Hong Van Mountain. The ceremony happens in the solemn, grand but cheerful atmosphere. The most attractive activities are featuring playing human chess, weaving contest, Quan ho singing contest. 
13th day of Lunar New Year is the main day of the festival. On the 13th day, the locals go in a procession up to Lim Hill which is the center of Lim Festival. At Lim Pagoda on Lim Hill, the representative of each village joins in an incense-offering liturgy to express respect and gratitude to Mr. Nguyen Dinh Dien (Nguyễn Đình Diễn). Nguyen Dinh Dien who was born in Noi Due Village lived in the 18th century. He made many great contributions to his hometown. He was the one who founded the Lim Festival.
Interesting recreational activities of Lim Festival start from the 12th day of Lunar New Year. If tourists and visitors come to the Lim Festival at this time, they will take part in the festival and see ''quan ho'' singing performance. "Quan ho" singing is performed at different stages and you can interact with singers. All the singers are in traditional costumes. Male singers who are called "lien anh" in Vietnamese wear "khan xep (khăn xếp)" and "ao dai (áo dài)" while female singers who are called "lien chi" in Vietnamese wear four-panel traditional dress (called "ao tu than (áo tứ thân)" in Vietnamese) and "non quai thao (nón quai thao)". In pairs of one female and one male, they sing together.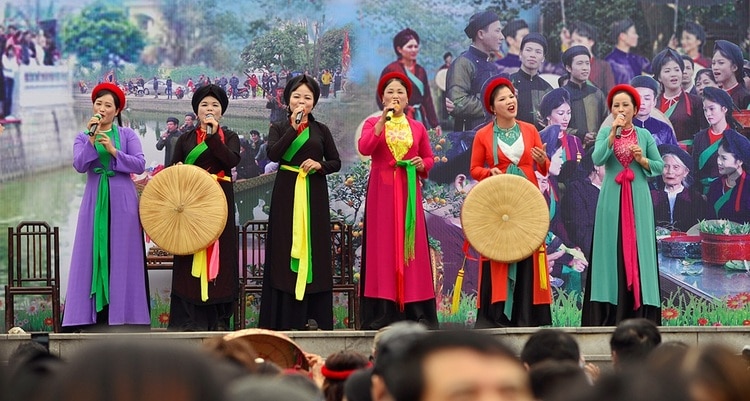 It is great to enjoy the lovely and smooth melody of "quan ho" songs while tasting the betel. Moreover, you can easily see the scenery of singers singing "quan ho" songs on dragon boat on the lake in front of Lim Communal House. Taking part in the Lim Festival, visitors can learn about the unique specialty of Kinh Bac (Kinh Bắc) and Vietnam.
Furthermore, there are some competitions during the day the festivals taking place. For example, tourists can have a great opportunity to play traditional games such as wrestling, martial arts, cooking, chess, cockfighting, blindman's buff, pot beating, tugging war, and teetering. Moreover, you can learn more about the Vietnamese culture of people living in the Red River Delta region when taking part in the competition of weaving.
Legendarily, Hoi Lim was originally from the myth of Truong Chi's singing voice. Truong Chi was born in a poor family but has a beautiful voice and flutes so absorbingly. He fell in love with My Nuong, the daughter of a mandarin. Sadly, due to his ugly appearance and poverty, My Nuong refused Truong Chi's love. He got sick and died of lovesickness, yet his singing voice still resounded far away as the plaintive cry, complaint to My Nuong. After that, the region of Kinh Bac emerged with melodies of folk songs which were attractive to both men and women.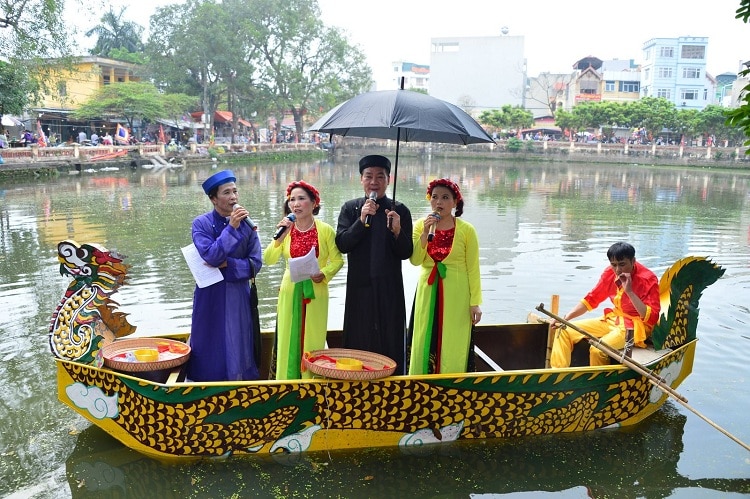 Lim festival is literally the festival of the Lim Village and riversides of Tiêu Tương river. Lim festival became the regional festival in the 18th century. When the defense command governor of Thanh Hoa, Nguyen Dinh Dien (born in Dinh Ca hamlet, Noi Due, Kinh Bac) was rewarded land and a lot of perquisite for services rendered to the country. He donated a large amount of his garden land, field land and money to Noi Due commune to restore pagodas, temples and organize festivals as a way to preserve traditions and customs. He also built the structure in front of his tomb and named it Hong Van tomb on Lim Mountain. Due to his merits to the region, Noi Due villagers worshipped him as the god of the region. Twice a year, the villagers often hold the ceremony to Nguyen Dinh Dien, once in his birth and once in his incarnation at the Hong Van tomb and Hong An pagoda on Lim mountain. After many years, Hoi Lim is combined with different kinds of culture; therefore, Noi Due villagers decided to hold Hoi Lim and the sacrifice of Nguyen Dinh Dien on the same day – the 13th of January (lunar calendar).
The time to organize Lim festival lasts for three days (from 12th to 14th January on Lunar Calendar every year); the 13th of January is considered the main festival day with many activities. The festival space is placed on Lim hill. On the hill, there is Lim pagoda – where to worship Hieu Trung Hau –the father of "Quan họ" singing custom. The festival will occur in three locals: Noi Due commune, Lien Bao commune and Lim town.
Despite ups and downs, traditions in the Lim festival are still well kept. Lim festival is the attractive destination for people who get eagerness on the cultural values. Seemingly, the vitality of spring is hidden in from each conical hat to oak silk bib. Besides, the festival is held in a distinctive way, which symbolizes the beauty of Kinh Bac people. Apparently, Quan họ becomes the intangible cultural heritage, the traditional culture of Vietnam.
With over 300 years of existence, Lim Festival has become a pride of Vietnamese people and played an important role in maintaining and protecting Vietnamese culture. I hope that this article will help you understand more about this special festival in Vietnam and have a great experience when you visit the Lim Festival. If you are interested in other Vietnamese festivals and exciting activities, you should go to Vina.com.