Updated: 08/21/2019
Taking place in Lim Village which is 28 km away from Hanoi, Lim Festival is held to celebrate Ba Mu (Bà Mụ), who lived as a Buddhist nun at Lim pagoda. During the festival, you will have a chance to enjoy the unique vocal stylings of locals through Quan Ho (Quan Họ) folk songs. The villages will choose the best singers to complete in singing dialogues. Visitors and tourists who visit Lim Village in Bac Ninh (Bắc Ninh) Province will have a chance to listen to the famous "lien anh (liền anh)'' and "lien chi (liền chị)'' (male and female Quan Ho singers) performances. In the festival, there are competitions of wrestling, weaving, worship ceremonies and processions. Because of these exciting activities and great meaning, Lim Festival attracts not only locals but also tourists and visitors from other areas.
About Lim Festivals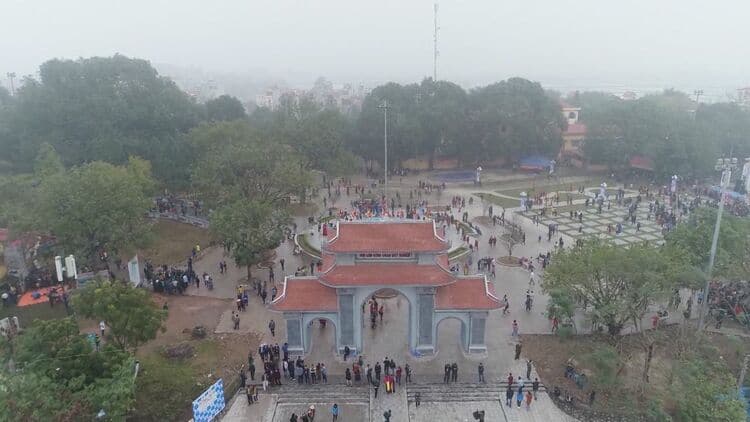 Annually held on round 12th and 13th of the first lunar month of the year in Lien Bao (Liên Bảo) Commune, Noi Due (Nội Duệ) Commune and Lim Town in Tien Du (Tiên Du) District, Bac Ninh Province, Lim Festival takes place with the purpose of enhancing and promoting the tradition of Quan Ho singing. Since 2019, this festival has become one of the UNESCO's Intangible Cultural Heritage.
What To Do During Lim Festival 
13th day of Lunar New Year is the main day of the festival. On the 13th day, the locals go in a procession up to Lim Hill which is the center of Lim Festival. At Lim Pagoda on Lim Hill, the representative of each village joins in an incense-offering liturgy to express respect and gratitude to Mr. Nguyen Dinh Dien (Nguyễn Đình Diễn). Nguyen Dinh Dien who was born in Noi Due Village lived in the 18th century. He made many great contributions to his hometown. He was the one who founded the Lim Festival.
Interesting recreational activities of Lim Festival start from the 12th day of Lunar New Year. If tourists and visitors come to the Lim Festival at this time, they will take part in the festival and see ''quan ho'' singing performance. "Quan ho" singing is performed at different stages and you can interact with singers. All the singers are in traditional costumes. Male singers who are called "lien anh" in Vietnamese wear "khan xep (khăn xếp)" and "ao dai (áo dài)" while female singers who are called "lien chi" in Vietnamese wear four-panel traditional dress (called "ao tu than (áo tứ thân)" in Vietnamese) and "non quai thao (nón quai thao)". In pairs of one female and one male, they sing together.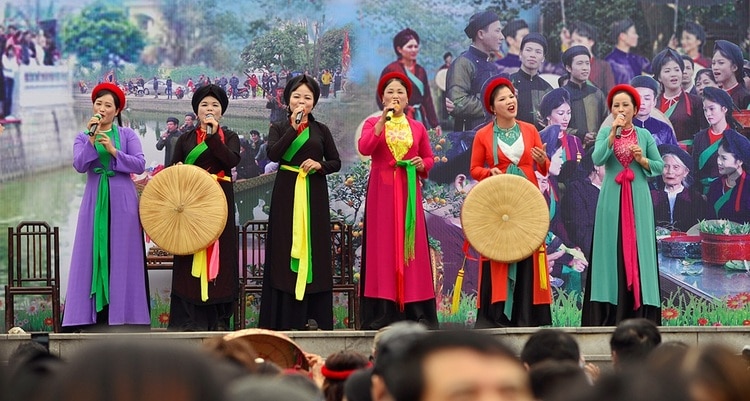 It is great to enjoy the lovely and smooth melody of "quan ho" songs while tasting the betel. Moreover, you can easily see the scenery of singers singing "quan ho" songs on dragon boat on the lake in front of Lim Communal House. Taking part in the Lim Festival, visitors can learn about the unique specialty of Kinh Bac (Kinh Bắc) and Vietnam.
Furthermore, there are some competitions during the day the festivals taking place. For example, tourists can have a great opportunity to play traditional games such as wrestling, martial arts, cooking, chess, cockfighting, blindman's buff, pot beating, tugging war, and teetering. Moreover, you can learn more about the Vietnamese culture of people living in the Red River Delta region when taking part in the competition of weaving.
With over 300 years of existence, Lim Festival has become a pride of Vietnamese people and played an important role in maintaining and protecting Vietnamese culture. I hope that this article will help you understand more about this special festival in Vietnam and have a great experience when you visit the Lim Festival. If you are interested in other Vietnamese festivals and exciting activities, you should go to Vina.com.