Source: trelangkienviet
Updated: 08/26/2019
Set within the Luu Phuong (Lưu Phương) commune in Kim Son (Kim Sơn) district of Ninh Binh (Ninh Bình) province, Phat Diem Cathedral (Phát Diệm) is known as one of the most beautiful and famous churches in Vietnam. Built in the 1875s and 1898s, this church with special oriental architecture is attracting more and more visitors and traveler around the world.
How To Get To Phat Diem Cathedral From Ninh Binh Center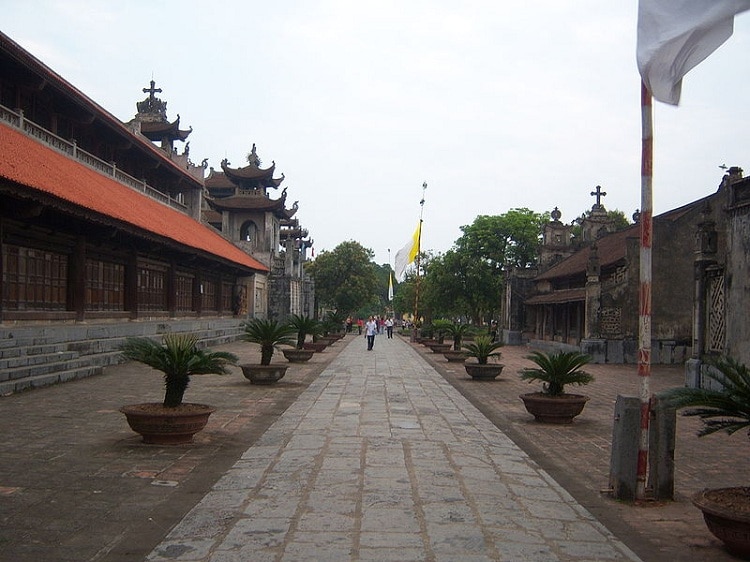 Source: trelangkienviet
Phat Diem Cathedral is far about 29km southeast of Ninh Binh and 121km from Hanoi. From Ninh Binh center, you can reach this church via QL10, which will take you about 45 minutes. Head across the bridge and then follow QL10 that is well signposted and straightforward. The last 10km of the route takes you through scenic landscape, beautiful rice fields, numerous canals and many great churches in villages.
Alternatively, public transportation like local bus also helps you get to Phat Diem Cathedral from Ninh Binh Station. The ticket may cost around 20.000VND/passenger.
What To See And Do In Phat Diem Cathedral, Ninh Binh, Vietnam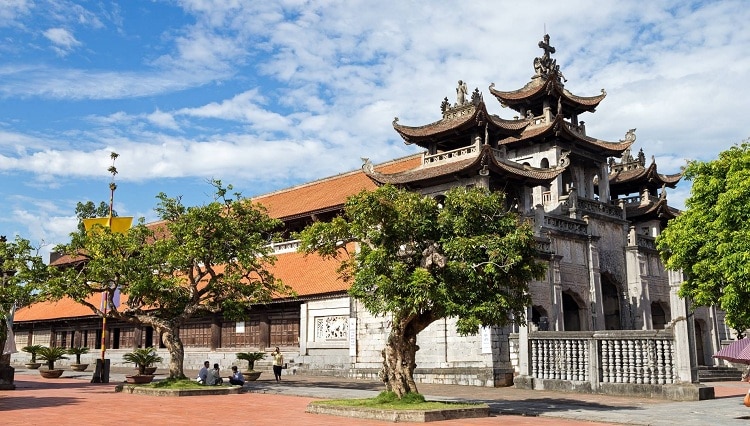 Source: trelangkienviet
Visiting Phat Diem Cathedral, Ninh Binh, you have the chance to discover the history of this famous church. It was built of wood and stone from 1875 to 1898, which took 24 years. The preparation phase also took 10 years to finish. In 1954, Phat Diem was closed due to a division of the Vietnamese forces making Catholics leave. Now, it has been opened and functional. On 15 August 1972, Phat Diem was bombed, which results in the entire collapse of two schools, convents and west wall. After restoration, there is no sign of this destruction.
Talking about Phat Diem Cathedral, Ninh Binh, we need to mention its special architecture that is a combination of Vietnamese religious and Western architectural style.
Phat Diem Cathedral is a complex that comprises of a cathedral, a lake, a bell house, a stone church, and three artificial grottoes. On the main road of the cathedral is a square lake and a small island with Jesus Christ statue is in the middle of the lake.
The bell house Phuong Dinh with stone carvings on the walls attracts visitor's eyes. Climbing up to the middle and upper floors, tourists can see a large drum and bell. From the top of Phuong Dinh, tourists can have a panoramic view of the town.
Leaving Phuong Dinh, they will discover the great cathedral named "Nha Tho Duc Me Man Coi (nhà thờ Đức Mẹ Mân Côi)". This cathedral has four small churches built in different styles.
Located next to the great cathedral, a stone church with the name "Nha Tho Trai Tim Vo Nhiem Nguyen Toi Duc Me (Nhà Thờ Trái Tim Vô Nhiễm Nguyên Tội Đức Mẹ)" has pillars, walls, bars, ground made of stone. Near the cathedral is also 19th century built bridge with stones.
When Is The Best Time To Visit Phat Diem Cathedral?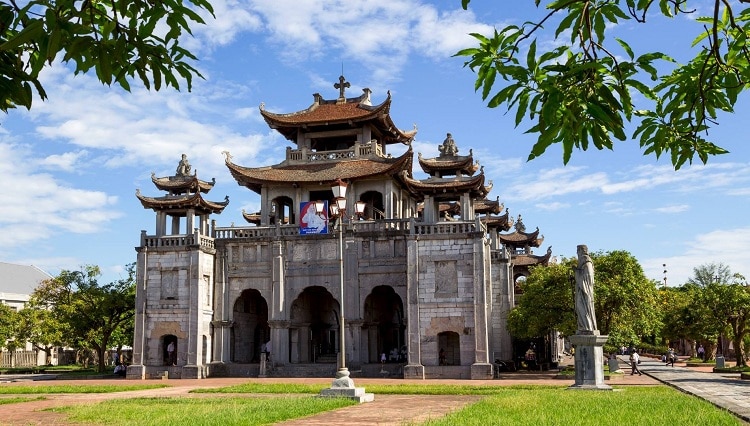 Source: trelangkienviet

Phat Dime Cathedral can be visited at any time of the year. That is up to you and your Ninh Binh travel schedule. However, according to local and tourist's review, the best time to take Phat Diem Cathedral tour is at Christmas when many meaningful activities and events are taken place. During that time, the whole cathedral is beautifully and meticulously decorated. In the evening, the splendor of Phat Diem Cathedral will make tourists surprised.
Where To Stay When You Visit Phat Diem Cathedral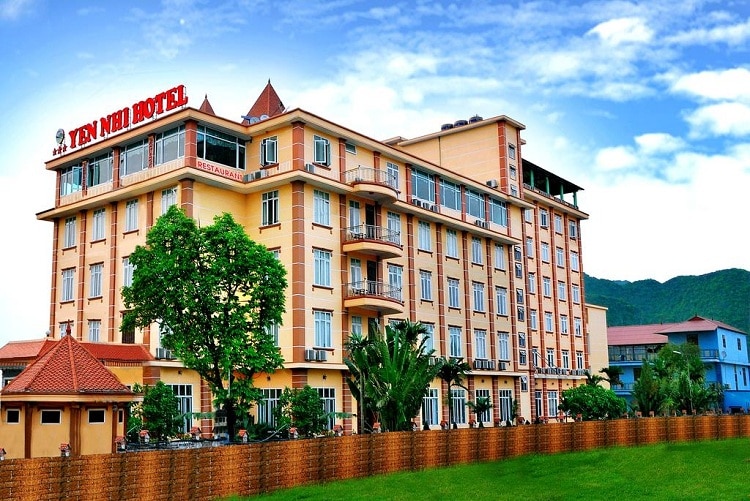 Source: booking
There are many hotels near Phat Diem Cathedral for you to choose from. But the most convenient options are the Ninh Binh Hidden Charm Hotel & Resort and Gold Ninh Binh Hotel with the price ranging from 400.000 – 2.500.000/ night. These accommodations are also near other famous attractions of Ninh Binh like Tam Coc (Tam Cốc), Bich Dong (Bích Động), Bai Dinh (Bái Đính) pagoda, etc.
Besides, if you look for the hotels with affordable prices, Yen Nhi Hotel Ninh Binh (Yến Nhi Hotel Ninh Bình), Viet Nhat Hotel and Saigon Hotel that cost you about 270.000 – 900.000/night are the recommended options. The homestays near Phat Diem Cathedral like Chezbeo Homestay, Binh Minh Homestay (Bình Minh homestay) are well-known because they nestle in the charming scenic landscape. These accommodations also have a cheap price – 167.000 – 350.000/night, which is a big bonus.
Visit Phat Diem Cathedral, Taste Kim Son Delicious Food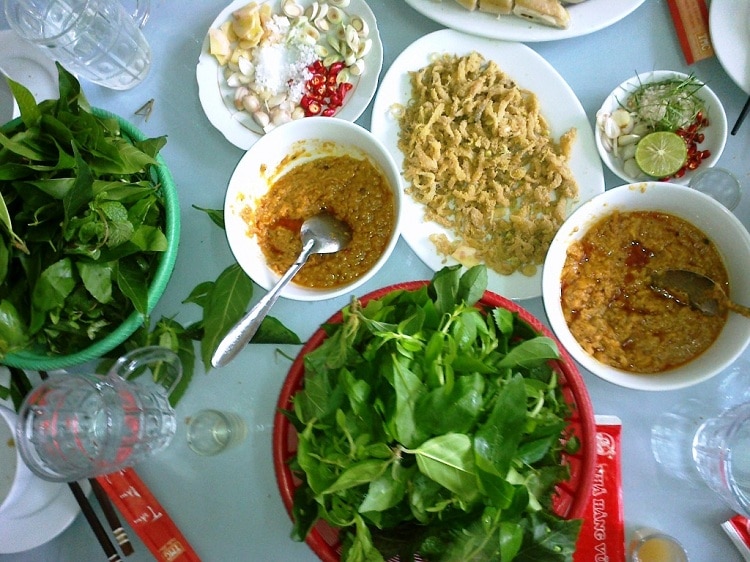 Source: ninhbinhhostels
Coming to Kim Son district and visiting Phat Diem cathedral, tourists should taste the delicious specialties of Kim Son. One of the special foods in Kim Son that wins the heart of most tourists is Kim Son Pisodonophis boro salad. This food is cooked with vinegar, ginger, chilli, garlic, lemongrass, and pepper. That combination creates its unique taste.
Furthermore, if you have the chance to visit Kim Son, you should enjoy the Wine Sticky Kim Son that is made from the sticky rice, natural water taken from well and Chinese herb ferment. It is great to drink this wine while eating special foods of Ninh Binh.
Before visiting Phat Diem Cathedral, you need to know the above information that gives you good preparation. Hope that you will have a meaningful and awesome trip to Phat Diem Cathedral. To know more about Vietnam travel, visit our Vina homepage.