Updated: 11/27/2019
Halong Bay (Vịnh Hạ Long) is one of the most well-known tourist destinations in Vietnam (Việt Nam). This landscape covers an area of 1,500 square kilometers in the North Vietnam. Halong Bay means "bay of descending dragon". This bay contains a dense cluster of 3000 limestone monolithic islands, and each island topped with the jungle vegetation. When travelling, shopping might be among the most favorite as well as popular activities of tourists. When visiting Halong, you not only enjoy the breathtaking scenes here but also have many chances to shop fresh seafood and souvenirs. Typically, in Halong Bay, shopping is not about big malls with famous branded items. You could totally expect a different experience of shopping in this area.
Shopping in Halong Bay could be a fantastic experience though the options are rather limited for tourists. The most interesting thing about shopping in Halong Bay, as well as in other coastal cities of Vietnam, is that you will see local people selling products on those small boats. Such floating stores could catch your own eyes almost instantly when you are on junk boat tours. According to experienced foreign tourists, they are surprised by such images so much.
To help you have the most detailed guide of shopping in Halong Bay, we gather all tips here. Take a quick look!
1. Halong Market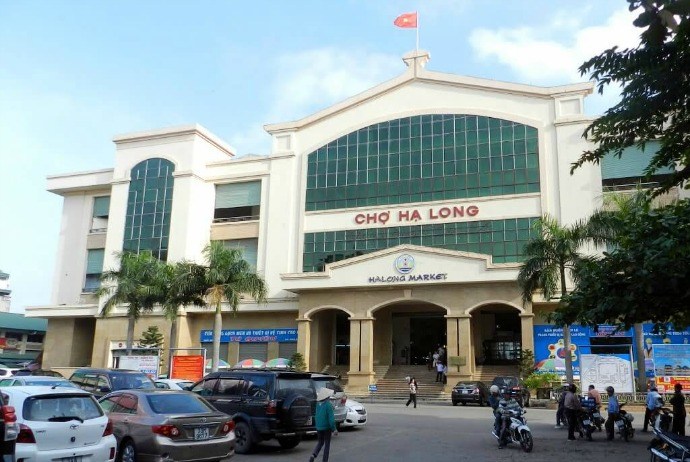 This market is built and officially ran in 2003. Being a new market in Halong, this is one of the most attractive places in the city for both locals and tourists coming for shopping in Halong. Situated in the center area of Halong city, the market is reckoned as the largest market of this city. The products displayed and sold here are very various, ranging from normal to luxurious goods with pretty competitive prices. Guests coming here could easily find anything they want, such as clothes, electrical devices, and accessories. Besides, the drinks and food here are sold out in restaurants inside the market. These restaurants are often small in area. Some detailed information about this market includes:
The first floor: you can find jewelries, pearls, embroidered paintings, electronics, and mother-of-pearl mosaic paintings

The second floor: you can find clothing, footwear, marine products and seafood
If you want to buy some most featured specialties of Halong, including seafood and dried squid, at reasonable prices, and then Halong market is your ideal destination. Halong Market is most crowded during weekend.
Opening hours: 6:00 – 18:30 every day
Location: Bach Dang (Bạch Đằng) Street, Halong City
2. Halong Night Market
Halong Night Market is another destination for tourists who want to enjoy diversifying experience of shopping in Halong Bay. The market is a big group of hundreds of stalls selling various kinds of products, including handmade accessories, handicrafts, clothes and other dispensable stuff like lotion, hat, or swimwear. Visitors tend to come to this market for buying unique products of the coastal city such as necklaces made from seashells, and wooden small boats, snails, or T-shirt with beautiful images of Halong Bay painted on. The great thing about this night market is that sellers here are very friendly and could speak English rather well, so tourists will be able to bargain easily. Even, you could have a nice chat with vendors about the city and its features.
The market is situated in the center area of Halong City and near the beach. Thanks to the good location, this market attracts a large number of people, including locals and visitors. It is crowded with most domestic tourists from April to July.
Opening hours: 6:00 – 22:30 every day
3. Bai Chay Commercial Center 
Another suggestion about shopping Halong Bay is Bai Chay Commercial Center. Built on the base of the minuscule market, it is the most modern center for shopping in this coastal city. The products sold here are diverse from normal to luxurious goods, and the prices seem a little bit higher than the two mentioned-above markets. Nevertheless, it is still reasonable because the customer service here is very good. This extra money is paid for more professional services, and ensured quality of products.
It just takes about 600 meters for you to go from the night market to this shopping center. Being very popular for locals, this shopping center has various goods, including clothes, shoes and other high quality products like Halong Pearl, crocodile leather, wooden souvenir and coal souvenir items.
Opening hours: 6.00 – 18:30 every day
Location: Vuon Dao (Vườn Đào) Street, Bai Chay Beach area
4. Halong Floating Market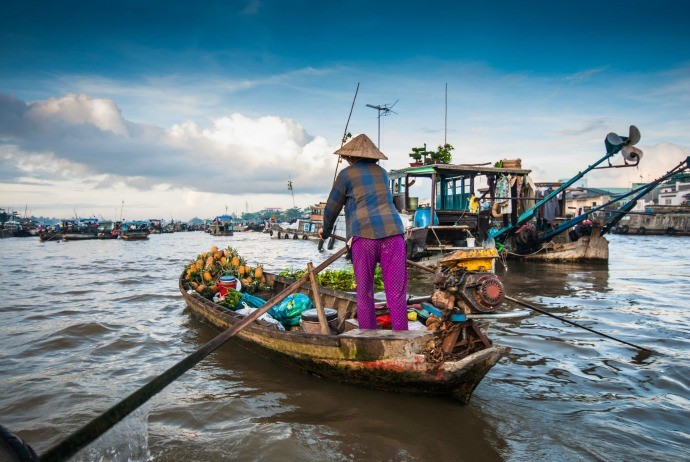 This market could be found nearby wharf, cruise ships, and in makeshift areas in which sellers lash their boats together. The waterborne convenience stores here carry most traditional fare, and fresh seafood.  The most noticeable goods sold here is fruits.  This floating market sells most fruits available in Halong city. The market will surprise most visitors for its interesting form. While it might cost more to purchase traditional stuff from this type of shop, the unique experience is usually worth the additional cost for every tourist.
5. Nearby Market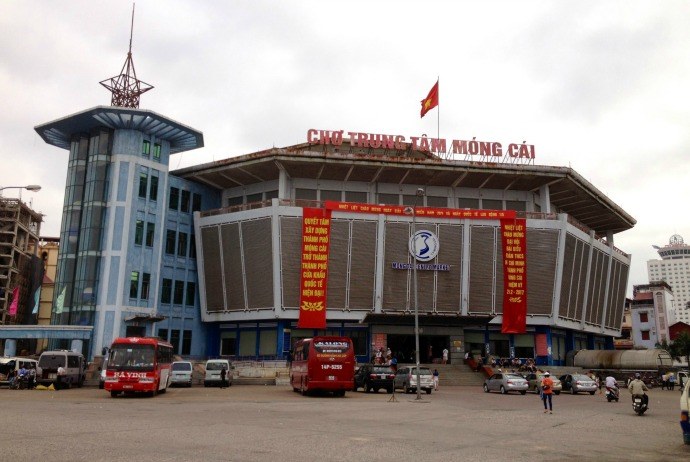 Whilst visiting Halong Bay, you should make sure that you visit Mong Cai Market. This market is popular for sightseeing and buying clothes, fabrics, fruits along with high tech products.
Rather different from the markets introduced above, Binh Lieu (Bình Liêu) Market is situated in the highlands of Quang Ninh (Quảng Ninh) province. This market is the gathering destination of vendors from ethnic groups, such as "San Chi" (Sán Chỉ), "Tay" (Tày), and "Dao" (Dao). Here, you could find agricultural products as major trading goods, including rice, oils of cinnamon, anise, particularly forest honey. The most interesting thing in this market is that vendors will not sell their products till final prices are precisely as what they expected in advance.
Well, a visit to Halong Bay could not be completed if you do not enjoy these markets. The experience of shopping in Halong Bay will help you treasure your time in this beautiful coastal city even more.
If you have any idea about this article of places for shopping in Halong Bay, Vietnam, then feel free to drop your words below this post. We appreciate your contribution and will respond as soon as possible.
Related Articles:
20 must-see Halong Bay attractions for tourists to visit
Halong nightlife guide – what activities for tourists to join in?
12 best Halong bay restaurants – where to eat in Halong, Vietnam?
20 things to do in Halong Bay – absolute must-try activities