Vietnam is a narrow, long S-shaped country that has a lot of striking landscapes ranging from jagged peaks, winding passes, forested mountains and lush rice terraces in the north to the majestic valleys in the Central Highlands and beautiful beaches in the south. This country is an amazing mix of natural landscapes and the diversity of culture with a long history and many ethnic minorities. Not to mention the rural areas brimming with fantastic panoramas, Vietnam also owns big cities that breathe with contemporary life. There will be lots of surprises for you to explore in Vietnam. That is why it is called one of the newly emerging destinations in Southeast Asia.
Here we uncover top 10 best places to visit in Vietnam that tourists should put into their travelling checklist:
1. Hoi An (Hội An)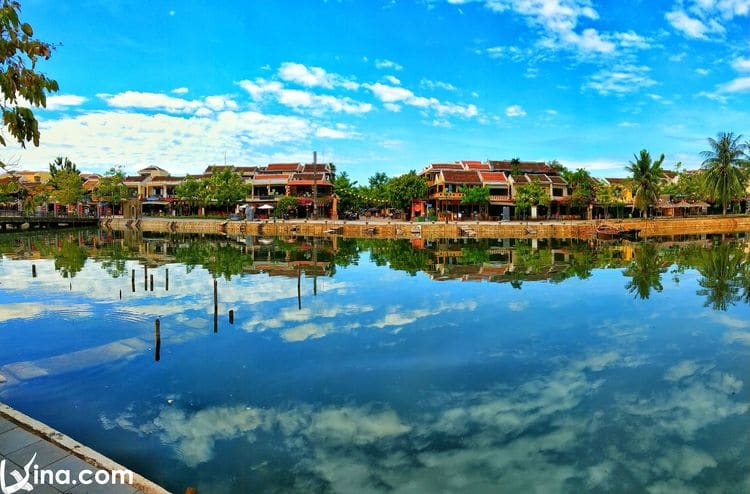 The Old Town By Truong Nguyen

Hoi An is located in Quang Nam (Quảng Nam) province in the Central Vietnam. This ancient south-east Asian trading port has been recognized as one of UNESCO World Heritage Sites since 1999. The historic town contains elements related to architecture and food reflecting a long-term relationship with France and Japan because it has been influenced by these countries for more than a thousand years of migration, trading, domination and war.
Hoi An is called as Venice of Vietnam because it is near the sea. There are many attractions in Hoi An that tourists can visit, namely the Chinese temple of Phuc Kien, Hoi An Riverside, Hoi An old town, Tan Ky House (Nhà Cổ Tấn Ký), Japanese bridge (Cầu Nhật Bản), (Đảo Cẩm Kim), Chinese Assembly Halls (Hội Quán Trung Hoa), An Bang Beach (Bãi Biển An Bằng), Cua Dai Beach (Bãi Biển Cửa Đại), etc. Delicious specialties are also attractive elements in Hoi An heritage town. This place is ideal for tourists to taste authentic Vietnamese street food and learn the art of cooking traditional Vietnamese food through a half-day cooking class.
Also read: 18 Must-See Hoi An Attractions – Places To Visit For Tourists
2. Nha Trang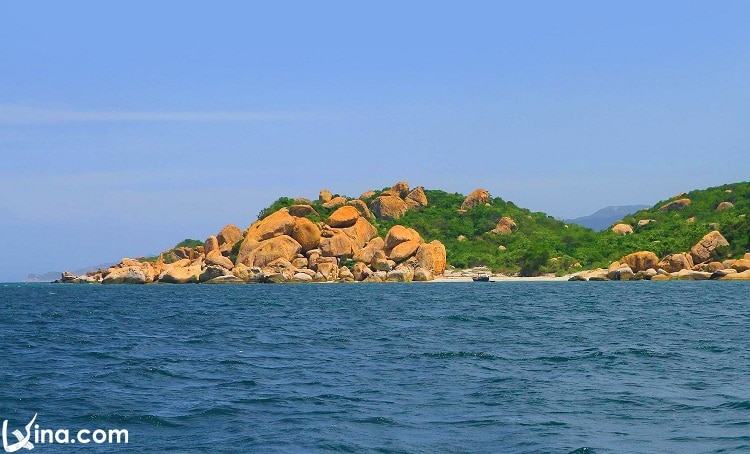 Nha trang Photo By Tho Bo Ho

If you are looking for something fun in Vietnam, Nha Trang is an ideal choice. This is a well-maintained coastal city which possesses picturesque mountains, lush islands and blissful white sandy beaches that make it a favorite destination among both domestic tourists and international ones.
The seaside resort city offers a myriad of recreational and sightseeing activities and is steeped with spectacular architectures of the Buddhist temples, Champa Kingdom. There are also unique waterfalls, salt fields and hot springs in this coastal city. One of recently well-known destinations in Nha Trang is Vinpearl Land which boasts a theme park completed with Ferris wheel, thrill rides, a water park as well as a luxury resort that can definitely satisfy almost tourists.
The food culture in Nha Trang is also diversifying that can cater to any budget level as well as preference. Indeed, Nha Trang is considered an underrated pearl in the Southeast Asia. That is why it is enlisted in this series of top 10 best places to visit in Vietnam.
For more information about Nha Trang, visit this Nha Trang travel guide from A to Z.
3. Hue (Huế)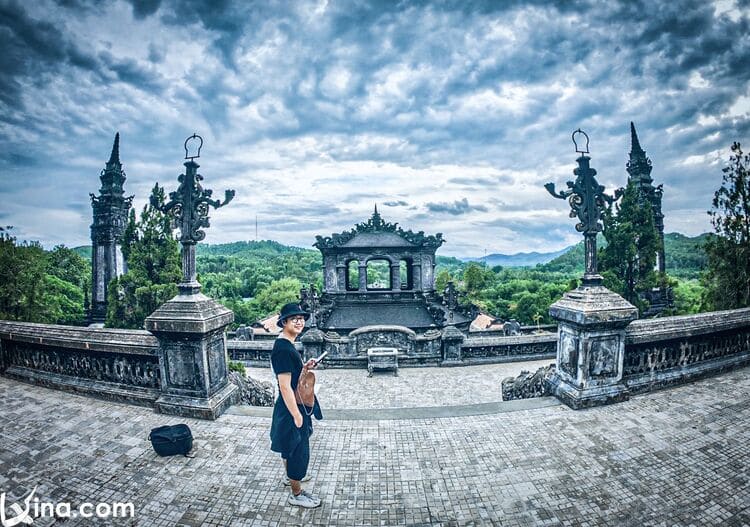 The Complex Of Hue Monuments photo By Son Anh Le

Hue – one of ancient cities in Central Vietnam – is situated on the Huong (Hương) River's banks. This old city used to be the imperial capital of Nguyen dynasty. Hue is famous for its historic values and has been recognized as among the World Heritage Sites by UNESCO. This former royal capital represents the power the Vietnamese feudal empire, which includes a complex of monuments, pagodas and tombs which attract a large number of tourists.
Some tourist destinations in Hue are Hue imperial citadel, emperors' tombs like Minh Mang tomb (Lăng Vua Minh Mạng), Tu Duc tomb (Lăng Vua Tự Đức), Khai Dinh Tomb (Lăng Vua Khải Định), etc; pagodas like Thien Mu (Thiên Mụ), Tu Dam (Từ Đàm), Huyen Khong (Huyền Không), Tu Hieu (Từ Hiếu)pagodas. In this city, not only can you visit ancient attractions, but you can also have a chance to lie and bath under the sun, relax yourself in mineral hot springs like Thanh Tan (Thanh Tân), take a bike ride through the rural areas, and watch royal art performance.
If you choose Hue as a destination in your trip to Vietnam, don't skip enjoying Hue's specialties. The cuisine in Hue is not only to satisfy the basic needs of human beings, but also a form of art. In compared with other regions in Vietnam, gastronomy of Hue is light, elegant and noble. Some of Hue dishes that you should not miss are "Com Hen" (Cơm Hến – processed from rice and baby clams), Che (Chè – sweet soups) which has more than 50 varieties.
4. Sapa
Landscape Of SAPA By Vina.com

This is reckoned one of the most famous places to visit in Vietnam. Sapa belongs to Lao Cai (Lào Cai) province, Vietnam. This small, mountain town is located approximately 350km northwest of the capital Hanoi. Sapa is a quiet town, which is home to many ethnic tribal groups, namely the Dao, Hmong, Tay (Tày), Xa Pho (Xà Phó), Giay (Giáy), etc. Currently, this town is a destination of a large number of visitors thanks to its inspiring natural beauty and unique elements like highland tribes, forest treks, and iconic rice paddies. The weather in Sapa is not for everyone, it is miserable, wet and cold. So if you visit Sapa for the climate, it is not a good choice. What makes up the attraction of Sapa is its landscape and people.
Visiting Sapa, you can have a chance to conquer the Fan Si Pan peak, which belongs to Hoang Lien Son mountain range (Dãy Hoàng Liên Sơn) and is the highest one in Vietnam.
Other attractions include Ta Phin village (Bản Tả Phìn) and cave, Cat Cat Village (Bản Cát Cát), a modest cathedral and small museum. An activity highly recommended for tourists is to take a strop up and down steep streets in Sapa.
More: Sapa tourism – A handbook from A to Z for tourists
5. Halong Bay (Vịnh Hạ Long)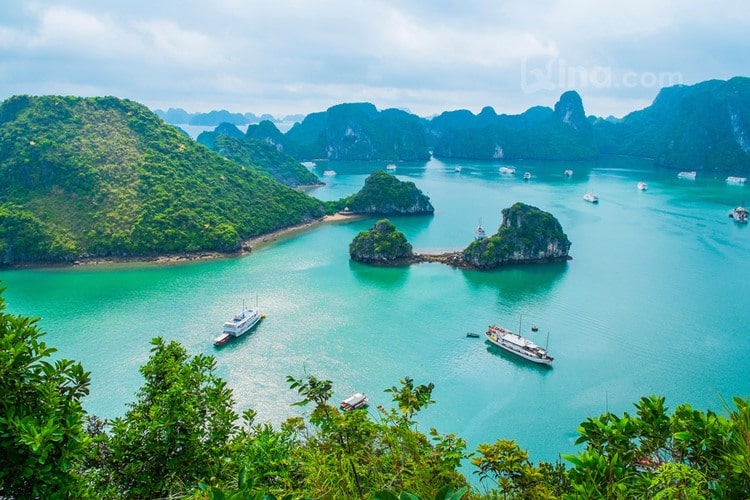 Landscape Of Halong Bay By Vina.com

An amazing natural wonder in northen Vietnam is Halong Bay. This area contains 1,600 islands as well as islets. Covering an area of 1,500 square kilometers, Halong Bay was recognized as a UNESCO World Heritage Site in 1994. This magical bay has numerous attractions, namely Dau Be Island (Đảo Đầu Bê), Dau Go Island (Đảo Đầu Gỗ), Fish Farms, Floating Villages, Sung Sot cave (Hang Sửng Sốt), Bo Hon Island (Đảo Bồ Hòn), Trinh Nu Cave (Hang Trinh Nữ), etc. Visiting this bay, tourists can enjoy some interesting activities in Halong Bay like cruising, kayaking, swimming and snorkeling. Also, do not forget to contemplate the beautiful sunrise and sunset as well in Halong Bay. These moments make this bay more touristic daily.
6. Hanoi (Hà Nội)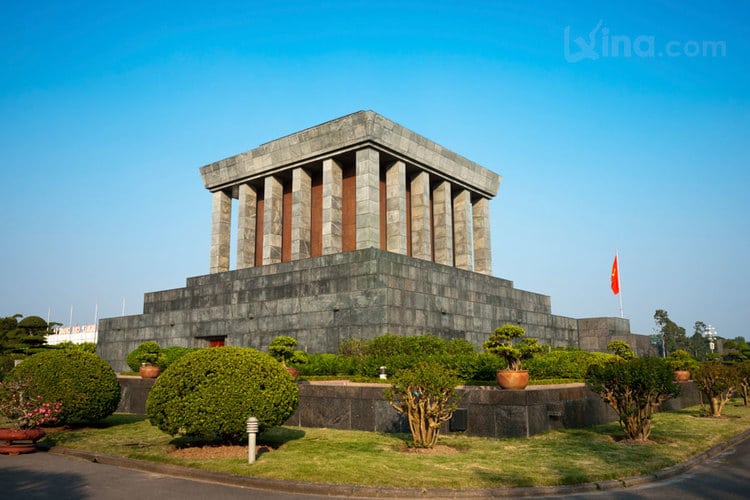 Ho Chi Minh Mausoleum Photo By Vina.com

Hanoi is like Bangkok of Thailand because there is always something to discover at every corner of the city. Considered one of the busiest cities in Southeast Asia, Hanoi is great for tourists to explore on foot. This is one of the oldest capitals in the world Vietnam with a river running through the city center. Hanoi is famous for its beauty, which is mixed between modernity and ancientness, from delectable cuisine, skillful silks and handicrafts, to vibrant nightlife and a multi-cultural community made up of French, Chinese and Russian influences.
Some attractions that travelers should not miss in Hanoi are Hoan Kiem Lake (Hồ Hoàn Kiếm), Ngoc Son Temple (Đền Ngọc Sơn), Ho Chi Minh mausoleum (Bảo Tàng Hồ Chí Minh), Hanoi Old Quarter, Temple of Literature (Văn Miếu), Water Puppet Theatre (Rạp Múa Rối Nước), Imperial Citadel of Thang Long (Hoàng Thành Thăng Long), etc. This ancient city also possesses scenic lakes which are best viewed from the rooftop restaurants, crowded alleys of the Old Quarter and offers many specialties like Cha Ca (Chả Cá – turmeric fish with dill), mien xao luon (Miến Xào Lươn – glass noodles with deep-fried eel), Bun Thang (Bún Thang – rice vermicelli with egg, chicken and pork), Banh Cuon (Bánh Cuốn – Vietnamese steamed rice rolls), Xoi Xeo (Xôi Xéo – sweet sticky rice), etc. Indeed, Hanoi is a worth-visiting destination on its own when it comes to best places to visit in Vietnam.
7. Ho Chi Minh City (Thành Phố Hồ Chí Minh)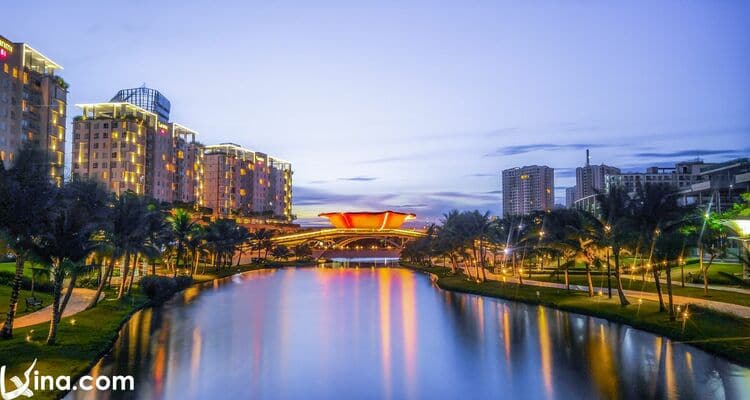 Street Photos Of Saigon By Dat Minh Nguyen

Also called as Saigon (Sài Gòn), Ho Chi Minh City is considered the busiest as well as financial center of Vietnam, which possesses a prominent history dating back hundreds of years. These days, this city becomes a renowned tourist site among tourists thanks to its classic French architecture, fascinating culture, ornate pagodas and temples, and also sleek skyscrapers. Some of worth-trying activities in Saigon are getting haggling at Ben Thanh market (chợ Bến Thành), heading underground, going for a scoot (since HCMC is a city of mopeds), enjoying a caffeine fix, visiting the War Remnants Museum, etc. actually, if you find yourself in Saigon, this hub provides you with urban and cultural experiences that are hardly found in other cities of Southeast Asia.
8. Mui Ne (Mũi Né)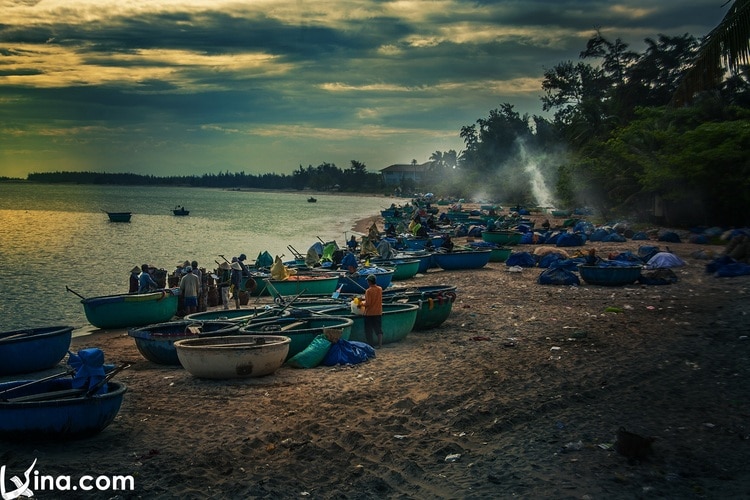 Photos Of Phan Thiet Landscape By Bao Doan (Cu Cay)

Used to be an isolated stretch of shoreline, Mui Ne now is a string of beautiful beach resorts. Despite there is still an original fish village, tourists appear in this destination more and more these days. Mui Ne has been considered a tropical paradise with beautiful white sandy beaches, red and white sand dunes, and Cham monuments.  Some activities that tourists should try in Mui Ne are kite surfing, fishing, sand-sledding, visiting Fairy Stream (suối Tiên), explore Ta Cu Mountain, etc. In regard to dishes, there are a wide range of options that you can choose to dine in such as fresh seafood, burgers, pizza, etc.
Also read: 20 Most Beautiful Beaches In Vietnam Voted By The World
9. Danang (Đà Nẵng)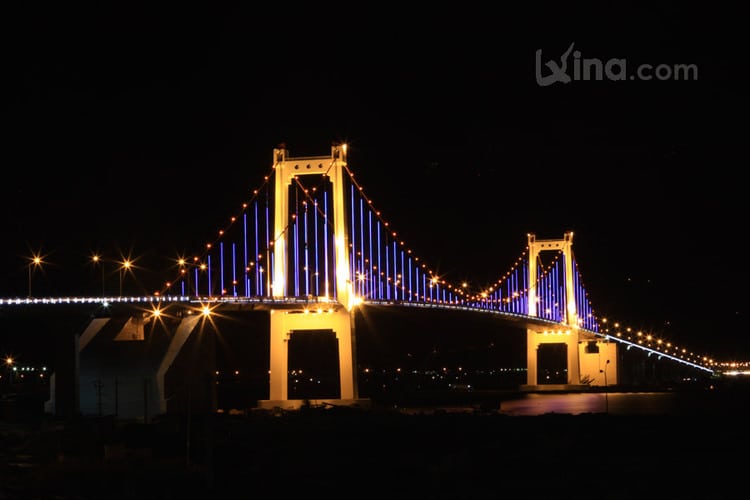 Thien Phuoc Bridge Photos By Vina.com

Danang is a main tourist hub in Vietnam thanks to its numerous attractions and convenient direct flights, both domestic and international. This city is modern, clean, laid-back and bordered by a long white sandy beach. Actually, not to mention some historical sight, shopping highlights, iconic bridges, and top-notch resorts, the main incentive reasons for tourists to travel to Danang is its well-known Lang Co Beach (Bãi biển Lăng Cô), My Khe beach (Bãi biển Mỹ Khê), My Son Sanctuary (Thánh Địa Mỹ Sơn) and so on. The coastline of Danang stretches over 30km and is renowned for cool, calm waters, in addition to being an ideal site for diving, yachting and water-skiing. Thus, Danang is a perfect choice for those who are looking to soak up the sun while on holidays due to its pristine beaches with a wide range of sightseeing opportunities and relaxing activities.
10. Dalat (Đà Lạt)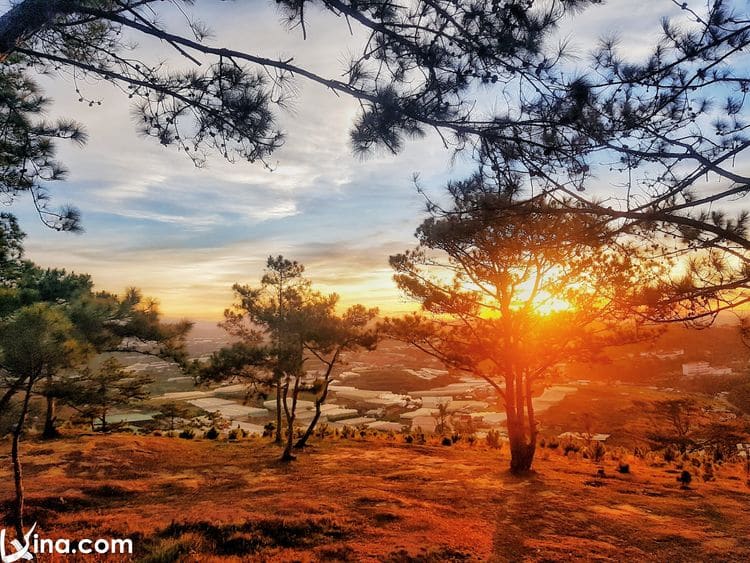 Photo Of Da Lat Landscapes By Peter Huynh
Dalat has long become the most popular destination for tourists to spend their getaway holidays since French colonial periods.  It is called as a little Paris in Asia which features with a mini-replica Eiffel Tower in the town center. Dalat is well-known for its various flowers, fruits and vegetables grown in surrounding farmlands and many other beautiful natural landscapes, chic colonial architecture, minority villages and green forests. The weather in Dalat is cool all year round.
Visiting here, tourists can also be able to take part in a myriad of activities that are suitable for those people who want to relax or seek adventures as well as thrills. This town is also ideal for people who love sports since they can have an opportunity to hike or join in activities such as white-water rafting. The cuisines in Dalat are unique, namely banh trang kep and soybean milk. Indeed, this small town is definitely a worth-visiting destination if you happen to be travelling around Vietnam.
In addition to 10 best places to visit in Vietnam above, there are many other interesting destinations that Vietnam will surely attract most tourists. After reading our list, what places did you add to your bucketlist? If you have gotten places in mind and decided to visit them, then share your experiences with us by leaving comments below. We are happy to hear them. Have a nice trip in Vietnam!