Updated: 11/14/2019
Halong Bay (Vịnh Hạ Long), situated in the Gulf of Tonkin, in Quang Ninh (Quảng Ninh) province, in the northeast of Vietnam (Việt Nam). It is about 165km from Hanoi (Hà Nội) – the capital of Vietnam. It was classified as a UNESCO World Heritage site and also one of the seven New Wonders of Nature in 1994. This mystical landscape is about 103 miles and contains more nearly 2000 islands and jagged limestone islets. Halong means "where the dragon descends into the sea". Many tourists, both domestic and international, choose to visit Halong due to its well-known breathtaking beauty. Due to their precipitous nature, most of Halong's islands are uninhabited and unaffected by the human beings.
Comprised of a multitude of limestone islands as well as islets rising from the sea, in various shapes and sizes and presenting unspoiled, picturesque nature, Halong Bay is deserved a spectacular seascape gorgeously sculptured by the nature with a series of Halong Bay attractions. While it could be technically possible to visit the landscape of Halong bay independently, the popularity of this bay makes a tour a more economical and convenient option.
As usual, most tourists sensibly choose tours that allow them to sleep on a boat in the bay while some might dodge Halong City and then head straight to Cat Ba (Cát Bà) Town. As being the top tourist attraction in Vietnam's northeast, Halong Bay attracts a large number of tourists all year round. From January to March, the weather is often drizzly and cool, while from May to September, there are frequent tropical storms; tourist boats might need to alter their itineraries now and then, depending on the weather.
Visiting this wonderful landscape, you could experience diverse natural landscapes, varying from thousand-year-old-lime karts to long sandy beaches. There are a lot of Halong Bay attractions for visitors to consider, yet not everyone can spend their time visiting all. Hence, this article will help you choose 20 out of must-see Halong Bay attractions and make your way to this natural wonder of the world.
1. Cong Tay Island (Đảo Cống Tây)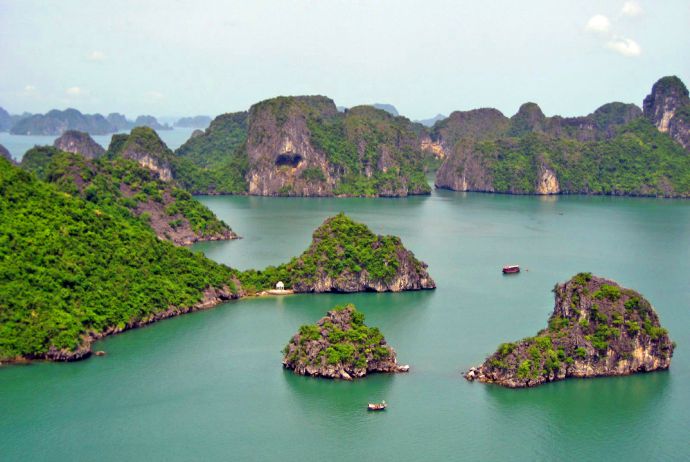 The first one when it comes to Halong Bay attractions is Cong Tay Island. Located in Bai Tu Long (Bái Tử Long) Bay, Cong Tay Island is a part of the tour around Ngoc Vung (Ngọc Vừng) Island, which is approximately 40km away from Bai Chay (Bãi Cháy) Cruise Port. Cruises and ships normally run from Cam Pha (Cẩm Phả) to this island in nearly 90 minutes, and 30 minutes by speedboat.
This site attracts tourists by a scenic setting of green forest and lime-stone mountains. Also, the beach is a highlight of the island for beautiful scenery and quiet atmosphere of the nature.
Recently, the infrastructure on this island, including restaurant, guesthouses, and port, is enormously invested in order to attract more visitors coming to the island.
In fact, it is still undiscovered and untouched by the extensive tourism. The beauty of Cong Tay Island lies in the simplicity with a convenient hotel system, which is equipped with restaurants, lies along the beach in front of Cong Tay Island. Along the beach, tourists could witness hammocks which are readily hanged under the trees, creating an ideal place to enjoy the sea and, relax and read some favorite books. Visiting here, tourists will definitely get lost in such a strange peaceful landscape and enjoy a complete relaxation.
2. Dau Be Island (Đảo Đầu Bê)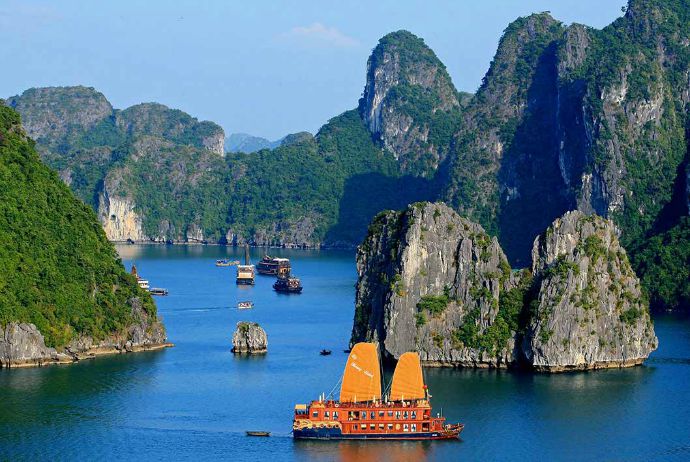 Situated in Halong Bay's southeast, Dau Be island is estimated about 500m to the east of Hang Trai Island, about 28km away from Bai Chay Cruise Port. This island covers the area of nearly 23000 m2 with the highest peak of about 139 meters. One of the noticeable point about this island that the steep island cliffs stand like the walls helping shield the island from the waves coming from the east into the Gulf.
Being well-known for Ba Ham (Ba Hầm) Lake, Dau Be Island is famous destination among many Halong Bay attractions for a long time. In reality, Ba Ham Lake contains three main ocean basins which are linked with each other via a meandering narrow cave. Within the cave, the stalactites hanging down from the cave's ceiling creates strange sizes and shapes. Besides, there are some species of banyans, orchids, and palm trees on the island. This island is also home to various types of birds, golden monkeys, flying squirrels, bats. There are a variety of marine species living under the blue water. So, if you want to discover something more adventurous like steep cliffs, Dau Be Island is your ideal choice among many Halong Bay attractions introduced here.
3. Ba Mun Island (Đảo Ba Mùn)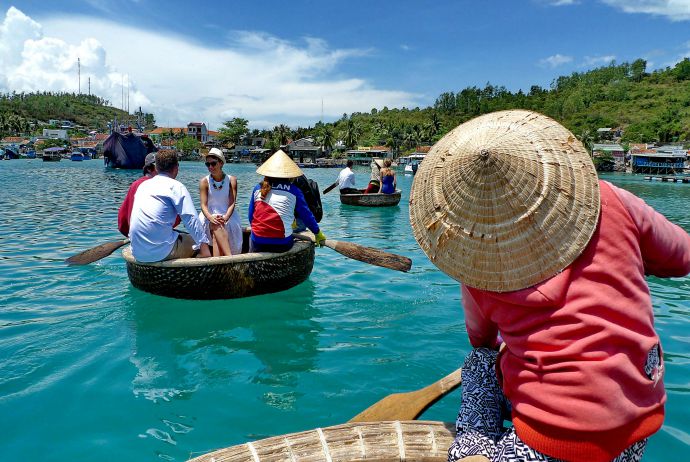 Belonged to Minh Chau (Minh Châu) communes of the Van Don (Vân Đồn) district, Ba Mun Island, one of the natural Halong Bay attractions, lies parallel to Quan Lan (Quan Lạn) Island. This island is also called as High Island Block, which is approximately 15 km from the sea shore. Covering an area of 1800 hectares with over 20 km in length, stretch from east to west, this island is narrow in width.
The Mandarin mount (also known in Vietnamese is Quýt Mountain) is the highest one here that is about 397m in height. Discovering the diversified flora and fauna on this island will bring an interesting experience to tourists.
On the other hand, this island is the only one having primeval forests in Halong Bay, aside from other numerous rare kinds of timber, such as Lim timber (gỗ Lim), Sen Timber (gỗ Sến), Dinh Timber (gỗ Đinh), and Tau Timber (gỗ Táu). They are plants developing a huge circumference for a long time here. Even, some grow big that about 3-4 people can hug around them. Ba Mun Island is the place where a lot of rare animals like monkeys, deer, antelope, langurs, migratory birds and sea birds are being well protected.
4. Cong Do Island (Đảo Cống Đỏ)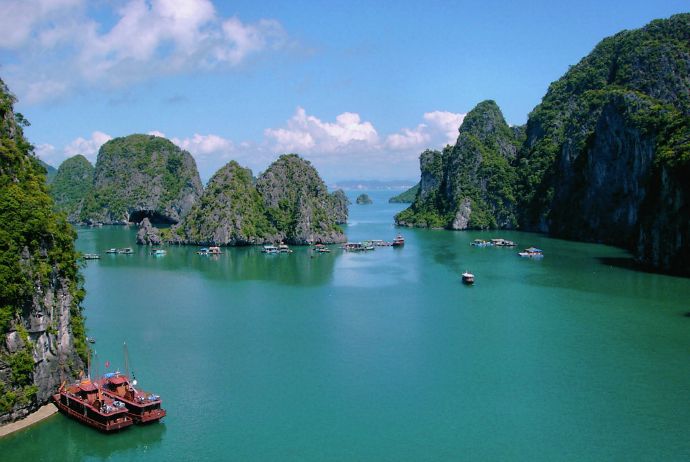 About 25 km from Bai Chay Wharf, Cong Do is in Bai Tu Long Bay, on the south east side of Halong Bay. This area is recognized as the World Heritage, covering over 23 square meters with the highest peak of about 172m. This island features with various lagoons, which are the residence of a lot of species of sea-life, like crab, fish, shrimp, aquatic plants. There is a wonderful wide coral reef displaying great colors. The coral reef ecosystem of Cong Do Island is over 300 meters in width and 700 meters in length. It is well preserved nearly undamaged.
Thanks to the scenic backdrop of the lime stone mountains, green forest, and lush, this island is considered as an attractive destination among different Halong Bay attractions. With serene surroundings as well as natural beauty, the beach is another impressive point of this island. In order to professionally cater for visitors, a lot of ports, guesthouses, and restaurants are developed in Cong Tay Island.
Tourists could easily find the ecosystem here which is particularly diverse without the need of biological knowledge.
Keep reading this list of Halong Bay attractions to visit more must-see places in Halong!
5. Bo Hon Island (Đảo Bồ Hòn)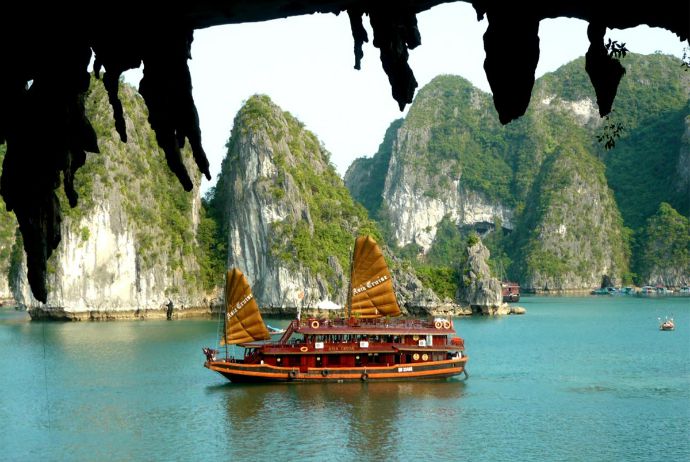 In regard to Halong Bay attractions, Bo Hon Island is absolutely worth visiting, which has not only wonderful landscapes but also one of the biggest island chains with a number of Halong Bay famous caves, such as Luon Cave (Hang Luồn), Sung Sot cave (Hang Sửng Sốt), Trong Cave (Hang Trống), Tien Cave (Hang Tiên) Trinh Nu Cave (Hang Trinh Nữ). Those caves are well-known places for travelers whenever they want to discover Halong Bay. In addition to magnificent cave system, Bo Hon Island also impresses you by its series of steep cliffs, high peaks, and consecutive mountains. These features intertwine together and fit perfectly into the horizon. That is why you will feel like they are ideally crafted by the skillful craftsmen when witnessing them.
Really, Bo Hon (Bồ Hòn) Island is the home of a variety of flora and fauna along with wild animals. This island is the home of many plant species, including Orchid, Banyan Tree, etc. The animals reside here are deer, antelope, monkeys… despite the number of wild animals nowadays is diminishing, this island is still the sanctuary for animals to live in. On the other hand, Bo Hon Island is also well-known for its hidden cave system with each one bearing a nice magic of its own, and is well connected with touching legends.
6. Lan Ha Bay (Vịnh Lan Hạ)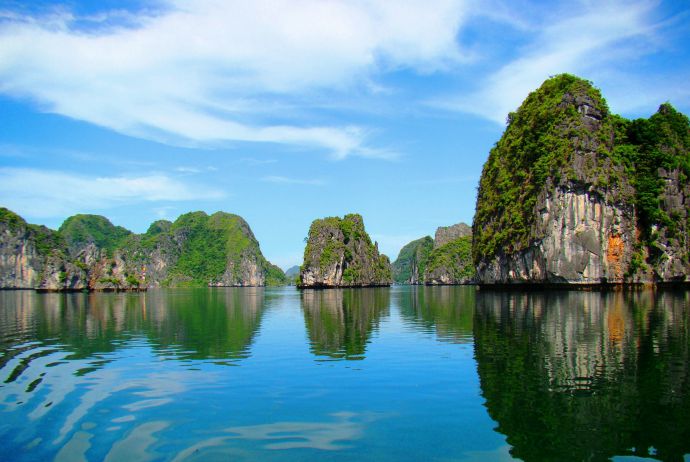 Lan Ha Bay, one of the most beautiful Halong Bay attractions, is situated adjacent to Halong Ba and is a peaceful bay of the system of Cat Ba islands.
Having approximately 400 small and large islands, mysteriously covered with green trees and vegetation, Lan Ha Bay features a peaceful beauty of all Halong Bay attractions. Limestone makes up a huge part for the small islets in this bay. If you are a person who loves marine sports, then Lan Ha Bay is your ideal choice. The calm water here is suitable for kayaking and swimming, especially around Cu islet, Sen Islet, and Money Islet. Stalactite caves like Do Cung (Dõ Cùng), Ham Rong (Hàm Rồng) or beaches at Cat Dua (Cát Dứa) beach, Tung Gau (Tùng Gấu) Cave, are some of the natural Halong Bay attractions, in general, and Lan Ha Bay attractions, in particular.
Having 139 clean and beautiful beaches with blue water and white sand, Lan Ha Bay will not let any tourist disappoint about its beauty. Calm sea and gentle waves make this a perfect place for swimmers. Additionally, under the sea, colorful reef area like Van Ha (Vạn Hà), Van Boi (Vạn Bội) is really worth a discovering adventure. To learn more about this bay, it is recommended for you to take several days to explore this place. However, if you do not have enough time to do so, you could ask the boat owners to suggest some of the most impressive destinations.
7. Yen Tu Mountain (Núi Yên Tử)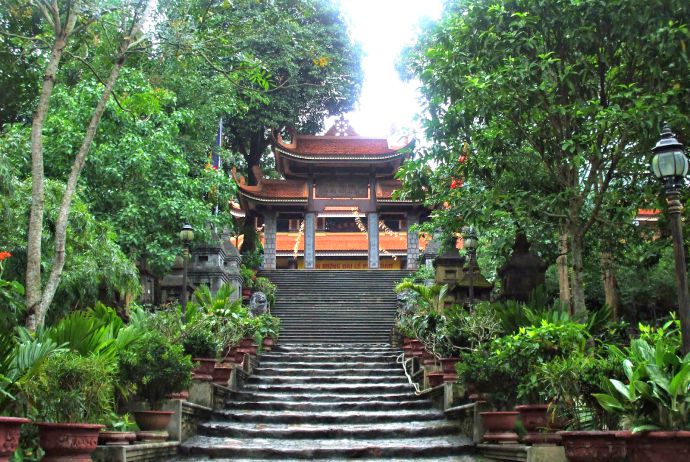 In regard to religious Halong Bay attractions, we cannot skip Yen Tu Mountain. This is the highest peak in Dong Trieu Mountains in the north-eastern area of Vietnam, situated inside the Uong Bi (Uông Bí) Town, Quang Ninh province. Not mention to being a well-known natural landscape, Yen Tu also preserves a lot of historical relics and is called as "The cradle of Buddhism in Vietnam".
You can take shuttle bus, motorbike or car to arrive at Yen Tu from Hanoi. Yen Tu mountain is located at an altitude of 1068 meters above the sea level. The beauty of this landscape lies in the majesty of its mountains mingling with the ancient and solemn quietness of is shrines, pagodas and towers.
In springs, this mountain attracts a huge number of tourists, both domestic and international who visit here for both sightseeing and pilgrimage. On the 10th day of the first lunar month, Yen Tu festival starts and on the end of the third lunar month, this festival ends.
Really, when it comes to Quang Ninh attractions, in general, and Halong Bay attractions, it is hard to forget Yen Tu Mountain as the historical monument along with landscapes associated with the unique architecture of pagodas create the cultural and historical values of Yen Tu. Annually, tourists from countrywide gather here to burn the incense and respectfully pray for the best wishes in life for their relatives, family and friends. Nowadays, tourists do not have to climb their own in order to reach the peak of the mountain as there is a modern cable car system. Yet, if you still want to take a stroll, and enjoy the fresh, airy atmosphere, experience wonderful moments with your friends and family when visiting Yen Tu, taking a long walk (about 6 hours) through the paths in the green forests is really an interesting and memorable journey for you.
A common destination on Yen Tu Mountain is Hoa Yen (Hoa Yên) Pagoda at the height of 543 meters, which is the biggest one among Yen Tu Mountain pagoda complex. Climbing further to the height of 700 meters is the Van Tieu (Vân Tiêu) Pagoda, which is lying inside white clouds layers, and Dong (Đồng) Pagoda is one the height of 1068m and made entirely from copper. These pagodas are very sacred to visit.
8. Ti Top Island (Đảo Ti Tốp)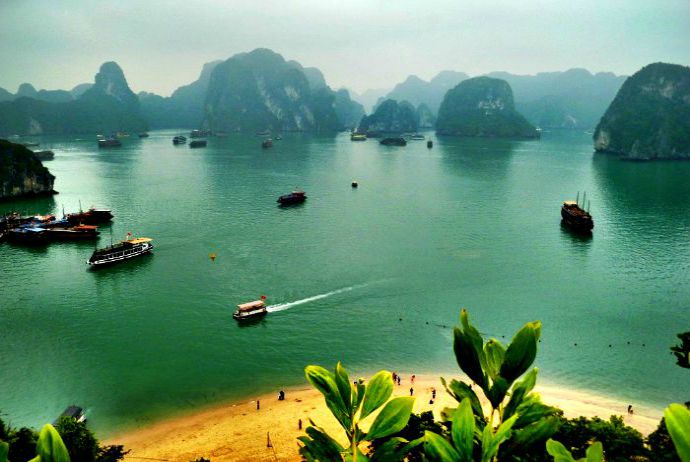 The next one in this list of Halong bay attractions is Ti Top (Ti Tốp) Island. In French colonial stage, Ti Top Island was named Cat Nang (Cát Nàng) Island, located 14 km from Bai Chay to the East of Halong Bay. This is a wonderful stop of cruising on Halong Bay and a relaxing heaven in Halong. Fact is, Ti Top Island is considered as one of the most attractive spot for both domestic and international visitors to Halong.
Different from many other popular Halong Bay attractions, Ti Top Island does not just owns breathtaking romantic landscapes, but also a beautiful beach named Ti Top beach which is ideal for any beach activity.
This beach is so peaceful and is well-worth a visit, especially when the heat starts to hit.
Despite the size of Ti Top Island is not big in compared with other beaches in Halong Bay, it is still particularly famous for the fresh atmosphere, smooth white sand and clean water that create a perfect balance for visitors to relax. Due to all of these, Ti Top Beach draws a big amount of tourists during summer and other special occasions.
To serve the developing number of visitors to Ti Top Island, a lot of high-end hotels, resorts, souvenir shops, restaurants, and life-buoy renting, kayak, skydiving facilities built in recent days.
Most tours in Halong Bay today, whether day tours or much longer durations tours, often include Ti Top Island in their visiting list and tourists could enjoy playing and swimming around the beach.
9. Thien Cung Cave (Động Thiên Cung)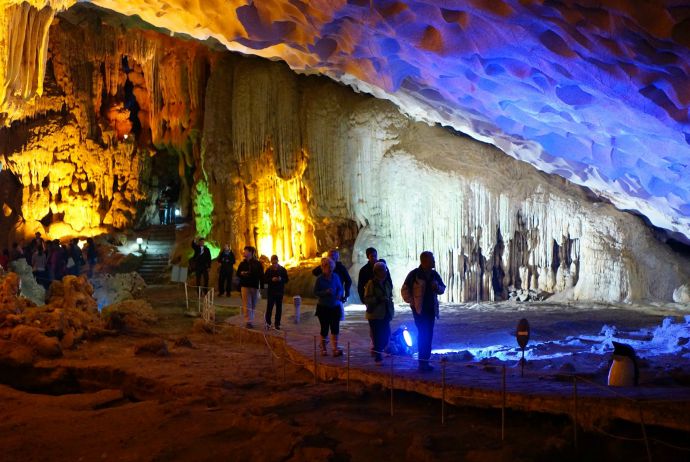 This cave is located on the south-west side of Halong Bay, about 4km from the wharf outside Ha Long City. Thien Cung (Thiên Cung) Cave is on the same island with Dau Go (Đầu Gỗ) Cave and makes the tourists the impression of being in the heavenly world. Covering an area of 10,000 square meters, Thien Cung Cave has complicated interior structure, high ceiling and many floors. This cave becomes well-known due to the unique system of stalagmites ad stalactites with various shapes and forms. The opening entrance to Thien Cung Cave is perched in the middle of the mountain, requiring additional attempts in hiking up here from tourists. When entering this cave, tourists will discover overwhelmed by the unreal beauty of the caves with flows of stalagmites and stalactites which will enhance your imagination.
When coming to the cave's center, you will see amazing rows of stalagmites drooping through long time ago that create colorful image and melodies thanks to the wind as well as the light inside the cave.
After leaving this cave, trust me, you will experience a linger sensation like having just finished a tour to the massive, breathtaking art museum designed by the Mother Nature.
10. Surprise Cave (Hang Sửng Sốt)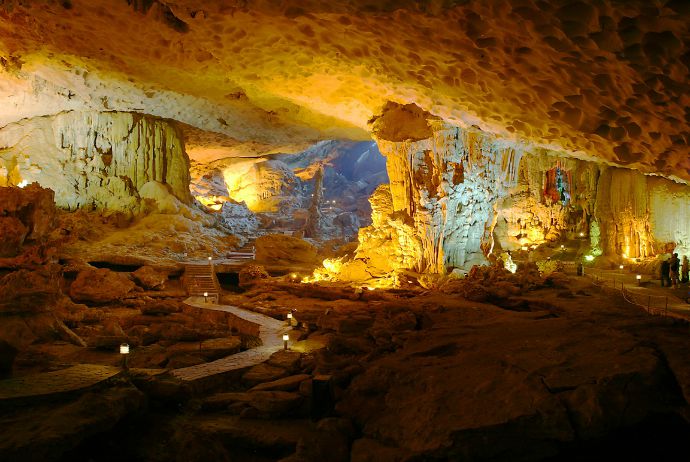 Surprise Cave is situated inside the Bo Hon Island, right in the middle of Halong Bay. It is reckoned as the most magnificent Halong Bay attractions. In the past, this cave is called "Grotto de la Surprise" and nowadays, it has been shortened to "Surprise", describing the feeling of visitors when entering the cave the first time, with full of "Amazing", "wow" and "incredible".
Going a few initial steps into the cave, there might be a thought rising in your mind that this cave seems like a minuscule and narrow one, yet with some more steps into this cave, its seems much bigger. The visitors cannot imagine how such a small path can lead to an airy, giant, and spectacular cave.
For those tourists with imaginative mind, the cave's inner space could be felt as a large theatre which is made by the Mother Nature. The ceiling is spectacularly decorated with stalactites and the floor with numerous rocks in diverse shapes of horse, elephant, to tree, flowers and leaves. It is said that the further you enter the cave, the more interesting and amazing shaped rocks appear. Even, some visitors said that the cave could be called "Cave of Unfathomable Depth."
Looking for a longer adventure? Check the Halong Bay attractions below!
11. Quan Lan Island (Đảo Quan Lạn)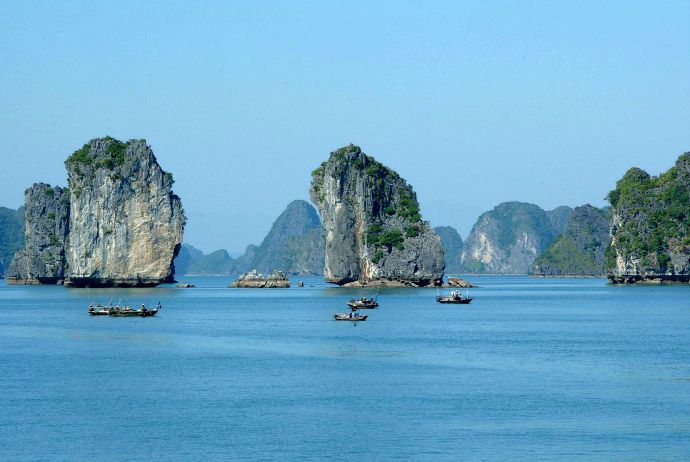 Situated within the area of Bai Tu Long Bay, Quan Lan Island stretches on the area of 11 square kilometers, from Giot (Giót) Mountain to Van Don (Vân Đồn) Mountains.
This island lies on a crucial marine gateway linking Vietnam and different countries like Japan, China, The Philippines and Thailand. A series of sand beaches spread along the Quan Lan Island's coast, including Quan Lan Beach, Minh Chau (Minh Châu) Beach, and Son Hao Beach. These beaches are pristine in compared with other Halong Bay nearby beaches. The closest to the pier is Quan Lan Beach, which is also the most impressive beach of total. Both these beaches are where local fishermen catch high quality seafood like butterfish, squids, prawn, mackerel, sea cucumber, and so on.
In this island, the most tourist attraction is Quan Lan Temple, which has really impressive architectural design with nicely carved patterns. Especially, it is still well preserved till now.
Because of its remoteness, the accommodating facilities of Quan Lan is slowly emerging. It is usually for tourists to opt for small hotels or even homestays. It is not necessary to book the reservations in advance because they are easily available year round.
12. Ngoc Vung Island (Đảo Ngọc Vừng)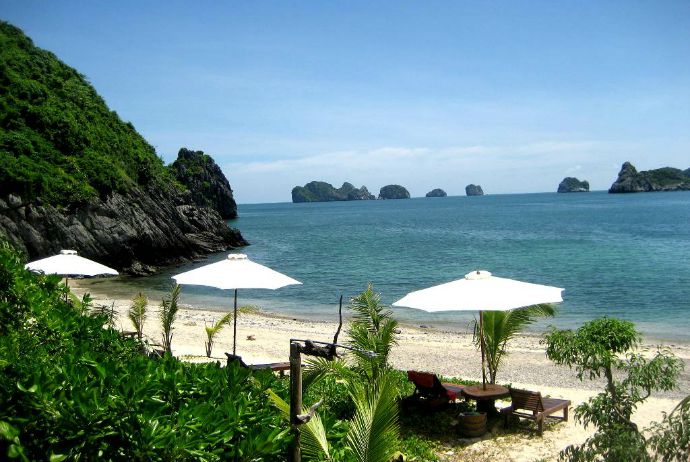 One of the most romantic Halong Bay attractions is Ngoc Vung Island that owns primitively great landscapes with the tasties and freshest seafood and at the lowest price.
This island belongs to Van Don District, covering an area of 12 square kilometers. On NgocVung Island, visitors will have an opportunity to enter the enchanted world of beach and mountain; enjoy the peaceful and quiet atmosphere here. Furthermore, tourists could also relish the tasty dishes made from fresh ingredients supplied by local fishermen. It is said that the best manner to explore Ngoc Vung Island is to cycle on the small roads around the Island.
In addition to the value of tourism, this island also has a prestigious historical value. From Halong Harbor, it might take 5 hours to get to the island. After you set foot on this island, there will be mountain bikes which are ready for using as people on the island do not use motorbike or car. In addition, if you want to enjoy every aspect of this peaceful island, using bikes is a great way.
13. Minh Chau Beach (Bãi Minh Châu)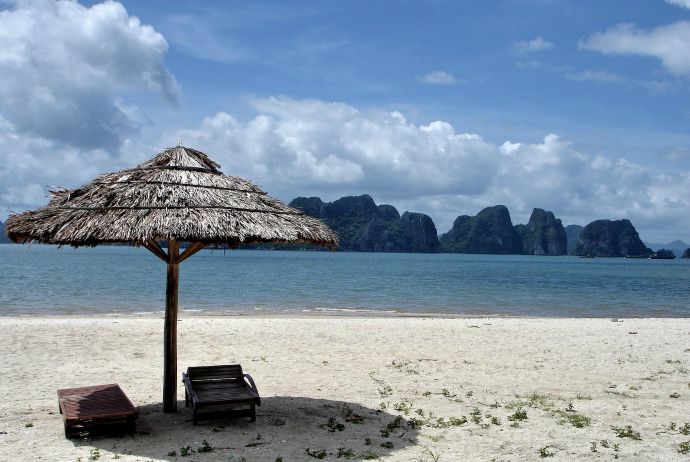 Minh Chau beach is situated about 15 km away from Quan Lan Beach, one of the ideal Halong Bay attractions for those who love enjoy wild beauty of the nature. If you want to enjoy a long journey, a visit to Minh Chau Beach will definitely be a smart choice. The unique feature of this beach is that its white sand gives people a comfortable feeling while walking on. This famous beach that is proud of the white sand that does not stick to tourists' foot.
Tourists can go camping there to stay overnight. On Minh Chau Beach, visitors would love to enjoy various beach activities, exploring the island, releasing their body and mind into a relaxing and quiet ambiance on the beach and looking for rare sea animals of this island. Those people interested in visiting Minh Chau could depart from Cam Pha (Cẩm Phả), cross Tai Xa (Tài Xá) Ferry to Cai Rong (Cái Rồng) Town. The last transportation to Minh Chau Beach is using canoes, for about 3 hours. There, you could also visit fishing villages as well as tropical green islands for enjoying the stunning landscape of this bay.
In addition to the chance of enjoying this magnificent landscape as well as many fun beach activities, you could be pleased by an extensive menu of delicacies from high-end restaurants and hotels in this island.
14. Kissing Rocks (Hòn Trống Mái)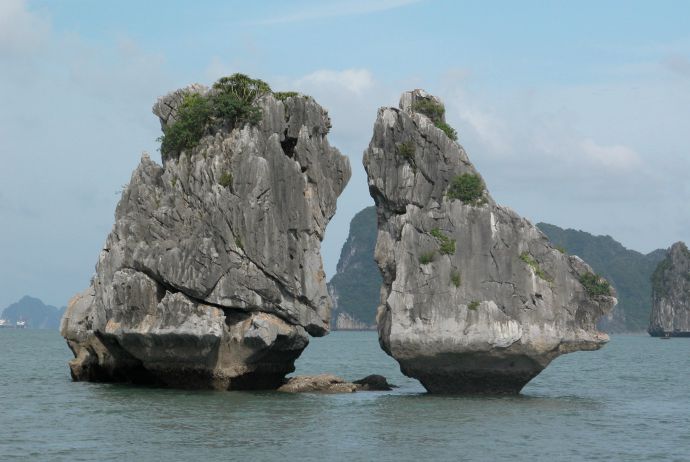 Having thousands of islets at different sizes and shapes on the surface, Halong Bay has countless stories. Among these beautiful islets, there are two most particular chicken shaped rocks, one hen and one rooster facing to each other right in the middle of the clean blue water. Not only are they the symbols of Halong Bay, but also a symbol of a passionate love. For some other people, these rocks seem like fighting each other, so they cal these rocks "Fighting Chicken Rock", yet others might prefer the name "Kissing Rocks". These rocks symbols for an eternal love.
15. Dau Go Cave (Hang Đầu Gỗ)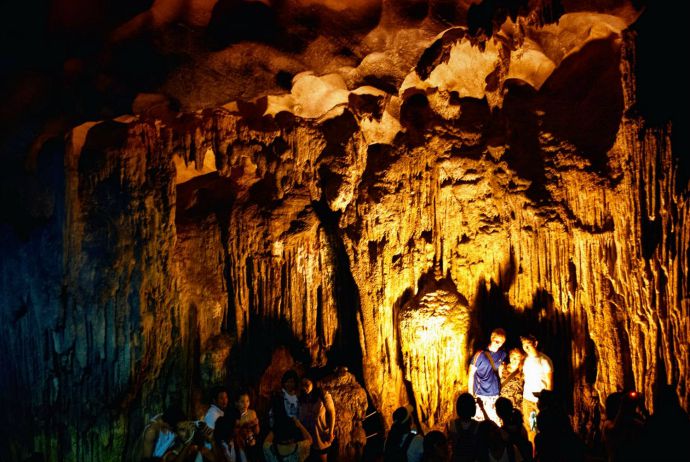 Floating on the emerald blue water, Dau Go Island is considered one of the most attractive Halong Bay attractions. Thanks to the magic hand of Mother Nature along with the rich imagination of human beings blown into the islands, rocks, and caves seemingly senseless, this island becomes very famous among tourists. The Dau Go Cave has 3 parts started being inhabited from the 3rd century A.D. The cave is about 27 meters above the sea level with the entrance about 12 meters in width and 17 meters in height. Entering this cave, you will discover a magnificent world of stalagmites and stalactites that are the result of karts process during a long span of time. They have various shapes and sizes. These masterpieces of the Creator will definitely impress tourists coming to Halong, particularly if accommodated with secret light. Many visitors like letting their own imagination go wild with all the light reflecting on those stalactites and stalagmites.
When pass the first area through a narrow entrance, visitors will approach the second one. Though it is shortage of light, it has more intriguing ambiance of fuzzy picture formed by harmonic combination of stalactites and light, stimulating your curiosity. The last part is rather massive with a well of clear water at the end. Looking up in the dim light, you will recognize that surrounded is the picture of an ancient citadel and a scuffle of horses, elephants, man with spear and bristly sword.
Want to enjoy something wild? The following Halong Bay attractions will not let you down.
16. Cat Ba Archipelago (Quần Đảo Cát Bà)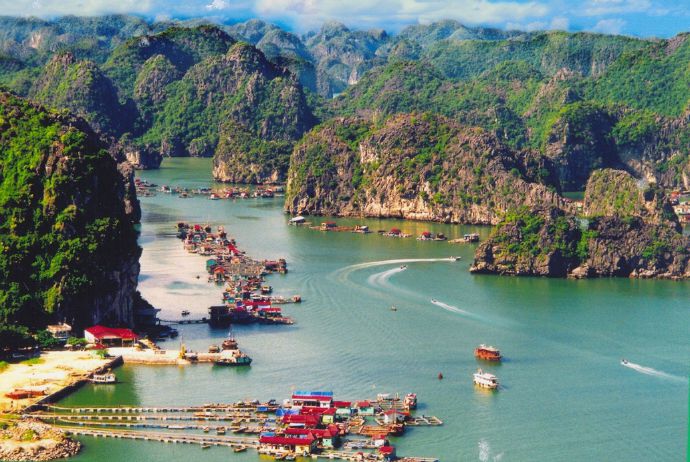 In fact, Cat Ba Island belongs to Hai Phong (Hải Phòng) province, yet it is just 25 km away from downtown Halong Bay. So, it is still worth mentioning as one of the highly recommended Halong Bay attractions. Containing 367 islands, the archipelago is not only the most attractive tourism destinations in the north of Vietnam, but also a precious national park, confirmed by UNESCO as the World Biosphere Reserve Park.
Among these islands, Cat Ba Island is the largest one and also the most attractive destination to travelers with wonderful beauty. Whilst some travelers visit this island in order to relax and enjoy fresh air in high-end resorts, others might prefer adventurous tours to Cat Ba National Park, Phu Long (Phù Long) Cave, Hung Son (Hùng Sơn) Cave, and Trung Trang (Trung Trang) Cave.
Despite speedboats connecting Cat Ba Island and Hai Phong have been regularly operated, a large number of travelers still opt for traditional ferry to approach the island. It takes about 80 minutes of travelling on the sea by ferry to reach the island. During this time, you will have time to enjoy the beautiful landscape, and the relaxing airy atmosphere between two coastal cities.
In recent years, Cat Ba Town has gone through a hotel boom partly, and the rest of the island is still untouched. On summer weekends, Cat Ba Archipelago becomes a roaring resort, filing up with vacationing Vietnamese. The best time to visit Cat Ba is from late September to November when the water temperatures and air are mild and the skies are clear. From December to February, it is cooler but pleasant. From June to August, summer is humid and hot with occasional thunderstorms. Also, this is the peak season and the island is packed with most domestic tourists.
17. Bai Dai Beach (Bãi Dài)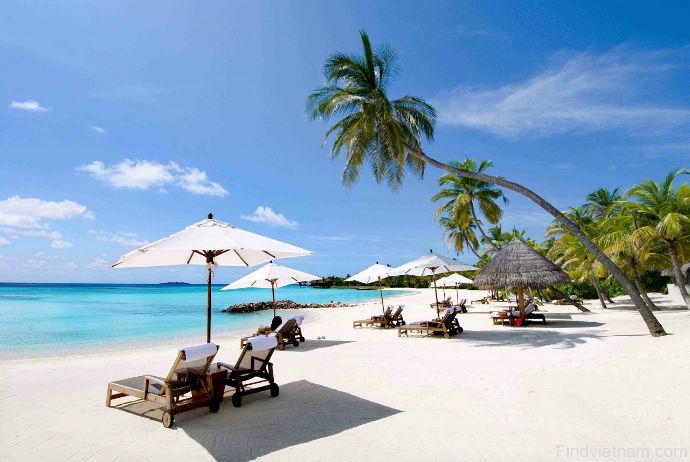 Long Beach, also known as "Bai Dai" in Vietnamese, is located in Van Don (Vân Đồn) District. This is one of the most attractive Halong Bay attractions, in particular, and in the north of Vietnam, in general. This beautiful beach is known for the poetic and primitive beauty that could be hardly found anywhere else in the world.
As its name, Bai Dai stretches for up to 2 km, with white and smooth sand, in addition to blue, clean water. This beach is particularly crowded during summer when people, particularly domestic ones want to run away from the scourging heart of a tropical country. There are a lot of beach activities available here that you could enjoy. Yet, if you just love something quiet, just simply rest on the beach and listen to the melody of the waves. Not mention to the relaxing atmosphere and breathtaking landscapes, Bai Dai also provides tourists with excellent services, including a chain of high-end resorts, restaurants, and hotels of 1000 rooms in total. In addition, travelers might find this beach much more enjoyable with various choices of activities held by trustworthy resorts here, like kayaking, volleyball, Jet Ski, Spa, karaoke, sauna, and so on.
Due to the romantic and peaceful scenery, the wooden dock is the highlight of Bai Dai, which is an ideal spot for professional photographers to make incredible masterpieces. A lot of people find this place a perfect destination for wedding photo-shooting.
Furthermore, travelers could take a one day cruise from Bai Dai to many other Halong Bay attractions such as Bai Tu Long bay, tropical green islands including Quan Lan, Ngoc Vung, Minh Chau, and sacred Cai Bau (Cái Bầu) pagoda.
18. Co To Island (Đảo Cô Tô)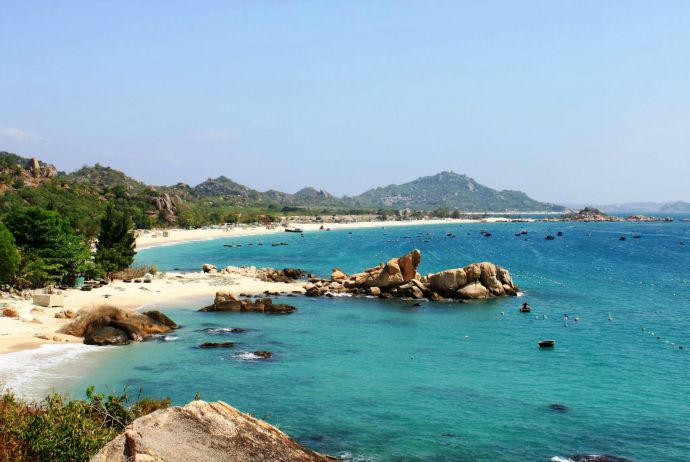 In regard to Halong Bay attractions, Co To Island/Beach might be the most romantic and beautiful beach in the north of Vietnam with clear blue sea, golden sunshine, white smooth sand, and forest and green mountains.
Travelers who have never visited Co To might hardly imagine how charmingly and fascinatingly wonderful it is. Coming Co To, travelers would not only have an opportunity to merge into one with the nature in such a fresh and relaxing environment of blue transparent seawater, but also be able to visit primitive forests, Ho Chi Minh's Monument, the impressive Co To lighthouse, Co To Pier, fishing village and natural islets and reefs.
The symbol of this island is Co To lighthouse, which offers the nicest panorama of Halong Bay. From the lighthouse, visitors will have a perfect view of breathtaking image of the Northern Gulf with specific information of small islets on the bay's emerald water, the green color of forests, the pristine beaches' white color, and nicely yellow rice-fields from distance. And, when getting close to the lighthouse, you will have a chance to experience a romantic forest with several of alluring flowers booming along the path's side, apart from the melody of the green forest composed by a variety species of birds.
There are a few recently established hotels and guesthouses on the Co To Island, including Coto Lodge Hotel. Besides, Co To Island offers a lot of activities for tourists. You can hire a boat out to the island of enchantment Co and freely feel the wild air. Sometimes, during harvest time, you could even smell the fragrance of oranges from Thanh Lan (Thanh Lân) Island, the nearby one, which has turned a splendid orange-yellow color.
19. Tra Co Beach (Bãi Trà Cổ)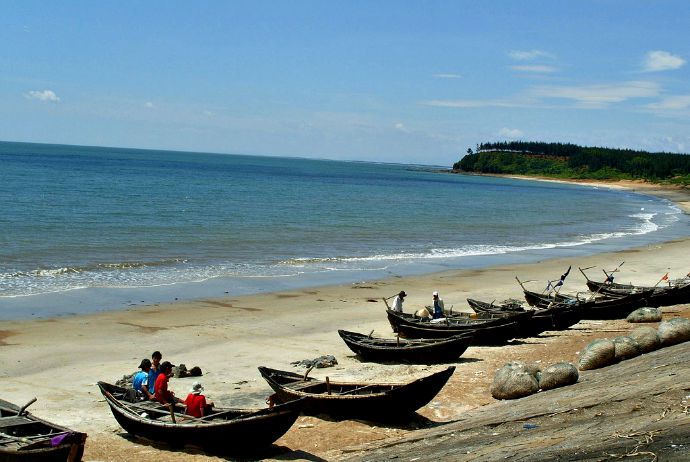 With extensive beach of blue transparent water and smooth white sand, Tra Co Beach is located in the Northeastern extreme of Vietnam. It is the border of a natural island created by the impact of sea stream and waves onto the shore. Tra Co, one of the most attracted Halong Bay attractions, is reckoned one of the most lyrical beaches of Vietnam with a plain and wide beach and blue water all year round. Being 15 km in length, this beach is on the edge of Tra Co Peninsula, which is established by flows and waves. On the way to this beach, you will notice crowded villages living mostly on fishing activities on two sides of the way, several high sand dunes of about 3 meters, and mangroves from distance.
If tourists visit Tra Co at the end of lunar calendar May, they could join in "Tra Co Festival", which happens from May 30 to June 6 annually. During 6 days of this festival, all the Tra Co quintessence is revealed to visitors.
If you would like to enjoy delicious fresh seafood, Tra Co fishermen will definitely meet your demand. It is worth noting that the fresh sea foods are always available on the seaside after fishing time. You could purchase what you want at really low prices. Staying here, you can also a good chance to taste every sea delicacies of your favorite, like sea crabs, lobsters, etc whilst you could still save your budget.
20. Tuan Chau Island (Đảo Tuần Châu)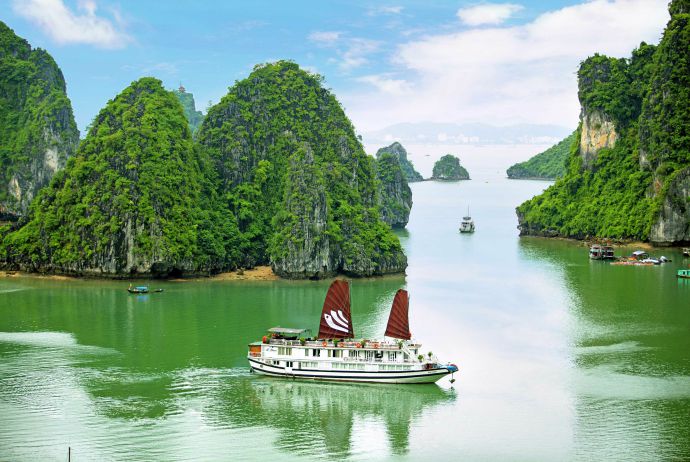 This is a newly built center of Halong City and nowadays becomes one of the most tourist-attracted, artificial Halong bay attractions you should not skip. This is only 8km away from Halong's downtown. The total area of the island is approximately 2.2 square kilometers, containing multiple sloping hills.
Recent days, Tuan Chau island is home of numerous constructions for the sake of satisfying travelers. Right from the entrance of the tourism complex, you could see a chain of high-end international standard villas. Then, going deeper into Tuan Chau Island, there are many streets of food courts and luxury restaurants designed with the ancient royal architecture which could serve up to 1,000 guests.
Visiting Tuan Chau, you will not have to worry about accommodation with over 400 rooms of international criteria at your service: luxury resort, private villa, or high-end hotel. Nowadays, Tuan Chau Island is being planned to be the luxurious international resort island and event-holding center of Vietnam.
In Tuan Chau, visitors may also enjoy various exciting activities like Jet Ski, sea fishing, canoes parachute, kayaking, camping, mountain climbing, or lavish services and interesting entertainment like dolphin show, circus, seal show, and material art show. These performances are operated 6 days per week, except Monday. Visiting this island, you will feel like coming to the wonderful heaven on the Earth. In compared with mentioned-above Halong Bay attractions, Tuan Chau Island though is not all natural but still worth discovering due to its gorgeousness that will surprise almost tourists at the first sign.
There, you have explored 20 out of highly recommended Halong Bay attractions. In summary, Halong Bay posses a tremendous diversity of caves as well as other landforms. These Halong Bay attractions will surely not disappoint you and create amazing and unforgettable experience for you. Arrange luggage, book tour and plan your trip to at least some of these Halong Bay attractions and you will be amazed at how wonderful they will be!
Related Articles:
Halong nightlife guide – what activities for tourists to join in?
Shopping in Halong bay, Vietnam – 5 shopping places for tourists
12 best Halong bay restaurants – where to eat in Halong, Vietnam?
20 things to do in Halong Bay – absolute must-try activities