Updated: 11/23/2019
Phu Quoc (Phú Quốc) is an island district of Kien Giang (Kiên Giang) Province, Vietnam (Việt Nam). The entire island contains 27 small islands covering a total area of 593 square kilometers and Phu Quoc Island is the largest one with the area of 574 square kilometers. With a growing trend of tourism in Phu Quoc, there are a lot of fun and interesting things to do in Phu Quoc Island for tourists to opt for. On this island, travelers will discover a large safari zoo, world class golf courses, a large amusement park, and a series of breath-taking beaches. When it comes to things to do in Phu Quoc, the travel activities are abundant, ranging from ocean, land and aerial tours to scuba diving, hiking, bird watching, snorkeling, trekking and fishing. Shopping in Phu Quoc is also not like anywhere else in Vietnam, there are various options to enjoy the most delicious cuisines from around Vietnam as well as all over the world. With the natural beauty as well as tranquility, Phu Quoc is undeniably one of the best destinations in Vietnam and the world as well.
15 Best Things To Do In Phu Quoc – Interesting And Fun Activities In Phu Quoc
1. Play Around Phu Quoc Beaches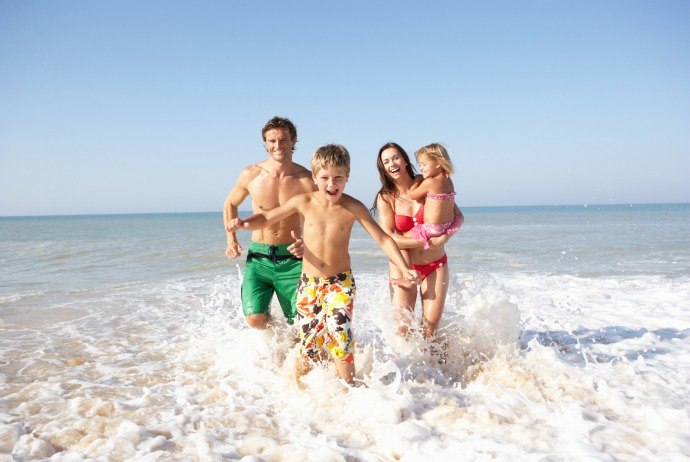 Phu Quoc Island, in reality, is home to some of the best beaches in Vietnam. This land is also one of the few sites where people could watch sunset over the ocean in Vietnam. Some of the most well-known and beautiful beaches are Long Beach (Bãi Trường), Sao Beach, Khem (Khèm) Beach, Thom (Thơm) Beach, and Vung Bau (Vũng Bầu) Beach. So, it will be a shortage if you have chance to visit Phu Quoc without stopping over in some of these beaches.
Among these beaches, Long Beach, also known in Vietnamese as Bãi Trường, is the most well-known. Running over 20 km in length, along the southwest, Long Beach is western-facing. The northern part of this beach is home to a series of tourist infrastructure in this island. A vast expanse of sand is share between rows of palm trees and dozens of restaurants and guesthouses on this beach. Just simply head a little bit more south on the road; you will see some large buildings of luxury hotels like the Grand Mercure and the Intercontinental.
Going further towards the southeast of Phu Quoc Island, tourists will discover a couple of stunning beaches there, namely Sao Beach and Khem Beach. For Sao Beach, it might be seemingly on the map of every traveler and it might just be a matter of time before it gets crowded by tour buses. Till then, it still is not a great site for visitors to enjoy their trip.
Aside from Long Beach, Thom Beach is the most remote beach on Phu Quoc island, and whist there is not much infrastructure here, not mention to a couple of beachside shacks that serve snacks and drinks.
Head to the northwest of Vung Bau (Vũng Bầu) and Ganh Dau (Gành Dầu) Beaches, there is Vinpearl resort, a version of Disneyland, which is part entertainment complex, part shopping mall, and part hotel. This resort takes one of the most fantastic coastlines on Phu Quoc Island.
The next beach is Cua Can (Cửa Cạn) Beach which is home to a traditional fishing village along side of the river that flows out to the Thailand Gulf. It is the most accessible among northern beaches on Phu Quoc Island. Cua Can Beach still remains rather quiet during weekdays, yet could get a little bit busy at weekends. One of the interesting things to do in Phu Quoc is riding through those villages around Cua Can Beach, and drifting down Cua Can River and into Phu Quoc National Forest. Another idea is to go fishing.
2. Explore Phu Quoc Island On A Motorbike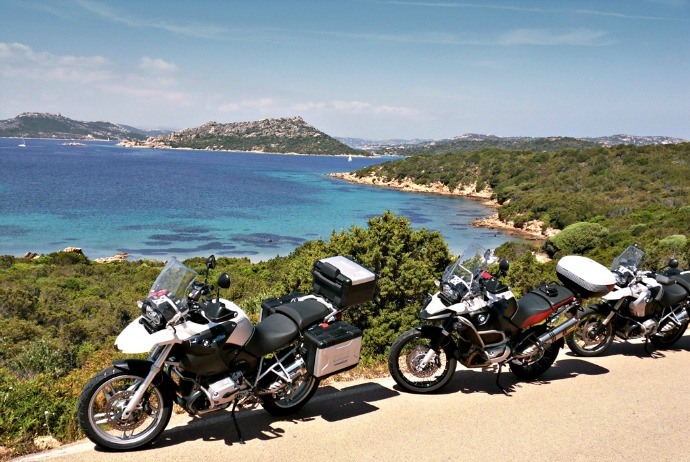 Traveling around by motorbike is considered as one of the most interesting things to do in Phu Quoc Island. Though it does not sound like the most adventurous activity on the planet, hiring a motorbike for travelling a Bãi Trường), round in Phu Quoc Island is still an adventurous activity. I am not intending to turn this island into a motor cross rally, it might be the best and most exciting way of exploring Phu Quoc. However, you should be aware that many of the roads in this island are not paved. It is better for travelers to wear sturdy shoes along with long trousers as they are prerequisite for a good journey by motorbike. You can easily rent a scooter from the majority of hotels in Phu Quoc Island. Of course, tourists should find the proper places for motorbike adventure, so in the spirit of adventure, it might be the best to find your own. Yet, for some starters, maybe the best places are found on the up north.
While passing by Duong Dong (Dương Đông) Town, you can easily see some the fish sauce factories as making fish sauce is a living earning method of locals here, not mention to tourist services.
Or else, tourists can also head to Phu Quoc National Park (Công Viên Quốc Gia Phú Quốc) territory. Just simply ride on red dirt roads with palm-tree lined ocean on one side and forest on the other; this will bring such a true feeling of Vietnam which can hardly express through words.
For having lunch, you can stop at Thanh Kieu (Thanh Kiều) Coco Beach, The family-run, simple restaurant and bungalow here is absolutely incredible. I bet that you cannot beat this view.
3. Hire Your Boat To Go Fishing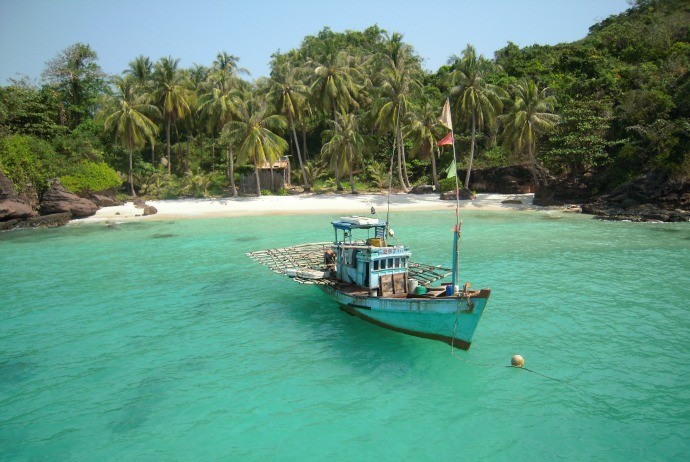 Of course, Phu Quoc is an island where fishing is always available. Where there is fishing, there are boats. So, one of the most interesting things to do in Phu Quoc is to find yourself a fisherman and hire him as well as his boat for a few hours or a day of going fishing. Actually, according to some experienced tourists, half of the adventure is to bargain the price while the other half is to explore what is out there. Despite there is no doubt that your fisherman obviously knows several interesting places, otherwise, just go fishing. Some places will do the trick could be An Thoi (An Thời) town, Duong Dong (Dương Đông) River, Cua Can (Cửa Cạn) Beach, and Vung Bau (Vũng Bầu) Beach. Especially, with An Thoi town, you could not go wrong there, boats seem move constantly between islands, so why not hire a boat and head down the south? These boats are available in all sizes; hence, you can easily find one that suits you. There are a lot of fishermen that would be kindly keen on taking you for a spin.
4. Discover National Park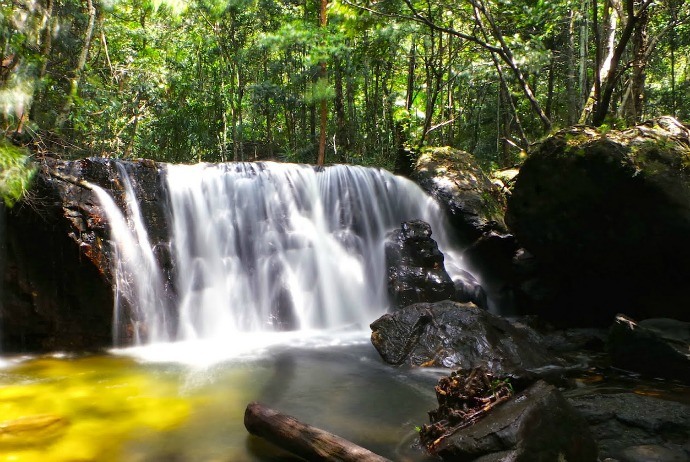 Created by the Vietnamese government in 2001, the national park covers more than half of Phu Quoc Island. When it comes to great things to do Phu Quoc Island, this option is for those who love discovering something a little bit mysterious and wild. There are a few basic walking tracks in this park, yet if you are thinking of trying any walk on your own through the jungle; you had better make sure that you are well prepared. Thick foliage covers mountainous slopes which are home to macaques, langurs, otters, loris', fruit bats and hornbills.
If you are going to visit the park, then the best way is to book a tour with a tourism agency because most of the trails here are not signposted well. Besides, it is not a good idea for you to visit the park while it is raining because you might get muddy.
5. Snorkeling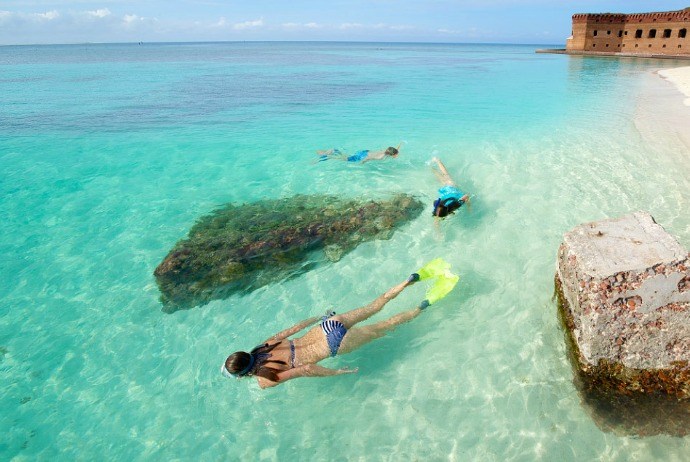 This is an activity liked by a lot of tourists because the whole family could enjoy, either as a simple beach activity or a day trip. Snorkeling is easy, and the interesting thing is that there is no limitation about age. It is not necessary for you to be sporty or fit for snorkeling; even just non-swimmers could do it by taking on a life-vest. What you need to do is floating and watching the coral and fish around.
When it comes to tips on snorkeling in Phu Quoc Island, you do not have to dive into the deep waters miles from seashore in order to experience the amazing underwater life of Phu Quoc because there are multiple snorkeling spots near the shore for you to comfortably discover. Nonetheless, if you would like to experience snorkeling in An Thoi islands, it might be the best for you to join in a tour.
It is worth noting that though there are plenty of sites for tourists to get their feet wet, such as at Long Beach, Ganh Dau Beach, and Sao Beach – where they could find a great amount of underwater life nearby the shore. However, if you would like to enjoy some privacy while snorkeling, then head to the great patch of coral at Thom village, at the north east area of the island. Luckily, there is very little or even no sea traffic here.
In order to prepare yourself for having good snorkeling experience, do not forget packing your snorkel and mask. Yet, if you forget these items, don't worry because you can easily buy these basic gears from various shops around the Duong Dong town as well as Long Beach Village. For higher quality snorkel and mask, purchase them at dive shops along the major tourist strip
6. Scuba Diving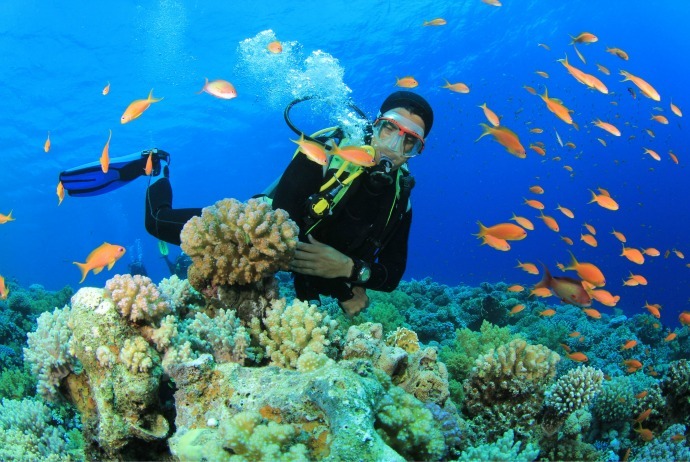 Nowadays, scuba diving along with other water sports becomes more and more popular in Phu Quoc Island. Hence, it would be a big mistake if you do not give yourself a chance to try out at least one of those sports. Travelers, particularly international ones, often come to Phu Quoc to visit the beach, enjoy the suntan, go for a swim, and also play some of their favorite water activities, including scuba diving. Though diving in Vietnam, in general, and in Phu Quoc, in particular, has relatively been new in compared with other places in the world, now more than ever, people are increasingly trying out themselves with such activities. The reason is very simple that here people will be able to explore beautifully warm and clear waters, untouched reefs, along with cheap prices and attentive, friendly dive operators.
The dive sites in Phu Quoc cater for a quite wide range of diving activities, so there will always be something for you, no matter you are an experience divers or an absolute newbie in diving.
The most popular site for diving is the shallow waters surrounding the southern islets that make up An Thoi archipelago. Learning to dive in here is really a breeze. Those new divers will be in awe of the wonderful coral life and will absolutely love swimming with a fantastic assortment of colorful reef fishes. For those experienced divers as well as underwater photographers, they will enjoy the smaller macro life abounding the fringing reefs of local islands. There are several of marine creatures for people to explore, including nudibranchs, seahorse, bamboo sharks, shrimp, brittle stars, and many other harder-to-find pieces.
Whilst diving in Phu Quoc, you can expect something beyond adventure that can make your trip unforgettable. Really, a lot of experienced travelers said that after visiting Phu Quoc Island and immersing themselves into the cool blue waters here for sport activities, they found how fantastic and magnificent the underwater life is. So, scuba diving becomes one of their memorable things to do in Phu Quoc.
In order to dive in Phu Quoc, it is no need for you to be an expert swimmer or have any previous experience about underwater life, just simply take a plunge today and enjoy it.
Some great suggestions of scuba diving spots in Phu Quoc include:
At the north:
Turtle island (Đảo Rùa)

Fingernail island (Hòn Móng Tay)
At the south:
May Rut (Hòn Mây Rút)

2 Reef Coconuts

Hon Thom (Hòn Thơm)

Dragon Rock

Dam Ngoai (Dâm Ngoài) West

Dam Ngoai (Dâm Ngoài) South

Roi (Rỏi) East

Roi (Rỏi) South
Besides, there are some lesser-known diving sports, such as Hon Doi (Hòn Dơi), Da Chong (Đá Chồng), Ngoc Trai (Ngọc Trai), Ky Lan (Kỳ Lân)…
Looking for doing some relaxing activities? Do not leave your desk till discovering the suggestion below!
7. Swim In Da Ban Spring
Da Ban spring (suối Đá Bàn) is situated 16km east of the center of Duong Dong Town, right in the Phu Quoc Island's center. When arriving at Da Ban stream, a beautiful natural spot, you will be able to enjoy swimming in the cool water while admiring the poetic view of the surrounding scene. This stream reminds one of the watercolor paintings of two gods who are playing chess on the stone slabs.
On the other hand, travelers could also climb on the stone slabs in order to listen to the birds singing and water babbling. This is forest's music – a type of special music that no musical instrument could fully imitate. There are some interesting things you can do while being at Da Ban spring, like dipping in the stream, catching fish and grilling, making a fire in a cave, and collecting fresh fruits . There are unlimited ideas in regard to things to do in Phu Quoc Island if you are really willing to prepare yourself for something new.
8. Walk Down Dinh Cau Night Market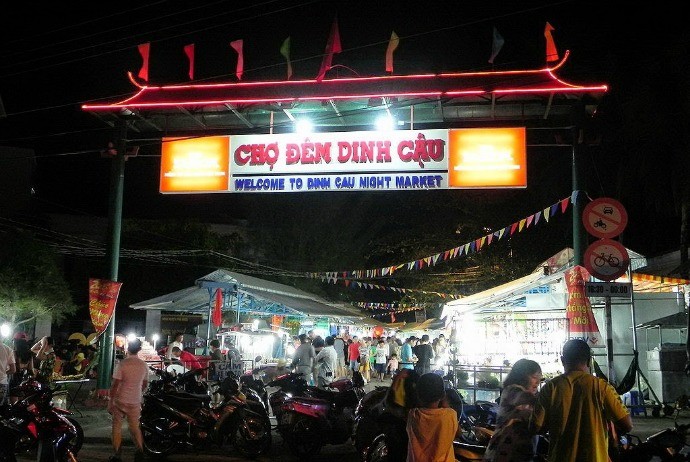 Walking down Dinh Cau (Dinh Cậu) night market is another one in this list of things to do in Phu Quoc you can consider. Hands down the most affordable, atmospheric and excellent place to dine on Phu Quoc island, the night market of Duong Dong town houses approximately a dozen of stalls which serve a tasty range of Vietnamese seafood grills as well as vegetarian options, such as crab chowder, boiled squids, boiled snails, grilled meat, and so on. Clean, spacious stalls, fresh delicious dishes and friendly services are some distinctive features of this night market that create special impressions on a large number of travelers. Not only is this market famous for its specialties, but it is also the site where abundant of handicraft products could be found. Travelers could also purchase jewelry as well as souvenirs which are made from starfishes, pearls, shells as gifts for family, friends, and relatives. In addition, fairs associated with various programs are usually held here, which has strongly attracted a lot of young people to come and enjoy. Despite the fairs are often crowded with pedestrians and audiences, don't worry, they are not disordered or messy at all. Beautiful handicrafts, seafood, and special programs are all the factors which steadily make Dinh Cau Night Market an interesting, worth-visiting place for travelers here and there.
Yet, some tips for tourists when walking down Dinh Cau Night market are:
At about 5pm, motorized traffic is shut down in Vo Thi Sau (Võ Thị Sáu) street, and this street then becomes a pedestrian serving street.
The market becomes strongly busy at about 7pm so if you really want to get freshest food or take night pictures, you had better arrive early.
It is no need for you to ask for permission to take photos because the local vendors are accustomed to it.
When walking down the market, there are a lot of restaurant salesmen trying to pressure you, as a customer, into purchasing their seafood and some of them are friendly and some are not. Hence, before opting for a restaurant, it is better for you to walk up and down the road to get well oriented. The prices of items sold out here are negotiable, so be flexible.
You also see a large number of fish on display, some swimming around the fish tanks which are aerated and some are laid out on the ice.
As a pedestrian, you also meet many "Street children" begging at the entrance of this market; it is up to you if you want to give them money or not.
And, on the journey of discovering the night market, tourists can take a walk to Dinh Cau (Dinh Cậu) temple, or simply drop by one of some coffee shops on streets nearby in order to enjoy the relaxing moments.
9. Go Picnic At Tranh Stream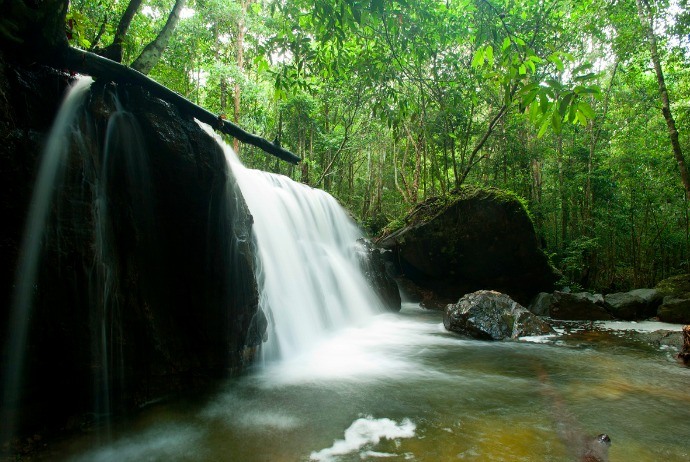 Located about 7km west of Duong Dong Town, Tranh Stream (also known in Vietnamese as Suối Tranh) is one of great Phu Quoc island attractions tourists should not skip. The idea of going picnic at this place is among exciting things to do in Phu Quoc Island. Inside the entrance to Suoi Tranh, you will discover Eden-like gardens which are adorned with a few large statues of figures from the ancient Chinese fable – "Jour to the West". In essence, this stream is made up of a string of rock pools and waterfalls; and, the short trek to a larger waterfall at the top of the trail is really well worth your effort.
10. Discover Ganh Dau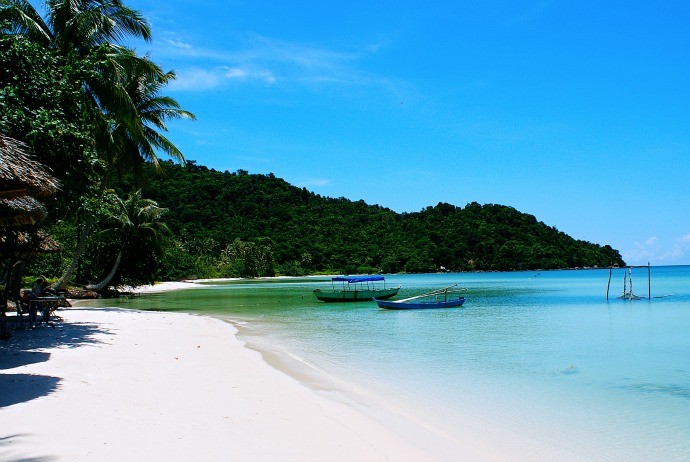 One of the well-worth things to do in Phu Quoc Island is discovering Ganh Dau (Gành Dầu). This destination is called as the brightest pearl on the necklace. Situated in the northern area of Phu Quoc Island, in which mountains, pristine forests, and seas still remain intact, Ganh Dau is a bow beach that runs more than 500 meters in length, shielded by two mountains. If you stand on Ganh Dau, you can see the mountain of Cambodia named Ta Lon. There are a lot of rocks, coral reefs and a variety of fish, especially red grouper. Seafood sold out here is cheap and freshly caught by fishermen. They are even cooked right on the spot to be ready for customers to enjoy.
Actually, according to many experienced tourists, the most enjoyable activity upon visiting Ganh Dau is swimming and then observing the borderland between Cambodia and Vietnam. So, if you love exploring, you could rent a boat to head to the two islands offshore, which are Hon Thay Boi (Hòn Thầy Bói) and Hon Ban (Hòn Bần).
From there, you will see that the shape of Phu Quoc Island is much like a fish with the tail thrashing and swimming to the north direction and the mouth wide open. And, Ganh Dau is exactly that mouth, on which the primary forest stops at the white sand beaches.
Regarding to food and specialties in Ganh Dau, they are extremely fresh and quiet cheap. Hence, after swimming, sightseeing, and playing around, you could ask to purchase fish, shrimp, or squid from those fishermen and ask them to cook it. Don't worry, the locals are friendly and willing to do it.
11. Visit Ham Ninh Village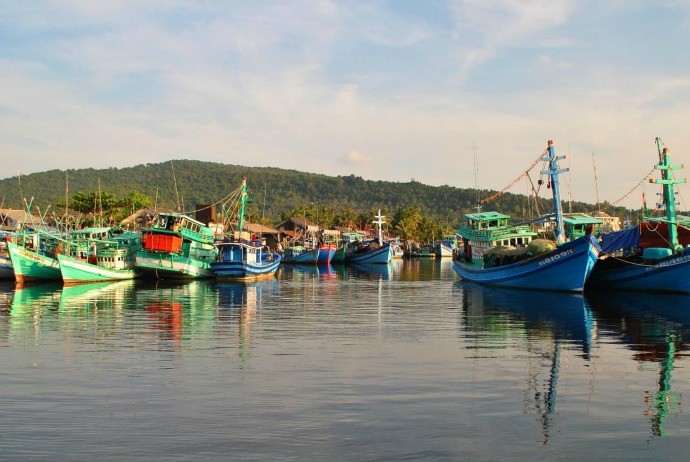 Situated 20km northeast of the Duong Dong town, Ham Ninh (Hàm Ninh) village is a famous destination for tourists due to its beautiful natural scenery along with peaceful daily life of the local people here – those fishermen.
So, if you want to witness by yourself how locals in Phu Quoc live and earn their living, then visiting Ham Ninh village should be one of your things to do in Phu Quoc Island. Originally, the locals in Ham Ninh just rely on fishing as their major earning method, yet in a few years so far, thanks to the growth of tourism, it has become a main source of their income. Locals here often sell seafood as well as souvenirs to travelers when visiting Phu Quoc.
If you have a chance to visit Ham Ninh in a hot summer day, then you can totally leave your bustling life behind and be lost in the breath-taking picturesque scenery there. With stunning, clear water sea, you could be tempted to immerse yourself in the relaxing cool water here, and contemplate fishes swimming beside you and seaweed floating within the blue water.
Also, while visiting this village, you have an opportunity to try out a lot of types of mouth-watering drinks as well as seafood like sea-horse soaking in liquor, "Tram" mushroom, ginseng-seaweed water, and more. Another great idea for you is to relaxingly lie on the white sand, watch the spectacular sunset view while enjoying boiled flower crab on the beach. Don't forget to buy some flower crabs, a few nice souvenirs which are made of shell and a bottle of sea-horse in liquor as gifts for your friends as well as family upon coming home.
Keep reading this detailed list to discover more interesting activities in Phu Quoc Island, Vietnam that will strongly amaze you!
12. Visit Coi Nguon Museum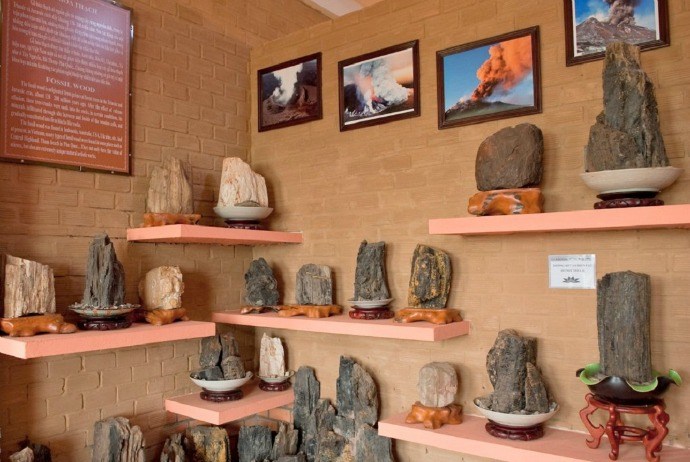 Situated on just a small hill, Coi Nguon (Cội Nguồn) museum was built in 2009 by Huynh Phuoc Hue (Huỳnh Phước Huệ) – the person who spent more than 15 years on collecting thousands of artifacts and antiques.
Travelers who want to visit this museum need to buy tickets, accompanied with a simple brochure on the museum in order to enter it. This is a five-story building stretching in the area of more than 1.5 ha. Here, you will see antiques made from pottery, stone, bronze, and fossilized wood which were date from the 15th century to the early 20th century, and about 540 artifacts including artworks, furniture, fishing tool along with household appliances. Also, there are about 100 traditional paintings here.
Actually, this museum is particularly ideal for those tourists who do not have enough time to visit the majestic Phu Quoc Island. This is one of the meaningful things to do in Phu Quoc that can give you an overview of the island. With displays on Vietnamese medicines, local ceramics, Stone Age tools and a small room devoted to the island prison, Coi Nguon museum is informative introduction to Phu Quoc culture and history.
The second floor of this museum displays a few antique collections, whilst the third one exhibits the model of a wreck as well as numerous antique fish from sunken vessels discovered on the eastern side of Phu Quoc Island. The photos of residents' daily lives are also displayed on the fourth floor. At the rooftop, you can see a panoramic view of the Duong Dong town, an immense deep forest and a pearl clear blue sea.
Whenever you are tired of walking, what you can do is to go to the souvenir shops on the first floor where there are a few shops selling jewelries made from fossilized wood, pearl, and craft products made from lua wood. Another suggestion is to climb the close hill and see an interesting place – a sea eagle reserve that allows you to admire a variety of beautiful black and white birds standing inside the giant iron cage and raising their strong voices while spreading their own wide wings to fly around.
On the other hand, tourists could also enjoy the cool air, escape the heat and sunlight by relaxing under the shades of romantic tree houses along the path that leads to the reserve of sea eagle.
Opening hours: 7 am – 5 pm
Location: No. 149 Tran Hung Dao (Trần Hưng Đạo) Street, Phu Quoc Island
13. Get to know Phu Quoc Prison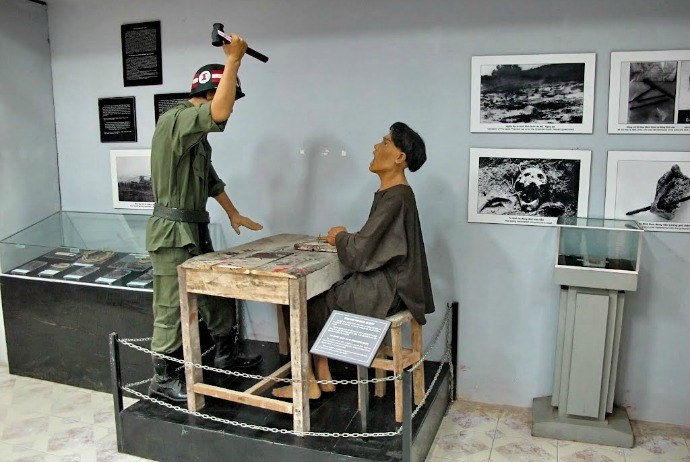 Built from 1949 to 1950 by the French colonists, Phu Quoc Prison (nhà tù Phú Quốc) was designed to jai those people who are reckoned particularly dangerous to colonist government. A lot of high ranging Vietnamese leaders were harshly detained here. This site is ranked as one of the special historical relic with the national importance by the government of Vietnam.
In this prison, the most famous site is the so-called "tiger cage". This prison is about 40,000 square meters and was closed after Vietnam united and opened for tourists later.
14. Water Sports And Jet Skiing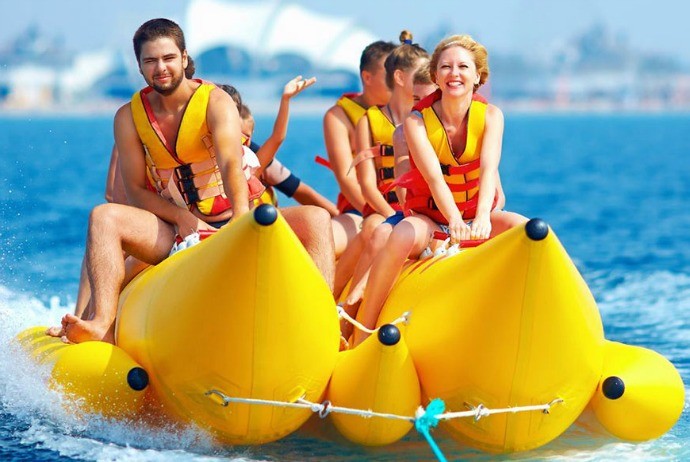 Water sports, including jet skiing, sailing and kayaking, are still new to the island of Phu Quoc. However, with just a matter of time, these water sports will easily take of the calm waters around Phu Quoc during the high season. It is best for you to find such water sports on Long Beach. Some Kayaks and Skis are also available on Bai Sao Beach at My Lan (My Lan) resort.
14. Squid Fishing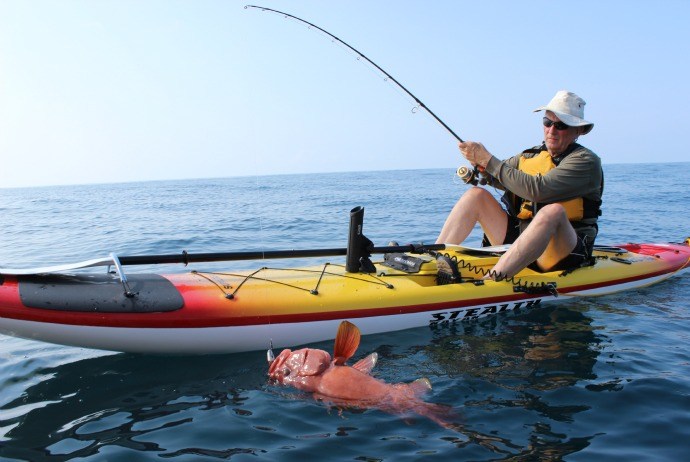 Another idea when it comes to things to do in Phu Quoc Island is squid fishing. Though this might not sound too adventurous, it is still a little bit challenging. There are plenty of tours on offer such kind of activities; hence, you can easily head out for an evening of squid fishing and if you are lucky enough, you can have your own self-caught meal grilled on the spot.
15. Visit A Pearl Farm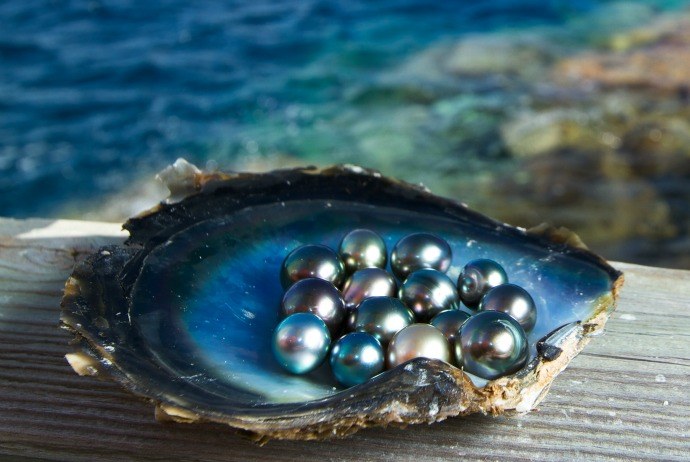 This surely will bring to you one of the most unforgettable experience when visiting Phu Quoc. The pearl farm is open to the public and there is no charge to access or look around.
Actually, there are two farming operations which are available to see, both of these farms are south of Duong Dong, along the coastal highway to the way to An Thoi. It is very interesting and cool for tourists to see how pearls are "cultivated" in such a process of totally "man-made". I bet that not many of you have ever seen this process before, so it is deserved one of things to do in Phu Quoc.
There are different workstations set up in a rather large room, where locals are busy implanting a special type of pearl oyster with the materials that are necessary for the development of the pearl. Tourists can also see residents loading the mesh panels and preparing themselves for deposit into the ocean in which they are suspended by rope.
There is a displaying area, which is large. Here, you could buy pearls set into different settings, rings, necklaces and so on.
Location: Coastal Highway, South of Duong Dong.
You have a full checklist of the best and most interesting things to do in Phu Quoc Island. If you are going to Phu Quoc, then check out some information related to weather in Phu Quoc here to prepare your best for a wonderful trip. Phu Quoc has two main seasons, a wet season (during May – October) and a dry season lasting (during November – April). As recommendations, the best time to visit this beautiful island is during dry season when it is less humid and the weather is more easily predictable in compared with the wet one. This time, you could watch more sunrises as well as sunsets; the water is clear and calm; the resorts/hotels/ restaurants/ and tour agencies are 100% in service because it is in peak season of tourism. Yet, be aware that there are more crowded and of course; the prices will be increased a little bit; and a few of the waterfalls will be dried up because of the shortage of rain.
Now, it is your turn: pack your luggage, book a tour to Phu Quoc Island, Vietnam, and enjoy an unforgettable trip with family and friends! Then, share your experience in Phu Quoc after that trip with us. We appreciate all contributing ideas about this topic!