Source: khachsangiaresamson
Updated: 08/26/2019
Located in Nho Quan District, Ninh Binh (Ninh Bình) province, in Vietnam's Red River Delta, and far about 100km from Hanoi (Hà Nội) to the southwest, Cuc Phuong National Park (Vườn Quốc Gia Cúc Phương) is the first national park and the largest nature reserve in Vietnam. As one the most important biodiversity sites in Vietnam that possesses natural, wildlife beauty and historical values, Cuc Phuong National Park with over 200 square kilometers of forest nowadays has attracted more interest and curiosity from domestic and foreign tourists.
I – How To Get There?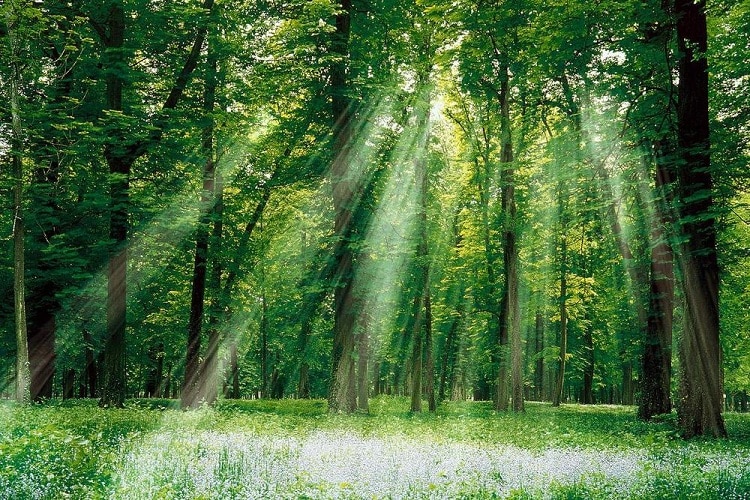 Source: didangoai
If you depart from Hanoi, it can take you three to four hours to reach the park by bus, motorbike or car.
There are buses from Giap Bat bus station (bến xe Giáp Bát) to Nho Quan at  08:00, 09:00, 12:00, 13:00, 15:00 and 16:00 and this transport may cost you about 75,000 to 100,000 VND.  Giap Bat bus station has also one bus a day at 15:000 that goes directly from Hanoi to the Cuc Phuong Natural Park. Alternatively, you can catch a taxi that costs you 160,000 VND and a motorbike taxi that costs you about 80,000 VND to reach the park reception.
Riding a motorbike is highly recommended because you can capture the beautiful and gorgeous scenery views on the way. You should not ride via Highway 1 toward the south because it is an unpleasant and busy road although it can take you to Cuc Phuong National Park most quickly. If you want to enjoy the better scenery via quieter streets, you should go towards Ba Vi and then ride via the Ho Chi Minh Highway.
Besides catching a taxi, you can use the hiring service for private cars: Cuc Phuong arranges this service for $155 return, which is a little bit cheaper than the service from Hanoi's agents. Although this option is not affordable for everyone, it should be considered if you go to a group and your budget is not limited.
The Cuc Phuong National Park is far about 40km from Ninh Binh; however, it still takes you 1 to 2 hours to reach the park because of the road condition. You can catch a motorcycle taxi that costs about 100,000VND or hire a car that has the price of 300,000VND– 400,000VND.
When Is The Best Time To Take Cuc Phuong National Park Trip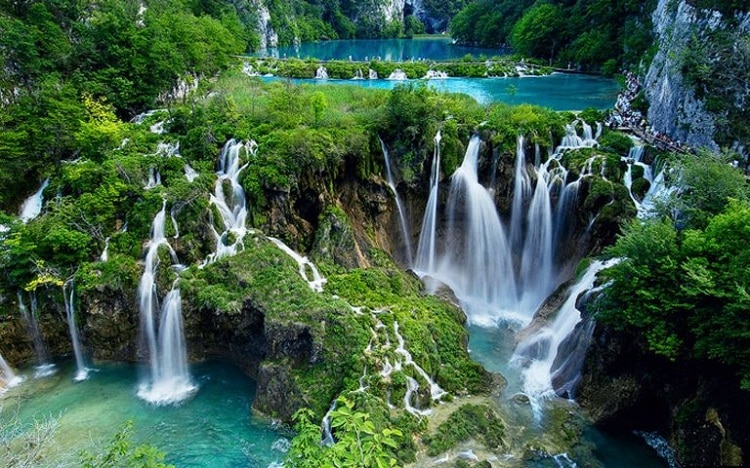 Source: khachsangiaresamson

The best time to visit the park is between April and May when you can see the view of butterflies. Therefore, during that time, the weather is hot and dry. You can also explore the park in dry months between October to March thanks to cool and dry weather. This time is also ideal for someone who likes trekking tours and bird watching with some rare species migrating here and. It is also not the rainy season; therefore, the trekking tour can be much easier than other times within the years.
What Things To See In Cuc Phuong National Park In Vietnam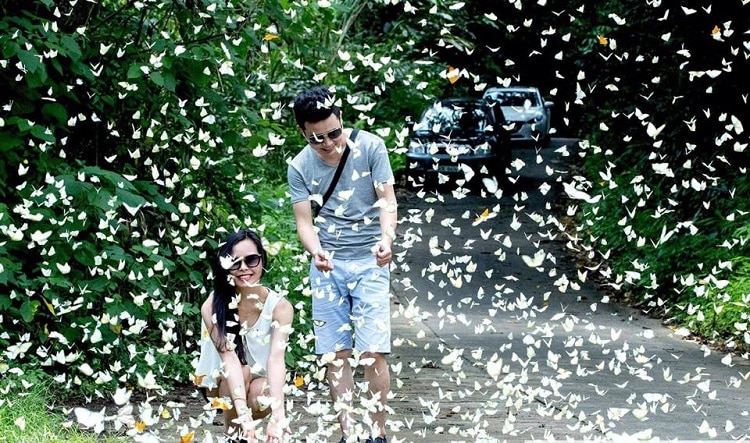 Source: flynow
The Cuc Phuong National Park in Vietnam is gifted with the diversity of ecosystems, stunning natural landscapes, and historical and cultural values. This park is well-known as the tropical rain forest that is home to huge ancient trees with the height of from 45m to 75m such as Parashrea Stellate or Dancorra Edulis and orchid species. Cuc Phuong also has the abundant and diverse fauna, including 307 species of birds, 89 species of mammals, 110 species of amphibians and reptilians, 2,000 species of insects and 65 species of fish. A number of rare species and endangered species listed on Vietnam Red Book can also be seen in the Endangered Primate Rescue Centre that opens at 09:00-11:00 and 13:15-16:00 with the entry fee of 30,000VND. Near the Endangered Primate Rescue Centre is the Turtle Conservation Centre that aims to rescue turtles from the wildlife trade. This centre is free to enter.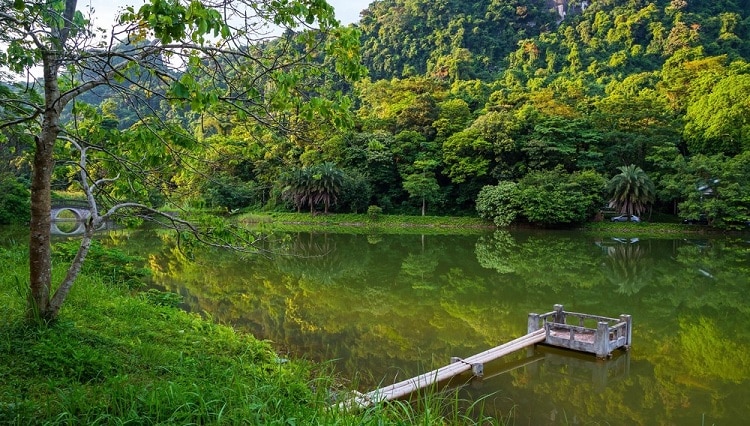 Source: baomoi
Furthermore, in the park, tourists can visit many amazing caves with good names such as Son Cung (Sơn Cung) Cave, Vui Xuan (Vui Xuân) Cave, Pho Ma (Phò Mã) Cave, etc. Some caves still keep the great archaeological relics.
Besides, if you go to the park, nothing is more interesting than interacting with Muong ethnic people who live here, knowing their traditional costumes, stilt-houses, the gongs festivals, habits and customs, and great Muong ethnic culture. You will have the opportunity to see the traditional dance in which girls and boys in Muong traditional dress dance and sing folk songs around the campfire.
It is recommended exploring the park with a combination of bicycle or motorbike and foot. You can rent bicycles and motorbikes at the reception of the park.
Accommodation And Foods If You Visit Cuc Phuong National Park In Vietnam?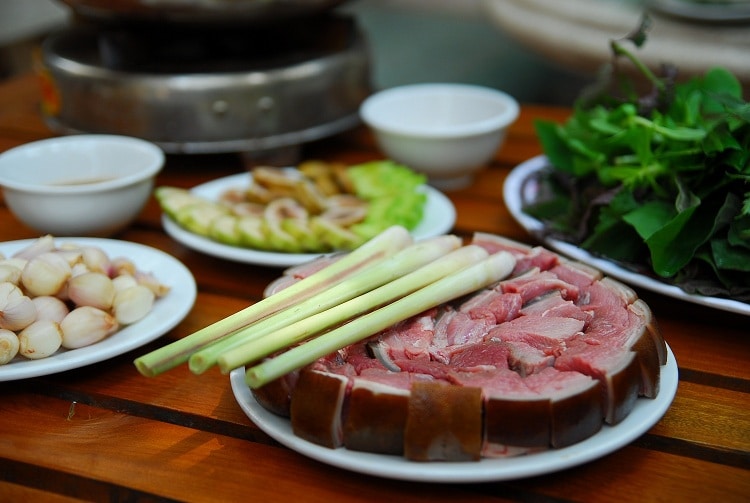 Source: anphuvilla
There are adequate options for accommodation in the park although the fee is a little bit overpriced for some tourists. Three options are the Park Headquarter (350,000VND/room/workday), Park Centre (400.000VND/room/workday) and Mac Lake (350.000vnd/room/workday – 450.000vnd/room/workday). Many tourists prefer Mac Lake and the Park Centre for their accommodation because of the pleasant surroundings, peaceful atmosphere in the evening. At the Park Headquarter, there are some rooms facing the Botanical Gardens and having a veranda.
Each accommodation always serves the delicious foods in their restaurants. Here are must-try foods if you take Cuc Phuong National Park trip.
Ninh Binh goat meat: It is low fat, toned and aromatic. To enjoy the full flavor of this meat, you should eat the goat meat with burned rice and drink Nho Quan wine or Kim Son wine.
Ninh Binh burned rice:  It is yummy and crispy. This food is made by steaming the rice, frying it in the hot oil pan and mixed with spices such as pepper, fish sauce, onion, red chili, and salt.
Cuc Phuong snail: This food is available from March to July. It has the typical taste because nails in Cuc Phuong mountain eat algae, roots, and leaves of forest trees.
Cuc Phuong chicken: It is a specialty of Nho Quan District, Ninh Binh. Tourists can enjoy this food in the winter.
Those are what we want to share with you if you are preparing the Cuc Phuong National Park trip in Vietnam and would like to find more useful information and tips. Hope you have a memorable trip to Cuc Phuong. To know more about Vietnam travel, visit our Vina homepage.