Updated: 11/19/2019
Nha Trang is one of the most well-known tourist seaside towns of Vietnam. It is the capital city of Khanh Hoa (Khánh Hoà) province, located on the south central coast of Vietnam. Nowadays, this city is becoming increasingly popular thanks to its pristine beaches, amazing attractions and lots of tasty food dishes to enjoy. Nha Trang attracts a large number of foreign tourists for not only its wonderful beaches but also the urban atmosphere of a young city. The city has consistently maintained its important position as one of the most beautiful bays in the world. Located about 450 km north of Ho Chi Minh (Hồ Chí Minh) City and 1200 km south of the capital Hanoi (Hà Nội), Nha Trang has 4-km-long main strip of beaches and covers an area of 405 km2, including 19 islands, both large and small. When viewed from high above, this bay looks like an aquamarine stone that sparkles in the sunshine, bounded by many miles of smoothly golden sands.
Nha Trang has certainly earned a great reputation as one of the top towns to party, not mention to big cities like Saigon or Hanoi.
In regard to Nha Trang nightlife, you will find nowhere else in Vietnam that has such nightlife like Nha Trang. The best nightlife in Nha Trang offers people with ample reasons to explore this beautiful beach town after sunset. For those who are looking to immerse themselves in the local culture, then Nha Trang will not let them disappoint because this city is home to various cultural spaces, where light shows, colorful puppet shows, and traditional tunes are organized every night.
In simple words, Nha Trang nightlife is a mixture of both old and new, with hippy neighborhood bars that hold their own against the glitzy rooftop nightclubs along with five-star lounges. From relaxing bars to dancing throughout the night on the beach or in a club, there is a variety of options to keep your hedonistic streak entertained.
Boasting lots of alcoholic offerings, international and local cuisine, and various music genres, Nha Trang nightlife spots are perfect for mingling with local people and fellow tourists till the early hours of the next morning. To be honest, it is very hard to express the feelings when enjoying Nha Trang nightlife. When the dark falls, it is the time for people to start their voyage to explore the deep sea at night. At night, this coastal city becomes much more strange, boundless and fascinating even for locals. From the boat, you could see a different image of the city with shimmering lights from high buildings and streets. Travelers who love adventure and fishing will absolutely be satisfied with the opportunity to head out on boat for such a wonderful night fishing trip.
At night, Nha Trang beaches are more amazing than in daytime. It seems like everyone flocks to the beach in order to enjoy the special moment when the sun goes down and gently retreats behind the hill, to breathe the pleasant, fresh air and to listen to the smooth rhythms of waves. This moment is perfect for tourists and locals to forget all concerns of a hardworking day and set their mind totally free.
Well, regarding to Nha Trang nightlife, there are so many things to tell about. So, to help you figure out more clearly about how Nha Trang nightlife is, this article will give you some suggestions about what to do and where to go at night in Nha Trang. Take a look!
Nha Trang Nightlife – 19 Useful Suggestions For Tourists
1. Nha Trang Water Puppet Theatre (Nhà Hát Múa Rối Nước Nha Trang)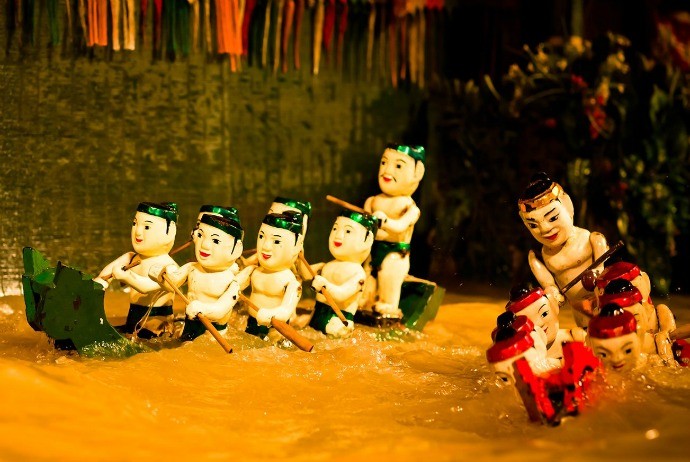 This is one of the most traditional activities in regard to Nha Trang nightlife. The Nha Trang Water Puppet Theatre showcases the everyday life of Vietnamese farmers through colorful puppets, traditional tunes and light shows. Organized in Tran Phu Cultural House, from 4 pm to 8:45 pm, this performance is live and runs for about 45 minutes, depicting 15 scenes, including fishing, frog-catching, kids' games, and rice-planting. This activity is highly recommended for those who are looking to immerse themselves in something really local. Nha Trang Water Puppet Theatre also hosts some spiritual dances, and boat racing. Tickets' prices range from VND 100,000 for children to VND 150,000 for adults.
Opening hours: 16:00 – 20:45 every day
Location: No. 46 Tran Phu Street, Nha Trang
Tel: +84 58 352 7828
2. Pool Pub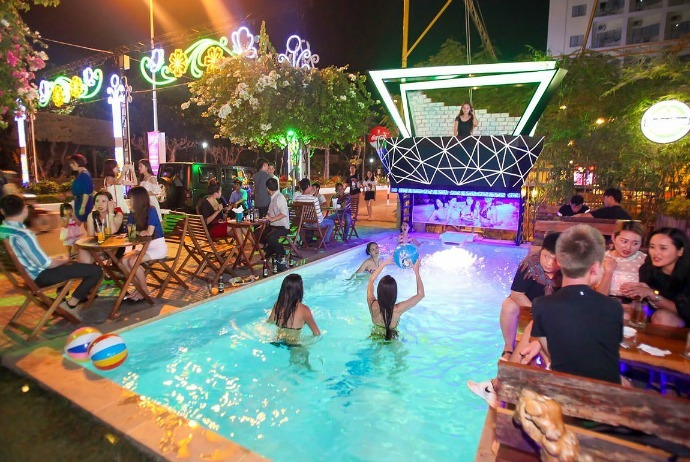 This prominent location is located along Tran Phu (Trần Phú) Beach, making it one of the best Nha Trang nightlife spots. The two-story establishment is al fresco, featuring with wooden communal tables, a rooftop terrace, neon lighting and good quality audio systems. Yet, actually, the best seats in this building are upstairs, at the spacious pool-side bar. Besides, the central swimming pool is also popular, so if you want to enjoy a dip, then do not hesitate to bring swimming gear along. Beverages here are good and the prices are reasonable. There are various choices for guests, from the usual range of wines, beers, cocktails and spirits. The music played here in Pool Pub is mostly EDM, techno music, deep house, yet unlike the majority of Nha Trang bars, guests could still have decent conversations with their fellow companions out right on the terrace.
Opening hours: 5 pm – 2 am every day
Location: No. 40 Tran Phu (Trần Phú) Street, Nha Trang, , Khanh Hoa (Khánh Hoà)
Tel: +84 90 511 6356
3. United Bar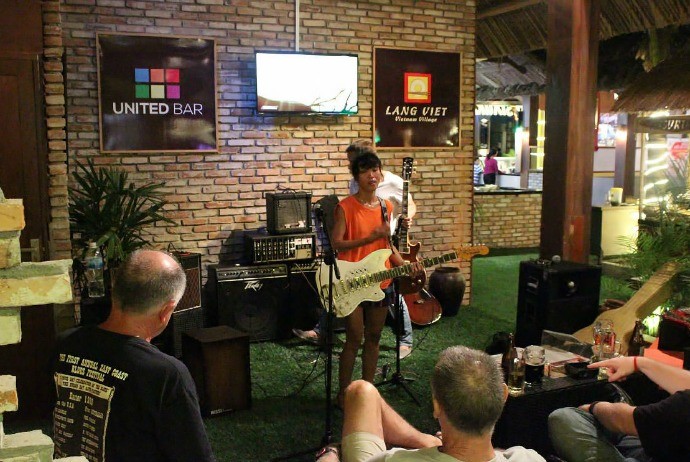 Situated on Tran Phu Beach, United Bar is a favorite destination regarding Nha Trang nightlife among expat community in Nha Trang and plays live traditional Vietnamese tunes nightly. This vibrant bar is nicely decorated with flat screen TVs, international flags, live stage, and cosy sofas that overlook the lush garden setting. Beverages compromise of draft beers, cocktails and imported wines whilst hungry patrons could also order a range of Vietnamese as well as Asian dishes from the numerous cooking stations of United Bar. Each Thursday of the week, guests could enjoy a free trivia night with a few live bands that play a mix of rock, blue, folks and pop tunes, from 7 pm onwards.
Opening hours: 10 pm – 2 am every day
Location: No. 01 B Tran Quang Khai (Trần Quang Khải) Street, Nha Trang, Khanh Hoa (Khánh Hoà)
4. Booze Cruise Sports Bar And Grill
Among bars and clubs in Nha Trang, this is the best spot for tourists to catch the latest sport events from all around the world. It can be easily accessible in just 10 minute from Tran Phu beach. There are a variety of American-style burgers, sandwiches, pizzas, and Vietnamese fried noodles served from early morning till late night in the neighborhood joint. Booze Sports Bar and Grill, on the other hand, hosts live performances of music every Wednesday and Thursday, at 8 pm onwards. Whilst beverages here are not cheap in compared with other bars and clubs in the town, cocktail promos are always available (two for the price of only one). English-speaking mixologists are happy to create special orders for guests.
Opening hours: 6 pm – 3 am every day
Location: No.110 Nguyen Thien Thuat (Nguyễn Thiện Thuật) Street, Nha Trang, Khanh Hoa (Khánh Hoà)
Tel: +84 90 571 9519
5. The Rooftop Lounge At Ha Van Hotel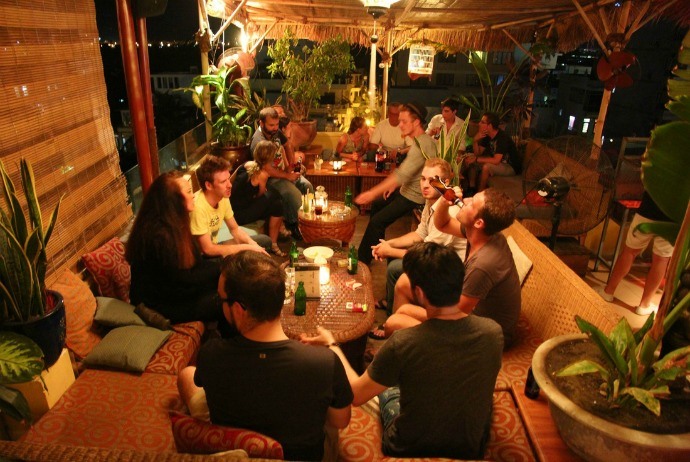 Housed in Ha Van (Hà Vân) Hotel, the Rooftop Lounge comes with a spacious open-air terrace that overlooks Nha Trang Beach. This offers lively theme nights from Friday to Sunday. Perched on the 5th floor of Ha Van Hotel, this bar is owned by a Canadian and has attracted a lot of locals and backpackers who love to enjoy a game of pool and great after-dinner beverages. The Rooftop Lounge offers everyday hour promos between 5 pm and 9 pm, where guests could get two beers or cocktails for the price of one whilst shishas are always available at about VND 350,000 onwards. Whilst food is not served here, patrons could go to the neighboring Yen's restaurant to enjoy true Vietnamese delicacies.
Opening hours: 5 pm – 2 am every day
Location: 5th floor, Ha Van (Hà Vân) hotel, no.3/2 (Trần Quang Khải) Street, Nha Trang, Khanh Hoa (Khánh Hoà)
Tel: +84 58 3525 454
6. Zima Club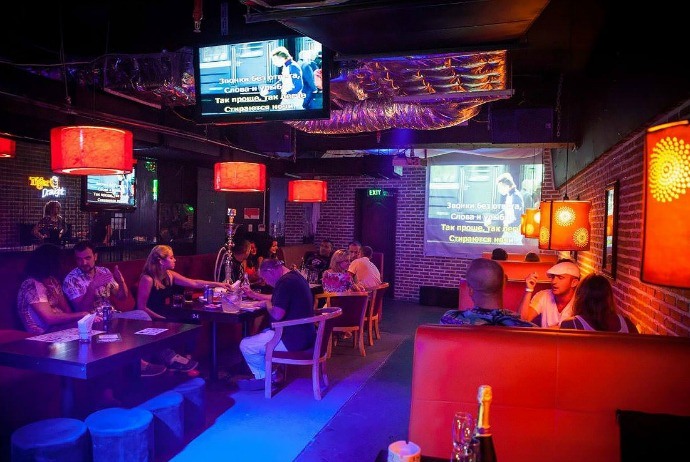 This club is popular with those Russian people in Nha Trang. Its welcoming atmosphere makes it an ideal place for everyone to party. With the accommodation of a wide range of clubbers, this club is easily accessible in just 10 minutes by walking from Nha Trang city Hall. There are two stories in this club and they are fitted with a spacious dance floor, lounge seats and a fully-stocked bar,
The resident DJ here play hard-core house along with techno tunes from 9 pm onwards. Occasionally, there are saxophone players playing music in the club. The entrance fee is zero and guests could also get a free cocktail if they present a flyer – just look for ZIMA club promoters on Tran Phu Street.
Opening Hours: Daily 9 am – 3 am
Location: Basement Level, Eland, Tran Phu (Trần Phú) Street, Nha Trang, Khanh Hoa (Khánh Hoà)
Tel: +84 58 352 5335
7. Crazy Kim Bar
This is more of just a simple pub in terms of atmosphere. Actually, it is home to the commendable "Hand off the children!" campaign, which works to prevent paedophillia and part of the profits go towards the cause. The bar has regular party nights designed following a certain theme, shooters, devilish buckets of cocktails, cheap beer, tasty grub and good tunes.
Opening hours: 8 am – midnight
Location: No.19 Biet Thu (Biệt Thự) Street, Nha Trang, Khanh Hoa (Khánh Hoà)
8. Sailing Club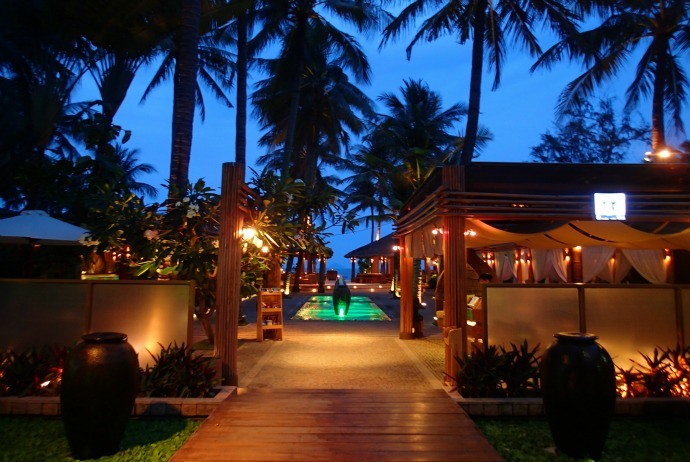 One of the original Nha Trang nightlife spots is Sailing Club, which boasts a great location, 3 kitchens and breakfast, lunch, dinner and snack from opening at 7am until closing around 2am every day. There isextensive alcoholic offering with some of the best cocktails in Vietnam, lively tunes with DJ's and a nightclub everyday from 9pm, and a large dance floor for guests to party with friends. Located along Tran Phu Beach, the club allows guests to enjoy lovely fire shows along with professional dance performances. Imported and local beers, wines, cocktails and spirits. The price range is slightly higher in comparison with other nightlife spots in Nha Trang. However, the prime beachfront location, picturesque venue and quality offering is absolutely worth additional expense. Sailing Club is a mixture of locals and foreigners. Every Saturday, Sailing Club hosts a festival style beach party where professional local and international DJ's spin the most up-to-date dance music until the early morning.
Opening hours: 7am – 2am every day
Location: No. 72 – 74 Tran Phu (Trần Phú) Street, Nha Trang, Khanh Hoa (Khánh Hoà)
Tel: +84 93 558 0205
9. Skylight Skydeck And Rooftop Beach Club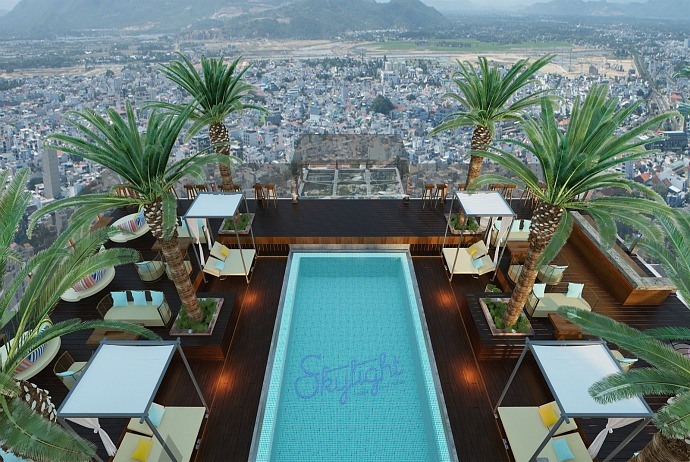 This club is considered as the first rooftop club in Nha Trang, which offers a panoramic spectacular view of the East Sea, Nha Trang city and its surrounding mountains.
Settled on the 45th story of the Best Western Premier Havana Nha Trang, this nightlife site has three fully-stocked bars, three DJ booths, four event spaces, a swimming pool and a kitchen which serves tasty food from all around the world, particularly Asian foods. The prices range from VND 90,000 onwards. Imported whiskies, wine, vodka, tequilas and rum are available by bottle and glass whilst cocktails cost from VND 90,000 and VND 150,000. The entrance fee to this club is priced at about VND 100,000 which includes a free drink.
Opening hours: 4:30 pm – 11:30 pm from Monday to Thursday, 4:30 pm – 12 am Friday to Sunday.
Location: Tran Phu (Trần Phú) Street, Nha Trang, Khanh Hoa (Khánh Hoà)
Tel: +84 58 352 8988
10. Louisiane Brewhouse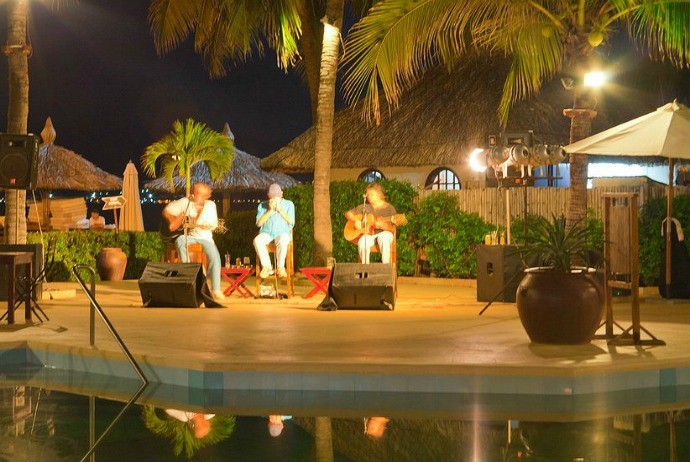 Situated on Tran Phu (Trần Phú) Street, at beachfront area, Louisiane Brewhouse is considered as the single bar in Nha Trang that manufactures its own beers by using specialty malts from New Zealand and Australia. Louisiane Brewhouse also provides guests with a diverse array of authentic Vietnamese, Italian and Japanese cuisine, homemade pastries and fresh seafood. The prices are ranged from VND 125,000 onwards. What interesting about this club is that people could sample its signature brews like Witbier, Dark Lager, Pilsaner, and more.
Opening hours: 8:00 am – 2:00 am every day
Location: No. 29 Tran Phu (Trần Phú) Street, Nha Trang, Khanh Hoa (Khánh Hoà)Tel: +84 58 352 1948
11. Altitude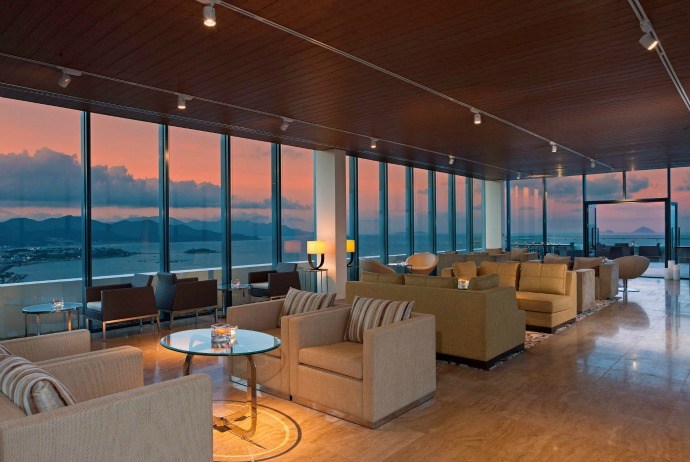 Situated on the 28th floor of Sheraton Nha Trang, the Altitude bar has wonderful views of the coast. Here, guests could pick out each footprint in the sand below. The interior is impressive while the prices are rather expensive that relatively equal to five-star standards. For example, a beer cost over VND 90,000.
Opening hours: noon to midnight
Location: No. 26-28 Tran Phu (Trần Phú) Street, Nha Trang, Khanh Hoa (Khánh Hoà)
12. Oasis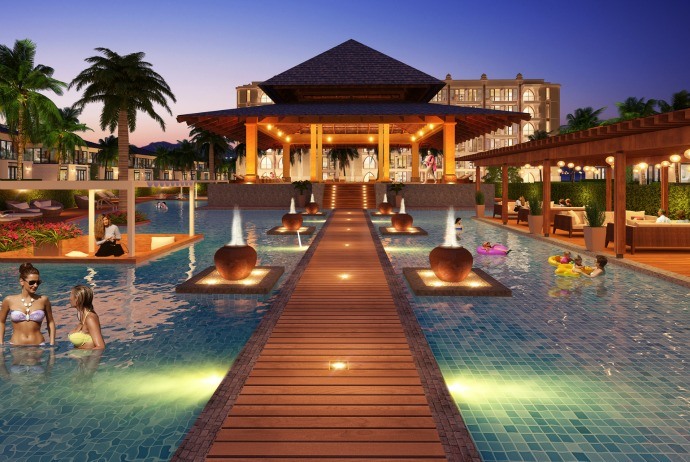 This is an extremely popular spot for drinking buckets and cocktails, or smoking shisha. The happy hours in Oasis are from 4 pm to midnight, so there is no need to worry about where to go for a consistent experience of Nha Trang nightlife. Here, you can watch a big sporting event as the garden terrace is an ideal place for such events. Vietnamese and Western cuisine, upstairs terrace, a range of cocktails, big screen TV are what make this bar different from many others in Nha Trang. Besides, there is a dance floor for tourists to relax. This bar is becoming well-known for its themed parties, including tattoo parties, and disco nights – these are something a bit different yet well received by the guests.
Opening hours: 7 am – 2 am
Location: No.3 Tran Quang Khai (Trần Quang Khải) Street, Nha Trang, Khanh Hoa (Khánh Hoà)
13. Red Apple Club
Red Apple Club is a bit of a cliché but ideal for those backpackers due to its cheap beer, regular promotions and flowing shots. This club is one of the top spots of Nha Trang nightlife. Located 2 street back from the beautiful beach, it has everything you need for an exciting night out. The bar is famous for its great music and wild atmosphere and there is always something interesting going on in the club, so you should regularly check it to find out when the upcoming party is.
Red Apple Club serves some of the best kept secrets in South East Asia, including local beers as well as spirits along with international drinks to opt for. With free shots throughout the night, we warrant that you will stick around this bar with joy. There is a big TV screen and pool table that serve adequately for guests. Staffs are attentive and can speak English rather well. If you want to order food or book a taxi, then you can ask at the bar and they could give you some suggestions.
Opening hours: 7 am – midnight
Location: No. 54H Nguyen Thien Thuat (Nguyễn Thiện Thuật) Street, Nha Trang, Khanh Hoa (Khánh Hoà)
14. Why Not Bar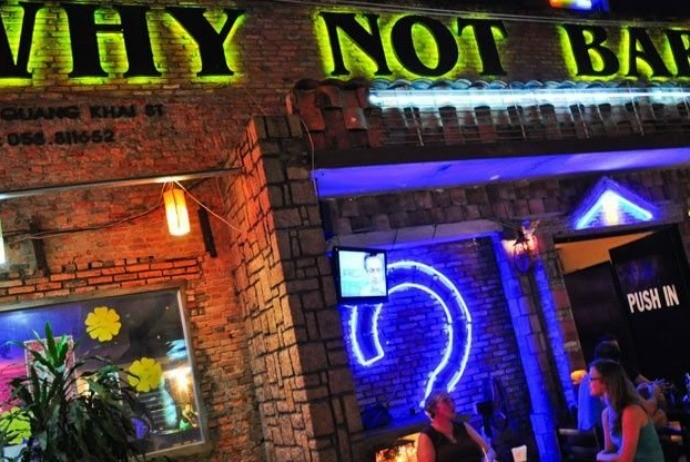 This bar is one of the few Nha Trang nightlife spots that are open past 3 am, offering great drinks promos till 1 am. This bar is ideal for backpackers and specializes in serving unique drinks with reasonable prices. Guests could sit out on the open terrace to observe the hustle and bustle life of residents or go inside to enjoy dancing on the large dance floor. Located less than 2 minutes away from the beautiful beach named Tran Phu, this bar is crowed after 2 am, when the Sailing Club Nha Trang closes off. With the presented music genres of electro dance and remixed pop tunes, Why Not Bar is fitted with a lovely open terrace with tables out front. The inside dance floor could accommodate over 200 individuals. Whist entrance fee is zero, there is a cover charge of about VND 30,000 for those who want to visit this bar after 1 am.
Opening Hours: noon – 3 am every day
Location: No. 24 Tran Quang Khai (Trần Quang Khải) Street, Nha Trang, Khanh Hoa (Khánh Hoà)
Tel: +84 58 811 652
15. Shamrock Bar
The Shamrock is an interesting pub featuring a colorful scene of Nha Trang nightlife. The bar can offer great fishing trips, biking and rafting trips. It is an Irish themed pub operated by two Scotsman. Inside the pub, there are imported cider like Strongbow and beers. So, don't hesitate to stop by and the staffs here will be happy to hold a package that suits you.
Opening hours: 10 am – 1 am
Location: No. 56 A Nguyen Thien Thuat (Nguyễn Thiện Thuật) Street, Nha Trang, Khanh Hoa (Khánh Hoà)
Tel: +58 527 548
16. Nghia Bia Hoi
Whilst many backpackers seem to give this Nha Trang nightlife spot a miss in favor of the close Why Not Bar, Nghia Bia Hoi is a great place to mingle with local people. It is not like bia hoi in Hanoi, the capital of Vietnam. Here, you will be able to enjoy a light lager and a darker brown beer along with snacks.
Location: No. 7G/3 Hung Vuong (Hùng Vương) Street, Nha Trang, Khanh Hoa (Khánh Hoà)
Opening hours: 11 am – 10 pm
17. Yasaka 008 Nightclub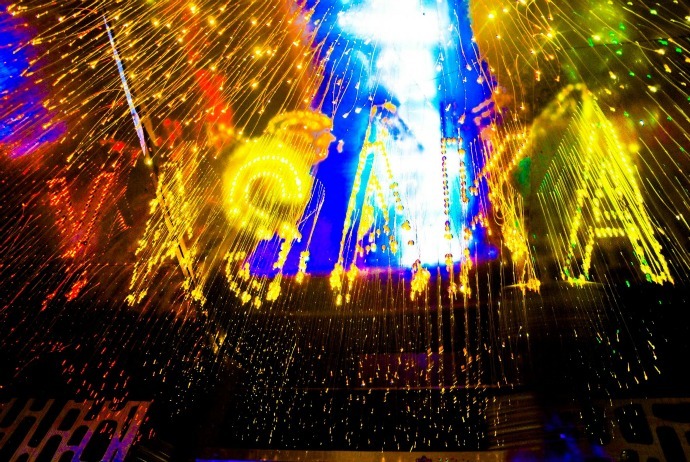 This club is not similar to any other nightclub in Nha Trang. It is a great spot to mix and mingle with Nha Trang residents. This famous Nha Trang nightlife spot is located on Tran Phu Street. Here, you will not be put off by the flashy neon-lit signage and the loud music with erratic lights. The crowds are also friendly. With no charge of entrance fee, imported drinks like wines, beers, liqueurs and champagnes. The music policy in Yasaka 008 Nightclub's is very diverse, ranging from house electro, deep house, trance and hip hop.
Opening Hours: 21:00 – 03:00 every day
Location: 8 Tran Phu (Trần Phú) Street, Nha Trang, Khanh Hoa (Khánh Hoà)
Tel: +84 58 382 0090
18. Banana Club Nha Trang
The club offers a more relaxing atmosphere in compared with other nightclubs around Tran Phu Beach. Banana Club boasts great lights as well as sound systems. It is great for dancing all night. Here, DJs plays deep house, house, and disco music each night whilst the spacious bar serves up signature cocktails and various types of liqueurs and beers. The low price range of drinks make this club a popular spot among those backpackers to visit before heading to more upscale Nha Trang's nightclubs. The most interesting thing about this club is that guests could also enjoy a free shot of eah drink here.
Opening Hours: 17:00 – 02:00 every day
Location: No. 33 Dang Tat (Đặng Tất) Street, Vinh Hai (Vĩnh Hải), Đặng Tất
Tel: +84 90 506 9981
19. Nha Trang Night Food Market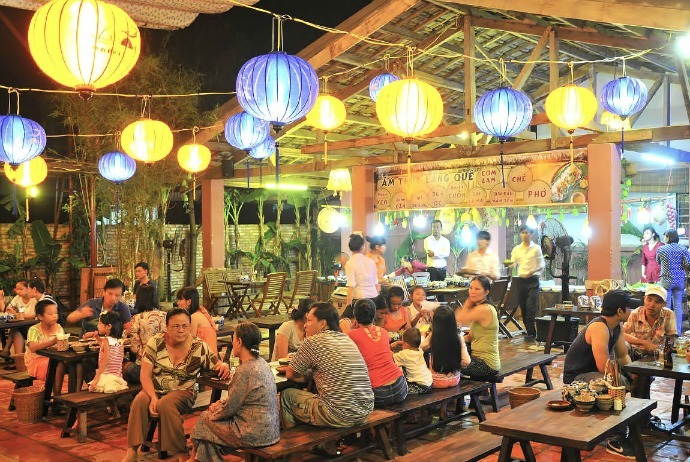 This suggestion about great Nha Trang nightlife is rather different from others mentioned above. Nha Trang night food market is located in the centre area of Phu Dong (Phù Đổng) Park. You will discover hundreds of typical familiar dishes of Vietnam countryside at low prices here. Despite tourists could various types of taste Nha Trang cuisine in different places, from normal to high end restaurants, but enjoying them in Nha Trang night market will bring to you a totally different experience. How comfortable it is when sitting at the city center and sampling great local dishes. You will feel as if you are in a peaceful rural area while still enjoying gentle breeze and murmur of the sea.
The above are 19 out of most interesting suggestions about Nha Trang nightlife. Because Nha Trang is a tourist city, so there is no shortage of ideas for tourists to try out at night. Yet, for a safe trip in this beautiful coastal city, particularly at night, you should follow some safety tips for a night out below:
If you travel alone, then you should stick to the guesthouses on major streets and in lit regions, even if you have to pay several dollars more.

Avoid walking back on your own too late at night.

Take a confidential taxi if you stay somewhere more remote. Yet, it is better for you to do your research in advance to check you will go with a reputable firm. If you love stay dancing on the beach, then make sure that you just stay until it is light enough for you to come back home safely.

Just take the amount of money that you really need for a night out. If possible, avoid bring your cash card along with.

Do not bring an expensive camera when being out at night as it will provoke the temptation of would-be thieves. Take inexpensive, small compact with you, so you could still take party pictures without having to worry about damage or theft.

Handbags might be convenient for a night out but they are easy to snatch. And, if it is gone, you will lose everything. So, distribute your cash as best as you could. An example is to find a denim skirt for a night dancing on the beach. The small pocket at the front of the skirt will be enough for you to include a few notes. Or, you could also think of your bras, girls!

Low your voice at night
The final note – when you have had a few choices for your upcoming trip of Nha Trang nightlife, be careful and aware of the surroundings. Vietnam despite is a very safe country, violence is rare here, but pick-pocketing is rather common in the wee hours, especially from men who dress like ladies and approach drunken tourists on their stagger home. So, be alert!
Hopefully that the checklist of best suggestions for great Nha Trang nightlife introduced above somehow helps you decide where to go and what to do at night when visiting the coastal city of Nha Trang.
Due to the limited frame of this entry of Nha Trang nightlife suggestions, we just can list down some of the most interesting places to go to for an amazing night out in Nha Trang, so if you have any contributing ideas about Nha Trang nightlife, do not hesitate to leave your words below. We will respond all soon.
Related Articles:
Shopping in Nha Trang – what & where to shop in Nha Trang?
22 best Nha Trang restaurants – where to eat in Nha Trang
17 best things to do in Nha Trang – what to do & where to go