Source: baoquocte
Located in the Gia Sinh Commune, Gia Vien (Gia Viễn) District, northern Ninh Binh (Ninh Bình) Province, Bai Dinh (Bái Đính) pagoda is the largest Buddhist complex in Southeast Asia. This religious complex covers a total area of 1700 hectare, including the ancient Bai Dinh pagoda (27 hectares), newly renovated one (80 hectares), cultural park, Buddhist monastery, Landscape Park, parking lot, several temples and more than 500 carved statues of Buddha. Bai Dinh pagoda is attracting a huge crowd of local people and foreign travelers who come to show their respect and pray for their fortunes.
Bai Dinh Pagoda In Ninh Binh Highlights

Source: cattour
There are two main Bai Dinh pagodas in Ninh Binh province. The ancient Bai Dinh pagoda is situated on the western slope of Dinh (Đính) mountain, nestling in a quiet forest. Visiting this pagoda, tourists can explore the ancestor-worshipping house in the center, the Bright cave worshipping the Buddha and the temple worshipping Genie Cao Son (Cao Sơn) on the right side, and another temple that worships Saint Nguyen (Nguyễn) on the left side. Furthermore, it will be regretful if you ignore the Dave cave next to the temple of Saint Nguyen. This cave worships the Fairy. Besides, travelers coming to Bai Dinh pagoda can also explore many other caves and grottoes like Fairy cave, the cave of Ba Chua Thuong Ngan (Bà Chúa Thượng Ngàn) and seven other smaller caves within the complex. These grottoes and caves have numerous large stalagmites and stalactites with strange sizes and shapes that will raise the curiosity and imagination of visitors.
The new Bai Dinh pagoda is located on the other side of Dinh mountain. That was built in 2003 with the efforts of five hundred craftsmen and groups of workers from well-known craft villages like Ninh Van (Ninh Vân) stone carving village, Phu Loc (Phú Lộc) wood making village, Van Lam (Văn Lâm) embroidery village, Y Yen (Ý Yên) bronze casting village and so on. Such people utilized the Vietnamese materials like ceramic tiles of Bat Trang (Bát Tràng) and green stone of Ninh Binh to build wonderful parts of Bai Dinh pagoda such as Phap Chu (Pháp Chủ) Temple, Tam The (Tam Thế) Temple, Quan The Am (Quan Thế Âm) Temple, Bell Tower, Bao Thap (Bảo Tháp) and dormitory area where Buddhist monks live.
If you have the chance to visit Bai Dinh pagoda, you will be astonished at the magnificent and unique architecture of Tam The Temple and Phap Chu Temple – the two most important works in this pagoda, special Great Bell with the weight of 36 tons, the biggest Avalokitesvara Bodhisattva statue with thousand eyes and hands in Bodhissattva Temple, and 500 Arahat statues with the height of 2.3m on the hill on the right side of Phap Chu Temple.
Not only do visitors explore the unique architecture, fanciful views of the surrounding mountains and forest, and quiet atmosphere, the pagoda also offers a variety of activities and events during your visit. For instance, if you visit in a vibrant festival season in Bai Dinh, you have the great opportunities to watch the ritual processions, listen to traditional music, witness how they hold the blessing ceremonies and enjoy dance performance. You can also participate in interesting folk games including wrestling and tug-of-war, and eat local snacks from many food stalls.
When Is The Best Time For Travelling To Bai Dinh Pagoda In Ninh Binh?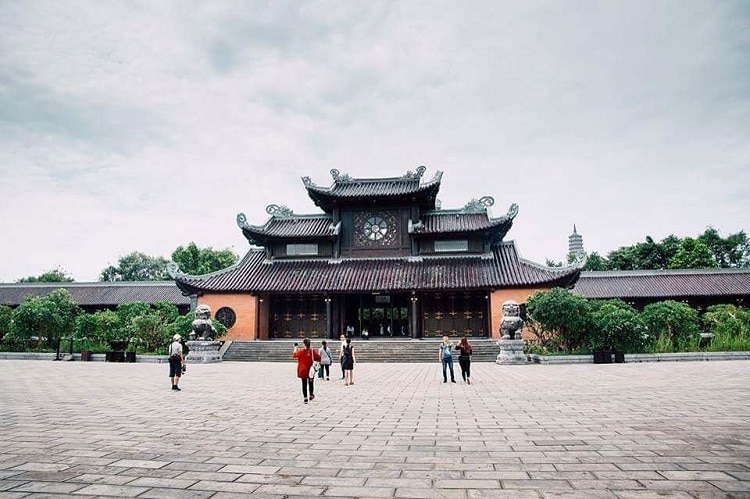 Source: cattour

In the Bai Dinh pagoda review, I would like to suggest that tourists and travelers should visit Bai Dinh in spring season from January to March when the spring festivals take place. Therefore, you can take part in many festival activities and events that I mentioned above. Also, during these months, the weather is warm and beautiful flowers bloom everywhere. It is the best time for tourists and travelers to see the beautiful natural views in Bai Dinh. At that time, you can visit the holy sacred pagoda and temples to pray for your fortune and luck. Due to those reasons, Bai Dinh is always overcrowded from January to March and the accommodations here might be limited.
What Are The Recommended Accommodations In Bai Dinh?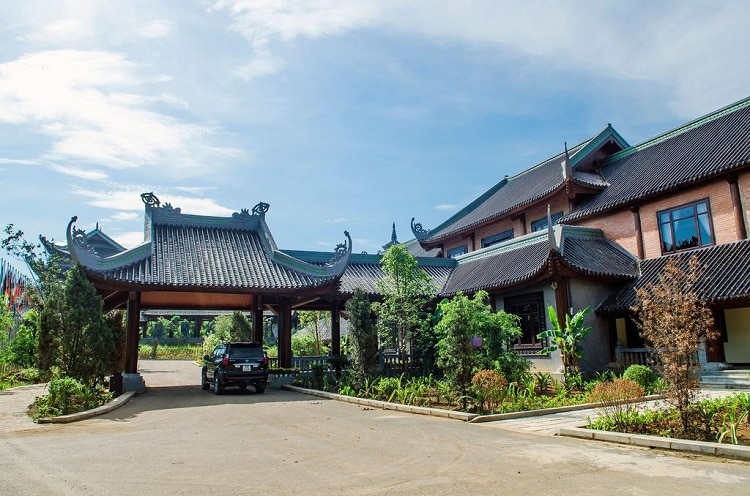 Source: booking
If you want to stay a few days in Ninh Binh, there are many accommodation options for you to choose. However, the best choice for people who to stay in Gia Vien is Bai Dinh Hotel that is a few steps away from Bai Dinh pagoda. Possessing the classic oriental style and ancient architecture, Bai Dinh Hotel is the ideal accommodation providing the relaxing and soothing experience for tourists visiting Bai Dinh pagoda. In this hotel, tourists can easily have the chance to listen to the pagoda bells ringing at sunset and dawn, or the peaceful voice of monks teaching Buddhism. This hotel features a total of 55 rooms, a restaurant serving famous foods, Chuong-Gio Café, and two world-class conference rooms. Every room has free high-speed internet Wi-Fi and free parking is available onsite.
Make sure that the Bai Dinh Hotel is not full during your visit by booking your rooms in advance. That also gives you the best service while staying here.
If there are no rooms in Bai Dinh Hotel left, you still have other options near Bai Dinh like Ninh Binh Mountain View Homestay (0.3km from Bai Dinh pagoda), Dinh Gia Home (Đinh Gia Home) (0.7km), Ninh Binh Family Homestay (1km), Ninh Binh Eco Garden (1.1km), and so on. They are all situated in Gia Vien but require your own transport to reach.
Foods To Eat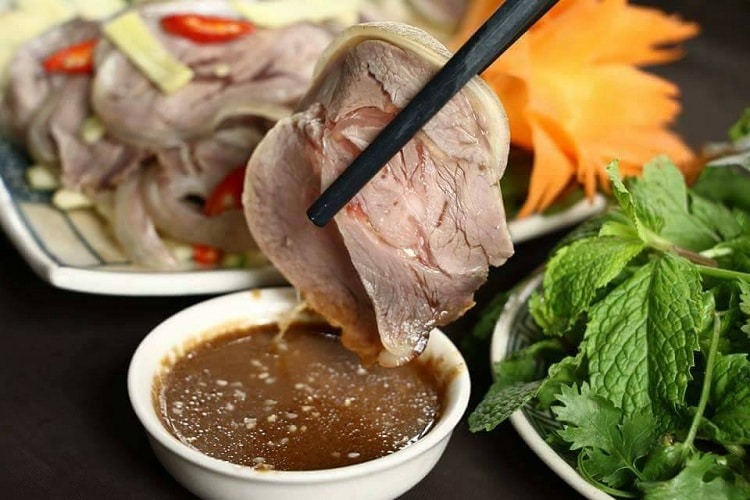 Source: hoanggiang
The Ninh Binh province is well-known for its crispy rice and mountain goat meat that is available in many restaurants. Heading to Bai Dinh pagoda are plenty of restaurants lining the roads. Even the Bai Dinh Hotel offers the restaurant service inside that serve famous foods with the unique taste of Ninh Binh provinces like crispy rice, goat meat, vegetarian cuisine, and Kim Son wine. Tourists also have the chance to taste Western-style BBQ here.
There are also a variety of restaurant options near Bai Dinh pagoda such as Cao Son (Cao Sơn) restaurant (0.8 miles from Bai Dinh pagoda), Café Linh Trang (0.9 miles), Nha Hang Thang Long (Nhà Hàng Thăng Long) (1.9 miles), and so on.
How To Get To Bai Dinh Pagoda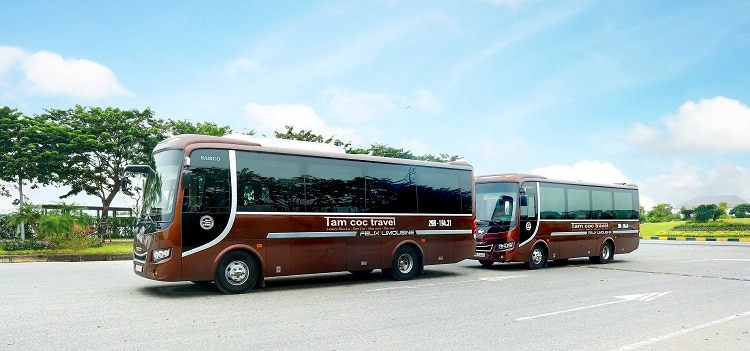 Source: tamcoctravel
Bai Dinh pagoda is far about 15km from Ninh Binh province and 95km from Hanoi. Therefore, tourists can take a bus from Yen Nghia (Yên Nghĩa) or My Dinh (Mỹ Đình) bus station in Hanoi and travel southwest to Ninh Binh province and then catch a taxi or hire a motorbike to Bai Dinh pagoda.
The motorbike rental is easy in Vietnam if you have the identity card. That transportation is recommended for those who want to enjoy the fresh air and flexible day trip. That takes you 30 minutes from Ninh Binh province to Bai Dinh pagoda via QL1A and QL38B. If you are healthy and energetic, you can ride directly from Hanoi to Bai Dinh pagoda.
The train is also another option for you to depart from Hanoi to Ninh Binh province.
More tips before going
Because Bai Dinh pagoda is a huge area, if your time is limited, you should take the shuttle trip that may cost you about 30,000 VND/passenger for the ticket.

Be careful when you are in a crowd to prevent thieves and pocket snatching.

Don't wear shorts, leggings, and skirts when you go to Bai Dinh pagoda.

It is recommended buying souvenirs at the foot of the Dinh mountain for a reasonable price instead of buying at souvenir kiosks and food stands around Bai Dinh that often have an expensive

You should bring a small umbrella with you because the spring season often has light rain.
Related articles:
We have shared with you the full review of Bai Dinh pagoda in Ninh Binh, Vietnam: the largest Buddhist complex in Southeast Asia. We hope that this information will make you satisfied and help you plan a wonderful day trip to Bai Dinh pagoda. If you have any questions, you can leave them in the comment section. We will answer as soon as we can. To know more other places to visit in Vietnam, view at our Vina homepage!