Vietnam (Việt Nam), a small beautiful country in Southeast Asia has many worth-visiting beaches for tourists to discover, widely known both at home and abroad. Nonetheless, there are a lot of pristine beaches in Vietnam that you may not know. It can be because of the complicated geographical locations or the issue of safety protection for the tourists that these places have not been developed all of theirs potentiality. This article will list down some of the most pristine beaches.
27 Most Pristine Beaches In Vietnam For Tourists To Explore
1. Ba Dong (Ba Động) Beach (Truong Long Hoa (Trường Long Hoà), Duyen Hai (Duyên Hải), Tra Vinh (Trà Vinh))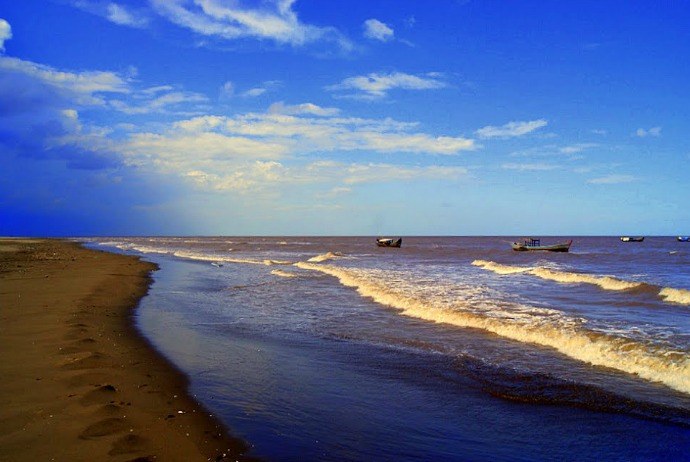 The beach named Ba Dong in Vietnamese still keeps its original wild character, with long white sandy beach which is full of shells, or soaring green casuarinas. Tourists when coming here, apart from swimming and relaxing could choose to explore the mangrove, visit the Ho Chi Minh (Hồ Chí Minh) way on the sea (aka Con Tau (Cồn Tàu)). The specialties of Ba Dong beach are various, such as Ba Dong (Ba Động) watermelon, fish sauce,…
2. Dai Lanh (Đại Lãnh) Beach (Khanh Hoa (Khánh Hoà))
Unlike the famous beaches such as Doc Let (Dốc Lết), Bai Dai (Bãi Dài)… Dai Lanh beach (about 80km away from Nha Trang) is still pristine. The beach has pure white sand, great steep level, is suitable for swimming far from the shore, ad blue sea water which could be seen up to the bottom. From the previous time, Dai Lanh was listed as one of the scenic spots that are famous for charming landscapes.
The scenery of Dai Lanh beach is beautiful because the Mother Nature endowed this place a stretching white sandy beach, with great slope level, so tourists could swim away. The beach is clean and the unlimited source of fresh water flowing into the sea. Despite of being beautiful, Dai Lanh beach is not known by many people because of the lack of accommodation for tourists. However, that is also an interesting point for those people who love pristine beauty and quiet.
3. Ca Na (Cà Ná) Beach (Ninh Thuan (Ninh Thuận))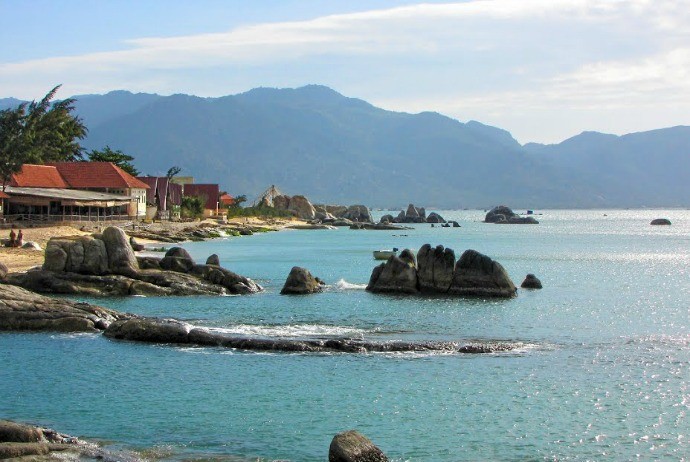 This beach resort in Ninh Thuan is also in the list of top of the most beautiful beaches in South Central area. Ca Na beach has blue clear sea water, winding sandy beaches, charming natural scenery, making this place beautiful as a wearing picture. The cool fresh air here is perfect for tourists to come to relax. From Ca Na beach, look afar, tourists could see some small islands jutting into the sea, including Hon Lao (Hòn Lao), which has many sea birds living in. Besides, you could visit the Tien well (Giếng Tiên), Bay Dau Lau (Bảy Đầu Lâu) cave….
4. Doi Duong (Đồi Dương) Beach (Phan Thiet (Phan Thiết))

This is the name of a beach, a park in the center of Phan Thiet (Phan Thiết) city. Unlike Ham Tien (Hàm Tiến) area in Mui Ne (Mũi Né), which is the private beach of the resort, Doi Duong beach is similar to the beach for locals. This is a beautiful beach in Phan Thiet province, with green casuarinas stretching along the coast. Tourists visiting here also enjoy fresh seafood, such as rice paper dipped into shrimp sauce…
5. Cua Tung (Cửa Tùng) Beach (Vinh Linh (Vĩnh Linh), Quang Tri (Quảng Trị)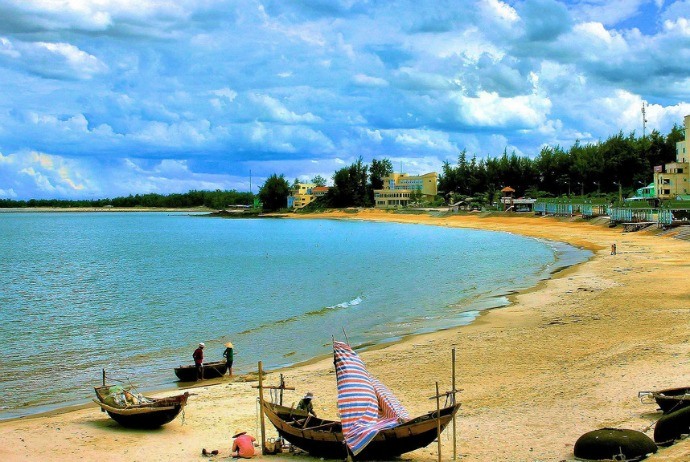 Located in An Duc (An Đức) village, Vinh Quang commune, Cua Tung beach is very beautiful with white and smooth sandy beach. That pristine beauty is like "Queen of beaches". Travelers visiting Cua Tung Beach also have a chance to visit many historical sites, such as the 17th parallel, Hien Luong (Hiền Lương) bridge, Truong Son (Trường Sơn) Martyrs Cemetery, Vinh Moc (Vịnh Mốc) tunnels…
6. Hoang Hau (Hoàng Hậu) Beach (Quy Nhon (Quy Nhơn)
Situated in Ghenh Rang (Ghềnh Ráng) tourist zone, Hoang Hau beach is beautiful in a lovely way, with round and smooth stones like bird eggs, stacked on each other on the beach. Here, swallows often gather to hunt for the food and give birth, so it is also called as Bai Nhan (Bãi Nhạn). With the wild natural but not less majestic beauty of the central coastal sea – mountain, Hoang Hau beach is enough to captivate the most discerning travelers.
7. Coc (Cóc) Beach (Ninh Thuan (Ninh Thuận)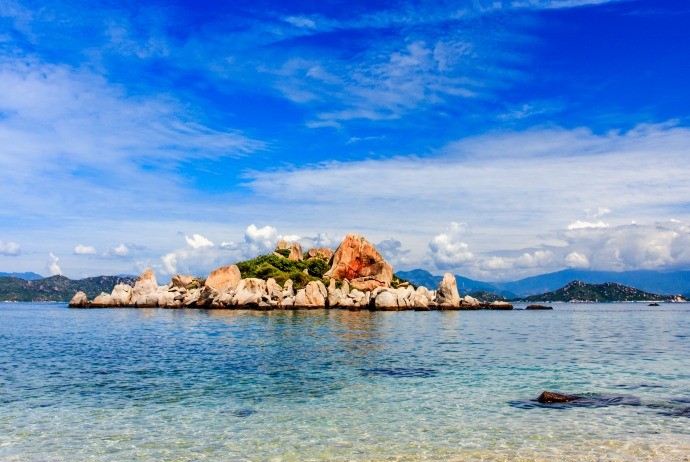 Located inside the Vinh Hy (Vĩnh Hy) bay, Coc Beach is very impressive with clear water, golden sand, rocks with different sizes, and fresh seafood. The reason why this beach is not famous among tourists is because the boats that are back and forth here are too little. They just stop to enjoy seafood for a while. The bright sunlight is another reason why tourists do not have enough courage to jump into the sea.
8. Mui Nai (Mũi Nai) Beach (Ha Tien (Hà Tiên))
Mui Nai is considered one of the ten landscapes of Ha Tien. The unique feature is that this beach is covered by brown sand. It is said to be because of the mix of sand with mud, creating a good effect for the skin and becoming a catalysts for tanned skin. Therefore, tourists visiting here not only enjoy swimming but also lying to relax with sand covered the whole body.
9. Nam Pho (Nam Phố) Beach (Rach Gia (Rạch Giá)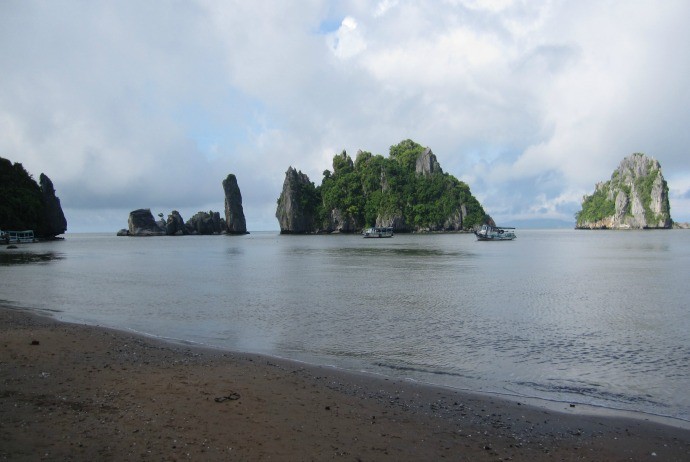 This is an unspoiled beach located next to the Highway 80 from Rach Gia to Ha Tien. Nam Pho is surrounded by many mountains so the sea is always calm, the ways just ripples. Because this is not known by many people, Nam Pho still remains its wild natural beauty. The lushes and towering coconut trees growing into rows create such a beautiful beach like Nam Pho nowadays.
 10. Dam Trau (Đầm Trấu) (Con Dao (Côn Đảo)
Con Dao has a lot of wonderful beaches, but cannot fail to mention Dam Trau. Located about 14k to the northwest from the city center, this is a great beach with golden sand and blue clear sea water. The name Dam Trau is associated with the integration of Cau (Cau) and Trau (Trầu), an adverse love with unfinished ending. Tourists visiting here can watch the majestic, wild landscape, dip themselves into the dreamy blue sea water and share with the romance of the couple who created a beautiful legend.
11. Men (Mến) Beach (Nam Du)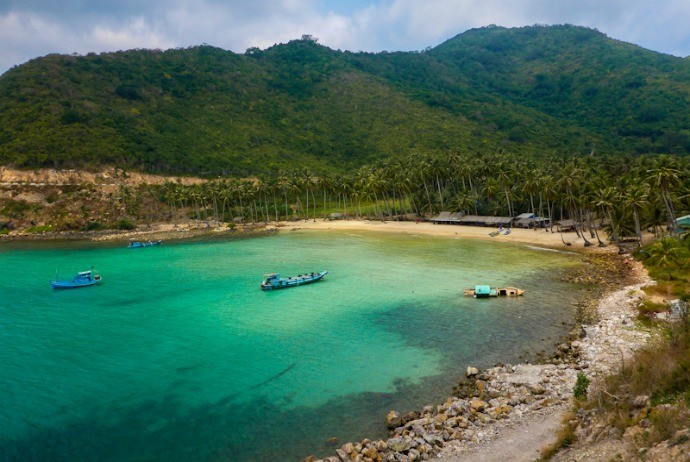 This is the most beautiful beach in Nam Du with smooth sand, clear blue sea water and lush green coconut trees. Besides, there are coral reefs abundant with many species of colorful fish.
12. Sao Beach (Phu Quoc (Phú Quốc))

Considered as one of the most beautiful beaches in Phu Quoc, the sand in Sao Beach do not have the golden color as Nha Trang beach, or brown-like color in Vung Tau (Vũng Tàu) Beach, but a pure white color (and smooth as well) like cream. Sao Beach fit in the arms of two gentle affectionate mountain ranges, bring quite and fresh space for tourists to relax.
13. Truong (Trường) Beach (Phu Quoc (Phú Quốc))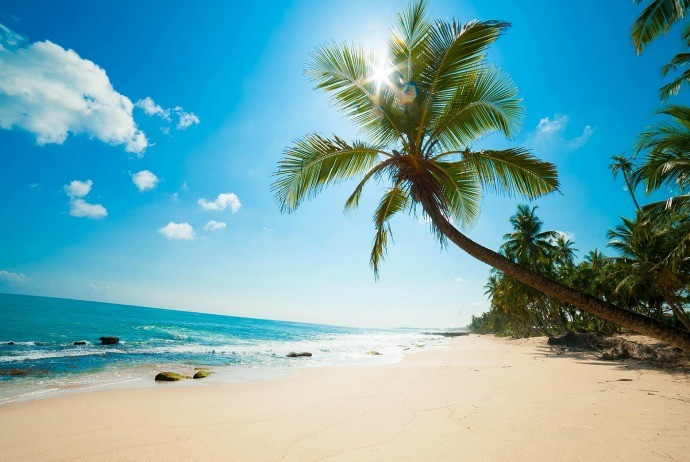 Located on Tran Hung Dao Street, running along the beach of the southwest of the island, Truong beach is one of beautiful beaches in Duong To (Dương Tơ) commune. The name of Truong (Trường) beach is because it stretches for about 20km from Dinh Cau (Dinh Cậu) cape to Khoe Tau Ru (Khoé Tàu Rũ). This beach is divided into many small parts, connecting to each other by cliffs, trees and hidden fishing villages. Not exaggerating, this beach is the most ideal place in Vietnam for tourists to watch sunset.
14. Trieu Duong Bay (Vịnh Triều Dương) ( Phu Quy (Phú Quý))
Trieu Duong bay is a familiar destination for local people and tourists, thanks to a flat and wide sand beach, clear blue sea water, and a poplar forest on the shore. In the afternoon, Trieu Duong is perfect for you to immerse yourself in the cool blue water, the waves slightly patted into the body, creating an excited and relaxed feeling.
15. Tram Beach (Bãi Tràm) (Mui Dinh (Mũi Dinh))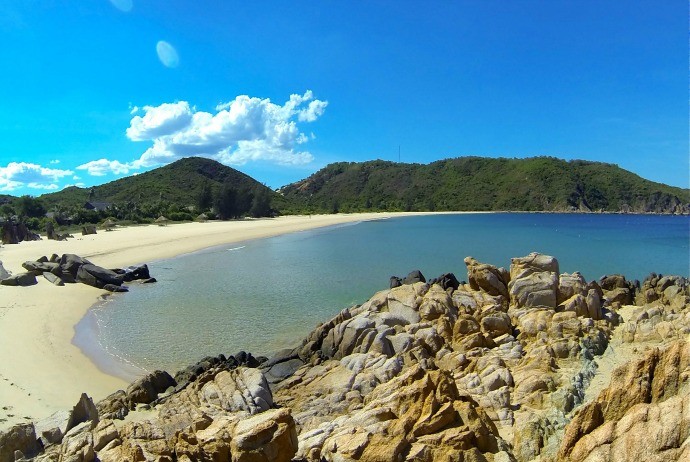 Mui Dinh will fascinate you right from the first time of seeing by the clear water which could allow you to see the bottoms. Because of being a small bay, so the beach here is semicircular curved, the waves are calm, and the sea water is clear as glass. Visiting here, there is nothing more interesting than lounging on the beach and enjoy the most wonderful thing that this beach has.
 16. Nuoc Ngoc (Nước Ngọt) Beach (Binh Hung (Bình Hưng))
Being a beach with the outside is beach and the inside is a cave with fresh water. The beach here is reckoned the most beautiful in Tu Binh area with clear blue water, smooth white sand and unique shaped rocks. Even, you could see the creatures swimming under the water line.
17. Sa Huynh (Sa Huỳnh) Beach (Binh Ba (Bình Ba))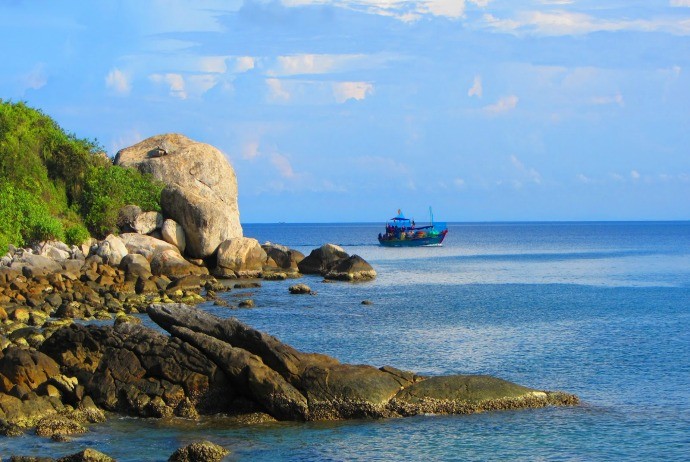 To get this beach, you have to boat far out of the seashore it belongs to another small island. Sa Huynh has a stretching white sandy beach, clear water. If you do not locate yourself in terms of space, you will feel like you are in the most beautiful beach in the world of the West.
18. Mon (Môn) Beach (Phu Yen (Phú Yên))
Mon Beach has a pristine beauty with fine, calm beach, sloping and sinking into the jade water. More interestingly, in the western area of the beach, there is a stream with fresh water, flowing through the beach and then filling the ocean. The fresh water here is very cool, creating an interesting landscape.
19. Nom (Nồm) Beach (Phu Yen (Phú Yên))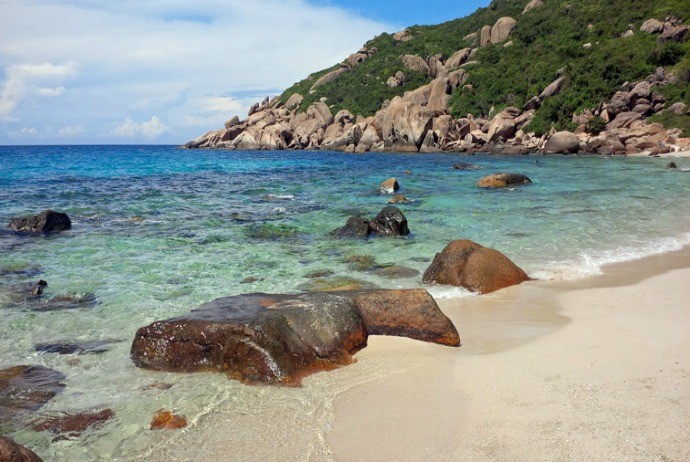 This beach has a strange attraction, particularly with international travelers from Western. It has an advantage of natural landscape, and clean beach. Standing far from Nom Beach, you can contemplate the ideal beach space hugged by the rolling rocks. Get close to the beach, you will be seduced by the feeling of burying your feet under the white sand, then letting the strong waves lapping against the footprints.
20. Ky Co (Kỳ Co) Beach (Quy Nhon (Quy Nhơn))
Located about 25km away from Quy Nhon city, Ky Co belongs to Nhon Ly (Nhơn Lý) commune, having wild beauty and being the location for exploiting tourism. The colors of water, sand and sky make this beach beautiful like a colorful picture. It is considered one of the most beautiful beaches in Vietnam.
The Beach In An Binh (An Bình) Island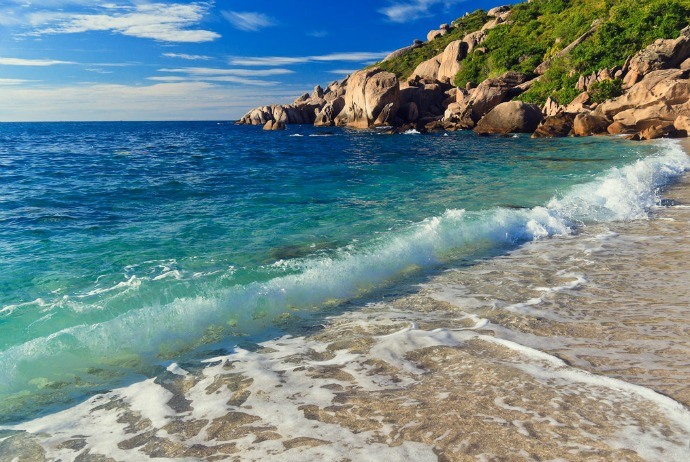 The island named Ly Son though have small area, it has a wonderful beach with white, smooth sand, covered by the bow-shaped high cliffs, white foaming waves.
21. Bac (Bắc) Beach (Cu Lao Cham (Cù Lao Chàm))
Located to the north of Cham island, this beach is lesser known than other beaches in Vietnam and has been exploited for tourism rather lately. Recently, there is a road connecting between Ong (Ông) beach and Bac (Bắc) Beach. Nowadays, Bac Beach also attracts a large number of tourists each year.
22. Nam Beach (Son Tra (Sơn Trà) Peninsula)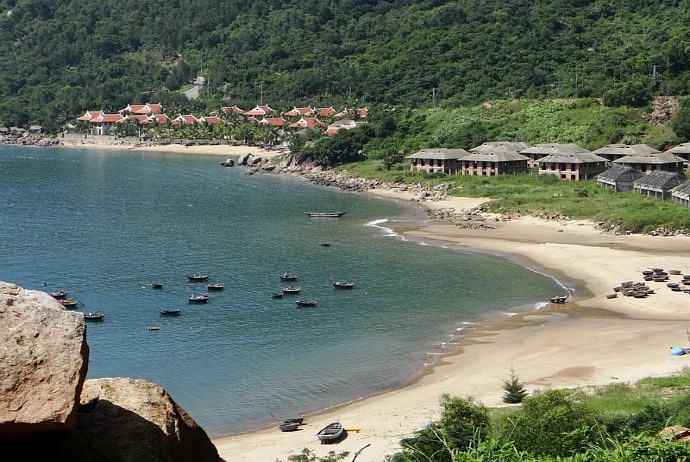 Being one of beautiful beaches in Son Tra Peninsula, there is a 4-start resort and spa in Nam Beach. See from My Khe (Mỹ Khê) beach in Danang (Đà Nẵng), you will see Nam beach from the distance. When going out of the shore for about a few hundreds of meters, you will see very impressive coral reefs. Snorkeling activities often take place here.
23. Lang Co (Lăng Cô) Beach (Hue (Huế))

Lang Co is pristine with sloping sandy beach, fading into the emerald blue water. The swimming season here is from April to the end of July with an average temperature of 25 degrees Celsius, which is very ideal for sea lovers.
24. Nhat Le (Nhật Lệ) beach (Dong Hoi (Đồng Hới), Quang Binh (Quảng Bình)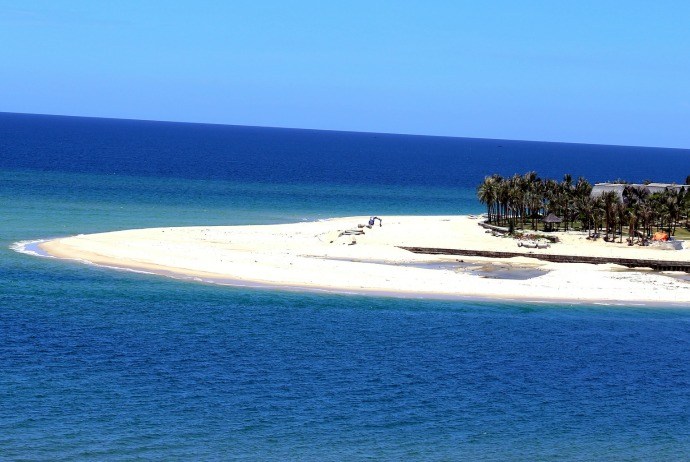 Coming to Nhat Le, you will clearly sense the magnificent of the scenery here. Nhat Le beach has iridescent golden sand with beautiful beaches, emerald shimmering and unpolluted sea water.
25. Cat Dua (Cát Dứa) 2 Beach (Lan Ha (Lan Hạ) Bay)

Cat Dua 2 beach lies in the right side behind the tiger-shaped rock peak. This beach has a garden of a few meter squares with many trees like pandanus, acacia, white apple trees… and a variety of birds. If you like to explore more, you could climb halfway up the mountain, even up to the peak to have a panoramic view of Lan Ha bay with hundreds of islands with different sizes rising in the clear blue water dotted with white sandy beaches from the distance.
26. The Beach In Co To (Cô Tô) Island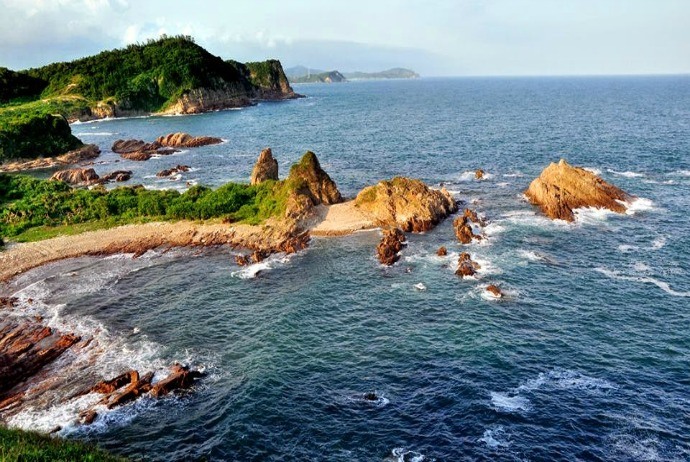 There is a small population living here. It is far from the center so the beaches in Co To are very pristine and wild. After immersing yourself under the clear waters, you could pick up colorful shells as a souvenir for your trip.
27. Minh Chau (Minh Châu) Beach (Quan Lan (Quan Lạn))
Located on Quan Lan Island, Minh Chau beach attracts tourists by its stretching white sandy beach, pure air, and the pristine which is almost intact. This place is always attractive towards those people who want to escape from the hustle and bustle of big cities and enjoy wonderful moments with nature.