Nha Trang is one of the most famous tourist destinations in Khanh Hoa (Khánh Hòa) province, Vietnam (Việt Nam). If you have a chance to visit Nha Trang, it is a shortcoming to skip the beauty of Dai Lanh Beach (Biển Đại Lãnh).
Dai Lanh is a large commune with an area of up to 20 km and located in Dai Lanh commune, Van Ninh (Vạn Ninh) district, Khanh Hoa province, Vietnam. This strikingly beautiful site is about 90 km north of Nha Trang. It has very long and beautiful beaches, not inferior to other beaches in Nha Trang city.
Dai Lanh Beach Nha Trang is located between Ca Pass (Đèo Cả) and Co Ma Pass (Đèo Cổ Mã). Most people who pass Dai Lanh, no matter which vehicles they use to move, are rewarded with the amazing vistas of the bay, from the Ca Pass to the north, and the Co Ma Pass to the south. This beach always looks stunning from these vantage points. Because it is not so far from Nha Trang city center, it is quite convenient for tourists to move.
Dai Lanh Beach and Van Phong Bay (Vịnh Vân Phong) are considered as key areas of Nha Trang. They are strategically important in the development, security and defense of Nha Trang, in particular, and Vietnam, in general.
Really, Dai Lanh beach is a great overnight stop between Nha Trang and Quy Nhon (Quy Nhơn), particularly for those people who take part in the route from Saigon to Hanoi. This beach is also an ideal base for people who want to explore other fantastic beaches as well as sights in the surrounding areas.
From Nha Trang's city center, you can go along Pham Van Dong (Phạm Văn Đồng) Street to reach Highway 1A. From here, if you choose to move by a motorbike, it takes about one and a half hour by road. After that, you can get to Dai Lanh Beach in Van Ninh district, Khanh Hoa province.
A small tip for motor-bikers: Pham Van Dong Street will cross a pretty pass road. One side of it is hilly and the other side is the sea. You can travel to Dai Lanh beach by a motorbike and take the time to take pictures.
What Is The Best Time To Visit Dai Lanh Beach?
The weather in Dai Lanh is rather unpredictable, due to its unique location on the mountainous stretch of coast. Nonetheless, in general, the weather from April to August (during summer months) is often ideal for visitors.
Where To Stay In Dai Lanh Beach?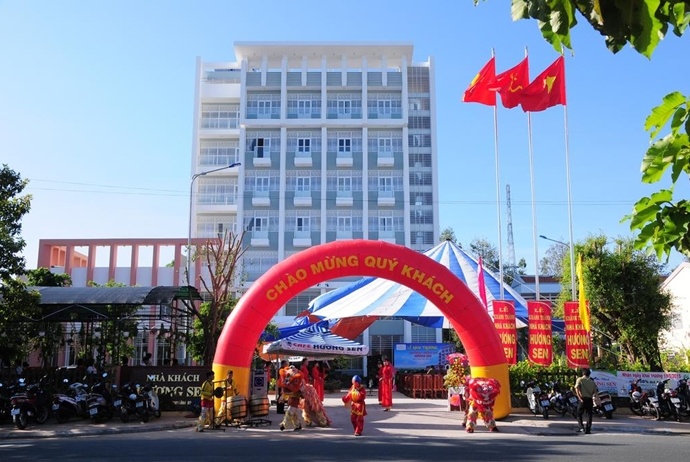 Source: booking
Tourists can either opt for staying in one of mini-hotels along the road or on the beach.
What To Do In Dai Lanh Beach?
The special feature of Dai Lanh Beach is that it is not affected too much by humans. Thus, the marine life, as well as the beach here, still retains its original wild features.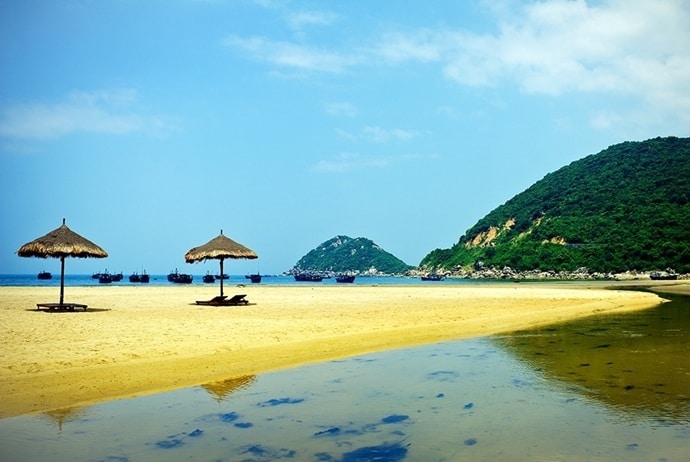 Source: nhatrangsensetravel

Dai Lanh Beach has been famous since ancient times. From the 30s of the 19th century, King Minh Mang with his love for this landscape has led people to carve images of the sea on 9 large copper peaks placed in the king's palace.
However, Dai Lanh Beach still retains its wildness without the impact of humans' hands up to now. On the other hand, it is not necessary to have any renovation because this beach is so beautiful that does not need any intervention to attract tourists.
It has been observed that over 3,000 km of coastline in Vietnam, there is no clean and beautiful beach like Dai Lanh. The reason is that the beach here is still wild. Besides, it is situated far from residential areas as well as industrial parks so it is not impacted by pollution activities.
Dai Lanh Beach is warm and yellow like honey and stretches like crystal. The sea is clear, so you can observe marine organisms in a clear way. Because the sea waves here are very quiet and salinity is also moderate so this place must be a perfect choice for visitors who are followers of safety.
One day of relaxing at Dai Lanh beach Nha Trang brings a lot of freshness. Imagine that you wake up early, watch the dawn, and breathe the fresh air. Surely you will feel refreshed and full of energy. This is what Dai Lanh beach can surely give you.
Dai Lanh beach is purely established by fine white sand, clear blue water at the sea's bottom which is ideal for people to swim offshore. There is a source of fresh water flowing into the sea which is not exhausted all year round.
In the afternoon, after swimming in the clear water, you can leisurely stroll the sunset which looks like the red fire glowing into the sea. At this time, the sea is romantic and lyrical which makes visitors feel much more tumultuous.
At night, you can walk along the beach. Listening to the sound of the sea waves and inhalingthe salty smell of the sea wind will make you feel great.
Besides, you can go inland to explore the interesting life of Khai Luong (Khải Lương) fishing village and enrich your knowledge.
At present, Dai Lanh beach is still primitive and local people mainly live by fishing. About 500m away from the beach, when the sun is not up, local women have come together to get to the beach and wait for the fishing boats come back. There is small market for trading seafood right here.
Not only that, you can also visit Vung Ro port (Cảng Vũng Rô) – a place with lots of historical significance. This is a secret location of "non-numbered ships" carrying ammunition weapons from North to South to provide relief for soldiers in the resistance war against American imperialism.
During your trip, do not forget to visit Dai Lanh lighthouse where the first dawn in Vietnam.
In the past, Dai Lanh was a popular tourist destination for domestic tourists and French colonials. Nonetheless, due to the advent of cars, motorbikes, freight trucks and coaches, which ply up and down the highway, its reputation has been diminished somehow.
When visiting Dai Lanh beach, you should not skip Dai Lanh fishing village, which is located at the north end of this beach. It is a collection of single-storey houses.
Check out:  18 Best Things to Do in Nha Trang – What to Do & Where
How's About Food And Drink In Dai Lanh beach?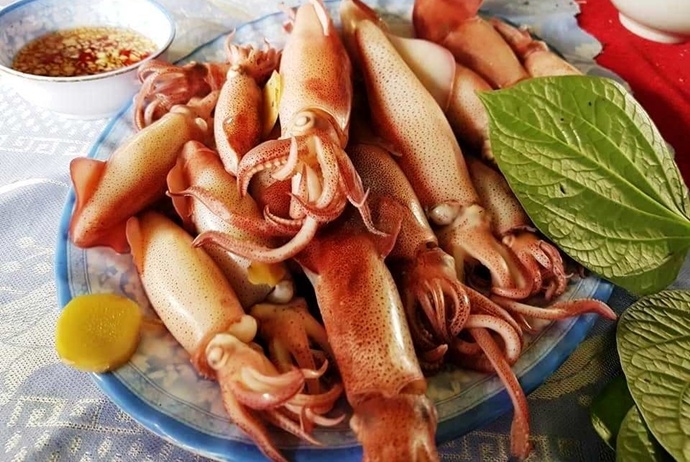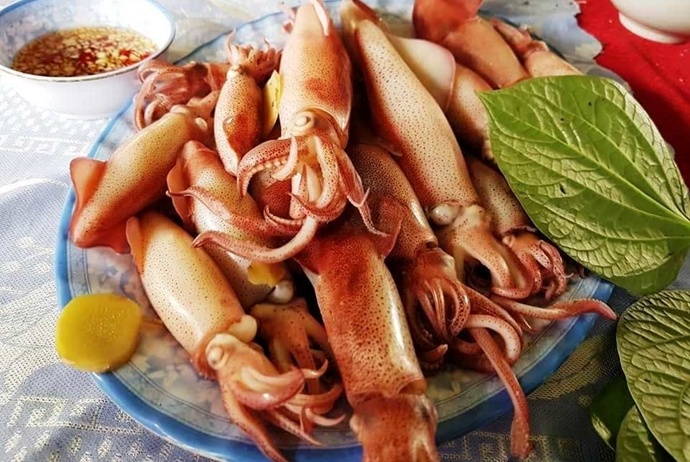 Source: – dulich.laodong
Also, when coming to Dai Lanh, after enjoying the beauty of nature here, you should "fill up" your empty stomach with great specialties. The fascinating cuisine is also a thing that Dai Lanh Sea lured many tourists. With squids, crabs, shrimp, fish, crabs, and snails, the local specialties are full of marine flavor.
Although the dishes are processed very simply, their taste is excellent because of their absolute freshness. Squid is the most delicious dish so you should not skip it.
When visiting Dai Lanh Beach, it seems that all sadness and fatigue are gone quickly. So, if one day you feel exhausted with the crowded and noisy urban life, go to Dai Lanh Beach – one ò the most attractive destinations of Nha Trang. Surely you will not regret.