Lan Ha (Lan Hạ) bay, of which the beauty is compared with that of Halong Bay in Quang Ninh (Quảng Ninh), Vietnam (Việt Nam) is located in the south area of the bay, surrounding Cat Ba (Cát Bà) Island of Hai Phong (HảiPhòng) province. This promises to be an attractive destination for tourists.
Located in the south of Halong (Hạ Long) Bay and in the east of Cat Ba island, Lan Ha bay has an area of 7,000 hectares featuring spectacular beauty of dense small and large islands, with many interesting shapes. Unlike Halong Bay, all of the islands in Lan Ha Bay are covered with green trees, despite there are many very tiny island.
Despite of not being well-known for tourists, Lan Ha Bay is assessed as one of the most beautiful bays in Vietnam. When the autumn comes, Lan Ha Bay gets its most beautiful state with slight sunlight, mild and cool breeze of the ocean, making tourists comfortably enjoy the refreshing, relaxing while boating to admire the bay.
With a cool and fresh climate, tourists could visit Lan Ha Bay at any time of the year. However, domestic tourists often travel from April to October, but international tourists often travel to Lan Ha from November to March each year.
From the centre of Cat Ba island, you move to Ben Beo and buy ticket to visit the bay before renting the boat to go to the place you want. If you just want to go around the bay (near the seashore and not go too far), you can rent a motor boat of local people for convenience.
I. Some Attractions In Lan Ha Bay
Located adjacent to Halong Bay, but Lan Ha Bay still has some special features which are completely different in compared with Halong. If you want, you could combine visiting Lan Ha Bay with other tourist attractions in Halong Bay.
1. Luon Cave (Hang Luồn)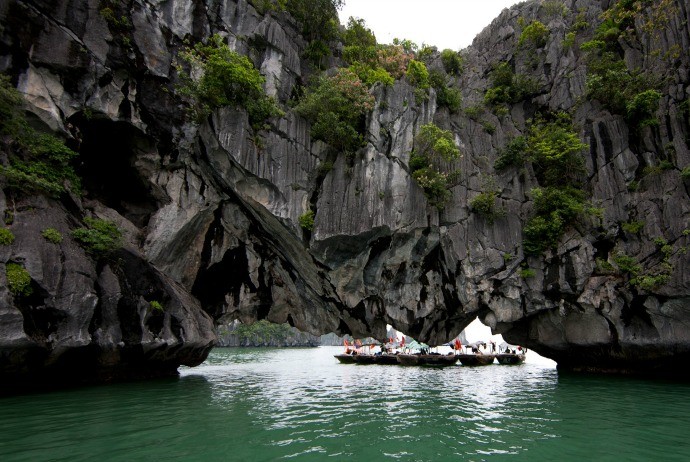 Located on Bo Hon (Bồ Hòn) Island, the front is Hon Con Rua (Hòn Con Rùa) and the right is Cong Troi (Cổng Trời), Luon Cave's escarpment is stiff and water is blue and smooth all year round. The cave always attracts tourists not only because of the unique shapes but also the harmony and appealing natural scenery.
2. Nam Cat Island (Đảo Nam Cát)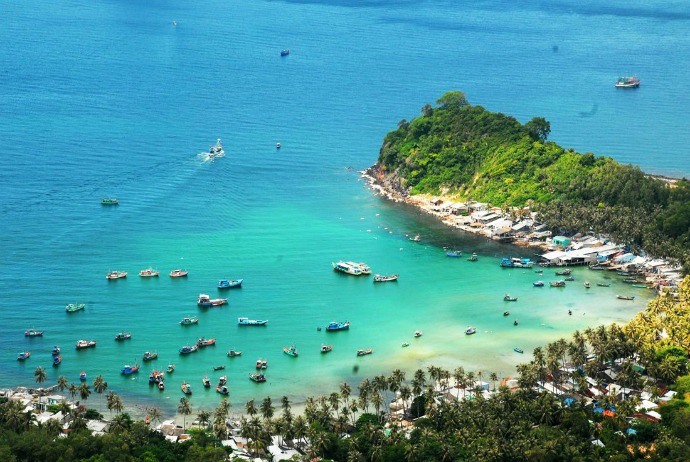 Nam Cat Island attracts tourists because of the wild characters with four surfaces of nature, exotically charming forests and sea surrounding. From Ben Beo, staying on boat for about 15 minutes and you will arrive at Nam Cat Island. Due to the wildness here, tourists always enjoy the feeling of tranquility. The intervention of humans on this Island is limited in order to keep the natural values. With 3 large wooden stilt houses and 6 motels made from bamboo, resting here will allow you to immerse yourself with nature. In addition, the island also has a full range of services for tourists, from the beach, kayaking, fishing and scuba diving to campfire activities, team activities at night.
3. Monkey Island (Đảo Khỉ) (Cat Dua (Cát Dứa) Island)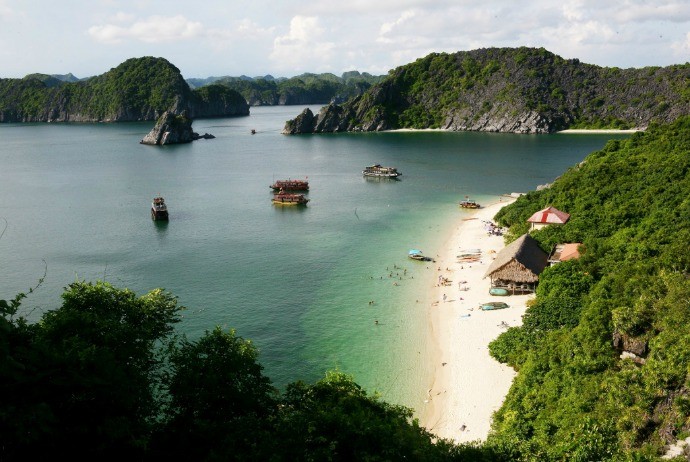 Tourists often go on boat from Ben Beo (about 10 minutes) and through Cai Beo (Cái Bèo) fishing village and some other tiny islands to reach Monkey Island. Previously, Monkey Island was called Cat DuaIsland because there are many wild pandanus trees looking good but not edible. Currently, the island is often called Monkey Island. The reason is that there are over 30 monkeys by the rangers of the National Park Cat Ba bring here. They usually play with the tourists at the beach, eat foods delivered by tourists such as bananas, apples, tangerines, candy… Funny monkeys playing and climbing impress those people who ever came here and gradually people call this island as Monkey Island.
4. Van Boi Beach (Bãi Tắm Vạn Bội)
This is an ideal tourist destination for those who love kayaking as well as swimming because it is located in the calm part of the bay with cool blue water and beautiful landscapes.
5. Rua Island (Đảo Rùa)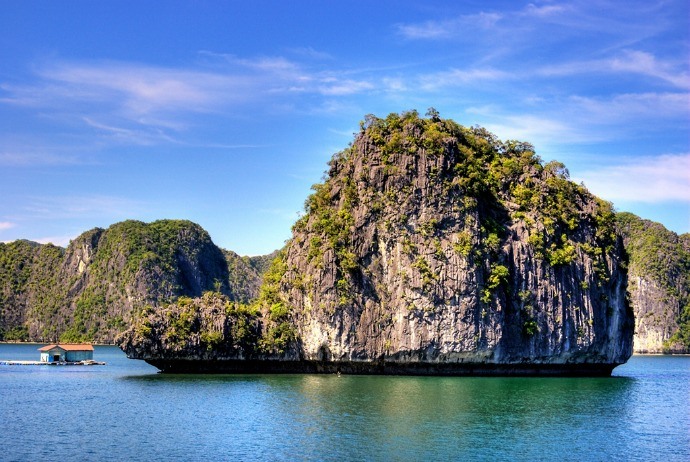 This is a small island located in the Lan Ha Bay with shapes like the turtle swimming on the water surface. The island is located close to the Ben Beo (Bến Bèo) road to Viet Hai (Việt Hải) village.
6. Chuong Island (Đảo Chuông)
ChuongIsland has other names which are Nen (Nến) island, But (Bút) Island, Bap Chuoi(Bắp Chuối) Island. This is a small island located on the way from Cat Ba Island to Cua Van (Cửa Vạn) fishing village.
II. Things To Do In Lan Ha Bay
1. Kayaking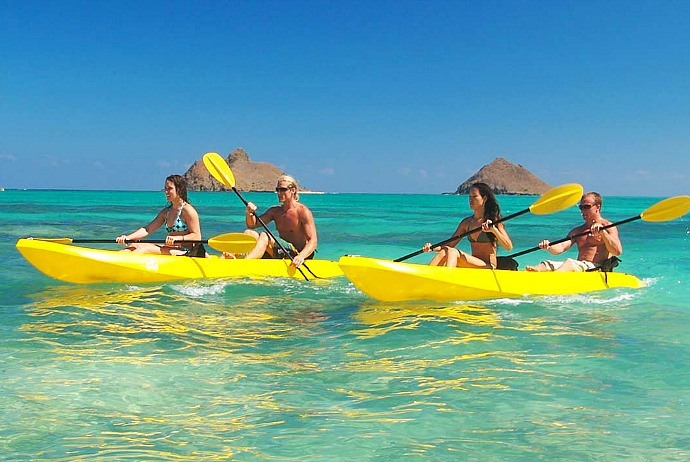 Lan Ha bay is a kayaking paradise because it has hundreds of small sandy beaches and hundreds of small islets around. It is the heaven for those people who love kayak in a clean and calm water to explore the wild nature of Cat Ba Islands. Some well-known places for kayaking in Lan Ha bay is CaiBeo floating village, Van Boi center area in the middle of the bay, Monkey island or Ba Trai Dao area…
2. Swimming
Swimming in the bay will bring to you an interesting experience. There are a lot of small beaches in Lan Ha Bay for you to come to enjoy and swim. It is very lovely to swim at Van Boi Con Island or Monkey island.
3. Rock Climbing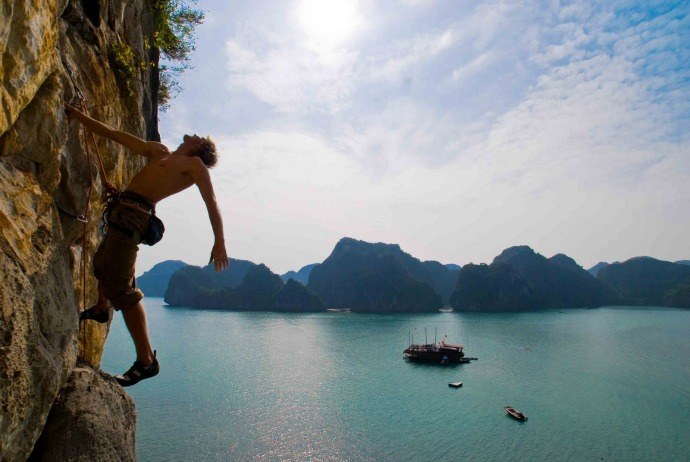 Cat Ba has an international rockclimbing center so you could book a half or full-day rock climbing tour at booking office of Monkey island resort.
4. Visiting Viet Hai (Việt Hải) Fishing Village
You could visit Viet Hai (Việt Hải) harbor from Lan Ha Bay and then take a bicycle or motorbike to go 6km to visit Viet Hai fishing village in Cat Ba (Cát Bà) National Park.
5. Visiting Floating Village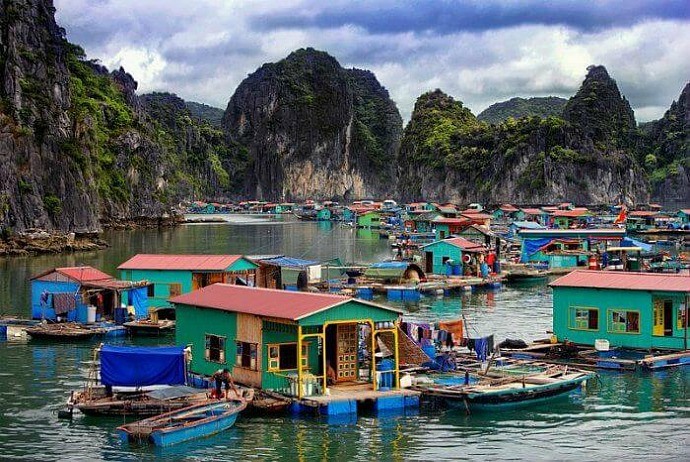 Visit Cai Beo (Cái Bèo) floating village in which people have to stay in those floating houses and children here go to school using boats.
6. Playing And Staying At Private Beaches
There are a few private beaches which includes bungalows for tourists to stay overnight. Travelers could book a package tour or simply book a room here and they will have so much time for some activities like swimming, playing beach football, beach volleyball, or kayaking…