Updated: 11/20/2019
Hue, the ancient capital of Vietnam, is a famous destination to both domestic and foreign tourists. Regarding Hue, people often think about a peaceful and silent city where tourists can dig into history and natural beauty. It is said that visiting Hue without seeing the Imperial City is not truly a visit. But if you spend time at the Imperial City, and skip having a stay in Lang Co Bay, you just made a poor decision. To many tourism magazines, Lang Co bay has been written as one of the best places for retreat and relaxation of Hue thanks to its beautiful long beaches and cool weather almost all year. The Bay is dubbed as the heaven of Hue's tourism. 
Lang Co Bay, the Heaven of Tourism in Hue
From Hue downtown 60km to the North, and 30km from Da Nang to the South, Lang Co Bay silently lies on a unique location with the view of both mountain and sea. It is not surprising to call Lang Co Bay as the heaven of Hue's tourism. Though the weather in Lang Co is ordinarily nice and cool, if you want to visit this place, you should not go from August to November. This time in Hue is the rainy season that waves are more often and the sea water is muddy. From December to March, the sea water is a bit cold, for which the tourist number is also small. However, if you want to take a retreat during this time, Lang Co is still an interesting suggestion for you. 
See more: Things To Do At Night In Vietnam's Hue City / 23 Must-See Hue Attractions 
1. How to Reach Lang Co Bay?
As described, Lang Co Bay is located in the middle of Hue and Da Nang, so that to reach the destination, you can choose to land off at Da Nang or Hue's airport. You can enjoy the ticket-discount deals of many airline brands such as Vietnam Airlines, Vietjet Air, Jetstar Pacific, Bamboo Airways, and so on. Another way is to go by train, and you finish at Hue station. You might take the following schedule for references:
•    From Hanoi to Hue: about 688km, 12 hours by train, cost nearly 15$
•    From Ho Chi Minh city to Hue: about 1088km, 24 hours by train, required nearly 18$
After reaching Hue station, at No.2, Bui Thi Xuan street, you can take a long coach to Da Nang and take off in Lang Co on the way. If you have a group, hiring a car or taxi should be more convenient. On the way to Lang Co Bay, there are two options for you. One is to enjoy the fabulous view by going on Hai Van Pass. Or else, if you want to reach the bay right away, you should go through the pass. 
Read more: Top 10 Popular Places For Shopping In Hue
2. Where to Stay in Lang Co Bay?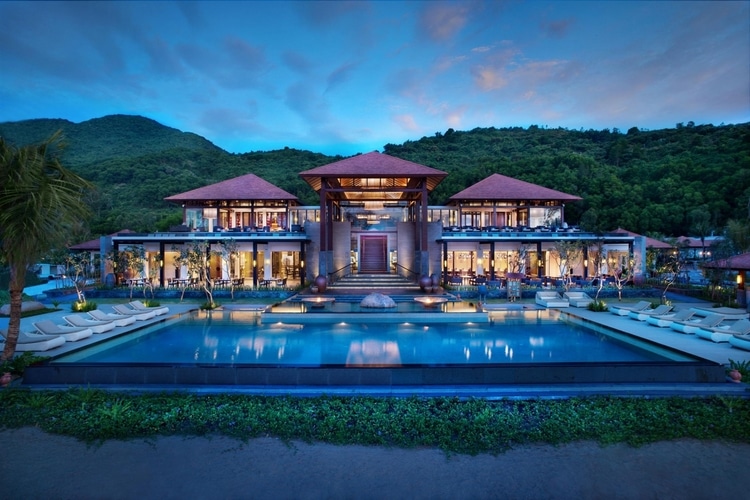 Even though Lang Co Bay is a late-comer in the list of the most enjoyable places to relax, its attraction is immense to the hotel and resort developers. That's why a large number of luxury hotels and resorts are built in Lang Co. Therefore, you have various great choices to stay in Lang Co. 
Here we come with several suggestions in Lang Co Bay. 
– Laguna Lang Co Central Vietnam: "The best Asian Golf Resort – Vietnam"
If you want to spend time on relaxation and golf, Laguna is the best choice ever in Lang Co. The resort is covered with both mountain and sea, which allows you to enjoy the most fantastic view in the bay. 
– Stork Village Lang Co Resort: – lagunalangco
The resort is highly recommended for its food serving, amazing service, nice view, and reasonable price. 
– Champa Lang Co Hue Hotel: 
Champa hotel is rated as a good and convenient place to stay. Especially, the hotel offers a very suitable price for tourists. 
See more: 15 Best Hue Restaurants – Where To Eat In Hue 
3. What to Eat in Lang Co Bay?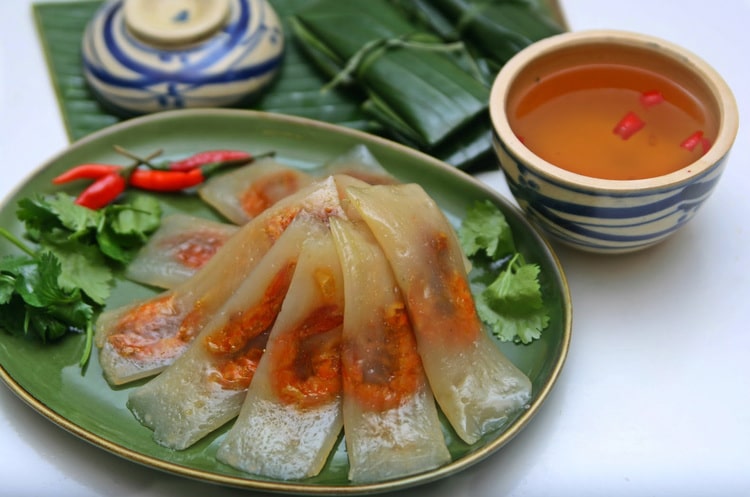 No matter where your trip is, one of the most concerning things is always food. When in Lang Co, you have a big chance to taste Hue's specialities. Some tourists can choose to have lunch or romantic dinner at resorts with beach view. But some would like to discover the local food by going to some villages, local restaurants, and so on. 
Seafood is always indispensable. Lang Co seafood is very fresh, which is processed in its own way that creates a distinctive taste. There are many restaurants floating on swamps in Lang Co that you can easily find out. Bien Ngoc (Biển Ngọc), Be Den (Bé Đen), Be Lai (Bé Lai), … are well known for their delicious taste and low prices. Having dinner there is a good idea. Besides, you can eat some local specialities such as "Bánh bột lọc", the most famous dish of Hue. Hue local specialities are so various that you can spend a few days to enjoy them thoroughly. 
See more: Top 8 Best Foods To Eat In Hue
Spending time in Lang Co Bay is an excellent way to retreat yourself. Getting into nature brings you fascinating and relaxing feeling during a stressful time. Lang Co totally helps you to refresh your mind and body with the sea, mountain, and tasty food.