Source: halong-bay-kayaking
Updated: 08/27/2019
Quan Lan (Quan Lạn) Island is a wonderful land that not only has natural scenic spots, but it also keeps historical and cultural values. The whole island has an area of 11 km2, from the foot of the Van Don (Vân Đồn) Mountain to Got (Gót) Mountain. The high mountains help prevent waves from the sea in order to protect the Island's inhabitants. Visiting Quan Lan Island in Quang Ninh, you can be fascinated by beautiful beaches with blue clear waters and white sands. At the same time, you have a chance to visit the historical and cultural relics as well as enjoy delicious seafood.
In this article, Vina.com will reveal the most important things and information that tourists may need to have a great trip to Quan Lan island.
1. How To Get To Quan Lan Island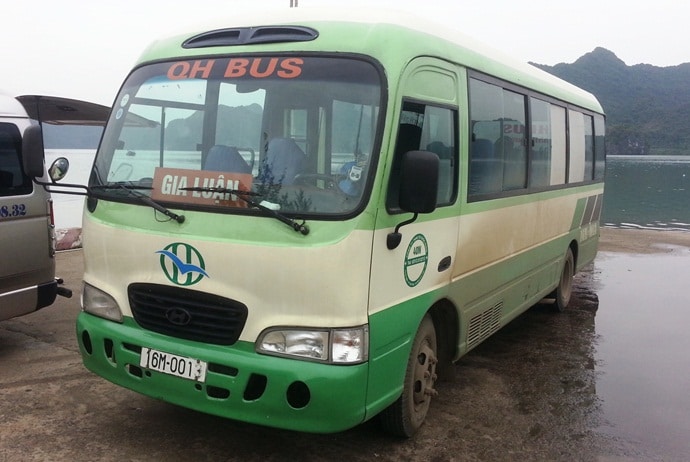 Source: grandpacking
To get to Quan Lan Island, you can have a few different ways. If you want to get to Quan Lan Island from Hanoi, you need to get to Hon Gai (Hòn Gai) port or Cai Rong (Cái Rồng) port.
You can reach Hon Gai port or Cai Rong port by private car with driver. He will pick you up at your hotel and then directly transfer to your chosen port. Next, you will board the boat to Quan Lan Island.
The cheaper option is to travel by shuttle bus from Hanoi to Ha Long Bay. They can pick you up at your hotel in case your hotel is in Hanoi old quarter. It takes 4 hours to get to Tuan Chau (Tuần Châu) Island. When you reach Tuan Chau Island's entrance gate, take a taxi or motorbike or public transport to Hon Gai port or Cai Rong port.
If you have time and want to save the cost, you can get to Ha Long City by public buses. From your hotel, you take a taxi to My Dinh (Mỹ Đình) Bus station, and then choose buses for your travel route to Hon Gai area. When reaching Hon Gai area, catch a taxi or motorbike to Hon Gai port and get a speed boat to Quan Lan Island. Alternatively, from My Dinh Bus station, choose buses for travel route to Van Don town. When reaching Van Don town, catch a taxi or motorbike to Cai Rong port and get a speed boat to Quan Lan Island.
Speed boat or slow wooden boat
When you get to Hon Gai port or Cai Rong port, the only way to reach Quan Lan Island in Quang Ninh is by water way on slow wooden boats or speed boats. You need to pass Bai Tu Long bay before reaching Quan Lan Island in 1-2 hours (speed boat) and 2-4 hours (slow boat).
2. Tourist Attractions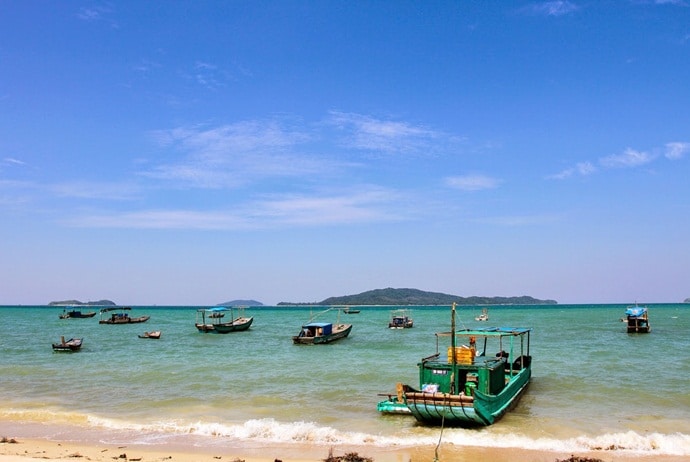 Source: hellohalongbay
Quan Lan Island in Vietnam is surrounded with evergreen pine forests stretching along the coast. Tuk Tuk is the most popular kinds of vehicle that helps take tourists to the tourist center. When coming Quan Lan Island, the first impression is the beautiful nature as well as friendly local people. Thanks to the guidance of the locals, you will be able to experience their great vacation.
Coming to Quan Lan Island, you can enjoy fresh seafood dishes. Also, you can try activities of biking, motorbiking or tuktuking to wander around the island. You can take photos of local fishery, sunset or sunrise on the islands or visit local market or old temples. One of the outstanding tourist attractions of this island is Quan Lan Temple. This temple was built in the 18th century and it has impressive architectural design. This is a beautiful and unique temple that is mainly made of woods. Over a long period of time, this wooden temple still remains its beauty.
Now, you should continue to read the rest of this article to know more about beaches in Quan Lan island as well as beach activities you can try out.
3. Beaches In Quan Lan Island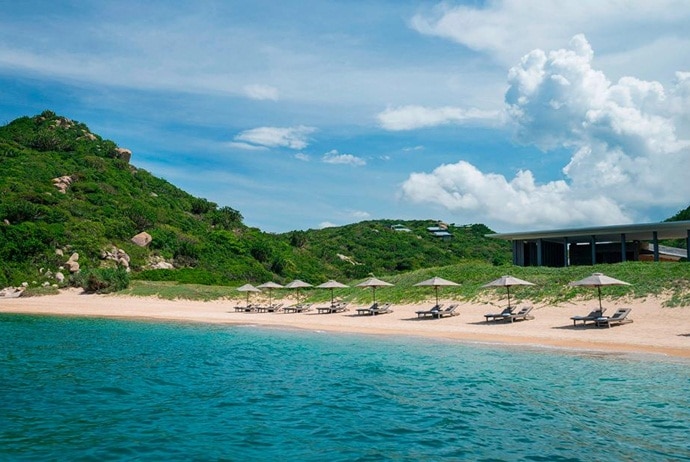 Source: newsrnd
This island is a perfect destination for people who want to escape crowded beaches on holiday. The sands in Quan Lan are so unique. These tiny white sand grains are purer and smoother than other beaches in Vietnam. At here, visitors can relax and rest on the beach, watch the sunset reflect, light a fire on the beach and even swim naked.
Quan Lan Island in Quang Ninh has 3 famous beaches, namely Minh Chau (Minh Châu), Son Hao (Sơn Hào) and Quan Lan.
Son Hao beach is located 4km far from Quan Lan beach. It has strong waves and sandy shores, which is ideal only for people preferring thrills. With a long stretch of soothing sand and clean water, this is exactly a great destination for people who love seascapes. When the sunshine here is warm, you can sunbathe and enjoy water sports at any time. It is no surprise when saying that Son Hao Beach creates a paradise where you can relax yourself after hard-working time.
Minh Chau beach is located at the end of the island, about 15km from Quan Lan Beach. It brings soothing feelings thanks to small waves. This beach has white and soothing sand and you can lie down on while enjoying the cool breeze from the sea. Minh Chau beach helps free your mind with elegantly beautiful seascapes. And, you can try outdoor activities such as diving and camping in order to learn about sea creatures. At night, you can enjoy grilled fresh seafood while enjoying the calm atmosphere of the sea.
It is one of the most beautiful beaches of all three. Unlike other beaches, Quan Lan Beach has incredibly smooth white sands. Also, the calm waves are very ideal for bathing. Besides, Quan Lan beach becomes more romantic with large golden sand dunes and the green water. This beach is actually comfortable and safe. Tourists will surely be impressed with the peace and purity of the nature.
Quan Lan Island is in Bai Tu Long (Bái Tử Long) bay area and it is an attractive destination for people who want to have a nice swimming in white sand & beautiful beaches. Coming Quan Lan Island, all the worries have gone, and you will feel comfortable in this beautiful nature. So, if you plan a trip to Ha Long Bay region, you can consider visiting Quan Lan Island in Vietnam and enjoying unforgettable experiences.
Related Articles:
Ha Long Nightlife Guide – What Activities For Tourists To Join In?
Shopping In Ha Long Bay, Vietnam – 5 Shopping Places For Tourists
12 Best Halong Bay Restaurants – Where To Eat In Halong, Vietnam?
21 Things To Do In Halong Bay – Absolute Must-Try Activities