Updated: 11/23/2019
If you have been fascinated with white sandy hills in Binh Thuan province (tỉnh Bình Thuận), Vietnam (Việt Nam), love the feeling of straying back to the ancient past in Poshanu Cham tower, you should not miss Doi Duong beach (Bãi biển Đồi Dương).
For your best preparation before traveling, below we would like to share the travel experience Doi Duong Beach – one of highlights of Phan Thiet tourism.
Where Is Doi Duong Beach?
Doi Duong beach is located in the center of Phan Thiet (Phan Thiết) City, in the Ham Tan (Hàm Tân) Coastal District, about 2km northeast from Ham Tan District. To get here, from Phan Thiet City Center, follow the direction of Nguyen Tat Thanh Avenue (Đại Lộ Nguyễn Tất Thành) then go straight about 1 km to reach Doi Duong Beach.
The beach is shallow; the sand and sea are calm; the water is green; and the natural environment is very fresh. This beach has existed for so long and its name has been associated with the history of construction and development of Phan Thiet City.
In the past, this beach was a hilly land along the coast of over 5km. It is covered by many casuarinas planted from the French colonial period (1939) to help prevent the sea sand from entering the mainland. These plants have created an ideal shade for the entire coastal area today. However, this area has been shrunk dramatically by buildings (hotels, restaurants, coffee shops, etc.)
At present, Doi Duong Park (Công Viên Đồi Dương) has been built covering Doi Duong Beach. All sides of the park have parking lots and toilets, making this area a beautiful and safe park. Therefore, Doi Duong Beach is now officially named Doi Duong Park. Along the coast, there is a series of coffee shops under the casuarinas. Sitting in coffee shops here in the afternoon, you will feel comfortable with the sea breeze and surrounding air.
What Is The Best Time To Visit Doi Duong Beach?


To avoid hot weather or heavy rains, you should go to Doi Duong Beach from April to August. To make the trip go smoothly, it is best to bring sunglasses and long clothes.
Don't skip: 11 Vietnam Top Attractions For Tourists To Visit
What Are Attractions In Doi Duong Beach?

When traveling to Phan Thiet, most people will think of Ham Tien – Mui Ne (Hàm Tiến – Mũi Né) Area as a noticeable attraction. However, this is a private beach of resorts for their visitors. In contrast, Doi Duong Beach is a public beach. Unlike luxury resorts with many expensive services, you do not have to spend any money to swim at Doi Duong beach or enjoy the atmosphere here. If you ride a motorbike or a car, you only need to pay for parking fee.
Doi Duong is also an ideal place to contemplate the sunset and dawn. The beach is not large, but quite long (about 3km), so you can enjoy the entire space here comfortably. Walking on the beach or watching the moon at night is one of must-do things during your trip to Doi Duong beach. The natural scenery is very peaceful, and the sea breeze is cool. Indeed, it is rare to have such wonderful places as Doi Duong Beach in the heart of Phan Thiet City.
The path leading to Doi Duong beach is covered by clean stone tiles. Travelers just need to follow the path through this brick and green casuarinas to reach the beach.
Sand at Doi Duong Beach is very smooth. Thanks to good management, renovation, and cleaning of the locals, this beach has almost no rubbish, not to mention being highly secured.
The winds in Doi Duong are quite strong, especially in the afternoon. This is probably also the reason why many people, especially people in Phan Thiet City, like to go to this beach in the afternoon. More interestingly, tourists can go for a walk along the seashore in Doi Duong Beach. Peaceful atmosphere with the cool breeze here will surely bring you the most relaxing moments.
Many tourists say that if you visit Phan Thiet without stopping at Doi Duong Beach, you have almost not come to this city. Most of the beaches in Phan Thiet – Nui Ne are very long and shallow sloping, so they are very safe to swim. In particular, the salinity of seawater is moderate, and waves are not too strong.
However, in compared with other beaches in Phan Thiet, the waves in Doi Duong are more due to the stronger winds. If you are a fan of waves, surely Doi Duong will satisfy you.
In the opposite of Doi Duong Beach, there are many luxurious, modern seafood and comfortable accommodations as well as entertainment areas. If you book a room here, you can easily plan a city tour to some renowned Phan Thiet attractions like Duc Thanh Schoo, Ho Chi Minh Museum, Van Thuy Too (a whale temple), Poshanu Cham Tower. This place is also close to some supermarkets which make it a convenient spot to purchase clothes, food, souvenirs or any essential items.
Also read: Phan Thiet – Mui Ne Attractions – 17 Must-See Places For Tourists
What To Eat At Doi Duong Beach?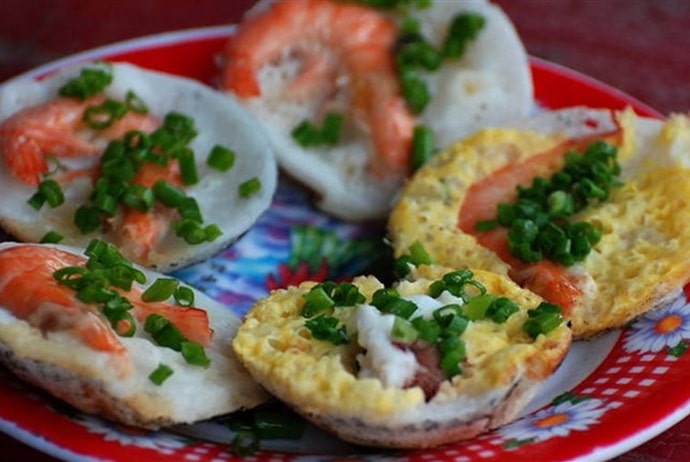 Coming to Doi Duong Beach, besides the sea bath, visitors can also enjoy many specialties of Mui Ne – Phan Thiet. In the Doi Duong Beach, there are many street vendors specializing in selling famous specialties of Phan Thiet, such as Banh Can (bánh căn), raw sea snail or raw fish and vegetables, and girdle cake.You do not need to worry about their price because the most expensive dish is only 70.000VND.
To sum up, thanks to gentle beauty, green airy space along with comfortable accommodations and interesting activities, Doi Duong beach is a worth-visiting place for those people who want to relax and enjoy the nature with their family and friends.
The above is our share of Doi Duong Beach tourism, and hope you feel it useful. It is no coincidence that this beach is on the list of 20 most beautiful beaches in Vietnam voted by the world so do not miss the opportunity to explore it for a new experience. If you have any questions about Doi Duong Beach in Vietnam, please leave a comment, we will reply as soon as possible.