Your tour to Quy Nhon (Quy Nhơn), Binh Dinh (Bình Định) will be less meaningful and not complete without visiting Ghenh Rang Tien Sa (Ghềnh Ráng Tiên Sa) – the beautiful spot situated 3 km southeast of Quy Nhon city. Known as one of the most attractive places in Binh Dinh, Ghenh Rang Tien Sa is famous for its magnificent natural beauty with forests, mountains, beaches and islands that can not be seen anywhere in the world.
How To Get To Ghenh Rang 
There is no civilian airport in Ghenh Rang; therefore, if you want to visit here, you have to go to a nearby city and reach here by another method of transportation. Ghenh Rang is 3km far away from Quy Nhon city center, so most visitors often choose the bus as the common transportation to travel to Ghenh Rang. However, if you like to combine Ghenh Rang Tien Sa with other attractions in Quy Nhon, it is okay to hire a motorbike.
From Quy Nhon to Ghenh Rang, you just need to go straight ahead on Tran Hung Dao (Trần Hưng Đạo) street to Nguyen Tat Thanh (Nguyễn Tất Thành), turn left to An Duong Vuong (An Dương Vương) street and go straight onto Han Mac Tu (Hàn Mặc Tử). Follow the instruction of the road sign to reach Ghenh Rang. That will take you about 15 minutes.
If you do not know the route, the easiest way to visit Ghenh Rang is to catch a taxi that may be charged by the number of kilometers on the meter. A short ride within Quy Nhon city will cost you 15,000 to 30,000 VND while if you go further, the price will be more than 60,000VND.
When Is The Best Time For You To Visit Ghenh Rang Tien Sa Quy Nhon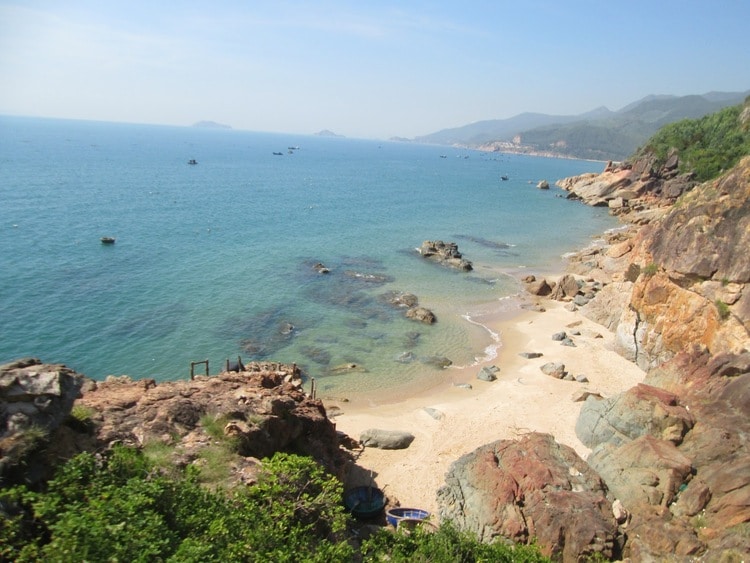 Ghenh Rang features mountains, beaches, and forest; therefore, the best time that makes Ghenh Rang tour more comfortable and pleasant is from April to September. During this time, the weather is in a good condition without storms, water is blue and the forest is green. It is also the time you can take beautiful pictures of this wonderful landscape and capture your memorable moments with your friends or your family.
What Can You See And Play In Ghenh Rang Tien Sa Quy Nhon 
If you visit Ghenh Rang in the right time, you will be astonished at a blue ocean, white sandbanks and stunning views in Ghenh Rang. Standing on the top of Ghenh Rang to see a panoramic view of this large beautiful spot will give tourists memorable experiences. You can see the attractive beauty of Quy Nhon city, natural impressive views of Phuong Mai (Phương Mai) Peninsula and Thi Nai (Thị Nại) Bridge which are as beautiful as a painting. Looking to the southwest, visitors will love green imposing mountains that seem to touch the sky. To the northeast is a wonderful blue sea that hugs long white sandbanks, creating a crescent moon curve.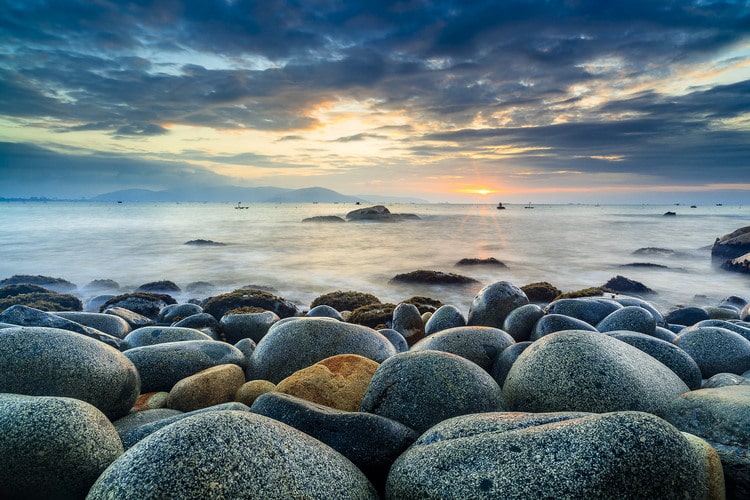 Climbing down at the foot of Ghenh Rang, tourists will be surprised at a large number of huge egg-shaped stones along the  Hoang Hau (Hoàng Hậu) beach. Nothing is greater than walking along the beach, breathing the fresh air and letting the wind blow into your face.
Go further from the west of Hoang Hau beach, tourists will see the modest grave of Han Mac Tu (Hàn Mặc Tử), a talented poet in Vietnam whose poems and inner voice are loved by many Vietnamese people. This white stone cave is surrounded by flowers and trees and its fragrance with the whispers of wind make tourists feel they are in a fairytale story. The grave is full of clouds, sunlight, moonlight, wind and the murmurs of the sea. People coming to this place want to hear the stories of the career and life of this tragic poet. In a shop nearby, you can read his typical poems and see many documents and photos about his life.
If you are the ones who like adventure and want to discover the mysterious beauty, Ghenh Rang Tien Sa is a wonderful place for you to stop because of varied natural stone statues, grottoes and caves like the Sun Statue, Vong Phu (Vọng Phu), and the Lion Head.
Visiting Ghenh Rang, you have a chance to take a bath in the sea, climb up the mountain, go fishing, walk along the beach and enjoy seafood at the restaurant. Especially, if you come here on September 22 (birth anniversary of Han Mac Tu) or November 11 (death anniversary), you can see people sip wine, recite the poetic's poems and show respect to his career and life.
Near the Ghenh Rang is Quy Hoa (Quy Hòa) alley that features beautiful beaches, casuarina trees, and fantastic sightseeing. In the center of this valley, there are hundreds of casual and rustic houses with different architecture patients built over 80 years old.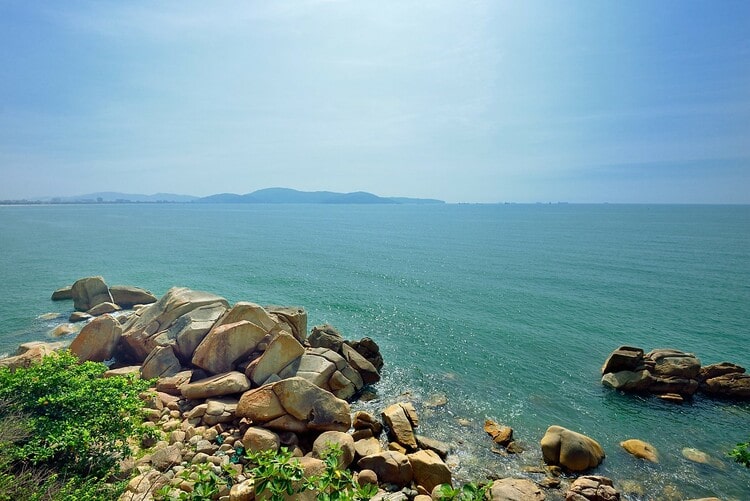 Where To Stay In Ghenh Rang
Ghenh Rang has many high-quality and affordable-priced hotels. Not many of them are well-known but staying at a local hotel will give you unique interesting experiences, making you feel at home. Life's a Beach Backpacker and Confetti House are the most popular hotels that are frequently chosen. If you want to stay in Ghenh Rang, it is better for you to book in advance.
I have introduced the completed tourist guide to Ghenh Rang Tien Sa. I hope that you will get useful information here. Any questions can be left in the comment section and we will answer as soon as we can.
By Crystal