Updated: 08/19/2019
Phu Quoc (Phú Quốc) is a wonderful destination that owns beautiful pristine beaches, white sands, great mountain and unique seafood cuisine. There is no surprise when Phu Quoc is considered as the pearl island in Vietnam. Phu Quoc is also famous for several important and traditional festivals. In Phu Quoc Island, there are many festivals organized each year. One of them is Dinh Cau Festival (Lễ hội Dinh Cậu) that is held in Dinh Cau Temple (Miếu Dinh Cậu).
Phu Quoc Dinh Cau Festival – The Meaningful Festival Of Fishermen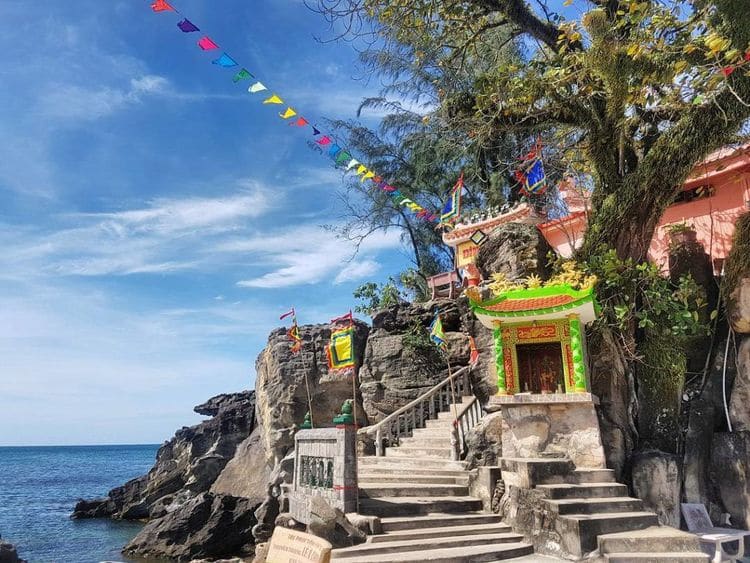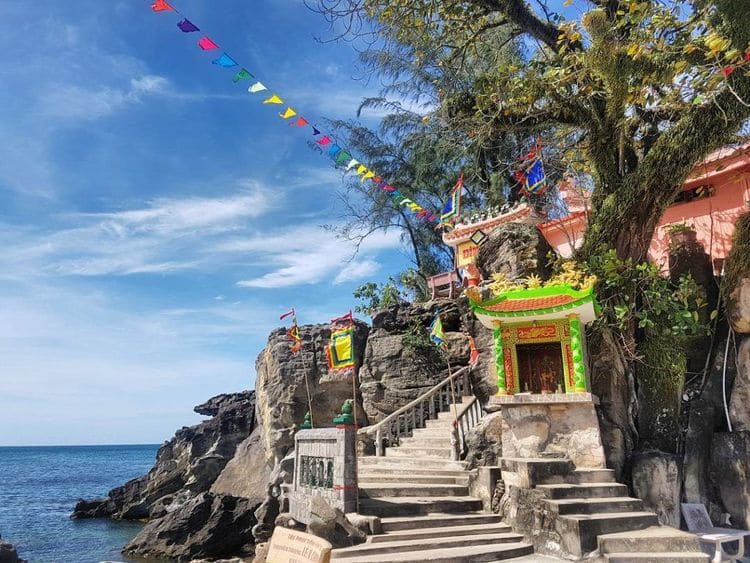 Dinh Cau Festival, the festival of Phu Quoc Palace is celebrated on 15th October of the lunar year. During the festival, fishermen gather in Phu Quoc Island to enjoy the festive atmosphere and pray for the shiny sun, calm sea, and abundance of shrimp and fish.
Visiting Dinh Cau Festivals, visitors and tourists not only discover and immerse themselves in a fun, festive atmosphere but also hear the legendary of Phu Quoc Dinh Cau Festival.
According to the Phu Quoc legendary told by the old living in this island, from ancient times, Phu Quoc locals lived mainly by net fishing. It was a risky career, and the fishermen had to face dangerous situations when they work. Many fishermen had not come back home forever because of the strong waves, storms, and bad weather. And then one day, a rock suddenly appeared at the mouth of the sea. Receiving that inspiration, Phu Quoc residents built a shrine where they can pray for God's shelter, luck, and prosperity.
This shrine was initially made of leafy trees, but after several restorations, the Dinh Cau Festival has become more spacious and had more surface. However, this shrine remains a unique architectural and ancient beauty.
Now, on 15th October of the lunar year, not only fishermen but also tourists across the world come to this place to burn incense and pray to the gods for the calm sea, enough rain and sun, shrimp and fish season and the peace of fishermen.
Special Things Of The Festival Of Phu Quoc Palace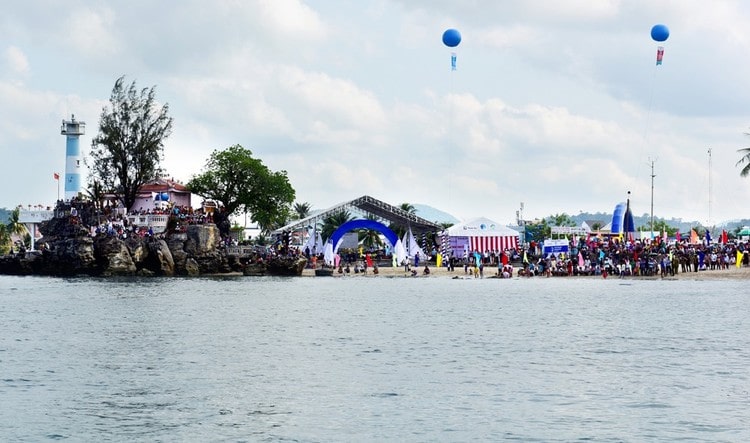 Dinh Cau Festival is a unique traditional festival of Phu Quoc island that is prepared and organized solemnly. Dinh Cau Festival is divided into two parts: the ceremony and the festival. The ceremonies take place at certain hours on 15th and 16th of the lunar calendar. There is a ceremony of praying for the peace of the fishermen and a good business season with an abundance of shrimp and fish. The ceremonies take place solemnly in the main area of Dinh Cau Temple with traditional rituals.
During the festival, fishermen and tourists can have a chance to take part in many competitions and games taking place on the shore and the sea near Dinh Cau Temple. These competitions and games include boat racing on the sea, walking on stilts, catching ducks on the sea, smashing pots, jumping sack race, etc.
The most exciting game in the festival is catching the ducks on the sea. Dozens of ducks swim in the sea about a few dozen meters, and then people have to swim quickly and competitively to catch as many ducks as they can to bring home. It is not an easy task because of the strong continuous waves that cause difficulty and prevent people from swimming fast. Some people come back with no ducks brought home while some may catch 2 or 3 ducks. People who find the most ducks are the winner and get the prize.
As the unique and meaningful festival in Phu Quoc, Dinh Cau festival always attracts a large number of participants which include not only the fishermen, locals but also domestic and international tourists. Visitors who have a chance to travel to Phu Quoc also want to choose this time to visit as they can immerse in the fun, festive atmosphere and take part in many exciting activities.
A visit to Phu Quoc Island will become gorgeous and fabulous if tourists explore the Dinh Cau Festival, which would give you a memorable and exciting experience. I hope that this article gave you useful information and helped someone who is traveling to Phu Quoc in general and to Dinh Cau Temple in particular. Any questions can be left in the comment section, and we will answer them as soon as we can. On Vina.com, there are more informative articles about Vietnam's attractions and activities. You should click if you are fond.