If you like beautiful attractions of Hai Phong (Hải Phòng) and have time to search the information about them, you may hear a lot about Cat Ba National Park (Vườn Quốc gia Cát Bà), one of the most popular tourist eco-tourism destination in Vietnam. Situated in the north-west of Cat Ba Island (Đảo Cát Bà), this archipelago is about 40km far from Hai Phong and is administered by this city. As an impressive biosphere reserve, Cat Ba National Park is recognized as a World Heritage Site of Vietnam thanks to the fresh atmosphere and rich biodiversity. It is not surprising when Cat Ba National Park attracts thousands of tourists each year.
When Is The Best Time To Visit Cat Ba National Park
Having a tropical climate, Cat Ba National Park has two main seasons. The humid season or summer from May to October is humid, hot and rainy while the dry season or the winter from November to April is dry and cold. In Cat Ba National Park, the average temperature is between 25०C and 28०C.
Tourists can visit Cat Ba National Park anytime but according to a lot of reviews and recommendations, the best time to visit here is around June and July when there is a lot of sunshine. The summer is the peak season of Cat Ba National Park as a large number of tourists from Vietnam and international countries rush to this place for admiring the beauty of nature and enjoying the hotness in summer. It is a reason why during this time the cost for flight, tourism services, and accommodation may be much more expensive. Therefore, I would like to suggest you should book the tour and hotel in advance to avoid the cancellation, last hour rush, and other problems.
Furthermore, you should have Cat Ba National Park tour on weekdays instead of holidays or weekends because it can help reduce the possibility of crowds, increasing price and running out of hotel rooms.
What To Do In Cat Ba National Park Vietnam
Cat Ba National Park possesses the wonderful beauty of nature with the rich biodiversity, beautiful seascapes and picturesque landscapes that attract a lot of tourists and visitors. Coming to Cat Ba National Park, tourists can enjoy a lot of tourism activities and admire the beauty of the natural park.
1. Explore The Forestry Ecotourism In Cat Ba National Park Tour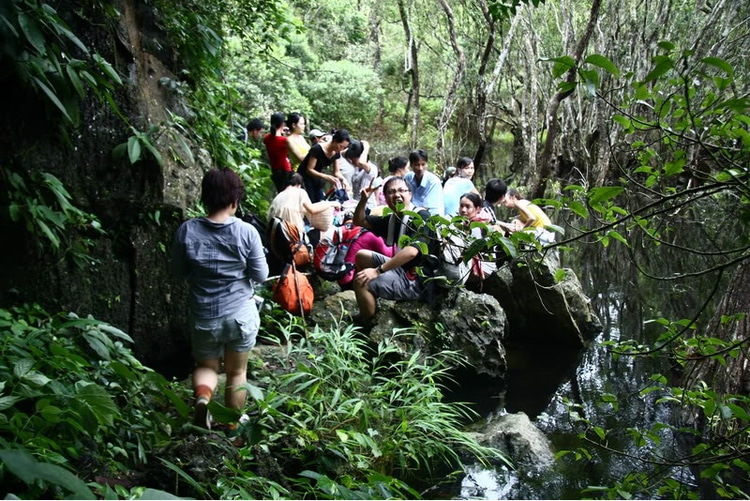 Cat Ba National Park has a variety of forest ecosystems including tropical green primitive forests, limestone, mangroves and so on tourists can have great chances to visit and explore.
From the park's headquarters, you walk 1.5 km to Kim Giao Forest (Rừng Kim Giao) where you can see the endangered rare species. Near the Kim Giao Forest is the Ngu Lam Peak (Đỉnh Ngự Lâm) you climb up to enjoy the spectacular panoramic views of the park and immerse in the beautiful nature. Kim Giao Forest is well-known for its untouched beauty and a variety of fauna and flora, which gives you a peaceful and interesting experiences.
In Cat Ba National Park, you can also visit Uy Ban Grotto (hang Ủy Ban) and Trung Trang Cave (Động Trung Trang), 2 famous caves that make you marvel at the resident roosting bats and mysterious stalactites.
Going through the wonderful valley of Cat Ba, you can reach Ech Lake (Ao Ếch) with an area of 3.2 hectares where the largest clear freshwater is concentrated on the island. It is a great experience for you to hear the sound of frogs when coming to Ech Lake.
With the Cat Ba National Park trekking route, you can discover both sea and land areas of the park. After hiking to the impressive forest ecosystems and discovering the local Viet Hai Village, you can do kayaking or take the boat to discover other the charming sea areas of the park.
2. Try Deep Water Soloing
Tourists who have a chance to visit Cat Ba National Park never miss the chance to try deep water soloing, a typical sport in the park. This sport is executed on the dangerous cliffs and requires a great nimbleness and strength. Any inattentiveness can make you fall into the water. Playing this sport, you need to know how to coordinate your legs and hands.
Hiking in Cat Ba National Park is not difficult and the sea is also deep enough to ensure the safety for people who play the deep water soloing.
For tourists who like the free fall, this sport helps them break their physical and mental limits as climbing needs cleverness, calculations, and strength while falling into the sea gives them a feeling of comfort and freedom.
3. Enjoy The Beach And Sea Activities In Cat Ba National Park
Cat Ba National Park has not only a diversity of land tourism but also a plentiful of sea tourism. In the park, the sea area possesses distinctive beauty. When you visit Cat Ba National Park, there are many water activities for you to do such as climbing to impressive cliffs, discovering the gulf and bay ecosystems, fishing, diving deep for watching corals, and sea bathing in many beautiful beaches. You can also take part in some interesting water sports. Depending on the water activities and sports you choose, you may need within 2 – 5 hours to enjoy each sea tour at Cat Ba.
4. Take Part In Voluntary Tourism In Cat Ba National Park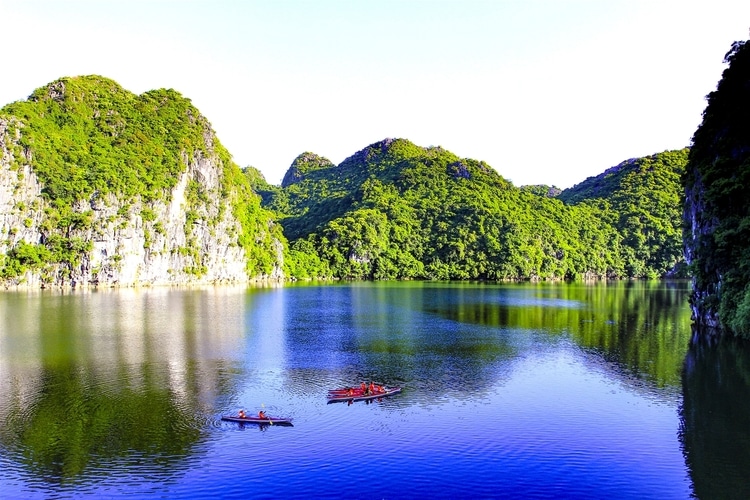 Cat Ba National Park developed this new kind of tourism to raise the awareness of tourists to protect the environment, the sea, and forest. Tourists can take part in many voluntary tourism activities such as working at conservation centers, gathering trash, and other conservation activities. A lot of young people travel traveling to Cat Ba Island because of voluntary tourism.
Where To Stay And Eat At Cat Ba National Park Vietnam
In the Cat Ba National Park tour, you can ask the local people to stay at the homestays, which can help you discover more about the local culture in the park.
Alternatively, you should choose the available accommodation options inside the park campus because it can save your transportation cost and your time.
In the park campus, there are different kinds of accommodations with a variety of price and tourist services. For example, you can choose to stay in a villa (about 600,000 – 800,000 VND per night), stilt house in the forest (about 100,000 per night), or the guest house (from 200,000 to 400,000 per night).
The park campus offers many restaurants, snack and souvenir shops, and sport facilities. It also gives you a plentiful of services such as laundry, guides, conference room, music performances, transportation, and bike rentals.
Alternatively, you can stay overnight at Cat Ba Eco Lodge Resort. Driving from Cat Ba National Park to this resort takes you only 15 minutes. This resort has wooden-styled rooms with elegant design and full facilities. It also features a minibar, karaoke rooms, a restaurant inside. The wonderful view of the garden, forest, and beautiful landscape is also a reason why tourists like to choose this accommodation although the price may be more expensive (more than 2,000,000 VND per night).
Cat Ba Sunrise Resort located 900m from Cat Ba Pier is another option for tourists who come to Cat Ba Island and the park. Featuring restaurants, an outdoor swimming pool, gum, a pa, and karaoke room, Cat Ba Sunrise Resort giving tourist perfect experiences is a wonderful choice for big group and family.
Cat Ba Central Hotel 2 and Cannon Fort Cat Ba Hotel are other two accommodation options for tourists. The Cat Ba Central Hotel 2 with diverse types of rooms is more expensive than the Cannon Fort Cat Ba Hotel.
Depending on your budget, you can find the best accommodation with the quality services and suitable price.
At Cat Ba National Park, tourists can taste many must-try dishes such as Cat Ba Geoduck, King-crab, Song fish, sea snake, and Cat Ba shrimp vermicelli. These delicious dishes can be enjoyed at some good restaurants around the park like Quang Anh Restaurant, Phuong Phuong Restaurant, Mona Restaurant, etc.
Cat Ba National Park is a favorite place of many people who have a chance to visit Vietnam. Let's enjoy the trip and take panoramic pictures of this park. I hope this article can give you a useful travel guide to Cat Ba National Park, Vietnam. Any questions can be left in the comment section and we will answer as soon as we can.