Cat Ba (Cát Bà) is the most beautiful island in Hai Phong (Hải Phòng), Vietnam (Việt Nam), with the Lan Ha Bay (Vịnh Lan Hạ) listed in the list of one of the planet's most beautiful bays. Here, there are beaches with blue water, the jungle, the ancient Vietnamese fishing villages still remained until now. This island is worthy of your next destination in this summer. The followings are 12 must-try experiences you should try when traveling Cat Ba Island. Read on and don't skip anything of these suggestions! You will never regret about it!
1. Have A Swim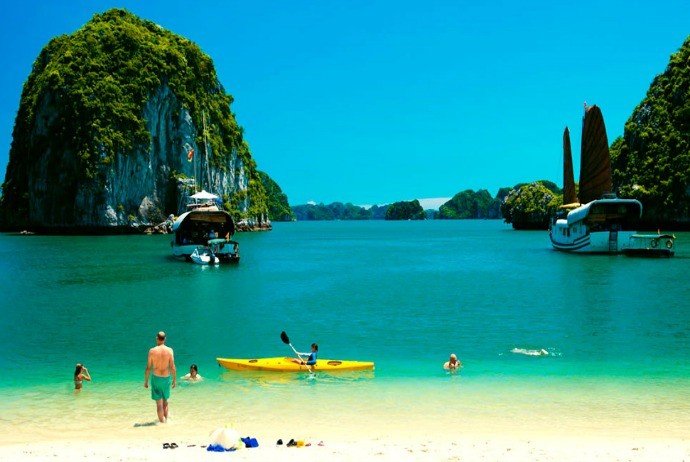 In the middle of the hot summer, there is nothing happier than to be immersed in the blue, clean water. At Cat Ba Town, there are some beaches: Cat Co (Cát Cò) 1, 2, 3 which are famous but very crowded. You could choose other pristine, desert beaches, such as the beach at Monkey Island (Đảo Khỉ), Tung Thu (Tùng Thu) beach… and the beaches outside of Lan Ha Bay.
So, how to get the uninhabited beaches outside the bay? You could go to Ben Beo (Bến Bèo) and rent a boat to go to the beaches with just 300,000 to 500,000 VND / 6 people. In addition to swimming, you could combine touring around the beautiful Lan Ha Bay.
For those young people who love the feeling of adventure, discovery, they could rent kayaks at Quang Anh or Xuan Hong (Xuân Hồng) shop with just about 200,000 VND / kayak / day and paddle to the Money Island by themselves.
2. Visit Lan Ha Bay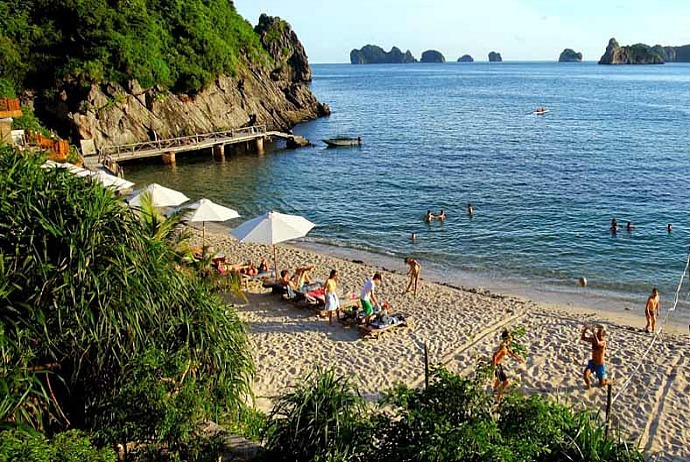 As one of the most beautiful bays in the region, formerly Lan Ha Bay used to belong to Halong Bay (Vịnh Hạ Long) but now it has separated. This makes Lan Ha Bay being able to preserve its pristine beauty. Visiting the bay is an experience that should not be overlooked by tourists when traveling to Cat Ba.
Visit Lan Ha Bay: If you travel with a large group of people (including children or adults, it is the best to hire a ship to go around the bay (combine with swimming at Monkey Island). The price ranges from 1.3 to 1.8 million VND for a trip.
If you are young, like the feeling of freedom, adventure, then you can rent a boat or row a kayak by yourself to discover around Lan Ha Bay.
3. Kayaking, Scuba Diving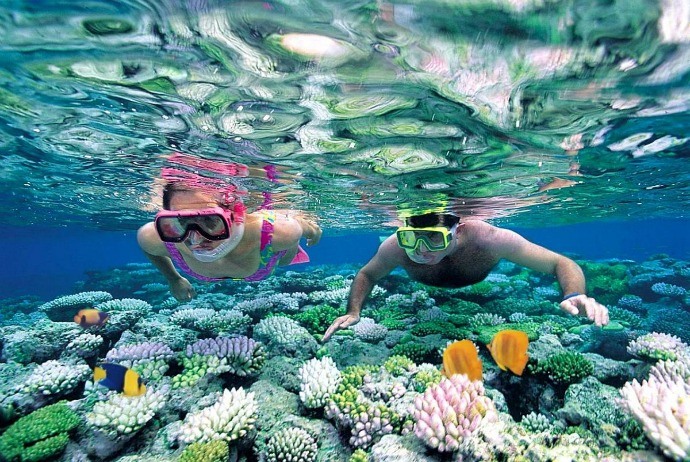 You will never forget the feeling of rowing a kayak out to distant sea, where the waves hovers, and then go back to the pristine islands on the Lan Ha Bay to swim. After swimming delightfully, you row cross through the fishing village, over the rocks in the bay. Kayaking is one of the experiences leaving many impressions in Cat Ba. Additionally, you can also watch the corals by using a diving mask (cheap) or oxygen tank (more expensive with 1 to 1.5 million VND / person / trip).
Note: there are two ways for kayaking: one is to paddle a rented kayak by yourself; two is to purchase a kayaking tour (combined with snorkeling to watch coral) in one day. Self-paddling will allow you to freely explore the island, but buying the tour will allow you to go to the most beautiful spots of the Bay and then go kayak there. In addition, you could also take part in the game of snorkeling to watch coral and have a lunch of $ 390,000 VND / person.
4. Swimming And Exploring The Monkey Island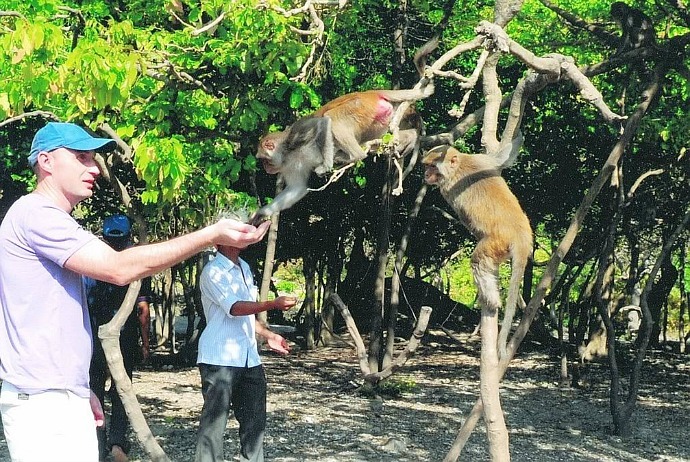 Monkey Island is located not far from Cat Ba – one of the small islands which is most frequented by tourists here. Monkey Island has two sides, one side is the resort for foreign visitors to stay, and the other is a beach for everyone. Besides swimming, you can climb the high tower in Monkey Island and see a corner of Lan Ha Bay. To go to Money Island, you can manually kayak, or rent a boat or ferry.
5. Contemplating The Sunset In Cannon Fortress
Sunset on the sea are romantic, especially in Cat Ba, where there are rocks undulating on the sea. The most appropriate location for you to watch the sunset is cannon fortress, where you can enjoy a panoramic view of the whole town from above. Additionally, you can come earlier to visit the relics left over from the war.
6. Exploring Cat Ba National Park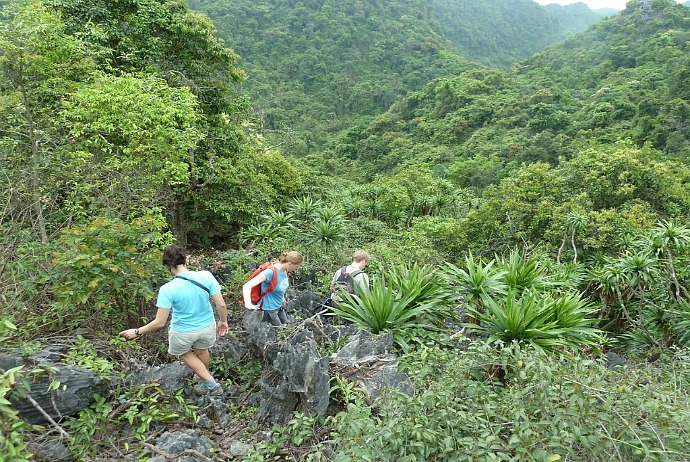 Cat Ba National Park is home to rare species of langurs, stored in the Red List, along with rich vegetation. This is an opportunity for you to get closer to the nature. Especially, in the Cat Ba (Cát Bà) National Park, there is Ngu Lam (Ngự Lâm) mountain, standing from which can help you observe rolling mountains, one of the beautiful and unique views in Cat Ba.
7. Tasting Seafood
In addition to dried squid and grouper, Cat Ba is also known for a lot of other seafood, such as Mantis shrimp, octopus, crabs, clams, oysters … You should try one of these seafood dishes. However, Cat Ba tourism in the summer gets high so the price of seafood will be higher than normal.
Note: You should ask the price before you buy, you can buy seafood and find a deserted beach to celebrate a barbecue party with friends.
8. Camping At A Deserted Beach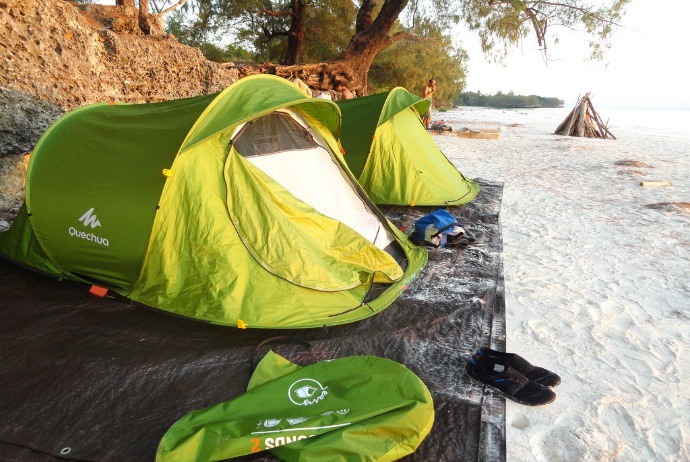 One of the appropriate experiences for the youth groups when traveling is to rent a boat to Cat Ba (or kayak), then to row towards uninhabited beaches outside of Lan Ha Bay to camp overnight. The feeling of being "Robinson in the desert island" is sure to be an unforgettable memory to every young tourist in Cat Ba.
9. Climbing The Mountain
One of the subjects in Cat Ba that adventure lovers vote for is trekking. Climbing venues include Dau Be Island (after 2 hours going by boat from the port of Cat Ba, the cliff at Ben Beo (about 2km away from the center of Cat Ba, Ba Trai Dao (Ba Trái Đào) island (about 22km to the south away from the tourism port)… However, if you do not like adventure, then you can also climb mountains right at Monkey Island.
10. Walking Around Cat Ba Town At Night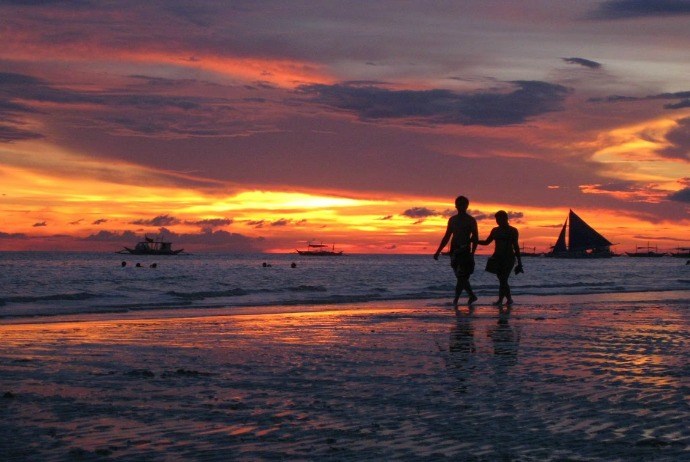 While the daytime activities in Cat Ba are rich and lively, nightlife in Cat Ba is very limited. Apart from the small bars and pubs in the town center for active people, strolling along the beach at night is also a fun thing that you should try. Fresh air from the sea breeze will surely make you excited. You can rent a double or triple bike to go around with your family. Additionally, the area of stairs from connecting Cat Co (Cát Cò) 1, 2, 3 to each other is one of the romantic places in the evening.
11. Squid Fishing
Squid fishing at night in Cat Ba is an exciting but quite expensive form of entertainment. A short trip costs about 500,000 VND. You can ask your hotel's owner or staff about the supplier of this activity, or ask directly ask the houseboats or the ferryman in the wharf of the town.
12. Visiting An Old Village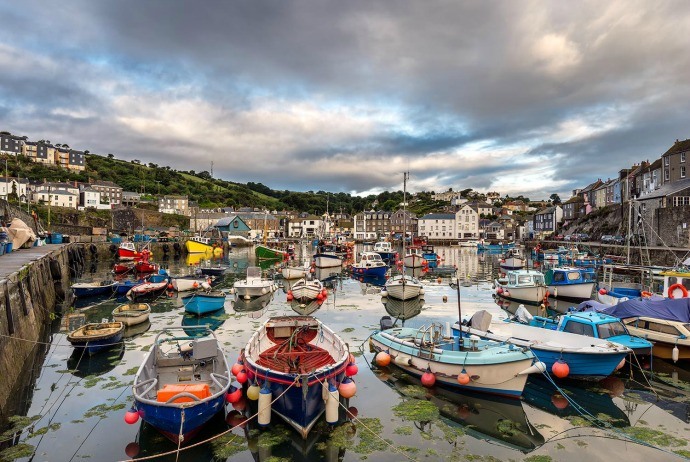 Maybe, you have crossed a historic village while kayaking or sailing around Lan Ha Bay. In Cat Ba, there is Cai Beo (Cái Bèo) fishing village, which is the most famous and largest ancient village in Vietnam. You cannot forget the peacefulness while kayaking through the floating village, the houseboats, and the grin of local women in the village. They are very enthusiastic and even may invite you to visit their houses. The Cai Beo fishing village is located near the Cai Beo port. It is not difficult to move from here. However, there is also Viet Hai (Việt Hải) ancient village in Cat Ba, which is also very popular with the form of ecotourism. There are three ways to get to Viet Hai ancient village: taking a boat for 300,000 VND / trip, trekking across the Cat Ba National Park, and kayaking.