Situated 2 miles from Cat Ba (Cát Bà), the private Monkey Island (also known as Cat Dua Island (Đảo Cát Dừa)) with untouched natural scenery and wonderful beaches has attracted a lot of tourists and visitors. According to many reviews from tourists and visitors, this island has the most beautiful beach of Cat Ba Island with deep blue sea water, the great beauty of nature and wonderful climate. 
When Is The Best Time To Visit Monkey Island 
On Monkey Island Cat Ba, there are two seasons. In summer, the weather is hot and it is also the time when Cat Ba has a lot of rain. From October to March, the weather may be cold and windy before the summer comes. 
The time you visit Monkey Island depends on your personal choice on Hai Phong (Hải Phòng) tour, however, I would like to recommend that the best time to visit Monkey Island Cat Ba is in the summer when the average temperature is between 250C and 340C. It is also a great time for you to enjoy many interesting outdoor activities in Monkey Island in Vietnam. 
Things To See And Do In Monkey Island Cat Ba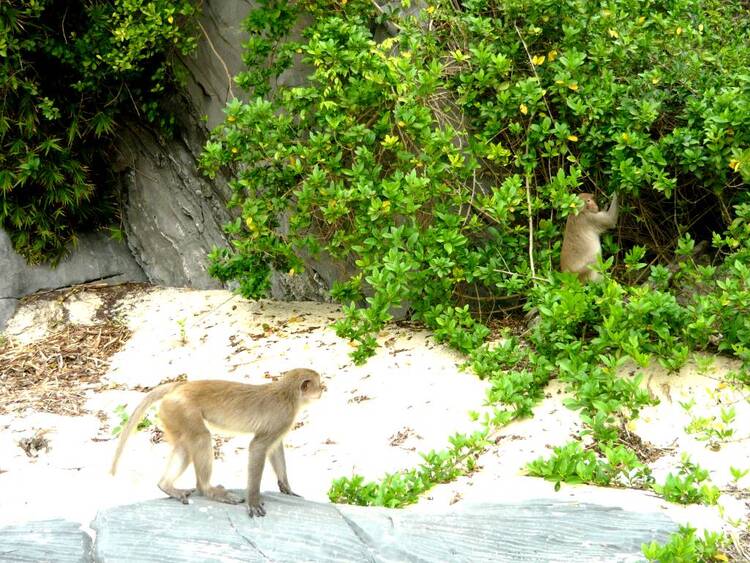 Visiting this island, tourists will have a chance to discover the masterpieces bestowed by nature. At this island, there are a large number of wild pineapple trees growing around. Although these fruits look delicious, tourists can not eat them because they are used to make traditional medicine. 
In Monkey Island, it is a great idea to swimming in the clear blue water of beautiful sandy beaches. Because there are many dozens of monkeys living on this island, as the island's name suggests, the uniqueness has made this island become attracting and appealing to a large number of travelers throughout the world. You can interact with the monkey but be careful because they can grab your food or your personal items if you make them annoying. Therefore, it is recommended leaving your valuable things on the boat. 
Nothing better than frisking with monkeys and taking pictures with them when you are on the island. This island is also an ideal site for your relaxing holiday with many interesting activities such as playing volleyball or football on the beach, fishing or snorkeling. Furthermore, doing kayaking will give you great experiences. 
Where To Stay And Eat In Monkey Island Cat Ba.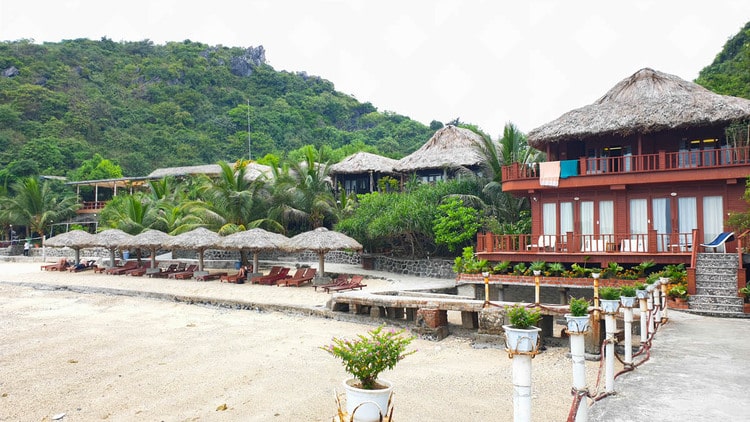 Monkey Island Cat Ba attracts a lot of tourists coming to Hai Phong although not many tourism services have developed here. But taking Monkey Island tour, you can stay at the Cat Ba Monkey Island Resort where there are traditional houses made by bamboo leaves. 
Booking rooms in Cat Ba Monkey Island Resort, you can stay in bungalows, enjoy the many activities on the beach. This resort offers 39 rooms with air conditioners, beddings, and private bathroom. If you come to this island on the peak season (June, July), it is better to book the rooms in advance. 
Next to the beach is a Monkey Island Resort Restaurant that is also in front of a picturesque Eco garden. This restaurant often serves Western or Vietnamese food. Tourists can sit in the restaurant to eat delicious food, drink, and watch the sunset in the late afternoon or stars in the evening.
Monkey Island is one of the ideal places for travelers who love peace and beaches. This island has many beautiful scenes and I hope that you will have time to visit. Any questions about the travel guide to Monkey Island Cat Ba tour can be left in the comment section and we will answer them as soon as we can. 
By Linh Dao