Located in the heart of Cat Ba National Park (Vườn Quốc gia Cát Bà), Cat Hai District (Quận Cát Hải), Hai Phong (Hải Phòng), Viet Hai Village (Làng Việt Hải) with the amazing pristine beauty of the natural, picturesque landscape and open residents has attracted a large number of tourist days by days. Visiting Viet Hai Village, tourists will definitely get wonderful and interesting experiences. 
When Is The Best Time To Visit Viet Hai Village 
Viet Hai Village is in the north of Vietnam that experiences the cold and dry season lasting from December to February when the temperature can drop to 39°F at night. The summer months from May to August is very humid and hot. 
Therefore, the best time for tourists to visit Viet Hai Village is from April to September. During these months, the weather is pleasant and cool for your visit. However, in Cat Ba Island, sometimes there are rains, storms or typhoons that may affect your trip to Cat Ba Island's attractions including Viet Hai Village. Therefore, it is important for you to watch the weather forecast before traveling. 
What Are The Unique Things In Viet Hai Village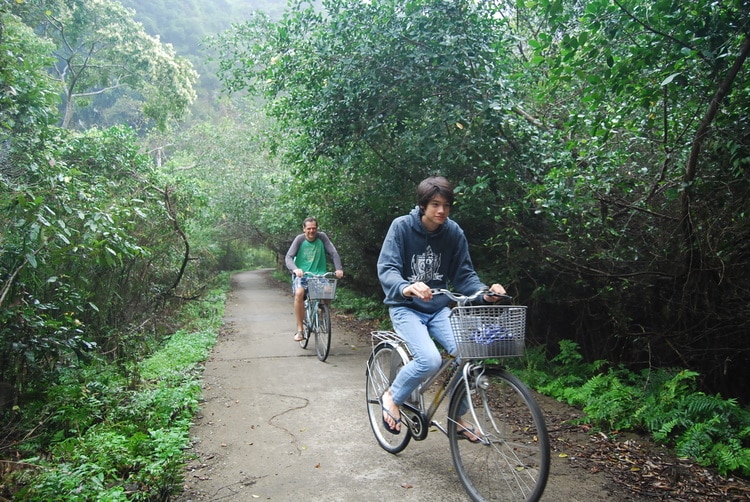 Viet Hai Village is surrounded by the impressive mountains, a jungle of Cat Ba National Park and the immense sea. Traveling to this village, tourists can enjoy the peaceful and tranquil atmosphere and the charming scenery of this village. 
Viet Hai today becomes the famous ecological attraction of Cat Ba Island (Đảo Cát Bà) that wins the hearts of many tourists because of the unique and pristine landscapes, natural beauty and friendly people that will give you unforgettable experiences and impressions. 
Viet Hai has remote beauty as it separates from the world with wild secluded mountains and forests. The locals in this village still maintain the primitive characteristics in their life as the ancient. Visiting this village, tourists can see a dozen of old motorcycles that you can hire to run a few kilometers on concrete roads. 
Seeing all the houses in the Viet Hai village always open during the day and night will make anyone amazed and astonished. This is because that the locals here are very honest, friendly and hospitable. There is no stealing in this village even if the owner is away for a couple of days. Families living in the village often share food and furniture with each other. It is great to immerse in the extremely peaceful daily life of people in Viet Hai Village. 
To enjoy the peaceful and poetic scenery of this fishing village, you should hire mountainous bikes that take you to pass through the fields, mountains, and forests. Trekking through the jungles, mountains, and springs is also an interesting activity in this village. 
Where To Stay And Eat In Viet Hai Village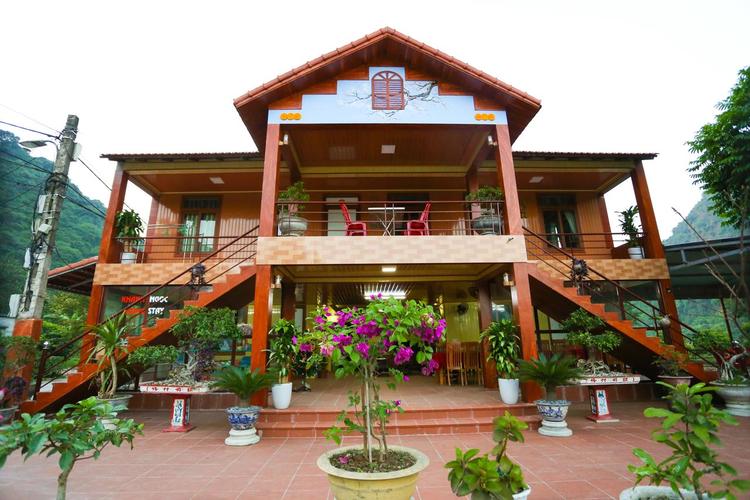 Guests going to Viet Hai Village can easily find several homestays and local restaurants open for tourists. It is wonderful to enjoy the delicious dishes of the locals such as duck, chicken, and vegetables. 
Talking about the accommodations in Viet Hai, I would like to recommend the Viet Hai Homestay that is built in traditional village house styles with clean and furnished rooms. Other options are Lan Homestay, Long Phuong Homestay, etc. 
The locals in Viet Hai are developing their tourism to hope that the Viet Hai Village will become a unique tourist paradise and the most bewitching attraction of Cat Ba in the near future. Nowadays, Viet Hai Village still contributes to the tourism promotion of Cat Ba in particular and Hai Phong in general.  
By Crystal