When traveling to Hoi An (Hội An), if you have not discovered the Bay Mau coconut forest (rừng dừa Bảy Mẫu), you will lose an interesting part of your trip. With open, large, and unspoiled space, the Bay Mau coconut forest in Cam Thanh (Cẩm Thành) commune, Hoi An city attracts a great number of tourists annually. 
I. Why Should You Go To This Place?
1. Suitable for changing the atmosphere
It is reasonable to go for changing the atmosphere. You can go around by a basket boat and take beautiful pictures. If you are wondering where to go with your family or friends at the weekend, it is sure that this is one of those places worth coming to.
2. New Tourism Area
This is a quite new tourism area in Quang Nam, especially in Hoi An city. You can enjoy the cool atmosphere, eat the coconuts, or learn how to make decorative objects from coconut leaves, and experience interesting folk games. The place is quite interesting for your travel stories.
II. What To Know About It?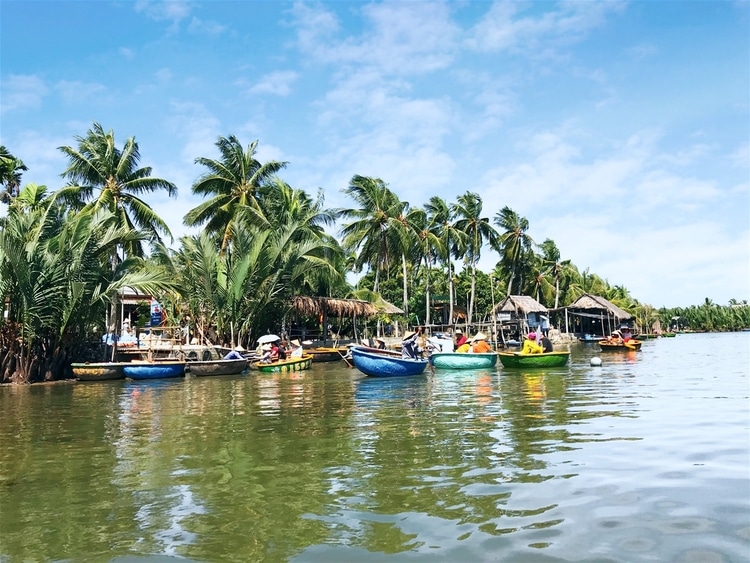 1. History Of Bay Mau Coconut Forest
In the years of the French resistance, the Bay Mau coconut forest was a revolutionary base area, a shelter for many officials from the Quang Nam Provincial Party Committee. Despite being devastated by the enemy, with strong and durable vitality, the coconut trees grow green and tall.
In the years of the American resistance, this place was a system of trenches, fortifications, obstacles in the roads, the layers of fences that were intertwined with bamboo stakes and minefields to prevent the coming process of American invaders into the area.
Because of that, the Bay Mau coconut forest is always associated with the glorious victories of the armies and people in Hoi An, in particular, and in Quang Nam, in general.
2. Address
Bay Mau coconut forest is located in Cam Thanh commune, Hoi An city, right near Cua Dai (Cửa Đại) bridge. Previously, about 7 hectares of coconut proliferated in this area; so, it is called Bay Mau Coconut Forest. Now, the coconut forest has grown more than 100 hectares. The forest is a mangrove eco-region near the bank of the Cua Dai River, which has a rich diversity of plants and animals.
Read more:
3. What Is The Best Time To Visit Bay Mau Coconut Forest?
Ticket price to visit the coconut forest: VND 30,000/person
With the climate conditions in Hoi An, you can travel to Bay Mau coconut forest at any time of the year. Here are some suggestions for you before deciding to go to this attraction.
February to April: This is a very suitable time for you to come here to relax because the weather here is extremely cool and pleasant.

May to July: This period is very suitable for you to take a sightseeing tour to see the lanterns during the festive season. This is the time for you to go to Hoi An to visit the coconut forest, along with enjoying sea tourism and visiting Cham islands (cù Lao Chàm).
But according to the experience of traveling to the Bay Mau coconut forest of many visitors, the best time is the lunar month of August to see the vast coconut forests that are in the fruit season. And you absolutely should not go to the forest in November to December because this is the time when it is raining suddenly but persistently, affecting your travel.
4. What Are Activities For Tourists To Do

Coming to the Bay Mau coconut forest, you can't help experiencing the interesting feels such as rowing a basket boat. Sitting on the simple basket boat, along with the vast green coconut forest and the swimming fish, is a great feeling. You can also ask the boatman for teaching how to make some cute items from coconut leaves such as rings, bracelets, and head hats.
Not only can you row your boat, but you also participate in other activities such as fishing, pot beating, boat racing, tug of war, etc.
A feeling that you will never forget is the swinging of the basket boat when the boatmen stand up; the boat flutters, but it does not cause you to fall. You can feel afraid but extremely interesting. It is like awakening every sense in your mind.
III. What To Eat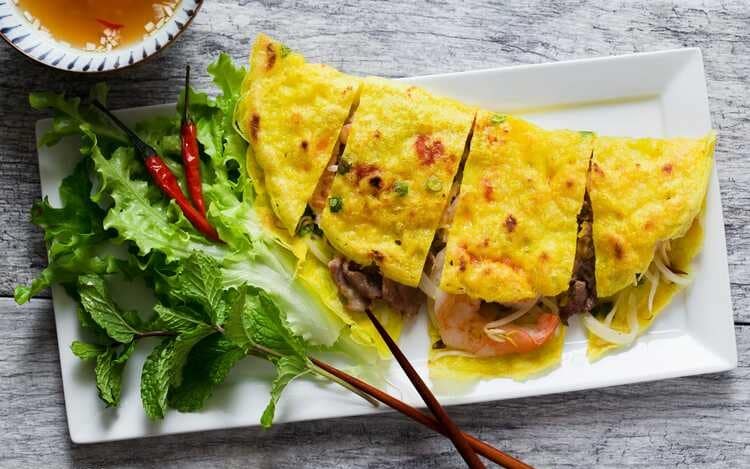 Central Vietnam is famous since ancient times with delicious dishes such as Quang noodles (mì quảng), fishball noodles, Nam O (Nam Ô) fish salad, Xeo cake (bánh xèo), etc. You also can try other dishes like mixed rice cake, Cao Lau, Hoi An chicken rice, wonton, fried mussel cake, etc. Especially, Hoi An, an ancient city, is more attractive to tourists with the dishes full of the flavor of Central Vietnam. Setting a few steps to the coconut forest, you will enjoy a lot of delicious dishes from the river. Especially, you should enjoy well-known chicken rice in Hoi An – delicious food that is loved to eat by many people besides Quang noodle when traveling to the old town. Visiting Hoi An, you can find chicken rice restaurants from popular restaurants to high-end restaurants. Also, there is a chicken rice street located in Phan Chu Trinh (Phan Chu Trinh) street, near the ancient town, very convenient for visitors to eat.
There are many restaurants here that serve delicious, attractive, but quite expensive dishes. If you want to save on the trip, there are two ways:
Prepare food at home

Just drink water, join the games, and then return to Hoi An to eat
Read more:
In short, at a cheap cost, coming to the Bay Mau coconut forest in Cam Thanh, Hoi An, you can completely have relaxing moments and enjoy a peaceful space of the countryside, along with friendly local people and many other interesting things. So, if you have a chance to travel to Hoi An or Da Nang, remember to try this attraction once, and you'll never regret it. To find more useful articles about Vietnam's attractions, please visit Vina.com.