Known as the city of bridges and beaches, Da Nang (Đà Nẵng) is associated with pictures of beautiful, unspoiled but charming beaches, captivating tourists. One of them must mention Xuan Thieu beach – the destination for tourists who like to visit and explore.
I. Why Should You Go To This Place?
1. Quiet And Beautiful Beach
Xuan Thieu Beach is quiet, clean, and beautiful with white sand, clear blue sea, overlooking the peaceful bay of Da Nang, year-round with the lapping of the waves, ideal for relaxed tours to immerse in cool water.
2. Constant Change Of Color Of The Scene
"Red Sea" is another name of the Xuan Thieu Beach. The reason for this name is because, during the sunrise and sunset, this place is like wearing a bright red cloak, mesmerizing people's hearts. The constant rotation and change of color of the scene at the beach is a very interesting feature that tourists should not ignore when visiting this beach.
3. Enjoy The Beauty Of The Beach
Coming to this place, you can discover the vast and immense scenery. One side is the beautiful Son Tra peninsula, and the other is the majestic Hai Van Mountain. This is a place where heaven and earth interfere, making everything seem immense and endless. Day by day, you can watch countless ships coming into the beach bay. Xuan Thieu beach is steeper than other beaches, but it is very clear water and calm. Therefore, visitors should pay attention to safety when playing on the sand.
4. Convenient Features
Since 1992, Xuan Thieu tourist area has been established with a relatively continuous and complete service system, including hotels, restaurants, entertainment services, and bathing service, which can meet all the demands of visitors.
5. Suitable Space For Couples
Compared to other beaches in Da Nang, the unspoiled space of Xuan Thieu beach is the reason for its attraction for tourists, especially for dating couples and people who like the quietness on the empty beach. Here, they can walk barefoot in the sand, enjoy the cool, fresh feeling in the heavenly frame of the beach.
6. Facilities And Service
Several resorts have built nearby, designed in a friendly Bungalow style. They are surrounded by a green garden, along with facilities and services such as swimming pools, restaurants, cafes, tram, spa, etc.which makes Xuan Thieu beach more attractive in the future.
II. What To Know About It?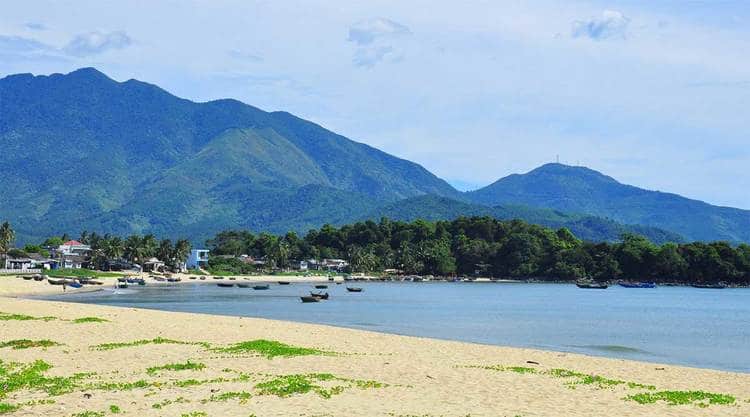 1. History Of Xuan Thieu Beach
Xuan Thieu beach is associated with a historical event in March 1965 when the United States Marine Corps No. 9 landed at Da Nang, starting the Local War strategy of the U.S in Vietnam.
This beach, before 1975, was reserved for U.S soldiers only because it was a military zone of the U.S, including a field airport, US military warehouses, and a defense system to protect Da Nang city from the North.
2. Location Of Xuan Thieu Beach
Xuan Thieu Beach is located in Lien Chieu (Liên Chiểu) District, Da Nang City. It is about 3 km south of Nam O (Nam Ô) beach. Because it is relatively far from the city center, this beach still retains its pristine beauty. Xuan Thieu is one of the most famous beaches in Danang because of the quiet space, along with blue seawater and white sandbanks. Thanks to the peace and comfort, this beach attracts so many dating couples to enjoy the taste of the sea in a very romantic scene.
3. Activities
Walking around on the beach, you can participate in games at the beach, such as playing volleyball, tug of war, canoeing, playing football, water surfer motorbike. All of these activities will make your friends and family members happy and satisfied.
III. Where To Stay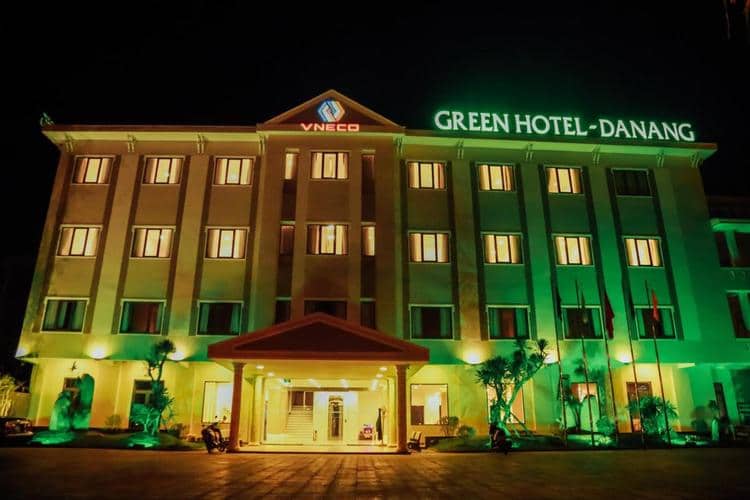 There are many hotels with affordable price located near the coast. All the hotels here are fully equipped with furniture, along with enthusiastic and professional staff. All promise to bring you the best experiences during your holiday. Here are some suggestions for you to refer:
Thy Phuong Hotel:
Address: 199-201 Ton Duc Thang (Tôn Đức Thắng) street, Hoa Minh (Hòa Minh), Lien Chieu (Liên Chiểu), Da Nang
Price: VND 250,000 – 300,000/room
Green Hotel:
Address: 64 Hoang Van Thai (Hoàng Văn Thái) street, Lien Chieu, Da Nang
Price: VND 300,000 – 400,000/room
Whale Hotel:
Address: 1001 Nguyen Tat Thanh (Nguyễn Tất Thành), Xuan Ha (Xuân Hà), Thanh Khe (Thanh Khê), Da Nang
Price: VND 300,000 – 400,000 /room
Gold Boutique Hotel:
Address: 1357 Nguyen Tat Thanh (Nguyễn Tất Thành), Xuan Ha, Thanh Khe, Da Nang
Price: VND 550,000 – 700,000/room
Khanh Nhi 2 Hotel:
Address: 891-893-895 Nguyen Tat Thanh, Xuan Ha, Thanh Khe, Da Nang
Price: VND 450,000 – 500,000/room
Phuc Loc Phat Hotel:
Address: 1999 Nguyen Tat Thanh, Hai Chau (Hải Châu), Da Nang
Price: VND 300,000 – 400,000/room
IV. Pros and Cons
1. Pros
The expense is cheap

A quiet place to relax in Central Vietnam during the summer

Close proximity with the center of Danang city

Clear sea water and white sand
2. Cons
Fewer things/activities to do

A quite pristine beach for people who love busy places
See more:
Xuan Thieu beach is still pristine, clear-in-water, gentle and sparkling red during the sunset or dawn. But the tourism potential of the beach has been awakened, and the beauty of Xuan Thieu beach has been more and more admired by tourists. So, do not miss the opportunity to admire Xuan Thieu beach when having a chance to travel to Da Nang city. If you want to know more about Vietnam's attractions, please visit our Vina.com site.