Updated: 08/24/2019
Visiting Hoi An (Hội An), tourists have a wide range of choices in addition to visiting the ancient town, having a relaxation in luxurious sea resorts or high-end golf resorts or consuming delicious local seafood. Many tour agencies could also supply travelers a tour to become true farmers with catching fish, planting vegetable, field plowing, and particularly riding a buffalo around the rural area of Hoi An. Such activities seem to never fail to impress tourists, both local and international.
There are many factors behind the reality that a large number of tourists love riding a buffalo when traveling in Hoi An countryside.
First and foremost, this activity allows tourists to enjoy the real life of farmers, which they just could see on documentary TV programs. Travelers to Hoi An are instructed to take control of the buffalo with a detailed guide of the local farmers. Amazingly, the buffaloes get obedient incredibly. The secrets lie in the buffalo chosen. Those buffaloes chosen are the good-tempered ones and trained for tourism purposes.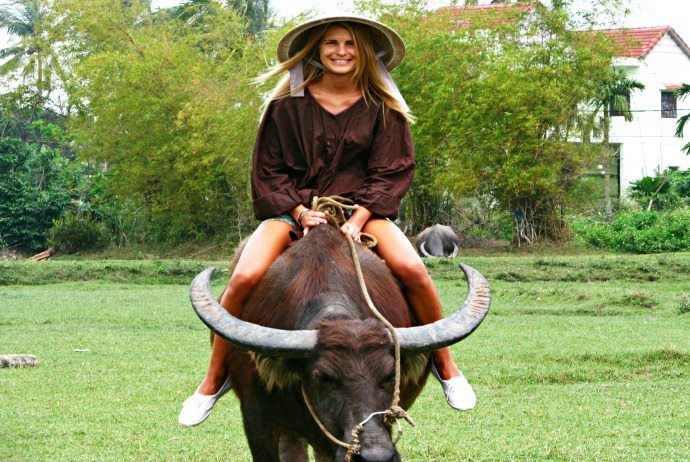 The rice fields selected to use for riding buffaloes on are located in Tra Que (Trà Quế) vegetable village. Tourists coming here are often high-spirited. Many of them pose photos while the others record video clips of riding buffaloes. Here, tourists can become true farmers, leisurely riding a buffalo on immense peaceful rice fields. Not only do adults enjoy this activity but children also have fun and gain more experience with Vietnamese people's daily life. This environment-friendly form of tourism helps to nourish the love for the Mother Nature and animals as well. The experience gained when becoming a real farmer in Hoi An is remarkable compared to the usual business in high buildings or convenient accommodation of many foreign tourists.
See more: 20 things to do in Hoi An – great activities for tourists
Despite Hoi An nowadays is a popular destination with foreign tourists, the "riding a buffalo" tourism has just been common among tourists for the recent a few years. Regardless of its newly release, it creates an impressive interest on the networks of tourism. With this tourism form, you can learn how to ride and control a buffalo. Even, you can also know how to give orders to a certain buffalo so that it will be obedient in an amazing way. Experiencing this tourism form, travelers will be lost in a world of childhood which is both familiar and strange.
When experiencing riding a buffalo, tourists will not only really get on the back of a buffalo to enjoy the usual but interesting activities of a local Vietnamese farmer, but they also understand more about the process of choosing and training a buffalo for tourist service. They will get a chance to feed the water buffalo and listen to interesting stories of farming life as well as the origin of rice that is told by local people.
It is said that the hardest challenge in this experiencing tourism form is not precisely feeing buffaloes, yet to make them strongly obedient in a proper good manner. If not, the buffalo will get made and even butt their own horns towards tourists and people around. Some local farmers say that, they train their buffaloes to plow on the rice paddy before using them for the tourist service. Thanks to the plowing work, they will get acquainted with their riders' "oral commands" so that they will recognize and follow the words. The key here is to avoid supplying buffaloes with sufficient water and food because they will get spoiled and lazy, similar to humans, as they do not have any motivation to work. Putting these buffaloes into the hardship will teach them to obey. Another challenge when training a buffalo for tourist service is to precisely choose a proper breed. It is known that animals' breed is also not different from the physiognomy of human beings. Therefore, a local farmer made a joke about how to choose a buffalo:  "When buying a buffalo, it is important to look at the breed of that animal, similarly to when you want to marry a girl, you will look at her family." Despite it is not guaranteed about choosing a good wife by looking at her family, the sentence is true when it comes to choosing a buffalo. The breed plays a big part in deciding whether or not a buffalo is good.
In addition, there is one important concern of local farmers when training a buffalo for tourist service is that male buffaloes seem to not get on well with the perfume and other smell featured by international travelers, particularly Western ones. Therefore, before taking advantage of them for tourism, they need to be familiar with this by smelling old clothes. There is an interesting fact about buffaloes is that a male buffalo often tries to impress a female one. In order to win over the female, the male will gallop before goring another male buffalo, thereby blowing the rider on its back away. Thus, for such reason, it is important to separate the male buffaloes away from the females.
Some Tips On Riding A Buffalo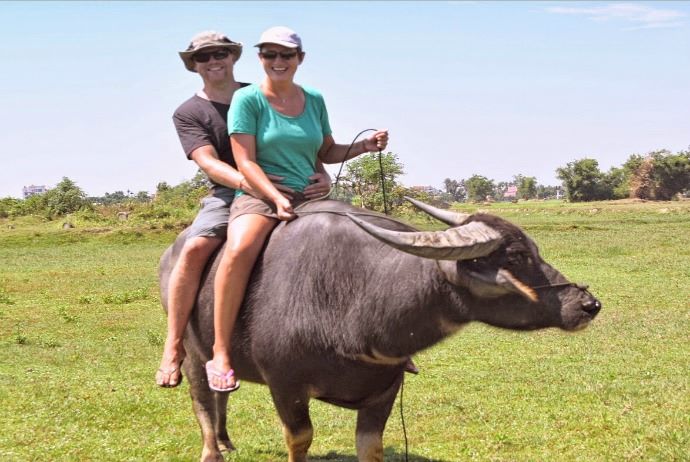 In order to successfully ride a buffalo, it is necessary to understand and master in "the language of buffalo". That way, you could easily manipulate buffaloes, thereby giving orders to them to move according to your want (backward and forward, turn left or right, or stop). According to a local farmer with many years of experience in riding buffaloes and training them, tourists need to remember the "oral command" in order to take control of the buffalo. Because it was still a calf, thus it was taught to obey the words of its owners. For example, when you say "dờ" /zә/, the buffalo will stop instantly. To order it turn right, you say "quá" /'kwa/, and "dí" /'zi/ if you want it to turn left. Obviously, you also need to improve your own oral command by controlling and moving the rope that is linked to the buffalo's nose) towards what direction you want it to follow. With a help of a translator (if tourists are foreigners), the tourists will be instructed to climb on the back of a buffalo.
To be honest, this particular "buffalo riding" tour in Hoi An allows tourists to get a real picture of Vietnam's traditional water rice culture. In Hoi An, currently, there are approximately 7 – 8 packs of buffaloes that serve the tourism purpose. These emergent services look promising that will not let tourists down. The symbol of friendly buffaloes has increasingly become a main attraction to foreign tourists. That explains why tourists love riding buffaloes when traveling in Hoi An countryside.
Related Articles:
Hoi An Nightlife – Best Activities to Do at Night in Hoi An
18 must-see Hoi An attractions – places to visit for tourists