Updated: 08/24/2019
Hoi An (Hội An) is always well known for its traditional beauty. People can come here for so many activities. You can silently walk through the Ancient Town, can enjoy local food, can listen to traditional performance, can retreat in high-quality resorts. You can also choose to spend a day with Hoi An traditional handicraft villages, an interesting schedule for foreign tourists.
Discover Hoi An Traditional Handicraft Villages: Absolute Must-Try Activity In Vietnam
1. Xa Duong (Xã Đường) Lantern Village
Coming to Hoi An, people seem to get lost at night with thousands of colorful lanterns but might not know there is a village, in which these sparkling lanterns are made by hand. The lantern village has been working for more than 400 years. It is not overstated that nowhere can make lantern as skillfully as Xa Duong (Xã Đường) village.
In the past, Xa Duong originally made unicorn basic heads and lanterns for festivals. By the time, the design has been improved and diversified. Going along the Hoai Riverside, you can witness a whole street covered by colorful lanterns, which is the special romantic beauty of the Ancient Town. Lanterns are a part of the formality and space of Hoi An and building up the soul of an Ancient Town. Tourists can choose to buy some as souvenirs on these streets but remember that they just sell but produce them there.
Actually, there are three big local workshops in  Hoi An who produce handmade lanterns from the raw bamboo material to a perfect product. It is the source that supplies all the souvenir shops along Hoai Riverside as well as supplies for domestic and international consumption. Especially, visitors can come there to try making lanterns by themselves and can take them home.
–    Huỳnh Văn Ba
Address: No.54 Nguyen Thi Minh Khai street, Hoi An Town, Quang Nam
–    Hà Linh:
Address: No. 72 Tran Nhan Tong Street, Cam Chau Ward, Hoi An, Quang Nam
2. Kim Bong Carpentry Village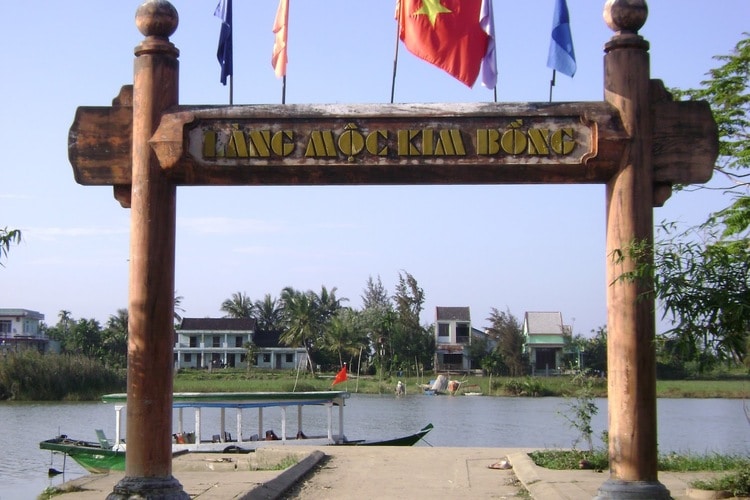 In addition to a lantern, carpentry is also among the largest and most traditional handicraft villages in Hoi An. Located in Cam Kim (Cẩm Kim), Kim Bong (Kim Bồng) Carpentry village has been maintained for nearly 600 years. In comparison with the lantern-making craft, Hoi An's carpentry is much more antique and famous. Since the early days under the Nguyen Dynasty, Kim Bong had been considered as the village of art because of its exquisitely beautiful and unique woodworks. In the past, Kim Bong was the place that provides wooden products for houses, boats, and so on but at present, it majorly makes handicraft items to serve the domestic and international demand. If you can spend time at Kim Bong, you will find many fun things about carpentry and carpenters here.
You can find the handicraft village at Nong Thon Street, Trung Ha Village, Cam Kim Ward, Hoi An, Quang Nam. Coming to the village, you can enjoy the fresh and peaceful atmosphere of the countryside. The special smell of wood and paint everywhere makes you feel the classic theme. Especially, foreign tourists love visiting here to experience a day with carpentry. The products are evaluated as gentle and simple, but sophisticated and clearly illustrating the talent and skill of the carpenters. Every product is blown with their soul and spirit as well as the typical feature of Hoi An handicraft style, which attracts visitors to come and buy souvenirs.
3. Thanh Ha Ceramic Village
It will be a pity if you skip visiting Thanh Ha (Thanh Hà) Ceramic village in Hoi An. About 3km far from the Ancient Town to the West, there Thanh Ha comes. The village has been standing nearby Thu Bon river for centuries. It is said to be formed in the 15th Century.
In the past, Thanh Ha village made ceramic bowls, dishes, cups, tiles, and so on, which are famous building materials for the local community and surrounding areas. Gradually, ceramic products of Thanh Ha village have been more and more well known with diversified products and designs, including souvenirs. When visiting Thanh Ha ceramic village, as going to Bat Trang, visitors can enjoy making ceramic handicraft, learn more about the process as well as the history. Tourists can select some high-quality products at a reasonable price to take home as gifts or souvenirs.
You can go to Thanh Ha as a picnic trip. It would be a great experience to prepare some food and fruits along with your visit.
4. Tra Que Vegetable Village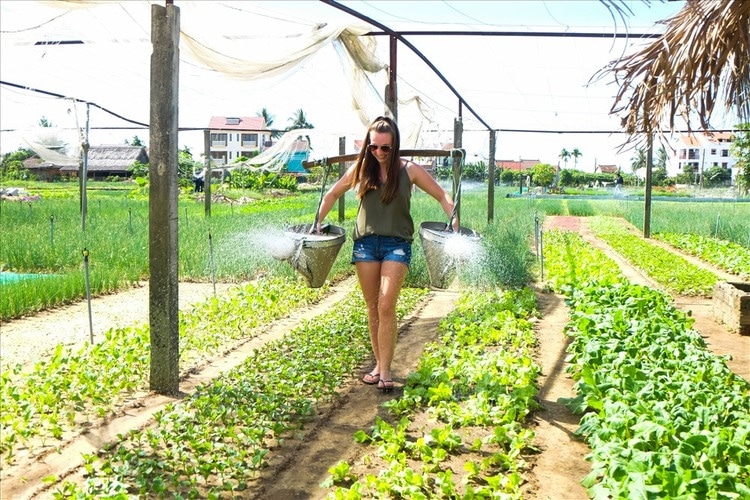 Last but not least, Tra Que (Trà Quế) vegetable village is also included in the list of famous traditional villages in Hoi An. Tra Que is peacefully located 3km away from Hoi An downtown to the Northern West. To Da Nang city center, it is about 20 km to the South. Generally, it is very convenient to visit Tra Que no matter from Hoi An or Da Nang. Perhaps, Tra Que can be a funny destination for you to come at the weekend and spend time with your family and friends.
At present, there are 220 families living at Tra Que Village, who work as farmers. Particularly, 130 among 220 families are specialized in growing vegetable on 40ha of land. The village is famous for its variety of vegetable and species. Moreover, for Tra Que, hygiene is always prioritized so that you can eat fresh and hygienic vegetable here.
Coming to the village, you needn't bring any food along. Visitors can take chances to its traditional shrimp dish. The dish is cooked from shrimp, pork, and especially fresh vegetable of Tra Que. Along with that, the taste of "rượu hồng đào," a traditional specialty of Quang Nam. Annually, Tra Que welcomes more than 1000 foreign visitors and leaves them impressive journey.
Above are four main traditional handicraft villages of Hoi An that you can take a short trip to discover. Why don't you take it in your own bucket list to go with your friends? If you have any question about this topic, please leave your comment below. Vina will reply you soon.