Yen So Park in Hanoi with lots of green and airy spaces is a favorite destination of many people. With the total area of 323 hectares, this park is considered the green lung of Hanoi, the capital of Vietnam. Being located in the southern gateway of Hanoi, Yen So Park is open for tourists and local people to go sightseeing freely. Having a stunning setting with forests, large lakes, green grass, and entertaining services, Yen So Park has become an ideal destination for those who are seeking for a relaxing place in the nearby of Hanoi.
Yen So Park was started to build at the end of 2017. With the total investment of $2 billion, this construction became one of the most significant projects in the urban planning strategies of Hanoi City. The initial goal was to build a world-class park with schools, galleries, cultural reserves, shopping malls, and houses on a total area of 327 hectares in the surroundings of Yen So Lake. In April 2014, Yen So Park was handed over to the People's Committee of Hanoi City with work items such as showroom, boat-house, outdoor theater, Labyrinth Garden, cultural village, and many other landscapes.
Read more: 
Tourist Information
Opening hours: From 05:00 to 19:00 every day
Ticket fee:
Entrance fee: Free

Parking fee: VND 5,000/time (for motorbikes) and VND 30,000/time (for cars)

Yen So Park is also equipped with sanitation facilities, cafes, and bike/boat rental services with the price of VND 30,000-40,000 and VND 50,000 relatively.
What To Do In Yen So Park?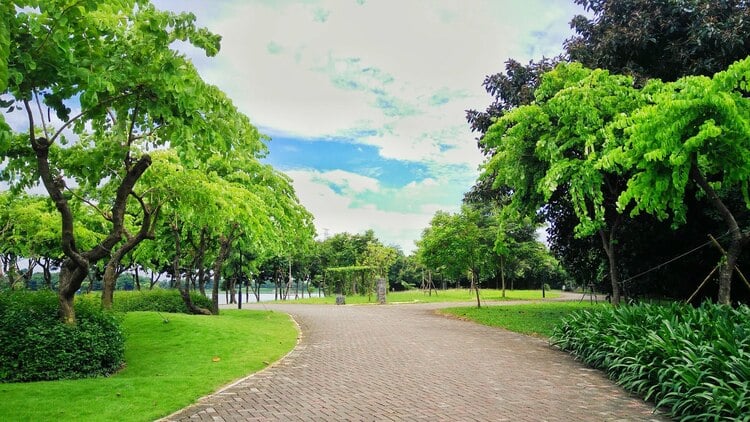 The atmosphere in Yen So is very fresh and cool. This place is suitable for those who want to breathe fresh air and escape the hustle and bustle of the city. The park is extensive, so hiring a bike and riding around is an ideal choice for tourists to explore the whole destination.
When you come here, you will be impressed by the neatly trimmed grass and skillfully sculpted dragon statues. You also have a chance to admire rows of lakeside willows, dense bamboo forests, beautiful blue sky with white clouds, and so on. Yen So Park is a very suitable place for families and children to have fun, go for a walk or picnics. Many young local people even choose this tourist spot to take wedding photos. If you like to surf on the tranquil lake, there are boat rental services with the price of VND 50,000/hour.
For those who love cultural activities, visiting art exhibitions and watching artists' shows at the outdoor theater will be great. Besides, Yen So Park has a large campus with lots of trees and lawns, which is suitable for organizing extracurricular and team-building activities. Remarkably, Ngoc Island in this park can accommodate up to 4,000 people. Therefore, to find a perfect outing space, come and visit Yen So Park.
With a serene green scenery that brings a feeling of freshness, Yen So Park attracts an increasing number of tourists to relax and have fun annually. The park is situated far from the noisy and dusty city, helping people to lighten up after hard working days.
If you come here during the Mid-Autumn Festival, you will be able to enjoy the lantern festival with thousands of colorful lanterns hanging around the park.
What To Eat In Yen So Park?
Having a barbecue party at noon will also be a unique event for tourists arriving in Yen So Park. You should buy food in the nearby supermarket, choose a suitable place, rent a grill from the Management Board, and then enjoy your party. This will be an unforgettable experience for you and your friends or family.
Where To Stay When Visiting Yen So Park?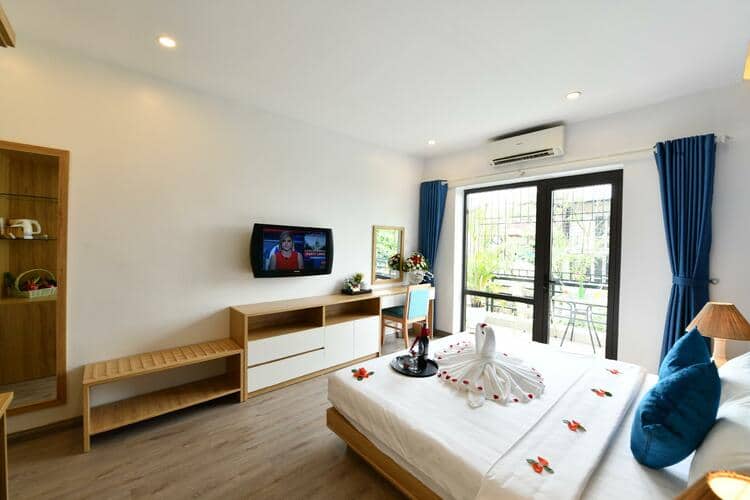 There are some hotels located near Yen So Park such as:
Muong Thanh Hanoi Hotel at CC2 Bac Linh Dam, Hoang Mai District, Hanoi. The price of a room begins at $156/ night.

Amorita Boutique Hotel at No.07, Hang Dau Street, Hoan Kiem District, Hanoi. The price of a room begins at $33/ night.

Hanoi Emotion Hotel on Hang Bot Street, Dong Da District, Hanoi. The price of a room begins at $58/ night.
Other hotels such as Holiday Park Hotel, Love Hotel, Huy Hoang Hotel, Simco hotel, etc. are also good choices.
We hope that this article gives you useful information and advice for a trip to Yen So Park in Hanoi, Vietnam. You can leave your questions in the comment box below. We will answer as soon as we can. To know more about beautiful Vietnamese landscapes, visit our Homepage.