Updated: 08/22/2019
Hoi An (Hội An) is attracting a large flow of tourists and visitors thanks to age-old houses, colorfully lanterns at night, romantic Thu Bon River (Sông Thu Bồn), peaceful alleys, traditional tailor shops, and picturesque landscapes. However, Hoi An tourism development and growth cannot exclude the contribution of Hoi An Impression Theme Park that features modern designs and provides a variety of interesting activities for visitors.
When Is The Best Time To Visit Hoi An Impression Theme Park
To enjoy all activities and performances in Hoi An Impression Theme Park in Hoi An, it is recommended visiting this park when the temperature and weather are pleasant. So, according to the typical weather of Hoi An, the best time for you to visit Hoi An in general and Hoi An Impression Park, in particular, is between February and April. Temperatures in Hoi An increase from May to August; therefore, it seems difficult to enjoy the outdoor activities in the hot weather.
About Hoi An Impression Theme Park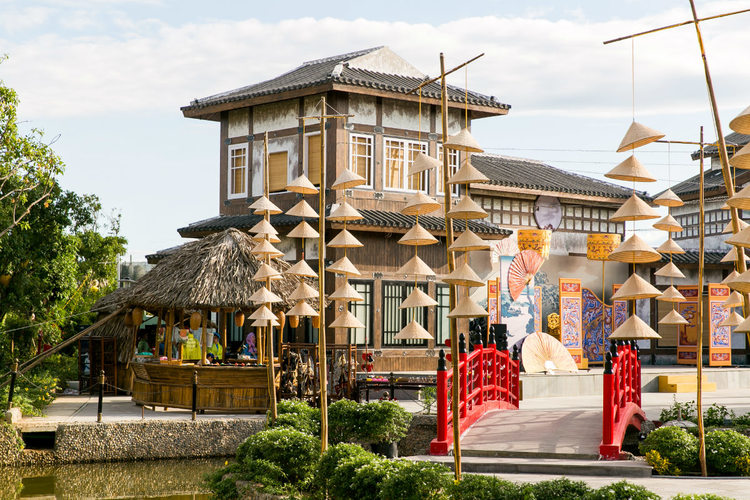 Address: Near Huyen Tran Cong Chua (Huyền Trân Công Chúa) Street, Cam Nam (Cẩm Nam), Hoi An, Vietnam
Opening hours: daily, 5 pm – 9 pm
A 10-hectare Hoi An Impression Theme Park is the largest theme park in Vietnam that features culture, tourism and art performances along with plenty of recreational activities. Set within a tranquil island at the Thu Bon River's estuary which was the typical trading port of Southeast Asia in the 16th-17th century, Hoi An Impression Theme Park was inaugurated with the purposes of preserving the traditional stories and merits. Visiting the park, you will definitely be astonished at the stunning scenes of the old time when locals live with their characteristics, culture, and architecture. This park has fantastic spectacles and helps you know the historical stories and values.
Besides, it boosts Hoi An tourism and makes the Hoi An image spread to the world. When you reach the entrance gate of this theme park, the golden gate and water fountain will make you impressed. Behind the gate, you can admire the impressive scenery of old Hoi An.
A visit to Hoi An Impression Theme Park is a great opportunity for you to take part in many mini shows, play interactive games and enjoy live music performances with various themes throughout the beautiful park. Some are repeated; therefore, do not worry about missing any favorite part.
Because Vietnamese people also believe in the values of religions and spirituality; therefore, temples, pagodas, and shrines are commonly seen in Vietnam. If you have a chance to visit this park, you can come to the spirituality section that has a number of pagodas and temples showing the typical architecture of Hoi An and Vietnamese people.
Moreover, do not miss the Japanese village where six or seven hundred people used to live during the 17th and 18th centuries. It now remains the Japanese culture reflecting in works of cuisine, architecture, and culture of Hoi An people.
If you go to the park with your loved one in a couple, the ideal destination in this park is Love Bridge that has become a cultural highlight in Hoi An. Love Bridge is considered to be the spiritual and cultural symbol of Japan, China, and Korea. Visiting Love Bridge, you and your loved one can write the names on paper pieces attached to the bridge. The bridge is situated at the entry Japanese and Chinese villages.
The Hoi An Impression Theme Park has the Real World Performance where the Hoi An Memories show takes place. The Hoi An Memories show operates every night from 7:30 pm to 8:45 pm. Based on different seating zones, the prices are required if you want to enjoy the show. For example, the prices for children would be between 300,000 VND to 450,000 VND. For adults, you have to pay between 600,000 VND to 900,000 VND.
The Hoi An Memories Show is an impressive spectacle with the stunning sheer scale. With the participation and performances of 500 dancers actors, it conveys a 400 hundred-year journey of the Hoi An's growth. After that, it lets you watch the images and hear stories about Hoi An's construction, the introduction of lanterns and foreign and trade influence.
The setting of this show is magnificent and sprawling, making the whole city, beautiful river and nearby mountain sparkling at night. Music, light, and choreography superb will make the show more special and outstanding.
Drinks, Foods, And Restrooms
After exploring and visiting, if you feel hungry, you can eat the delicious local food with the reasonable price in Hoi An restaurants in each Chinese, Vietnamese and Japanese themed parks set within the Hoi An Impression Theme Park.
Furthermore, there are also some street food style vendors and a beautiful bar for someone who wants to enjoy the meal.
Where To Stay Near Hoi An Impression Theme Park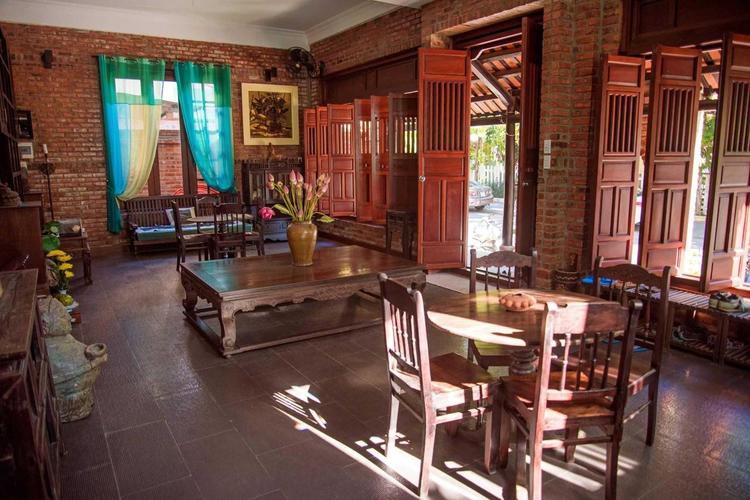 Hoi An is also an ideal place for tourism with many developed services and facilities. In this city, you can easily find various accommodation options ranging from 3-star hotel to the luxury resorts. Near Hoi An Impression Theme Park, the recommendations are Lantana Riverside Hoi An Boutique Hotel & Spa, Homeland River Homestay, Ha An Hotel, Golden Peach Villa Hoi An, Maison Azzurra, etc.
Read also:
Hoi An Impression Theme Park invites tourists and visitors go on a colorful and bustling tour with romantic stories that make you fall in love with Hoi An. I hope that you can find useful information in this article. Any questions can be left below and we will answer them as soon as we can. If you are interested in articles about Vietnam attractions and activities, you should visit Vina.com.