Vietnamese Fried Pillow Cake is known as Bánh Gối. The cake has named "Pillow" because its appearance looks like a pillow. This cake is surely familiar with most of Hanoian. It's found that many people and tourists are very fond of this dish. Especially, having it on cold days and drizzle weather. It's the best to enjoy this fried cake on the days of autumn or winter. There is nothing that can compare the wonderful feels when sitting with family or chatting with friends and enjoy this hot fried pillow cake together. 
Today, we will show you how to make this hot, delicious, and crunchy cake for your family. Let's start now and follow our most crispy Vietnamese fried pillow cake recipe.
Crispy Vietnamese Fried Pillow Cake Recipe – Step by Step:
1. What to prepare: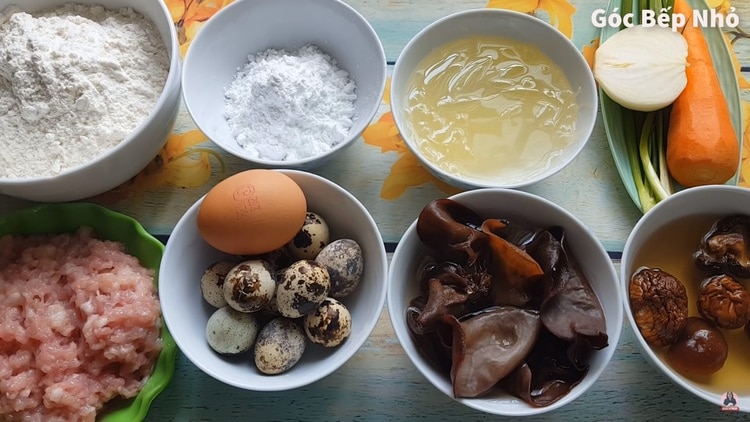 Cake crust:
All-purpose wheat flour: 250g

Rice flour: 30g

Salt: ¼ teaspoon

Egg: 1 egg

Cooking oil: 2 tablespoons

Water: 100ml
 The filling:
Chopped pork: 200g

Quail eggs: 15

Wood ears: 10g

Dried mushroom: 5 or 6 

Carrot: 30g

Onions: 50g

A little spring onion 

Vermicelli 

Seasoning powder, pepper, spices
2. How to make it:
Step 1: 
Soak the Vermicelli, wood ears and dried mushroom into the water to make it soft and boil the quail eggs.
Step 2: Making the crust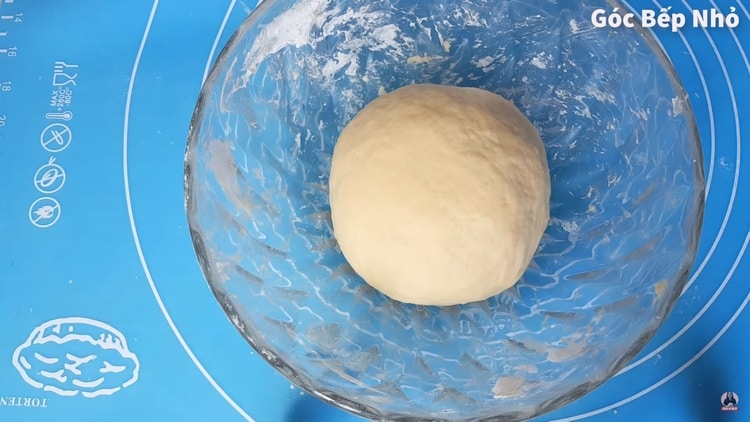 Take a bowl and put all the flour into it. You can only use wheat flour but the rice flour is recommended because it will make the crust more crispy.

Add to the flour: 1 teaspoon of salt + 1 egg + 2 tablespoons of oil. The egg will help to create a shiny yellow colour for the crust. If you don't like egg, you can skip it.

Stir the mixture well then add water little by little. Knead until the dough becomes smooth. The right amount of water is 100ml. However, while kneading, if the dough is dry, add a little water to make it more smooth. 

When the dough becomes smooth and flexible, cover it with a food wrapper and let it sit for about 30 – 60 minutes.
Note: If you like a thinner crust, you can follow another Vietnamese Fried pillow cake recipe to make the crust as following: 250g wheat flour + 40g rice flour + 120ml water + 30g cooking oil + a little turmeric powder.
Step 3: Making the filling: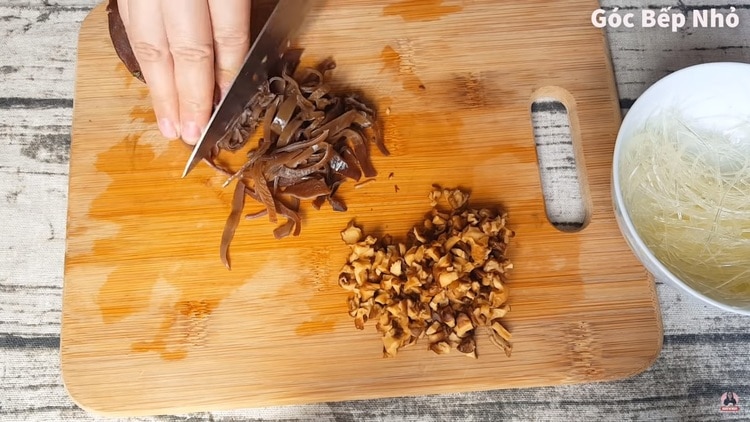 When the quail eggs are done, let them cool down and peel.

After soaking the wood ears, mushroom and vermicelli become soft, wash them and leave to drain. Then cut and mince them into small pieces.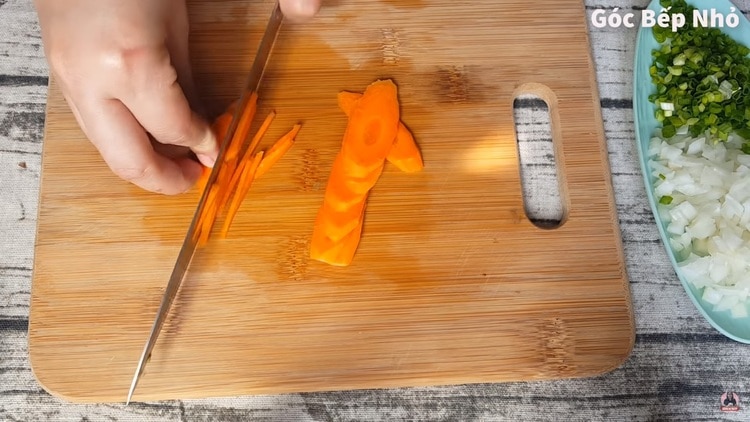 Wash the spring onion and cut into small pieces.

Peel and wash the onions and carrots then slice them into small cubes. You only need to cut half of the carrot for the filling. The other half will be used to make the dipping sauce.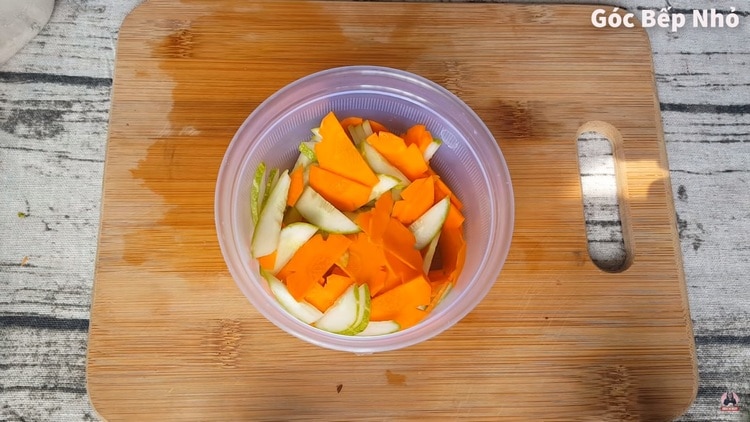 Slice the other half of the carrot and cucumber then put them into a bowl. Add ½ teaspoon of salt, 1 teaspoon of sugar and 1 teaspoon of vinegar then mix well. Set them aside to marinate and add to the dipping sauce later.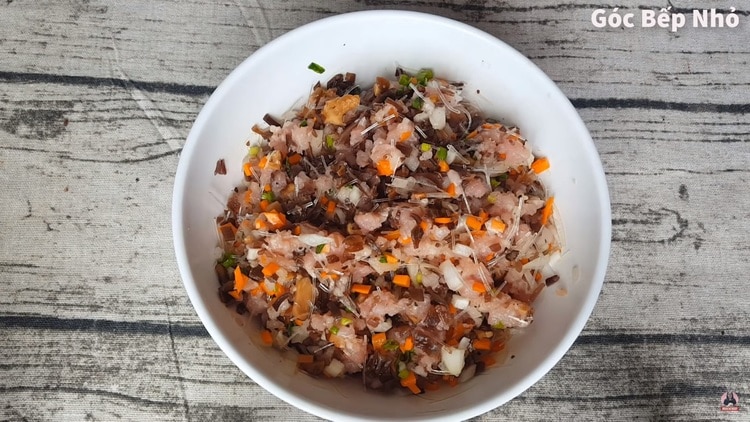 Take a big bowl. Add ground pork, minced wood ears, vermicelli, mushroom, minced onion, spring onion, and carrot then mix well. Seasoning the filling with 1 teaspoon of salt, ½ teaspoon of seasoning powder, ¼ teaspoon of sugar, ½ teaspoon of  MSG and ½ teaspoon of pepper. Mix them well and leave to marinate for 15 minutes.
Step 4: Forming the crust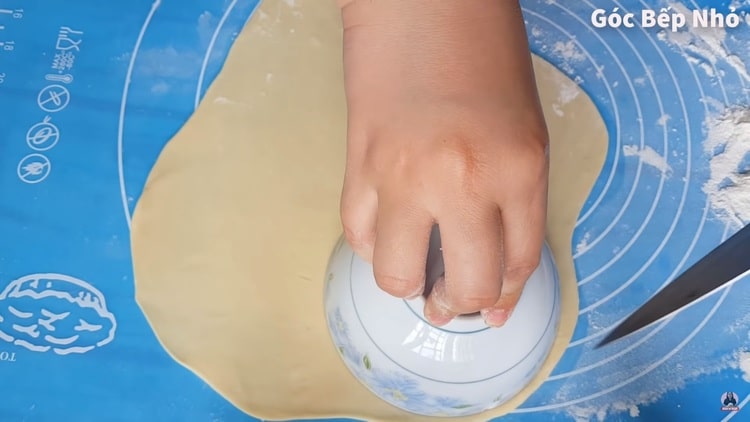 Take the dough out. To form the crust, you need to spread the dough to thin layer by a rolling pin. If you don't have a rolling pin, it's possible to use bottles or a cup instead. Don't roll the dough too thin because you need to use it to wrap the filling later.

While rolling the dough, spread a little dry flour under the dough to keep it from sticking.

After rolling the dough, take a bowl or anything that have a round shape to press it down. Press it down enough to cut the dough to round layer, then you will have a beautiful round crust.
Step 5: Making pillow cake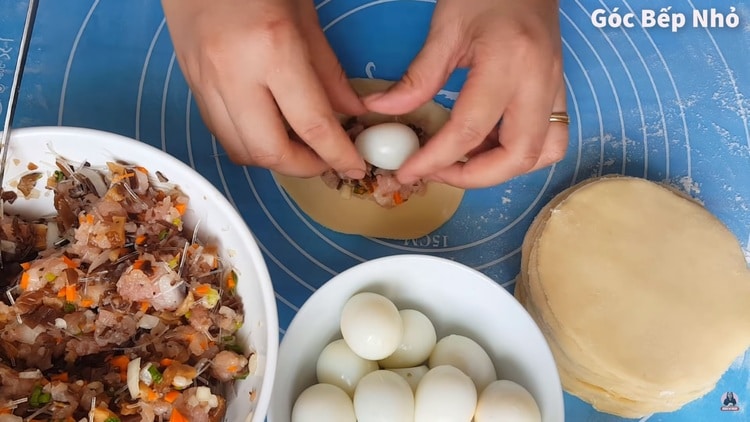 Put the filling inside the crust, add a quails egg then fold it in half. At the edge of the cake, sweep a thin line of water or egg to stick the edge together.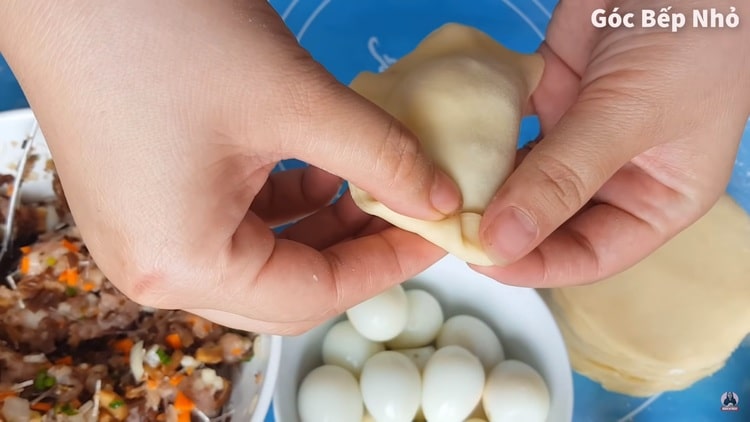 Slowly twist the edge to form the shape of the cake.
Step 6: Frying the cake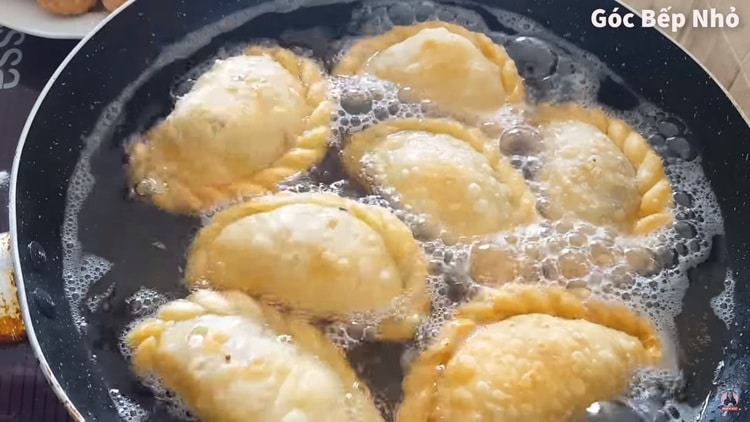 Place a pan on the stove and then pour the oil in. The pillow cake needs to fry with a lot of oil. You can pour the oil into a medium pan or a pot with a thick, small base to save oil.

When the oil is heated up, deep-fry the cake. The fried Pillow cake is ideally to fry for 2 times. The first time, you should keep the heat at a medium level, make sure that the filling is cooked. The second time, you fry at a higher heat level to make the crust more crispy.
Step 7: Making the dipping sauce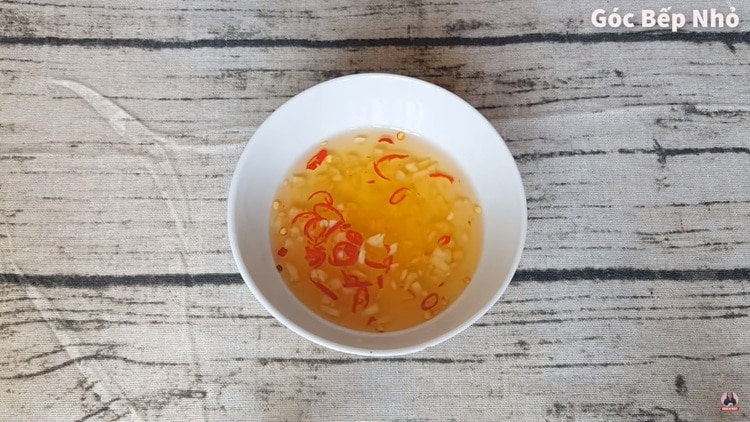 Follow the recipe: 3 spoons of water + 1 spoon of fish sauce + 1 teaspoon of sugar + 1 teaspoon of vinegar + minced garlic + chopped chillies

Mix the sauce well to dissolve, then add the marinated carrots and cucumber to the dipping sauce.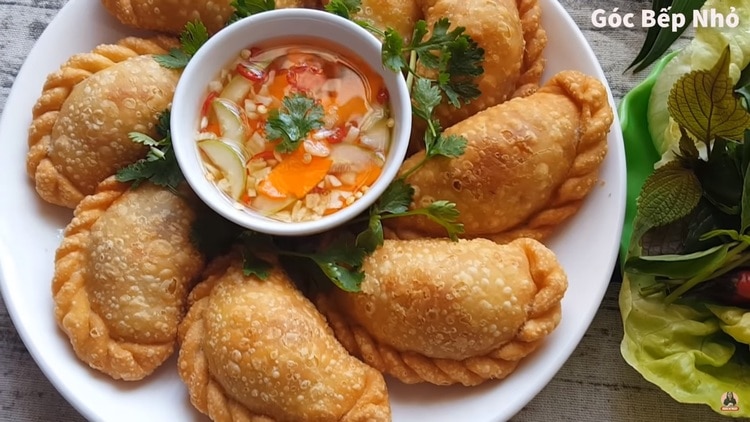 Your Vietnamese fried pillow cakes are done now and ready to share. The cake usually serves with fresh raw veggies such as lettuce, basil and mint. A successful Vietnamese fried pillow cake has a golden colour, crisp and crunchy crust. Hopefully, you will have a fun time in the kitchen with our Vietnamese Fried Pillow Cake Recipe. To cook more delicious Vietnamese dishes, check out more recipe at our website. Gook luck and have a happy cooking time!
View more: